Easy and comforting baked vegan French toast casserole which is custard-like, crispy and so delicious! You'll need less than 10 ingredients to make this vegan breakfast or brunch. The casserole can be prepared overnight and topped with an extra special pecan crumble.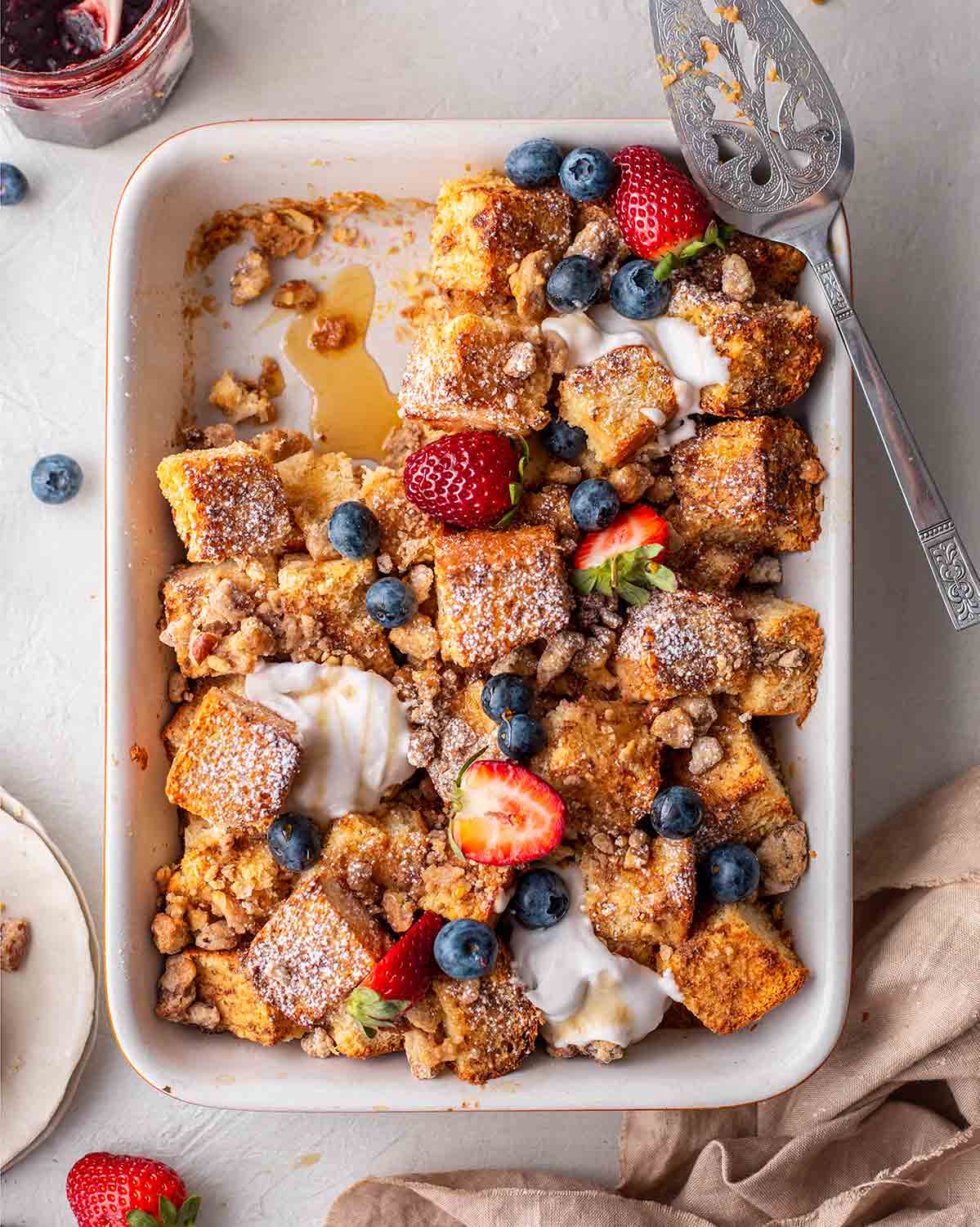 Why you should make this casserole
No-fuss and easy to make with only 20 minutes of preparation time. You don't need any special equipment like a blender!
Uses only common pantry ingredients. The french toast really shines as we are NOT using silken tofu, aquafaba, banana, coconut milk or store-bought egg replacers!
Egg-free. Traditionally, French toast involves dipping bread in an egg-based custard mixture. This recipe makes an eggless custard from a few simple ingredients!
Resourceful. Perfect for using up excess day-old bread or older stale bread.
Fancy breakfast ideal for breakfast on birthdays, Christmas morning or Thanksgiving. Or simply when you have guests over!
Ideal for meal prep. Can be prepared overnight and even days in advance.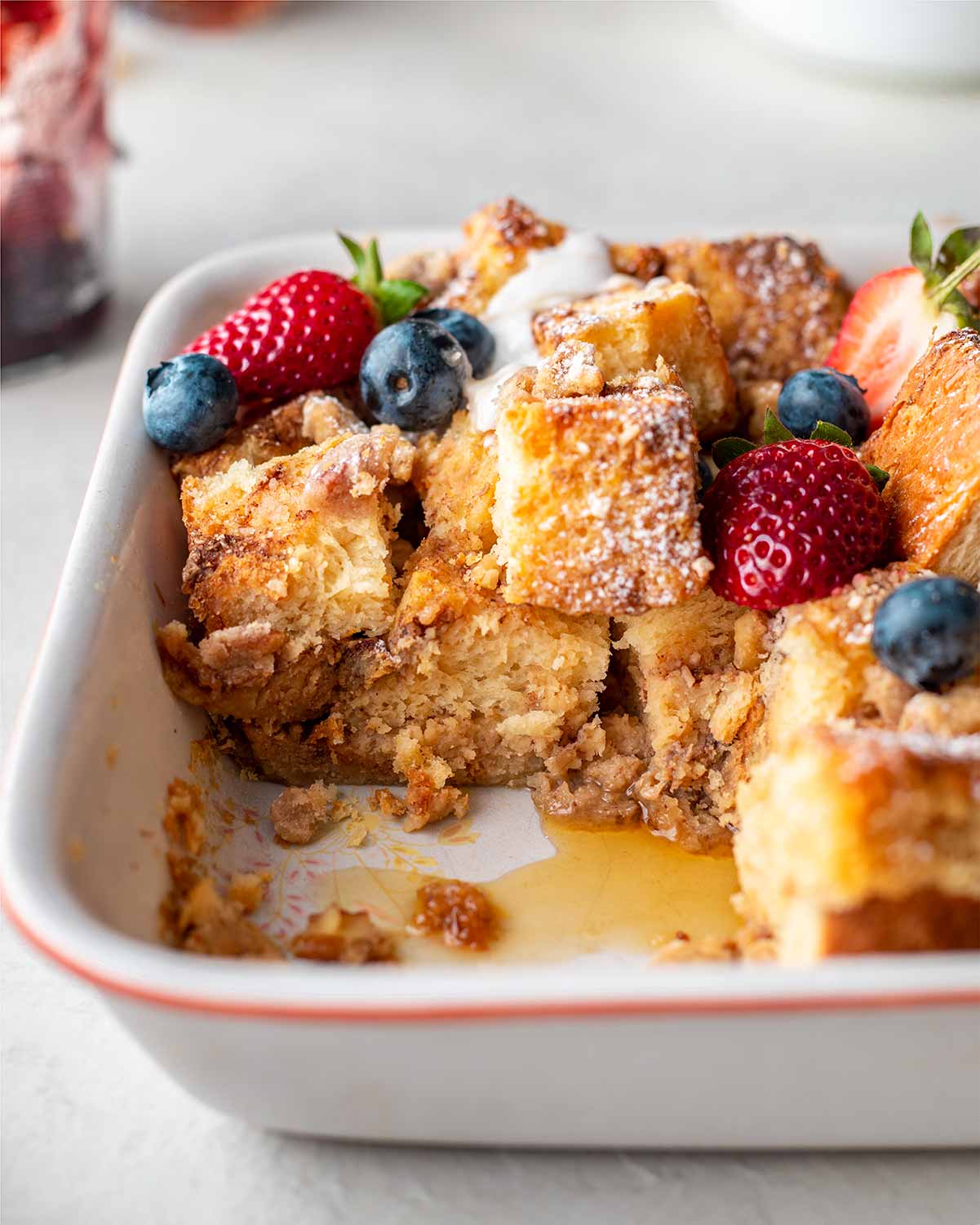 Ingredients for this French toast casserole
Notes about the ingredients
Sturdy sliced bread such as French bread, Italian bread, sourdough or challah bread. I used homemade vegan brioche which was a few days old. However, I made this recipe with sourdough for my cookbook which works really well!
Dairy-free milk. I prefer unsweetened soy milk as it's thick and rich. However, almond milk, oat milk or your milk of choice will also work!
Cornstarch (flour) or ground flax/chia seeds to thicken the milk. The cornstarch helps retain the color of the milk whereas the seeds are nutritious but will give the casserole little brown specks.
Black salt to give the French toast an egg-like taste and smell, reminiscent of traditional French toast. This is completely optional but makes the casserole more special.
Sugar, cinnamon and vanilla for depth of flavor. Instead of cinnamon, you may use other sweet spices such as nutmeg or pumpkin pie spice.
I've also included an optional pecan crumble made with just pecans, flour, butter, sugar and cinnamon.
A complete list of ingredients, quantities and instructions are in the gray recipe card at the bottom of this post.
How to make the french toast soaking liquid
This is super easy! Instead of making a separate flax egg or chia eggs, we're mixing everything in one bowl (hello less washing). You don't even need to blend the ingredients!
So, simply add ALL ingredients for the liquid to a bowl and mix. Set it aside for 5 minutes to allow the ingredients to slightly thicken up.
The mixture should still be very liquidy but with slight viscosity (just like lightly whipped eggs). If the flax/chia seeds or corn starch sinks to the bottom or separates from the non-dairy milk, simply whisk the mixture again.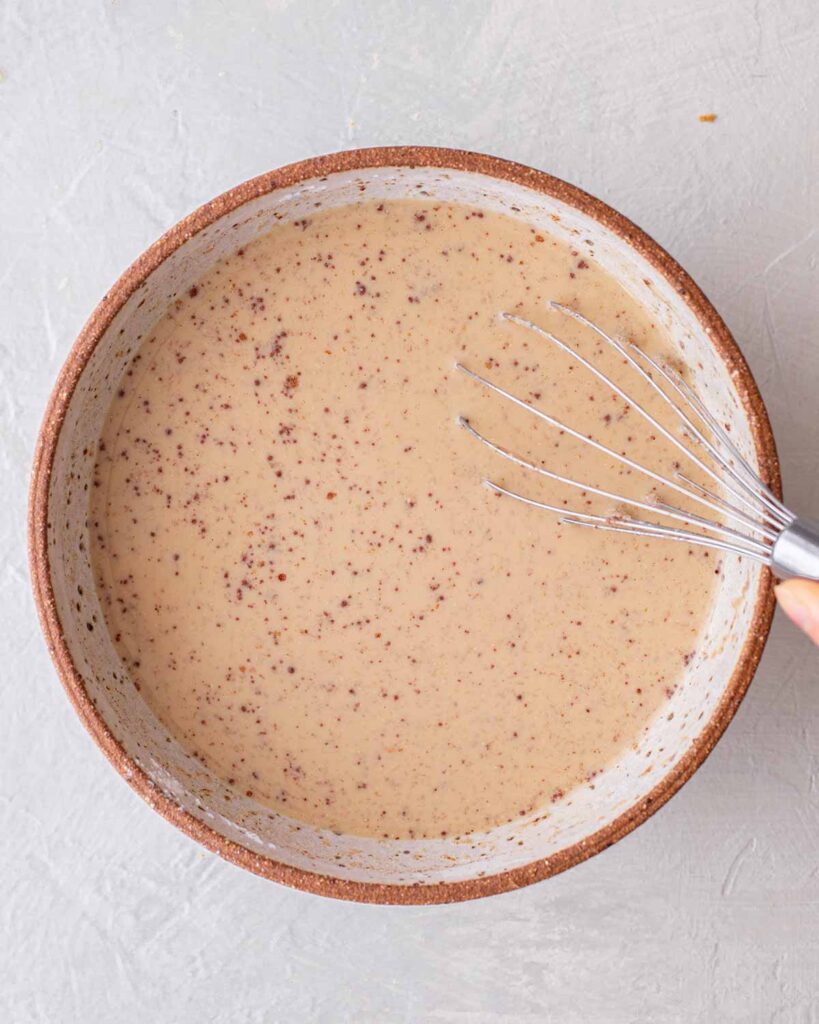 Assembling the French toast casserole
There are two ways you can assemble the vegan breakfast casserole.
Option 1: Cubed Bread
The first method is easy where you cut the bread into cubes, arrange them in a casserole dish and simply pour the custard liquid on top. Each cube of bread easily absorbs the French toast liquid.
This method is definitely easier but looks more disorganized and messy.
Option 2: Sliced Bread
The second method for assembling the french toast casserole is where you slice the bread and arrange them in the baking dish.
This method creates a prettier and more presentable baked vegan french toast bake. However, you may end up with layers of toasted bread, strange pools of custard and some French toast.
For this method, I'd recommend arranging the bread as flat as possible to allow for enough surface area to soak the French toast liquid. If your bread doesn't fit evenly in your dish (like below), you can arrange it similar to how Well Plated arranged her overnight French toast.
You may also need to lift each piece of bread and carefully pour the French toast liquid where the bread overlaps so everything is more evenly distributed. Alternatively, you can dip each slice of bread in the liquid, arrange them in the tray, pour over the excess liquid and bake it.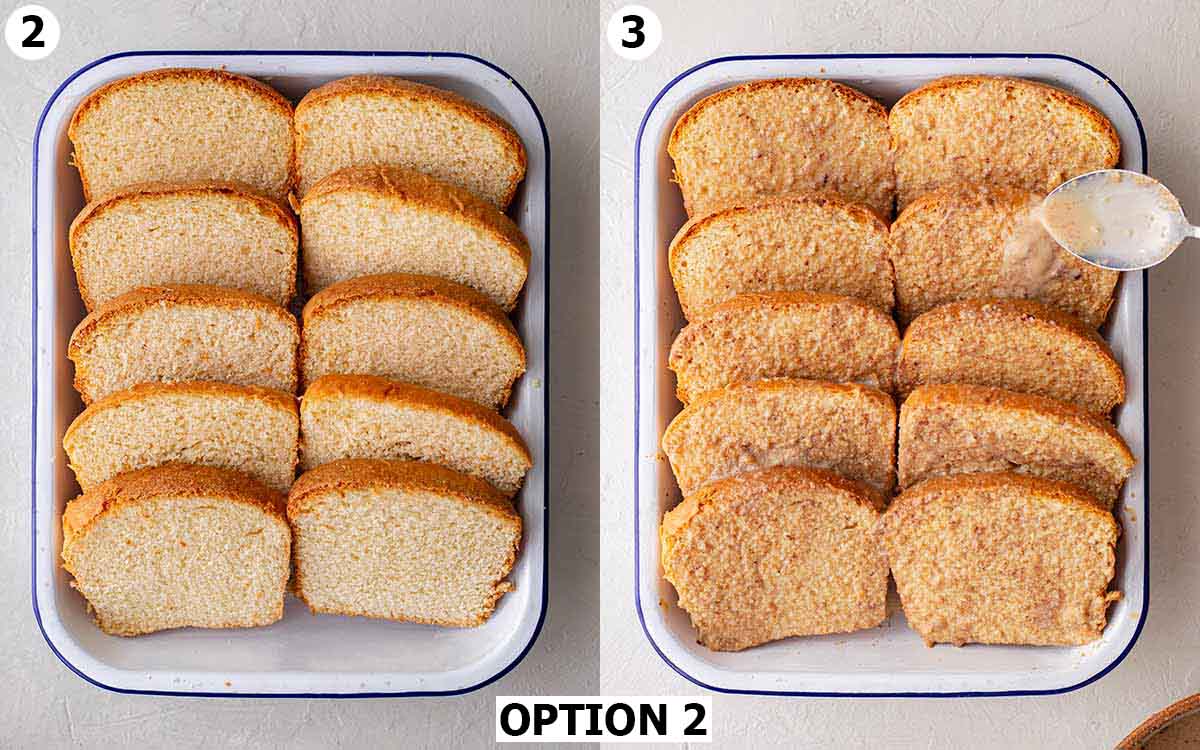 Customizing the baked vegan French toast
How can I make this baked French toast casserole EXTRA delicious and luxurious?
Substitute the cornstarch (or flax/chia seeds) with custard powder. That'll make your casserole reminiscent of bread and butter pudding! Dessert for breakfast anyone?!
In the crumble, can I use something instead of chopped pecans?
Yes, I'd recommend walnuts, flaked almonds or even pumpkin seeds! Alternatively, simply add more flour to the crumble mixture (or omit the crumble altogether).
How can I make this vegan french toast casserole gluten-free?
Simply use any sturdy gluten-free French, Italian or sourdough bread. You may be able to use regular sandwich bread, as long as it's stale and sliced thickly. The custard soaking liquid is already gluten-free!
How can I serve the french toast casserole?
As the casserole is full of delicious bread, it's best topped with:
- something creamy such as yogurt, ice cream, whipped cream or pouring cream
- something fruity such as fresh berries (my favourites are raspberries, strawberries, blueberries) or any seasonal fresh fruit
- powdered sugar and/or maple syrup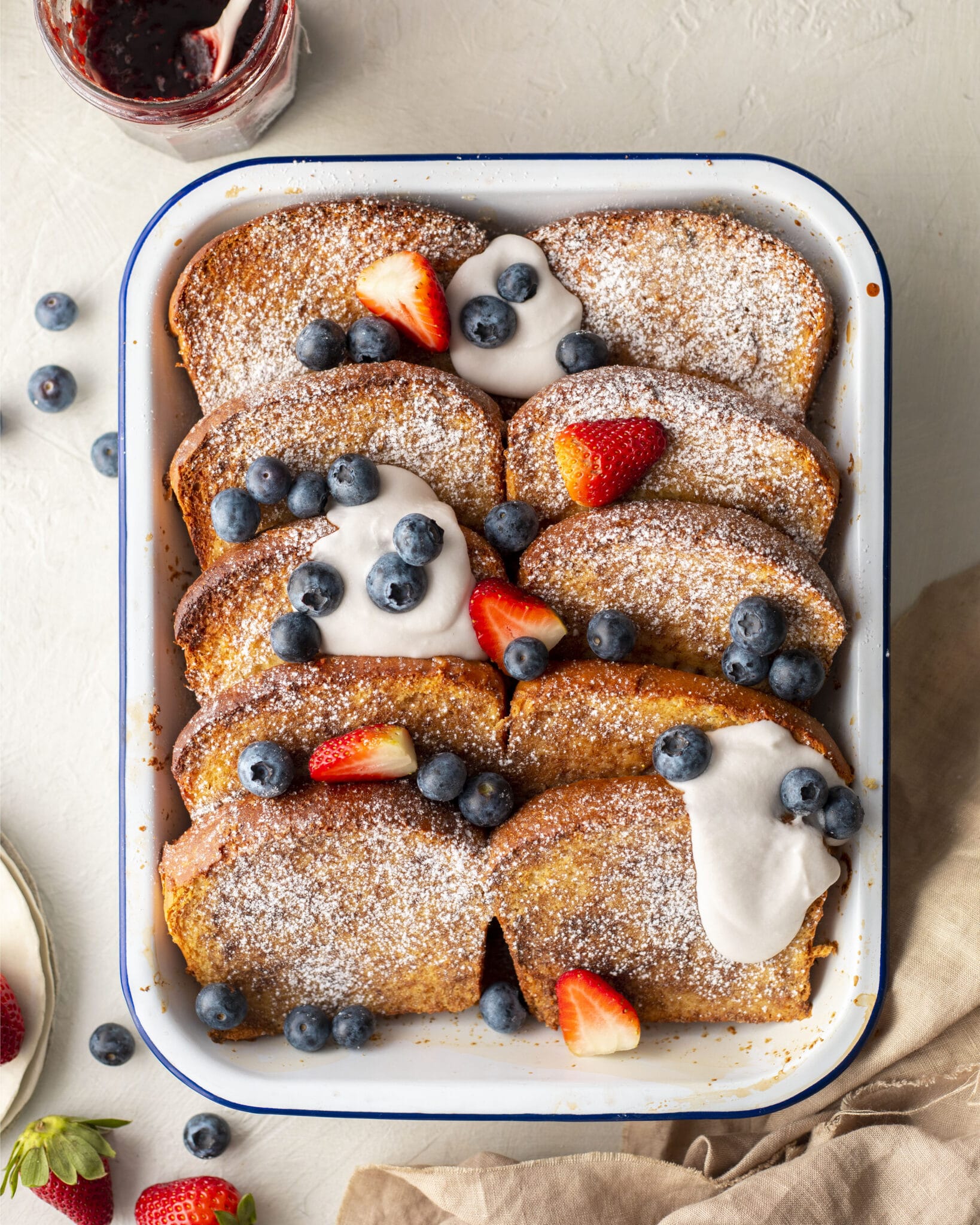 Can I prepare this casserole the night before?
Yes, I'd definitely recommend making this French toast overnight! The bread will soak up the custard liquid and the flavors will have time to develop.
To do this, simply assemble the whole casserole the night before (cut up the bread and pour over the liquid). Cover the tray and place it in the fridge overnight.
The next morning, bake the overnight vegan French toast in a preheated oven. The casserole doesn't really need to come to room temperature before baking. However, it might just take 5 minutes longer to bake in the oven.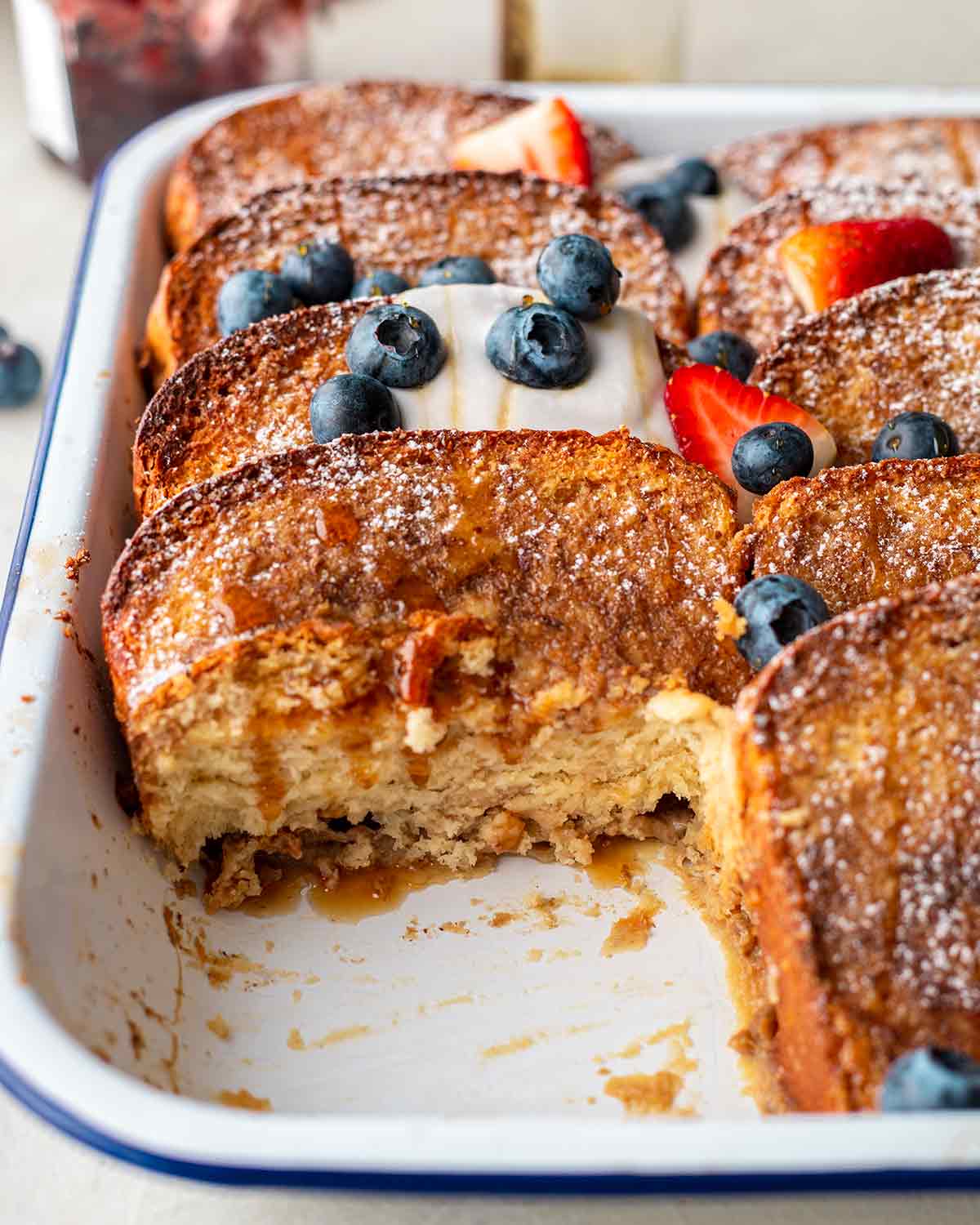 Other vegan breakfast recipes
Follow Rainbow Nourishments on Instagram, Facebook, TikTok and Pinterest, and subscribe via email to receive all of our latest recipes!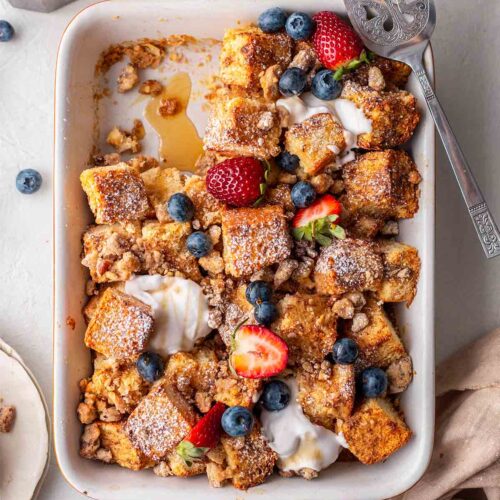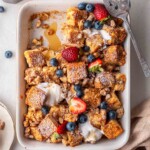 Print Recipe
Vegan French Toast Casserole (2 ways)
Easy and comforting baked vegan french toast casserole which is custardy, crispy and so delicious! You'll need less than 10 ingredients to make this vegan breakfast and it can even be prepared overnight.
Ingredients
Pecan crumb topping (optional)
Instructions
Prepare the bread and french toast soaking liquid:
Chop all the bread into 1 inch (2 cm) cubes. Or slice all the bread into 1 inch (2 cm) slices.

Add the milk, sugar, corn starch (or ground flax), cinnamon, vanilla and salt to a large bowl. Whisk until combined and set aside for 5 minutes to thicken. If the corn starch or flax seeds sink to the bottom, simply whisk the mixture again.
Assemble the casserole:
Grease a casserole dish about 11 x 6 inches (28 x 15cm) large (note 2). If you cubed your bread, scatter them in your casserole dish

If you cubed your bread, scatter them in your casserole dish. Pour the french toast liquid over the bread in the casserole dish making sure each piece is coated.

If you sliced your bread, you may need to press each slice into the bottom of the tray to soak the liquid or lift each slice so the liquid can get to the gaps.

Allow the bread to soak the custard liquid for at least 30 minutes. Or cover the tray and allow to rest in the fridge overnight.
Prepare the crumble topping and baking:
When you're ready to bake the french toast casserole, preheat your oven to 350°F (180°C).

Add all the crumble ingredients to a bowl. Rub the mixture with your fingertips or a spoon until combined or there are no more pockets of butter or flour.

Sprinkle the crumble over the casserole.
Serving the casserole:
Bake the casserole in the preheated oven for 30-40 minutes or until the surface is golden brown and there's no more liquid at the bottom of the tray.

Dust with powdered sugar and serve warm with maple syrup, ice cream, cream and/or fresh fruit!

Leftovers can be stored in the tray covered in the fridge for up to 3 days. To reheat, sprinkle with a little dairy-free milk (just a few tablespoons or enough to return moisture to the casserole) and heat in the oven at 210°F (100°C) until warm.
Notes
Alternatively, you may use 1 teaspoon of ground nutmeg or 1 tablespoon of pumpkin pie spice.
If you opted for the 'sliced' version, make sure your slices are as flat as possible otherwise they may not soak the liquid adequately. If this isn't possible, you may need to dip each individual slice of bread in the french toast liquid then arrange them in the casserole dish.
Nutrition
Serving:
1
serve with crumble
|
Calories:
246
kcal
|
Carbohydrates:
45
g
|
Protein:
8
g
|
Fat:
4
g
|
Sodium:
377
mg
|
Potassium:
104
mg
|
Fiber:
3
g
|
Sugar:
10
g
|
Vitamin A:
5
IU
|
Vitamin C:
1
mg
|
Calcium:
119
mg
|
Iron:
2
mg
This recipe was originally published in 2017 and updated in 2021 for simplicity.
This post may contain affiliate links. As an Amazon Associate, I may earn a small commission from qualifying purchases at no additional cost to you.