BEST ever vegan stuffed chocolate chip cookies with a hot fudge centre. These cookies are soft, chewy and crispy on the edges.
This post is sponsored by Nature's Charm. As always, all opinions are my own!
Ingredients to make these cookies
These cookies are as perfect as vegan cookies get! You'll need a few basic ingredients to make them. No uncommon ingredients and no egg-replacers!
Flour / all-purpose flour
Vegan butter. Vegan margarine spread will work but your cookies will be softer.
Light brown sugar. Dark brown and coconut sugar will work but will make your cookies more caramelly and darker.
Chocolate chips or chopped chocolate, of course!!!
Plant based milk but water will work.
Baking soda, vanilla and salt, the usual :).
If you're baking during Autumn/Fall, you can make a pumpkin version of these chocolate chip cookies!
How to make the dough for these cookies
These vegan chocolate chip cookies are SO EASY to make! Mix together the 'wet' ingredients (sugar, melted butter and milk) which will allow the sugar to dissolve.
Then add the flour and mix until it forms the most heavenly texture. Fold through the choc chips then BAM!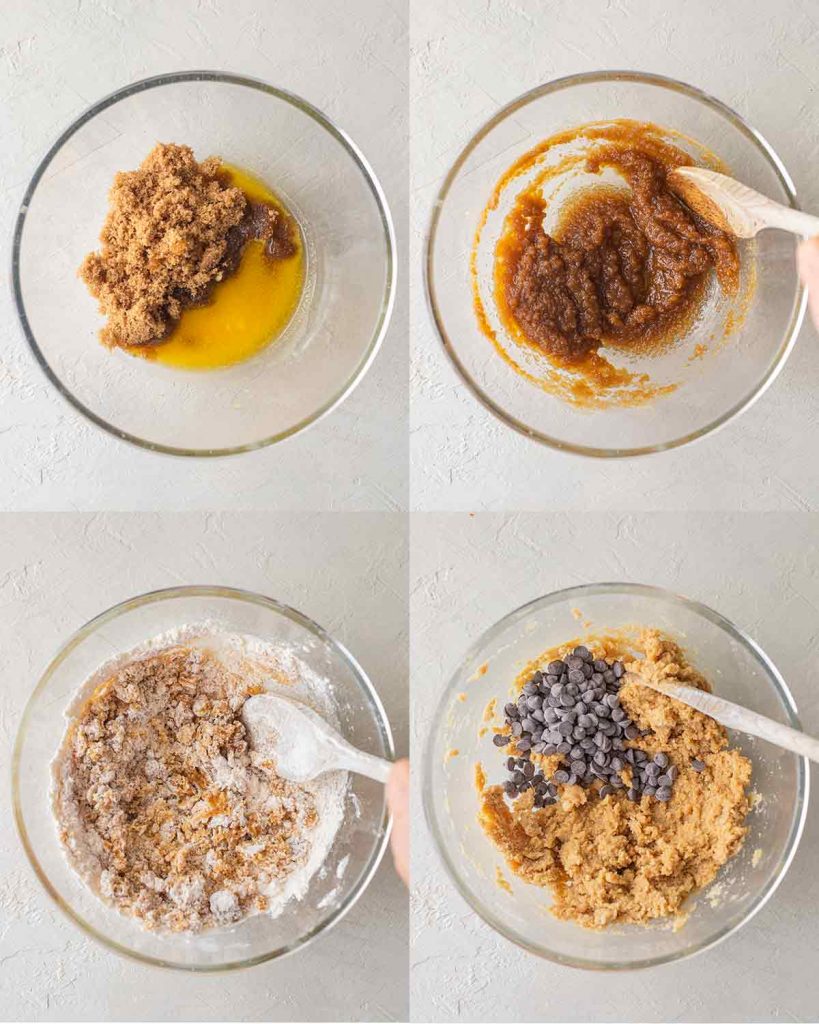 What consistency should your cookie dough be?
Your vegan chocolate chip cookie dough should be fudgy, moist, buttery and soft. It should feel 'easy' to scoop balls of dough using an ice cream scoop!
If you used margarine instead of butter, your dough might be a little softer. This can be compensated by a little more flour but I'd recommend chilling your dough instead to firm up the dough.
Why? We don't want to add too much flour to the cookie dough as more flour makes the cookies more cakey!
Do I need to chill the dough beforehand?
If you used block butter instead of margarine, chilling the dough isn't necessary!
However, some believe that chilling your dough allows the flavours to develop... if you have the patience for that! The cookies are AMAZING without any chilling :).
Making the hot fudge cookie filling
For the GORGEOUS ooey gooey fudge filling, you'll need:
More chocolate, to make the fudge a little more firm for stuffing the cookies, ooooh yeah!
Unlike nutella or other nut butters etc, we don't want the fudge filling to be too firm. Having a runny fudge makes these cookies more ooey, gooey and delicious!
How to stuff the cookies
The (frozen) hot fudge will take your vegan chocolate chip cookies to the NEXT LEVEL.
Basically, use your ice cream scoop to make a ball of cookie dough, make an indent, fill with fudge and cover the filling with more cookie dough
My fudge was a little runny because I was a little impatient with the freezing step. However, it was workable!
To make evenly shaped vegan stuffed cookies, remove the ball of cookie dough from the ice cream scoop Then roll the ball of dough in your hands, being careful not to squish the fudge! This is *totally* optional!
Customising the cookies
For CRISPIER cookies, simply bake them for a little longer. For SOFTER cake-like cookies, add a few more tablespoons of flour and bake.
I haven't tried to make these GLUTEN FREE. However, I normally use a blend of almond flour and a gluten-free flour blend such as in my vegan gluten free triple chocolate chip recipe. If you make them gluten free, let me know how you go!
If you prefer vegan cookies with NO BUTTER, I'd recommend my gluten free triple chocolate chip recipe which uses oil instead of butter.
My other vegan chocolate desserts
Print Recipe
Fudge Stuffed Chocolate Chip Cookies (vegan)
BEST ever vegan stuffed chocolate chip cookies with a hot fudge centre. These cookies are soft, chewy and crispy on the edges.
Ingredients
Vegan chocolate chip cookies
Instructions
To make the fudge filling (day before or a couple of hours beforehand):
Add both ingredients to a small saucepan over low heat and mix until combined. Pour the mixture into a freezer-safe bowl/container and freeze until needed. The mixture should thicken up a lot and be almost scoopable.
To make the vegan chocolate chip cookies:
Add the sugar, melted butter and milk to a medium-size mixing bowl. Mix until combined. Add the flour and baking soda and mix until combined. Fold through the chocolate chips.
To shape the cookies:
Preheat the oven to 180°C (350°F).**

Using a small ice cream scoop, scoop the cookie dough. Press your finger into the middle of the dough and spoon/pour the fudge filling inside.

Get a little extra cookie dough and press it on top of your cookie to cover the filling. Smooth the edges so the filling doesn't escape. If desired, carefully roll the cookie dough ball in between your hands to smooth out the shape.
Baking the cookies:
Arrange the cookie dough balls/scoops on two lined baking trays with around 5 cm (2 inches) between each cookie.

Bake in the oven for around 10-12 minutes or until the cookies are slightly golden brown. When you take them out of the oven, they will continue baking!

Enjoy the cookies warm or store in an airtight container for up to 3 days.... although they never last that long in my house!
Notes
* Vegan margarine spread will also work but your cookie dough may be a little softer.
** Alternatively, you can shape then refrigerate or freeze the cookie dough and bake when you need... perfect for those afternoon or midnight cravings!
Please leave a comment below if you made this recipe, have any questions or thoughts! Your comment will help other readers and Rainbow Nourishments.