Easy vegan strawberry cupcakes packed with real strawberries and flavour. They are perfect for Valentine's Day or any time of the year!
These vegan strawberry cupcakes are:
DELICIOUS
Pretty and pink
Easy to make and use no weird/uncommon ingredients
Fluffy but moist kind of like banana bread!
If you fancy cupcakes but something slightly different, see my vegan red velvet cupcakes, carrot cake cupcakes or coconut lime cupcakes recipe.
There are 3+ cups of strawberries in this recipe!
I wanted to make vegan strawberry cupcakes bursting with real strawberries. None of that vanilla muffin madness with bits of strawberries. And no strawberry essence!
Never fear, the ingredients needed to make these vegan strawberry cupcakes are common and include:
Flour + sugar
Baking powder
Beetroot powder (or vegan-friendly pink/red food colouring)
Strawberries (fresh or frozen will work)
Plant milk + oil
Apple Cider Vinegar (or white vinegar or lemon juice)
Just like banana bread, the more fruit you add, the better your cake tastes... however, it also means your cake will be heavier! To counteract this, I added 4 whole teaspoons of baking powder and a little apple cider vinegar to minimise any gumminess.
How to make these vegan strawberry cupcakes
It's super easy! Mix dry ingredients. Blend wet ingredients. Mix together then bake.
I experimented with reducing the strawberry puree on the stovetop. Creating a strawberry reduction would help minimise its water content therefore intensifying its flavour. That would be very useful for some recipes that need as little moisture as possible!
However, in this recipe, we need to add lots of liquid (milk). Making a strawberry reduction was unnecessary extra work.
Making these cupcakes PINK
To make these vegan strawberry cupcakes pretty, I used 3 whole teaspoons of beetroot powder. If you don't use it, your cupcakes will be an off-pink colour after baking.
When you add beetroot powder to the cupcake batter, it will turn veryyyy pink. The colour fades (and browns a little) in the oven so 3 teaspoons was just right!
All the pictures in this post feature cupcakes that are coloured with beetroot powder rather than food dye. I wanted to show you their true colour and there's minimal photo editing!
See my other vegan strawberry recipes:
You may also like: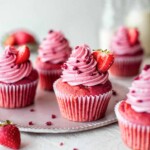 Print Recipe
Vegan strawberry cupcakes
Easy vegan strawberry cupcakes with lush cream cheese frosting. Includes an option without food dye.
Ingredients
Wet ingredients
3 ¼

cups (390g)

strawberries

,

fresh or frozen and stems chopped off

1

cup (250mL)

plant-based milk, such as almond, soy or coconut

¼

cup (65mL)

light-tasting vegetable oil, such as sunflower or rapeseed

1

tbsp

apple cider vinegar

1

tsp

vanilla extract
To decorate (optional)
¾

cup (180g)

vegan cream cheese

,

room temperature

¾

cup (170g)

vegan butter

3

cups (300g)

icing sugar

,

or to taste*

Beetroot powder and/or freeze-dried strawberry powder

,

to colour and taste (optional)

Fresh strawberries

Freeze-dried strawberries or raspberries
Instructions
Preheat the oven to 180°C (350°F). Line a cupcake tray with liners.
To make the cupcakes:
Add all the dry ingredients to a large bowl and mix until combined or until there are no more big lumps. If you're using the food dye, use it with the wet ingredients.

Blend all the wet ingredients (including the strawberries) in a blender until smooth. Add the strawberry mixture to the dry ingredients and fold until combined.

Divide the batter between your cupcake liners.

Bake the cupcakes in the oven for 15-20 minutes or until a skewer can be inserted into a cupcake and it comes out clean. The baking time will depend on the size of your cupcake tray and individual cupcakes.

Cool the cupcakes in the tray for 5 minutes then cool them on a wire rack. These cupcakes may brown underneath which is normal. If you eat the cupcakes immediately, they'll stick a little to the liners (this happens when there's a lot of fruit in the cake). However, they'll peel away more easily when they are cool.
To make the frosting:
Add the cream cheese and butter to a bowl or stand mixer. Cream until just combined. Add the sugar and mix until just combined. If you overmix the frosting, it will become loose and may not hold up. Add more icing sugar for a firmer frosting.

If desired, add beetroot powder or freeze-dried strawberry powder to the frosting. Adjust to taste or colour.

When the cupcakes are completely cool, use a piping bag with a star shaped nozzle to frost the cupcakes. Alternatively, use a knife to spread the frosting on the cupcakes. Decorate with fresh strawberries and freeze-dried strawberries/raspberries if desired

Serve immediately. Alternatively, store the frosted cupcakes in an airtight container in the fridge up to 3 days. Allow them to slightly warm up at room temperature before serving. If the cupcakes are unfrosted, they can keep at room temperature/
Notes
* More icing sugar will create a firmer frosting whereas less icing sugar will create a softer frosting.
This post was originally published in January 2017 and updated in February 2021.
Please leave a comment below if you made this recipe, have any questions or thoughts! Your comment will help other readers and Rainbow Nourishments.