Easy vegan coconut lime cupcakes filled with a zesty creamy lime curd and topped with a coconut vanilla buttercream. Fluffy tropical deliciousness!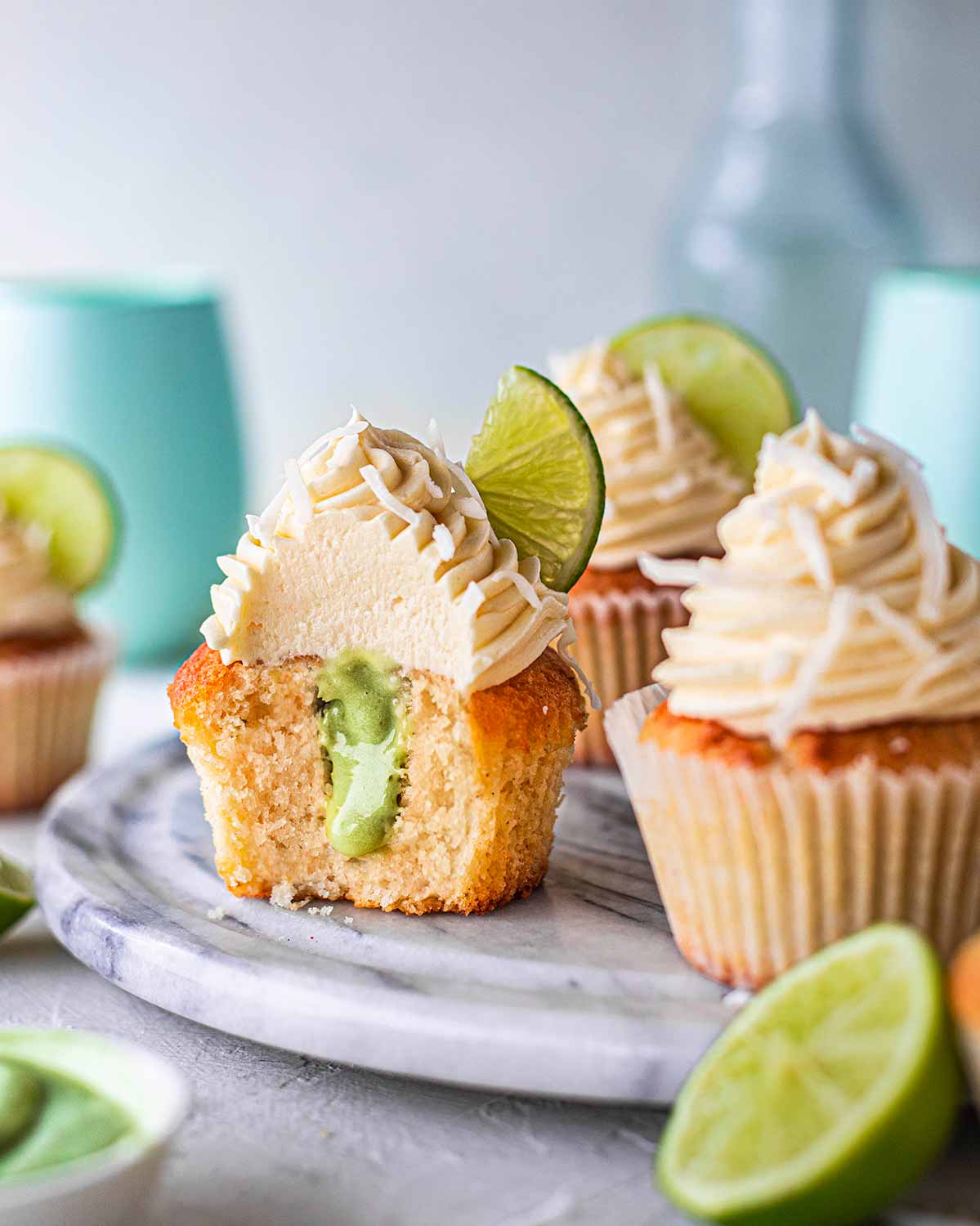 Even though we can't travel right now, we can make these tropical cupcakes! These vegan coconut lime cupcakes are:
Easy and simple
Don't use any weird ingredients
Are fluffy, bursting with citrus and coconut
If you would like to make a bigger vegan Summer cake, check out my Vegan Pina Colada Cake recipe!
Making the vegan coconut lime cake
Simply add all the dry ingredients to a bowl and mix. Then add the wet ingredients and mix until combined! As there's dessicated coconut in the mixture, it might look a little lumpy but just make sure there are no lumps of flour!
Don't be tempted to add more liquid at this stage. This recipe will not bake with a runny batter!
The dessicated coconut in the cupcakes helps create a fluffy crumb and minimises the need for extra oil!
The cupcakes rise beautifully in the oven and will make your home smell beautiful!
Making the vegan lime curd
The lime curd for these cupcakes is zesty, custard-like and additive! I used a common Australian variety of lime but feel free to use key limes if you have access to them!
I'll be honest - the lime curd doesn't look great in the saucepan before you add any colouring (powder, gel or liquid colouring). This is because the natural coconut oil in the cream has melted and become transparent. However, when the lime filling cools, it'll become white (and not grey) just like coconut cream!
It's best to add your desired colour once the curd cools. You'll be working with a whitish custard-like mixture rather than a strange grey mixture.
Decorating the vegan coconut lime cupcakes
I provided a simple coconut buttercream recipe and decorate my cupcakes with shredded coconut and wedges of lime.
To make these cupcakes healthier, you can decorate them with whipped coconut cream! If you omit the lime curd filling, you can simply top your cupcakes with shredded coconut (before baking) and call them muffins.
If you make this recipe, I'd love to hear about it!
See my other vegan cupcake recipes:
Print Recipe
Vegan Coconut Lime Cupcakes
Easy vegan coconut lime cakes with a lime curd filling and vanilla coconut buttercream.
Ingredients
Instructions
Preheat the oven to 180°C (350°F). Line a cupcake tray with liners.
To make the cupcakes:
Add all the dry ingredients to a large bowl and mix until combined or until there are no lumps. Add the wet mixture to the dry ingredients and mix until just combined. The mixture should be quite thick.

Divide the batter between your cupcake liners.

Bake the cupcakes in the oven for 15-20 minutes or until a skewer can be inserted into a cupcake and it comes out clean. The baking time will depend on the size of your individual cupcakes.

Cool the cupcakes in the cupcake tray for 5 minutes then allow to cool on a wire rack.
To make the lime curd:
Add all ingredients (except the powdered colours) to a small saucepan and mix until combined. Place the saucepan over medium heat. Stir for 5 minutes or until thickened. Allow to cool completely. The curd will become less transparent once it cools.

When the curd has cooled, mix in your powdered colours, as desired.

Use an apple corer or knife to cut and remove the middle of each cupcake. Spoon the lime curd into each cupcake. Set aside in the fridge until needed.
To make the frosting:
Add the butter to a bowl or stand mixer. Whip until pale and fluffy. Add the sugar, vanilla and coconut extract and whip until very fluffy.

Use a piping bag with a star shaped nozzle to pipe the frosting onto the cupcakes. Alternatively, use a knife to spread the frosting on the cupcakes.

Serve immediately. Alternatively, store the unfrosted cupcakes at room temperature or the frosted cupcakes in an airtight container in the fridge for up to 3 days. Allow them to come to room temperature before serving.
Notes
I weighed the lime juice/zest together and it was about ¼ cup. I used Tahitian or Persian limes which are the most common variety in Australia. However, feel free to use key limes if you can access them!
Nutrition
Serving:
1
cupcake without frosting
|
Calories:
348
kcal
|
Carbohydrates:
41
g
|
Protein:
4
g
|
Fat:
19
g
|
Sodium:
146
mg
|
Potassium:
177
mg
|
Fiber:
2
g
|
Sugar:
15
g
|
Vitamin A:
5
IU
|
Vitamin C:
4
mg
|
Calcium:
125
mg
|
Iron:
2
mg
This post may contain affiliate links. As an Amazon Associate, I may earn a small commission from qualifying purchases at no additional cost to you.