This vegan strawberry cream cheese frosting is so dreamy, luscious and versatile! You can customize the recipe to make a soft frosting or a firmer frosting for decorating cupcakes and layer cakes.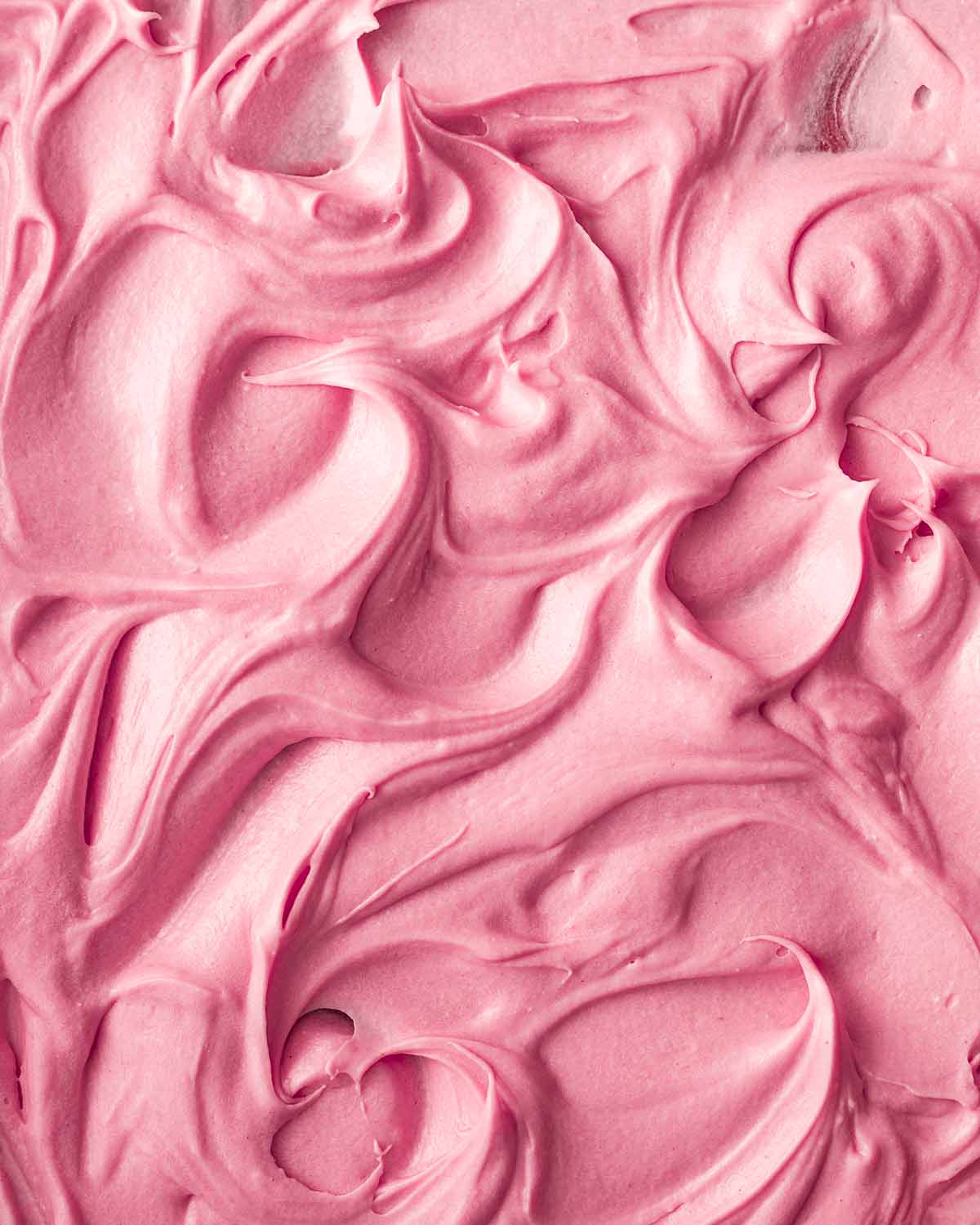 Ingredients you'll need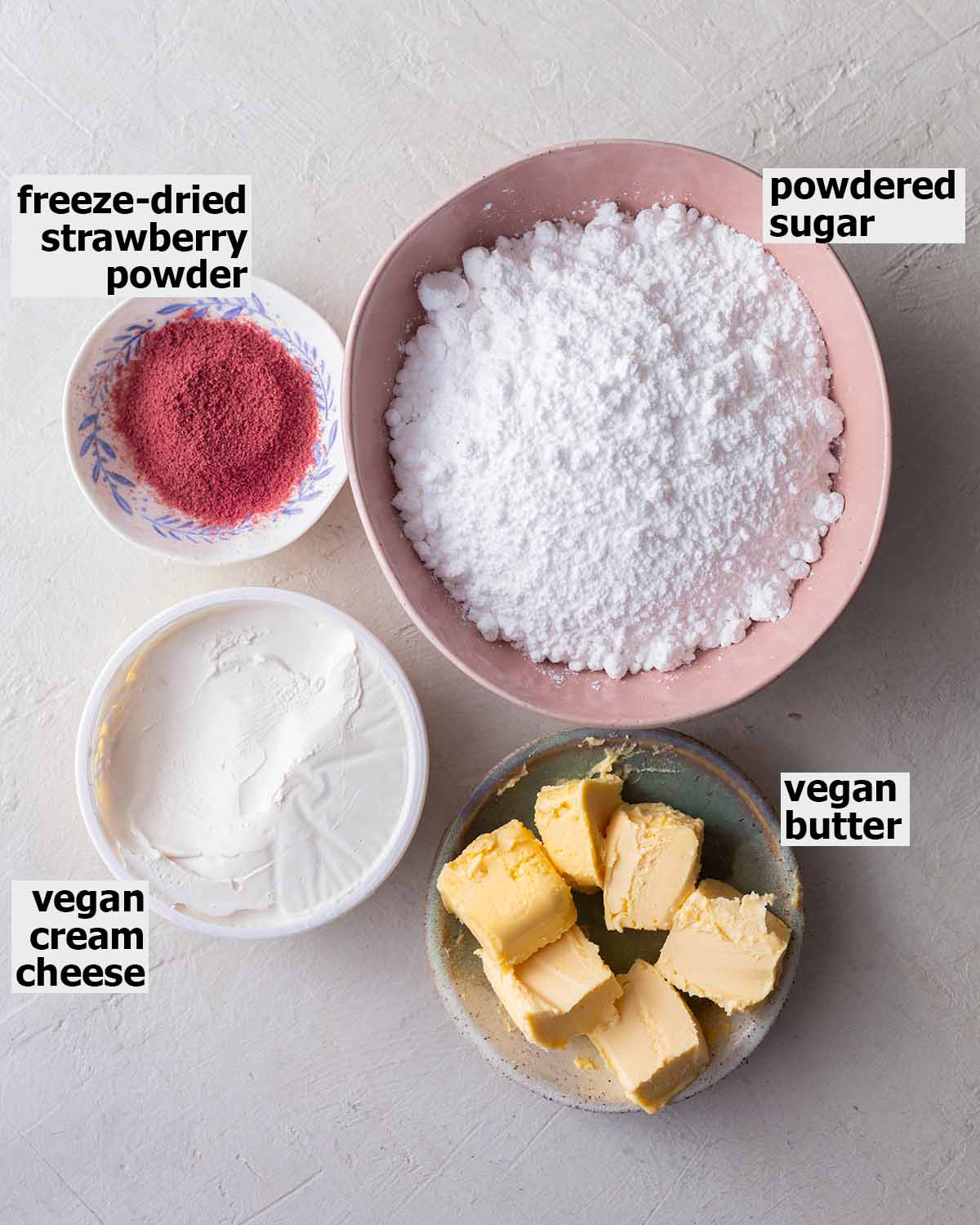 A complete list of ingredients, quantities and instructions are in the gray recipe card at the bottom of this post.
Vegan cream cheese. Many dairy-free brands will work well but I'd recommend a brand that is firm but creamy when chilled (see pictured). I've used Tofutti and Sheese several times for this frosting and many other brands will work too!
Non-vegan cream cheese frosting recipes normally recommend using block cream cheese as they're firmer. However, I've yet to see a block vegan cream cheese anywhere internationally! This strawberry frosting recipe has been designed for vegan cream cheese (in a tub).
Powdered sugar for sweetness AND structure. Cream cheese frostings are notoriously soft. To counteract this, we need to add a decent amount of sugar. The more sugar we add, the easier the frosting is to pipe and decorate with.
Freeze-dried strawberry powder. This can be purchased as a powder or ground from whole/sliced freeze-dried strawberries. I do not recommend using strawberry puree as it'll add too much liquid to this frosting which is already soft.
How to make the frosting
First, please make sure all your ingredients are at room temperature. This is where the butter and cream cheese can be indented with your finger but are not greasy at all. Or check out this post by Sally's Baking Addiction to see what room temperature butter means!
For cream cheese frosting, beating cold ingredients can result in a lumpy and/or split frosting!
Similar to regular buttercream, add the butter and cream cheese to a large mixing bowl (or stand mixer). Use an electric hand mixer (or the stand mixer's whisk attachment), beat the mixture until it's light and fluffy.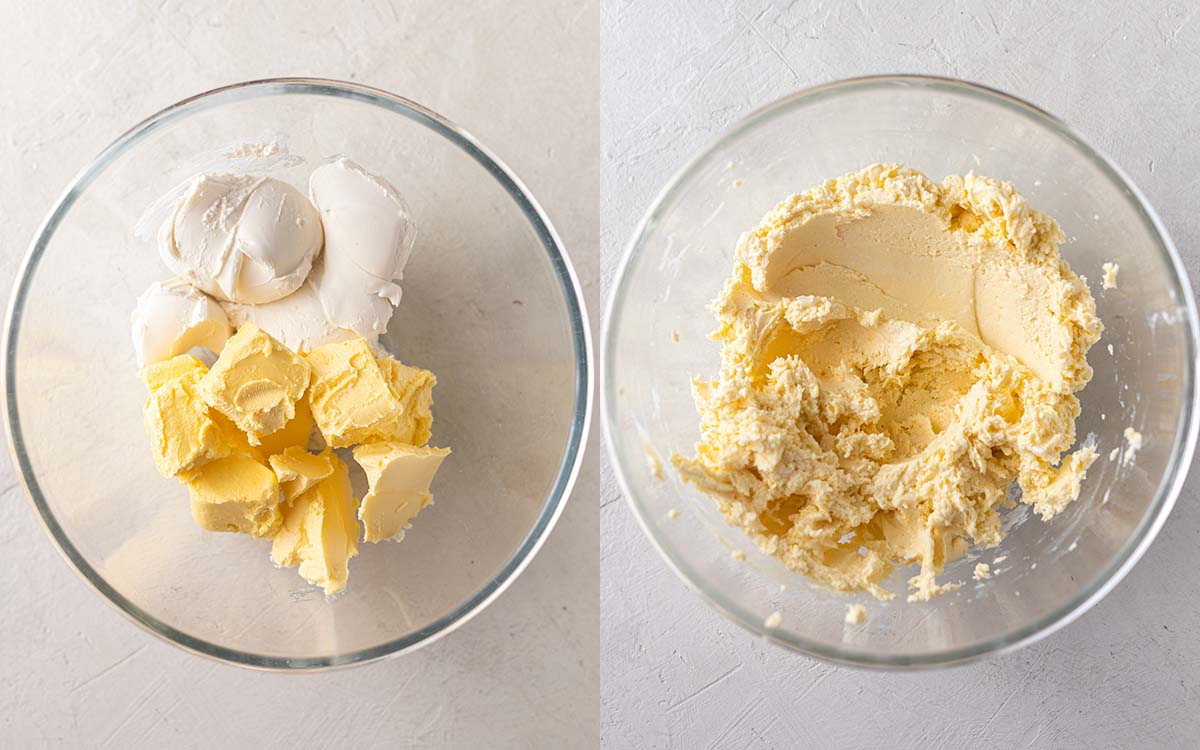 Next, add your powdered sugar and strawberry powder. Beat on low speed just to incorporate the ingredients. This will help prevent a sugar dust storm (speaking from experience).
Then increase the speed to high and beat until the ingredients are well combined. The most important thing is to make sure there are no lumps of cream cheese, butter or sugar! It took me around 5 minutes to get to an ideal consistency.
However, please avoid over-whipping your cream cheese frosting! Cream cheese frosting should be whipped for only around 5 minutes whereas regular buttercream can be whipped for longer.
Depending on your climate, the frosting can be used as-is OR chilled until you need it.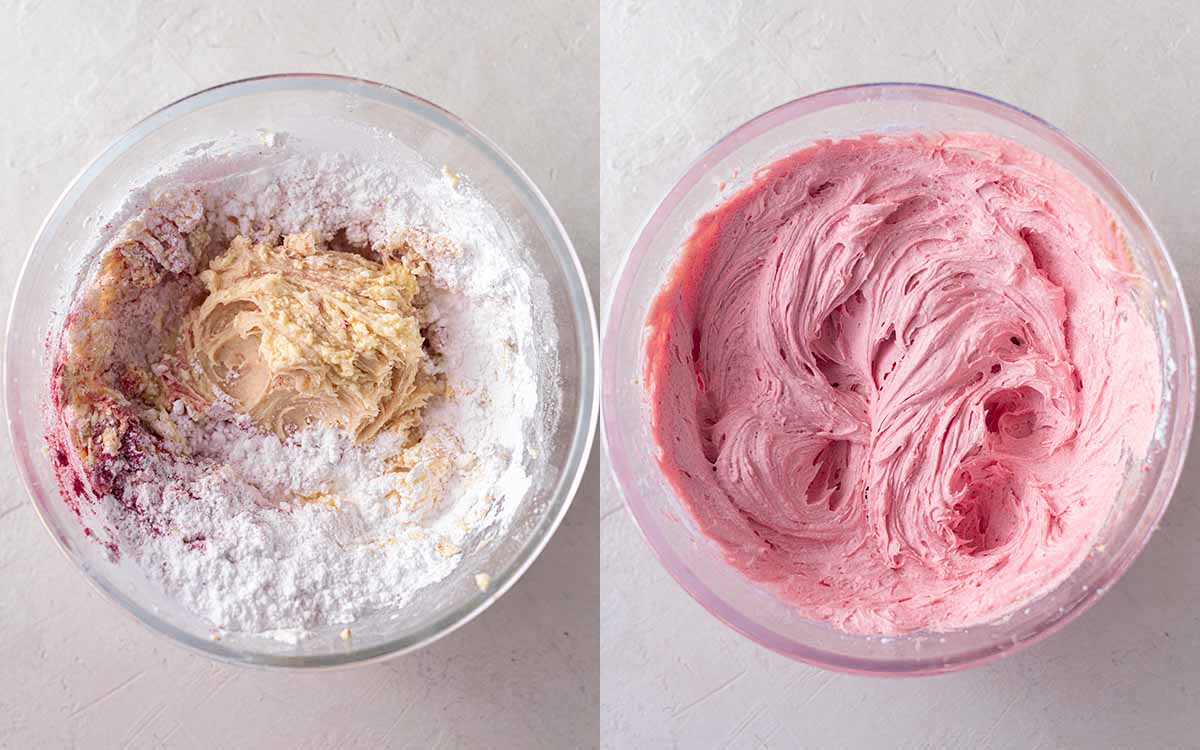 Troubleshooting
My frosting is too soft and soupy. How can I make it firmer?
As mentioned before, the more sugar you add, the firmer the frosting will be. If you used the recommended amount and your frosting is still too soft, chill it in the fridge for 30 minutes or for as long as you can.

If the frosting is still too soft for your liking, see below for extra tips (the question about layer cakes).
Why has my frosting has split? How can I fix it?
Cream cheese has a high water content so it's more likely to split than regular buttercream. Usually, it splits due to a temperature issue. Your ingredients may have been too warm or cold or you're environment is too warm/humid or cold.

If you haven't already added the sugar, don't worry. Just mix in the sugar and it'll help everything come together.

If you've added the sugar and your frosting has split, you'll need to heat or cool the frosting (depending on the initial problem). I'd recommend either:
1. Heating up the bottom of the bowl with a hairdryer or placing it over a saucepan of boiling water (like a double-boiler).
2. Chilling the frosting by popping it in the fridge.

Then beat the frosting again! You can also add a little corn starch which helps absorb the extra liquid.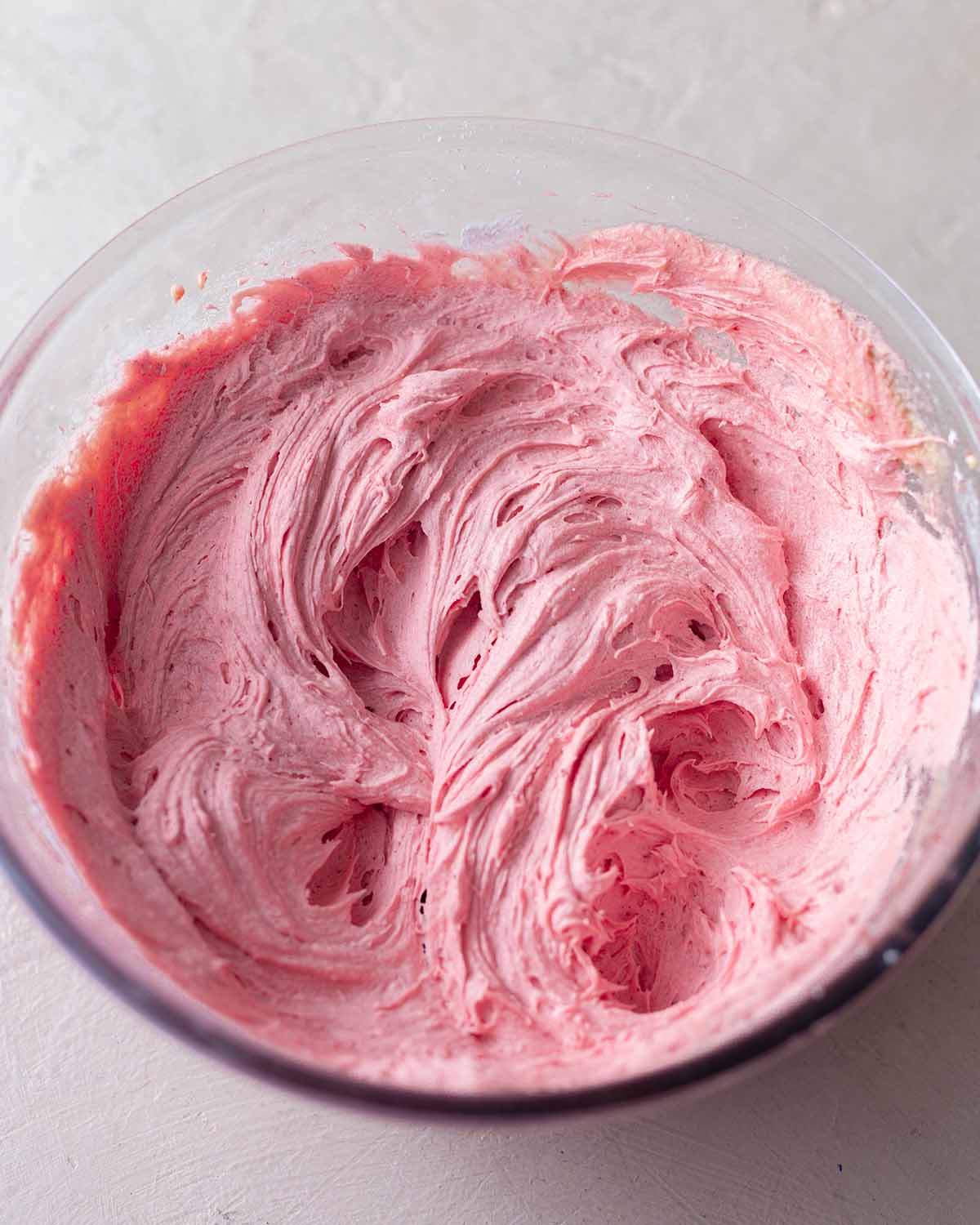 Customizations and recipe questions
Can I use this vegan strawberry frosting in between cake layers?
Yes, it's possible! I used a plain cream cheese frosting in between layers for my mango cake and it worked very well! There are two ways to make the frosting more firm/stable:

1. Use vegetable shortening INSTEAD of vegan butter.
2. Add a few tablespoons of corn starch and vegetable shortening (or refined coconut oil). If you use refined coconut oil, you'll need to keep the cake below its melting point at 78°F (25°C).

However, note that even with these substitutions, I wouldn't recommend keeping the cake/frosting at room temperature *all* day.
Can I use strawberry puree instead?
As stated previously, I wouldn't recommend this. Fresh fruit has too much liquid for a soft cream cheese frosting. If you'd like a strawberry frosting using fresh strawberries, check out my vegan strawberry buttercream frosting.
My strawberry powder is making the frosting a weird color. What can I do?
Try adding some beetroot powder or even pink/red food coloring until it's reached your ideal color. If you use food coloring, I'd recommend using a gel if possible because it's less likely to split your frosting.
Can I use strawberry extract instead of freeze-dried strawberries?
Yes! I'd recommend starting with around 1 teaspoon of each. Then add more to taste and color!
How many cupcakes or cakes can I frost using this strawberry frosting?
This recipe will frost 12-16 cupcakes and an 8-inch double layered cake (only in between layers and on top of the cake).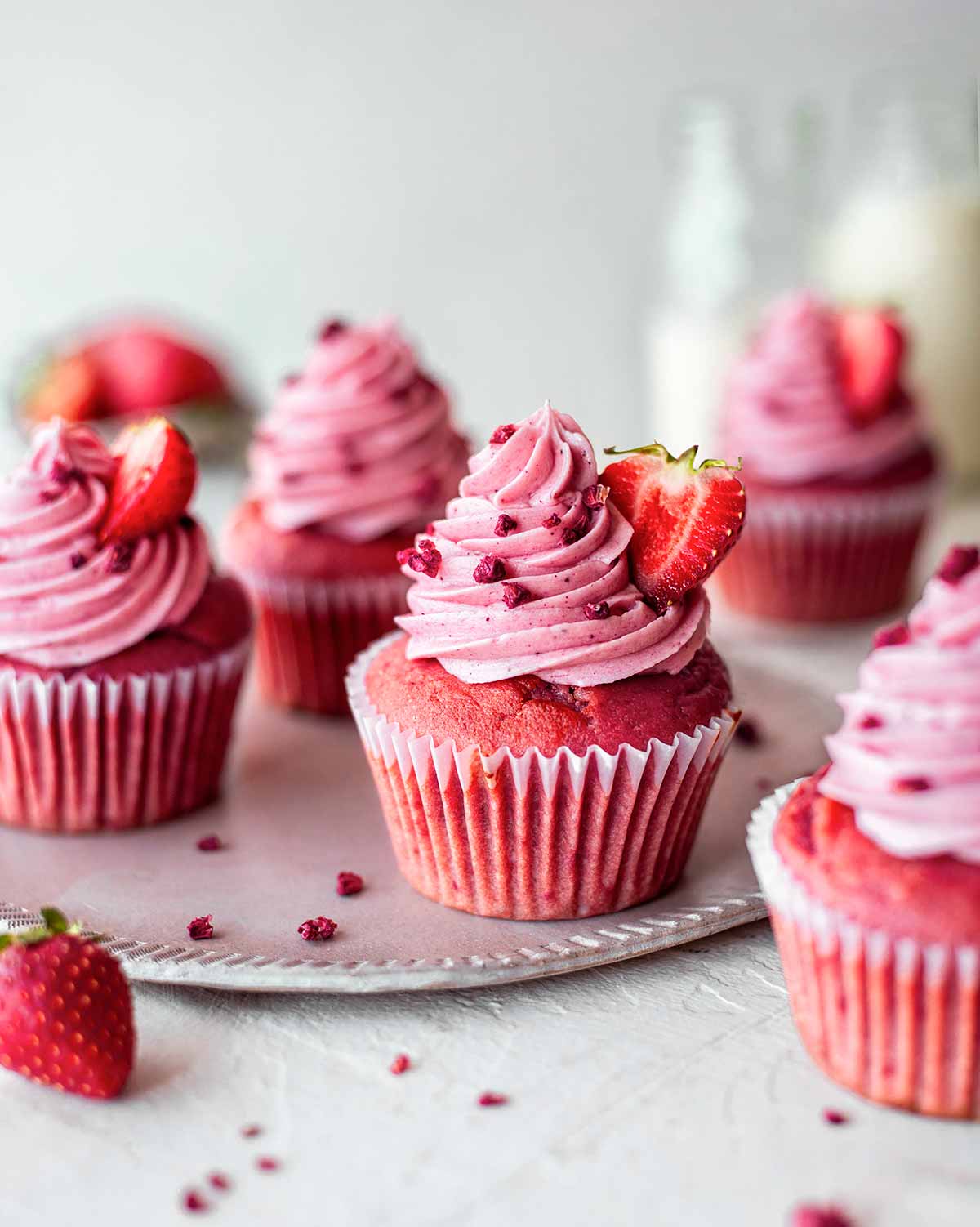 Use this strawberry frosting with
Follow Rainbow Nourishments on Instagram, Facebook, TikTok and Pinterest, and subscribe via email to receive all of our latest recipes!
Print Recipe
Vegan Strawberry Cream Cheese Frosting
This vegan strawberry cream cheese frosting is so luscious and versatile! The recipe can be used to make a soft frosting for topping desserts or to make a firmer frosting for decorating cupcakes and layer cakes.
Servings:
3
cups (approx)
Instructions
Add the cream cheese and butter to a bowl or stand mixer. Whip until just combined.

Add the sugar and strawberry powder and beat until just combined. This should take less than 5 minutes. Be careful to not overmix the frosting as it may become too soft or split. If your frosting is too firm, add a dash of dairy-free milk (this is normally not needed).

If desired, add more powdered sugar and/or strawberry powder to taste and colour.

Use the frosting immediately. Alternatively, store it in an airtight container for up to 5 days. If you're using the frosting later, it's important to allow the frosting to come to room temperature before using.
Notes
This recipe will frost 12-16 cupcakes or an 8 inch double layered cake (only in between layers and on top of the cake).
More powdered sugar will create a firmer frosting whereas less icing sugar will create a softer frosting. The amount added will depend on your type of butter and how stable you'd like your frosting to be.
Alternatively, use strawberry extract/flavouring. Start with just 1 teaspoon and add more to taste. However, don't add too much otherwise your frosting may split. If you don't like the colour of the frosting with your strawberry powder or extract, you can add 1 teaspoon of beetroot powder or red/pink food colouring (a gel is preferable) and mix until the frosting has reached your ideal colour.
Nutrition
Serving:
3
tablespoons
|
Calories:
197
kcal
|
Carbohydrates:
23
g
|
Protein:
1
g
|
Fat:
12
g
|
Sodium:
129
mg
|
Potassium:
4
mg
|
Fiber:
1
g
|
Sugar:
21
g
|
Vitamin A:
464
IU
|
Calcium:
9
mg
|
Iron:
1
mg
This post may contain affiliate links. As an Amazon Associate, I may earn a small commission from qualifying purchases at no additional cost to you.