Incredibly easy vegan strawberry frosting which so creamy, fluffy and flavorful! You can choose between fresh strawberries or freeze-dried strawberry powder to make this frosting recipe.
This frosting is perfect for decorating my vegan strawberry cupcakes, vegan strawberry cake or flourless chocolate cake. It's perfect for birthday cakes or any celebrations!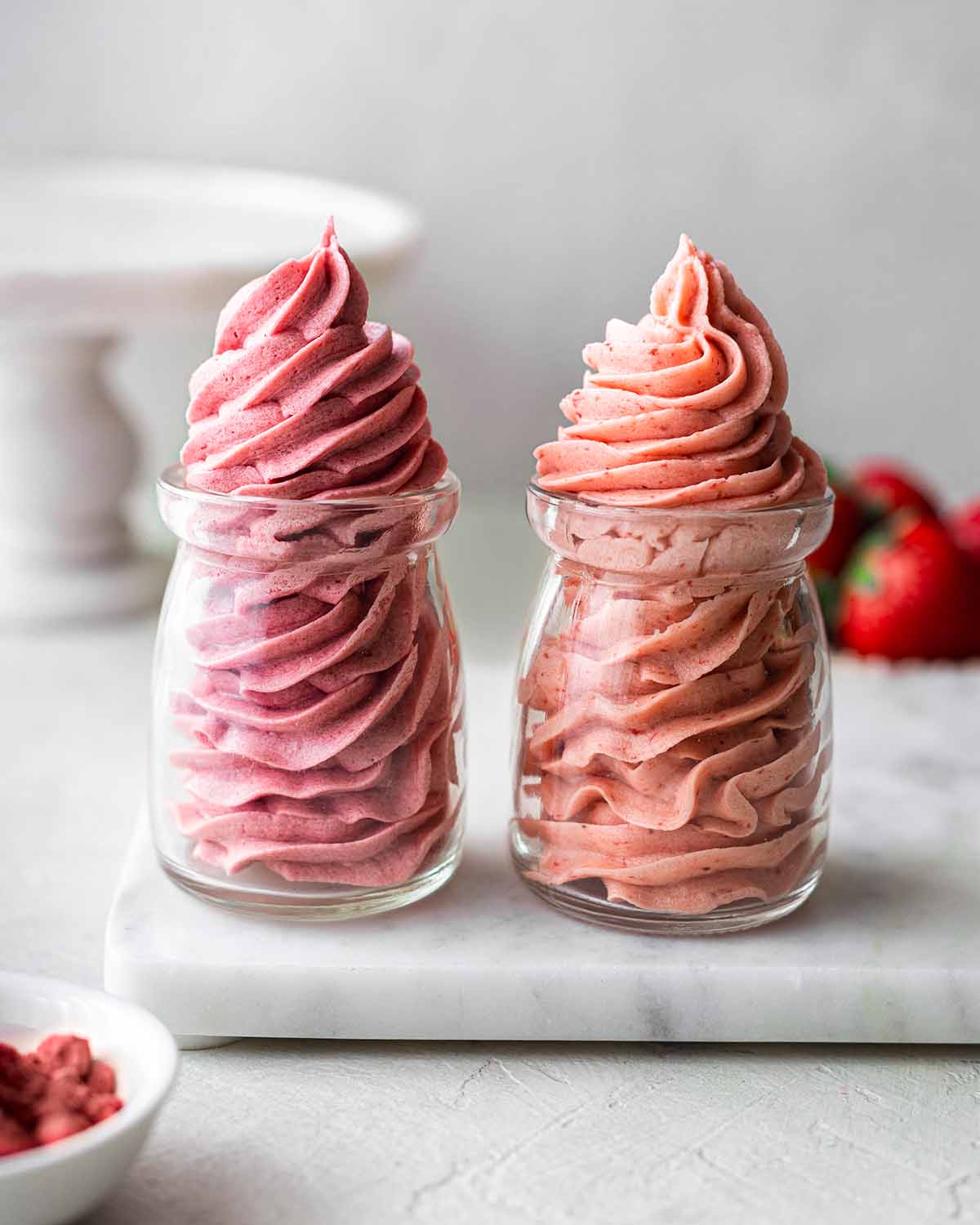 3 ingredients to make vegan strawberry frosting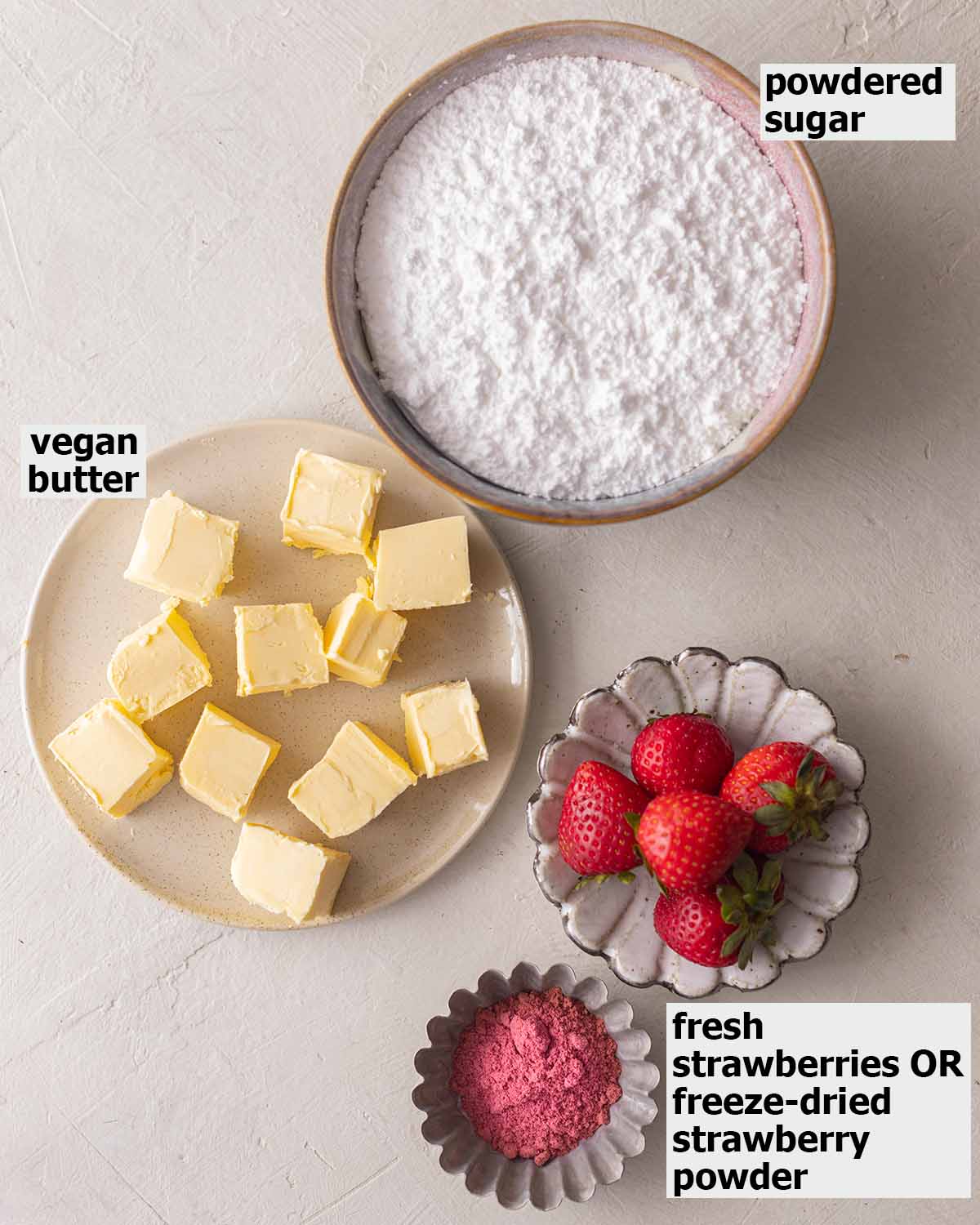 Ingredient notes
Powdered sugar makes the frosting sweet and also provides structure and stability.
Vegan block butter. A high-fat or firm butter is better for any buttercream as it makes it more stable. Alternatively, you can use vegetable shortening, as long as it's at room temperature. If you absolutely can't access block butter, I've included some tips below.
Strawberries (fresh or frozen) which will be reduced on the stovetop to remove excess liquid. OR freeze-dried strawberry powder which can be purchased as is or ground from whole/sliced freeze-dried strawberries.
Optional additions include vanilla extract, dairy-free milk and salt if you use unsalted butter.
The full list of ingredient quantities and instructions are in the gray recipe card at the bottom of this post.
Which version should I make? What's the difference?
Both versions of the vegan strawberry frosting are sturdy, are delicious and versatile. If you aren't sure about which version to make, this info will help!
Strawberry frosting made with freeze-dried strawberry powder
Pros: Easier and quicker to make. The frosting has a more intense strawberry flavor than the other version.
Cons: Strawberry powder can be expensive and hard to find, depending on where you live! Some strawberry powders are a little sour so the frosting will adopt this flavor (however, the sourness can help balance out the sweetness of the frosting, which is an advantage)!
Strawberry frosting made with fresh strawberries
Pros: Tastes like fresh strawberries and a little like real strawberry ice cream! You can customize the flavor of the frosting by choosing a sweet or sour variety of strawberries.
Cons: Takes 10+ minutes longer to make than the other version. The frosting may also have strawberry seeds and pulp throughout which can make it trickier to pipe and decorate with. However, I personally love the little specks of fresh strawberries in the frosting!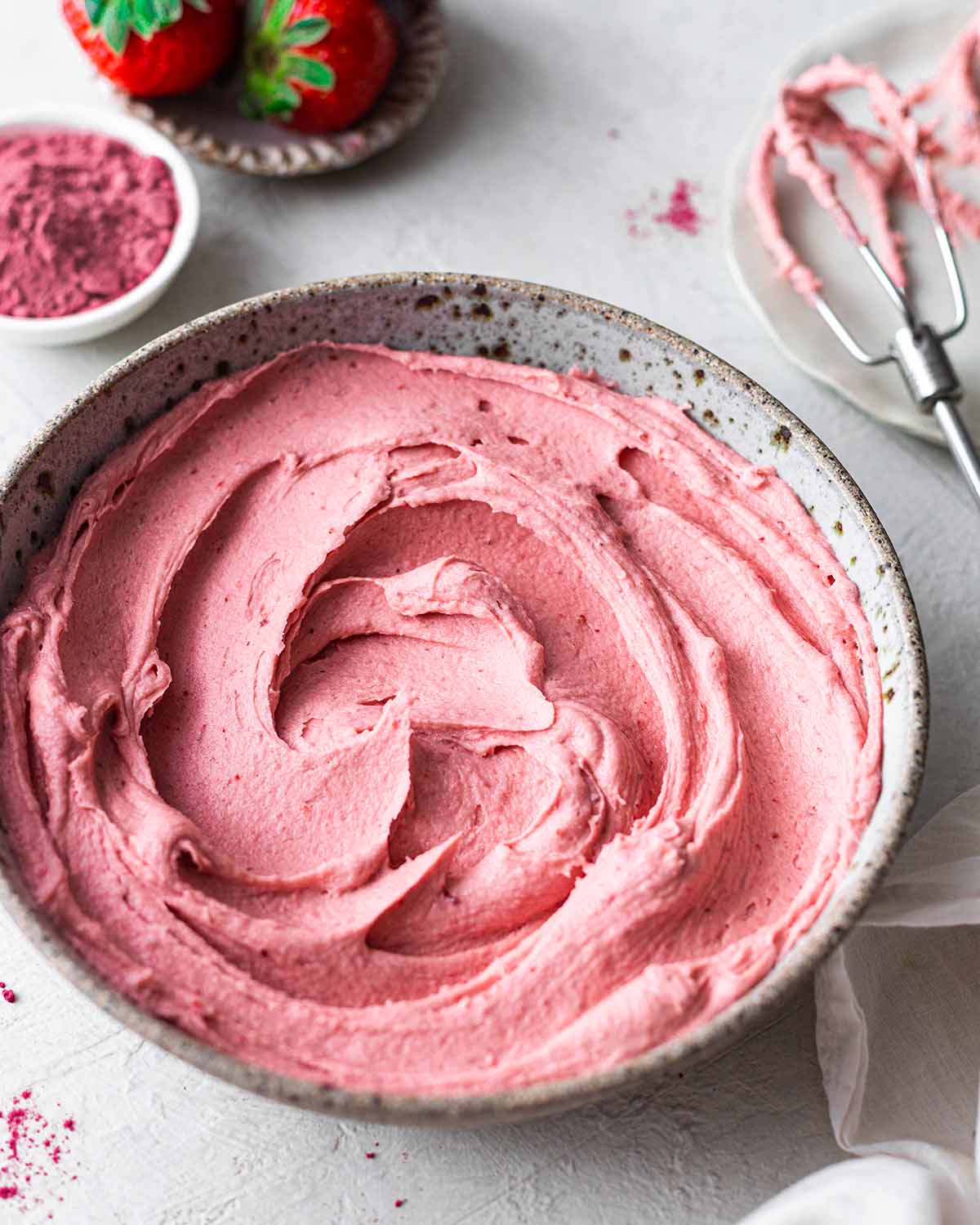 Using a strawberry reduction in the frosting (one version)
Using pure strawberry puree in frosting will cause it to split and/or become soupy. Strawberries contain a lot of liquid which doesn't easily emulsify with the high amount of fat/butter in the frosting.
Trust me - I tried mixing pure berry puree into frosting many times when I had a cake business. It was often a stressful disaster!
Reducing the strawberry puree removes excess water so we can easily combine it with the frosting. It also intensifies the strawberry flavor making a tastier frosting!
Luckily, it's SO EASY to reduce the strawberry puree! You only need around 10 minutes of cooking on the stovetop. The puree should eventually be a very thick consistency and look similar to tomato paste!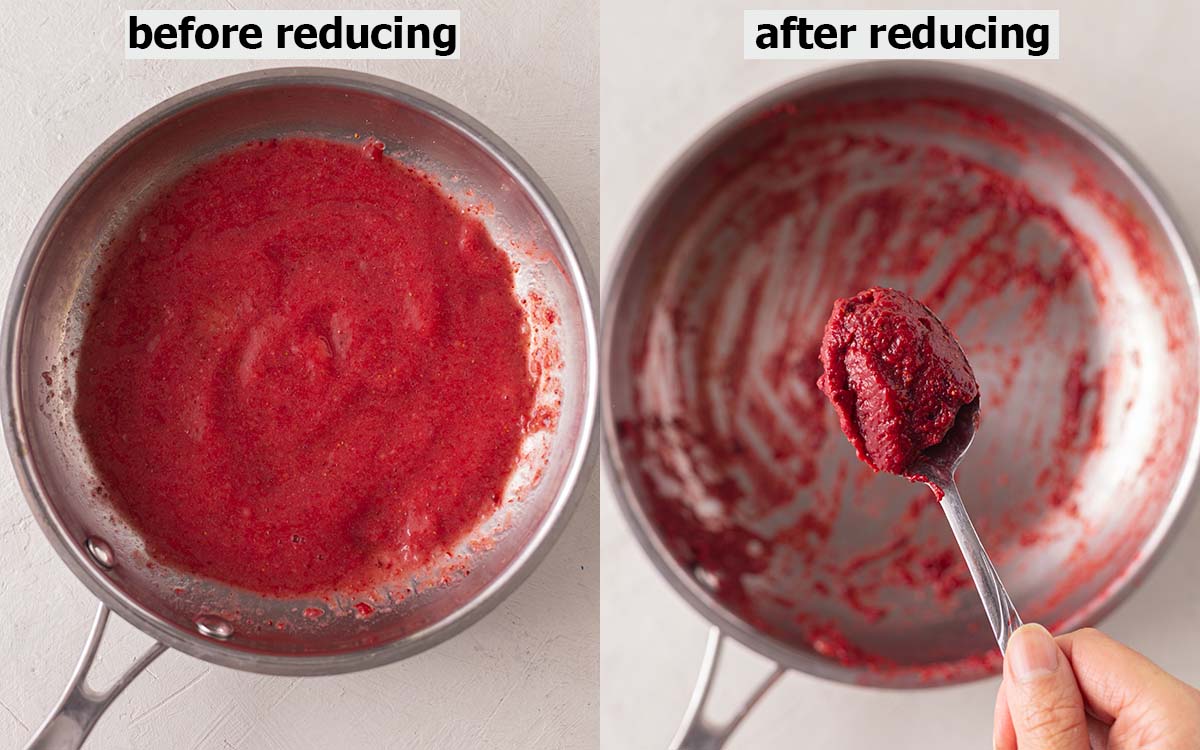 How to make vegan strawberry frosting
This easy strawberry frosting comes together in one large bowl!
My top tip is to use ROOM TEMPERATURE butter. Sally's Baking Addiction explains 'room temperature butter' in some detail. Room temperature butter is easier to whip and minimizes any lumps in your final frosting.
I'd recommend using a stand mixer or electric hand whisk to make the buttercream.
First, you'll need to whip the butter by itself. Your butter is sufficiently whipped when it turns a light pale color, is fluffy and dreamy!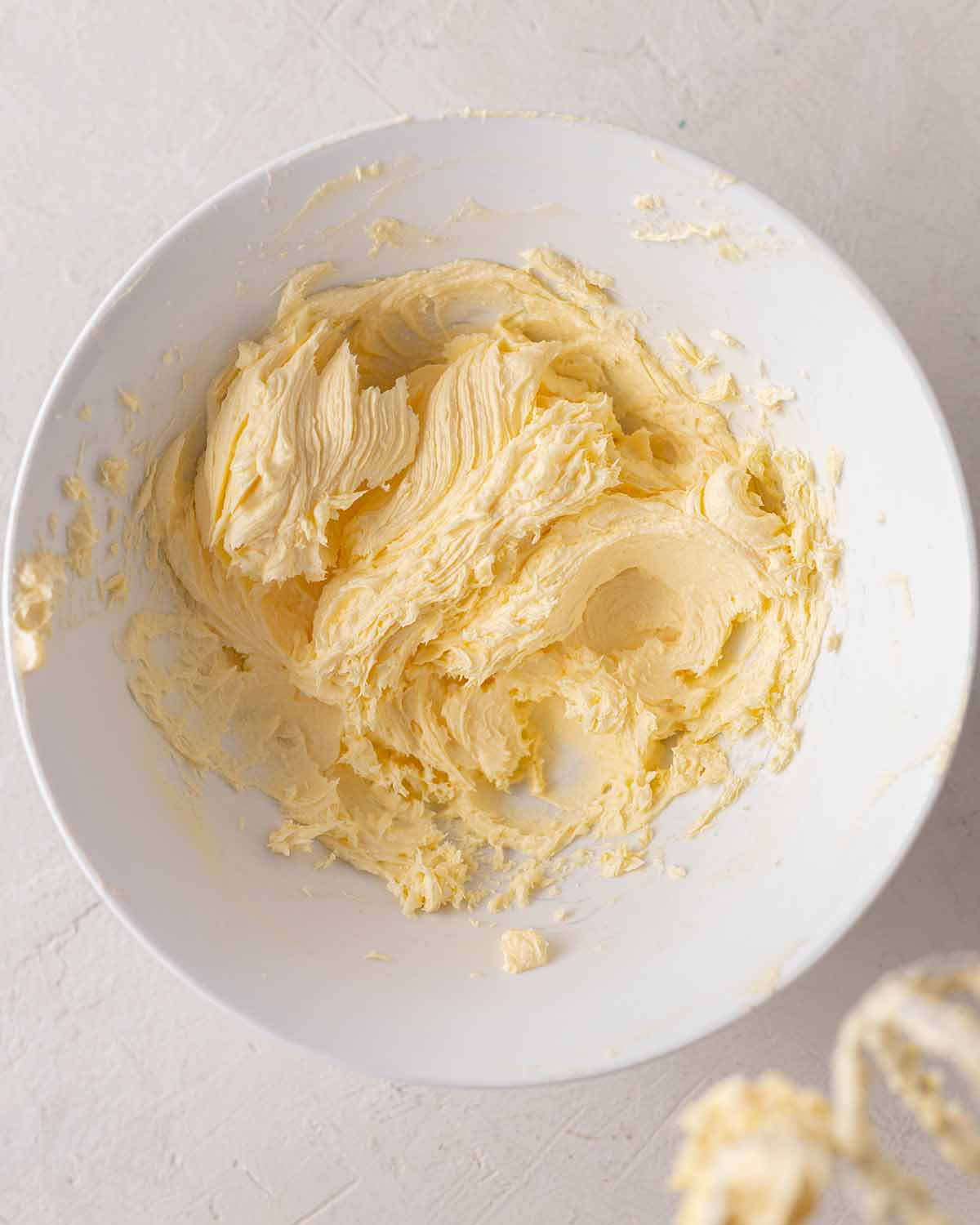 Next, add your powdered sugar and strawberry puree or powder. But *please* initially whip it on LOW speed. If you start on high speed, you'll have a sugar dust storm and coat your kitchen and clothes with sugar. Not so yummy or fun to clean.
Then you may increase your mixer to high speed and whip away.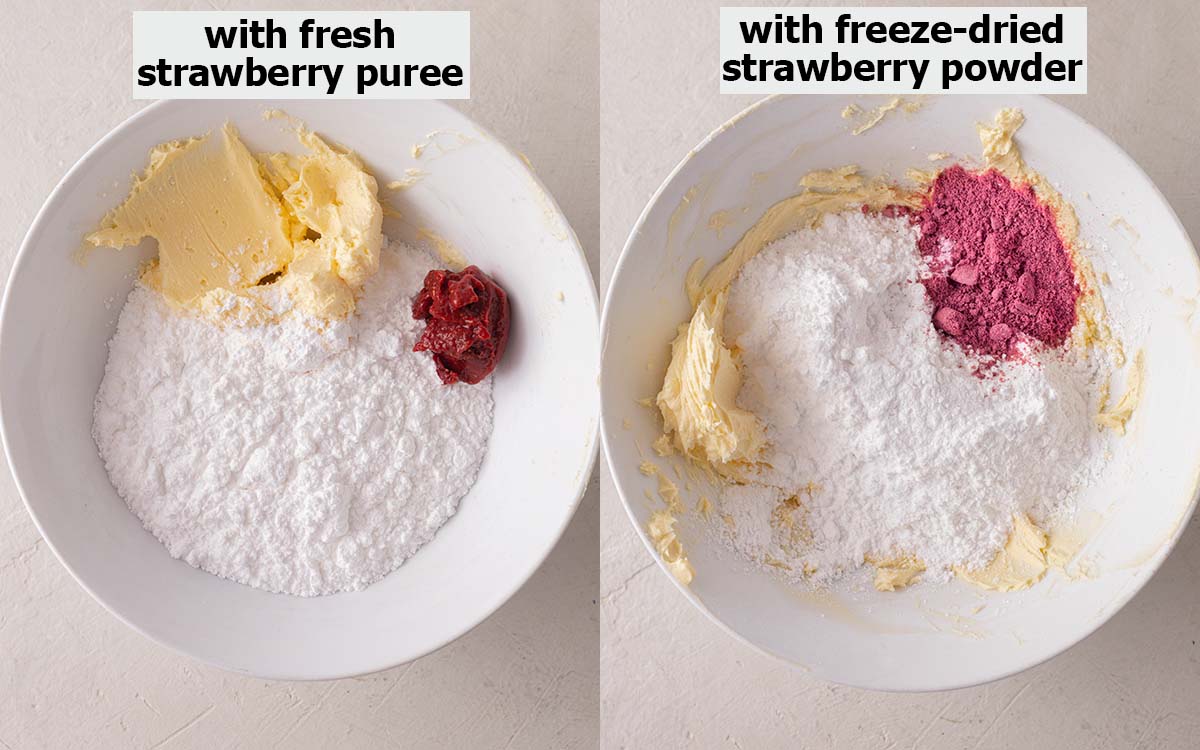 The color of the final frosting will absolutely depend on your variety of strawberries and/or your brand of strawberry powder. There is too much variability in fruit to guarantee a certain pink color!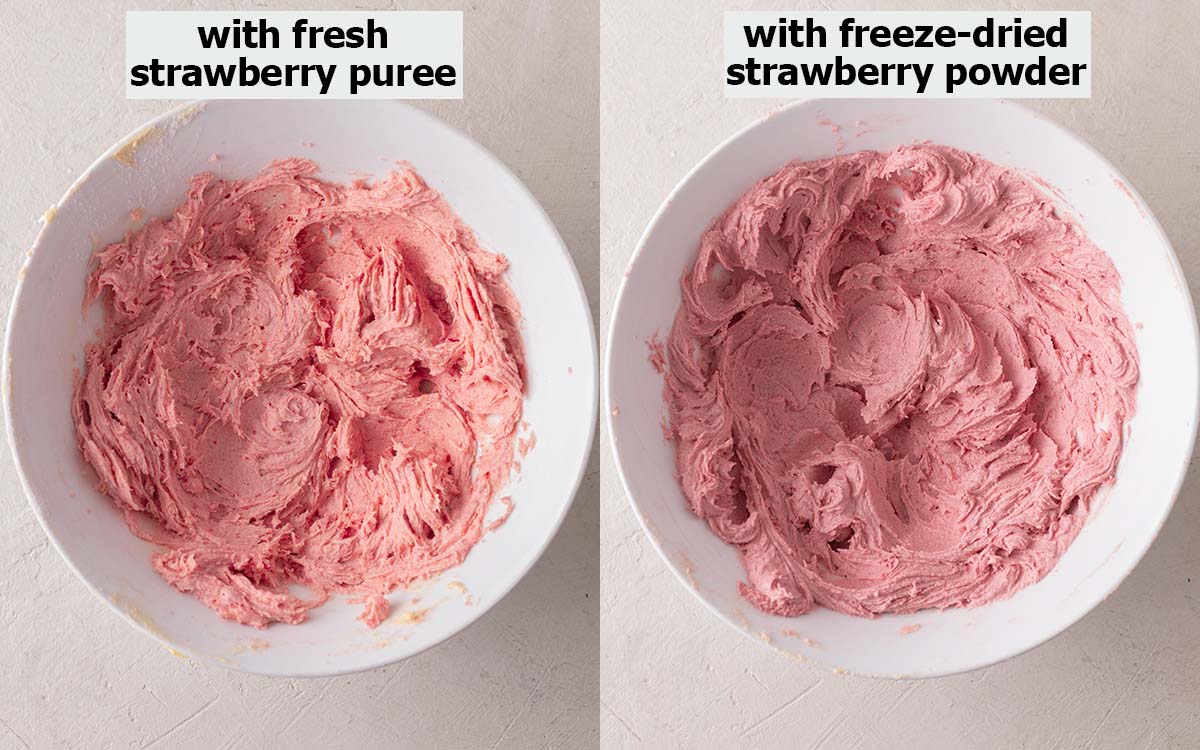 Storing and using the buttercream frosting
I prefer to store buttercream frosting in an airtight container in my fridge (for a few days) or in my freezer (for a few months). The most important thing is to make sure the buttercream is away from strong-smelling foods in the fridge/freezer!
You can also store it in an airtight bag but I personally try to avoid single-use plastics.
When reusing the frosting, it's important to let it come to room temperature before whipping! If you whip it while it's still cold, it may split which can be tricky to fix.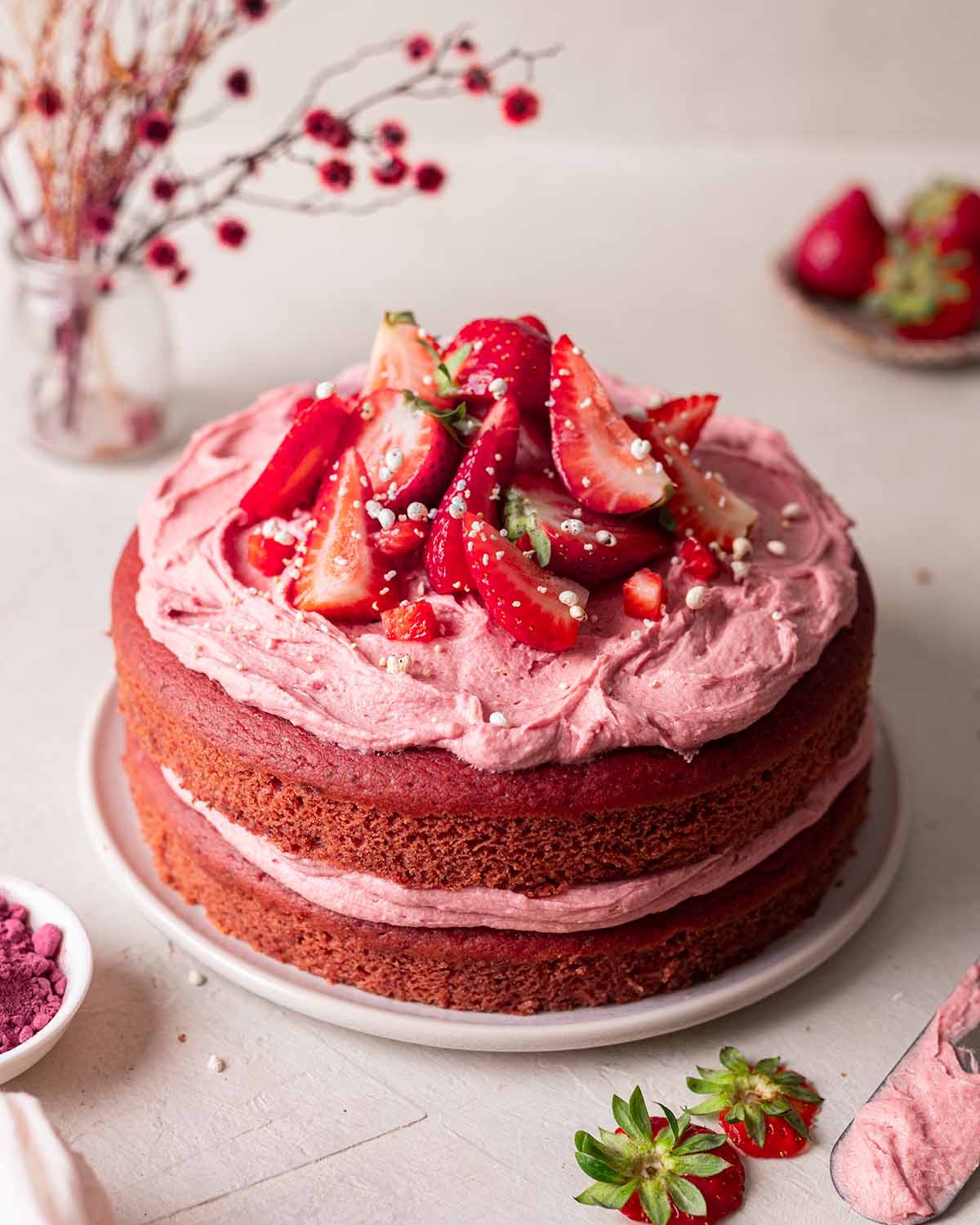 Customizing the vegan strawberry frosting
Can I use strawberry extract and food coloring for this frosting?
Yes of course! I'd recommend starting with 1 teaspoon of strawberry extract (it may or may not turn your frosting pink). Then add more extract and/or coloring to taste and for its appearance.
Can I use spreadable vegan butter (margarine) for this recipe?
If you simply replace the vegan block butter with margarine, your frosting will very soft. It can be used to top brownies and for spreading on cupcakes. You may be able to use it for layer cakes, though the frosting will eventually ooze out the sides.

If you'd like a firmer frosting with vegan margarine, I'd recommend:
- Increasing the amount of powdered sugar
- Keeping your frosted cake CHILLED
- Replacing 30-50% of it with softened vegetable shortening (the amount will depend on the consistency of your margarine and how firm you'd like your frosting to be). To do this, whip your butter with the shortening and follow the rest of the recipe.
Can I replace the strawberries with other berries?
Yes, many berries will work wonderfully! Keep in mind that some berries (like raspberries or blackcurrants) have lots of seeds so will affect the final frosting
Can I use less sugar in the vegan strawberry frosting?
I can't stop you here! Just keep in mind that the less sugar you use, the less stable or firm the frosting will be. This isn't necessarily a bad thing for some desserts.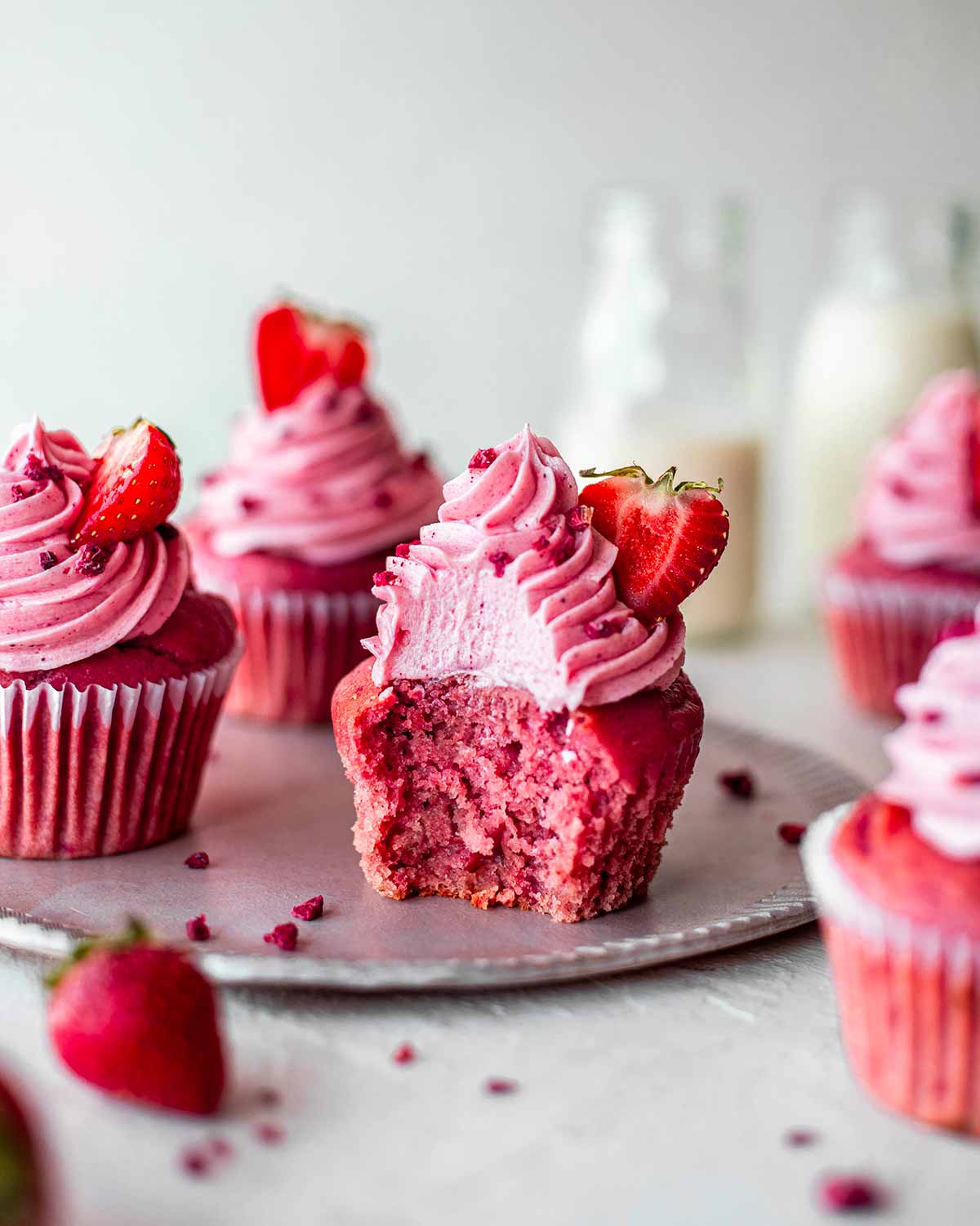 Use this vegan strawberry frosting with
Follow Rainbow Nourishments on Instagram, Facebook, TikTok and Pinterest, and subscribe via email to receive all of our latest recipes!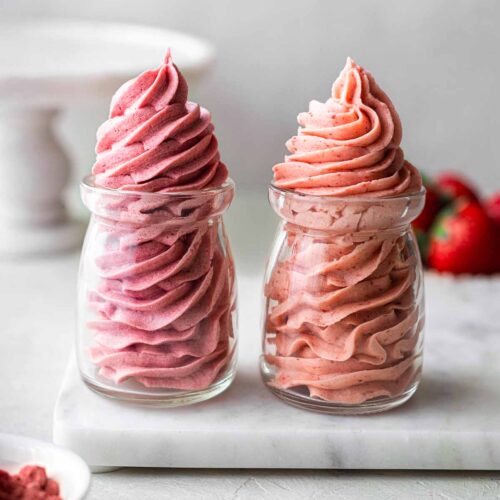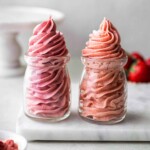 Print Recipe
Vegan Strawberry Frosting 2 ways
Incredibly easy vegan strawberry frosting which so creamy, fluffy and flavorful! You can choose between fresh strawberries or freeze-dried strawberry powder to make this frosting.
Servings:
2
cups (approx)
Instructions
If using fresh strawberries:
Use a food processor or blender to puree the strawberries until smooth. You should get about ½ cup of puree.

Add the strawberry puree to a small saucepan over medium-low heat. Cook the strawberry puree until it has reduced to around one quarter of its previous volume. This should be about about 2-3 tablespoons (~40g). Set aside to cool.
Making the strawberry frosting:
Add the butter to a large-size mixing bowl (if using an electric hand mixer) or stand mixer. Whip until pale, light and fluffy.

Add the powdered sugar and reduced strawberry puree OR strawberry powder to the bowl.

Whip the frosting on low speed for 1 minute to combine the ingredients. Increase the mixer to high and beat for 5 minutes or until fluffy.

If your frosting is too firm or not whipping easily, add some dairy-free milk (the consistency of your frosting will depend on the butter that you use). If your frosting is too soft, add some more powdered sugar. If desired, add more strawberry powder to taste and colour.

Use the frosting immediately. Alternatively, store it in an airtight container for up to 5 days. If you're using the frosting later, let the frosting come to room temperature and whip for 1 minute to revive.
Notes
This recipe will frost 12-16 cupcakes or an 8 inch double layered cake (in between layers and on top of the cake) if you use 400g of powdered sugar.
Vegan spreadable margarine (in a tub) will create a softer frosting. This may be suitable for spreading on desserts but may not be great for layering cakes etc. If you can only use vegan margarine, I'd recommend increasing the amount of powdered sugar, substituting some with vegan shortening or keeping your dessert chilled. Check out the blog post's FAQ section for more information.
More powdered sugar will create a firmer frosting whereas less sugar will create a softer frosting. Feel free to add more or less until your frosting reaches your desired consistency. The amount of sugar you'll need will depend on the type of butter you used and the consistency of your strawberry reduction (if using).
Alternatively, you may use strawberry extract/essence and food coloring. Start with just 1 teaspoon of extract/essence and add more to taste. Try to not add too much otherwise your frosting may split. To achive a brighter colored frosting, you may add a drop of pink/red food colouring or beetroot powder.
Nutrition
Serving:
3
tablespoons
|
Calories:
197
kcal
|
Carbohydrates:
23
g
|
Protein:
1
g
|
Fat:
12
g
|
Sodium:
129
mg
|
Potassium:
4
mg
|
Fiber:
1
g
|
Sugar:
21
g
|
Vitamin A:
464
IU
|
Calcium:
9
mg
|
Iron:
1
mg
This post may contain affiliate links. As an Amazon Associate, I may earn a small commission from qualifying purchases at no additional cost to you.