Incredibly creamy vegan strawberry cheesecake that is no-bake and has no cashews. The cheesecake is packed with 4 cups of fresh strawberries for the best strawberry flavor!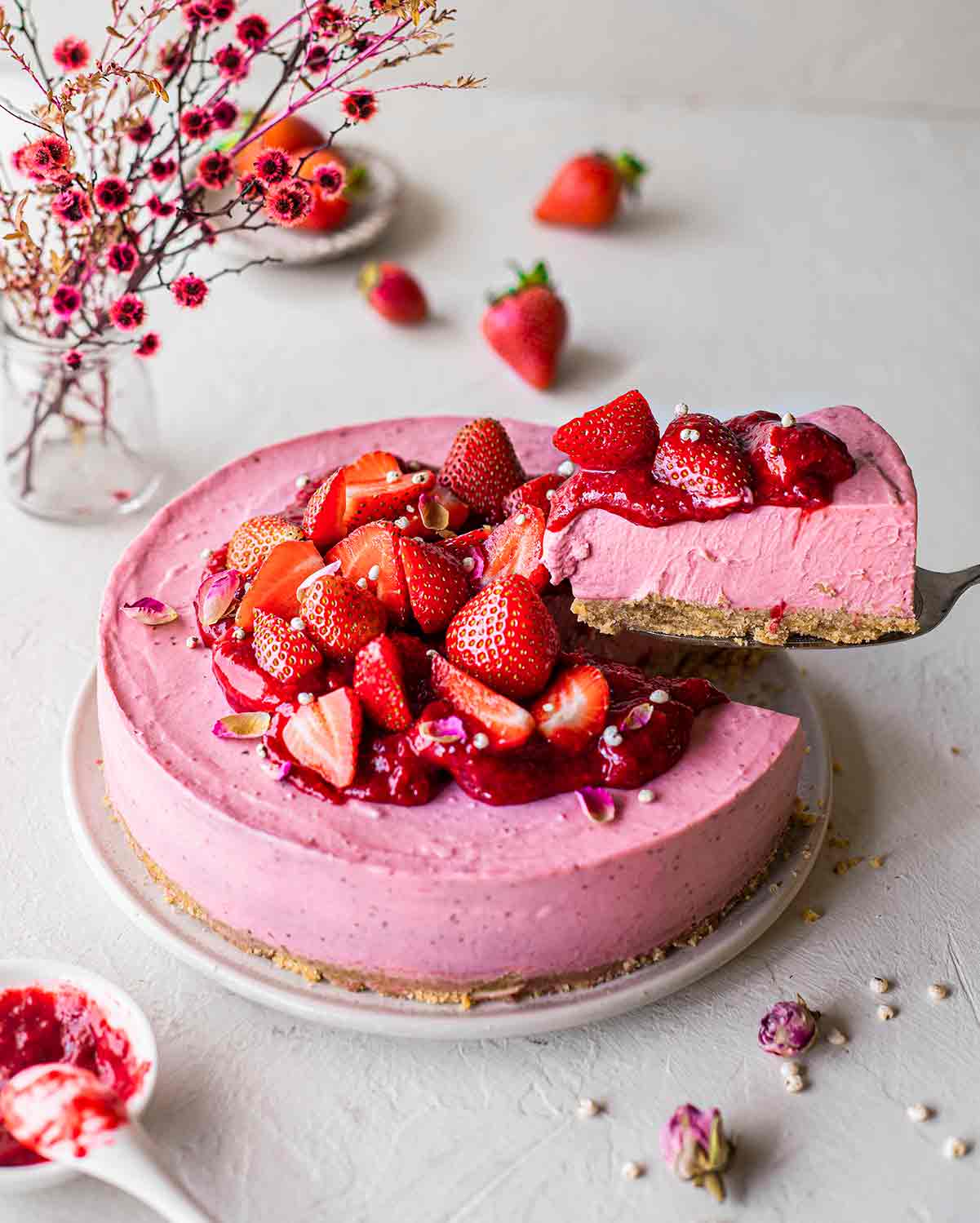 Why you'll love this recipe
TASTE/TEXTURE: Thick, indulgent and full of strawberry flavor! The cheesecake uses vegan cream cheese for a classic cheesecake flavor.
DIFFICULTY: Easier and quicker than a baked cheesecake! If you can use a food processor and cook strawberries on the stovetop, you can make this. And you don't need a fancy high-powered blender!
OCCASION: Perfect for Summer, as a romantic Valentine's Day dessert or Mother's Day, just like my vegan strawberry cake or cupcakes!
Ingredients you'll need
Notes about the ingredients
Real strawberries, ideally ones that are sweet and flavorful. You can use either fresh or frozen strawberries. There's no fake strawberry flavoring here!
Vegan cream cheese. For a cheesecake with no cream cheese, check out my baked cheesecake with berries.
Canned coconut cream for structure. I recommend buying full-fat coconut cream rather than coconut milk as you'll get more thick scoopable cream.
Cornstarch thickens the cheesecake and gives it an incredibly creamy and silky texture. Using cornstarch means we can use less coconut oil.
Coconut oil to help set the filling. We're using a very small amount that you cannot taste. Alternatively, you can use vegan butter or agar powder.
I used two thickeners for this cheesecake recipe because too much cornstarch creates a wobbly pudding/custard whereas too much coconut oil leaves a strong aftertaste. A combination of setting agents creates the perfect texture!
A complete list of ingredients, quantities and instructions are in the gray recipe card at the bottom of this post.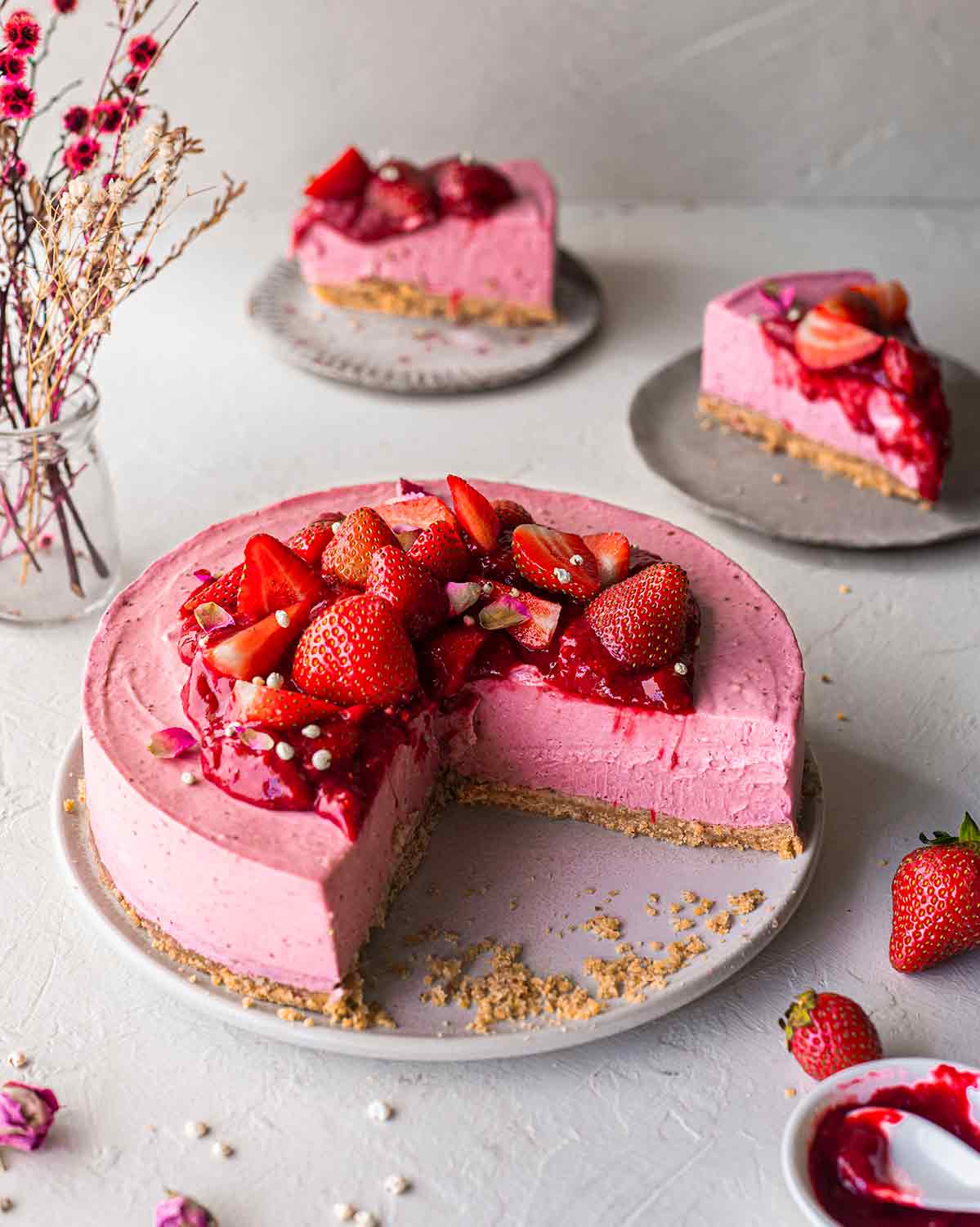 Making the cookie crust
A traditional crunchy cookie base perfectly complements the creamy strawberry filling! Here are some tips for making the base:
It's easiest to make the crust in a food processor. If you don't have one, use a rolling pin to smash the cookies while it's in a plastic bag, silicone bag or large bowl.
Press your crust in your cake tin as firmly as possible. Any gaps in the crust can cause the cheesecake to break apart when you serve it.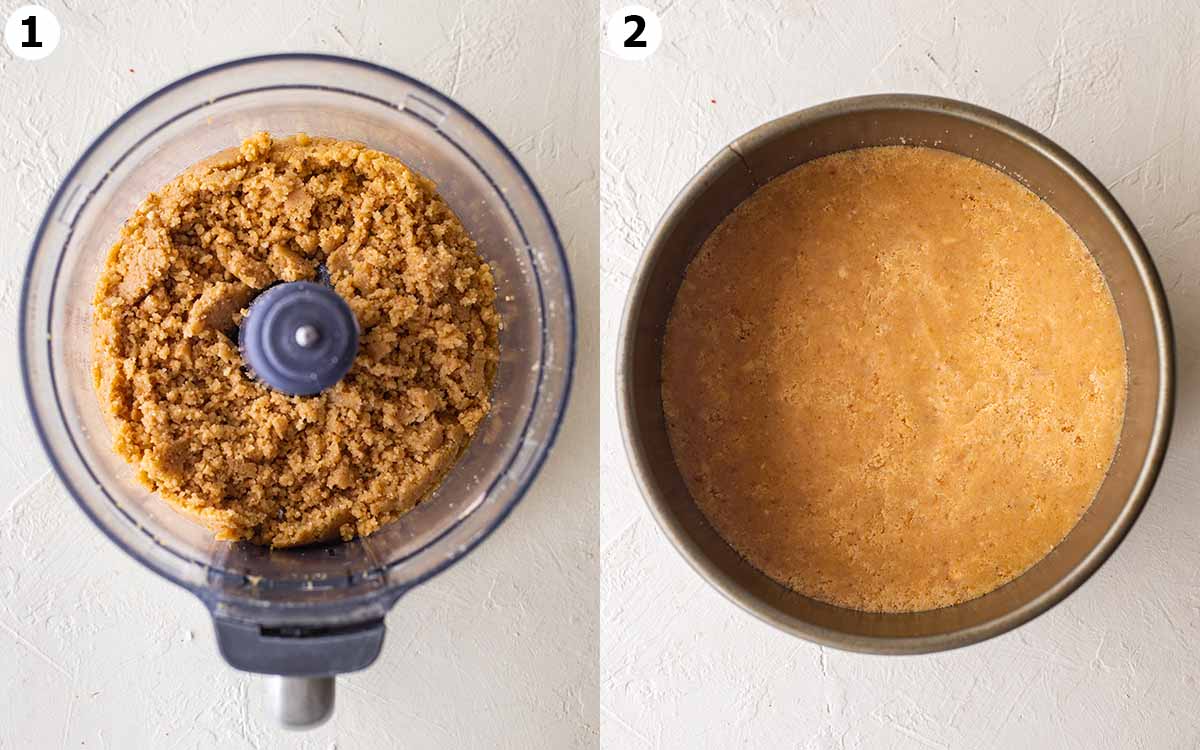 Making a strawberry reduction
Reducing the strawberries on the stovetop removes excess water and intensifies the flavor of the strawberries. And since there'll be less liquid in the cheesecake, we don't need to use as many tasteless thickeners!
I started with 360g of strawberries and reduced them to 180g. The final texture should be similar to tomato pasta sauce.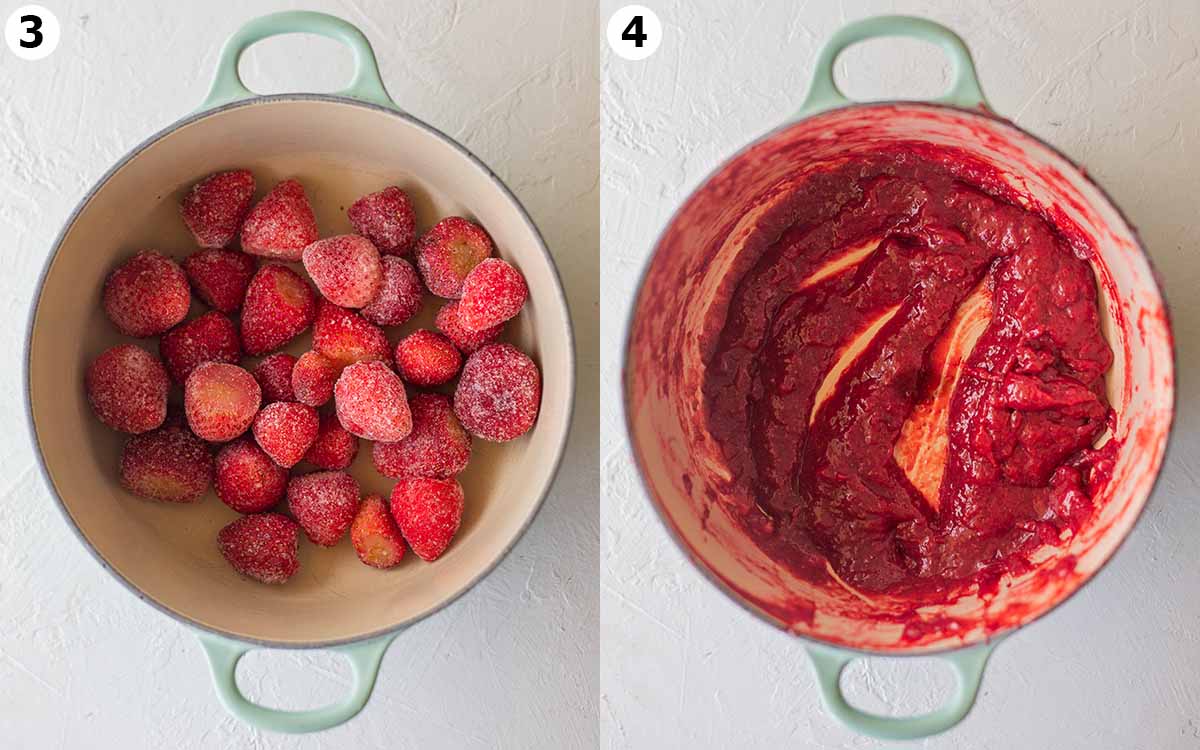 Setting the strawberry cheesecake
Rather than baking the vegan cheesecake in the oven, we're cooking some of the filling on the stove. It takes a fraction of the time and is A LOT easier.
Cheesecakes are like custard so we're going to make a thick strawberry custard on the stovetop.
Simply add your coconut cream and cornstarch to your pot and whisk until combined (image 5). Allow the mixture to cook and it will eventually thicken. Don't worry if your mixture separates - it's just the natural oils from the coconut cream.
Previously we processed the cream cheese in a food processor. Add your strawberry cusard mixture to the cream cheese and blend until combined! Your final mixture should look smooth and thick.
Taste test your strawberry cheesecake filling and feel free to add any lemon juice or vanilla to taste. Then pour the mixture into your cake pan.
Decoration suggestions
I topped my cheesecake with a thick strawberry sauce and fresh berries to balance the indulgent and creamy filling. However, some other topping ideas are:
Blueberries, raspberries or other fresh fruit
Vegan chocolate ganache
Vegan chocolate chips
Dairy-free whipped cream
Extra cookie crumbs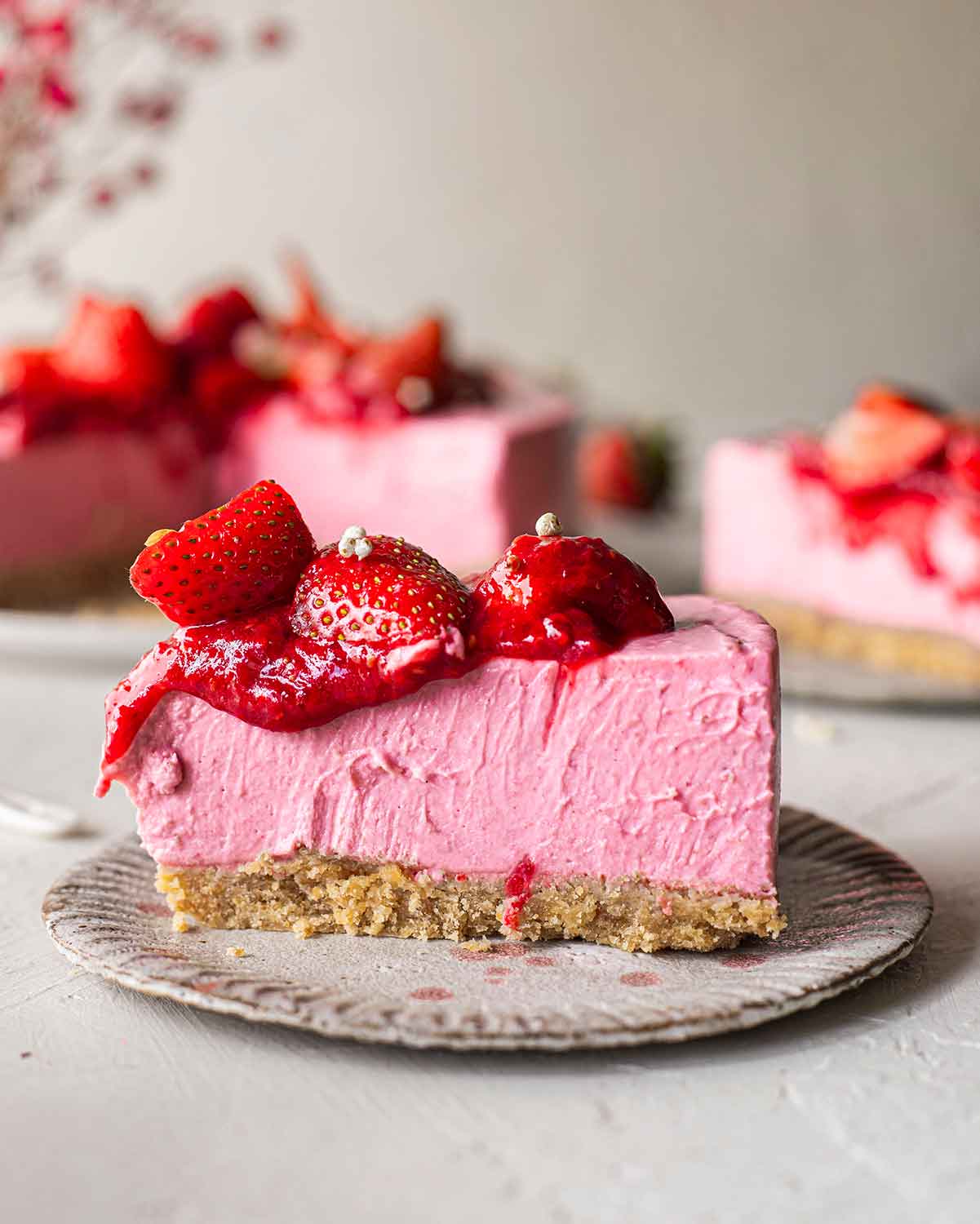 Customizing the cheesecake
Can I add chocolate to this vegan cheesecake?
Yes, don't let me stop you! You can:
- use Oreos instead of cookies in the base
- top the cheesecake with chocolate cookies
- drizzle chocolate ganache on top of the cheesecake
Can I make this cheesecake without coconut?
I recommend using firm silken tofu (otherwise known as 'traditional' tofu) instead of coconut cream. However, this will make your cake slightly softer.

If you really don't like the taste of coconut oil, use refined coconut oil, cacao butter or vegan white chocolate. The coconut flavor is not noticeable in this cheesecake especially if you use a flavorful vegan cream cheese and ripe strawberries.
Can I make an oil-free strawberry cheesecake?
Use agar agar powder instead of coconut oil. Mix the powder with the coconut cream and heat it up with the strawberry reduction.

In the photo below, you can see my vegan strawberry cheesecake made with agar instead of coconut oil. The cheesecake is much firmer than the one made with coconut oil.
Can I make this into strawberry cheesecake bars?
Yes, I recommend using an 8-inch (20 cm) square baking tray. The bars will be shorter than the cheesecake but this is perfect for bars!
More vegan strawberry desserts
Follow Rainbow Nourishments on Instagram, Facebook, TikTok and Pinterest, and subscribe via email to receive all of our latest recipes!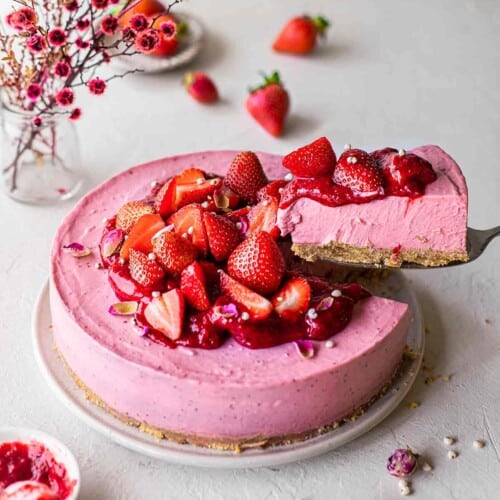 Print Recipe
Vegan Strawberry Cheesecake
Incredibly creamy vegan strawberry cheesecake that is no-bake and has no cashews. The cheesecake is packed with 4 cups of fresh strawberries for the best strawberry flavor!
Ingredients
Vegan Strawberry Cheesecake filling
Strawberry Topping
1

cup (120g)

fresh strawberries

,

stems removed (you can even sub half with raspberries as they tend to be more vibrant)

1

tablespoon

corn starch / corn flour
Instructions
Make the crust:
Line an 8-inch (20 cm) springform or loose-bottom cake pan with parchment paper.

Add the cookies to a food processor and pulse until it forms fine crumbs. Add the melted butter and pulse until combined. Firmly press the mixture into the bottom of your cake pan. Set aside.
Make the cheesecake filling:
Add the cream cheese, sugar, coconut oil, lemon juice/zest and vanilla extract to a food processor or blender. Blend until smooth and set aside.

Add the strawberries and a dash of water to a medium pot over high heat. Simmer and mash the strawberries until they are mostly broken down. Cook for 10-15 minutes or until the mixture has reduced to around ½ heaped cup (~180g). It should have the consistency of thick tomato pasta sauce.

Add the coconut cream and cornstarch to the pot with the strawberry reduction. Whisk thoroughly. Bring it to a gentle boil for 5 minutes or until the mixture thickens. Don't worry if the mixture separates!

Add the strawberry mixture to your food processor with the cream cheese mixture. Process until the mixture is as smooth as possible. If desired, add beetroot powder to color. Taste test the mixture and add more lemon juice or vanilla if desired.

Pour the cheesecake filling into your cake pan and smooth the top. Cover the pan and chill it in the fridge for 4 hours or until set.
Make the strawberry topping:
Add the majority of the strawberries and all the cornstarch to a small saucepan over high heat. Mash the strawberries with a fork or stick blender. Stir until the strawberries have turned into a thick sauce. If desired, sweeten the sauce to taste. Allow the compote to cool completely.

Just before serving, top the cheesecake with the strawberry compote and reserved fresh strawberries. Leftovers will keep in the fridge for 5 days.
Notes
Substitute with Oreos or chocolate cookies for an epic vegan oreo strawberry cheesecake.
You may use a liquid sweetener such as maple syrup but your cheesecake may be slightly softer.
If using agar powder, mix it with the coconut cream and corn flour/starch mixture and add it to the strawberry reduction. Agar needs to be cooked in order to work.
I don't recommend buying light canned coconut cream or canned coconut milk as they contain less 'thick scoopable cream' compared to regular canned coconut cream. You'll need more cans to get the amount in the recipe.
Nutrition
Serving:
1
serve
|
Calories:
285
kcal
|
Carbohydrates:
38
g
|
Protein:
3
g
|
Fat:
32
g
|
Sodium:
440
mg
|
Potassium:
112
mg
|
Fiber:
3
g
|
Sugar:
18
g
|
Vitamin A:
63
IU
|
Vitamin C:
29
mg
|
Calcium:
25
mg
|
Iron:
1
mg
This post may contain affiliate links. As an Amazon Associate, I may earn a small commission from qualifying purchases at no additional cost to you.