Easy vegan strawberry cupcakes that are packed with fresh strawberries and flavor! They are soft and fluffy and come together in just 1 bowl.
These pretty pink cupcakes are a perfect dessert for birthday parties, Valentine's Day, Mother's Day or any special occasion!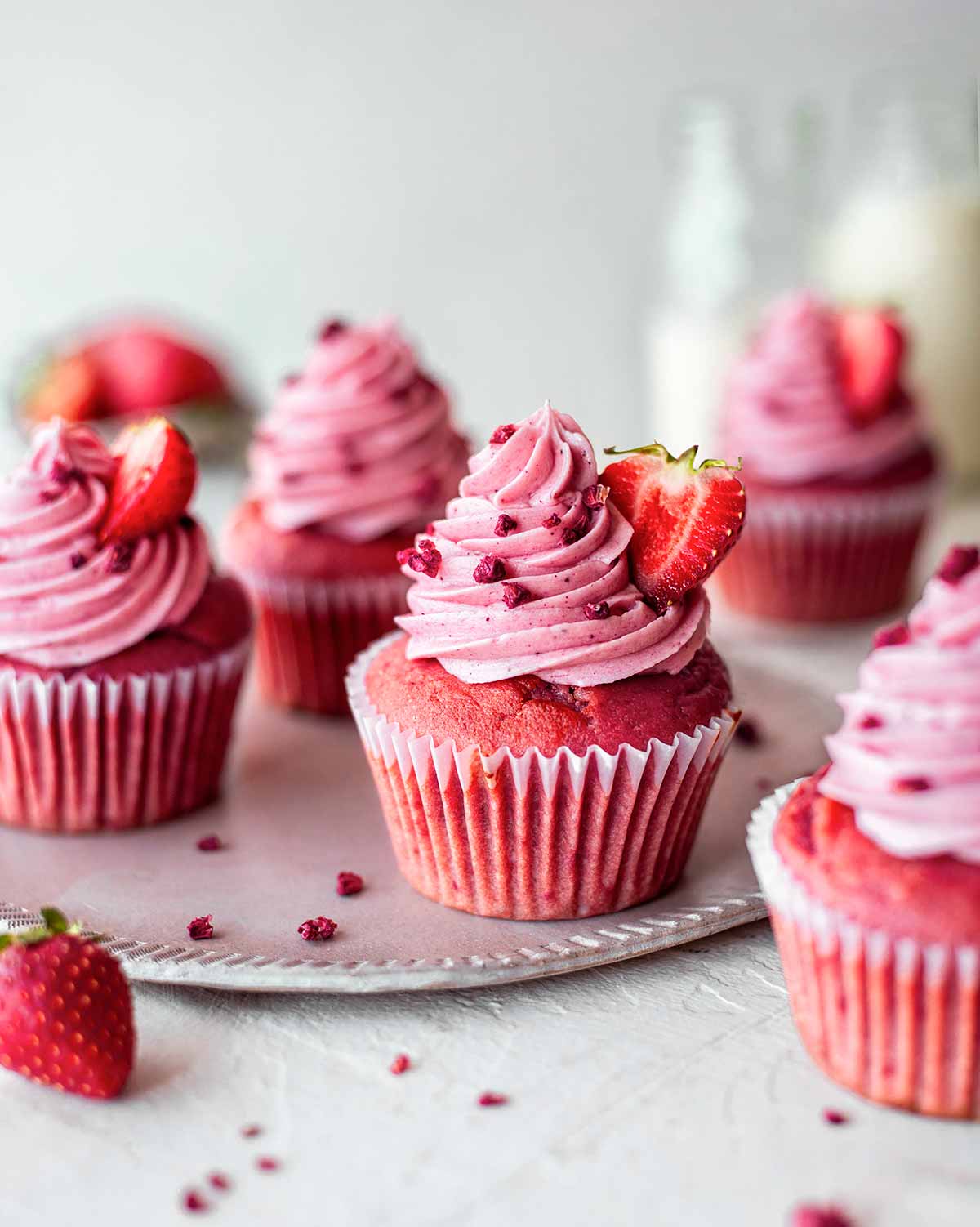 Why you'll love this recipe
FLAVOR: These cupcakes are packed with 3 cups of fresh strawberries for the most authentic flavor! You don't need any artificial strawberry essence.
DIFFICULTY: These vegan strawberry cupcakes are easy to make with only common ingredients.
APPEARANCE: They're so pretty and pink and can be colored with either beetroot powder or red food coloring.
ALLERGY-FRIENDLY: These cupcakes are naturally eggless, dairy-free, nut-free and soy-free. I've provided a gluten-free option below as well.
If you love easy vegan cupcakes, check out my vegan red velvet cupcakes, carrot cake cupcakes or coconut lime cupcakes.
Ingredients to make vegan strawberry cupcakes
Notes about the ingredients
Strawberries, either fresh or frozen will work for this recipe. If possible, choose a variety of strawberries that are already sweet as it's the main flavor of the cupcakes. Interestingly, the high amount of strawberries acts as a wonderful binder or egg replacer!
Beetroot powder or vegan pink/red food coloring. Strawberry cupcakes made without powder or coloring are a pale pink color. Pink or red food coloring provides the most consistent results for these cupcakes. If using beetroot powder, I recommend using a reliable brand as some will make your cupcakes a bright pink color whereas others will fade when baked and turn into an orange/brown color.
Baking powder and soda. We're using double-raising agents to make sure these cupcakes are FLUFFY and to counteract the high amount of fruit. Make sure your baking powder and soda are fresh, otherwise it may lead to dense cupcakes.
Apple cider vinegar or lemon juice (not pictured). When an acid is combined with dairy-free milk, it creates vegan buttermilk which gives the cupcakes a more tender crumb.
The full list of ingredient quantities and instructions are in the gray recipe card at the bottom of this post.
How to make vegan strawberry cupcakes
First, puree your strawberries in a food processor or blender. If you have a stick blender, add them to a mixing bowl and blend. Just make sure there are no chunks of strawberries.
TIP: If you have a very large blender, you may blend the strawberries with all the wet ingredients. This will make it easier to puree the strawberries!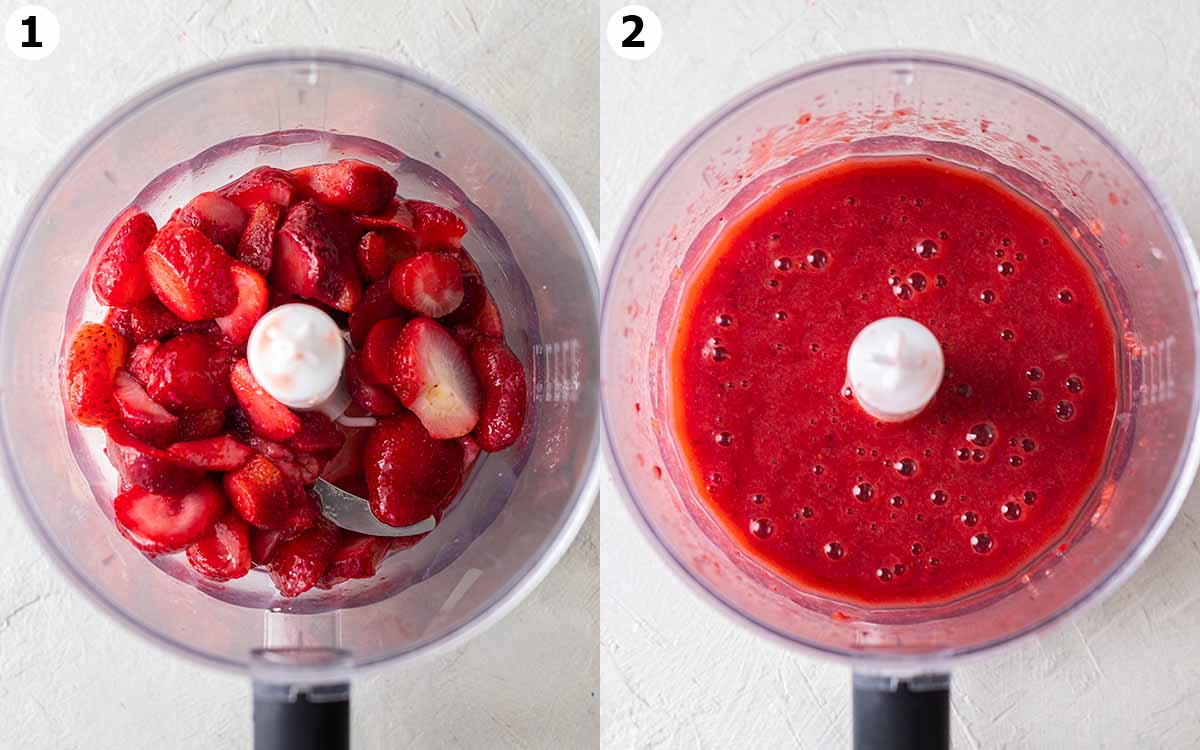 The cupcake batter comes together in one bowl. Simply, mix all the dry ingredients in your bowl. Add the wet ingredients and fold until just combined. Some lumps are fine but make sure there are no lumps of flour.
If you're using food coloring, I recommend adding it with your wet ingredients.
If you're using beetroot powder, here are some tips:
Start with around 2-3 teaspoons of beetroot powder and add it to your dry ingredients. Towards the end of mixing, feel free to add more if you'd like a stronger color. Just be careful that you don't overmix your batter.
The amount of beetroot powder that you'll need will depend on its brand and age.
Beetroot powder fades during baking, so feel free to add a little more if you'd like!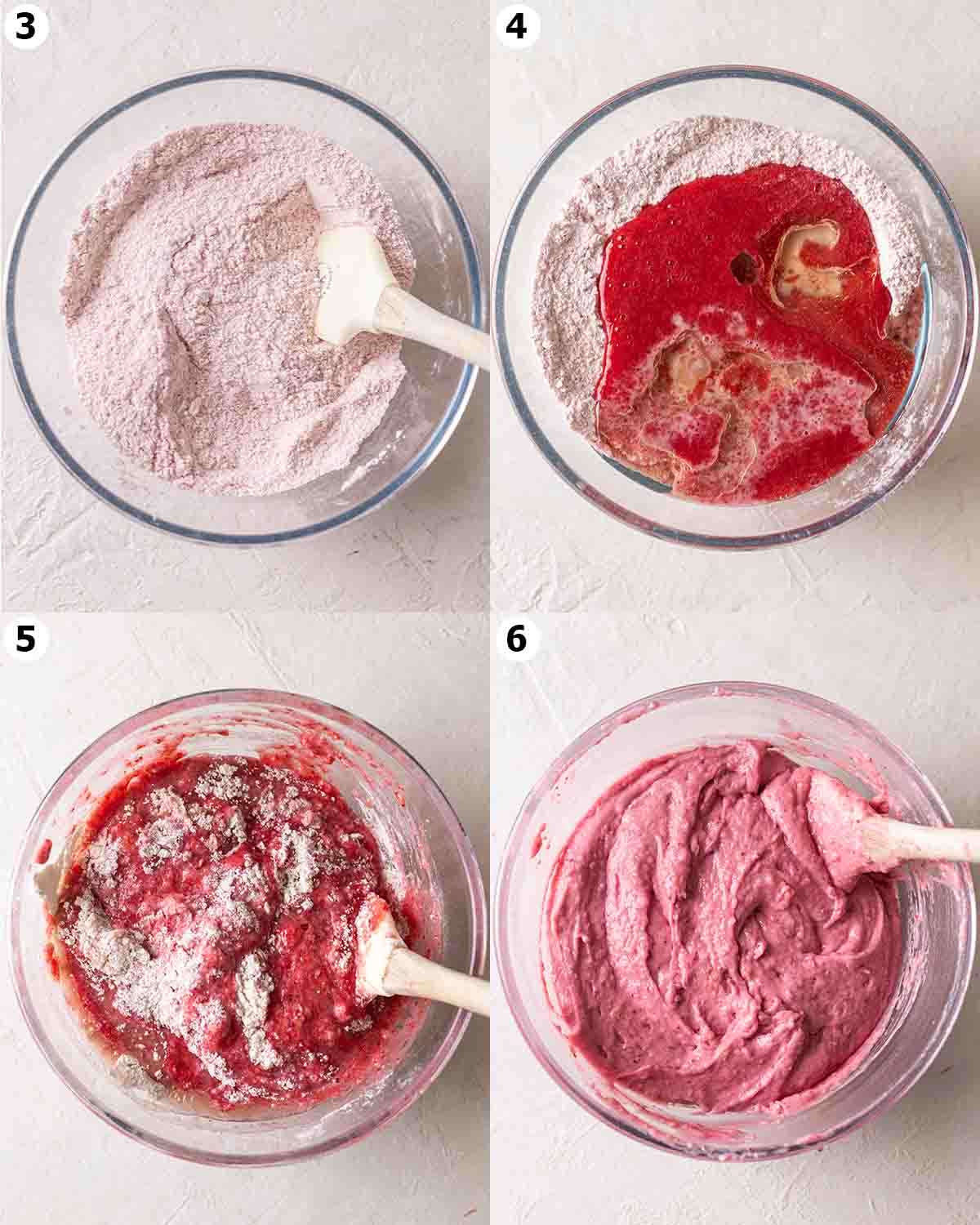 Dividing your cupcake batter
I recommend using an ice cream scoop to divide the batter in your cupcake pan/mold. It's easier and much neater!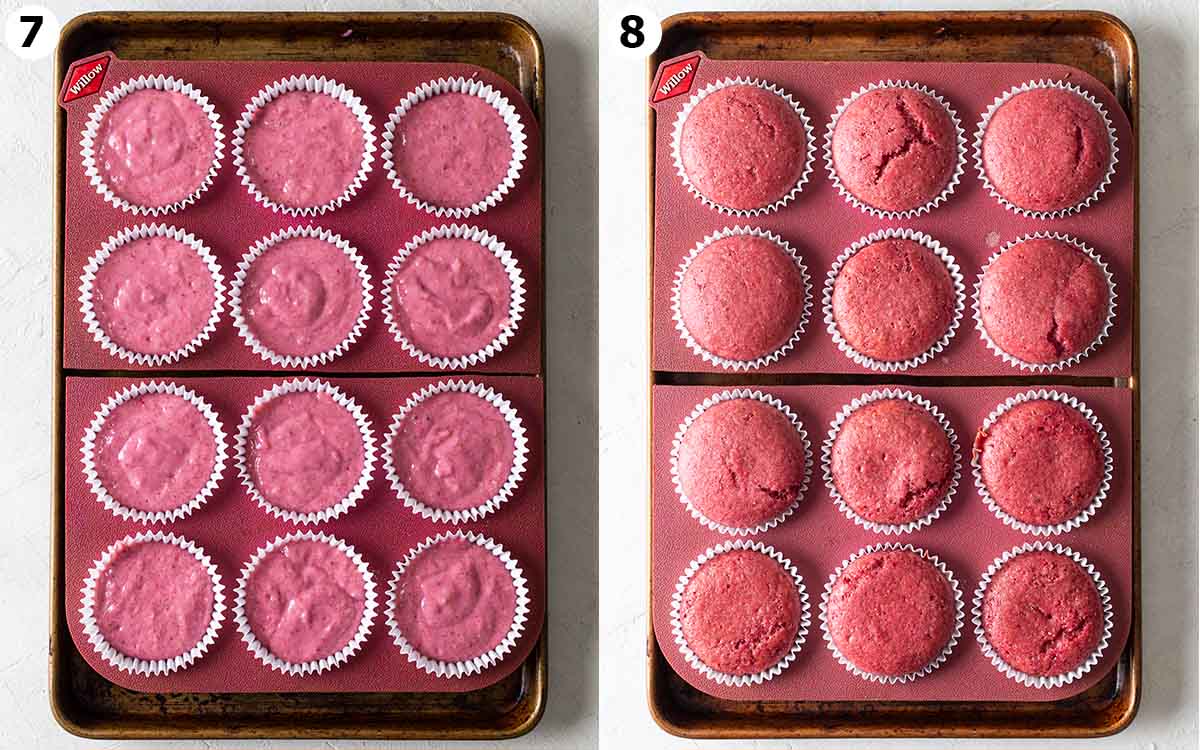 TOP tips for making FLUFFY cupcakes
Here are a few simple tips to ensure your cupcakes are fluffy and not dense:
Measure the ingredients using grams.
Don't over mix the batter. I recommend making the cupcake batter in a bowl rather than using electric hand beaters or a stand mixer. Lumps in your batter are actually a sign of good cupcakes, as long as they aren't lumps of flour. Cooks Illustrated shows the huge difference between pancakes made with lumpy batter vs smooth batter in this Instagram post!
The cake batter will be bubbly from the high amount of raising agents. Don't whisk out the bubbles and quickly divide the batter in your cupcake mold!
Don't leave the cake batter sitting around. It needs to go from the bowl to the oven as quickly as possible.
Make sure your oven is at the right temperature using an oven thermometer. Baking these cupcakes at a lower temperature will make them more dense.
How can I decorate these cupcakes?
These cupcakes are wonderful with strawberry buttercream frosting or strawberry cream cheese frosting. However, you can also top these cupcakes with:
Whipped dairy-free cream
Chocolate ganache
Vanilla buttercream
Dusting of powdered sugar
Can I make gluten-free strawberry cupcakes?
For the easiest vegan gluten-free strawberry cupcakes, I recommend baking my vegan gluten-free strawberry cake in a cupcake pan! When baked as cupcakes, they're fluffy and dome well.
The below recipe is a little trickier to make gluten-free. Some 1:1 gluten-free flours (including Bob Red Mills) result in dense and doughy cupcakes. To make these strawberry cupcakes gluten-free, I used a combination of:
Almond flour for moisture and texture
Potato starch to make the cupcakes light and fluffy
Corn starch to help bind the flours together
The gluten-free cupcake batter is runnier than the regular batter, even though there is significantly more gluten-free flour. The gluten-free cupcakes are also flatter than the original cupcakes. Cupcakes that domed had a thicker batter but were very dry on the second day.
Common questions and answers
Can I use coconut sugar instead?
Yes, but your cupcakes will be a brown-pink color and will be more moist and dense.
Do I need to reduce the fresh strawberries on the stovetop?
No, it is unnecessary for these vegan strawberry cupcakes.

Some strawberry cake recipes require you to make a strawberry reduction which removes the water from the strawberries. However, I tested this and it didn't make enough of a difference for the amount of effort. You're removing water from the strawberries but adding it back to the cupcakes through dairy-free milk.

However, a strawberry reduction is useful for recipes that need less moisture, such as my vegan strawberry cheesecake.
See my other vegan strawberry desserts
Follow Rainbow Nourishments on Instagram, Facebook, TikTok and Pinterest, and subscribe via email to receive all of our latest recipes!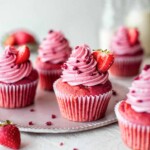 Print Recipe
Vegan Strawberry Cupcakes
Easy vegan strawberry cupcakes that are packed with fresh strawberries and flavor! They are soft and fluffy and come together in just 1 bowl.
Ingredients
Wet ingredients
3 cups (360g)

ripe strawberries

,

fresh or frozen then defrosted (weighed after stems have been removed)

⅓ cup (85g)

dairy-free milk

⅓ cup (85g)

neutral flavored oil

1

tablespoon

apple cider vinegar,

or lemon juice optional

1

teaspoon

vanilla extract,

optional
Instructions
Note: For the best results, I recommend using grams for this recipe. Alternatively, use the spoon and level method to measure the flour. Use a spoon to add flour to a measuring cup and level it off with a knife. Do not use the measuring cup to scoop flour out of your container as too much flour will result in dense cupcakes.

Preheat the oven to 180°C (350°F). Line 1-2 cupcake trays with liners.
Making the vegan strawberry cupcakes:
Add all your strawberries to a blender or food processor. Puree until there are no more chunks. Set aside.

Add all the dry ingredients to a large mixing bowl and mix until combined or until there are no more big lumps. If you're using food dye, include it with the wet ingredients.

Add the strawberry puree and the rest of the wet ingredients to the mixing bowl. Fold the mixture until just combined. The batter should be thick and slightly bubbly. Lumps in the batter are fine, as long as they aren't lumps of flour. Over mixing the batter will result in dense cupcakes.

Divide the batter between your cupcake liners.
Baking the cupcakes:
Bake the cupcakes for 18-20 minutes or until you can insert a toothpick into a middle cupcake and it comes out clean. The baking time will depend on your cupcake tray and size of your individual cupcakes.

Cool the cupcakes in the tray for 5 minutes then transfer them to a cooling rack. These cupcakes may brown underneath which is normal. If you eat the cupcakes immediately, they may stick a little to the liners and will be very moist (this is due to the high amount of fruit in the recipe). However, when they cool, they'll peel away more easily and the texture will change.
Decorating and serving the vegan strawberry cupcakes:
Prepare your frosting of choice.

When the cupcakes are completely cool, use a piping bag with a star-shaped nozzle to frost the cupcakes. Alternatively, use a knife to spread the frosting on the cupcakes. Decorate with fresh strawberries and freeze-dried strawberries/raspberries if desired. Serve immediately.

Store the frosted cupcakes in the fridge for up to 3 days. The unfrosted cupcakes can be stored at room temperature for 1 day or in the freezer for up to 1 month.
Notes
For gluten free cupcakes, it's much easier to bake my gluten free strawberry cake as cupcakes. However, if you'd like to make the above recipe gluten free, substitute the all-purpose plain flour with 175g (1 ¾ cups) almond flour, 165g (1 ½ cups) potato starch and 35g (⅓ cup) corn starch. All the other ingredients/steps are the same. This will give you ~14-16 cupcakes which are more flat than pictured. Gluten free flours are less absorbent than all-purpose flour so we have to add significantly more flour. I've tried this recipe with 1:1 gluten free flours but the final cupcakes weren't as pleasant.
Nutrition
Serving:
1
cupcake without frosting
|
Calories:
233
kcal
|
Carbohydrates:
39
g
|
Protein:
3
g
|
Fat:
8
g
|
Sodium:
162
mg
|
Potassium:
76
mg
|
Fiber:
1
g
|
Sugar:
18
g
|
Vitamin A:
4
IU
|
Vitamin C:
18
mg
|
Calcium:
76
mg
|
Iron:
1
mg
This post was originally published in January 2017 and updated a few times since then with step-by-step pictures and more useful information.
This post may contain affiliate links. As an Amazon Associate, I may earn a small commission from qualifying purchases at no additional cost to you.