Easy and FLUFFY baked vegan blueberry pancake. You only need one bowl, an oven-safe tray and the simpliest pantry ingredients.
I love pancakes but I honestly don't enjoy cooking them as they can be difficult to flip especially if you don't have a non-stick frying pan.
However, this no-flip easy baked pancake gives you all the fluffy deliciousness of conventional pancakes with 100 x less work and stress.
Ingredients for making this baked vegan blueberry pancake
You'll need the simpliest pantry staples including:
Plain, spelt or wholemeal flour. I used wholemeal because extra fibre in the morning is always great
Plant-based milk. Any type will do!
Baking powder
Vegetable oil. I used olive oil but sunflower or any other liquid oil would do well.
Coconut sugar or regular sugar
Salt to bring out the flavour of the pancake
Touch of cinnamon and nutmeg as they give the pancakes a real 'bakery' taste, smell and feel!
The freshest blueberries you can find. I used local Australian blueberries!
If you're looking for a less refined baked pancakes made of mostly oats and a wholefood sweetener, see my baked vegan pancake with plums.
Now, you do NOT need animal-derived ingredients to make the pancake. Instead of eggs, we're using extra baking powder. This will set the pancake and make it rise!
How to make this blueberry vegan pancake
Simply add all the dry ingredients to a bowl and whisk until there are no big lumps. Add the wet ingredients and whisk until it's as smooth as possible. There might be a few lumps but as long as they aren't lumps of flour, it's good to go.
When the batter is ready, I then folded in some blueberries!
Now, instead of precariously pouring the batter into perfect puddles in a frying pan, pour ALL the batter into an oven-safe pan. I used a cast iron pan but you normal pan (as long as it doesn't have a plastic handle) or a round or rectangular casserole dish.
Then bake away! It will take only 20 or so minutes.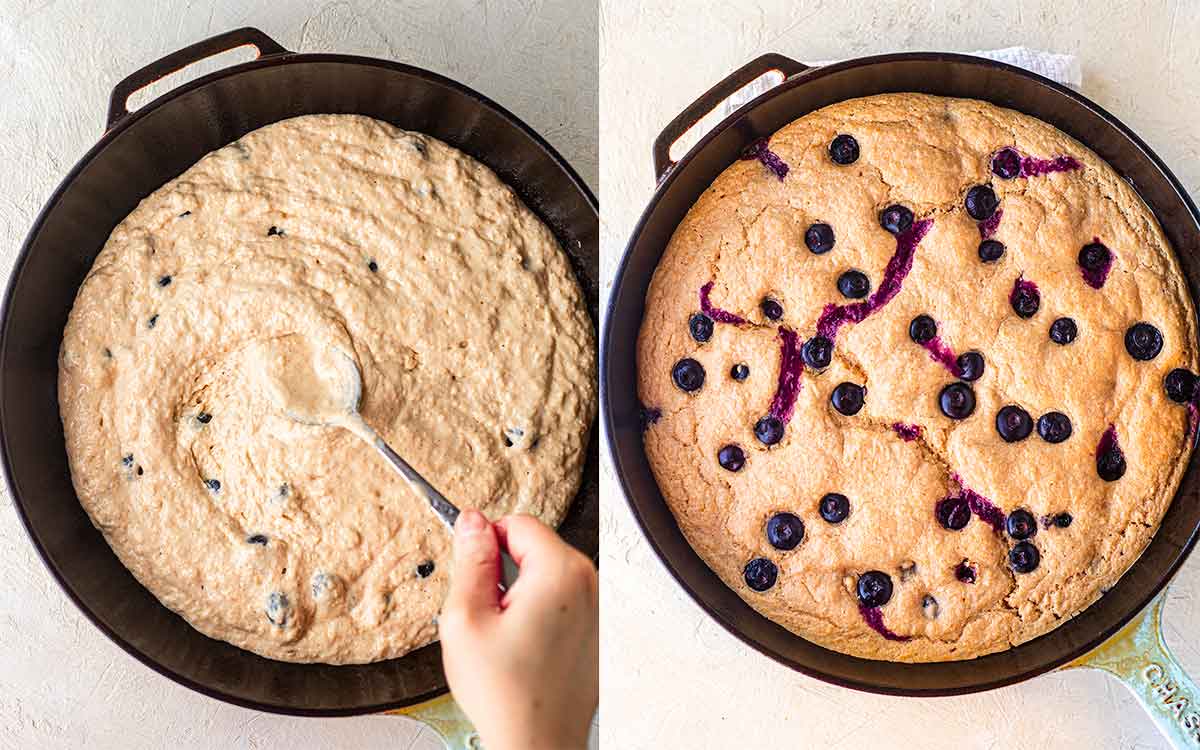 How to serve vegan pancakes
Similar to conventional pancakes, you can stack these pancakes and drizzle it with allll the maple syrup. My favourite pancake accompaniments are:
Fresh fruit which are naturally soft like berries
Stewed fruit like apples, pears
Something creamy such as coconut yoghurt or ice cream
Something syrupy like maple, coconut or rice malt syrup.
I hope you enjoy this recipe!
Check out my other easy vegan breakfasts recipes
Print Recipe
Baked Blueberry Pancake (vegan)
Ingredients
2 1/2

cups (250g)

plain, wholemeal or spelt flour

,

(I used wholemeal)

1

cup (250mL)

plant-based milk, such as almond, soy or coconut

3

tablespoons (45mL)

light-tasting vegetable oil, such as sunflower or rapeseed

2-4

tablespoons (20-40g)

regular or coconut sugar

,

to taste

1

tablespoon (8g)

baking powder

2

cups (300g)

fresh blueberries

Coconut yoghurt

,

to serve
Instructions
Preheat the oven to 180°C (350°F).

Add all ingredients except theblueberries and yoghurt to a mixing bowl. Mix until combined and there are nomore lumps of flour. Fold in 1 punnet of blueberries.

Pour the pancake batter into awell-seasoned cast iron pan or oven-safe casserole dish.

Bake the pancake for 20 minutes or until a skewer can be inserted into the middle and it comes out clean.

Top the pancake with coconut yoghurt and remaining blueberries. Serve immediately!
Please leave a comment below if you made this recipe, have any questions or thoughts! Your comment will help other readers and Rainbow Nourishments.