This flourless vegan chocolate cake is perfectly fudgy, fluffy and indulgent. It's easy to make, gluten-free, has no added oil and can be made refined sugar-free! And you only need 7 ingredients!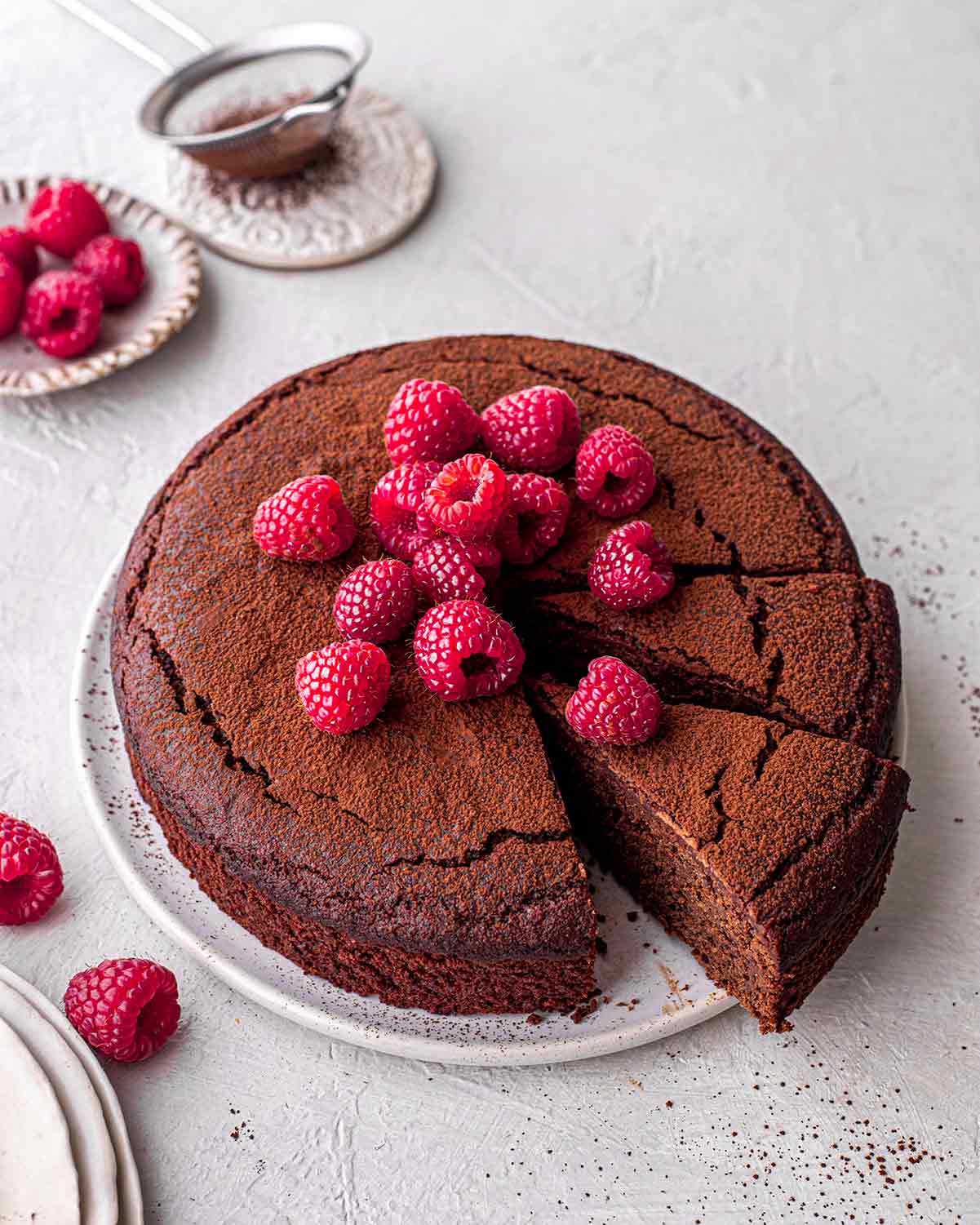 Why you'll love this recipe
This vegan flourless chocolate cake is:
Full of chocolate flavor, decadent but not sickly sweet
Fudgy with SOME fluffiness
Halfway between brownies and cake. Exactly what a vegan chocolate torte should be!
Easy to make and very forgiving
Moist while being oil-free and butter free
For a fruity version of this chocolate torte, see my whole orange cake and whole lemon cake. Or my vegan almond cake is a lighter alternative!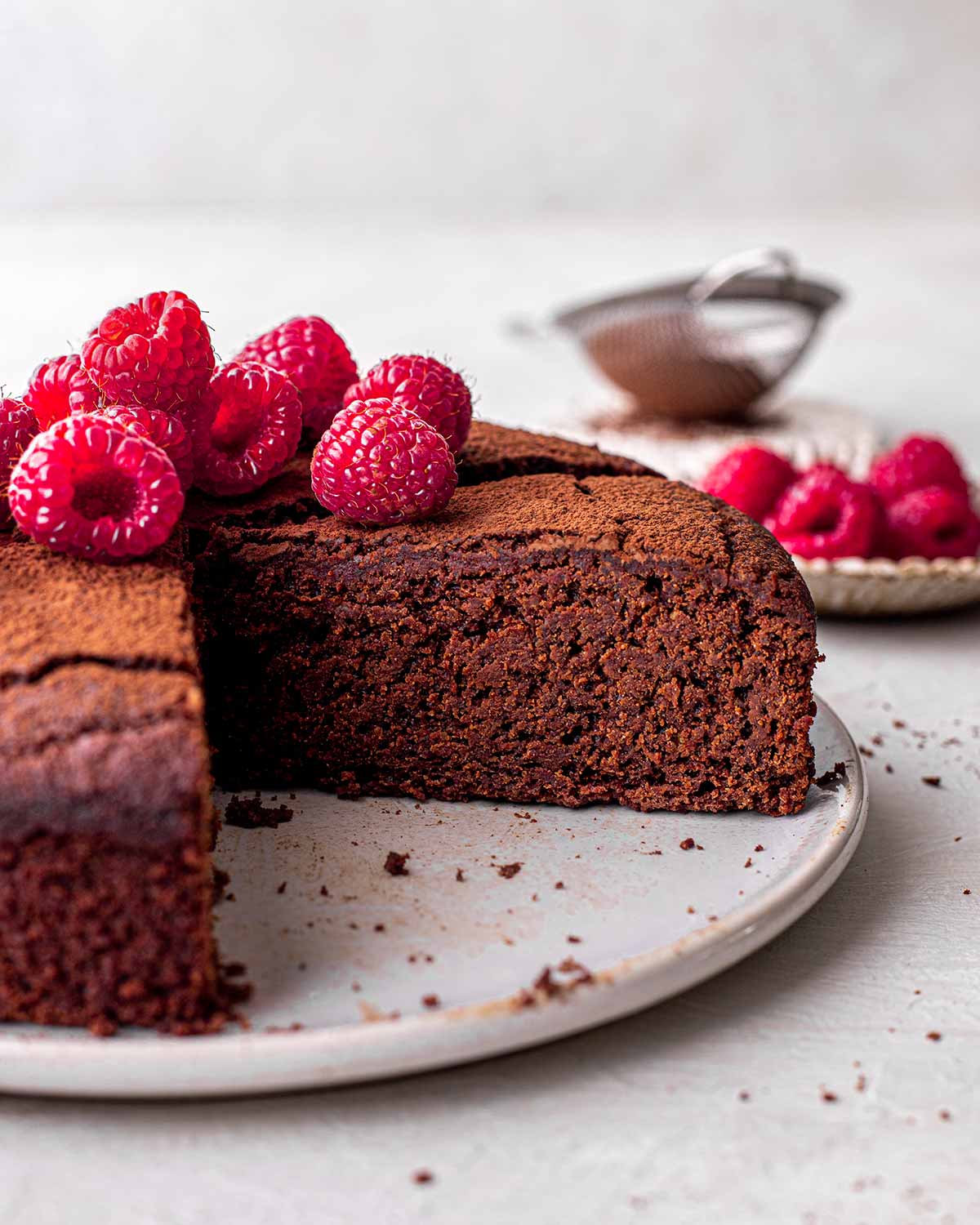 Ingredients to make flourless vegan chocolate cake
To make this fudgy chocolate torte, you will need a few simple ingredients including: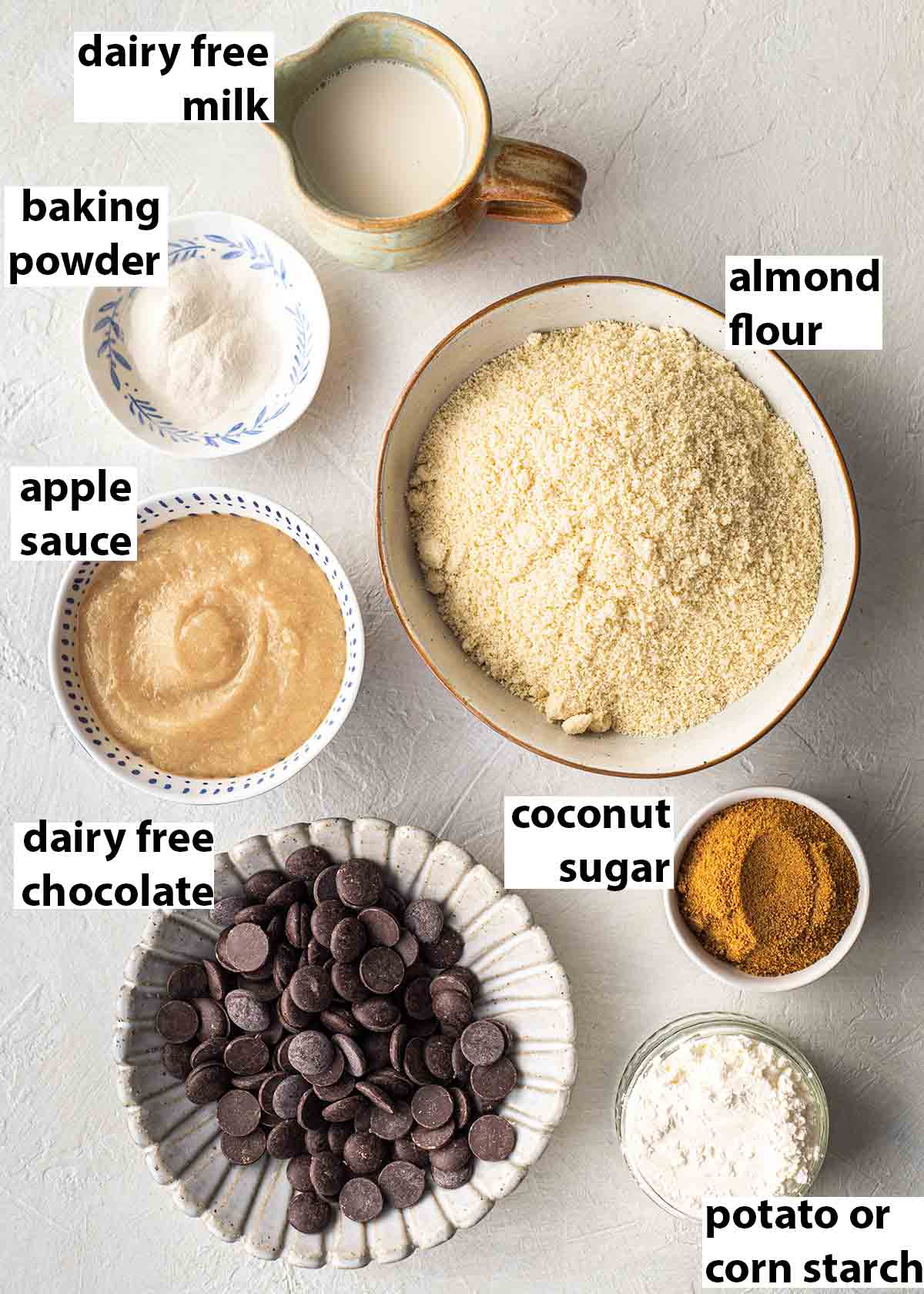 Ingredient notes
Unsweetened applesauce adds moisture and helps bind the ingredients. I used homemade applesauce but store-bought works well too. You can also use pumpkin puree, sweet potato puree or even pureed banana (though, the banana would impart a strong taste). Applesauce works best compared to other egg replacers (such as flax eggs) which don't offer as much moisture.
Almond flour or blanched almond meal makes the cake fluffy. When combined with applesauce, this cake is moist while being oil-free! I've tried flourless chocolate cakes which use cocoa powder instead of almond meal and they were a bit too rich.
Potato or corn starch as our gluten-free binder and partial 'egg replacer'. This gives the cake structure and prevents it from forming a large crater, which is common in vegan and non-vegan flourless chocolate cakes. If you're still curious why I use this ingredient, read my whole orange cake post.
Coconut sugar, brown sugar or cane sugar. We don't need much of it as the apple sauce and chocolate is already sweet.
Dairy-free chocolate instead of cocoa or cacao powder for the ultimate richness. I used dark and semi-sweetened chocolate chips. Make sure you use high-quality chocolate that you enjoy eating by itself as it's the main flavor in your cake! Or use refined sugar-free chocolate for a healthy vegan chocolate cake :).
Even though this is an eggless cake, you don't need to whisk any aquafaba (egg whites replacer) to make a delicious cake!
A complete list of ingredients, quantities and instructions are in the gray recipe card at the bottom of this post.
How to make flourless vegan chocolate cake
This is an EASY cake to make but I have a few tips that will make your life easier!
First, you need to melt the chocolate. To do this, it's best to add the chocolate and dairy-free milk directly to a saucepan over medium heat. This is easier and quicker than using a double boiler!
When the chocolate starts to melt, quickly remove the saucepan from the heat. The residual heat of the milk will melt the rest of the chocolate, and minimize any risk of burning! Mix together the chocolate and milk until it reaches a smooth consistency.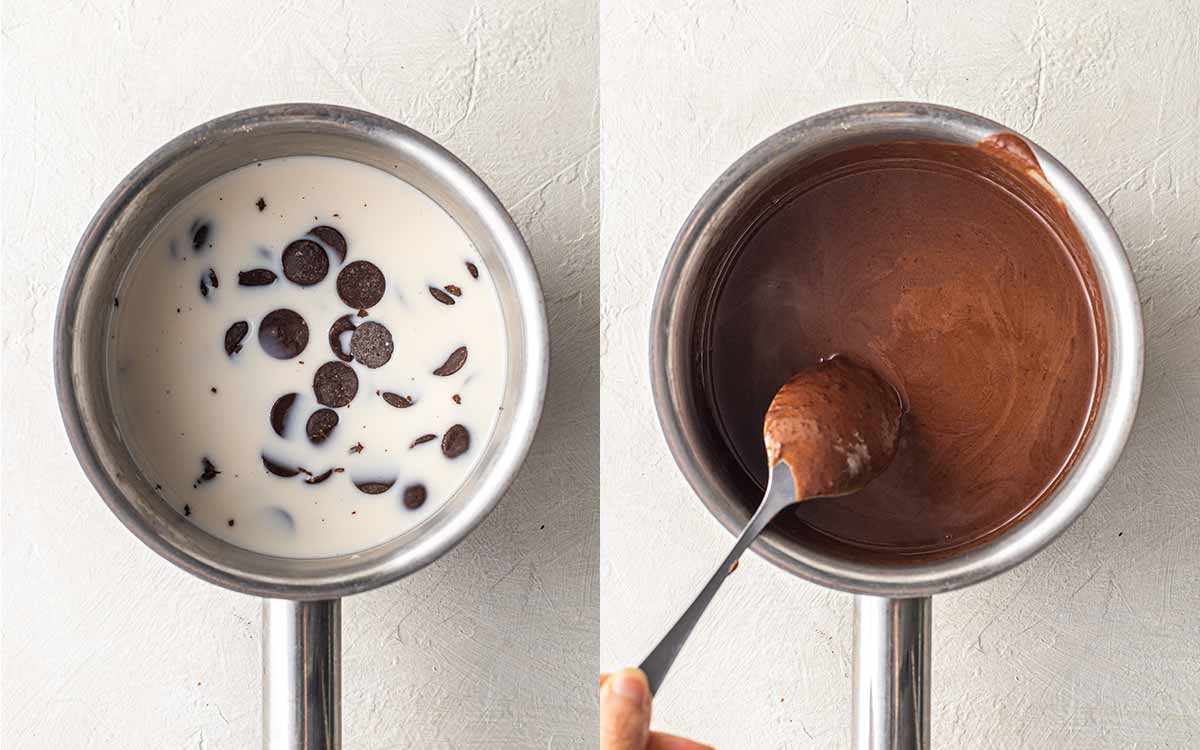 When the chocolate mixture slightly cools, combine it with ALL the cake ingredients in a bowl. Since this vegan chocolate cake is gluten-free, you don't have to worry about over-mixing the batter. You can use a spatula, hand mixer or even a food processor or blender!
Tips for baking the cake
Most importantly, make sure your oven isn't too hot! This vegan gluten-free chocolate cake has a high amount of nuts and chocolate which are more prone to burning. Many ovens run hotter than what they say so I'd recommend keeping an eye on your cake at the 25-minute mark and/or using an oven thermometer.
If your cake starts to darken too quickly on top but is still very wobbly, reduce the temperature of your oven and/or cover the cake with a heatproof plate/tray (as long as it doesn't touch the cake).
If your oven is too hot, your chocolate fudge cake might also rise and sink. This isn't a big issue!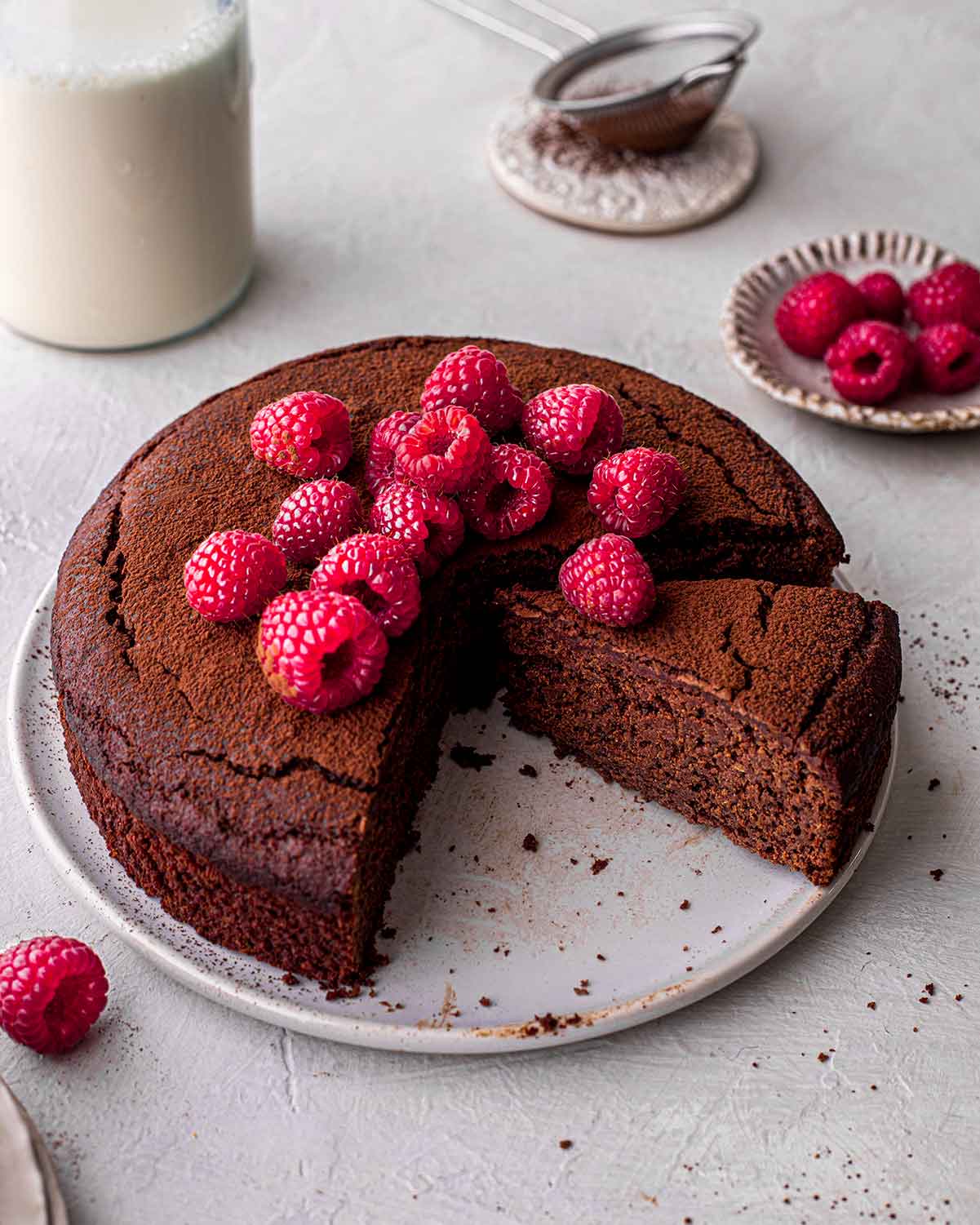 When is the cake ready?
The cake is ready when it SLIGHTLY springs back when you press the center with your finger (don't burn yourself). Similar to brownies, one way to tell if the cake is ready is when the top of the cake is dry to the touch.
When you insert a skewer in the middle, there should still be some crumbs on it and a SMALL amount of wet batter.
If you're in doubt, it's better to underbake than to overbake the cake. The high amount of chocolate in the cake means your cake will only firm up when you take it out of the oven.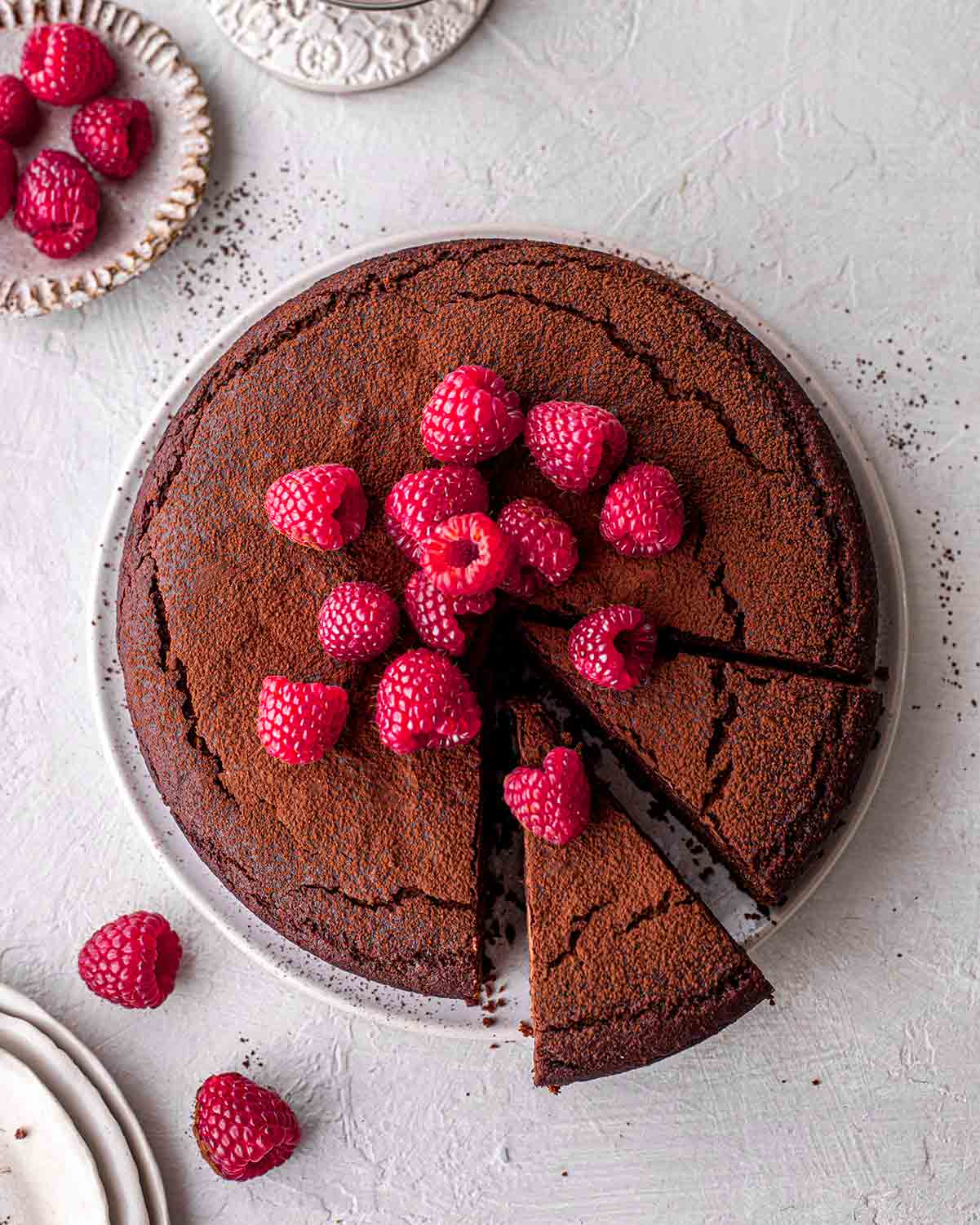 Customizing the cake
Can I make a smaller portion of this vegan gluten-free chocolate cake?
If you make a smaller portion, I'd recommend baking the cake in a smaller cake pan for a shorter amount of time. Alternatively, this flourless chocolate torte bakes very well as cupcakes and small pudding jars. The baking time will depend on the size of your baking pan!
Can I make this cake extra fudgy?
Yes, to do this, increase the amount of applesauce to 2 cups (245g). This extra fudgy cake is pictured below (which is different from the first few pictures in this post). The texture is like fudge or truffle-like with the smallest amount of crumb/fluffiness. I personally prefer the cake with less applesauce.
Can I use a liquid sweetener instead of sugar?
I do not recommend using a liquid sweetener such as maple syrup instead of coconut sugar. There is already a lot of liquid in the recipe so adding maple syrup makes the cake extremely dense.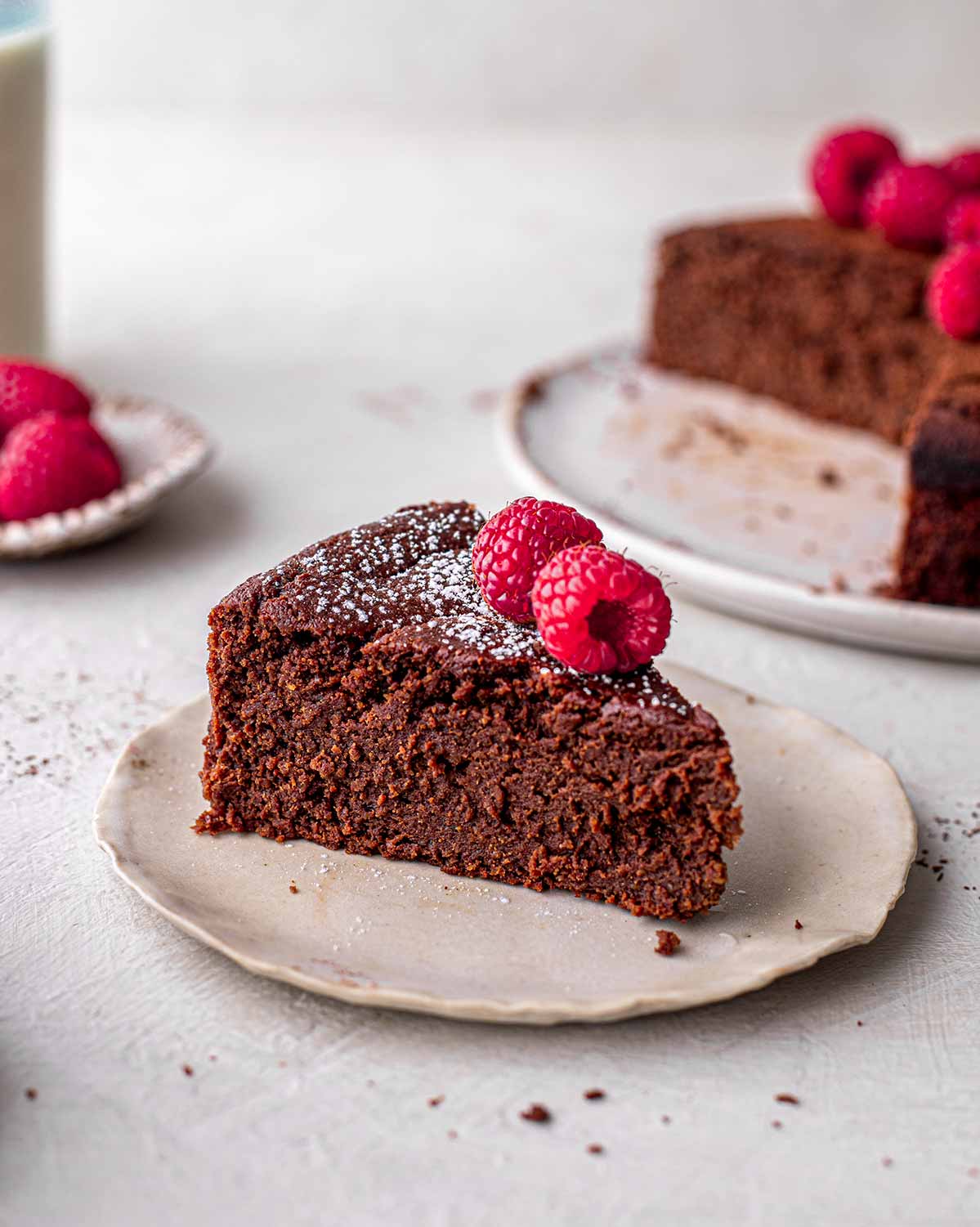 See my other flourless vegan desserts
Follow Rainbow Nourishments on Instagram, Facebook, TikTok and Pinterest, and subscribe via email to receive all of our latest recipes!
Print Recipe
Flourless Vegan Chocolate Cake
This flourless vegan chocolate cake is perfectly fudgy, fluffy and indulgent. It's easy to make, gluten free, has no added oil and can be made refined sugar free!
Instructions
Preheat the oven to 160°C fan forced or 180°C conventional (320°F fan forced or 350°F conventional). Grease or line an 8-inch (20 cm) cake pan with parchment paper.
Preparing the flourless cake:
Add the milk and chocolate to a saucepan over medium heat. Once the chocolate starts to melt, remove from the heat and stir until the chocolate is fully melted. Allow the mixture to cool slightly.

Add the cooled chocolate mixture and all the other ingredients to a large mixing bowl or food processor. Mix until combined.

Pour the cake batter into your prepared cake pan.
Baking the flourless cake:
Bake the cake for 35-40 minutes (Note 3). The cake is ready when you can press the centre with your finger and it springs back slightly. If you insert a skewer in the middle, there should be a *little* amount of crumbs and/or wet batter on the skewer. If in doubt, it's better to underbake the cake than to overbake (it will firm up a lot when it cools).

Allow the cake to completely cool in the cake tin then remove. It can be messy cutting the cake when it's warm!

Serve the cake with cocoa powder/icing sugar, with fresh raspberries and/or ice cream (Note 4). Store leftovers in an airtight container at room temperature or in the fridge for 3 days or in the freezer for up to 1 month.
Notes
The total amount of almond flour can be substituted with 1 cup (125g) all-purpose flour and ½ cup (125g) light-tasting vegetable oil. We have to add oil to compensate for the natural oils normally found in almond flour.
If you want an EXTRA fudgy cake (like a truffle), you can use up to 2 cups (250g) of applesauce. I personally prefer it with less applesauce.
If your oven is too hot, your cake may be slightly dark on the outside but very unbaked inside. If so, turn down the temperature and cover the tin with an oven-safe plate, as long as it doesn't touch the cake.
The cake can be served warm or at room temperature. It's decadent enough by itself but you can top it with chocolate ganache from my bundt cake recipe, chocolate avocado mousse from my brownie recipe or even chocolate tofu mousse from my pie recipe.
Nutrition
Calories:
268
kcal
|
Carbohydrates:
31
g
|
Protein:
6
g
|
Fat:
16
g
|
Sodium:
156
mg
|
Potassium:
81
mg
|
Fiber:
4
g
|
Sugar:
17
g
|
Vitamin A:
4
IU
|
Vitamin C:
1
mg
|
Calcium:
153
mg
|
Iron:
2
mg
This post may contain affiliate links. As an Amazon Associate, I may earn a small commission from qualifying purchases at no additional cost to you.