Vegan orange cake using a WHOLE orange including the rind. It's made with only 5 ingredients and is also gluten-free, oil-free, eggless and flourless!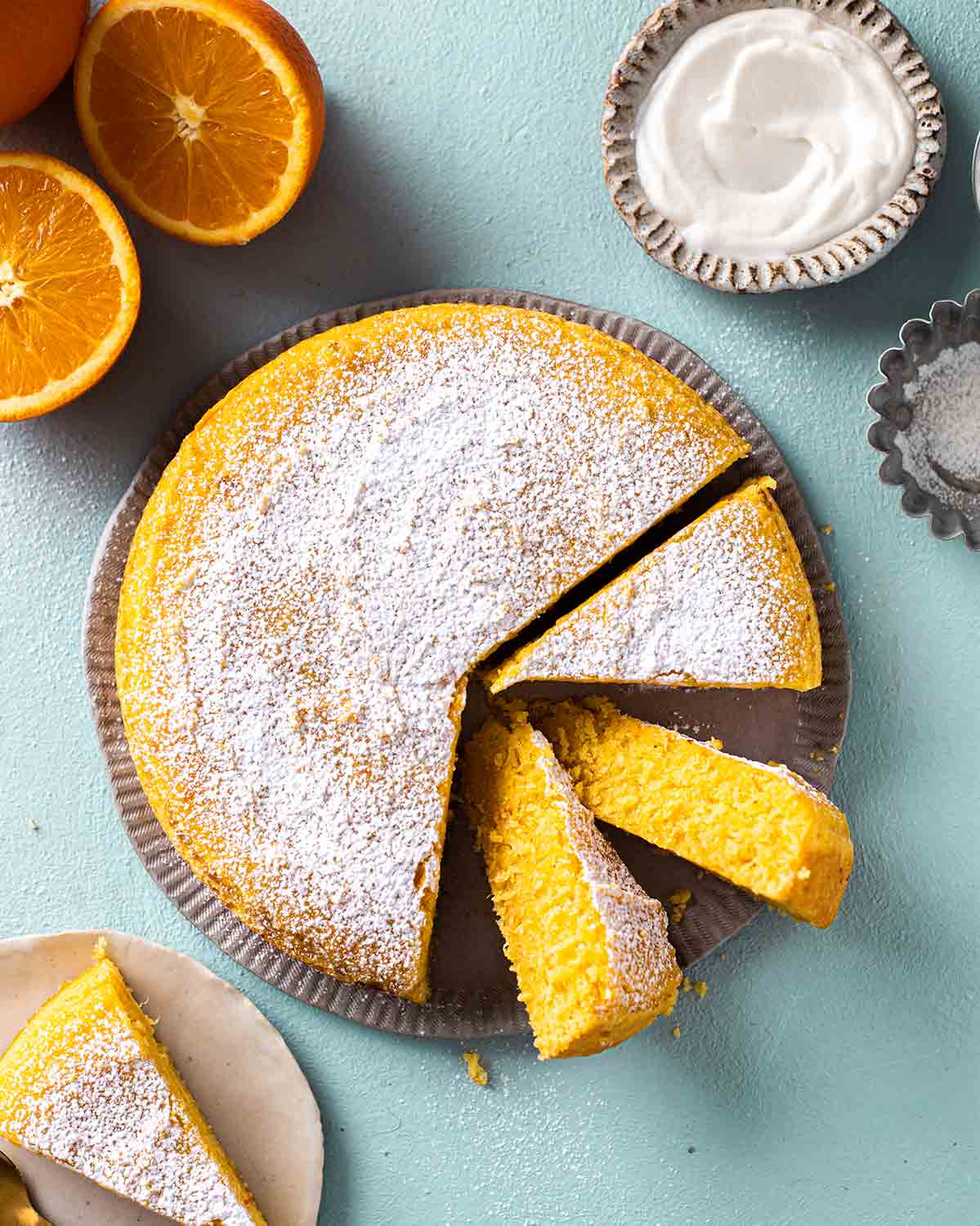 What's a whole orange cake?
A whole orange cake has origins in Sicily, Morocco and the Middle East. It's traditionally made with boiled whole oranges (with their rind and all) and often uses almond flour/meal rather than wheat flour.
Conventionally, a whole orange cake recipe uses up to 6 eggs and is not vegan (or easily veganizable). However, after vigorous testing, I found a way to make an eggless whole orange cake using common ingredients!
Why you'll love this cake
FLAVOR: Sweet, bursting with complex orange flavor, and slight bitter undertone. It tastes just like a non-vegan flourless orange almond cake.
TEXTURE: Moist and dense with a fine crumb. It's not meant to be fluffy like a sponge cake. The texture is like a rich fruit cake, moist French financier or friand.
CUSTOMIZABLE: For fruity variations of this cake, check out my vegan whole lemon cake or flourless strawberry cake. Or if you may prefer my flourless vegan chocolate cake or vegan almond cake.
5 ingredients you'll need
Notes about the ingredients
A whole orange, ideally organic as we're using the rind! I recommend using a sweet orange that has a thin skin otherwise your cake will be too bitter. The orange adds a lot of moisture to the cake so we don't need oil or butter.
I don't recommend replacing the orange with orange juice. A whole orange contains pulp, fiber and rind whereas orange juice is just liquid.
Regular granulated sugar. Coconut sugar will also work but it will make the cake denser and brown in color.
Potato starch (or corn starch). See the next section for why we need this!
Baking powder. I added a little extra to this cake to help the cake bake through. It also helps replace some of the lifting power normally provided by eggs in conventional whole orange cakes.
You'll also need water... but is that even an ingredient?!
A complete list of ingredients, quantities and instructions are in the gray recipe card at the bottom of this post.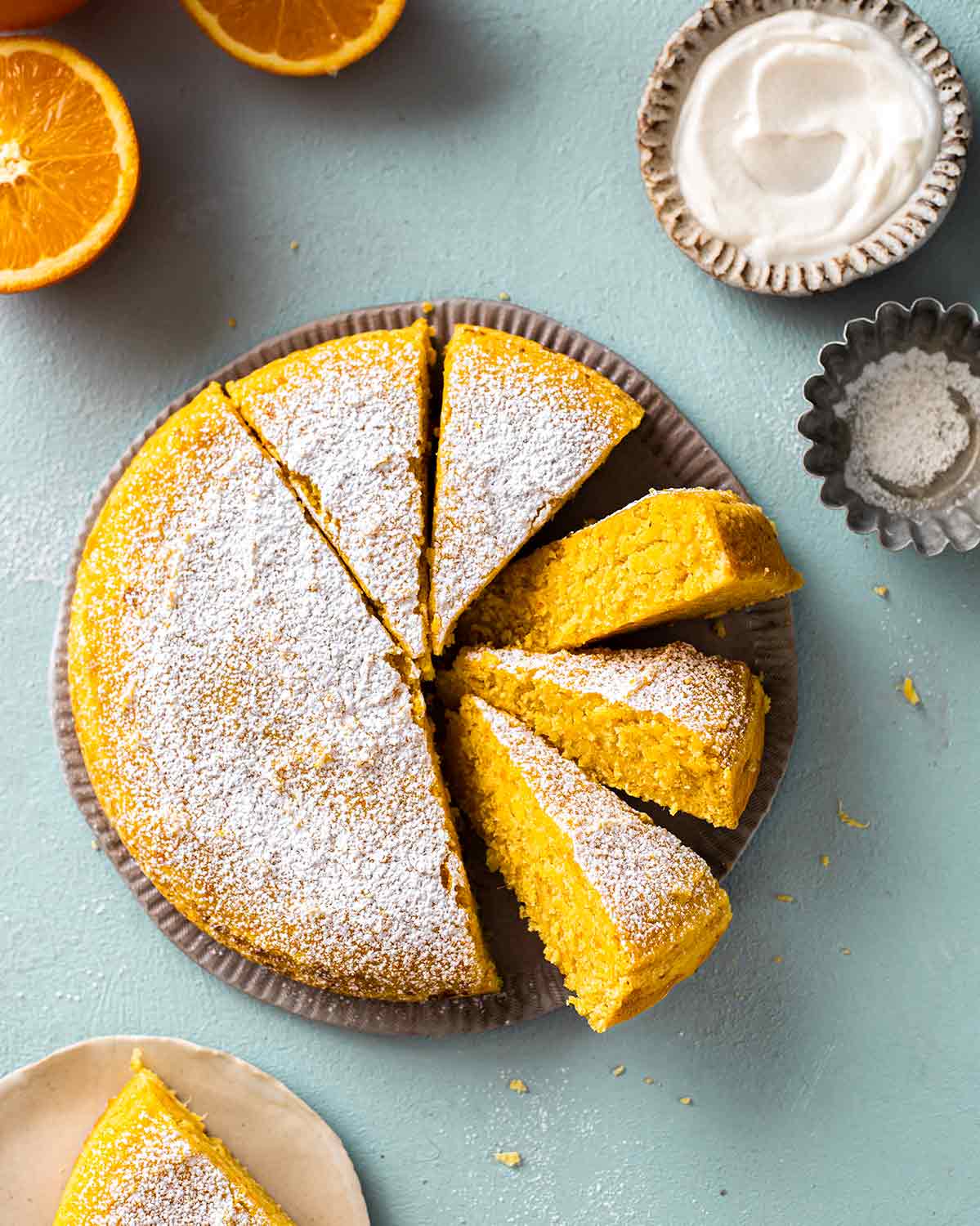 Why potato starch: the simple magical ingredient
Potato starch allows us to omit the eggs in this whole orange cake. You can also use corn starch (corn flour). Potato starch is not the same as potato flour or potato protein.
Potato starch has various functions in this recipe:
It is a great binder and thickener (it's a common vegan egg substitute).
It is a dry ingredient that adds structure. Unfortunately, chia eggs, flax eggs and aquafaba makes the cake TOO moist, dense and competes with the orange flavor.
It is tasteless and colorless which allows the orange to shine!
Potato starch isn't a straightforward 1:1 egg replacer in a regular whole orange cake recipe. I had to reduce the liquid and increase the baking powder to make sure the final cake isn't too dense!
You can get potato and corn starch in some major supermarkets, health food stores and Asian specialty stores. In Asian stores, they are very affordable!
Preparing the whole orange
First, we need to boil a whole orange in water. Keep on the rind (or skin) but remove the 'stem' (if there is one). My orange weighed just over 250g but it doesn't matter if yours is 10g lighter or heavier.
The orange doesn't need to be completely submerged in water in your pot. There just needs to be enough water so the orange boils/steams! Your home will smell lovely when you cook your orange... I need to do it more often :).
When the orange is cooked, drain and discard all the water. Roughly chop the orange as it'll be easier to blend/process. And remove any seeds, if any!
Making the vegan orange cake
Use a food processor or stick blender to puree your orange (rind and all). The puree doesn't have to be extremely fine. Any small chunks will add texture to your vegan orange cake.
Next, add ALL the ingredients to the food processor and pulse until combined. The cake batter should be very thick, almost like a paste. If your batter is runnier, I'd recommend adding a little more potato starch.
Normally I wouldn't recommend using a food processor to mix cake batter as over-mixing can create a tough cake. However, gluten is the culprit of tough cakes and this cake is gluten-free so we don't have to worry about over-mixing!
If you don't have a food processor, add your orange puree and all other ingredients to a large mixing bowl and stir using a spatula or spoon. The batter will be too thick for a hand whisk.
Scoop (or pour) the thick batter into your cake tin. The surface will be a little rough so just smooth it out using a spatula or spoon.
Tip: If your batter is sticking too much to your spoon, dip your spoon in water and try again!
Tips for baking the cake
The whole orange cake has a high amount of almond flour so we need to bake it at a lower temperature. Nuts tend to burn quickly so a lower temperature prevents this from happening!
The cake is ready when it is slightly golden brown on top. If you can insert a toothpick into the middle and it comes out mostly clean (a few crumbs are fine). The cake won't rise much at all.
If you have an overly hot oven, your flourless orange almond cake might turn golden brown before it's baked inside. If so, turn down the heat of your oven AND place an oven-safe plate on top of your cake tin (as long as it doesn't touch the cake).
When you remove the cake from the oven, let it cool in the cake pan as it'll be very delicate. The cake will firm up a lot when it cools.
Serving the cake
This eggless orange cake is perfect for morning tea or with your daily coffee! It is delicious with a simple dusting of powdered sugar or can be served with:
thick dairy-free yogurt
dairy-free cream or ice cream
slices of fresh oranges or candied orange peel
If you want to bring this cake to a celebration, you can top the cake with beautiful rose petals and pistachios!
I think the cake is already sweet enough but if you would like to decorate it, I recommend topping it with yogurt. Or make a simple sugar icing such as the one in my lemon pistachio cake (use orange juice instead of lemon to make an orange glaze). I'd say that buttercream is too sweet for this cake.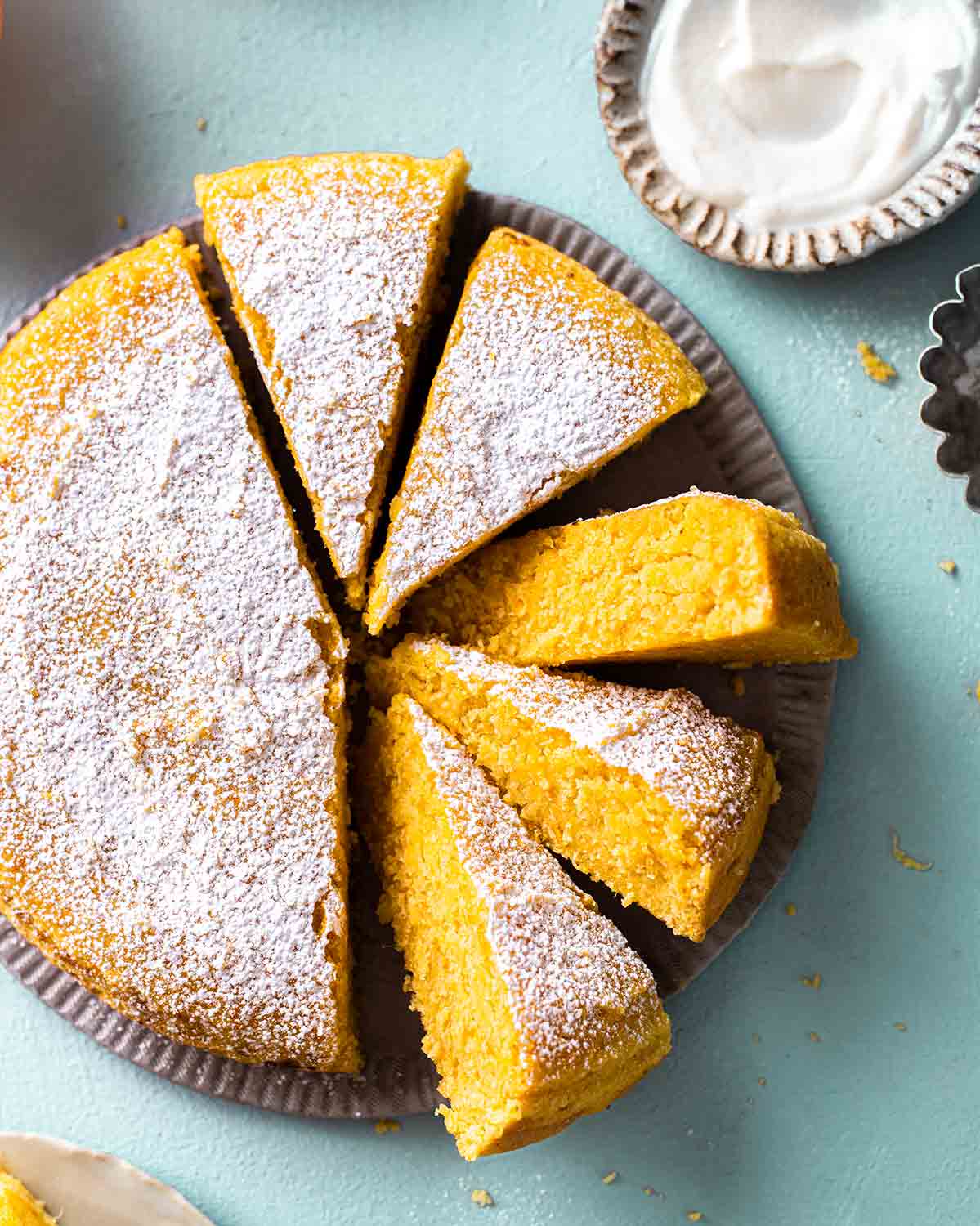 Ingredient substitutions and customizations
Can I substitute the almond flour with regular flour?
Almond flour is about 15% fat so we need to compensate for this if we replace it with flour. I recommend using a combination of all-purpose flour and neutral oil or light-tasting olive oil (quantities are listed in the notes of the recipe card below). The cake will be fluffier and have a more subtle orange flavor compared to the original.
Can I just use the orange without the rind?
I haven't tried this but it should work if you cut off the rind. Without boiling the orange, remove some of the orange zest then remove all of the flesh inside. Blend the orange zest with the flesh then use it in the recipe.
Instead of water, can I use dairy-free milk or orange juice?
Yes either will work!
Can I add anything else to this cake?
The cake itself is already full of complex flavor. However, you may add 1 teaspoon of vanilla extract, ½ teaspoon of cardamom powder or a pinch of salt.
More easy vegan cake recipes
Follow Rainbow Nourishments on Instagram, Facebook, TikTok and Pinterest, and subscribe via email to receive all of our latest recipes!
Print Recipe
Vegan Whole Orange Cake
Vegan orange cake using a WHOLE orange including the rind just like the classic Sicilian orange cake. Made with only 5 ingredients and is also gluten-free, oil-free, eggless and flourless! The cake has a complex orange flavor, sweet, dense and only very slightly bitter.
Instructions
I recommend weighing the ingredients for this recipe rather than using the cups measurement. Like all of my recipes, this whole orange cake was tested using grams except the baking powder.
Preparing the orange:
Thoroughly wash the skin of the orange and remove the stem, if it's still on. Add around 4 cups of water to a small saucepan and place the whole orange in it. Over medium heat, simmer the orange for 30 minutes until you can pierce the skin with no resistance. Drain the water and allow the orange to cool.

Roughly chop the orange and remove any seeds. Place it in a food processor and process until it forms a paste. It's fine if there are little bits of rind in the paste.
Making the cake batter:
Preheat the oven to 170°C (340°F). Grease or line an 8-inch (20 cm) cake pan with parchment paper (Note 3).

Add the rest of the cake ingredients to the food processor. Process until the mixture is combined and thick. If your batter is runnier, add 1 tablespoon (7g) of potato starch at a time and mix until it forms a thick batter. If in doubt, err towards a thicker batter rather than thinner batter. For this recipe, a thinner batter will make a denser cake.

Scoop the cake batter into a your cake tin. Smooth the top with a spoon or spatula.
Baking the cake:
Bake the cake for 35-40 minutes (Note 4). The cake is ready when a skewer can be inserted into the middle and there is no wet batter on it (some crumbs are fine). The cake isn't meant to rise much or flatten out but it will 'set'. Allow the cake to completely cool in the cake tin.

To serve, dust the cake with powdered sugar (Note 5). Store leftovers in an airtight container at room temperature for 1 day, in the fridge for 3 days or in the freezer for up to 1 month.
Notes
The total amount of almond flour can be substituted with 1 cup (125g) all purpose flour and ½ cup (125g) light-tasting oil. We have to add oil to compensate for the natural fats normally found in almond flour.
This amount of sugar creates a mildly sweet cake. You can decrease the sugar to ½ cup (100g) but it will create a more dense cake that may be a little bitter.
The cake bakes very well in muffin tins and can be divided into smaller cake tins, of course with different baking times. However, baking the whole quantity of the cake in a smaller tin (for example 15 cm or 7 inches) may cause 'dense streaks' throughout the cake.
If your oven is too hot, your cake may be cooked on the outside but still unbaked inside. If so, turn down the oven temperature and cover the cake pan with an oven-safe plate, as long as it doesn't touch the cake.
Alternatively, you can also:

Drizzle a simple syrup on the cake. Combine ¼ cup (80g) orange juice and 2 tbsp of sugar in a small saucepan and heat until the sugar has dissolved. Drizzle on the cake while it's warm.
Top the cake with a simple icing, such as the one in this recipe (but substitute the lemon juice with orange juice). Wait until the cake is completely cool before you ice the cake.
Nutrition
Serving:
1
serve
|
Calories:
202
kcal
|
Carbohydrates:
26
g
|
Protein:
5
g
|
Fat:
10
g
|
Sodium:
110
mg
|
Potassium:
109
mg
|
Fiber:
3
g
|
Sugar:
15
g
|
Vitamin A:
47
IU
|
Vitamin C:
11
mg
|
Calcium:
116
mg
|
Iron:
1
mg
This recipe was originally published in November 2017 and updated a few times since then. Vegan baking science has grown a lot over the years!
This post may contain affiliate links. As an Amazon Associate, I may earn a small commission from qualifying purchases at no additional cost to you.