Vegan whole lemon cake using entire lemons including their rind and pulp. This lemon cake is gluten-free, eggless and made with only 5 key ingredients!
What to expect from this recipe
TEXTURE: The lemon pulp makes this cake super moist, with a texture like pound cake, French financiers or friands. We don't even need butter or oil!
FLAVOR: This whole lemon cake has more flavor than a regular vegan lemon cake. The cake uses lemon peel which naturally contains lots of lemon essential oil (according to Healthline) and gives a stronger lemon flavor!
DIFFICULTY: You only need 5 ingredients and a food processor to prepare the cake.
TRIED AND TESTED: This recipe is similar to my other popular, tried and tested recipes including my Vegan Whole Orange Cake, Gluten-free Strawberry Cake and Flourless Vegan Chocolate Cake
5 ingredients for this vegan lemon cake
You will need:
Notes about the ingredients
Conventionally, a whole lemon cake uses up to 6 eggs but it's possible to make an eggless lemon cake!
Potato starch (or corn starch) is a great gluten-free flour and egg substitute. Unlike flax eggs or aquafaba, it is a dry mixture and acts as a thickener and binder. For more reasons why I used potato starch, check out my whole orange cake recipe post.
Baking powder to help the cake rise and bake through. It's really important that you use active baking powder as old baking powder will result in a denser cake.
Turmeric (optional, not pictured). Conventionally, whole lemon cakes have a subtle yellow hue from eggs and lemon rind. For this cake, we can strengthen the yellow color with a pinch of turmeric. The color becomes more intense after it is baked, so we don't need much!
The full list of ingredient quantities and instructions are in the gray recipe card at the bottom of this post.
Boiling the lemons
First, place your two lemons in a small saucepan of water. The lemons need to be completely covered but there needs to be enough water to steam/boil them. This step helps soften the lemon skin and pulp making them more digestible in the final whole lemon cake.
When the lemons are soft and can be pierced without much resistance, drain the water and allow the lemons to cool down.
Roughly chop the lemons and remove all the seeds. The lemons should appear 'hollow' and the pulp will feel a little slimy which is completely normal. The lemons don't need to be chopped finely but just enough so they fit in your food processor.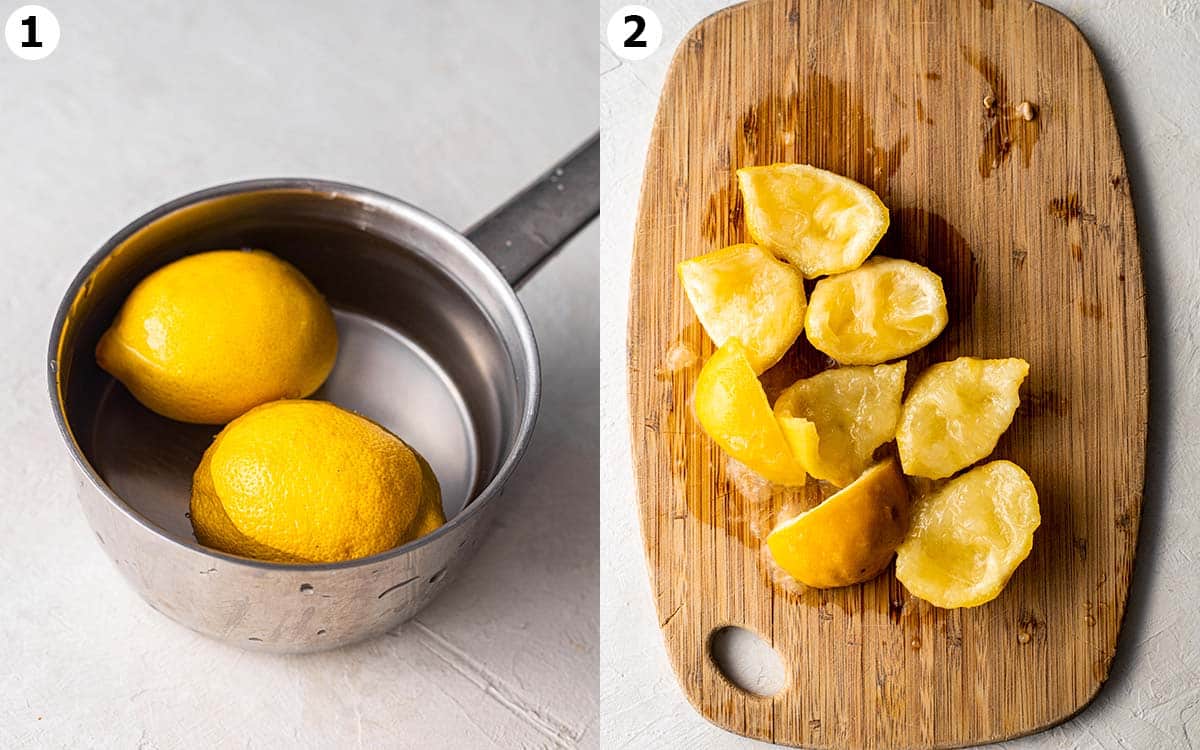 Preparing the lemon cake batter
Place the lemon in your food processor and blitz until it forms a rough puree. If you have a large food processor, your lemon puree might be chunkier. That's fine - we'll be processing them further!
Add the rest of the ingredients to the food processor and process until combined. It will be a thick batter which is perfect! You will have little bits of lemon rind in your batter which add texture and flavor to your final vegan lemon cake.
If your batter is too thin, add a few more tablespoons of potato or corn starch until it forms a thick batter. The texture should be like thick rice pudding or half-mashed banana. If it's any thinner, your lemon cake has too much moisture and may not bake well.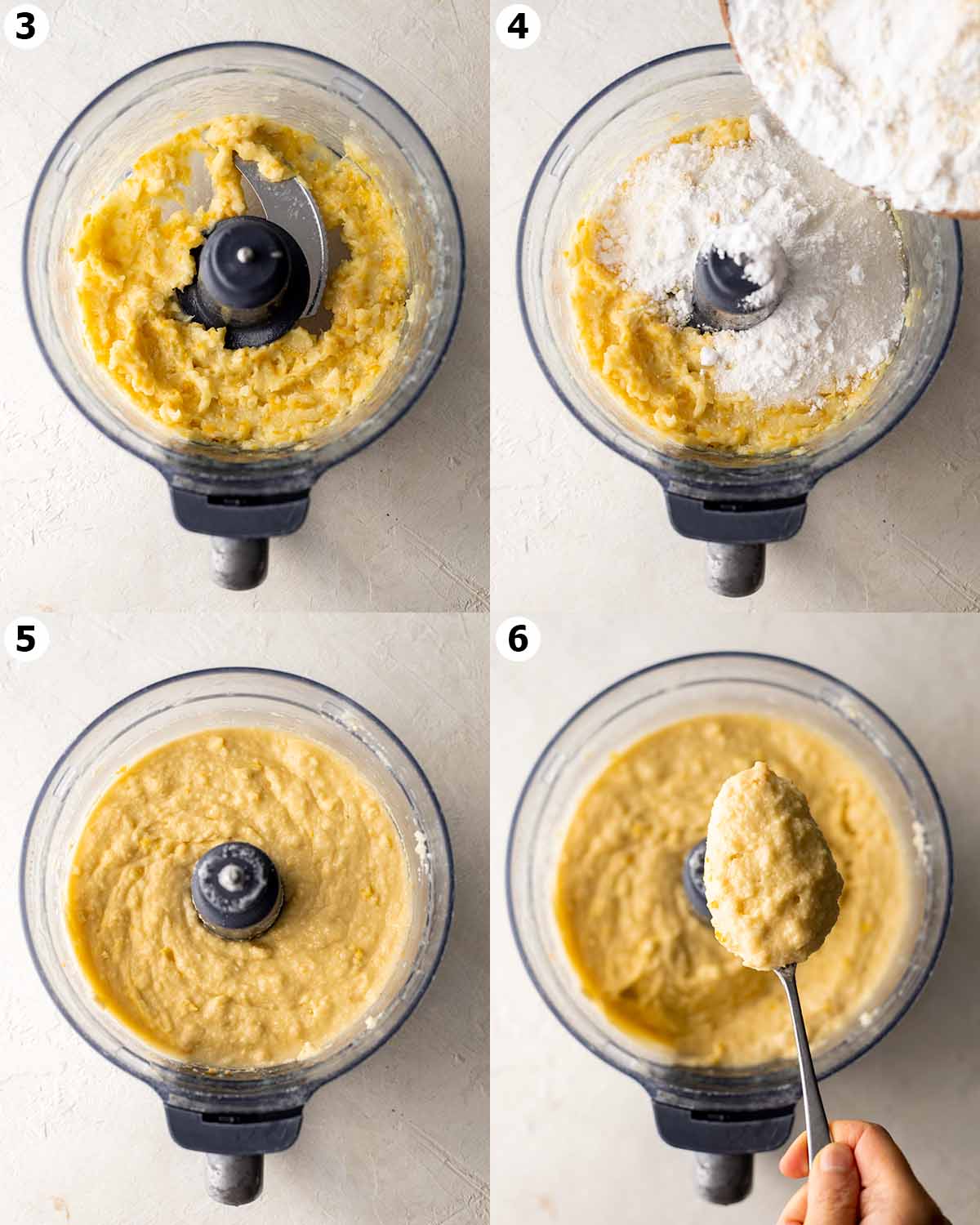 I normally wouldn't recommend mixing cake batters in your food processor. Overmixing a batter can strengthen the gluten in a cake which makes them tough. However, this whole lemon cake is gluten-free so you have to worry about over-mixing!
As the batter is quite thick, you'll need to scoop it into your lined cake tin. The top can be smoothed with the back of a spoon :).
Baking the whole lemon cake
This cake doesn't have much liquid so we only need to bake it for 35-40 minutes. It's also a large and FLAT cake that doesn't need much time in the oven to fully bake!
How to serve this lemon cake
Just like my whole orange cake, this lemon cake is perfect for morning tea or afternoon tea! I personally prefer it plain as the cake is full of flavor (and moisture).
However, you can also serve it with dairy-free yogurt, ice cream or cream! You can also top the cake with a simple lemon powdered sugar icing/glaze such as the one I used for my lemon pistachio cake.
Expert Tips
I can't eat almond flour/meal due to allergies or I just can't buy it where I live. Can I use something else?
If you're allergic to almonds, try cashew flour/meal.

Alternatively, you can use a combination of all-purpose flour and a neutral-tasting oil. Your cake will be fluffier and have a lighter lemon taste than the original recipe. I've listed the ingredient quantities in the notes of the recipe box at the bottom of this post.
Can I use lemon juice or lemon extract instead of the whole lemon?
I don't recommend this. Lemon juice and extract are 100% liquid whereas a entire lemon has a lot of fiber. If you're after a vegan lemon cake using only lemon juice, check out my lemon layer cake, lemon olive oil cake or lemon drizzle cake.
Can I use Meyer lemons?
Yes. Meyer lemons are a bit sweeter than regular lemons so your cake may be sweeter. I don't recommend reducing the sugar in this cake as it will make it denser.
Can I use dairy-free milk instead of water?
Yes, absolutely!
I don't have a food processor. Can I make this whole lemon cake in a large mixing bowl?
I haven't tried this myself but if you chop the lemon VERY finely, you may get a similar result.
Can I bake the cake as muffins or in a smaller cake tin?
This whole lemon cake bakes very well in muffin tins and can be divided into smaller cake tins, of course with shorter baking times. However, baking the whole quantity of the cake in a smaller tin (for example in a 7-inch pan) won't work as well.

Alternatively, check out my vegan lemon poppy seed muffin recipe!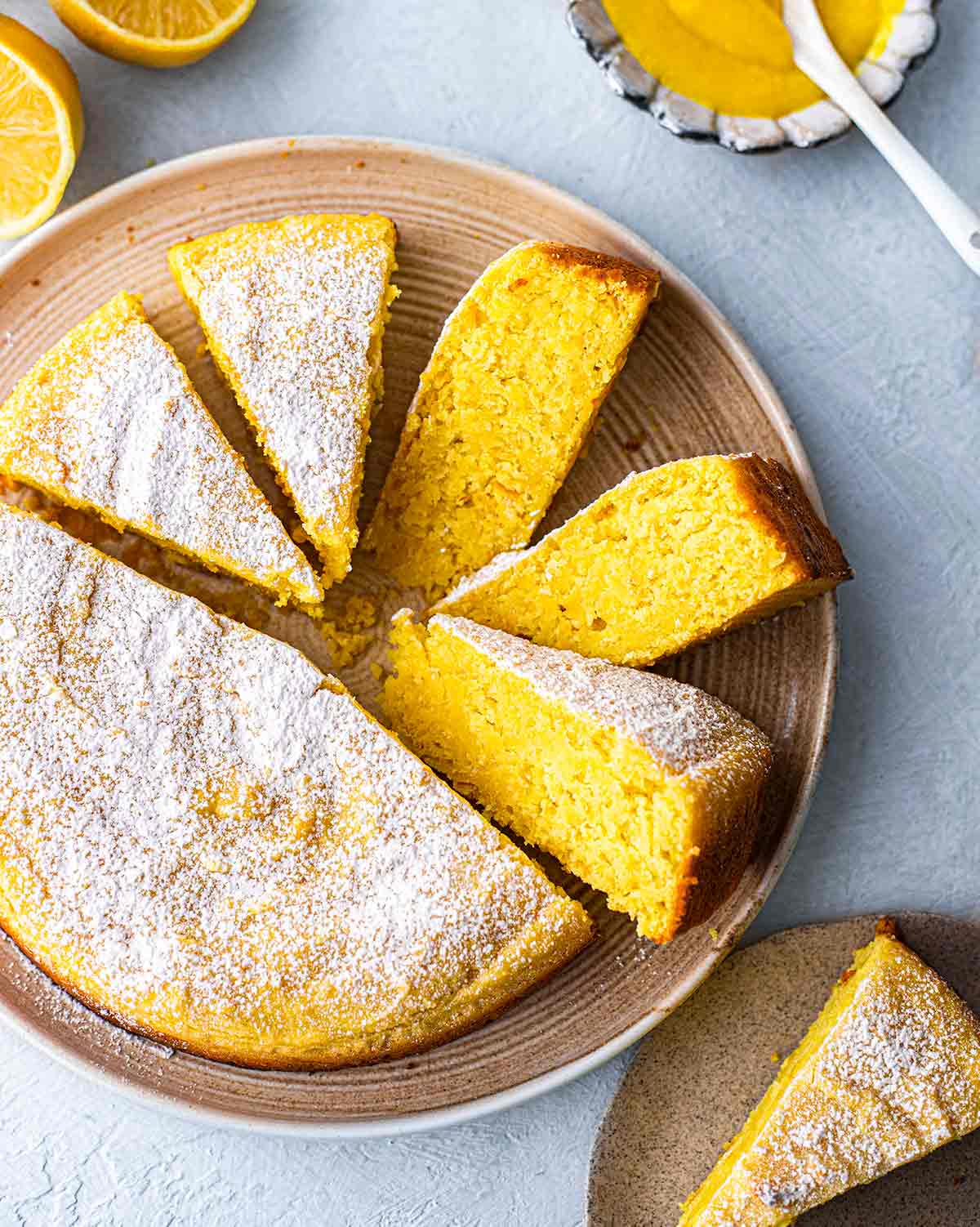 More vegan lemon desserts
Follow Rainbow Nourishments on Instagram, Facebook, TikTok and Pinterest, and subscribe via email to receive all of our latest recipes!
Print Recipe
Vegan Whole Lemon Cake
Vegan lemon cake using a WHOLE lemon including the rind. Gluten free, grain free, eggless and only 5 key ingredients!
Instructions
I recommend weighing the ingredients for this recipe rather than using the cup measurements. Like all of my recipes, this whole lemon cake was tested using grams except for the baking powder.
Preparing the whole lemons:
Thoroughly wash the skin of the lemons and remove the stems if they're still on. Add around 4 cups of water to a small saucepan and place the whole lemons in the water. Over medium heat, simmer the lemons for 30 minutes until you can pierce the skin with no resistance. Drain the water and allow the lemons to cool.

Roughly chop the lemons and remove all the seeds.

Place the chopped lemon in a food processor and blitz until it forms a chunky paste with small pieces of rind.
Preparing the lemon cake batter:
Preheat the oven to 170°C (340°F). Grease or line an 8-inch (20 cm) cake pan with parchment paper.

Add the rest of the cake ingredients to the food processor. Process until the mixture is combined and quite thick, like the texture of thick rice pudding. If your batter is runnier, add 1 tablespoon (7g) of potato starch at a time and mix until it forms a thick batter. If in doubt, err towards a thicker batter rather than thinner batter (note 4).

Scoop the cake batter into your cake tin. Smooth the top with a spoon or spatula.
Baking the cake:
Bake the cake for 35-40 minutes. The cake is ready when a toothpick can be inserted into the middle and there is no wet batter on it (some crumbs are fine). Allow the cake to completely cool in the cake tin.

To serve, dust the cake with icing sugar (Note 5). Store leftovers in an airtight container at room temperature for 1 day, in the fridge for 3 days or in the freezer for up to 1 month.
Notes
The thinner the lemon rind, the better! Some lemons have a very thick rind which may give the cake a bitter aftertaste. I'd really recommend weighing your lemons for this recipe and sticking to ~250g. You can still boil half-cut lemons if needed! The weight of an 'average' lemon varies from country to country. I've seen large homegrown lemons which are 300g each!
The total amount of almond flour can be substituted with 1 cup (125g) all-purpose flour and ½ cup (125g) neutral-tasting oil.
This amount of sugar creates a mildly sweet cake. You may decrease the sugar to ¾ cup (150g) but it will create a more dense cake that may be bitter. Also, some varieties of lemon may be sweeter so feel free to adjust the amount of sugar to taste.
A runnier cake batter will be too moist when baked, so it's important to eye ball your mixture. I also recommend taste-testing the batter at this stage. If it's too bitter for your liking, add ~¼ cup (50g) more sugar. Bitterness comes from lemons with a thick rind.
Alternatively, you can also:

Drizzle a simple syrup on the cake. Combine 2 tbsp lemon juice and 2 tbsp of sugar or maple syrup in a small saucepan and heat until the sugar has dissolved or the mixture has emulsified. Drizzle on the cake while it's warm.
Top the cake with a simple icing, such as the one in my vegan pistachio lemon cake. Wait until the cake is completely cool before you ice the cake.
Nutrition
Serving:
1
serve
|
Calories:
214
kcal
|
Carbohydrates:
29
g
|
Protein:
5
g
|
Fat:
10
g
|
Sodium:
111
mg
|
Potassium:
101
mg
|
Fiber:
3
g
|
Sugar:
18
g
|
Vitamin A:
5
IU
|
Vitamin C:
11
mg
|
Calcium:
113
mg
|
Iron:
1
mg
This post may contain affiliate links. As an Amazon Associate, I may earn a small commission from qualifying purchases at no additional cost to you.