Vegan lamingtons which are easy to make, fluffy and uses only common pantry staples. Enjoyed by vegans and non-vegans alike!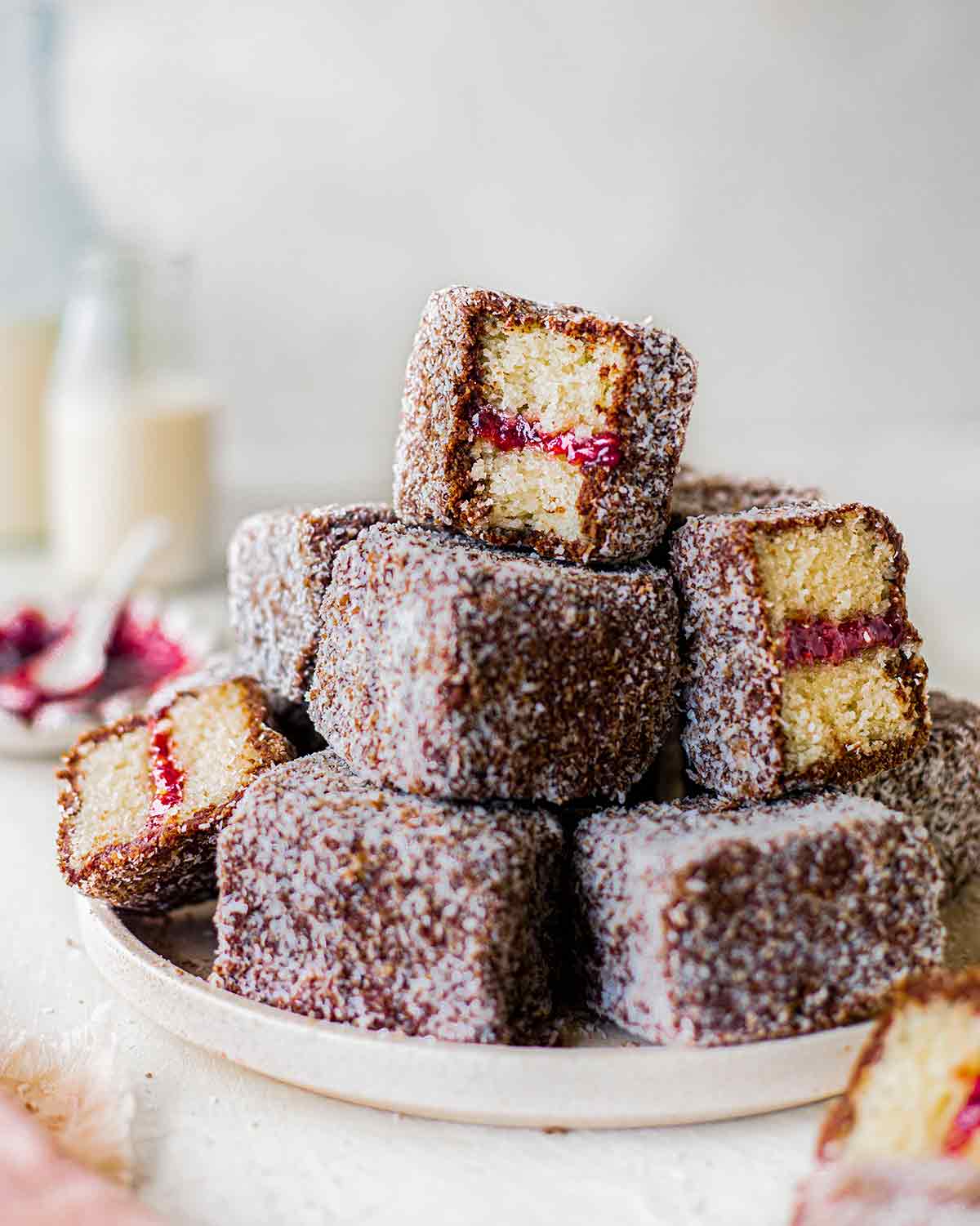 What are lamingtons?
Lamingtons are a very popular Australian and New Zealand snack or dessert. They consist of a fluffy vanilla sponge cake that is covered in chocolate and dried coconut. Sometimes lamingtons are filled with jam or cream.
In Australia and New Zealand, lamingtons (like custard tarts and Anzac biscuits) are often found in many corner bakeries and supermarkets. They're enjoyed at community and social events such as barbeques!
Are lamingtons vegan?
Normally, lamingtons are not vegan. The vanilla sponge conventionally has eggs, butter and dairy milk. The chocolate coating is often made with butter or dairy chocolate which has milk solids.
In Australia, the lamingtons at Woolworths and Coles (our two major supermakets) are not vegan as they have egg powder in them.
However, it's very easy to veganise lamingtons! I used my classic vegan vanilla cake recipe (adapted from my cookbook).
Instead of the conventional chocolate frosting using icing sugar, I covered my lamingtons in a chocolate ganache made with dark chocolate and coconut cream. This creates a thicker and more indulgent coating!
And of course, each lamington dipped in desiccated coconut.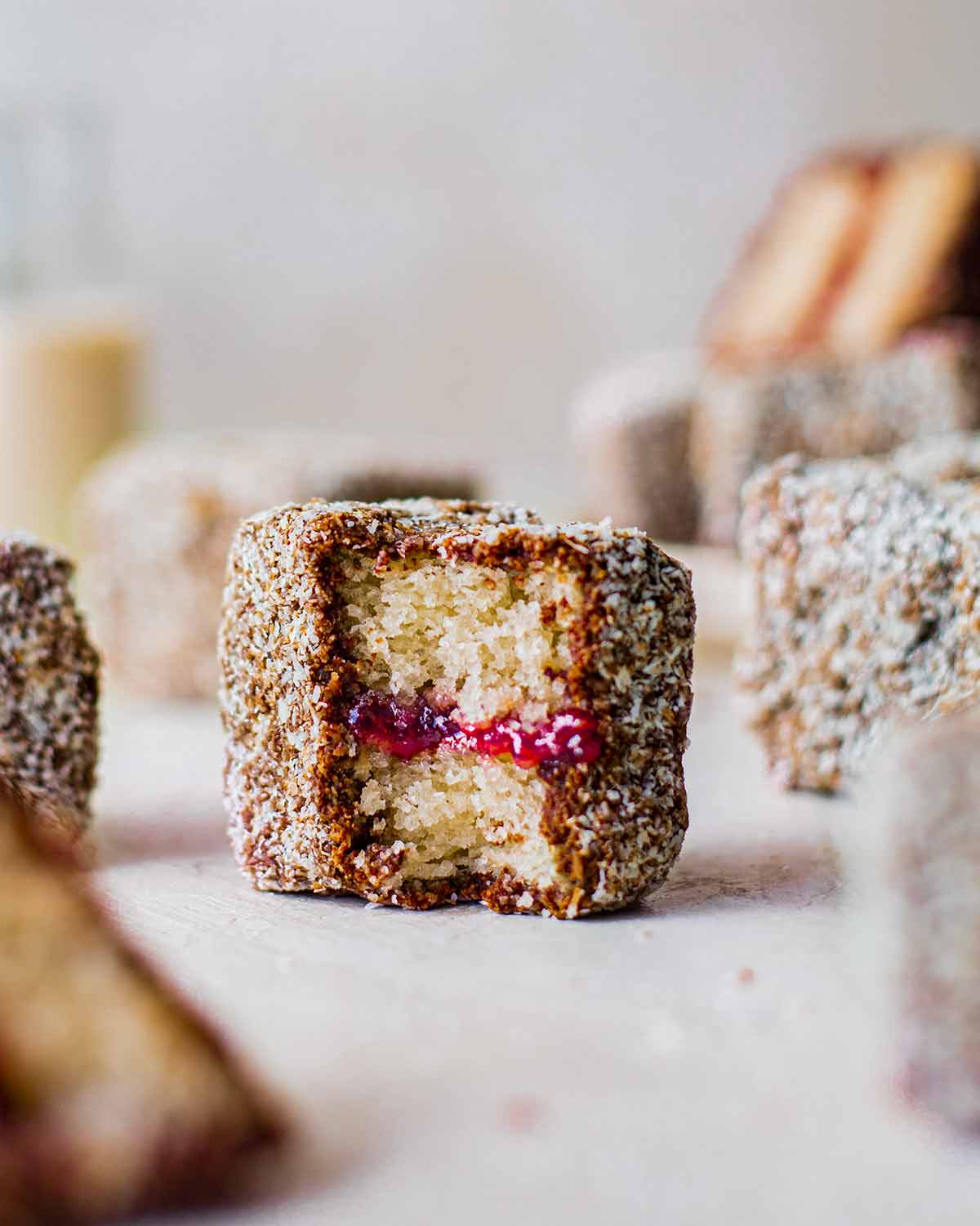 Ingredients to make vegan lamingtons
Since lamingtons are a VERY common and popular dessert, I chose ingredients that are easily accessible, affordable and found in supermarkets.
I used sunflower oil instead of vegan butter for these lamingtons. The liquid oil makes the lamingtons moister! However, you can still use butter. The butter gives the sponge a classic buttery taste (duh!) but are a little drier.
To make the vanilla sponge, we need:
self-raising flour
plant-based milk such as soy, almond or coconut
liquid vegetable oil or melted vegan butter
apple cider vinegar (or vinegar of choice)
baking powder
vanilla extract + pinch of salt
A complete list of ingredients, quantities and instructions are in the gray recipe card at the bottom of this post.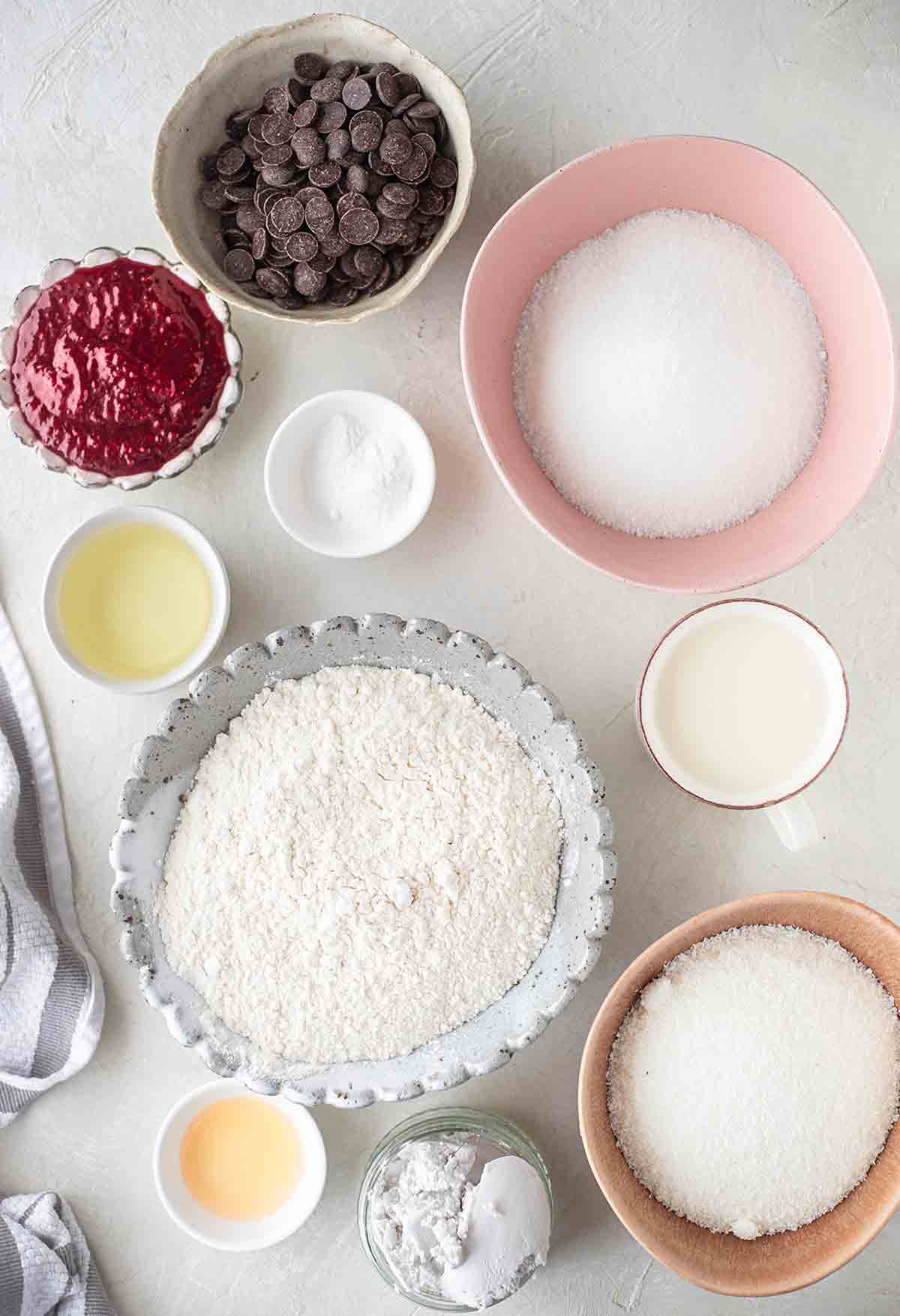 We'll be decorating each vegan lamington using the following ingredients:
raspberry jam, homemade or store-bought (optional)
vegan chocolate ganache using chocolate and coconut cream
dessicated coconut
How to prepare the easy vanilla cake for the lamingtons
Making the vanilla sponge is super easy. Add the dry ingredients to a bowl and mix. Add the wet ingredients and mix til combined. Bake til golden!
I'd HIGHLY recommend making the sponge the day before you need it then chilling it in the fridge overnight. Chilled cakes are *always* easier to handle than fresh cakes.
I baked my cakes in an extra-large sheet tin to make a thin sponge cake. However, you can still use a smaller tin if that's all you have. A smaller tin will create a thicker layer so feel free to slice your cake horizontally to create thinner layers.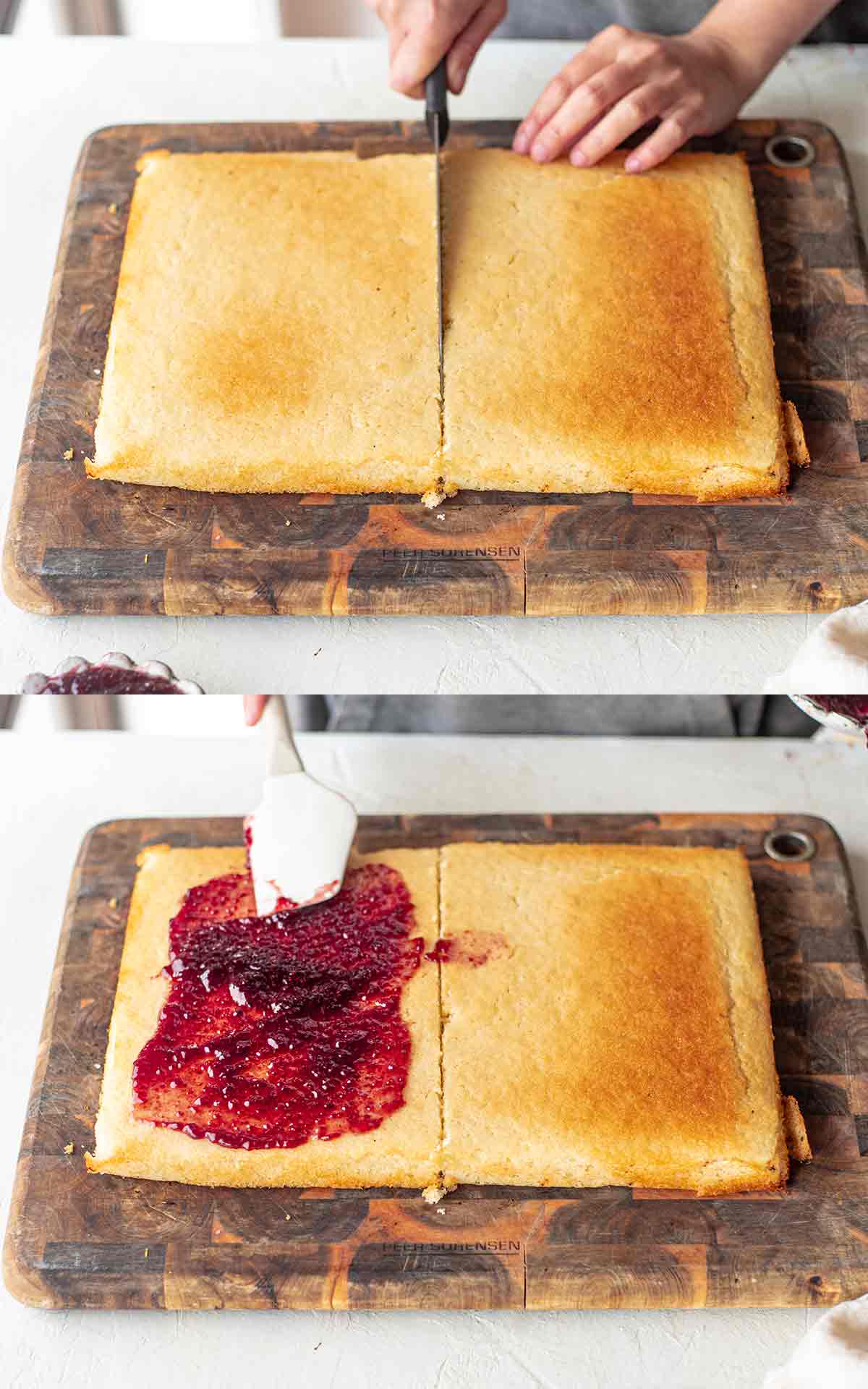 I cut my sheet cake into 2 layers. I generously spread raspberry jam on one half then sandwiched it with the other half. I'd recommend spreading more jam on your sponge cake than I did below :).
Alternatively, you can dip the sponge pieces without the jam. THEN cut the lamingtons in half and spread the jam in the middle.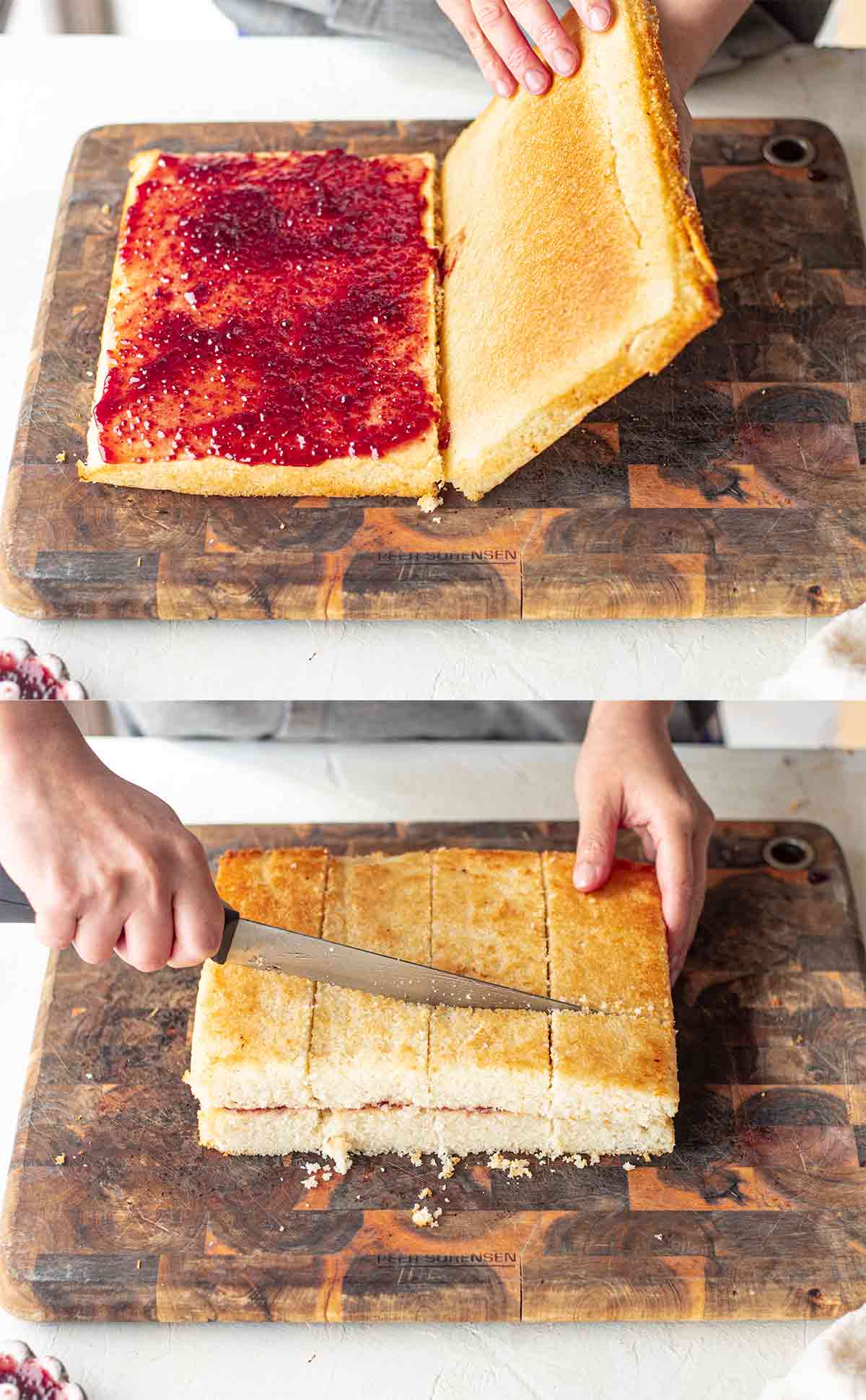 I wanted small lamingtons so I cut 16 squares from this slab. However, this made the lamingtons quite tall so if you make them for a crowd, I'd recommend cutting 12 lamingtons then cutting them diagonally.
Tips for coating the vegan lamingtons
I'll be honest - this part can be a little messy so don't do it when you're in a rush or bad mood!
When dipping the sponge in chocolate, I'd recommend using a fork as that allows excess chocolate to drip away. Also, definitely scrape off the excess chocolate on the edge of the bowl. This recipe includes a little more chocolate than you need as it's easier to dip each lamington when you have more chocolate.
When you coat the sponge in coconut, the key is to avoid touching the wet chocolate with your fingers otherwise most of the coating will end up on your hands rather than the cake. What I do is:
Place the chocolate covered cake in the coconut
Liberally sprinkle some excess coconut onto the wet sides of the cake. This acts as an initial barrier between the chocolate and your fingers.
Lightly grab the vegan lamington, turn and toss it on the coconut until you're happy with it. Voila!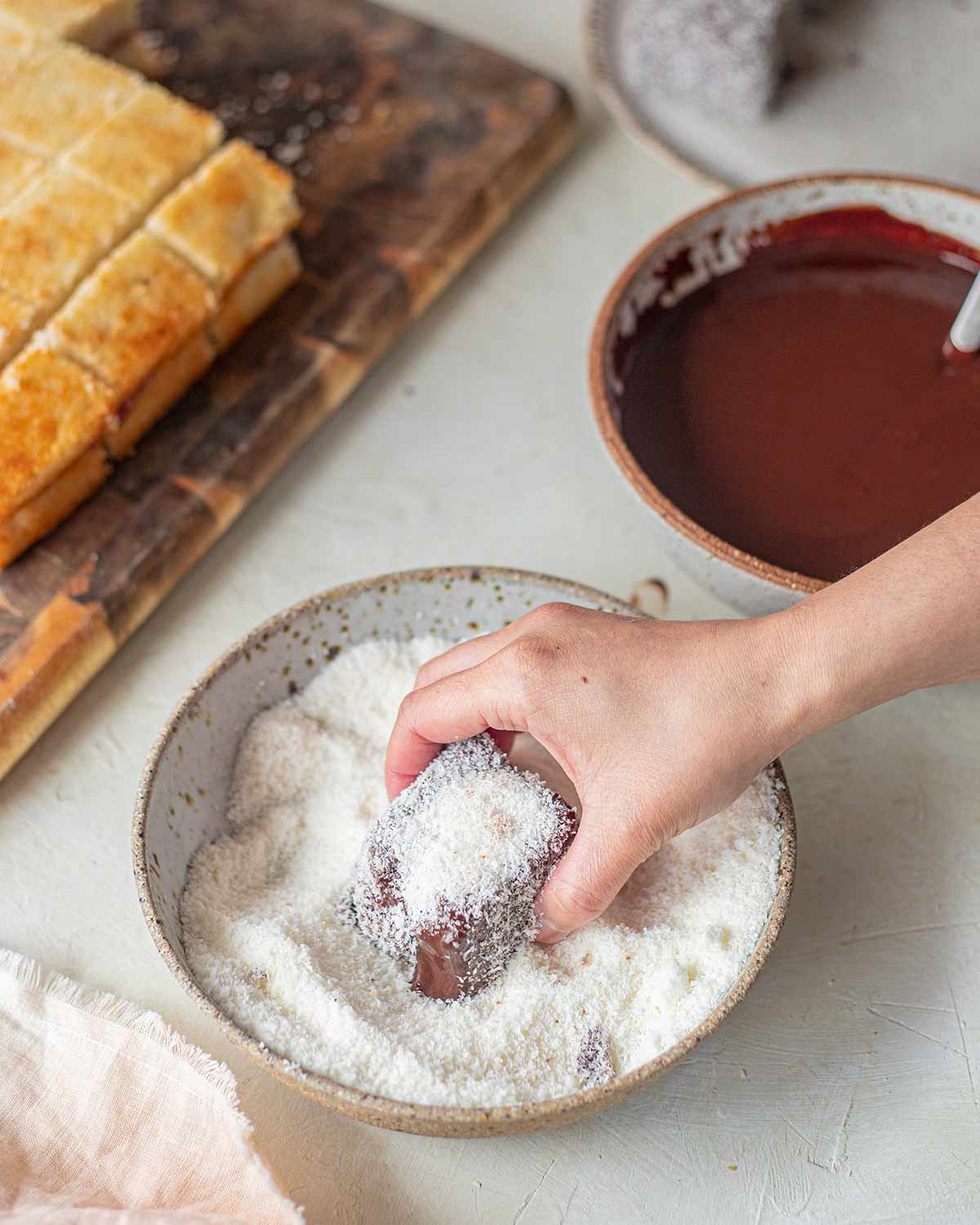 Ingredient substitutions
These are some substitions you can make and some that you absolutely cannot!
To making refined sugar-free lamingtons, you may replace cane sugar for coconut or rapadura sugar. The latter two sugars are great for baking as they still make fluffy sponges. However, those sugars will make your sponge brown and caramel in taste.
Do NOT replace the liquid oil for coconut oil unless you live in a hot climate. Coconut oil is very solid at room temperature so it will make the sponge dense.
I do not recommend using pre-made gluten-free flour blends for this recipe (or any recipe ever). The gf flour blends (in Australia at least) tend to make sponge cakes gummy, chewy and dense.
I haven't tried a combination of gluten-free flours for this exact recipe but if you feel like experimenting, I'd recommend using a blend of almond meal, white rice flour and the smallest amount of tapioca starch.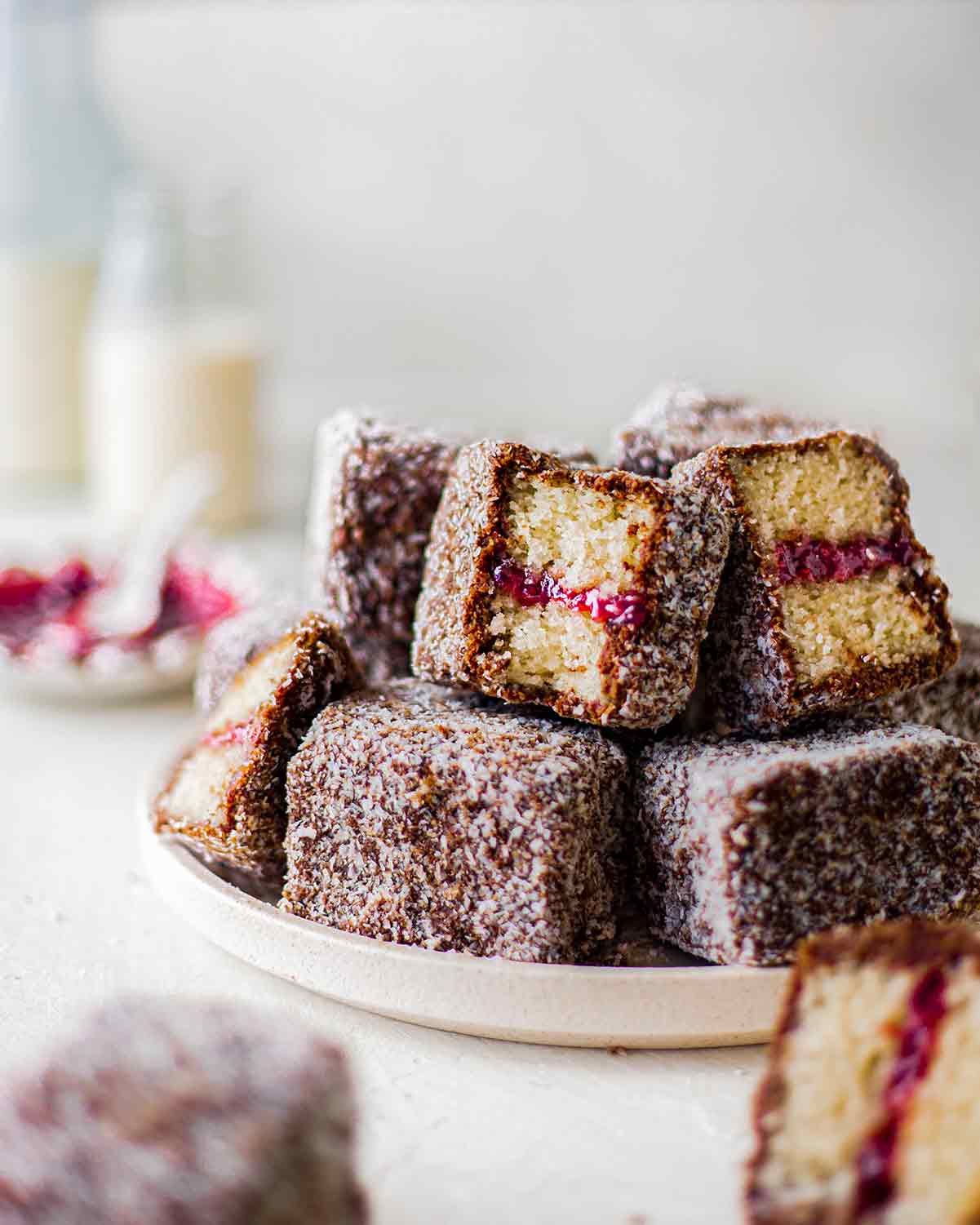 Check out my other vegan lamington recipes
Follow Rainbow Nourishments on Instagram, Facebook, TikTok and Pinterest, and subscribe via email to receive all of our latest recipes!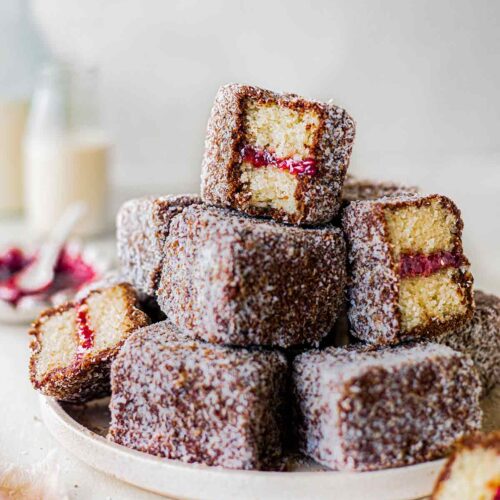 Print Recipe
Vegan Lamingtons
Vegan lamingtons which are easy to make, fluffy and uses only common pantry staples. Enjoyed by vegans and non-vegans alike!
Instructions
To make the cake:
Add all the dry ingredients (flour, sugar, baking powder, salt) to a large mixing bowl. Mix until there are no big lumps. Add all the wet ingredients (milk, oil ACV, vanilla) to the bowl and mix until smooth.

Pour the cake batter into the baking tin. Bake for 20-25 minutes or until a skewer can be inserted into each cake and it comes out clean. Allow the cake to cool in the tin.

Cover the cake and chill it in the fridge for at least 2 hours or in the freezer for 1 hour. You can also chill the cake overnight. (note 2)
To make the ganache coating (after your cake has chilled):
Add the chocolate and coconut cream to a small saucepan or double boiler over medium heat. Melt and mix the ganache until it's smooth. Set aside to cool slightly.
To assemble the lamingtons:
If your slab of cake is thick, slice it in half horizontally with a serrated knife. Or if your cake is thin, slice it in half vertically (see pictures above).

Spread the jam liberally on half of the cake and sandwich it with the other half (or omit the jam). Slice the cake into 12-16 squares.

Place your chocolate ganache in a shallow bowl and the dessicated coconut in another.

Using a fork, fully coat a piece of cake in the ganache. Allow the excess chocolate to drip off. Then quickly toss the cake in the coconut until it's fully coated. Set aside and repeat for the remaining pieces of cake. (note 3)

Store the lamingtons in an airtight container in the fridge until ready to serve. The lamingtons can be stored in the fridge for up to 3 days or in the freezer for up to 1 month.
Notes
If you don't have self-raising flour, substitute for 2 ½ cups (310g) plain flour and increase the baking powder to 3 tsp (total) and add ½ tsp baking soda. For gluten-free vegan lamingtons, use 1 ¼ cups (125g) almond meal/flour and 1 ¼ cups (200g) gluten-free flour blend. Increase the baking powder and use baking soda as above.
Chilling the cake makes it MUCH easier to handle when you cut and coat it. Make sure you keep the cake in an airtight container or cover it well to prevent it from drying out.
This step can be fiddly and messy. That's part of the process! For quicker lamingtons, skip the jam and just dip them in chocolate and coconut.
Nutrition
Calories:
534
kcal
|
Carbohydrates:
62
g
|
Protein:
6
g
|
Fat:
33
g
|
Sodium:
83
mg
|
Potassium:
176
mg
|
Fiber:
5
g
|
Sugar:
35
g
|
Vitamin A:
1
IU
|
Vitamin C:
1
mg
|
Calcium:
91
mg
|
Iron:
3
mg
This post may contain affiliate links. As an Amazon Associate, I may earn a small commission from qualifying purchases at no additional cost to you.