Bakery-style vegan custard tart with a buttery shortcrust, creamy custard filling and sprinkling of nutmeg. Easy to make, everyday ingredients and customisable!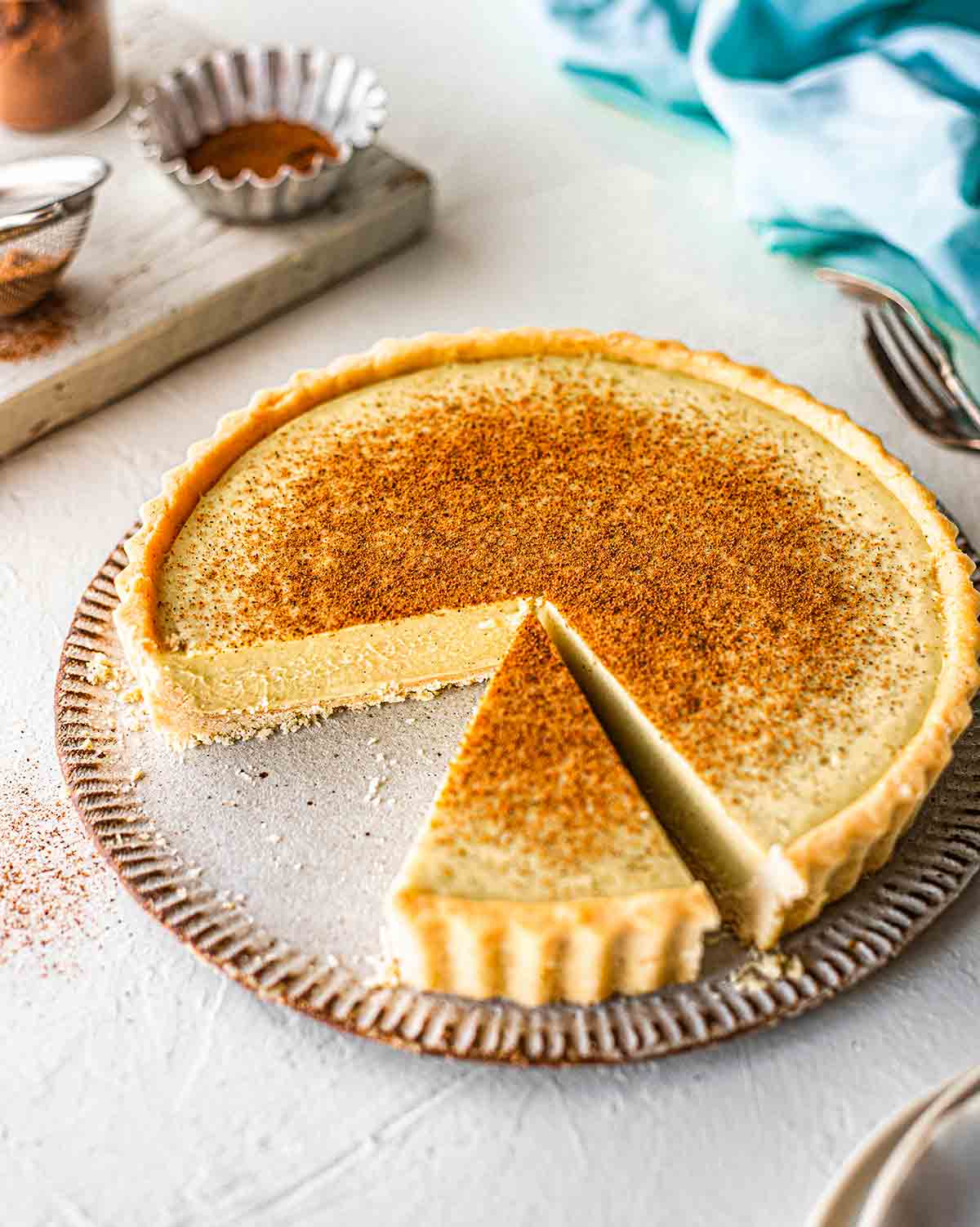 What to expect from this recipe
This tart mimics the classic Australian or British custard tart often found in bakeries. Recently, custard tarts made a comeback from their appearance on The Great British Bake Off but it's always been a favourite of mine!
This vegan custard tart recipe uses mainly common pantry staples which you can get from your local major supermarket! The tart also happens to be:
Dairy free
Egg free
Nut free
Tofu free
I've also included options for those who avoid gluten, sugar and soy.
If you prefer a more delicate custard, check out my Chinese vegan egg custard tarts.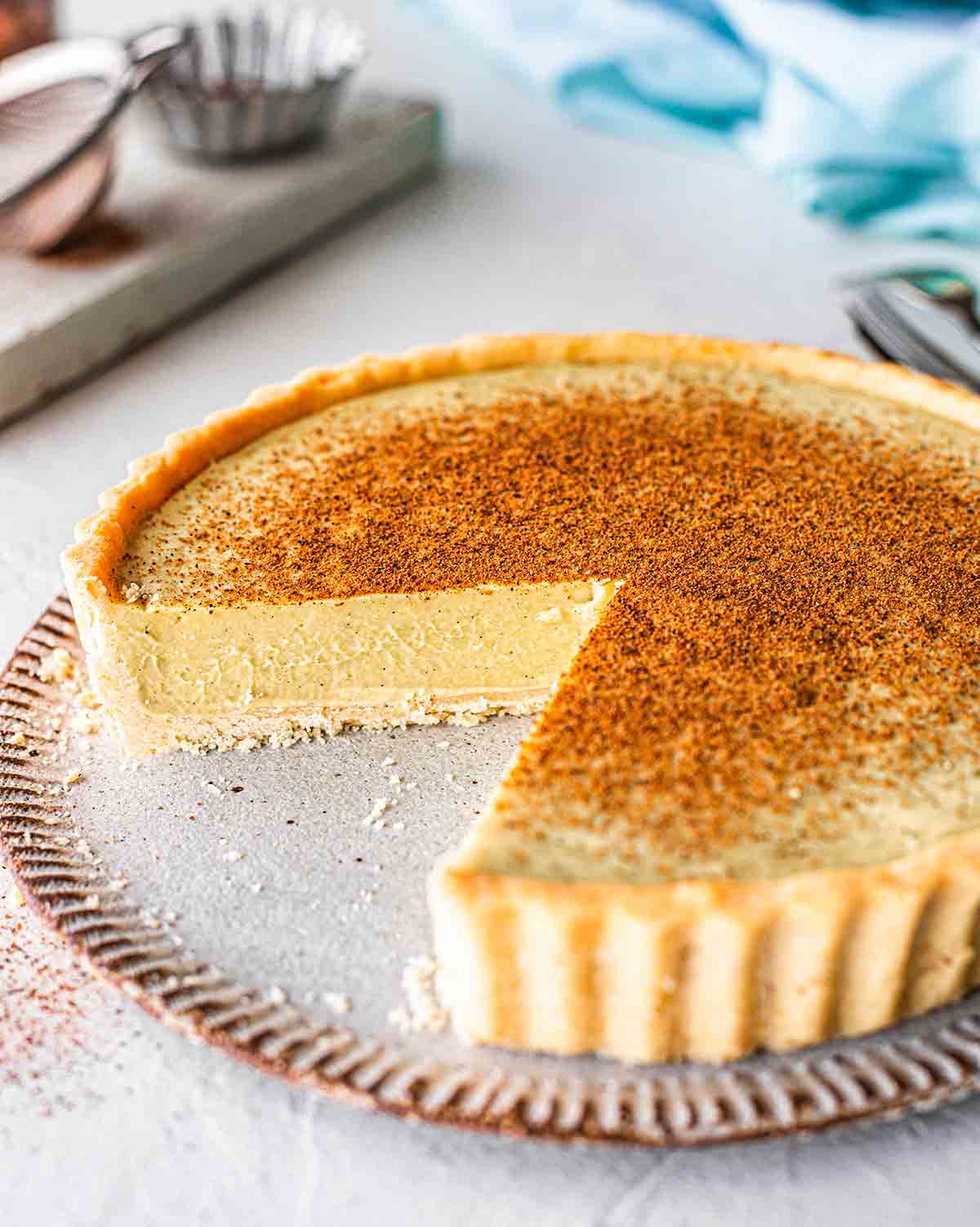 Making the vegan shortcrust pastry
The buttery sweet shortcrust pastry is made with three simple ingredients including:
Plain flour
Vegan butter or margarine
Sugar
Alternatively, you can use store-bought shortcrust pastry! Many brands are accidentally vegan as butter is expensive and vegetable shortening is more affordable.
To make the crust, simply add all ingredients to a food processor and pulse until combined. If the mixture is still a little dry, add a dash of water. I prefer making shortcrust pastry in my food processor because it's easy and quick.
Next, roll out your pastry on a floured surface and transfer it to your tart tin. Alternatively, you can scoop the pastry directly into your tin and press it in.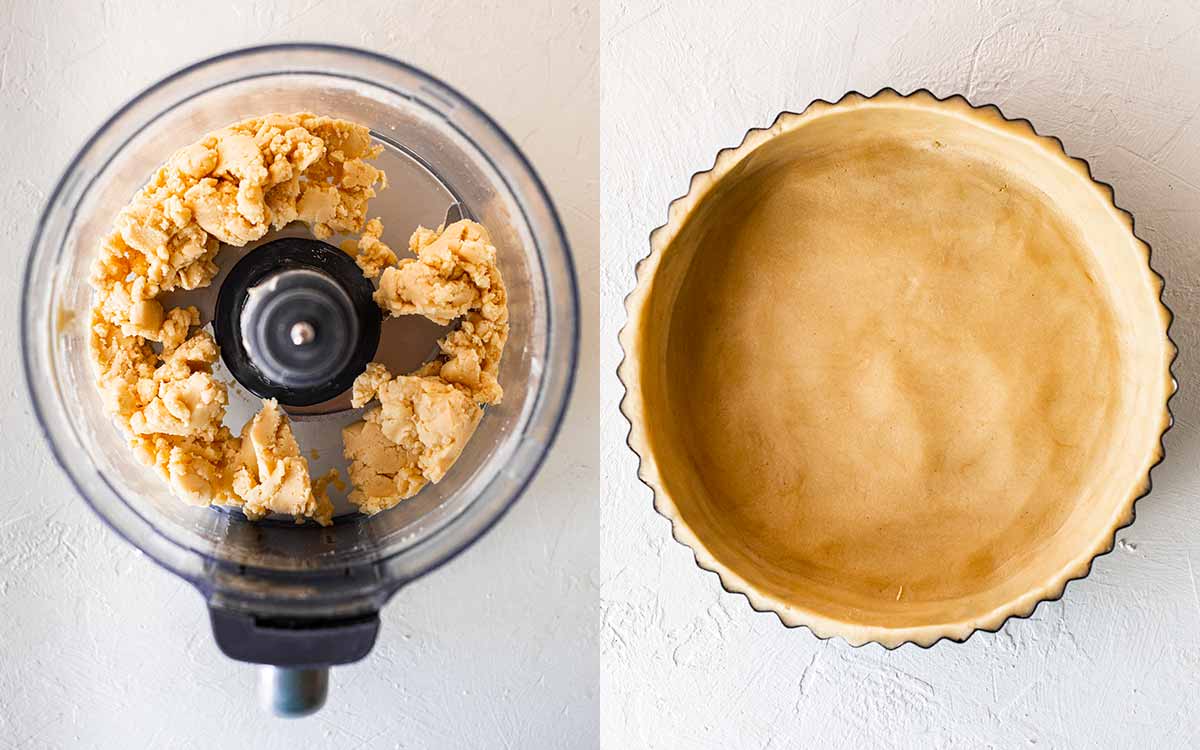 Does the sweet pastry need to be blind baked?
NO, the base does not need to be blind baked. Just make sure you prick the base with a fork. This prevents it from puffing up in the oven. I prefer not to blind bake because it's extra effort!
If your base does puff up in the oven, simply press it down with the back of a spoon while it's still warm. This is easier than blind baking!
Ingredients for the vegan custard
This vegan custard tart is dairy free and egg free.
In traditional custard tarts, egg yolks add colour and richness to the custard and help it set. Instead of eggs, I used:
Full-fat coconut cream which contains coconut oil and sets below 24°C (75°F).
Corn flour (also known as corn starch in the USA) as a natural thickening agent
Pinch of turmeric for colour
A little black salt for that eggy taste (optional)
The custard also includes dairy free milk, sugar and vanilla. I prefer using soy milk as it's the most creamy and rich. However, almond and coconut milk will work.
For sweetening the custard, I prefer to use regular white cane sugar or maple syrup. The latter adds more flavour and colour.
The custard in this tart is CREAMY like a French vanilla slice. However, it's still wobbly like traditional custard. If you prefer a more gelatinous custard like the classic Aussie vanilla slice, substitute some of the coconut cream with your plant-based milk of choice.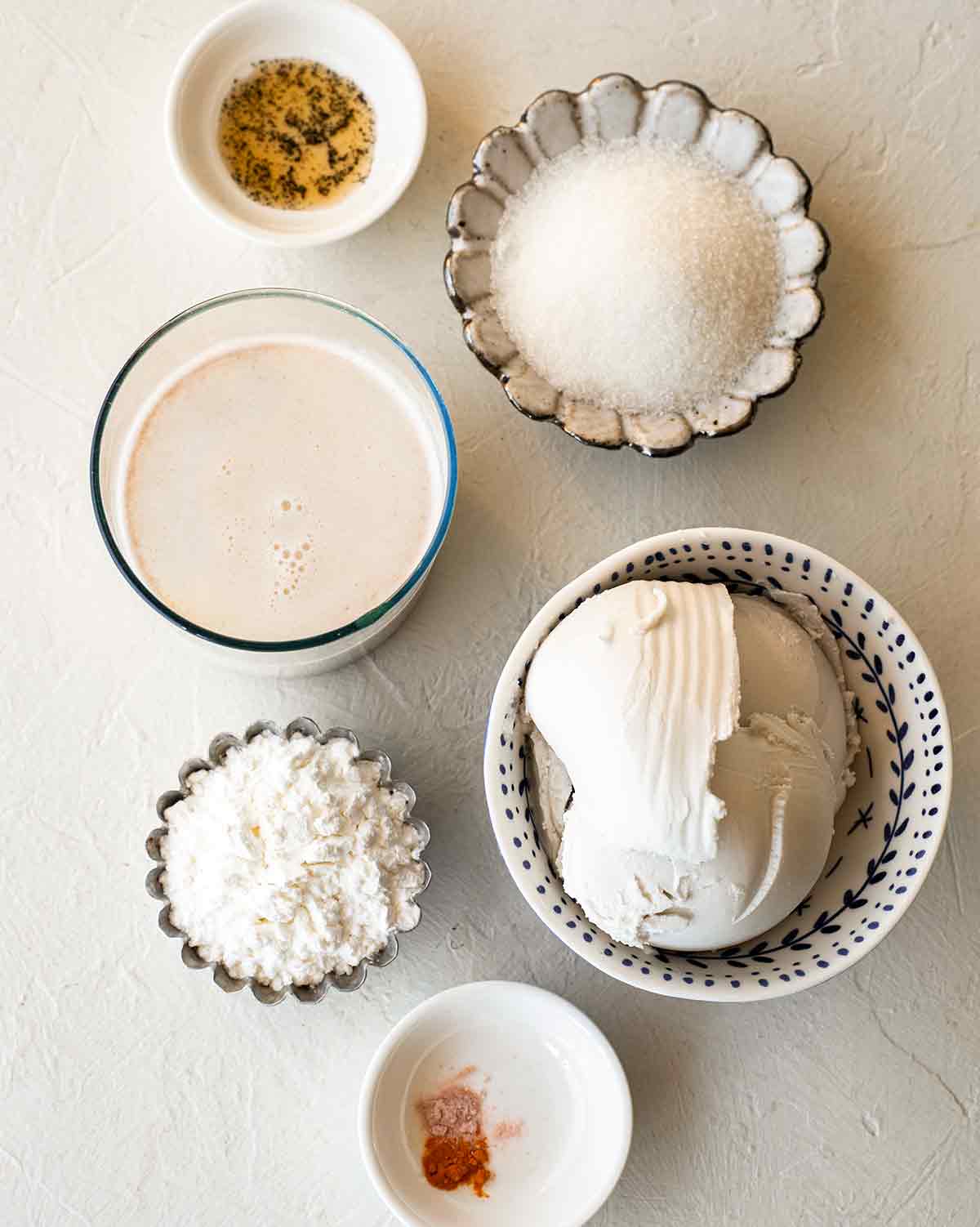 HOW to make vegan custard for the tart
To make the vegan vanilla custard, add all the ingredients to a saucepan and whisk until combined. Do this BEFORE you heat it up because sometimes the cornflour clumps up.
Cook the mixture while stirring constantly for about 10 minutes until it's slightly thickened up. The custard can be taken off the heat when you lift the spatula and it leaves little 'ribbons'. It should be like a thick pourable custard similar to what you can buy from the shops.
As the custard cools, it will thicken up A LOT. Allow it to cool for 10 minutes while stirring occasionally. We don't want to pour boiling hot custard into the tart because:
It's more likely to crack when it cools
The custard may burn us if it splashes!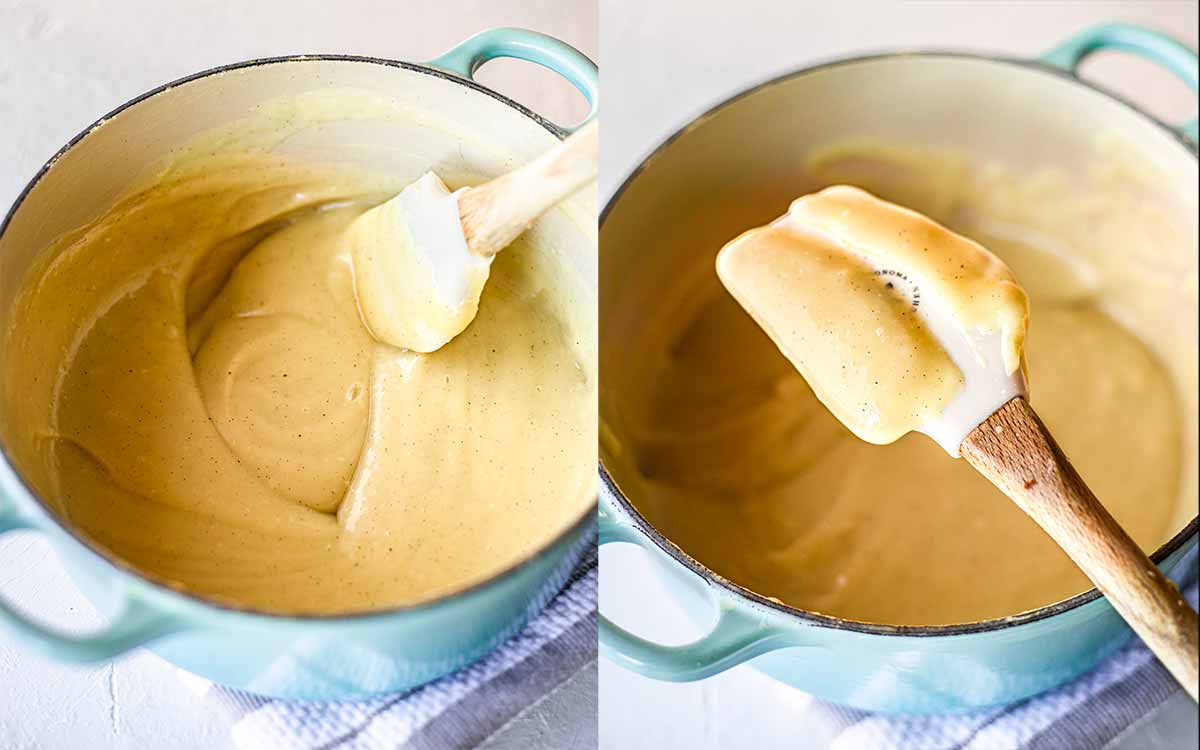 Troubleshooting the vegan 'egg' custard
Unlike many other recipes, this vegan custard recipe is easy to troubleshoot!
The custard may become lumpy from inconsistent stirring and uneven dispersion of the cornflour. If this happens, use a stick blender to remove any clumps. Alternatively, you can pour the custard through a strainer. Tip: it's quicker to use a stick blender.
Your custard may set TOO quickly, especially if you walked away from the stove! If so, simply reheat your custard and add a splash of milk to compensate for the liquid evaporating. Whisk the custard or blend with a stick blender until the custard is runny again.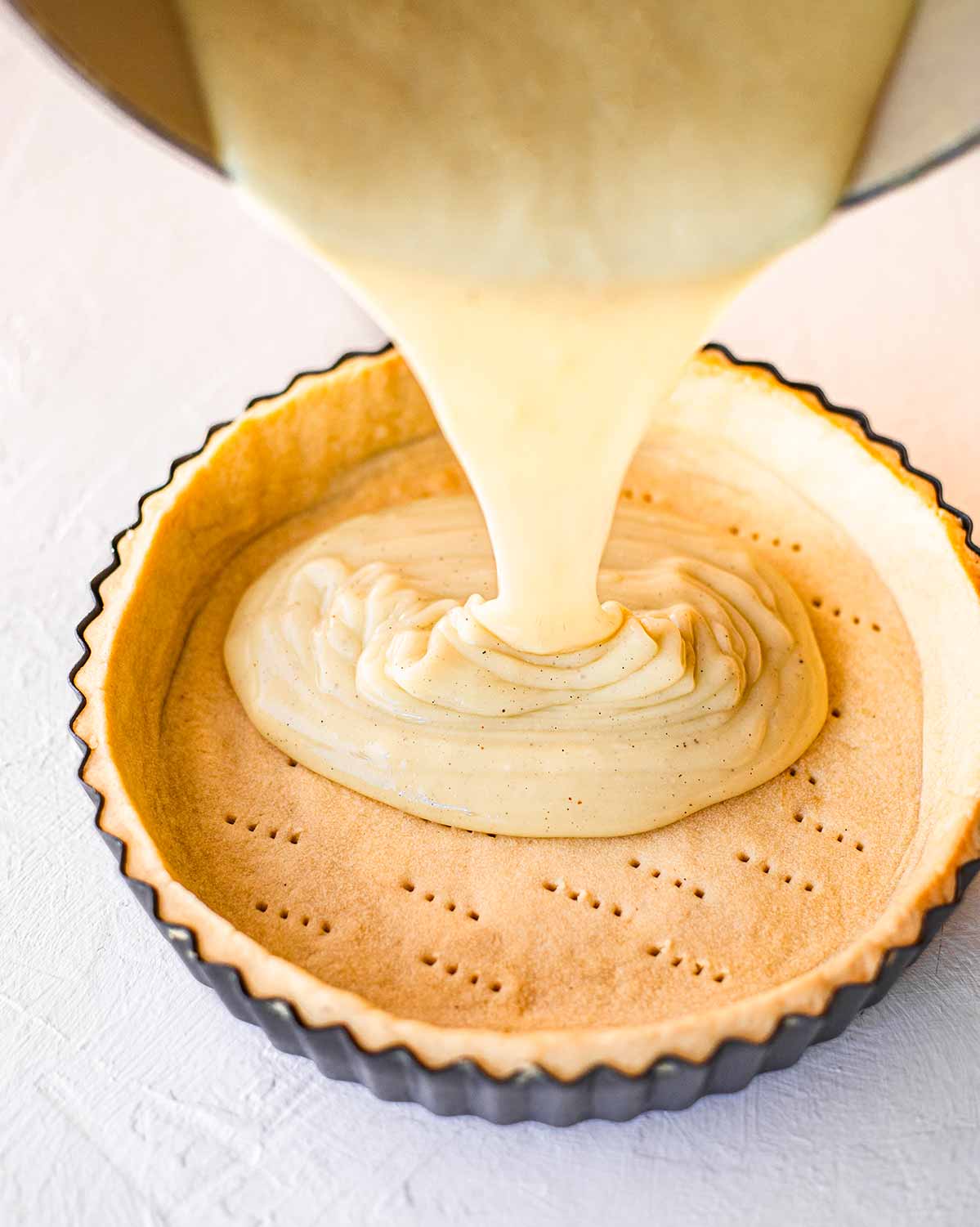 Serving the vegan custard tart
I sprinkled my tart generously with nutmeg powder as that's how Aussies do it in bakeries! In the Great British Bake Off, Paul Hollywood did that too. However, feel free to decorate yours with fruit, or whatever you desire!
I hope you enjoy this custard pie recipe!
More vegan versions of classic Australian desserts:
Print Recipe
Vegan Custard Tart
Bakery-style vegan custard tart with a buttery shortcrust base, creamy custard filling and sprinkling of nutmeg. Easy and customisable!
Instructions
To make the pastry:
Preheat the oven to 180°C (350°F). Line the bottom of an 20 cm (8 inch) loose-bottom tart tin.

Add all the base ingredients to a medium size bowl or food processor. If the mixture is too crumbly, add some extra water and mix until it becomes a pliable dough. If the mixture is too wet, add a little more flour and mix again.

On a floured surface, roll out the pastry into a thin circle about 5 mm (¼ inch) thick. Transfer the pastry to the tart tin and press it against the base and sides to form a crust. Trim off the excess. If there are any holes, patch it up with the remaining pastry. Prick the bottom with a fork to let hot air escape when baking.

Bake the crust for 10-15 minutes, or until the pastry is slightly golden. Allow the pastry to cool in the tart tin.
To make the custard:
Add all ingredients to a medium saucepan (without heating). Whisk until there are no more lumps of corn flour.

Place the saucepan over medium heat. Cook the mixture for about 10-15 minutes while stirring. Taste test the custard and add more butter, vanilla or black salt if desired (though the above ratios should be enough).

The mixture is ready when you can lift your whisk and it leaves little 'ribbons' of custard. The custard should coat the back of a spatula (see pictures above) and be a thick custard consistency.

Remove the saucepan from the stove and cool for 10 minutes while stirring occasionally. If the mixture develops lumps, stir vigorously or blend with a stick blender.

When the custard has thickened further, pour into your tart base. Chill in the fridge for at least 4 hours or until set (or 1-2 hours in the freezer if you're in a rush).
To serve:
The tart is ready when you press it and it gives only a little but is slightly wobbly. Sprinkle the tart with nutmeg and serve.

The tart can be kept in an airtight container in the fridge for up to 5 days.
Notes
For a gluten free vegan custard tart, use ⅔ cup (65g) almond meal/flour and ⅔ cup (105g) gluten-free flour blend which has xantham gum.
With the right flavourings (butter, vanilla, black salt), this tart isn't overly coconutty. However, if you don't like coconut at all, substitute some of the coconut cream with another plant-based cream OR silken tofu in the same gram measurements. Blend the tofu before using it.
People tend to like either creamy OR gelatinous custards. If you like creamy custards like a mille feuille, follow the ratios above. If you like gelatinous custards that are really wobbly, use 1 cup coconut cream (240g) and 1 ¾ cups (440g) soy milk. Cook the custard until it is a thick custard consistency.
Nutrition
Serving:
1
serve
|
Calories:
379
kcal
|
Carbohydrates:
35
g
|
Protein:
5
g
|
Fat:
25
g
|
Sodium:
107
mg
|
Potassium:
259
mg
|
Fiber:
2
g
|
Sugar:
9
g
|
Vitamin A:
644
IU
|
Vitamin C:
4
mg
|
Calcium:
77
mg
|
Iron:
2
mg
This post may contain affiliate links. As an Amazon Associate, I may earn a small commission from qualifying purchases at no additional cost to you.