Vegan lamington trifle with vanilla sponge cake, chocolate fudge sauce, raspberry jam and coconut. Everything you love about lamingtons but easier!
This post is sponsored by Nature's Charm. As always, all opinions are my own!
If you've ever made lamingtons before, you'll know they are easy but fiddly and time consuming. However, to make this lamington trifle, all you really need is to bake a cake and whip a few things in saucepans and bowls!
The trifle has 6 key components including:
One-bowl vanilla sponge cake
Quick raspberry jam
Raspberry jelly
Whipped coconut cream (store-bought)
Shredded coconut (store-bought)
Chocolate Fudge Sauce (store-bought)
The most important components are the cake, jam, cream and fudge sauce. You can definitely forgo the jelly and shredded coconut :). Now let's make everything!
Making the vanilla sponge for the lamington trifle
The sponge is an easy one-bowl mix and is baked on my vegan lamington recipe. Simply add all the dry ingredients to a bowl and mix. Add the wet ingredients then mix until combined. Bake, cool then cut!
You can make the sponge up to 3 days beforehand. If you want to be EXTRA prepared, you can make the sponge a few weeks in advance and freeze it! Trifles are actually better with drier cake as this allows the cake to soak up all the delicious flavours from the trifle.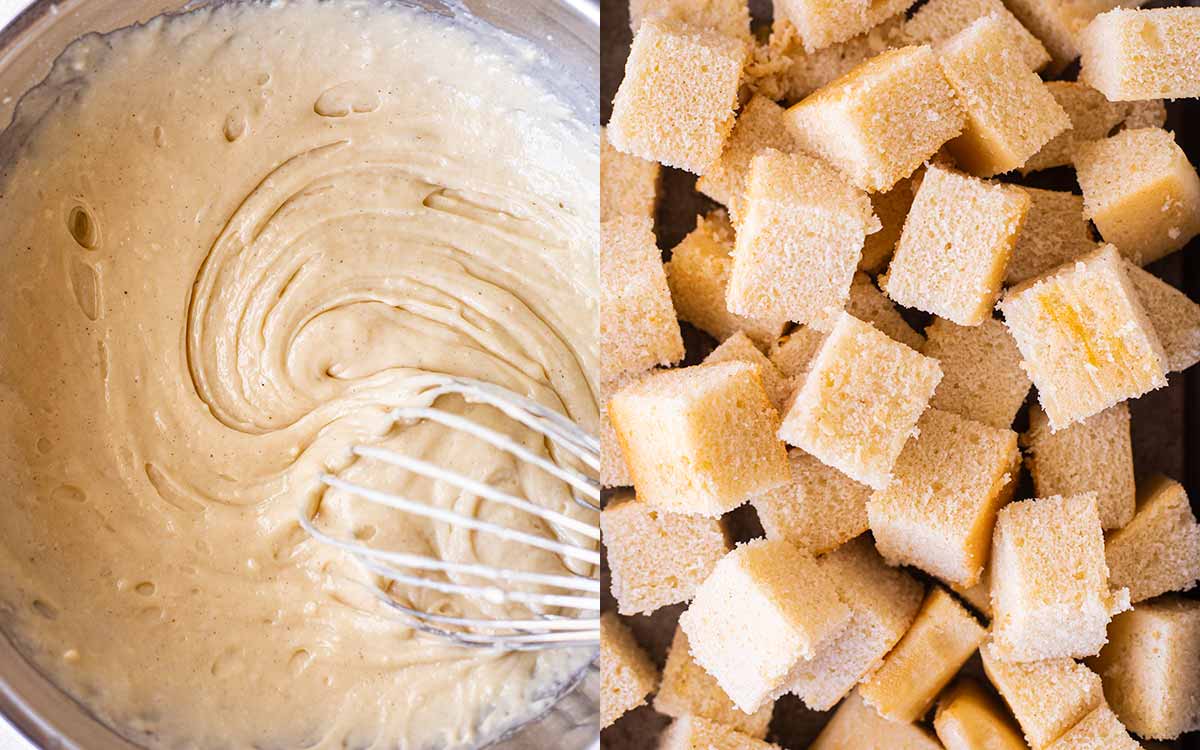 Making the quick raspberry jam
Like most of my recipes, to make the jam, throw all the ingredients into a small saucepan, heat then mix! The jam isn't very sweet as we have enough sugar from everything else in the trifle so feel free to adjust it to your tastes.
Of course, you can use store-bought jam. Note that the jam is DOLLOPED into the lamington trifle. If you don't want to eat spoonfuls of overly sweet store-bought jam, I'd recommend adding chopped raspberries or strawberries to dilute your jam.
Making whipped coconut cream
If you've ever tried whipping coconut cream from 'normal' cans, you'll quickly realise that it can be temperamental . Some brands work and some brands definitely don't. Even still, when you find a good brand, sometimes you find a dud can!
Then there's Nature's Charm Coconut Whipping Cream. I've used their products for years and honestly can say their coconut whipping cream NEVER fails.
I can buy just one can of Nature's Charm Whipping Cream and it always works. With other brands, I often have to buy 2-3 cans just in case 1 doesn't whip up!
Making the vegan jelly for the lamington trifle
The easiest way to make the jelly is to blend all the ingredients first then boil it in a saucepan. Agar agar powder needs to be boiled to be activated so make sure you do this for at least 5 minutes!
I left the raspberry seeds in the jelly to minimise waste and for added texture... and due to laziness. What could you do with boiled raspberry seeds anyway?!
After boiling the mixture, I poured it into my trifle dish and chilled it in the fridge for around 10 minutes. If the agar is truly activated, it will set very quickly! If it doesn't set, it means that you didn't boil your mixture for long enough (or your agar is old).
Also, don't try to substitute the raspberries and water with reconstituted juice. The latter has some type of additive which prevents agar from setting.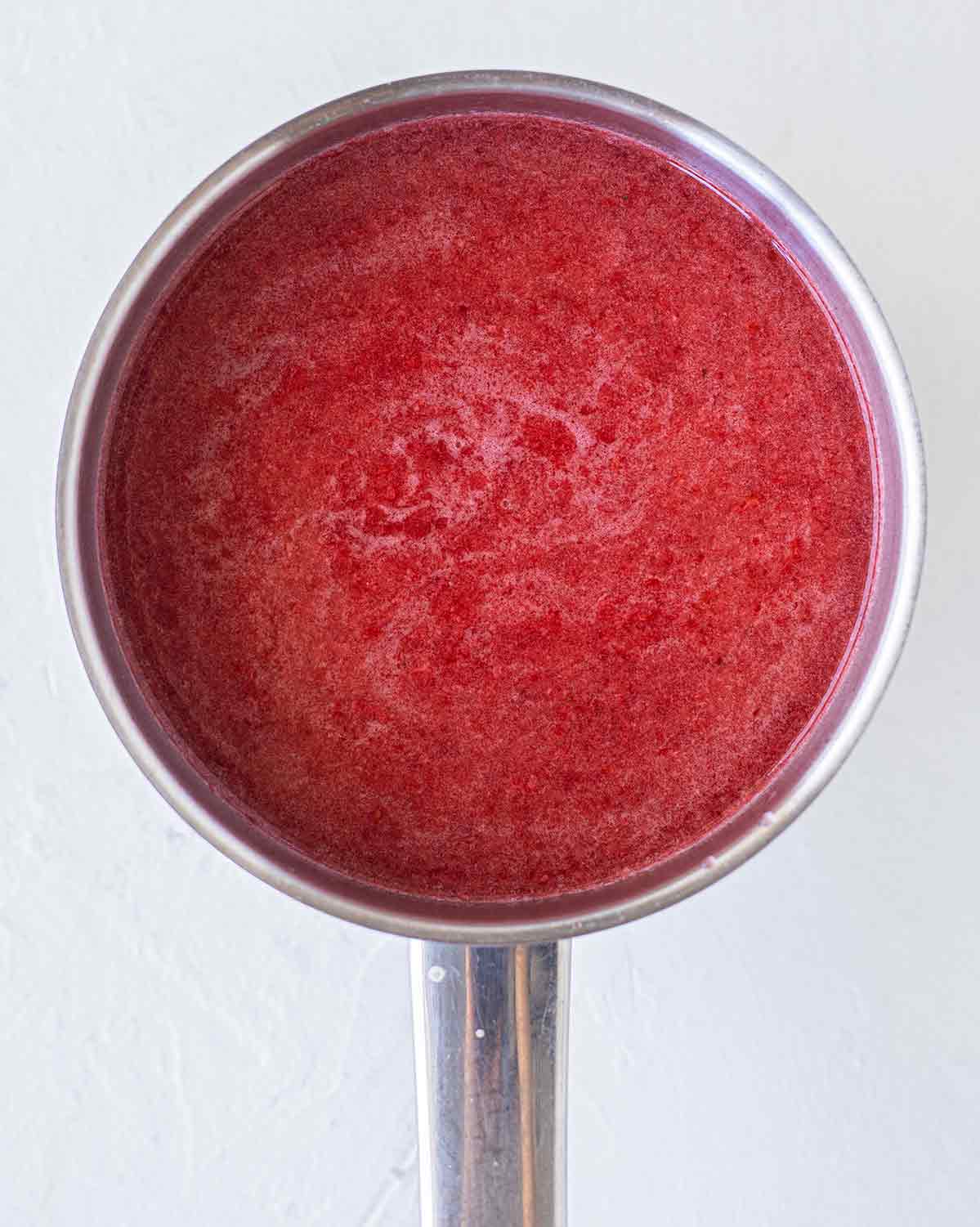 Shortcuts for making this lamington trifle:
If you're short on time, there are a few shortcuts:
Use store-bought vegan sponge cake
Skip the raspberry jelly and make twice the amount of raspberry jam
Substitute the quick raspberry jam with a mixture of store-bought jam and chopped raspberries/strawberries
Or my other Australian vegan desserts
Print Recipe
Lamington Trifle
Vegan lamington trifle with vanilla sponge cake, chocolate fudge sauce, raspberry jam and coconut. Everything you love about lamingtons but easier!
Ingredients
Instructions
To make the cake:
Add all of the dry ingredients (flour, sugar, baking powder, salt) to a large mixing bowl. Mix until there are no big lumps. Add all of the wet ingredients (milk, oil, ACV, vanilla) to the bowl and mix until smooth.

Pour the cake batter into the baking tin. Bake for 20-25 minutes or until a skewer can be inserted into the cake and it comes out clean. Allow the cake to cool in the tin.

When the cake is fully cool, cut it up into small squares (about 5 x 5 cm or 2 inch x 2 inch). Chill the cake in the fridge for at least 2 hours or overnight (optional if you want your trifle to be chilled).
To make the jam:
Add all ingredients to a small saucepan and mix until combined. Bring the mixture to a simmer and stir until thickened (this will take about 5 minutes). Set aside to cool.
To make the jelly:
Blend all ingredients until there are no more large chunks. Pour the mixture into a medium size saucepan and bring to a boil for 5 minutes. Allow to cool for another 5 minutes.

Pour the jelly mixture in a trifle dish and set aside in the fridge to set for around 10 minutes or until firm to the touch (it should set quickly)
To prepare the coconut whipped cream:
Pour the cream into a stand mixer or large bowl and whip until soft peaks form. Set aside in the fridge until you're ready to assemble your trifle.
To assemble the trifle (or feel free to layer the trifle how you like):
Arrange half of the cake pieces on top of the set jelly. Scatter with half of the shredded coconut. Dollop all of the jam on top. Drizzle half a jar of the chocolate fudge sauce. Arrange the remaining cake pieces, then shredded coconut on top. Top with the whipped coconut cream, fresh berries and shaved chocolate.

Serve immediately or loosely cover the trifle and serve when needed.
Nutrition
Serving:
1
serve
|
Calories:
342
kcal
|
Carbohydrates:
38
g
|
Protein:
4
g
|
Fat:
21
g
|
Cholesterol:
1
mg
|
Sodium:
158
mg
|
Potassium:
274
mg
|
Fiber:
4
g
|
Sugar:
16
g
|
Vitamin A:
10
IU
|
Vitamin C:
13
mg
|
Calcium:
86
mg
|
Iron:
2
mg
This post was originally published in June 2018 and updated in January 2021.
This post may contain affiliate links. As an Amazon Associate, I may earn a small commission from qualifying purchases at no additional cost to you.