Soft and chewy vegan Anzac biscuits that are packed with oats and coconut, with a hint of caramel. You only need common pantry ingredients to make these irresistible biscuits!
Similar to my lamingtons and custard tart, Anzac biscuits are classic Australian and New Zealand snacks or desserts that are easy to make!
What are Anzac biscuits?
Anzac biscuits originated in WW1 around the formation of the Australian and New Zealand Army Corps (ANZACs). These days, it's a tradition for Australians to enjoy Anzac biscuits, around Anzac Day (25th April).
As a born and bred Australian, I grew up eating Anzac biscuits (not Anzac cookies) at school events and when my parents managed restaurants in ex-serviceman clubs.
Anzac biscuits are buttery golden oatmeal cookies and have evolved a lot from their original hard and dry texture. They aren't traditionally vegan but they are usually eggless so are easy to veganise!
Why you'll love this recipe
My vegan Anzac biscuit recipe has been tested with several allergy-friendly substitutions without compromising on flavour. These have slightly more butter than other recipes to give them crispier edges with a chewy centre.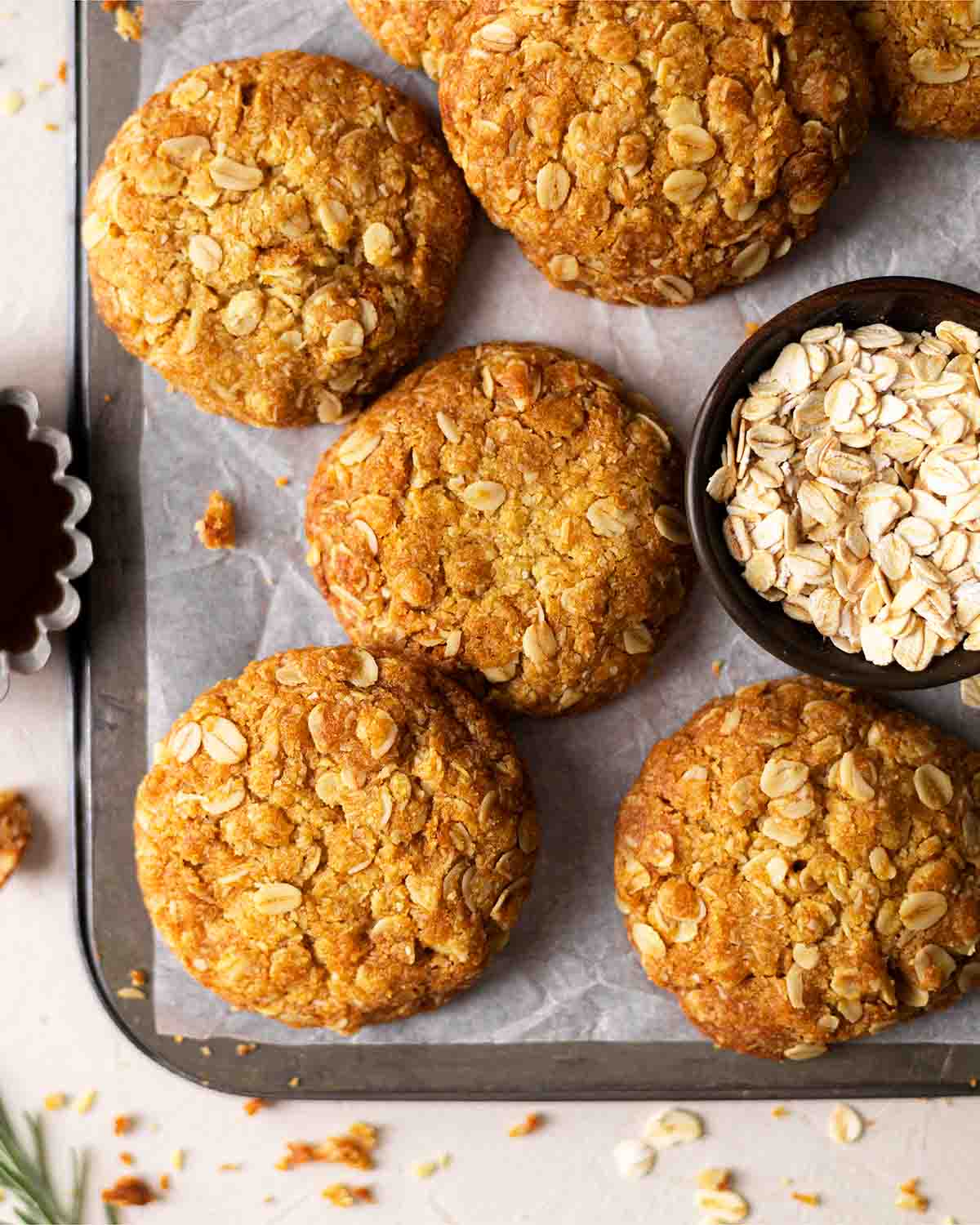 Ingredients you'll need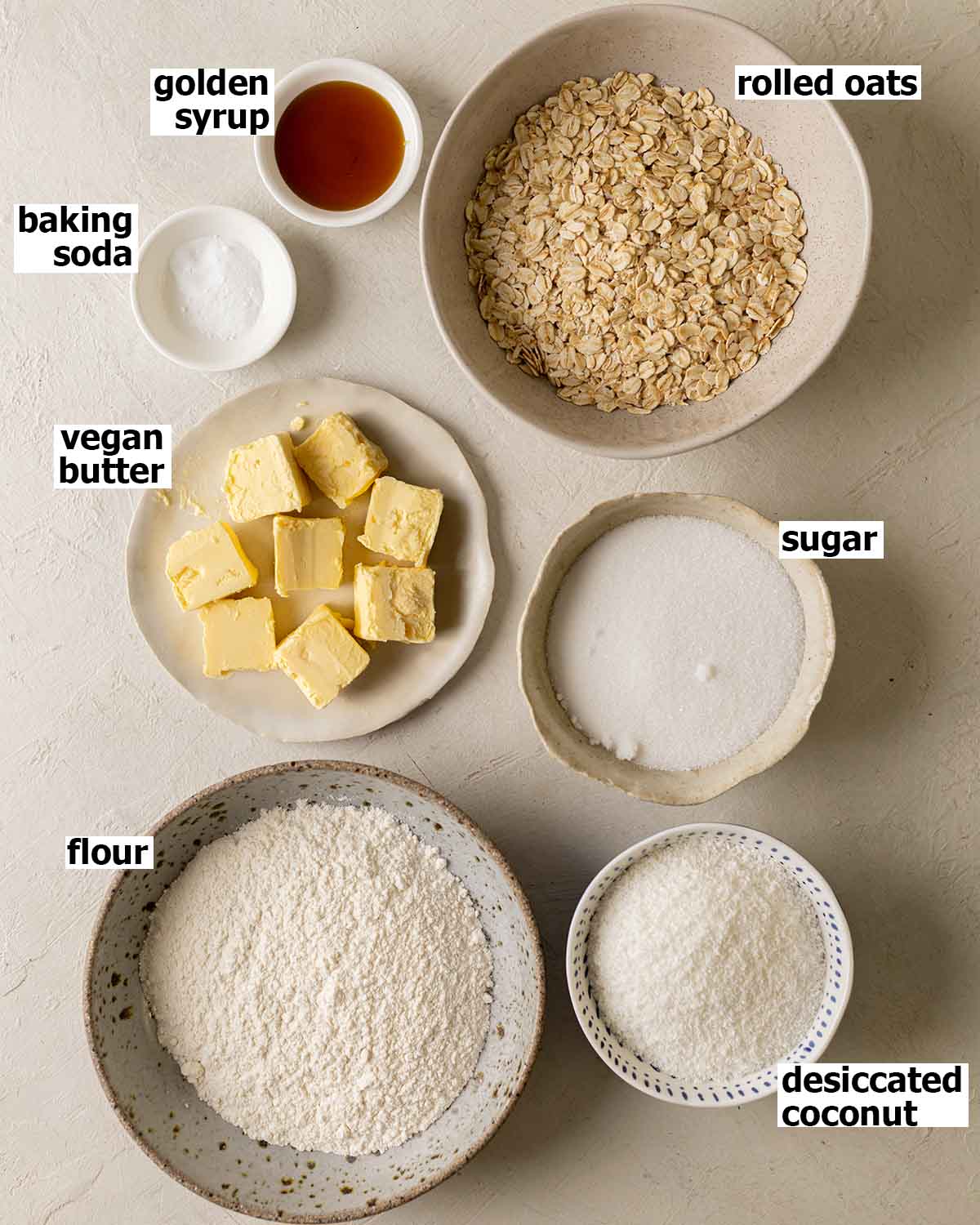 Notes about the ingredients
Flour or gluten-free all-purpose flour. Alternatively, you may also use whole wheat (wholemeal) or spelt flour.
Rolled oats, not quick-cooking instant oats!
Regular sugar gives the cookies crispy edges while still being chewy in the middle. If you prefer biscuits that are chewy throughout, you can use light brown sugar, dark brown sugar or coconut sugar.
Vegan butter. This recipe works with vegan block butter, spreadable vegan butter and even coconut oil.
In Australia, the most common brands of butter are Nuttelex (spread) and Naturli (block and spread).
Desiccated coconut (finely shredded coconut) for flavour and texture. If you don't want to use coconut, I recommend making my vegan oatmeal cookies.
Golden syrup adds a hint of caramel flavour and helps the ingredients stick together! Alternatively, you can use any other liquid sweetener such as maple syrup, rice malt syrup or agave nectar.
A complete list of ingredients, quantities and instructions are in the gray recipe card at the bottom of this post.
Tips for making vegan Anzac biscuits
First, we're combining all the dry ingredients (except the baking soda) in a large bowl. Make sure there are no lumps of flour!
Next, melt your dairy-free butter and golden syrup in a small saucepan or in the microwave. Once it's hot, add the baking soda and mix.
Adding baking soda to the hot ingredients is a traditional technique in Anzac biscuit recipes. According to Food52, heating baking soda strengthens its leavening abilities.
When you add the baking soda, your mixture may or may not foam up - don't worry, your biscuits will work either way!
Then pour the wet ingredients over the dry ingredients and mix until combined. My top tips:
The dough should be slightly crumbly but buttery and moist. You should be able to shape the mixture into balls without it breaking or sticking to your hands.
If your dough is too dry, add a tablespoon of water and mix again. If your dough is too wet, add a tablespoon of flour and mix again. All brands of oats and flour absorb differently!
Tips for shaping the biscuits
The Anzac biscuit dough is more delicate than regular cookie dough. Here are some tips for shaping them:
Use clean and damp hands
Squish and gently roll them into balls. Don't vigorously roll them like regular cookies.
Flatten the cookies using your hands or the bottom of a jar. My cookies were around 5 cm (2 inches) wide and spread a lot.
Soft or chewy Anzac biscuits?
For soft and chewy biscuits, bake them for 12 minutes.
For crunchier golden biscuits (with a chewy centre), bake them for 15-18 minutes or until golden brown.
Either way, your Anzac biscuits will be very soft when they're hot from the oven. They will firm up when they cool!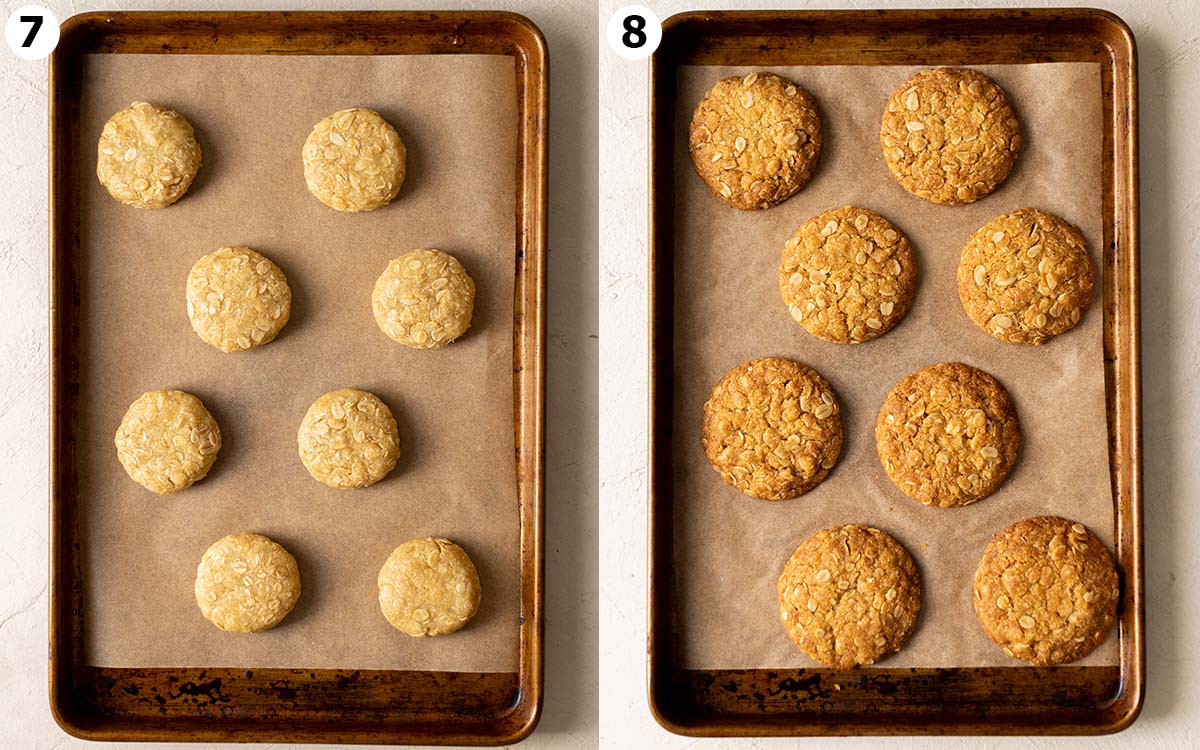 How to store Anzac biscuits
Anzac biscuits keep for a while (1-2 weeks) when stored in an airtight container! However, like any biscuit or cookie, they will start to soften after a day.
Storage tips:
For chewier or crunchier biscuits, r

eheat stale biscuits in the oven at around 100°C (210°F) for around 5-10 minutes. Allow them to cool fully

Storing the biscuits in the freezer! As strange as it sounds, they have an irresistible crunch when enjoyed frozen. If you watch the video in this post, you'll see the crunchy snap of a frozen Anzac biscuit.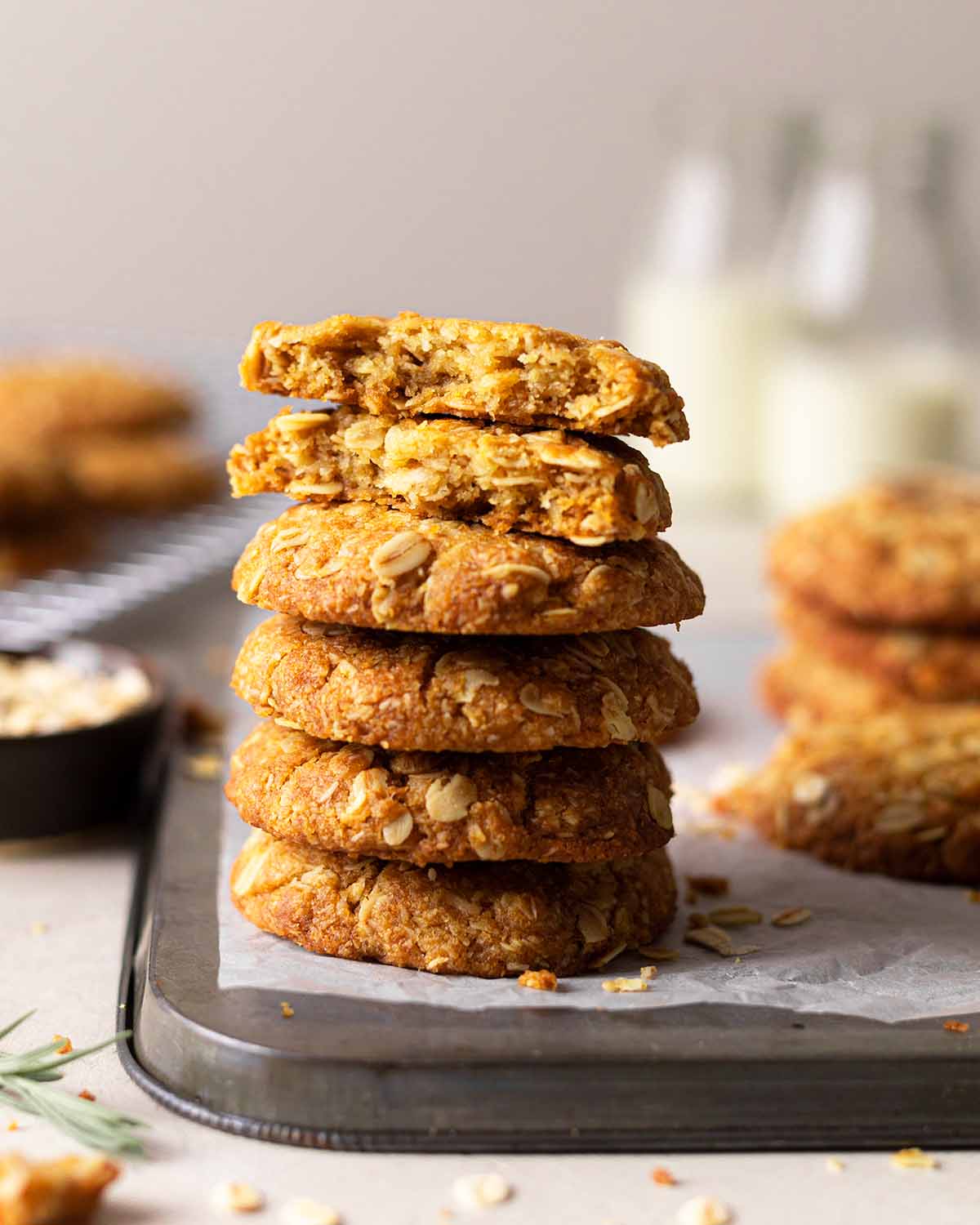 Expert recipe tips and substitutions
Can I make these Anzac biscuits gluten-free?
Yes, these biscuits work with gluten-free all-purpose flour. As gluten-free flour is less absorbent than regular flour, you may need to add an extra tablespoon of gluten-free flour.

The dough will be stickier than the regular dough but the biscuits end up crunchier!
Can I make these Anzac biscuits refined sugar-free?
Yes, use coconut sugar instead of brown sugar and maple syrup instead of golden syrup. I haven't tested this recipe with stevia, monk fruit sweetener or other sugar replacements.
What's the difference between using vegan block butter, vegan spreadable butter and coconut oil?
Biscuits made with vegan block butter have crunchy edges and a soft centre. Due to the higher water content in spreadable vegan butter, the biscuits are chewier, softer, spread more and brown more quicker.

In contrast, coconut oil has NO water so makes the biscuits extra crunchy. The final biscuits are also less golden. I'd recommend adding a pinch of salt if you're using coconut oil to mimic the buttery flavour.

You can see the differences below!
More easy vegan cookies
Follow Rainbow Nourishments on Instagram, Facebook, TikTok and Pinterest, and subscribe via email to receive all of our latest recipes!
Print Recipe
Vegan Anzac Biscuits
Soft and chewy vegan Anzac biscuits that are packed with oats and coconut, with a hint of caramel. You only need common pantry ingredients to make these irresistible biscuits!
Instructions
Making the vegan Anzac biscuit dough:
Preheat the oven to 180°C (350°F). Line 2 large baking trays with baking (parchment) paper.

Mix the flour, oats, coconut and sugar in a large mixing bowl until combined.

Add the butter and golden syrup to a small saucepan over low heat. Mix until melted. Add the baking soda and mix again. The mixture may bubble up which is fine.

Pour the melted butter mixture over the dry ingredients. Mix until just combined. The dough should look a little crumbly but moist. If your dough is too dry, add 1 tablespoon of water at a time and mix. If your dough is too wet, add 1 tablespoon of flour at a time and mix.
Shaping and baking the vegan Anzac biscuits:
Scoop heaped tablespoons of the dough. Using your hands, firmly roll into balls and flatten into biscuit shapes around 5cm wide. Place the biscuits on your lined baking trays with about 5 cm (2 inches) between them as they will spread.

Bake in the biscuits for around 12 minutes for soft and chewy biscuits or 15-18 minutes for golden crunchier biscuits with a chewy centre. When you take the biscuits out of the oven, they will continue baking on the trays!

Enjoy the biscuits warm or at room temperature. Or for extra crunchy biscuits, enjoy them frozen!

Store leftovers in an airtight container at room temperature for up to 1 week, in the fridge for up to 2 weeks or in the freezer for up to 2 months. The biscuits will soften over time. If you'd like to 'renew' the biscuits, reheat them in the oven for 5-10 minutes at 100°C (210°F) and allow them to cool.
Notes
I'd recommend adding an extra tablespoon (10g) of gluten-free flour as it's less absorbent than plain flour. If using gf flour, your dough will be wetter than the regular dough. However, your final biscuits will be crunchier!
If you use brown sugar or coconut sugar, your vegan Anzac biscuits will be chewier and darker in colour.
You can use anywhere from 125g to 165g of butter (less for softer cookies, more for crispier cookies). If you decrease the butter, add a little more water to your biscuit dough. If you increase the butter, decrease the amount of water (or use none at all).
Golden syrup can be substituted with maple syrup, rice malt syrup or agave nectar. However, some of those syrups are runnier than golden syrup so you may need to adjust the amount of water accordingly.
Nutrition
Serving:
1
biscuit
|
Calories:
202
kcal
|
Carbohydrates:
25
g
|
Protein:
2
g
|
Fat:
11
g
|
Sodium:
104
mg
|
Potassium:
70
mg
|
Fiber:
2
g
|
Sugar:
13
g
|
Vitamin A:
382
IU
|
Vitamin C:
1
mg
|
Calcium:
7
mg
|
Iron:
1
mg
This post may contain affiliate links. As an Amazon Associate, I may earn a small commission from qualifying purchases at no additional cost to you.