This vegan pink champagne cake is incredibly fluffy and moist! It's perfect for celebrations, holidays and the New Year. Or when you just want something extra special!
The cake is very elegant and an absolute showstopper, just like my vegan strawberry cupcakes! I paired this cake with a quick strawberry jam, vegan Italian meringue buttercream and aquafaba meringue kisses to make the ultimate champagne cake. The buttercream and meringue kisses are courtesy of my dear friend Christina from Addicted to Dates who is a vegan culinary genius :).
Taste and textures of this cake
The elegant cake is wonderfully tender and melt in your mouth! The bubbles in champagne are made of carbon dioxide. And when they're mixed with cake batter, they aerate the cake and make it fluffier than normal!
When tasting this cake, the pink champagne flavour is noticeable but not overbearing. My partner and I rarely drink alcohol but enjoyed this cake! However, if you find champagne revolting, you probably won't enjoy this recipe.
The flavours and pink hue of the champagne cake make it perfect for Valentine's Day, Mother's Day, weddings, Christmas or New Years!
How easy is this cake recipe?
The undecorated pink champagne cake is very easy and quick to make. You can also use the cake recipe and Christina's buttercream recipe to make vegan champagne cupcakes which will be of medium difficulty.
The entire ensemble (cake, buttercream, jam and meringue kisses) is an absolute taste explosion and will WOW any guest. But I won't lie, making the whole decorated cake recipe is time consuming. It's best for those who would like a challenge or are experienced with buttercream cakes. You may even learn some new skills on the way!
Ingredients for the sponge cake
The pink champagne cake is roughly based on my popular vanilla cake recipe from my cookbook and uses simple ingredients including:
All-purpose / plain flour
Granulated sugar
Vegan-friendly pink champagne*, pink prosseco or dry pink sparkling wine. You can use rosé wine and moscato but some brands are already quite sweet so you might need to adjust the amount of sugar accordingly.
Light-tasting vegetable oil, such as sunflower or rapeseed
Dairy-free milk, such as soy, almond or coconut
Beetroot powder for colour (optional). You can probably swap some of this with freeze dried raspberry or strawberry powder for an extra level of flavour!
Baking powder & salt
Vanilla extract
* Champagne (or other alcoholic drinks) are not necessarily vegan as they can sometimes filtered with fish guts, according to Vegan Friendly UK.
To find a vegan-friendly pink champagne, check out Barnivore or ask your local liquor shop. Many large liquor shops have websites which say whether a product is vegan or not.
How to make the cake batter
The cake by itself is very simple to make!
Simply add all dry ingredients to a large bowl and mix. Add all wet ingredients (including your pink champagne) and mix until combined.
Your batter may be a little bubbly which is just from the pink champagne!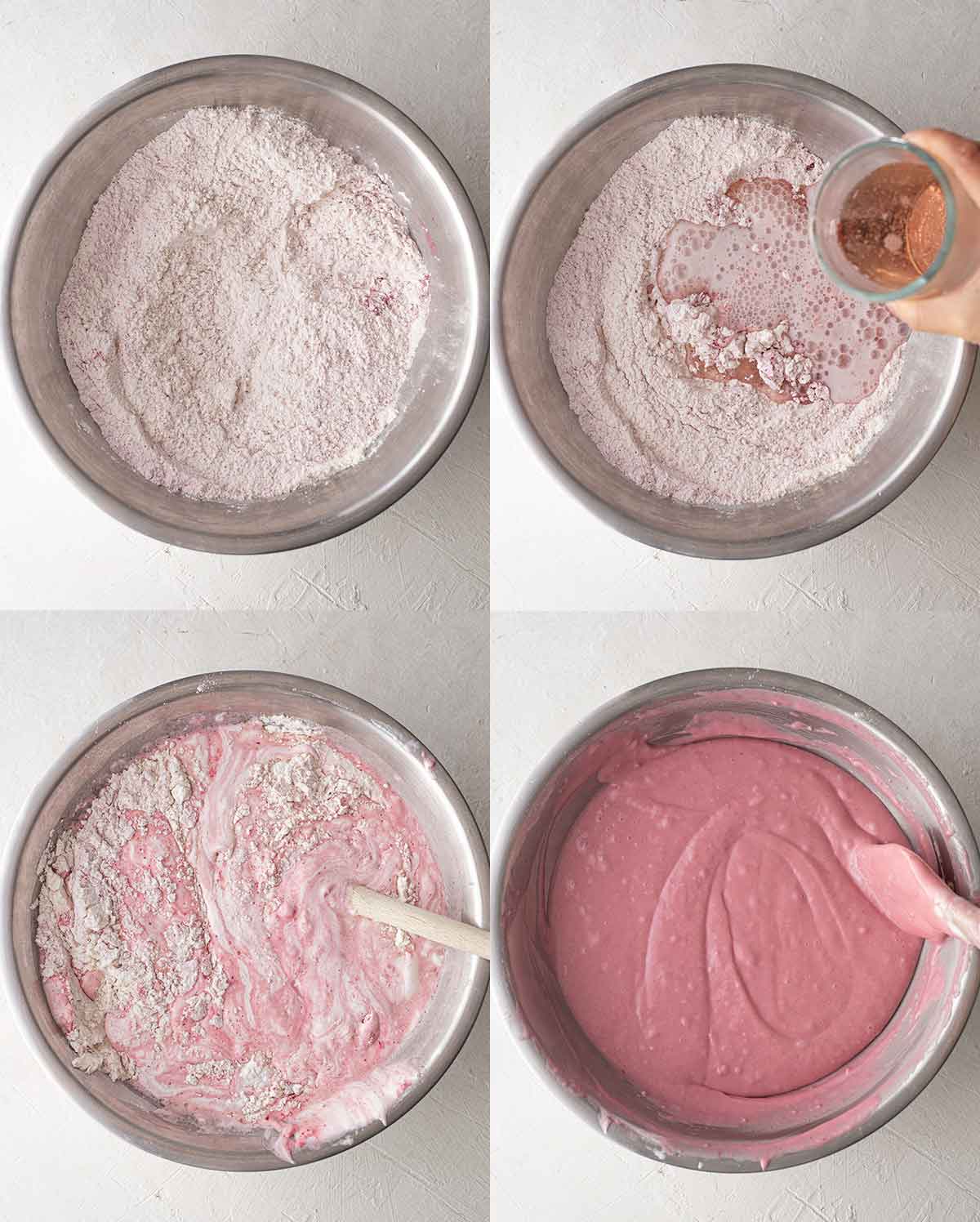 Baking the champagne cake
I baked my cake in 3 x 15 cm (6 inch) cake pans to create a small yet tall cake! The cakes were baked at a lower temperature than normal. This makes flatter and sturdier layers and is really important for stacking/decorating.
However, you can also bake the cake in 2 x 20 cm (8 inch) cake pans or even 1 x 25 cm (10 inch) cake pan to make a shorter but wider cake. The baking time will vary a little.
If you happen to own cake strips and would like to make a 2 or 3 layer cake, I'd recommend using them for this recipe (the cakes definitely dome)! However, this is completely optional.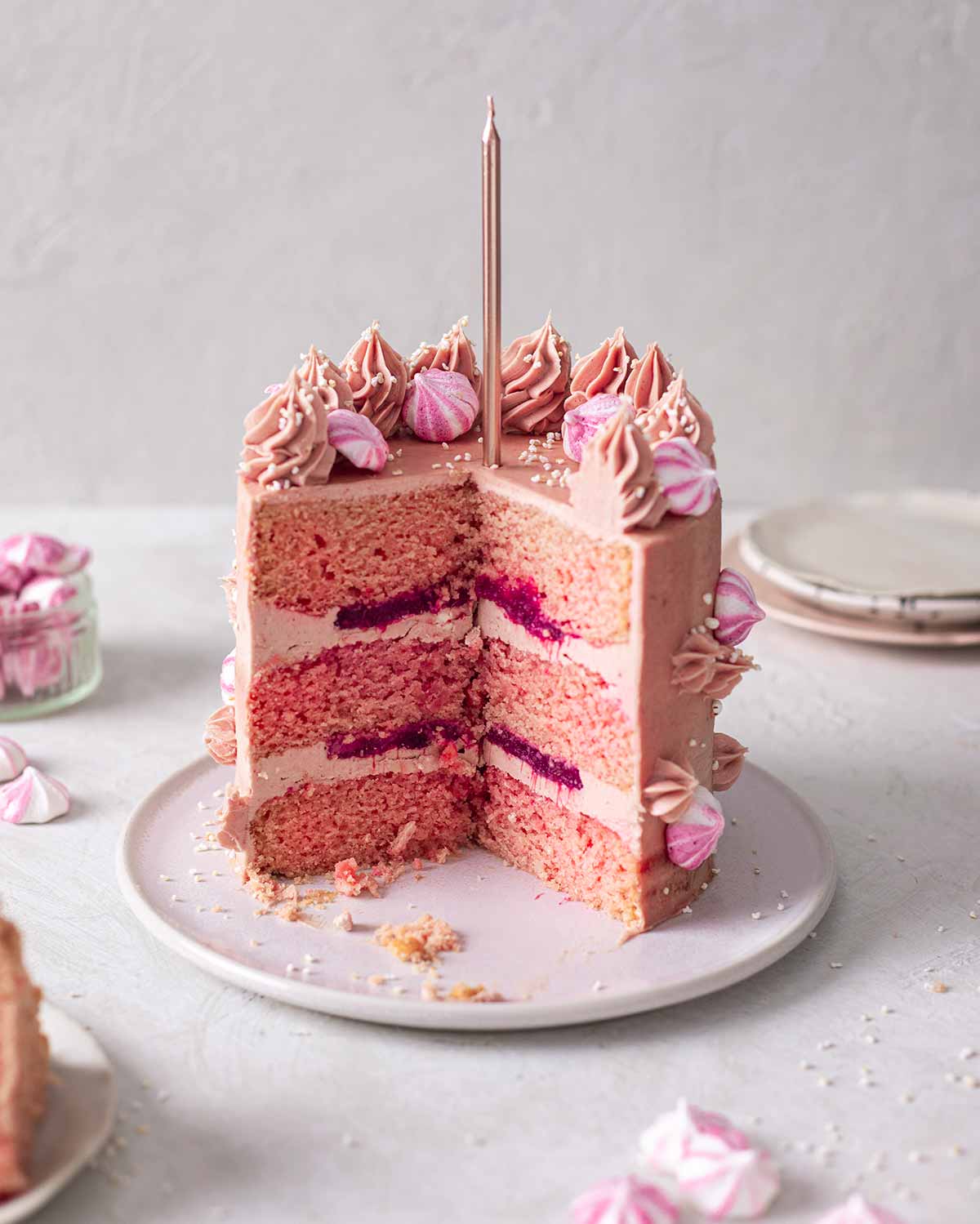 How to assemble and decorate this pink champagne cake
I'd recommend watching the video below to see how I Iayered and decorated this cake. For an alternate way to decorate the cake, check out the photos in Christina's post.
My top tips for assembling and decorating:
Chill (or even freeze) your cake layers before you stack them. It's always easier to handle a cold cake!
Use a serrated knife to cut the domes off each layer. Each layer doesn't have to be perfectly flat (for the sake of food waste) but the flatter the cakes, the easier they'll be to stack!
Make sure your champagne buttercream is cold but soft enough to pipe and spread. Christina gives some extra tips in her recipe blog post.
If you are in a warm climate, crumb coat the cake then chill it before you decorate the rest of the cake.
If your buttercream starts to ooze out the sides, chill the cake in the fridge or freezer until it firms up.
For people who are short on time or don't have much experience with cake decorating, I'd recommend making just 1 layer of the cake. This can be topped with whipped coconut cream or Christina's Vegan Italian Meringue Buttercream (an unflavoured version of the champagne buttercream).
Other vegan cake recipes
Print Recipe
Vegan Pink Champagne Cake
This vegan pink champagne cake is a taste explosion and the ultimate dessert showstopper. It's perfect for holidays and the New Year!
Ingredients
Instructions
To make the cake:
Preheat the oven to 160°C (320°F). Line or grease 3x15 cm (6 inch) cake tins (note 3).

Add all the dry ingredients to a large mixing bowl and mix until there are no lumps. Add all the wet ingredients to the bowl and mix until combined.

Evenly divide the cake batter into the 3 cake tins (each tin should have about 370g of batter).

Bake the cakes for around 40 minutes OR until a skewer can be inserted into each cake and it comes out clean. Allow the cakes to cool in the tins for 20 minutes then place them on a wire rack.

Chill the cakes in an airtight container in the fridge for at least 4 hours. Chilling the cakes makes them less crumbly, easier to slice and assemble.
To make the quick jam
Add all ingredients to a small saucepan and toss until combined. Bring to a gentle simmer for 10 minutes while stirring and mashing the berries. Add a dash of water for a thinner jam or continue to simmer for a thicker jam.

When the jam has slightly thickened, set aside to cool. The jam will further thicken while it cools.
To assemble the cake
Use a serrated knife to cut the domes off the cakes if any.

To stack the cake, place one cake layer on a serving plate or cake board. Use a piping bag or spatula to spread about ½ cup of the buttercream on the cake. Create a 'dam' in the frosting. Dollop and spread the jam in the frosting dam.

Top with another cake layer and repeat. For the final cake layer, turn the cake upside down so the flat side is on top.

To crumb coat the cake, use a spatula or cake scraper to spread a thin layer of buttercream around the cake. Chill the cake for at least 30 minutes

If desired, pipe or spread a thicker layer of frosting on the cake. Use a cake scraper to smooth the surface.

If you have excess frosting, use a piping bag with a star tip to pipe swirls on top of the cake (or as desired).
Storing and serving the cake
The cake should be stored in the fridge in an airtight container until needed. Allow the cake to come to room temperature for 1-2 hours before serving. Right before serving, add the meringue kisses to the cake as they start to soften once they touch the cake. Enjoy!
Notes
To make a vegan gluten free cake, substitute the plain flour for a high quality 1:1 gluten free flour OR 1 ½ cups (150g) almond flour and 1 ½ cups (240g) gluten free all-purpose flour.
The amount of beetroot powder you will need will depend on the brand (and the age) of your powder. For example, both Christina and I used 3 tsp of beetroot powder but the colour of our cakes were very different. I'd recommend starting with 2 tsp of powder. Mix all the dry and wet ingredients and if you'd still like the cake to be more vibrant, fold in an additional teaspoon of beetroot powder. Remember that the colour will fade after baking (see pictures above for reference)!
You can also bake the cake in 2 x 20 cm (8 inch) cake tins. The baking time will be around 30 mins.
Nutrition
Serving:
1
slice without frosting and meringue kisses
|
Calories:
256
kcal
|
Carbohydrates:
41
g
|
Protein:
3
g
|
Fat:
9
g
|
Sodium:
119
mg
|
Potassium:
51
mg
|
Fiber:
1
g
|
Sugar:
20
g
|
Calcium:
75
mg
|
Iron:
1
mg
Please leave a comment below if you made this recipe, have any questions or thoughts! Your comment will help other readers and Rainbow Nourishments.