Fluffy and soft vegan mango cake packed with fresh mango and lots of flavor! This easy cake uses less than 10 ingredients and comes together in one bowl.
Even though this mango cake is eggless, you don't need any store-bought egg replacers, just like my strawberry cake and lemon blueberry cake.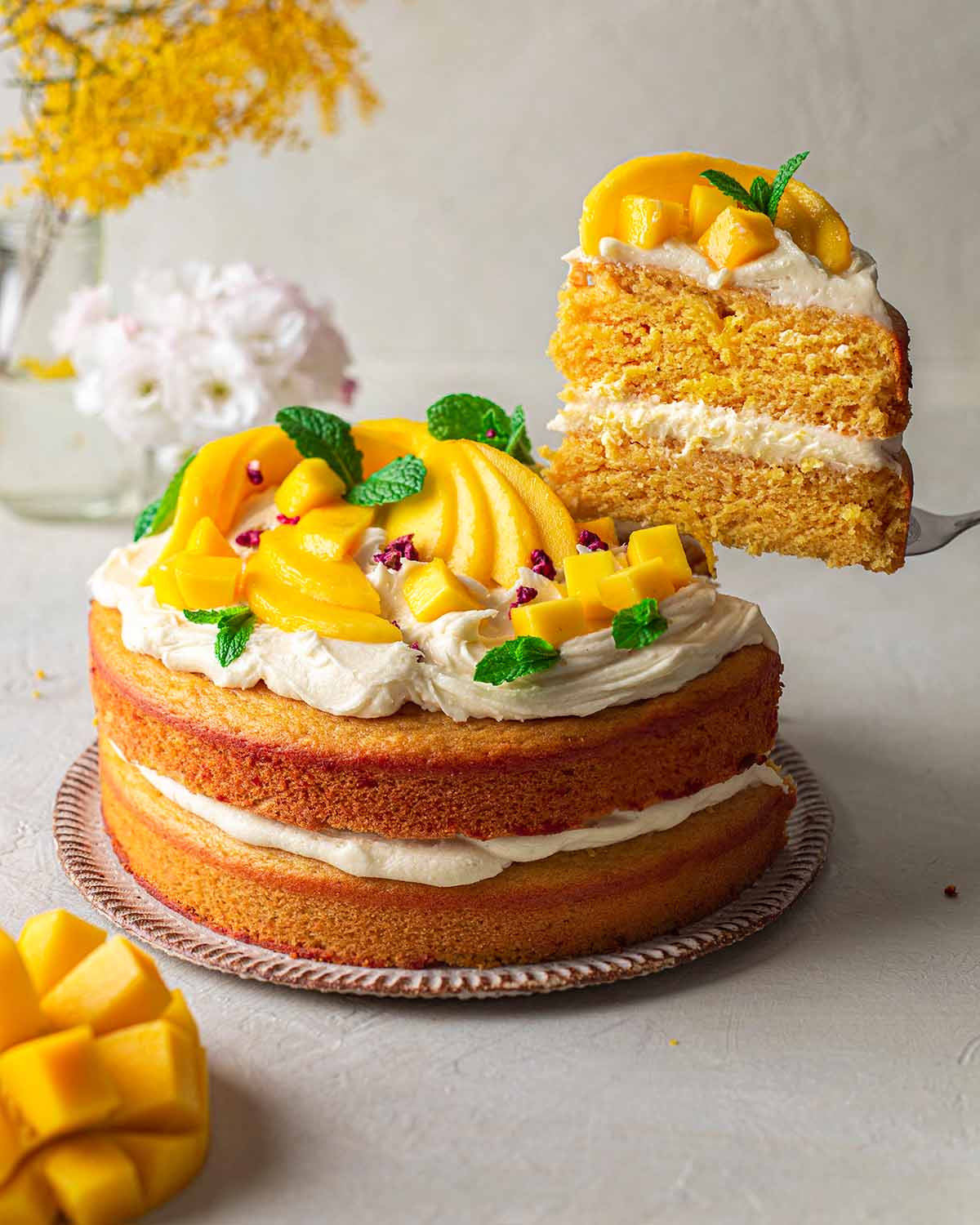 Why you'll love this cake
DIFFICULTY RATING: This mango cake is easy to make! All you need to do is blend the mangoes (if your not using canned mango pulp), mix the dry and wet ingredients in one bowl then bake.
FLAVOR: This cake is bursting with mango flavor as we're using 3-4 fresh mangoes or 2 whole cups of mango puree!
TEXTURE: Fluffy, soft and not dense at all. This cake is moister than a sponge cake but fluffier than a bundt cake or banana bread.
Ingredients you'll need
Ingredient notes
All-purpose / plain flour or even cake flour will create the fluffiest vegan mango cake.
Sugar preferably regular granulated sugar because we want the beautiful yellow/orange mango to shine through. Coconut sugar will work but will make the cake darker in color and denser.
Mangoes, either fresh, frozen or canned. Interestingly, pureed mango is a great egg replacer for this eggless cake.
Baking powder and soda. As this cake is PACKED with mangoes, I added more leavening agents to ensure the cake is fluffy. You won't taste them at all.
A complete list of ingredients, quantities and instructions are in the gray recipe card at the bottom of this post.
Preparing vegan mango cake
First, add all the dry ingredients to a large mixing bowl and whisk until there are no lumps. Then add all your wet ingredients (including your mango puree) and mix until combined.
The mango cake batter should have a consistency similar to a thick pourable pancake batter. The mixture can have some lumps, as long as they aren't lumps of dry flour.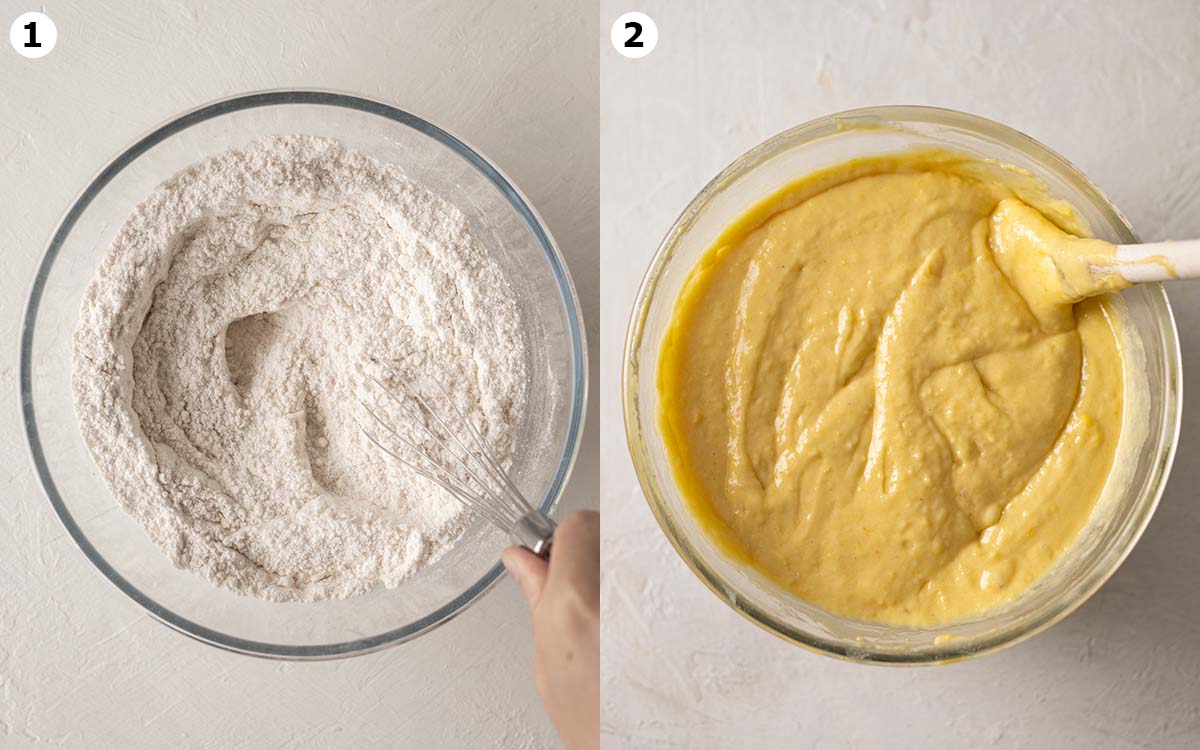 Baking the cake layers
The cake batter is thin enough that it'll naturally flatten out after you pour it into your cake tins. If you own cake strips, I recommend using them for this cake.
The cake layers are ready when you can insert a toothpick in the middle and it comes out mostly clean. This is a very moist cake so a few crumbs on your toothpick are fine - just make sure there's no wet batter on it.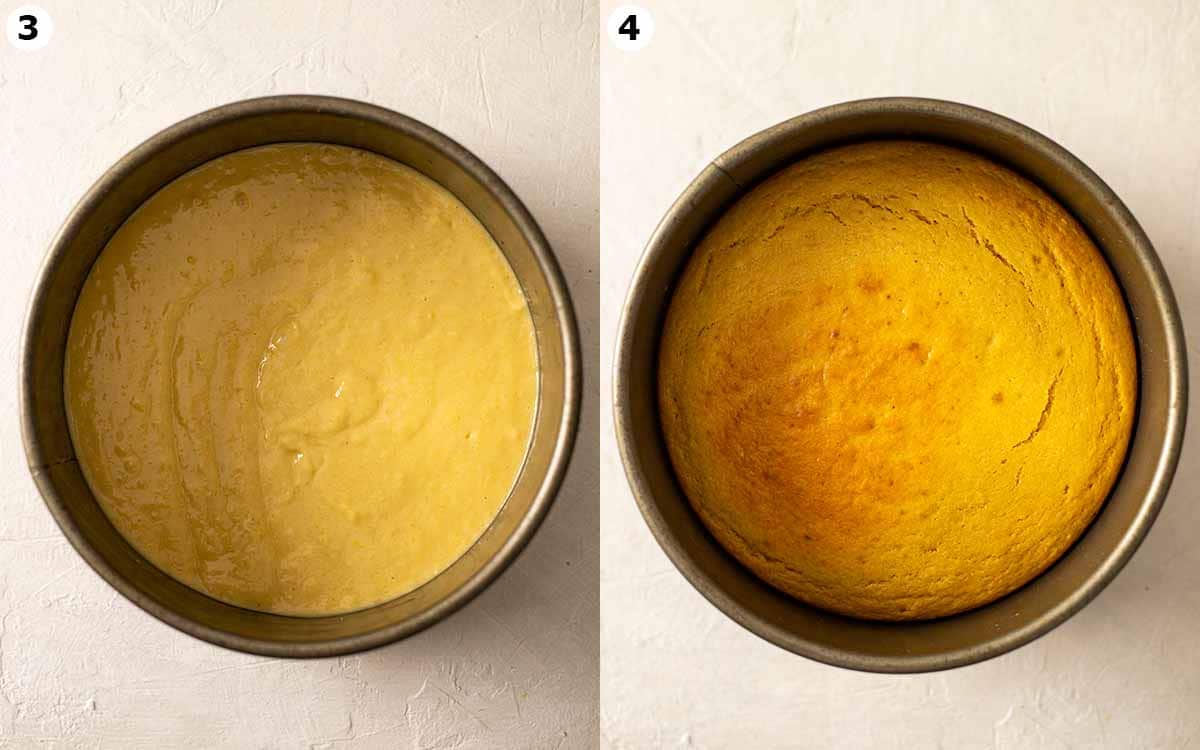 Decorating the cake
Dairy-free cream cheese frosting goes wonderfully with this vegan mango cake! Its tart flavor compliments the fruity notes and delicate flavors of the cake.
Cream cheese frosting tends to be a little soft so here are a few tips to overcome that:
Add a little cornstarch. This absorbs the liquid in the cream cheese and makes a firmer frosting.
Adding more powdered sugar. The more sugar we add, the more stable the frosting!
Avoid overwhipping the frosting. Interestingly, when cream cheese is overwhipped, it can become too soft.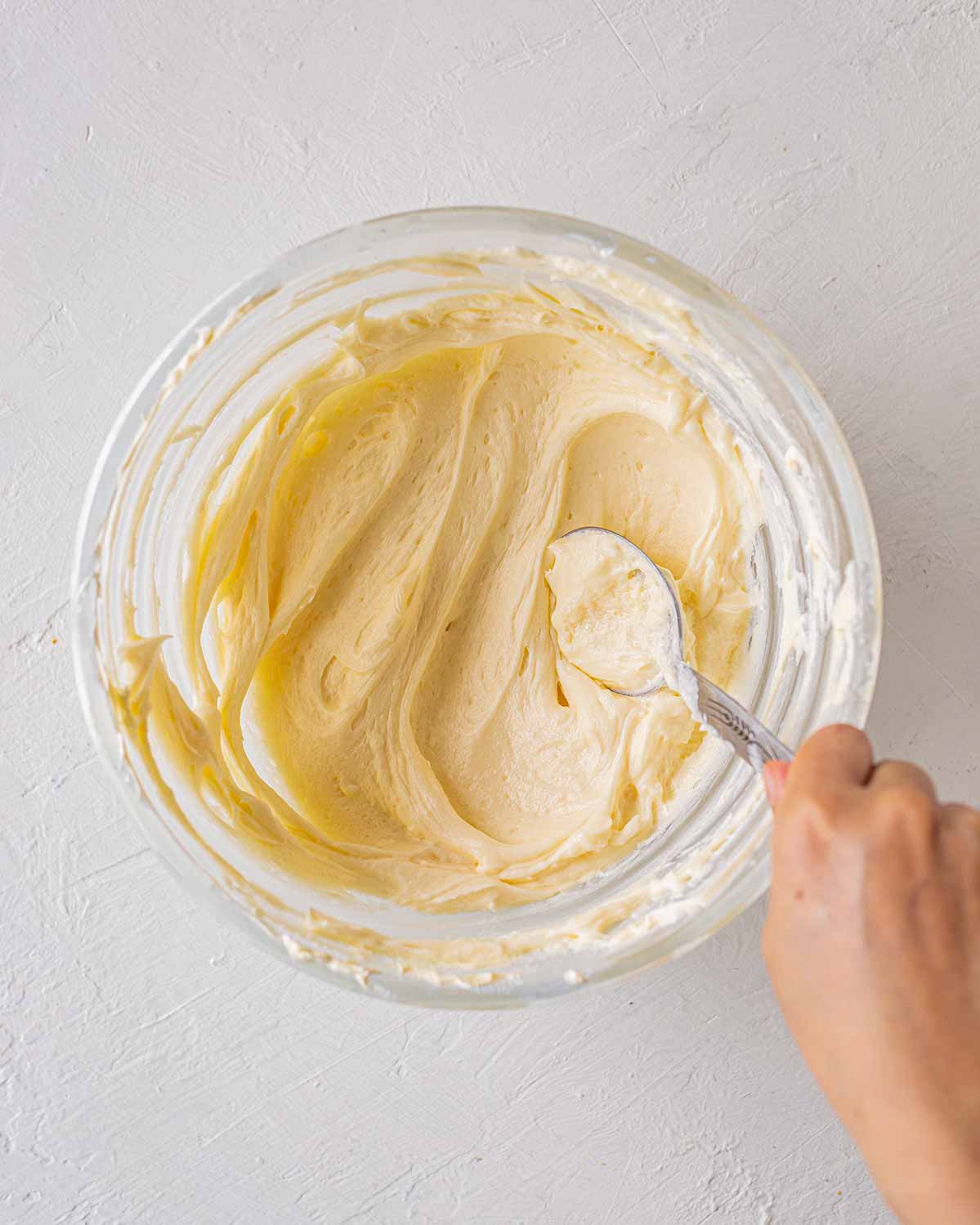 Alternatively, you can top your eggless mango cake with:
American-style buttercream. Check out the notes in the recipe card for more detail
Stabilized whipped cream, only if you make a one-layer cake. Whipped cream is VERY soft and will not always withhold a two-layer cake.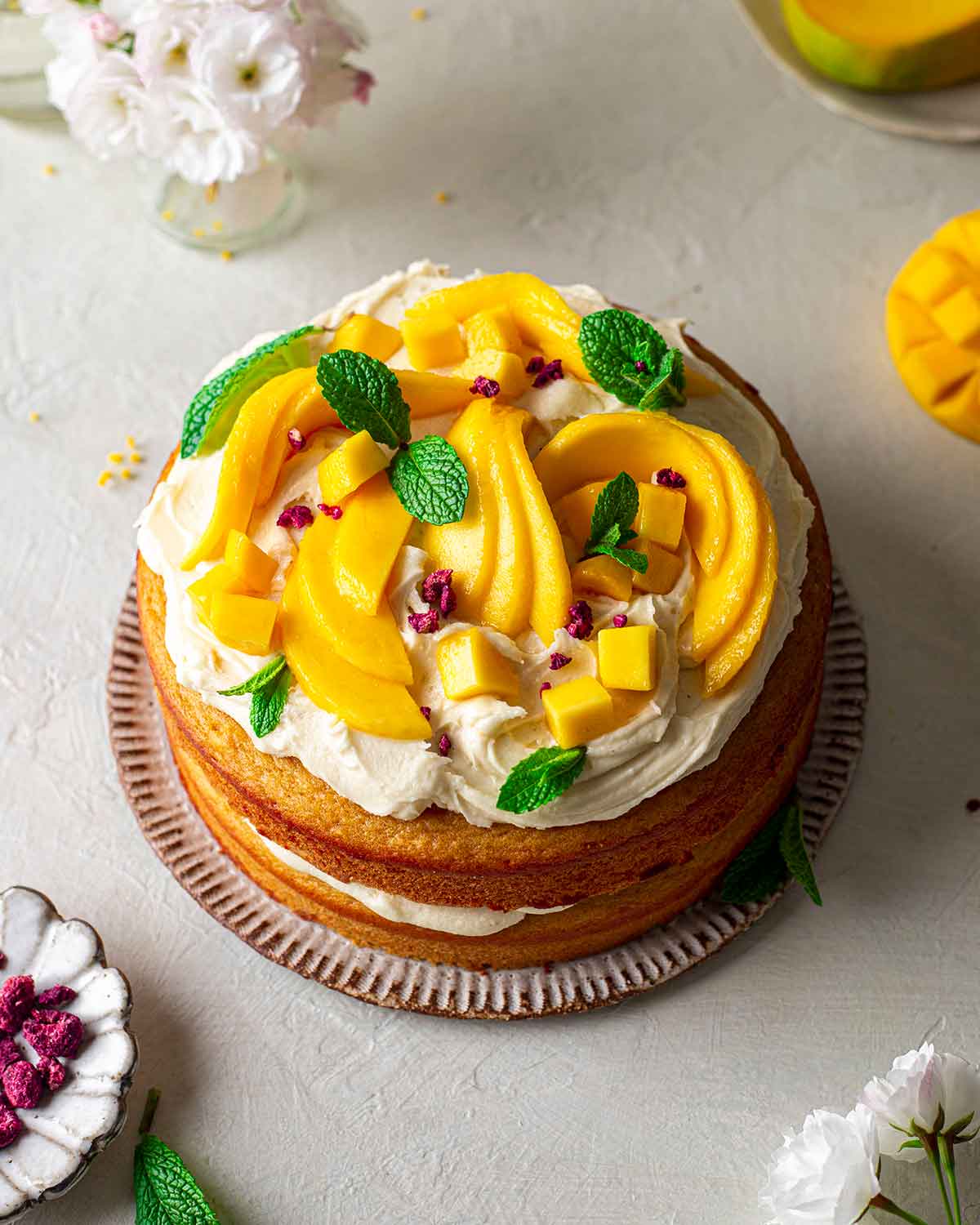 Customizing this recipe
Can I reduce the sugar in this vegan mango cake?
I've tried reducing the sugar for this recipe but the less sugar I used, the more dense the cake. Sugar doesn't only sweeten a cake but adds moisture and improves its texture.
Can I make this recipe gluten-free?
Normally I'd recommend replacing the plain flour using a blend of 50% almond flour and 50% gluten-free all-purpose flour (by weight ) OR a high quality 1:1 gluten-free flour. However, I haven't tested this recipe with gluten-free flour so I can't vouch for the results.
Can I bake this cake in another cake pan?
As this vegan mango cake contains a lot of fruit, it's best to bake it in thinner layers, such as in 8-inch cake pans or larger.

This recipe does work in a bundt tin but the final cake is denser and you'll have to back the cake for longer.

Alternatively, this cake recipe works well as mango cupcakes or muffins! You can see how tall they rose on my Instagram. I'd recommend using the recipe below and baking it in a muffin pan.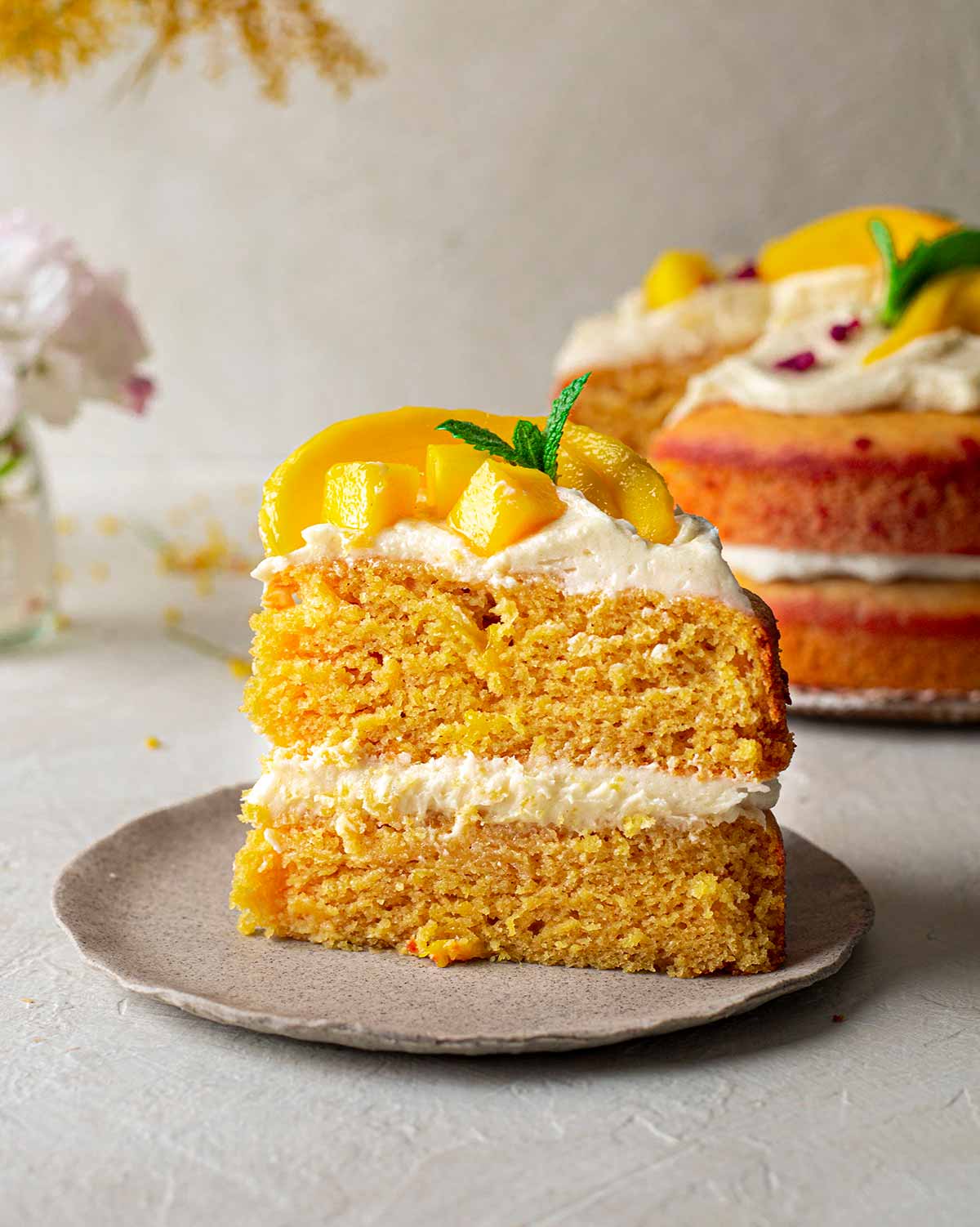 More Summery vegan desserts
Follow Rainbow Nourishments on Instagram, Facebook, TikTok and Pinterest, and subscribe via email to receive all of our latest recipes!
Print Recipe
Vegan Mango Cake
Fluffy and soft vegan mango cake packed with fresh mango and lots of flavor! This easy cake uses less than 10 ingredients and comes together in one bowl.
Ingredients
Cream cheese frosting + decorations (note 3 for alternatives)
Instructions
Note: For the best results, I recommend using a kitchen scale to weigh your ingredients. I tested the recipe using grams and it's the most consistent way to measure the flour and mango puree.
To make the cake:
Preheat the oven to 180°C (350°F). Grease or line 2 x 8-inch (20 cm) round cake pans with parchment paper.

Add all the dry ingredients to a large mixing bowl and mix until there are no lumps. Add all the wet ingredients to the bowl and mix until there are no more pockets of flour.

Divide the cake batter into the 2 cake tins. Bake the cakes in your oven for 25-30 minutes.

The mango cakes are ready when you can insert a toothpick in their center and it comes out with no wet batter on it. As this is a very moist cake, a few crumbs on your toothpick are fine!

Allow the cakes to cool in their cake pans tin for 10 minutes. Then remove the cakes to cool on a wire rack.
To make the cream cheese frosting:
Add the powdered sugar, vegan cream cheese, butter and corn starch to a mixing bowl. Cream until combined and smooth.

If using vegetable shortening or coconut oil, slowly pour the liquid into the bowl while mixing the frosting.

Add more powdered sugar and/or coconut oil for a firmer frosting. Cream cheese frosting is normally quite soft but it can be thickened and stabilized with additional sugar.

Chill the frosting until needed.
To assemble the cake:
When the cakes have completely cooled, slice the dome of one of the cakes. Place that cake on a serving plate.

If you chilled your buttercream, stir it a few times to make sure it's smooth and soft. Spread or pipe around 1 cup of buttercream on the cake and place the remaining cake on top.

Spread or pipe the remaining frosting on top and decorate with the remaining mangoes.

Store in an airtight container in the fridge until serving. If you used coconut oil in your cream cheese frosting, the cake will keep at room temperature for at least 1 hour on a 20°C (80°F) day. If you used vegetable shortening, it will keep for a little longer. However, if the temperature is any warmer, I'd recommend chilling the cake and letting it come to room temperature just 30 minutes before serving.
Notes
For extra flavor, add 1 teaspoon of cardamom powder to the dry ingredients.
I managed to get around 160g of mango flesh from 1 medium Kensington Pride mango. However, depending on the size of your mangoes, you may need less or more. This recipe also works well with frozen or canned mango.
For a conventional buttercream, substitute the cream cheese with more vegan butter and add lemon juice to taste.
Nutrition
Serving:
1
slice without frosting
|
Calories:
224
kcal
|
Carbohydrates:
35
g
|
Protein:
3
g
|
Fat:
8
g
|
Sodium:
162
mg
|
Potassium:
77
mg
|
Fiber:
1
g
|
Sugar:
17
g
|
Vitamin A:
325
IU
|
Vitamin C:
11
mg
|
Calcium:
64
mg
|
Iron:
1
mg
This post was originally published in January 2020 and updated in September 2021.
This post may contain affiliate links. As an Amazon Associate, I may earn a small commission from qualifying purchases at no additional cost to you.