Refined sugar free vegan gingerbread cookies made with spelt flour and no nuts. They are perfect as a festive treat or edible gift!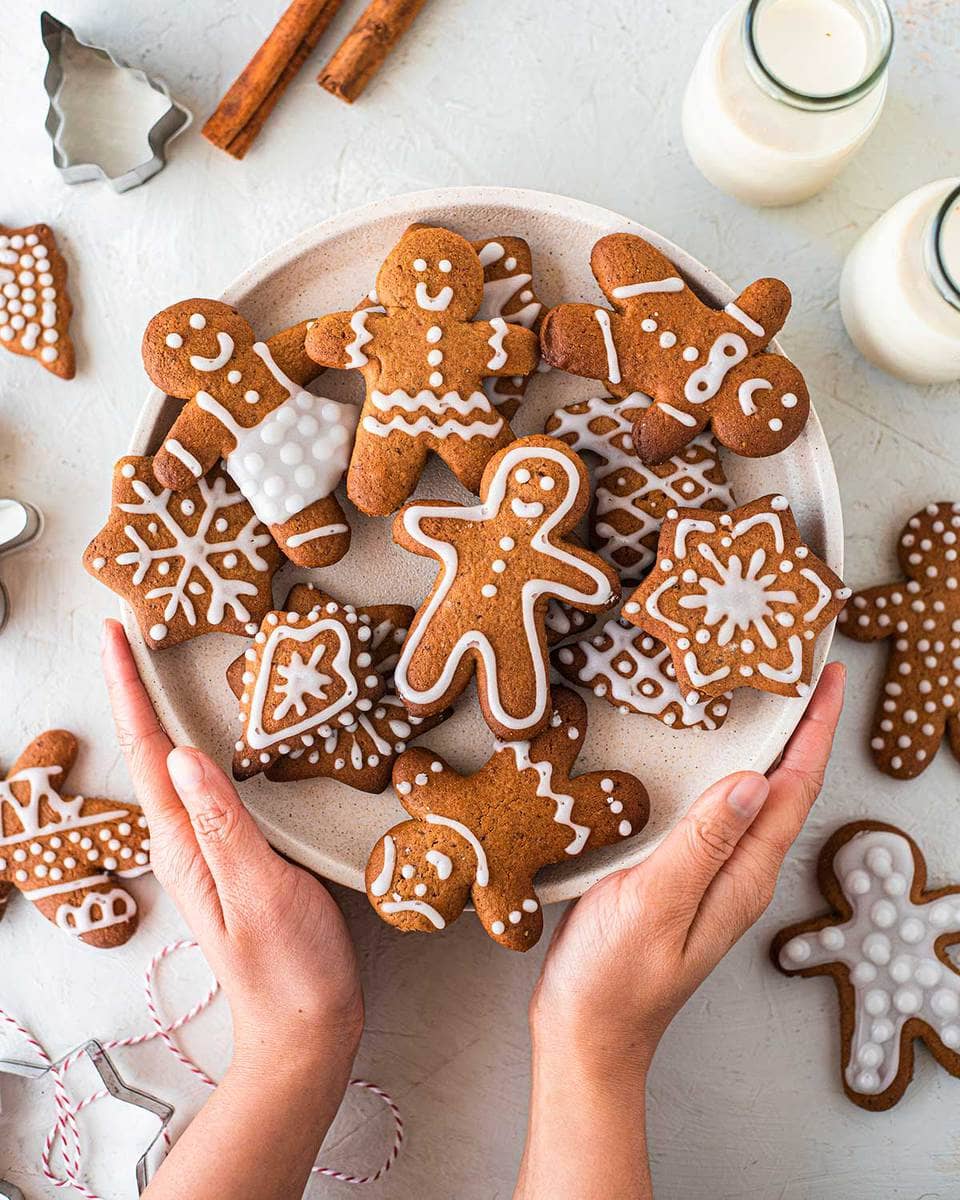 All year long, I wait until Christmas so I can make gingerbread. They are amazing with a glass of milk shared with loved ones, presented as a gift or as an on-the-go snack.
The cookies and coconut butter-based frosting are entirely refined sugar free. Instead, I sweetened them with maple syrup and coconut sugar!
Ingredients for these sugar free vegan gingerbread
If you have a wholefoods pantry, you'll probably have all the ingredients needed to make these gingerbread NOW!
You will need:
Spelt flour (I used white spelt)
Coconut sugar
Vegan butter (I used Naturli's butter) or softened coconut oil
Maple syrup
Ground flax or chia seeds
Spices, salt and baking soda
Water (not pictured)
I used maple syrup instead of molasses or treacle because, let's face it, we only use the latter two ingredients once a year! Plus, maple syrup is divine!
If you're after a healthier gingerbread recipe which is gluten free, refined sugar free and has with no butter, check my healthy vegan gingerbread cookies recipe.
How to make vegan gingerbread dough
I'm all up for simplicity and minimal steps so simply put ALL the ingredients in a bowl and mix until combined.
No whisks, no beaters, just a simple bowl!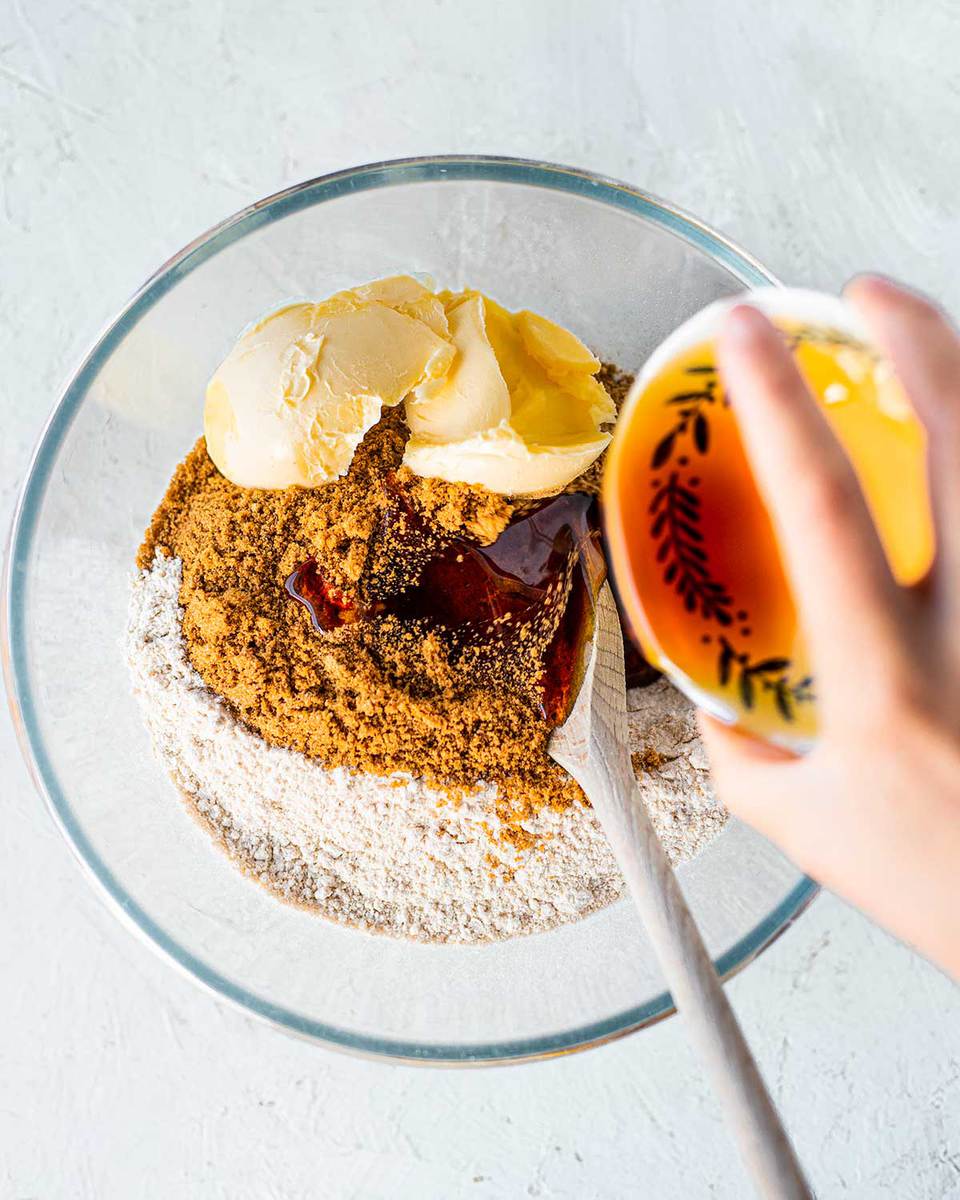 I started mixing the ingredients using a wooden spoon. It looks dry at this stage, but it will come together. Then Get your hands dirty and mix the dough by hand. The squeezing and warmth of your hand will encourage the ingredients to come together.
If it's too dry or wet at this stage, add more flour or water as needed. All flours and brands of flours have a different absorbency so you'll need to eyeball the mixture.
Alternatively, you can pop all the ingredients in a food processor or stand mixer and let it do all the work ;).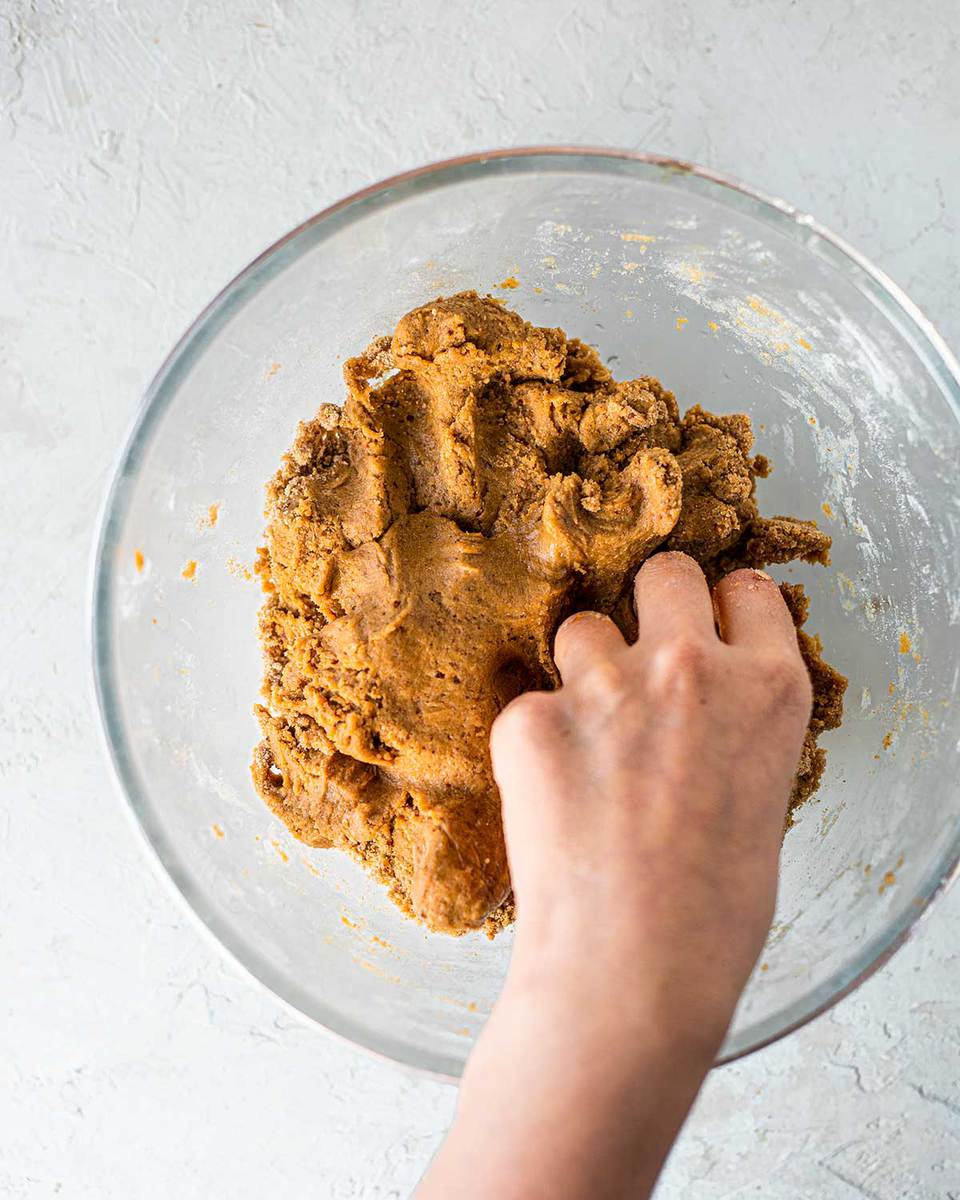 Chilling and shaping the gingerbread dough
Once your dough is made, I'd highly recommend chilling the dough before you roll and cut shapes from it. This firms up the dough and makes it much easier to work with!
When you take the dough out of the fridge/freezer, roll it out on a floured surface. If the dough is TOO firm, allow it to warm up at room temperature until it's softer (and won't break your arms).
Carefully transfer each gingerbread cookie to a lined baking tray and BAKE!
Decorating the sugar free vegan gingerbread
I've included a sugar free and conventional frosting recipe below.
Making the sugar free frosting can be a little tempermental. Add too little milk and the frosting seizes up. Add too much milk and it's too runny for frosting. I'd recommend adding the milk in very small amounts so neither happens.
The sugar free frosting is healthier but a lot more difficult to pipe.
If you're happy using a conventional sugar frosting, it's a lot easier to pipe and decorate with (pictured).
The gingerbread makes a perfect and thoughtful gift for your health-conscious family member or friend. They are affordable and are much more sentimental than a conventional present :).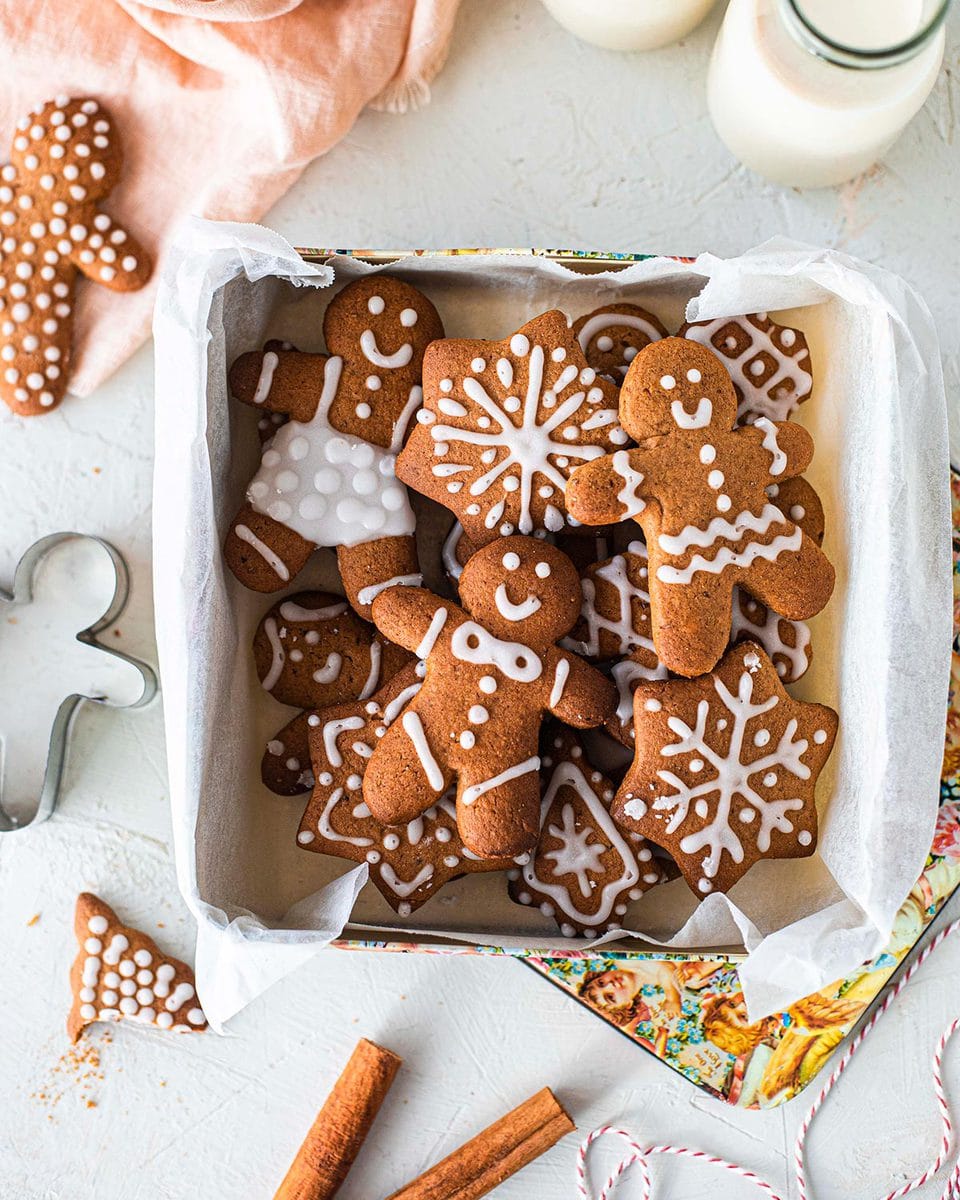 For other vegan Christmas recipes, check out:
You may also like:
Print Recipe
Vegan Gingerbread Cookies (refined sugar free)
Refined sugar free vegan gingerbread cookies made with spelt flour and no nuts. They are perfect as a festive treat or edible gift!
Ingredients
Frosting*
½

cup (65g)

coconut butter,

softened

1-3

tbsp

dairy free milk, such as almond, soy or coconut

,

as needed
Instructions
To make the cookies:
Add all the cookie ingredients to a large mixing bowl. Mix the ingredients with a spoon and your hands until it comes together. Add more flour or water if needed (the dough should be soft and pliable). Alternatively, mix the ingredients in a food processor or stand mixer.

Set aside the dough in an airtight container in the fridge for 1 hour or freezer for 30 minutes or until it's firmed up.
To shape the cookies:
When you're ready to roll out the cookies, preheat the oven to 180°C (350°F).

Roll out the dough on a lightly floured surface so it is about 8mm (0.3 inch) thick. Use a cookie cutter to cut shapes out of the dough. Carefully place each cookie on a lined baking tray with a little space in between each cookie. You may need to use a flat spatula to transfer them,

Collect the excess dough, roll it out and cut out more shapes from the dough. Repeat until you have no more dough.

Bake the cookies in the oven for 10 minutes (depending on the size of your cookies). The edges of the cookies should be slightly golden brown. Allow the cookies to completely cool on the baking tray.
To decorate the cookies:
First make the frosting. Add all the frosting ingredients to a bowl and mix until it forms a thick paste. Add more coconut butter to thicken and more milk to thin the frosting.

Use a fine tipped piping bag to decorate the gingerbread as desired.

Enjoy immediately! Cookies are best enjoyed on the day of baking. Alternatively, store them in an airtight container for up to 1 week.
Notes
* If you don't mind having a conventional sugar frosting, mix 1 cup (200g) powdered sugar with 1-2 tablespoons plant-based milk until it's just runny. Add more sugar for a thicker frosting and more water for a thinner frosting. Make sure you don't add too much water otherwise the frosting will spread on your cookies. The sugar frosting is much easier to work with than the coconut butter frosting.
Please leave a comment below if you made this recipe, have any questions or thoughts! Your comment will help other readers and Rainbow Nourishments.