This vegan black forest trifle has layers of fluffy chocolate cake, creamy chocolate custard, macerated cherries and whipped dairy-free cream. It's just like your classic German gateau but easier to prepare and assemble!
This epic vegan trifle is perfect for sharing at Christmas or special occasions, just like my black forest tart and lamington trifle.
Ingredients you'll need
You can make this vegan dessert using a few common ingredients including:
Notes about the ingredients
Most of the ingredients for this vegan trifle recipe are used 2-3 times in different layers which makes grocery shopping easier!
Granulated or brown sugar to sweeten the chocolate cake, cherry compote and custard. I used brown sugar for additional flavor.
Dairy-free milk of choice. I recommend using any creamy full-bodied milk that you enjoy drinking by itself for example, soy milk, almond milk or coconut milk.
Fresh, canned, jarred or even frozen cherries. If cherries aren't in season, you can make this vegan trifle! Alternatively, you can use raspberries, strawberries or other berries. If you use fresh berries, you can add them instead of the compote or quickly cook them on the stovetop to make a berry compote.
Dairy-free whipping cream of choice. You may use any cream that's made for whipping or the thick part of canned coconut cream.
A complete list of ingredients, quantities and instructions are in the gray recipe card at the bottom of this post.
Making the vegan chocolate cake
The chocolate cake is extremely easy to make! It was adapted from the chocolate cake I used to make for my cake business and is published in my cookbook.
I recommend baking the cake at least a day in advance and chilling it in the fridge overnight. Cakes are always easier to handle the next day.
To make the cake, simply combine the dry ingredients in a large mixing bowl, add the wet ingredients and whisk until combined.
You can bake the cake in 2 x 8-inch cake tins but a large sheet pan will also work.
To make the cakes easier to assemble in the vegan trifle, we're baking them at a lower temperature and cooling them in their cake pans, rather than on a wire rack.
On the day you assemble your vegan trifle, you can cut the cake into cubes or crumble it into pieces.
How to make vegan chocolate custard
For the custard, I recommend using a LARGE saucepan or pot as the custard will boil up and it'll be easier to whisk.
Tips for making the custard:
Dissolve the cornstarch in some milk before you heat it. Cornstarch clumps up when added directly to hot liquid so it's easier if we mix it first.
I simmered my custard for 10-15 minutes but you can do it for longer if you prefer a thicker custard. 10-15 minutes will give you a custard that is thick but runny.
The custard is ready when:
It reaches the ribbon stage where you lift a spatula and the custard can leave a ribbon for a few seconds.
It thickly coats the back of a spatula. If you run your finger in the middle and the custard holds it shape.
Allow the custard to cool slightly then chill it in the fridge until needed. This custard sometimes 'sets' when chilled. To fix this, use an immersion blender or whisk the custard vigorously using a hand whisk until smooth.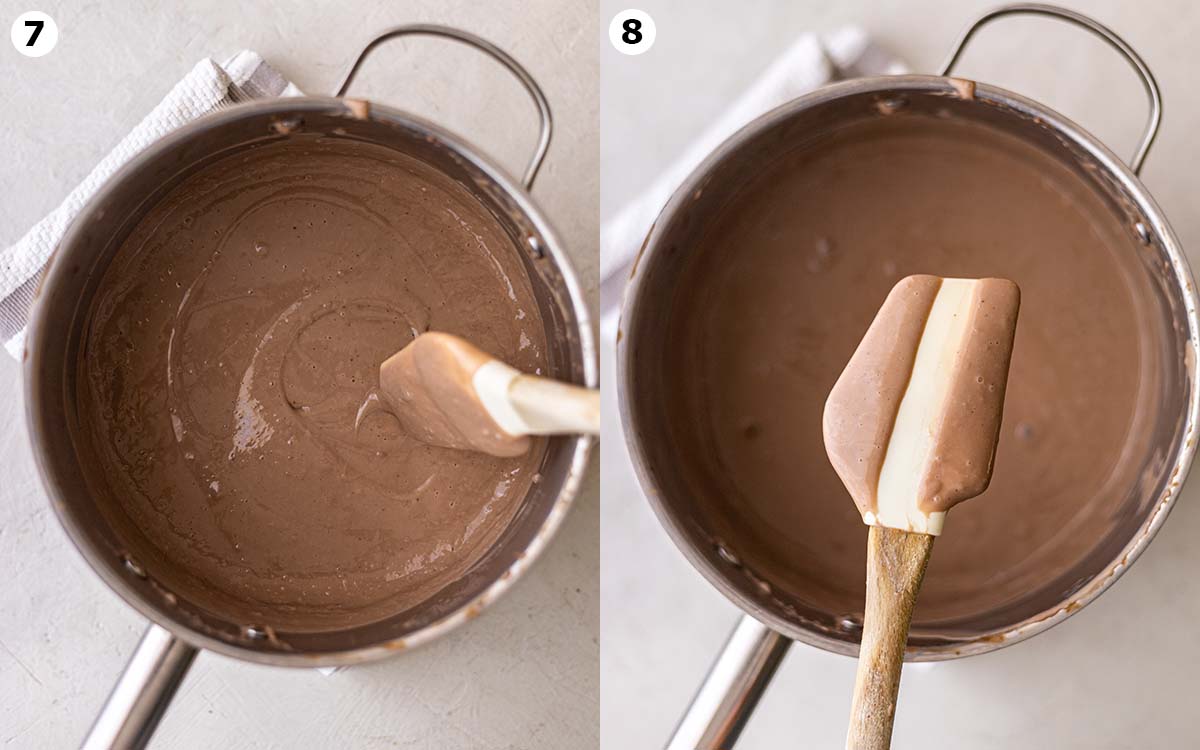 Making the cherry compote
To make the cherry compote for this vegan trifle, we have to make a thick jelly mixture and then add the cherries. If we add the liquid and cherries at the same time, the cherries may become mushy.
To make the jelly mixture, combine the cherries soaking liquid, cornstarch and sugar in a very large pan and whisk until combined. Place over medium heat and heat until thickened. Turn off the stovetop, add the cherries and mix until combined!
Taste test your compote and feel free to add more sweetener (or kirsch) to taste.
The cherry compote can be made a day or a few hours in advance. However, if you make it a day in advance, it may solidify into a jelly-like block (just like the custard)
If it does, simply reheat it with a dash of water. Melt the mixture until it is a jammy mixture again.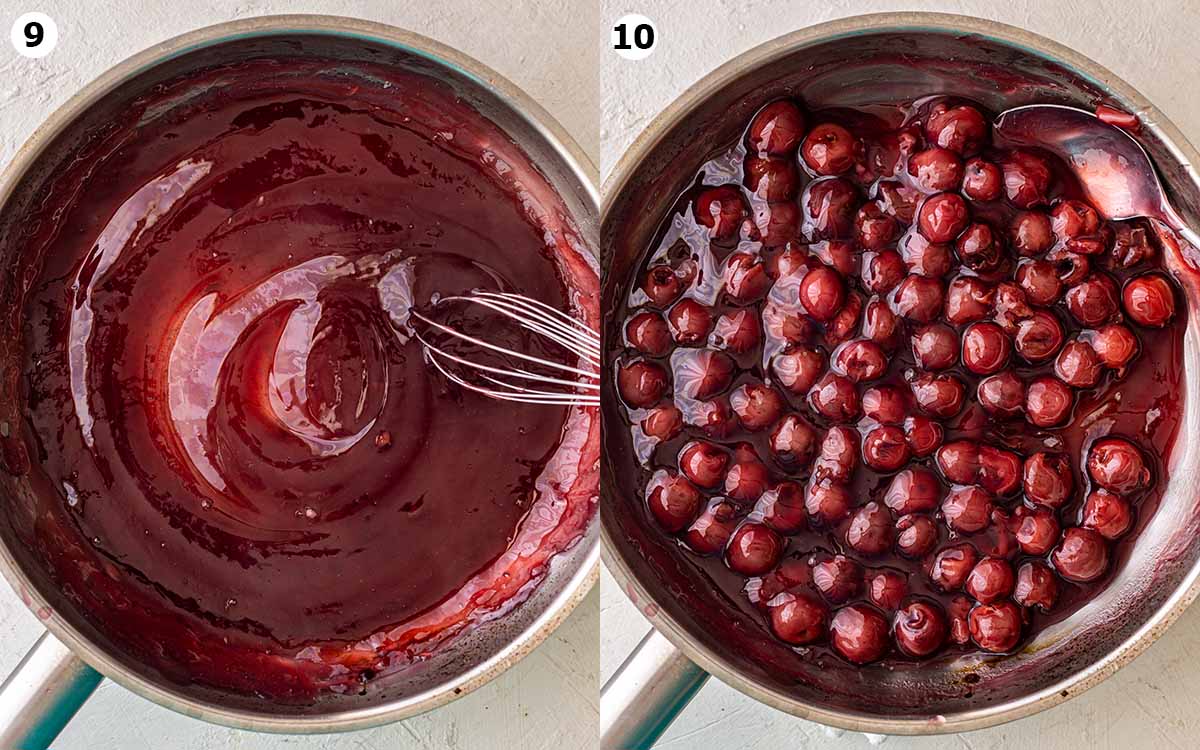 Assembling the vegan black forest trifle
I recommend assembling your vegan trifle on the day of serving because the whipped cream can deflate a little. However, it's not a big issue if you layer it the day before.
I layered my vegan trifle in the following order:
Chocolate cake
Cherry compote
Chocolate custard
Whipped cream
REPEAT
And finally, fresh cherries
However, you can layer your vegan trifle however you want!
Shortcuts for making vegan trifle
If you don't have the time or patience to make this vegan trifle from scratch, here are a few shortcuts!
Use store-bought vegan chocolate cake, brownies or pound cake. If the cake has icing on it, you can keep it on or even scrape it off (and mix the icing into the custard).
Use store-bought plain vegan custard and mix it with some melted dairy-free chocolate.
Use dairy-free yogurt instead of whipping cream.
Skip the compote and just use canned cherries. You can drizzle some of the reserved juice onto the chocolate cake.
For extra tips on how to make a trifle, check out this post by Better Homes and Gardens.
More vegan trifles and chocolate desserts
Follow Rainbow Nourishments on Instagram, Facebook, TikTok and Pinterest, and subscribe via email to receive all of our latest recipes!
Print Recipe
Vegan Black Forest Trifle
This vegan trifle has layers of chocolate cake, creamy chocolate custard, macerated cherries and whipped dairy-free cream. It's just like a classic German gateau but easier to prepare and assemble!
Ingredients
Dairy Free Chocolate Custard
For assembly
3

cups (24 oz or 720g)

dairy-free whipping cream

,

(for example coconut cream), as needed

~3

cups (420g)

fresh, jarred or canned cherries
Instructions
To make the cake (preferably one day before serving):
Preheat your oven to 160°C (320°F). Line 2 x 8-inch (20 cm) round cake pans or a large sheet tray or parchment paper.

Sift your dry ingredients if they're lumpy. Add all the dry ingredients to a large bowl and mix until combined. Add all the wet ingredients and mix until there are no lumps.

Pour the batter into your cake tin(s). Bake for 20 minutes or until you can insert a toothpick in the middle and it comes out clean. Allow the cake(s) to cool in their pans.

Cover the cakes and chill in the fridge until needed. Chilled cakes are easier to handle!
To prepare the chocolate custard:
Add around 1 cup (250g) of the dairy-free milk and all the cornstarch to a large saucepan and whisk until there are no lumps of cornstarch.

Add the remaining ingredients and place the saucepan over high heat. Bring the mixture to a boil for 5 minutes. Reduce to medium heat for 10-15 minutes while whisking frequently until it thickens to just before your ideal consistency or when it thickly coats the back of a spatula. Cook it longer if you'd prefer a thicker custard.

Remove the custard from the heat. Set aside to cool, whisking it occasionally to prevent a skin from forming on top. Chill until needed (note 2).
To make the cherry compote:
Drain the cherries reserving all the juice. We need about 3 cups (720g) of liquid for this so measure your juice and add extra water to make it 720g.

Add all the juice, corn starch, sweetener and optional lemon juice to a very large saucepan or pot. Mix until combined. Place over medium heat and heat until thickened. Add the cherries and take the saucepan off the heat. Allow to cool until needed (note 3).
Assemble the vegan trifle (a few hours or a day before serving):
Whip the cream according to packet instructions.

Cut your cake into 1 inch cubes or crumble into small pieces.

Your vegan trifle can be assembled in whichever order you like. However, this is how I assembled my trifle: place half the cake pieces into the bottom of an 8-inch (20 cm) trifle dish or large glass bowl. Fill any holes with more cake to form an even layer. Layer with half of the cherry compote, half of the chocolate custard and half of the whipped cream. Repeat all the layers.

Top your vegan trifle with fresh cherries. Chill until ready to serve. Leftovers can be stored covered in the trifle dish for up to 3-5 days.
Notes
For a gluten-free vegan chocolate cake, use a good quality 1:1 gluten-free all-purpose flour. Or use 1 ¼ cups (125g) almond flour and ¾ cup (120g) gluten-free all-purpose flour.

If you make your custard a day in advance and it sets, use an immersion blender or hand whisk and mix it vigorously until there are no lumps.

If you make your compote a day in advance and it sets, reheat it over low-medium heat in a saucepan and add a little water if needed. Gently mix until the compote is jammy again.
Nutrition
Serving:
1
serve
|
Calories:
577
kcal
|
Carbohydrates:
80
g
|
Protein:
6
g
|
Fat:
28
g
|
Sodium:
190
mg
|
Potassium:
317
mg
|
Fiber:
4
g
|
Sugar:
34
g
|
Vitamin A:
901
IU
|
Vitamin C:
8
mg
|
Calcium:
131
mg
|
Iron:
3
mg
This post may contain affiliate links. As an Amazon Associate, I may earn a small commission from qualifying purchases at no additional cost to you.