Vegan black forest tart which is quick and easy to make with only 7 ingredients. It's decadent and will impress all your family and friends!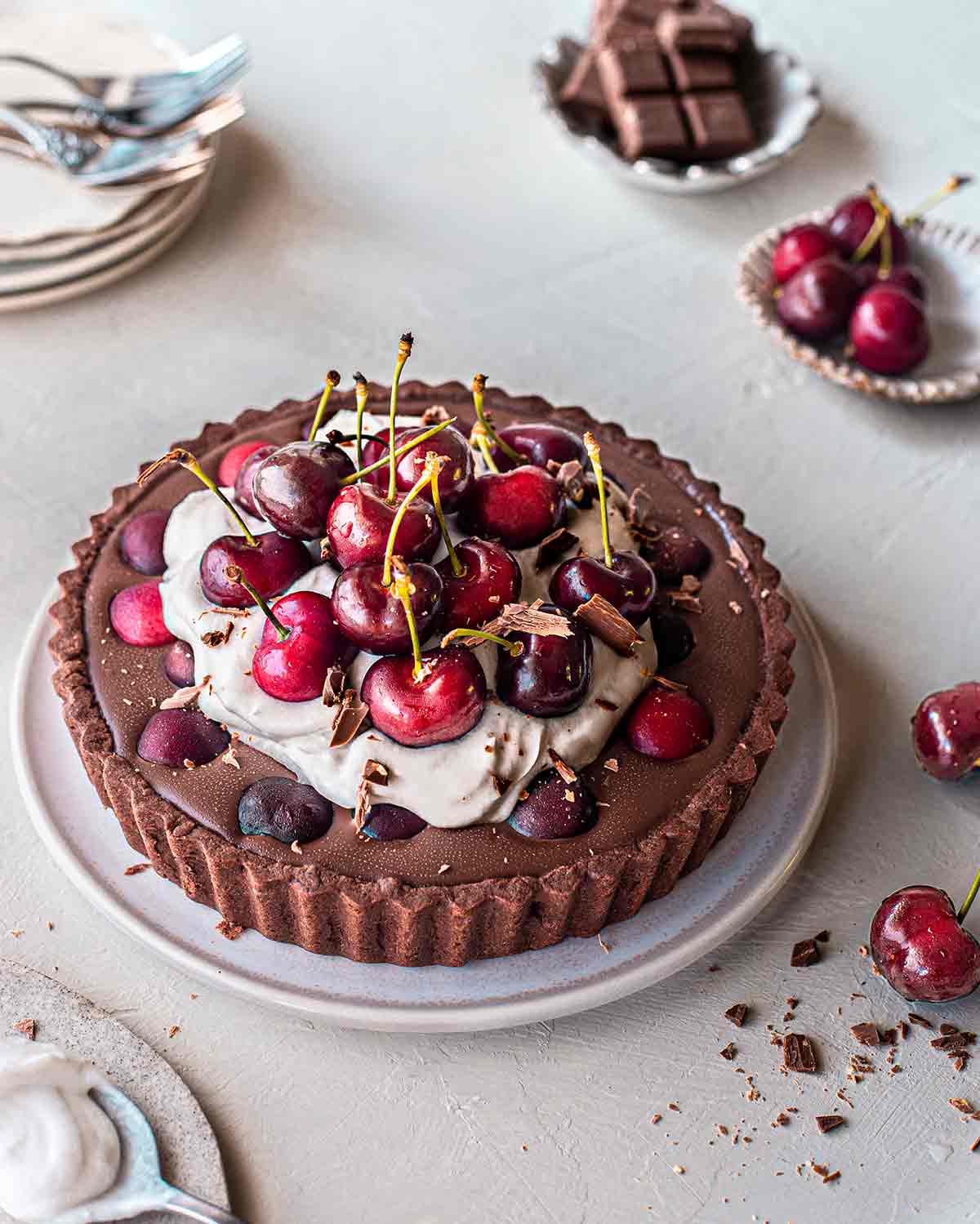 This tart includes:
An easy chocolate shortcrust pastry
Two-ingredient chocolate ganache
Lots of cherries
Optional whipped coconut cream!
The tart is automatically vegan but can also be made refined sugar free (if you use coconut sugar and refined sugar free chocolate) and gluten free (see the notes in the recipe card below)
7 simple ingredients for this vegan black forest tart
To make the tart, you will need:
Plain / all-purpose flour
Cocoa powder
Vegan butter / margarine. Vegan block butter isn't readily accessible where I live so margarine will do.
Vegan-friendly chocolate. I used 50% dark chocolate and 50% mylk chocolate which were both semi sweetened.
Fresh cherries
Canned coconut cream. Make sure you only use the thick part otherwise the ganache will not set and it will not whip up for the topping.
As always, the full amounts of ingredients and instructions are at the bottom of this post in the grey recipe card!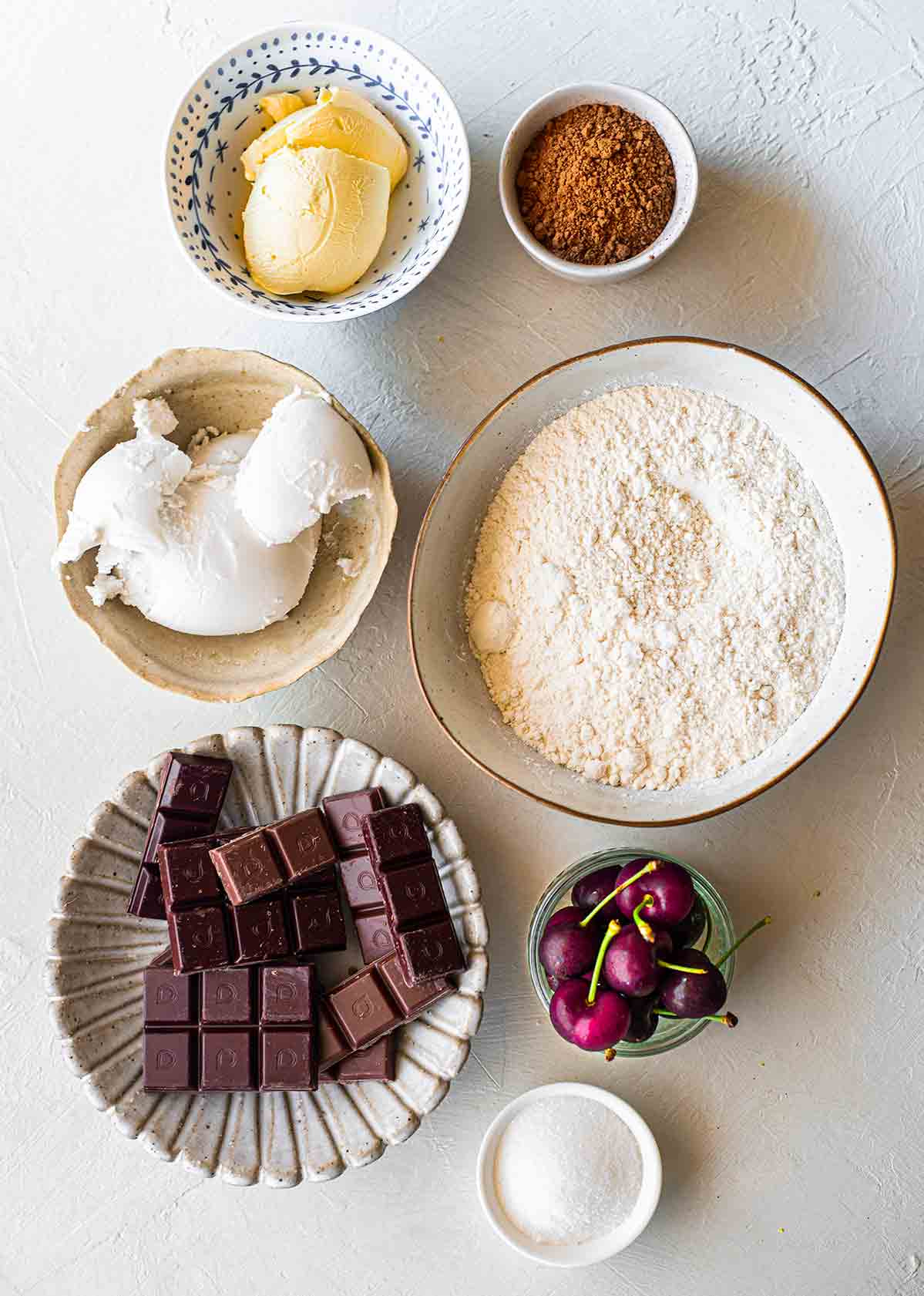 How to pit cherries
I wanted this tart to be PACKED with cherries so we need to remove the seeds of cherries which go inside the tart. There are two ways to do this:
Remove the stem and firmly poke a straw (I have a reusable metal straw) through the middle of the cherry.
Cut the cherry in half and remove the seed using your fingers.
Both methods can be messy! But once you do a few, it's easy and quick :).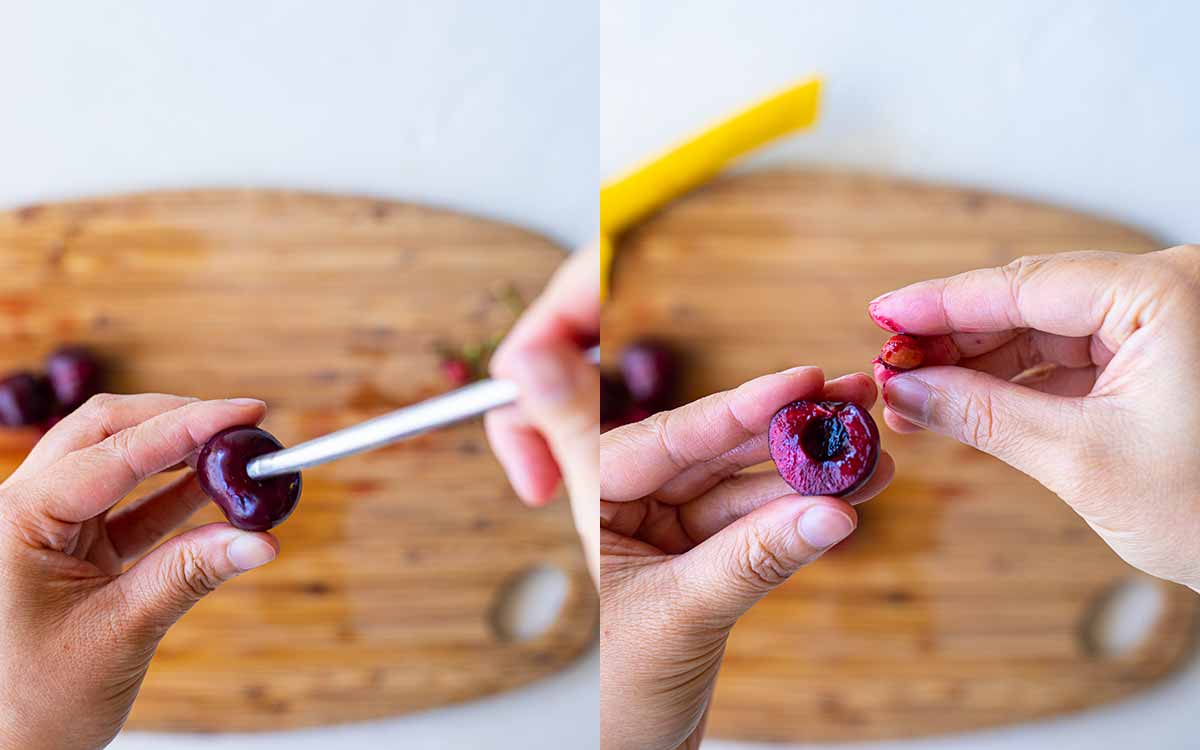 How to make a vegan chocolate shortcrust base
I love simple recipes so just add all the pastry ingredients to a food processor or bowl and mix until it forms a doughy mixture like below.
To shape your tart crust, you can either:
Roll out your pastry on a floured surface and transfer it to your tart tin. Press the pastry against the bottom and sides and if there are any gaps, fill them with remaining pastry. This method ensures your pastry is even in thickness throughout the whole tart.
Directly add the mixture to the tart tin and press it against the bottom and sides until everything is relatively flat and even.
The tart crust doesn't need to be blind baked. Just pop it in the oven as is!
Making the easy chocolate ganache for the vegan black forest tart
More simple steps! Simply add the chocolate and coconut cream in a small saucepan over low heat. Melt and mix the ganache until it's smoooooth and shiny.
If your ganache is still lumpy or has pockets of oil, continue stirring the mixture. Alternatively, if you have a strong hand blender, blend the ganache until it's heavenly smooth.
Assembling the black forest tart
Now that we have the baked tart crust, we can assemble our beautiful tart!
You can skip all the extra cherries and just pour the ganache into the tart shell then set it.
However, I wanted LOTS of cherries in this tart sooo I added halved cherries to the bottom of the baked tart crust, poured the ganache over it then pressed some cherries into the ganache before it set! That way, every serving of tart will 100% get some cherries!
The amount of ganache in the recipe is perfect for a 20cm tart tin if you add cherries to that layer.
Now, all we need to do is allow the ganache to set in the fridge.
Before serving, whip up your coconut cream! Gimme Some Oven provides a great guide on whipping coconut cream.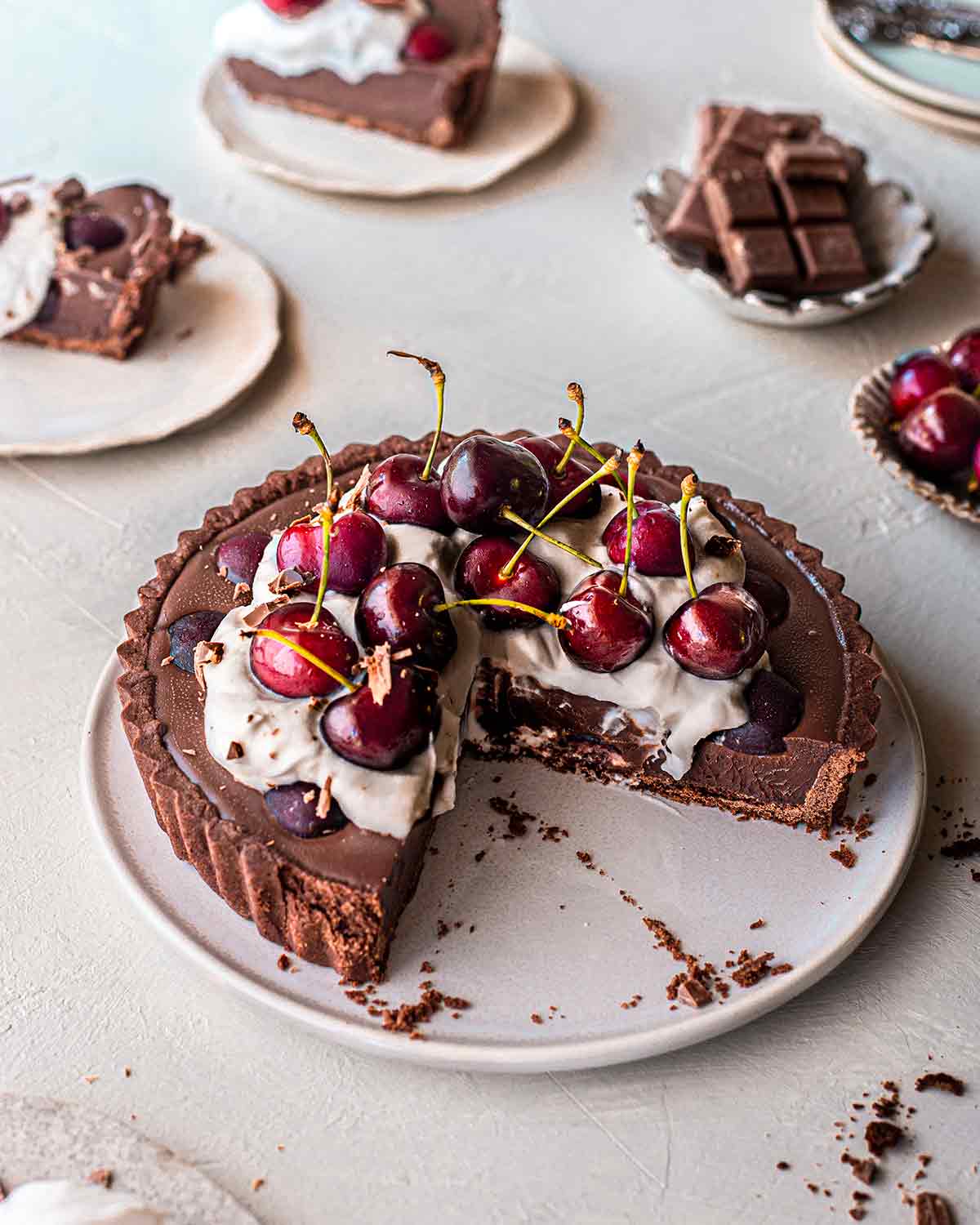 If you're serving this on a hot day (like Summery cherry season in Australia), by the time you whip up your cream, it may soften again. Simply store the cream in the fridge until you need it (but I'd recommend that you only do this for a few hours).
Depending on your whipped cream, you MAY be able to top the tart with the cream and fresh cherries then chill it until you serve it (it worked for me).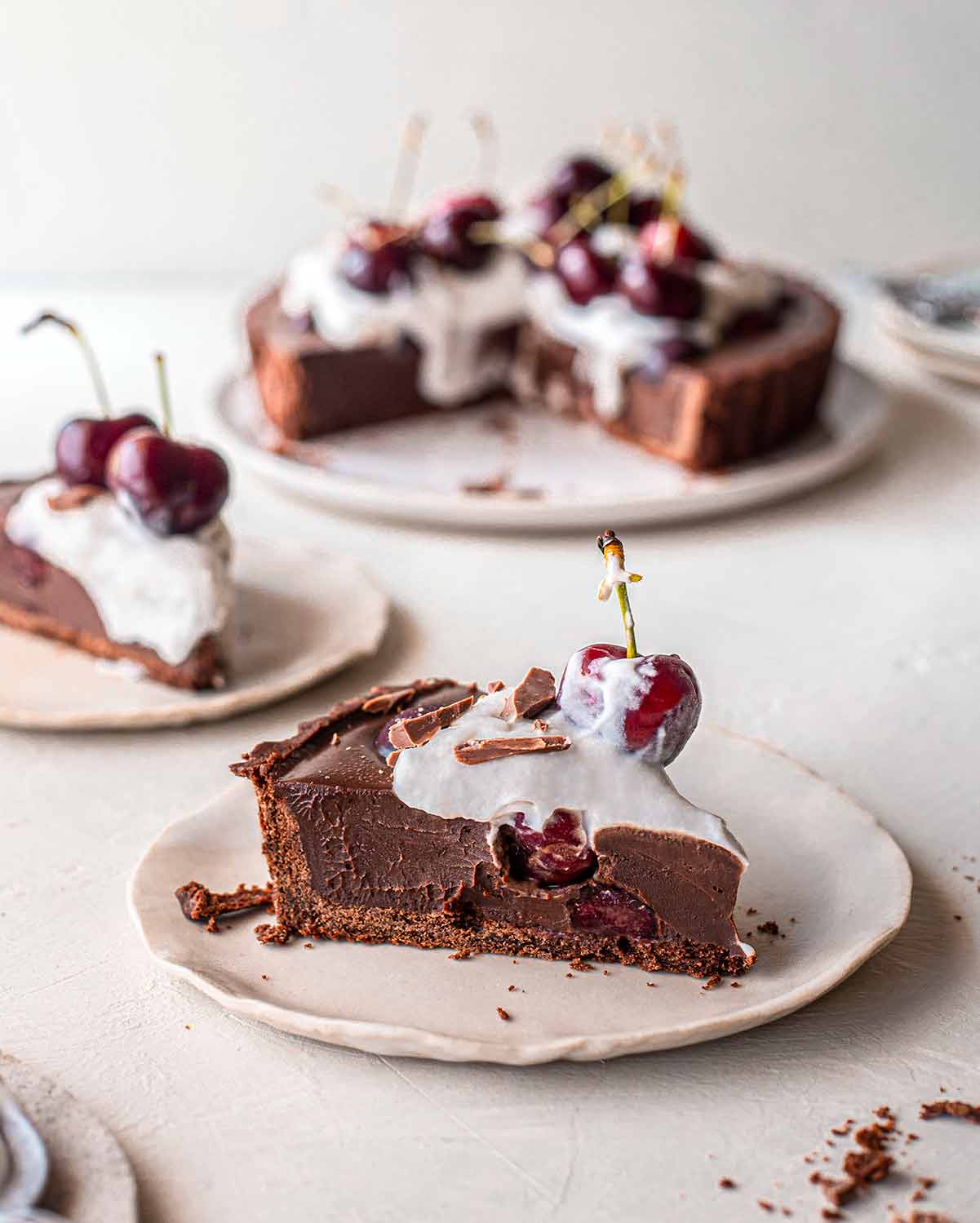 Need more chocolate?! Check out my other vegan desserts!
Follow Rainbow Nourishments on Instagram, Facebook, and Pinterest, and subscribe via email to receive all of our latest recipes!
Print Recipe
Vegan Black Forest Tart
Vegan black forest tart which is quick and easy to make with only 7 ingredients. It's decadent and will impress all your family and friends!
Ingredients
Chocolate shortcrust pastry
Chocolate ganache
1 ¾

cups (300 g)

roughly chopped vegan chocolate

,

semi sweetened and finely chopped

¾

cup (180g)

thick scoopable canned coconut cream

Additional sweetener

,

to taste if desired

Pinch of

any good quality salt
Extras
2

cups (300g)

fresh cherries

,

1 cup pitted, 1 cup whole

1

cup (240g)

thick scoopable canned coconut cream
Instructions
To make the base:
Preheat the oven to 180°C (350°F or gas mark 4). Line the bottom of an 20 cm (8 inch) loose-bottom tart tin.

Add all the base ingredients to a medium size bowl or food processor. If the mixture is too crumbly, add some extra water and mix until it becomes a pliable dough. If the mixture is too wet, add a little more flour and mix again.

On a floured surface, roll out the pastry into a thin 25 cm (10 inch) circle. Transfer the pastry to the tart tin and press it against the base and sides to form a crust. Trim off the excess. If there are any holes, patch it up with the remaining pastry.

Bake the crust for 15 to 20 minutes, or until the pastry is dry to the touch (note 2). Allow the pastry to cool in the tart tin.
To make the ganache:
Add the chocolate and coconut cream to a small or medium saucepan over medium heat. Stir and mix until the majority of the chocolate has melted. Remove the saucepan from the heat and set aside until all of the chocolate has melted.
To assemble the tart
Arrange a handful of pitted cherries on the base of the pastry. Pour over all the melted chocolate ganache. Press some of the remaining pitted cherries in the surface of the tart. Allow the tart to set in the fridge for at least 4 hours or until set.

Scoop out only the thick part of the coconut cream and place it in a bowl or stand mixer. Whisk on high for 5 minutes or until the cream is light and fluffy.

Top the tart with the whipped coconut cream and remaining whole cherries.

Serve immediately or store the tart in the fridge until needed. The tart can be kept in an airtight container in the fridge for up to 3 days.
Notes
For a gluten free chocolate shortcrust, use ¾ cup (75g) almond flour / blanched almond meal and ½ cup (80g) gluten free all-purpose flour. Or use a high quality 1:1 gluten free flour such as Bob Red Mills.
If your pastry has puffed up after baking, gently press it back down with the back of a spoon. Alternatively, feel free to blind bake the crust.
Nutrition
Serving:
1
serve with coconut cream topping
|
Calories:
454
kcal
|
Carbohydrates:
39
g
|
Protein:
6
g
|
Fat:
35
g
|
Sodium:
76
mg
|
Potassium:
271
mg
|
Fiber:
6
g
|
Sugar:
17
g
|
Vitamin A:
439
IU
|
Vitamin C:
3
mg
|
Calcium:
19
mg
|
Iron:
2
mg
Please leave a comment below if you made this recipe, have any questions or thoughts! Your comment will help other readers and Rainbow Nourishments.