Vegan white chocolate cranberry cookies that have crispy edges and a soft chewy center. Bake them in December or any time of the year, just like my vegan oatmeal cookies!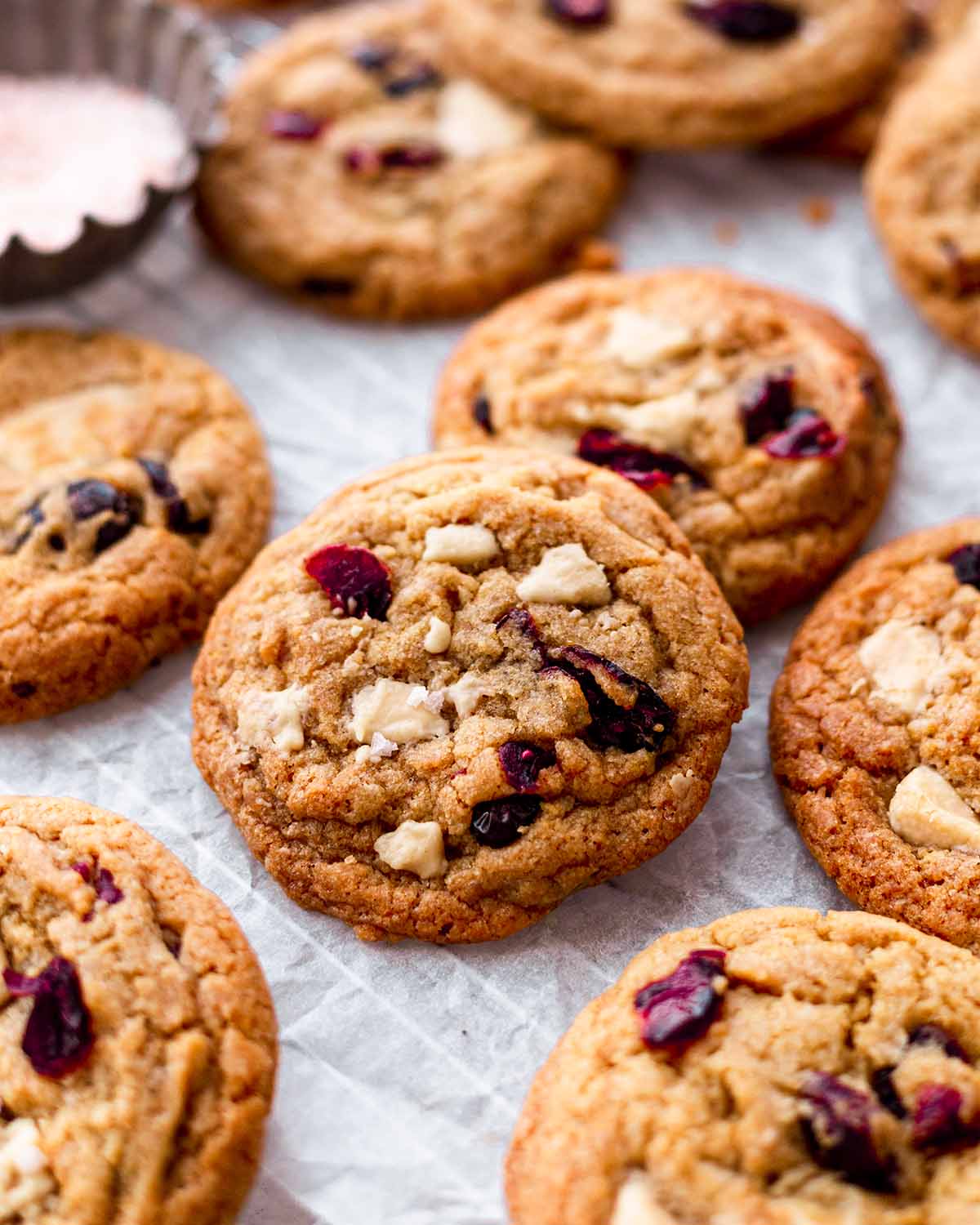 Why you'll love these cookies
DIFFICULTY: You'll need only 7 ingredients and one bowl to prepare these cookies!
VERSATILE: For soft and chewy cookies, bake these cookies for less time. For crispy and chewy cookies, bake these cookies for a little longer.
ALLERGY-FRIENDLY: These cookies are naturally eggless and can be made refined sugar-free!
Alternatively, check out my cranberry pistachio cookies!
Ingredients you'll need
Notes about the ingredients
Brown sugar gives these cookies a deep but subtle caramel flavor and makes them chewy. Granulated sugar will work but it lacks some flavor and oomph.
Vegan butter, the block type if possible. A soft vegan butter spread and coconut oil will work but with a few adjustments (see the FAQ section at the bottom of this post).
Dairy-free white chocolate, either chips or roughly chopped.
Dried cranberries for a little festive cheer. I didn't include tooo many because they can be cookies overly sweet. However, there are enough so you can taste them!
Baking soda helps the cookies spread and gives them a crispier edge. This is compared to cookies made with baking powder as shown by Handle the Heat.
The full list of ingredient quantities and instructions are in the gray recipe card at the bottom of this post.
How to prepare the vegan cranberry white chocolate cookies
The cookie dough can be made with a spatula, hand mixer or even a stand mixer! I prefer a hand mixer to minimize dishwashing and it's easier but it's up to you :).
First, we need to mix the butter and sugar in a large mixing bowl until well combined. This helps dissolve the sugar and makes sure that the butter is evenly incorporated. I once skipped this step and it resulted in very oily cookies!
Next, add your flour, milk and baking soda then mix until just combined. Be careful to not mix it too much as we'll need to mix it more later. The mixture should look like regular cookie dough which can be pinched between two fingers without crumbling.
If your dough is a little too dry, simply add a dash of milk and mix. Or if your dough is a little too wet, add a sprinkling of flour and mix again.
Finally, add all of your cranberries and white chocolate and mix until combined! At this stage, the dough can be chilled for a few hours to a few days if you want to bake them later. However, the dough can be baked immediately!
Baking the cookies
I recommend using a small or large cookie scoop to portion the cookie dough. It's easier and provides consistently sized cookies!
On your cookie sheet, leave some space between the cookies as they WILL spread! I needed 2-3 cookie sheets and could fit around 8 cookies on each.
How to tell when the cookies are ready
The white chocolate cranberry cookies are ready when their edges are slightly golden brown which will take around 13-15 minutes. I like very crispy/chewy cookies so I baked my cookies for 15+ minutes.
However, the baking time will depend on:
the size of your cookies
whether you bake all the cookies at the same time
how your oven works and whether it runs hot/cold
whether you're baking them after chilling the dough
After baking the cookies, allow them to completely cool on the tray and enjoy!
Expert Tips + Customizations
Will these vegan white chocolate cranberry cookies work with gluten-free flour?
I haven't tested these with gluten-free flour so can't vouch for the results. However, readers have successfully made similar cookie recipes using 1:1 gluten-free flour blends by King Arthur and Bob Red Mills.
Can I reduce the sugar in these cookies?
Yes, I've tried reducing the sugar by 15% and they worked. However, when reducing the sugar in a cookie recipe, your cookies will be drier, cakier and won't spread as much. You can see the difference in this post by King Arthur Baking.

Alternatively, using coconut sugar instead of brown sugar will make the cookies taste less sweet!
Can I use solid coconut oil instead of butter?
I haven't tried it myself for this recipe but it should work. I'd recommend using the coconut oil while it's solid or slightly softened and adding a generous pinch of salt to mimic the buttery flavor. Coconut oil melts at a lower temperature than butter so I'd recommend chilling your dough before you bake them. Cookies made with coconut oil will change the depth of flavor of the final result.
Can I use a soft vegan butter spread?
It should work with a few adjustments. First, omit the milk and if your final cookie dough is sticky, add 1 tablespoon of flour at a time until it reaches a cookie dough consistency. Your cookies may spread more when you bake them.
Can I replace the cranberries and white chocolate in these cookies with something else?
Yes! You can use dairy-free milk chocolate, pecans, walnuts, macadamia nuts or other dried fruit.
More vegan cookies
Follow Rainbow Nourishments on Instagram, Facebook, TikTok and Pinterest, and subscribe via email to receive all of our latest recipes!
Print Recipe
Vegan White Chocolate Cranberry Cookies
Vegan white chocolate cranberry cookies that have crunchy edges and a chewy soft center. Bake them in December or any time of the year!
Instructions
Add the sugar and butter and to a large mixing bowl. Mix well and until there are no chunks of butter. Add the milk and vanilla extract and mix until combined

Add the flour and baking soda and mix until just combined. Add the white chocolate and cranberries and mix through. The dough should be thick but not crumbly and shouldn't stick to the side of the bowl. If it's too wet, add a little more flour and mix through. If it's too dry, add a little milk and mix through.

Preheat the oven to 180°C (350°F) (note 2).

Use a small ice cream scoop to divide the dough into around 25 cookie dough balls. Arrange the cookie dough balls on several lined baking trays with about 5 cm (2 inches) between each one.

Bake in the oven for around 13-15 minutes or until the cookies are slightly golden brown. Bake them shorter for softer cookies or longer for chewier cookies. When you take them out of the oven, they will continue baking!

Enjoy the cookies warm or store in an airtight container at room temperature or in the fridge for up to 3 days!
Notes
This recipe will work with a soft vegan buttery spread. If you use this, I recommend omitting the milk and adding more flour at the end, if needed. Coconut oil may also work but I recommend adding a little more salt, to taste.
I haven't tested this recipe with gluten-free flour. However, readers have successfully made similar recipes with 1:1 gluten-free flours, such as by King Arthur Flour or Bob Red Mills.
Alternatively, you can shape then chill or freeze the cookie dough and bake it when you need... it's perfect for those afternoon or midnight cravings!
Nutrition
Serving:
1
cookie
|
Calories:
166
kcal
|
Carbohydrates:
27
g
|
Protein:
2
g
|
Fat:
6
g
|
Cholesterol:
1
mg
|
Sodium:
93
mg
|
Potassium:
35
mg
|
Fiber:
1
g
|
Sugar:
14
g
|
Vitamin A:
231
IU
|
Vitamin C:
1
mg
|
Calcium:
19
mg
|
Iron:
1
mg
This post may contain affiliate links. As an Amazon Associate, I may earn a small commission from qualifying purchases at no additional cost to you.