These buttery vegan almond cookies are easy to make and come together in one bowl! They have a crunchy almond exterior, chewy edges, and a soft tender center.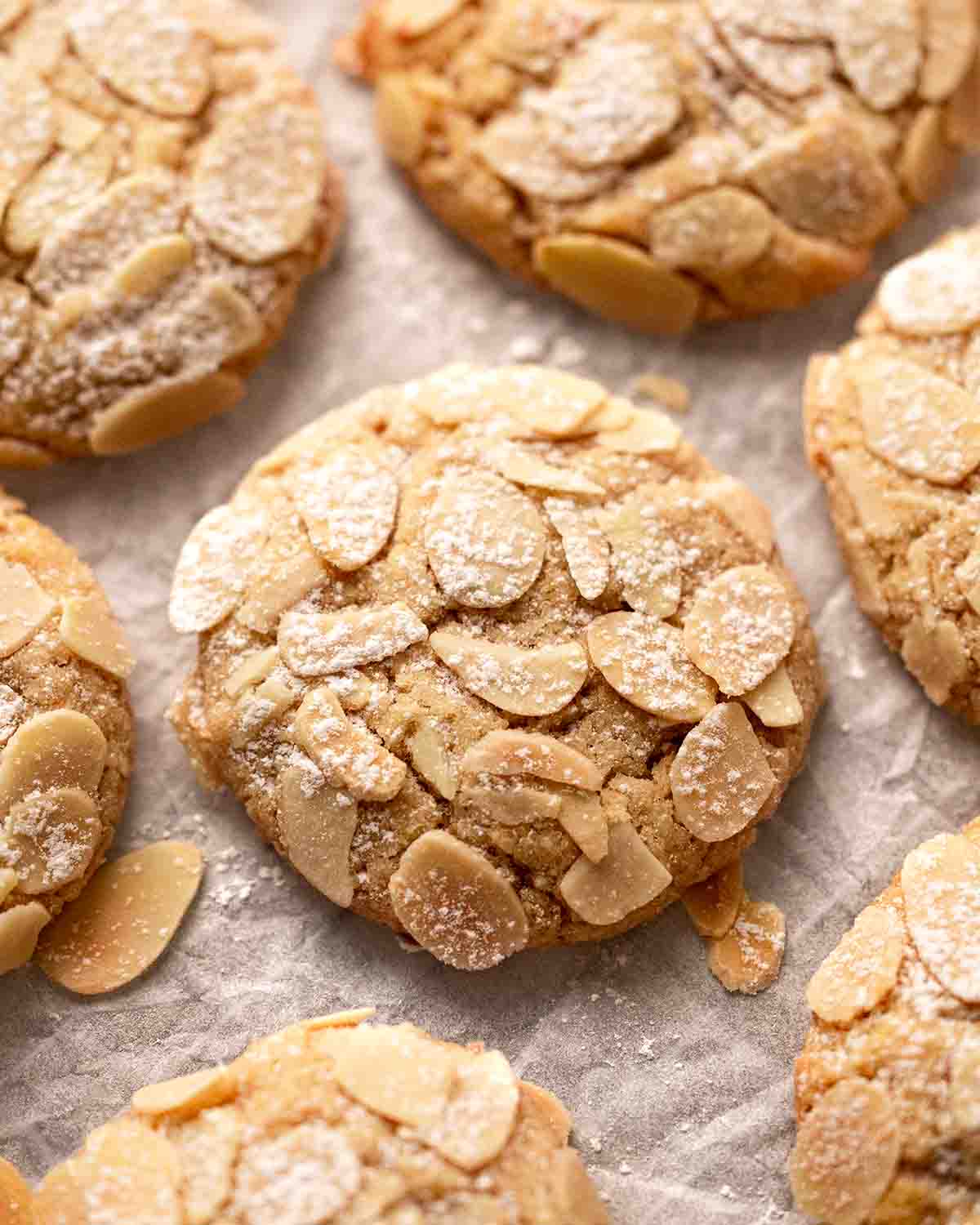 Why you'll love these cookies
OCCASION: Perfect for any time of the year or the holiday season, just like my vegan almond cake.
TASTE/TEXTURE: Buttery, less sweet and chewier than traditional Italian almond cookies. These cookies are thick, use THREE types of almonds and have a lot of texture.
DIFFICULTY: Easy to make and perfect for baking beginners!
Simple ingredients you'll need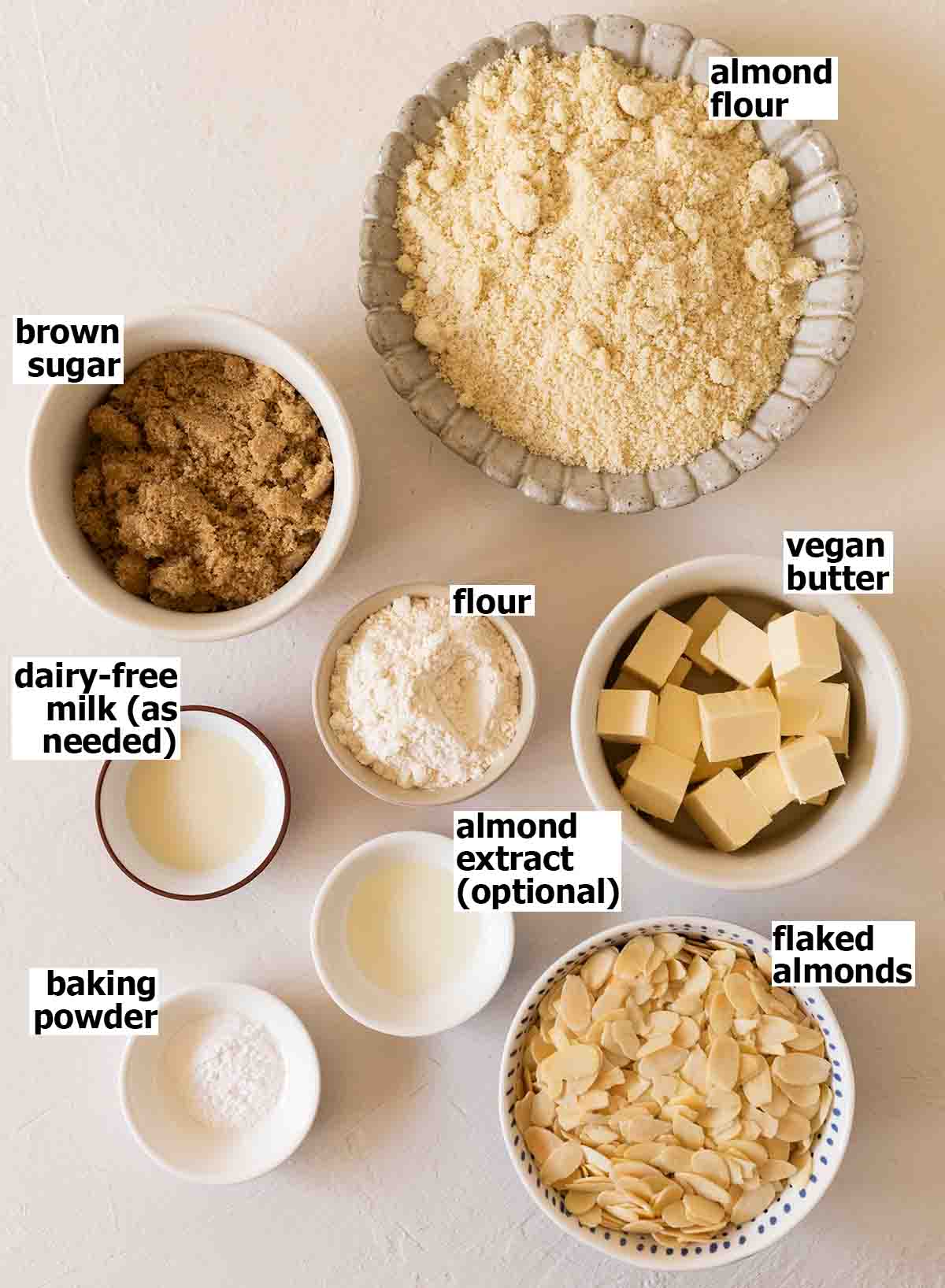 A complete list of ingredients, quantities and instructions are in the gray recipe card at the bottom of this post.
Ingredient notes
Almond flour (or blanched almond meal in UK/Australia) which is basically finely ground almonds. You can make your own almond flour from scratch, as long as you process the almonds finely!
All-purpose flour to stabilize the almond flour. I found that cookies made with only almond flour rarely stayed puffed and thick after baking.
Brown sugar for depth of flavor. You can substitute this with granulated sugar for lighter-colored cookies that are a little plainer. Coconut sugar will also work and make the cookies caramelly and darker in color.
Almond extract (optional) for extra flavor. If you don't like the taste of almond extract or can't access it, you can simply omit it or use your extract of choice.
Even though these vegan almond flour cookies have no egg, you don't need any special egg replacers such as aquafaba or flax eggs!
Making the vegan almond cookies
First, we're beating the wet ingredients (butter, sugar, milk, vanilla, and almond extract) in a medium bowl. This step helps aerate the cookies! I recommend using a hand beater but you can still use a whisk with some arm power.
Then add the dry ingredients (two flours and baking powder) and mix until combined. The final cookie dough should be a little tacky and soft. It'll be stickier than regular cookie dough. If you dampen your hands, the dough shouldn't stick too much to your fingers.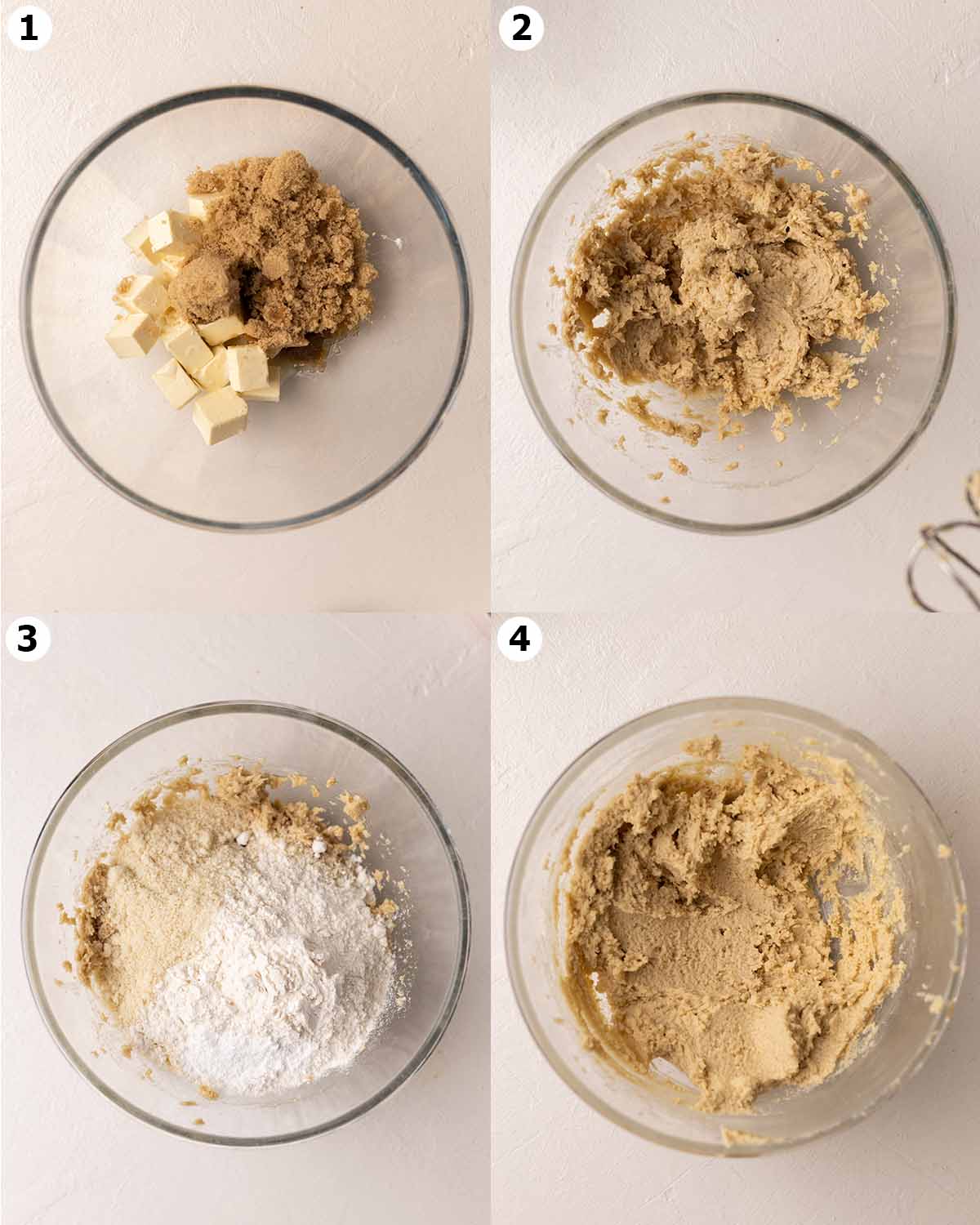 Assembling the cookies
I recommend using a cookie scoop or spoon to divide the almond cookie dough. Then slightly dampen your hands to roll the dough into balls.
The dough is tacky so the almonds will easily stick to their surface.
For soft cookies, bake them for around 12 minutes in your preheated oven. For crunchy cookies, bake them for 15-17 minutes.
When the almond cookies are hot from the oven, they are very delicate so I suggest letting them cool on the baking sheets placed on a wire rack. When cooled, store them in an airtight container.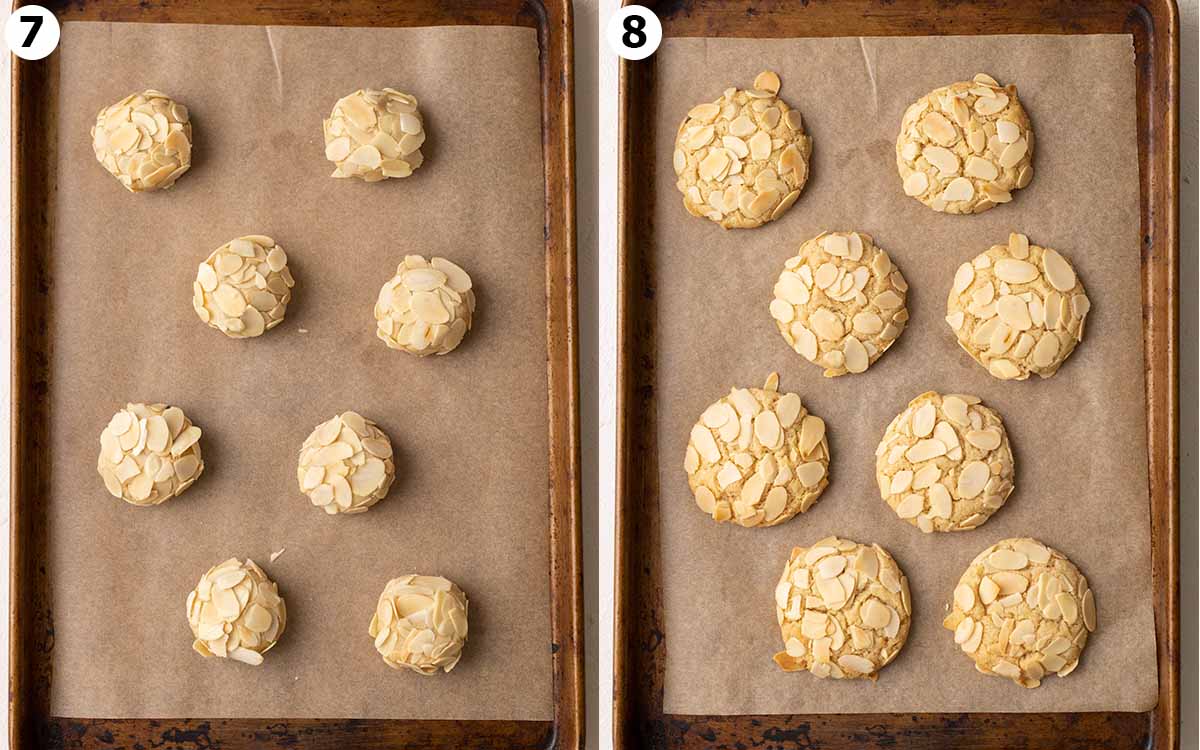 Customizing the almond cookies
Can I make these cookies gluten-free, refined sugar-free or without oil?
Yes, check out the recipe card at the bottom of this post to make the cookies gluten-free and refined sugar-free.

I've tried making these cookies without oil and they were a bit dry and lacked flavor. Alternatively, I recommend making my 3-ingredient almond flour shortbread cookies which work wonderfully without oil (and use maple syrup)!
Can I add any other ingredients to the vegan almond cookies?
Yes! The options are endless but some ideas are:
- vegan chocolate chips
- other extracts such as lemon, orange or even rose extract
- skip the flaked almond coating and dust the cookies with only powdered sugar or flaked sea salt
- for chocolate almond cookies, check out my gluten-free triple chocolate cookies.
Can I make these cookies extra chewy?
Yes, increase the brown sugar to ¾ cup (150g) for thin, crispy and chewy almond cookies!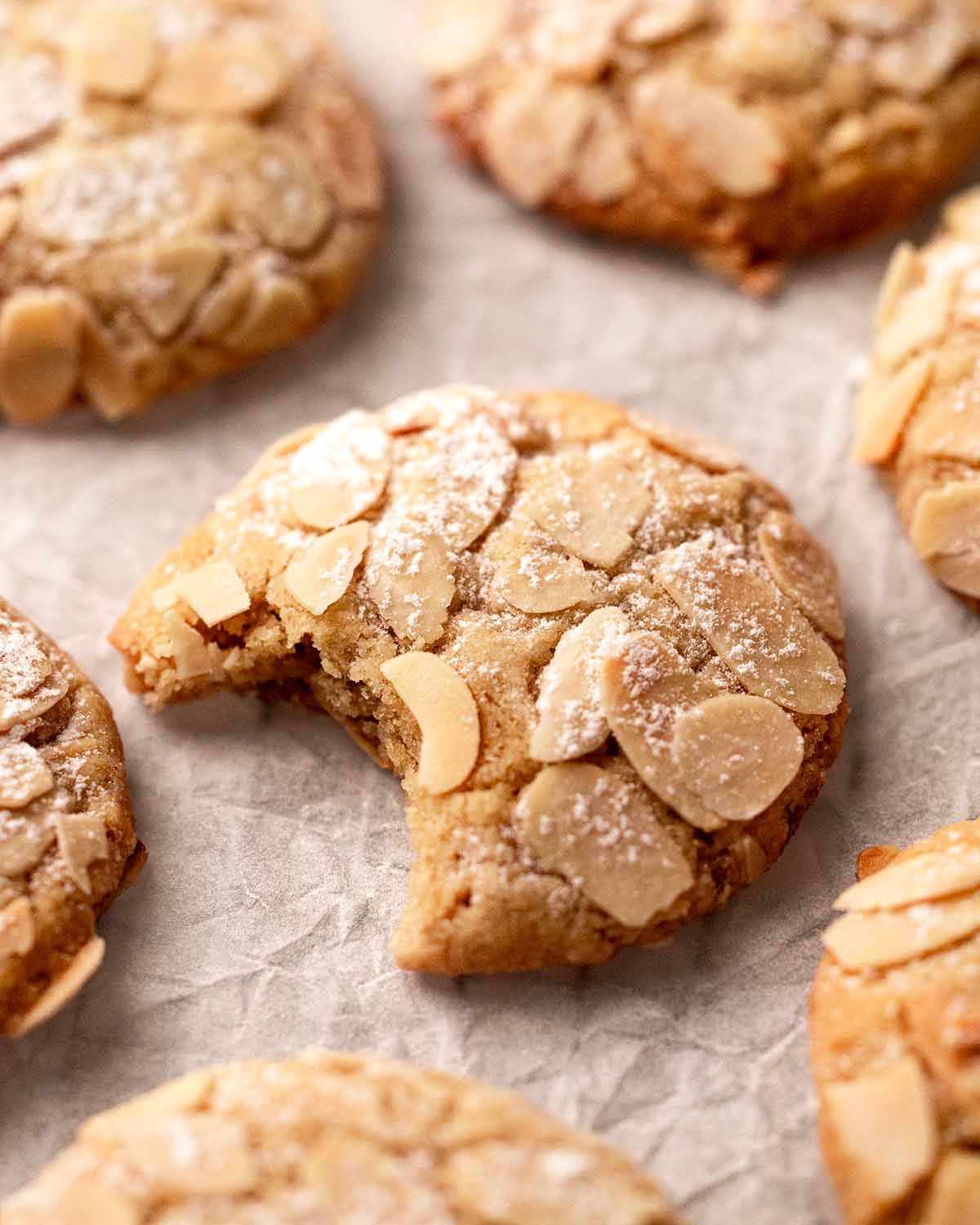 Tips for the best results
Use a kitchen scale to weigh your ingredients. It's tricky to accurately measure almond flour (or any flour) using cups! Too little or too much flour will change the texture of your vegan almond cookies.
For evenly sized cookies, bake the cookies only on the middle oven rack. If you have a smaller oven, you might bake only one baking tray at a time.
More easy vegan cookie recipes
Follow Rainbow Nourishments on Instagram, Facebook, TikTok and Pinterest, and subscribe via email to receive all of our latest recipes!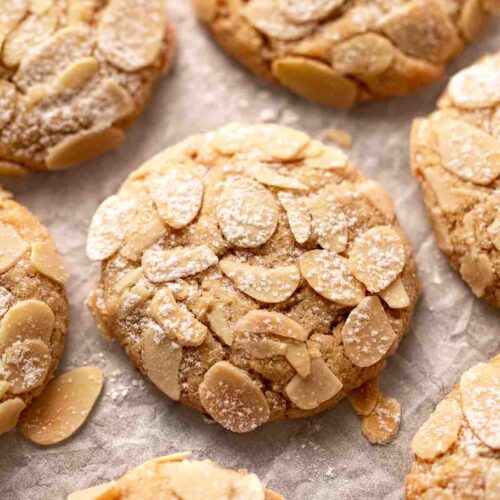 Print Recipe
Vegan Almond Cookies
These buttery vegan almond cookies are easy to make and come together in one bowl! They have a crunchy exterior, chewy edges, and a soft tender center.
Ingredients
Coating
¾

cup (65g)

sliced almonds
Instructions
Preheat your oven to 180°C (350°F). Line 2 baking trays with parchment paper.
Make the vegan almond cookies:
Tip: For the best results, I recommend using a kitchen scale to weigh your ingredients.

Add the butter, sugar, milk, vanilla and almond extract to a medium bowl. Use a hand mixer or wooden spoon to mix until light and fluffy.

Add the almond flour, all-purpose flour and baking powder and mix until just combined. The cookie dough should be soft and tacky but not too sticky. If you pinch the dough with damp hands, it shouldn't be too sticky.
Assembling the cookies:
Place the sliced almonds in a small flat bowl.

Use a small ice cream scoop or a spoon to divide the dough into around 16 balls. Using clean but damp hands, roll and coat each cookie dough ball in the almonds.

Arrange the cookie dough balls on your lined baking trays spaced about 5 cm (2 inches) apart. Slightly flatten each ball with your fingers.
Baking the cookies:
Bake the cookies for around 12-14 minutes or until the edges are slightly golden brown. For softer cookies, bake them for less time. For crunchier cookies, bake them for longer.

Allow the cookies to cool on their baking trays for 10-15 minutes. They'll be very soft when they're hot from the oven but will firm up. Transfer the cookies to a cooling rack. Enjoy the cookies warm or at room temperature.

Store leftover cookies in an air-tight container at room temperature for up to 1 week, in the fridge for up to 2 weeks or in the freezer for up to 2 months.
Notes
For refined sugar-free cookies, I recommend coconut sugar, although they'll make the cookies darker in color. For almond cookies sweetened with maple syrup, check out my 3-ingredient almond flour shortbread.
These cookies will work with chilled spreadable vegan butter or softened coconut oil. If using spreadable butter, I'd recommend omitting the milk and adding more flour if necessary. Your dough may be a little softer and will spread more. If using coconut oil, I recommend salt, to taste.
These cookies work with Bob Red Mills 1:1 flour, gluten-free all-purpose flour and rice flour (use the grams measurement). The cookies will be thinner and chewier. I don't recommend potato starch.
Nutrition
Serving:
1
cookie with almond coating
|
Calories:
220
kcal
|
Carbohydrates:
15
g
|
Protein:
6
g
|
Fat:
17
g
|
Sodium:
63
mg
|
Potassium:
124
mg
|
Fiber:
3
g
|
Sugar:
7
g
|
Vitamin A:
275
IU
|
Calcium:
74
mg
|
Iron:
1
mg
This post may contain affiliate links. As an Amazon Associate, I may earn a small commission from qualifying purchases at no additional cost to you.