Easy vegan tiramisu using only 5 key ingredients, no cashews, no vegan cream cheese or added coconut oil! It takes only 20 minutes to prepare and is as creamy and delicious as the classic Italian dessert!
Unlike other vegan tiramisu recipes, you don't need to make lady fingers or sponge fingers for this recipe. And you don't need to soak any nuts or cashews for the cream! This recipe is naturally eggless, can be made gluten free and refined sugar free.
Video: How to make vegan tiramisu step by step
Ingredients you'll need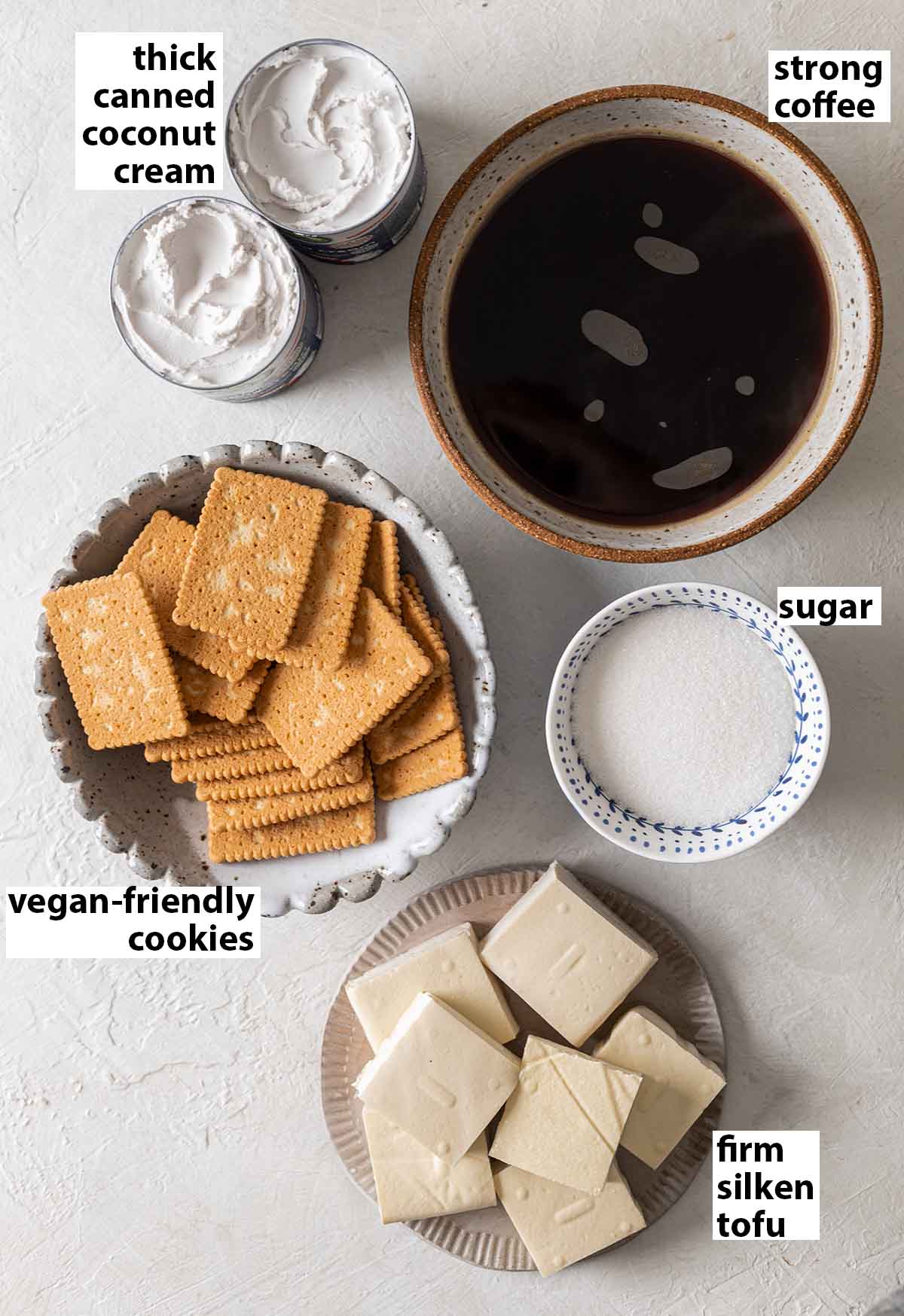 Notes about the ingredients
Vegan-friendly cookies (sweet and plain). Store-bought lady sponge fingers are not vegan as they usually have eggs! Cookies are an excellent substitute especially if you're short on time yet still want a delicious tiramisu :).
Interestingly, graham crackers or even crispbread will work (which you can see in my Instagram video)! If you use either of these, I'd recommend adding a little more sugar to your coffee because it's a dessert after all. If you'd like to make ladyfingers from scratch, try Addicted to Dates' vegan ladyfingers recipe!
Thick canned coconut cream (not coconut milk). The natural coconut oil in the coconut cream makes the mascarpone thick and CREAMY.
I'd recommend buying several cans of full fat coconut cream or Nature's Charm coconut whipping cream for this recipe. I haven't tested this recipe with other types of vegan whipped cream.
Firm silken tofu which is basically halfway between extra firm tofu and extra soft silken tofu. When blended, this adds a silky richness to the coconut cream and minimises any coconut flavour.
Optional add-ins include
Lemon or apple cider vinegar for the vegan mascarpone to give it a tang similar to the real deal.
Vanilla and salt to add flavour to the vegan mascarpone.
Alcohol such as rum to add to the coffee.
Cocoa powder, to decorate
A complete list of ingredients, quantities and instructions are in the grey recipe card at the bottom of this post.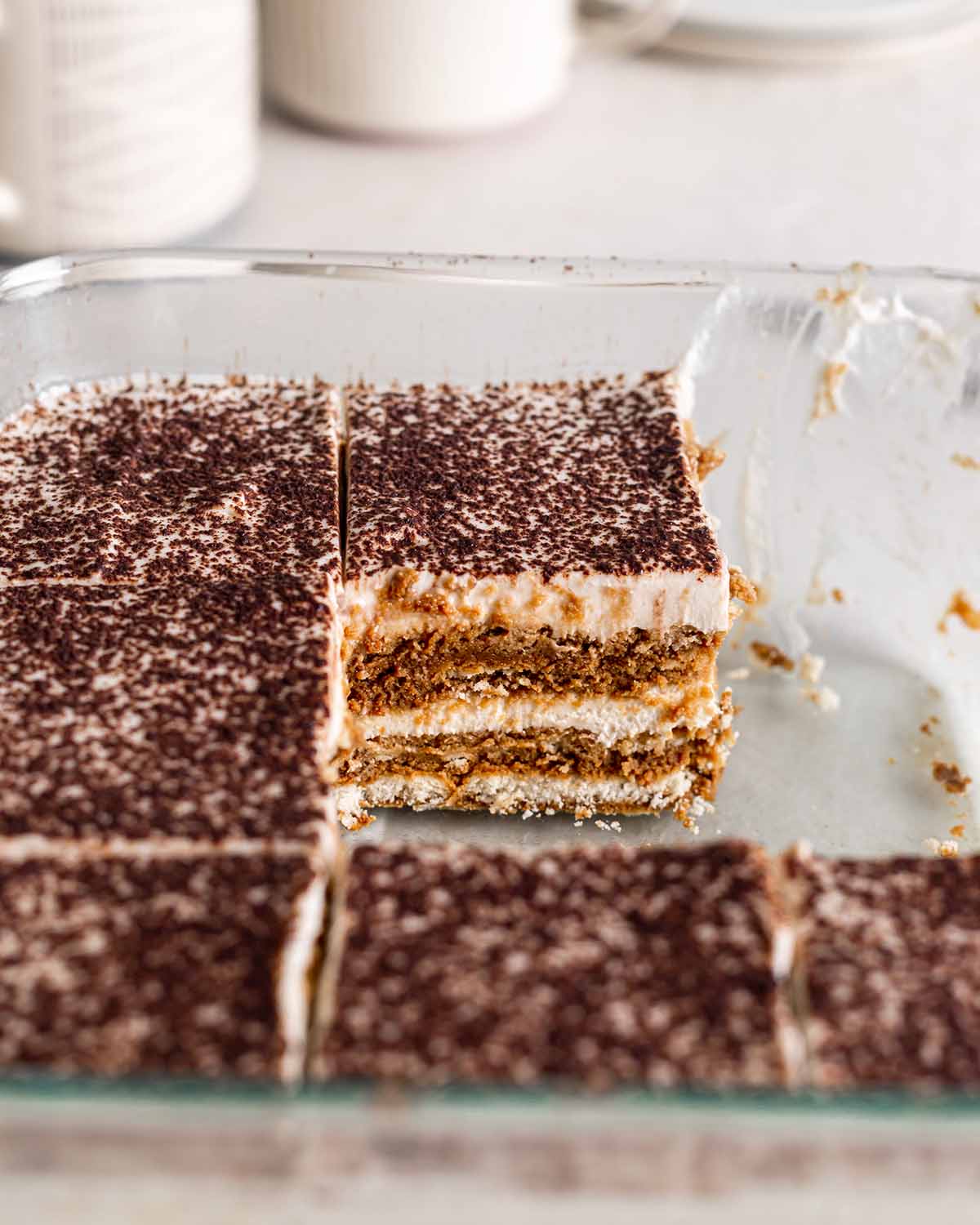 Preparing the easy vegan mascarpone
The easiest way to make the mascarpone is in a food processor or high-powered blender. All you need to do is:
Add the tofu, sugar and optional flavourings to your appliance and blend until SMOOTH. Just make sure there are no bits of tofu.
Add your canned coconut cream and blend for 1 minute until well combined. You're done!
I've tried blending all the ingredients at once, however, the tofu takes longer to break down than the coconut cream. The overmixing can cause the mascarpone to split. So, making the mixture in two steps is the best way!
Eventually, you'll end up with a dreamy thick cream. If you over-blended or you're in a warm climate, your mixture may be a little runny. But don't worry, it will thicken when chilled.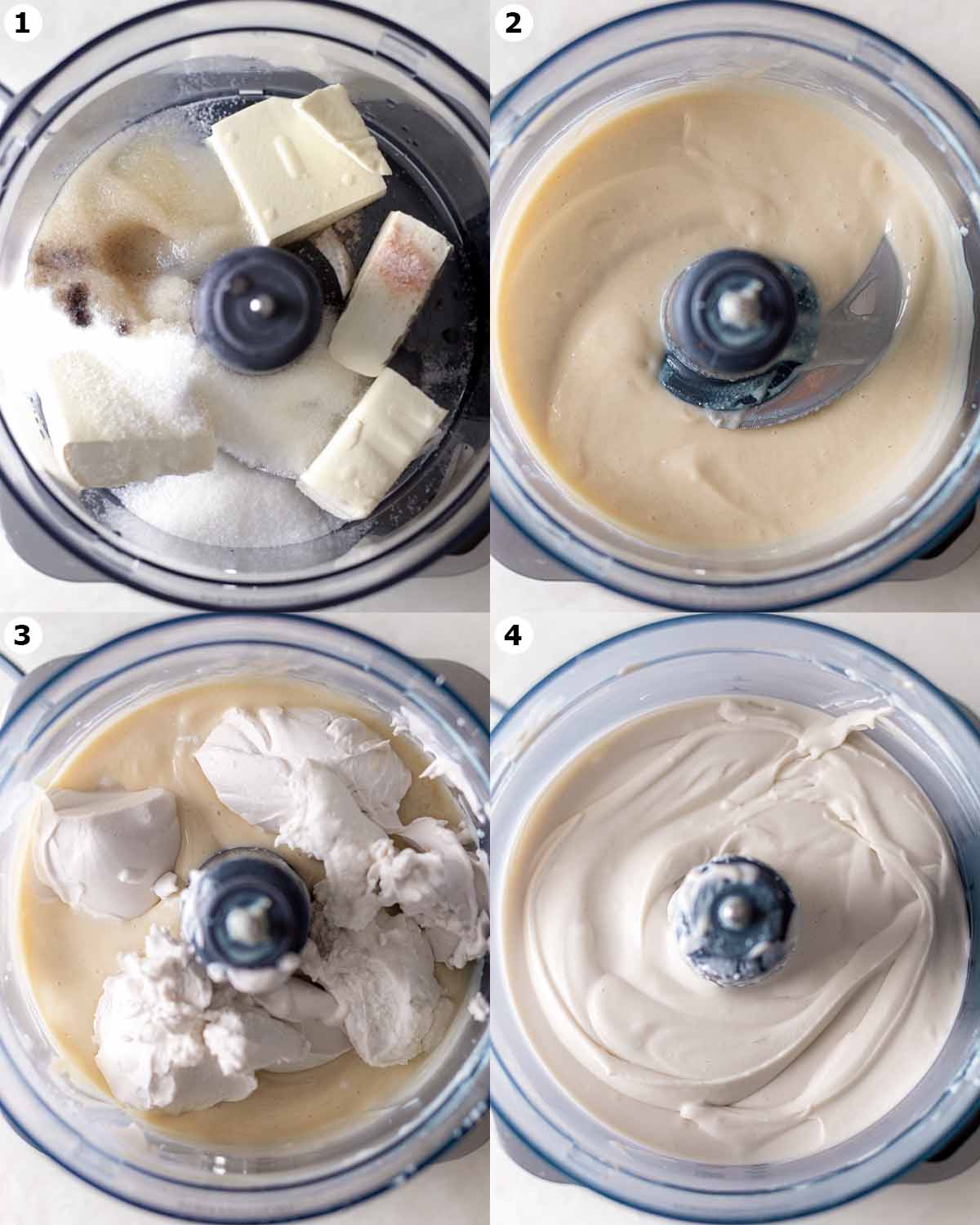 Dipping the cookies in the coffee
I'd recommend dipping the cookies only one by one for around 2-3 seconds each. This will depend on the thickness and density of your cookies.
Like any tiramisu, dipping them for too quickly will mean your plant-based tiramisu will barely taste like coffee. However, dipping them for too long will mean your cookies will disintegrate right in front of you (not to sound dramatic or anything haha).
That's why it's important to dip the cookies one by one!
TIP: Alternatively, you can arrange the cookies in your baking tray then brush/pour over your coffee. This is great for the smaller cookies which you may break to fill in the gaps. However, just make sure you brush/pour on enough coffee so the bottom of the cookies are soaked!
I poured a little too much coffee on my top layer but I loved the extra flavour! 🙂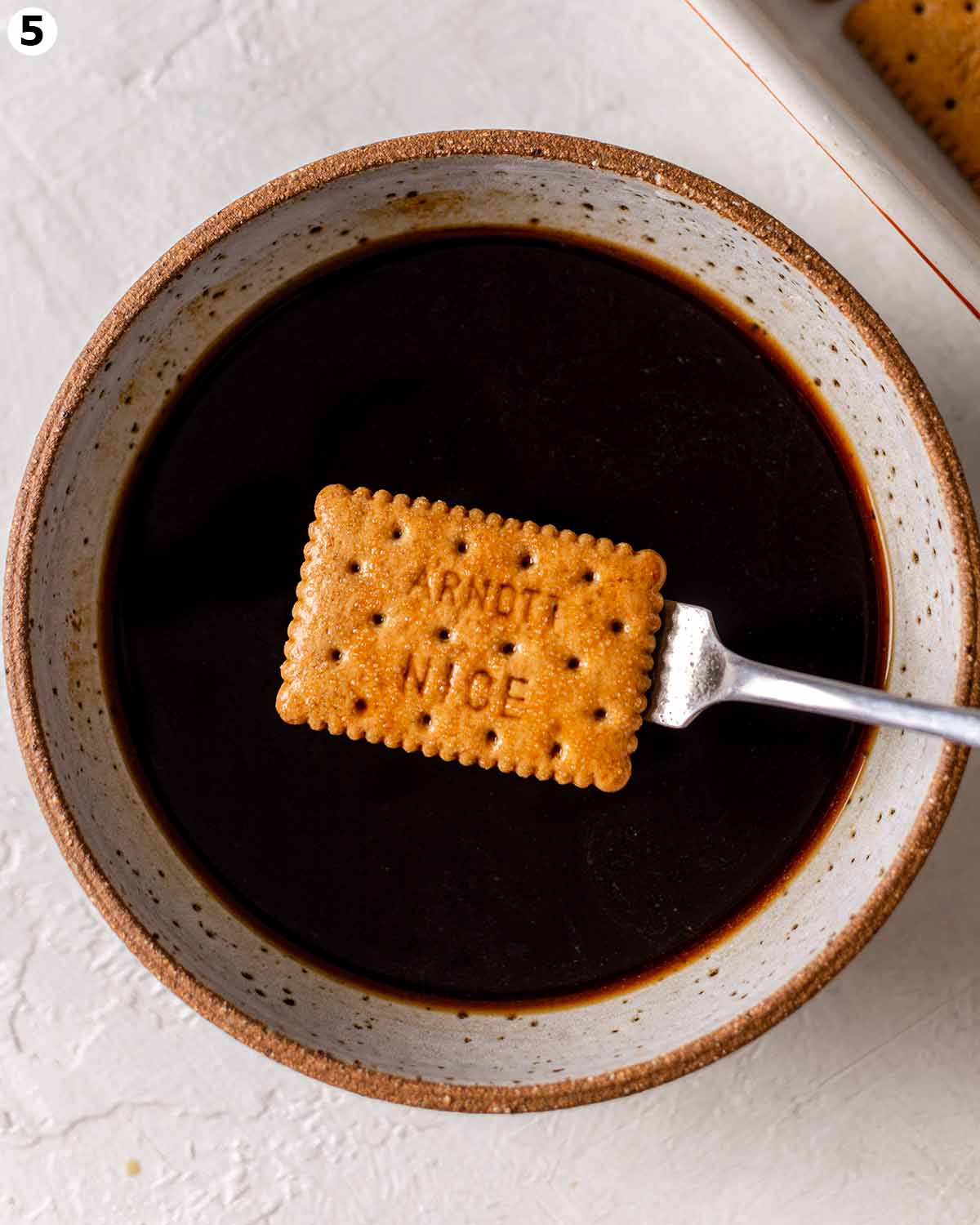 Assembling the vegan tiramisu
The easiest way to assemble this vegan tiramisu is:
Dip cookies one by one into coffee and arrange in baking dish. Stack 2 layers of cookies on top of each other.
Spread half of the mascarpone on top.
REPEAT the cookie and mascarpone one more
Alternatively, since we're using thin cookies rather than lady fingers, you have the option of creating 3 layers of cookies and mascarpone. So that would be:
One layer of cookies. one layer of mascarpone.
REPEAT
REPEAT
TIP: Alternate the direction of your cookies so one layer is vertical and the other is horizontal. This creates a more sturdy vegan tiramisu!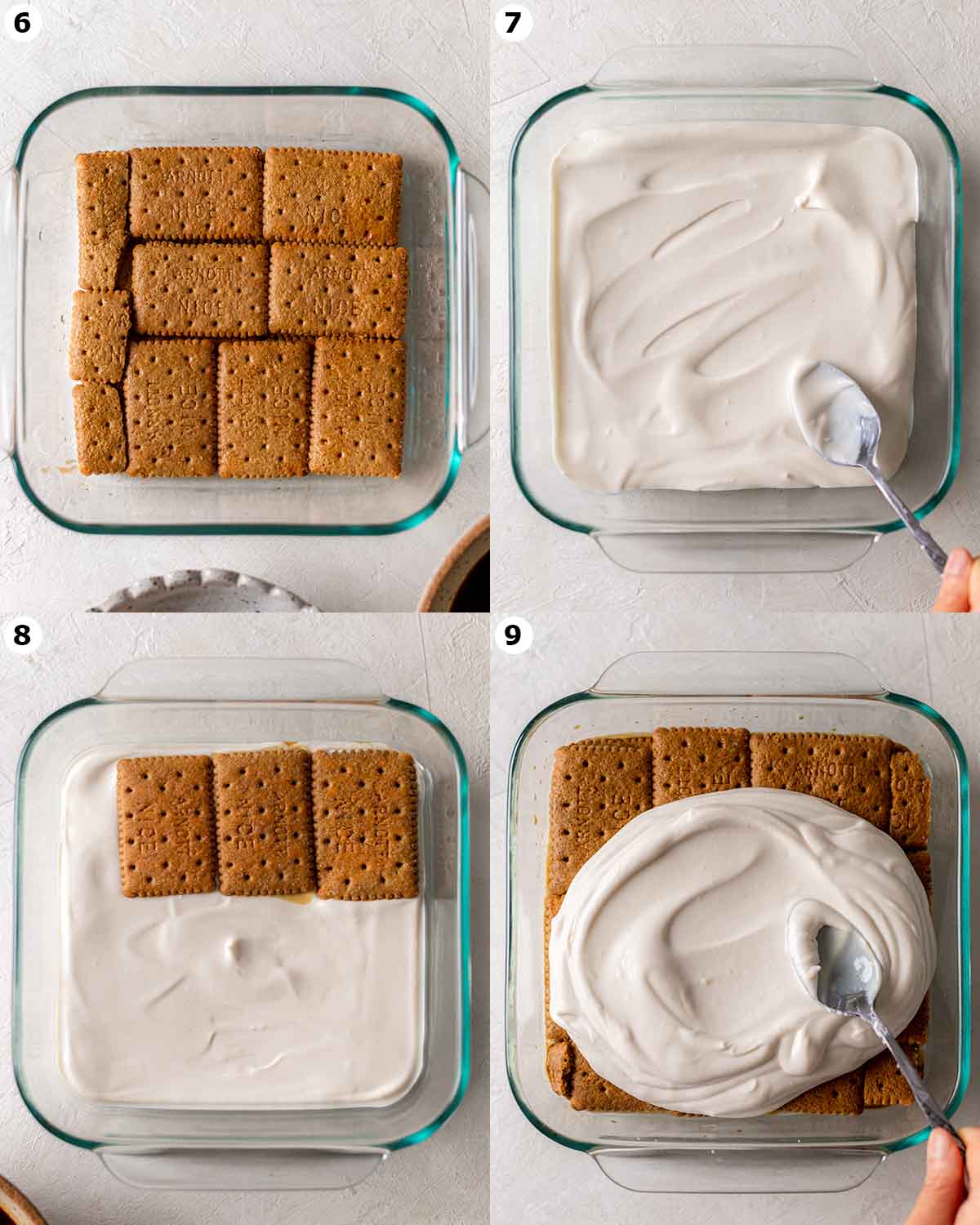 Time to chill
Once you've created all your layers, cover the vegan tiramisu and chill. I mean, chill the tiramisu AND you can chill out. You've worked hard and don't need to do much else!
This coffee dessert is best chilled overnight. That saves you prep/energy on the day of your celebration (and feasting).
I'd recommend dusting cocoa on top right before serving as its apperance can change a little over time.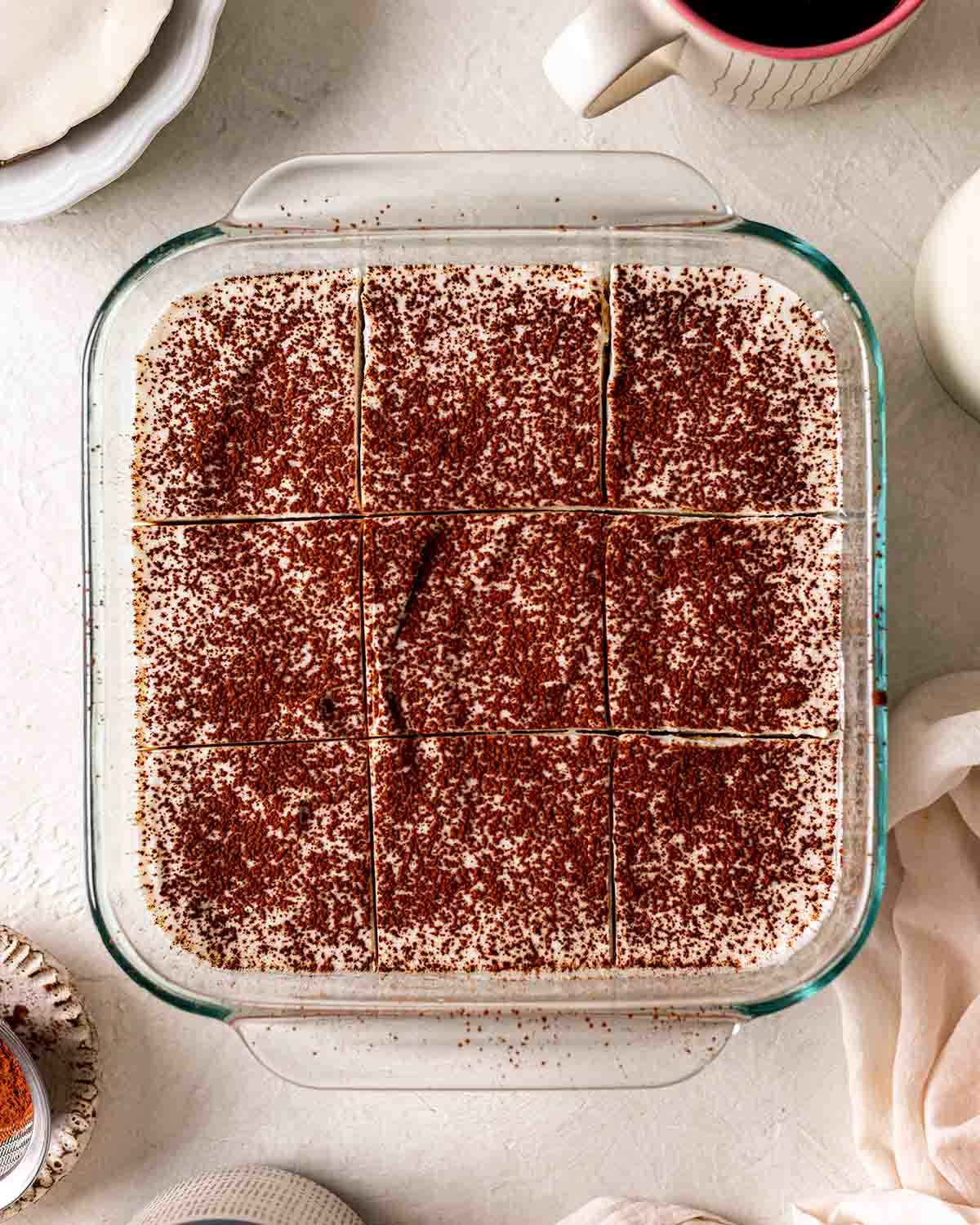 Tips for serving the tiramisu
The tiramisu makes 9 very generous slices (pictured) which are probably too much for one person after a main meal or 12 smaller slices.
I'd happily eat many desserts straight from their pan. However, if you need to a presentable dessert (i.e. Christmas, Thanksgiving), here are a few tips:
Serve the tiramisu CHILLED. This mascarpone is more study when cold.

If you're serving the tiramisu straight from the baking pan, the first slice will almost always be messy. But it creates more room for you to remove slices easily and neatly afterwards!
Use a spatula/serving tool which is as big as your individual serving slices. A large metal spatula will create much neater slices than a pie server!
Make the tiramisu in a cake tin (with a removable bottom). This tiramisu will hold shape for 30-60 minutes at room temperature if you need to unmold it. Or make/serve the tiramisu in individual clear glasses.
Questions and Answers
My mascarpone has split. Can I do anything?
The mascarpone only splits if you overmix the coconut cream. Luckily, you can save it! If you're using a high powered blender, simply blend it for another 5 minutes. This will warm up the mixture and everything will emulsify again.

If you used a food processor, gently melt the mascarpone in a saucepan until it's emulsified again. Allow to cool slightly then use in your tiramisu (you don't need to blend it again).
Can I make this vegan tiramisu sugar free?
Yes, simply use sugar-free cookies and use maple syrup in the mascarpone. The maple syrup makes the mascarpone more liquidy so I've included adjusted ingredient ratios in the recipe card below.
Can I use a electric hand mixer to make the mascarpone cream?
I'm not sure it'd work. I personally haven't had luck using a hand mixer to blend tofu into a fine cream. If yours can, great!
Can I replace tofu with vegan cream cheese?
That should work, though your mascarpone may be a little thicker.
More coffee and chocolate recipes
Follow Rainbow Nourishments on Instagram, Facebook, and Pinterest, and subscribe via email to receive all of our latest recipes!
Print Recipe
Easy Vegan Tiramisu
Easy vegan tiramisu using only 5 core ingredients and no cream cheese! This dessert takes only 20 minutes to prepare and is as creamy and delicious as the classic!
Ingredients
Dairy-free mascarpone
300

g

firm silken tofu

,

drained

½ - ¾

cup (100-150g)

granulated sugar

,

to taste (note 1 for sugar free)

2

tablespoons

lemon juice

,

white vinegar or apple cider vinegar (optional)

1

teaspoon

vanilla extract,

(optional)

Pinch of

salt

,

(optional)

2

cups (480g)

thick scoopable canned coconut cream

,

(note 2)
Ladyfinger substitute
1

cup (240g)

very strong coffee

,

(note 3)

360

g

plain sweet vegan-friendly cookies

,

gluten free if needed (note 4)
To decorate (optional)
Instructions
To make the dairy-free mascarpone
Add the tofu, sugar and the optional flavourings to a food processor or high powered blender. Blend until the mixture is smooth and there are no chunks of tofu.

Add the coconut cream and blend for 1 minutes or until the mixture is *just* combined. Be careful to not blend it for too long otherwise the mixture may split.
To assemble the tiramisu
Set up your kitchen so you have a 8x8 inch baking dish, a bowl of coffee and your sweet cookies.

Using 1-2 forks or your fingers, dip a cookie in the coffee for 2-3 seconds then quickly transfer to the bottom of your baking dish. Repeat so you have two layers of cookies directly on top of each other (note 4).

Pour half of the dairy-free mascarpone on the soaked cookies. Smooth the surface with the back a spoon.

Repeat with the remaining cookies and create one more layer of mascarpone.

Cover the tiramisu and chill in the fridge for at least 4 hours or overnight.
To serve
Just before serving, dust the tiramisu with cocoa powder. Cut into 9, 12 or 16 serves and enjoy! Leftovers will keep in the fridge for up to 3 days.
Notes
You can substitute the cane sugar for coconut sugar, though it will change the colour of the marscopone. If you'd like to use maple syrup, I'd recommend using 260g firm silken tofu, 520g thick coconut cream and 100g maple syrup. Maple syrup makes the cream more runny so the ratios for the marscopone need to be adjusted so the tiramisu still 'sets'. You can see the texture of the marscopone in my Instagram video.
I tested this recipe with Nature's Charm coconut whipping cream (recommended) and conventional brands of canned coconut cream. I haven't tested this recipe with other types of dairy free whipping cream.
To make a quick strong coffee, I combined ¼ cup espresso powder and 1 cup of water. If you're not serving the dessert to children, you can also add 2 tablespoons of rum.
Digestives or any plain sweet cookie will work well. Surprisingly, crispbread is a great low-sugar option as you can see in my Instagram video. However, I had to add a little sugar to the coffee as crispbread isn't sweet.
Alternatively, you can create just one layer of coffee soaked cookies and pour on just ⅓ of the marscopone to get 3 total layers of soaked cookies/marscopone.
Nutrition
Calories:
322
kcal
|
Carbohydrates:
31
g
|
Protein:
4
g
|
Fat:
21
g
|
Cholesterol:
6
mg
|
Sodium:
160
mg
|
Potassium:
200
mg
|
Fiber:
1
g
|
Sugar:
13
g
|
Vitamin A:
26
IU
|
Vitamin C:
2
mg
|
Calcium:
23
mg
|
Iron:
2
mg
Please leave a comment below if you made this recipe, have any questions or thoughts! Your comment will help other readers and Rainbow Nourishments.