These soft and chewy vegan pumpkin cookies have crisp edges and are packed with pumpkin puree! These cookies are made with simple ingredients and come together in one bowl.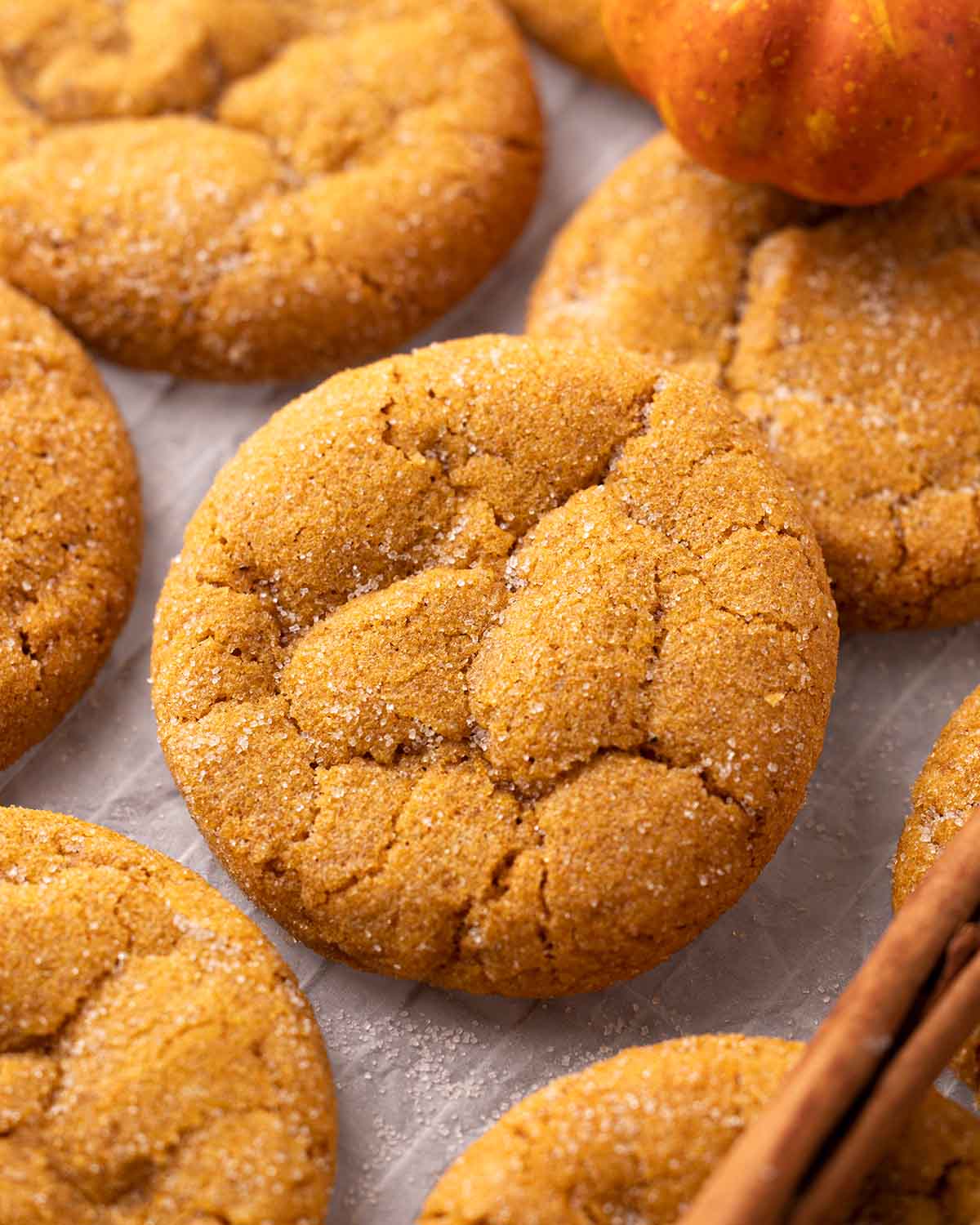 Ingredients you'll need
The full list of ingredient quantities and instructions are in the gray recipe card at the bottom of this post.
Notes about the ingredients
Pumpkin puree either canned (I used Libby's) or homemade. This recipe uses more pumpkin puree than most vegan pumpkin cookie recipes! I listed some tips for making homemade pumpkin puree later in this post.
Granulated sugar helps the cookies spread and keeps them a lovely orange color. Brown sugar adds depth of flavor and complements the warm spices.
Baking soda helps the cookies turn golden brown and spread. We're also using baking powder to give the cookies some height and so they're not mushy from the high amount of pumpkin puree.
Reducing the pumpkin puree
The key to chewy vegan pumpkin cookies is to reduce the pumpkin puree! Pumpkin puree contains a lot of liquid which gives cookies a cakey texture. Reducing the pumpkin lessens any cakiness and intensifies the pumpkin flavor.
There are two ways to reduce the pumpkin puree:
Cook the puree in a large saucepan over medium heat until a lot of the liquid has evaporated (pictured below).
Blot the pumpkin between a few paper towels until the puree is thick. You can see how I did this in my pumpkin chocolate chip cookies post.
You can still make this recipe without reducing the puree. However, your dough will be very wet and your cookies will be cakier.
Making the cookie dough
The pumpkin cookie dough is easy to prepare as it comes together in one large bowl!
The process is similar to many other vegan cookie recipes. All you have to do is beat the butter and sugar, mix in the pumpkin, then mix in the dry ingredients.
Due to the high amount of pumpkin in this recipe, the dough is very soft and sticky. Try to avoid adding more flour otherwise, you'll get cakey cookies.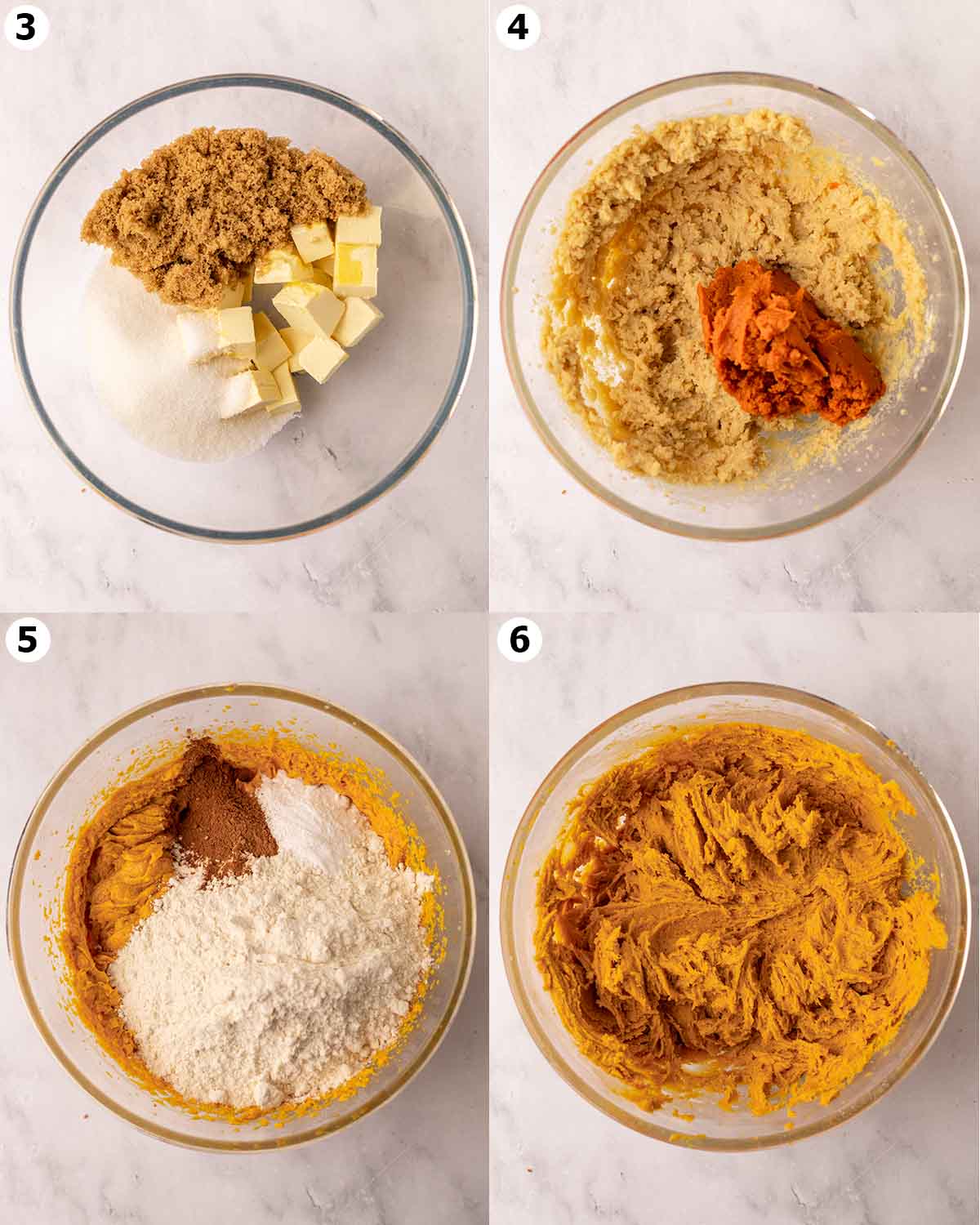 Tips for shaping and baking the cookies
As the dough is very sticky, I strongly recommend using a cookie scoop to divide the dough. After you've scooped the dough, you can either:
Drop the cookie dough scoops into the sugar and toss to coat. Then gently roll each scoop into a ball (pictured below). If the sugar dissolves, you can always recoat them in sugar.
With damp hands, gently shape the cookie dough into neater balls. Then toss them in sugar.
Rather than rolling the dough balls in sugar, try sprinkling the sugar on top of the balls and tossing them gently. That way, you don't need to directly touch the dough!
TIP: for very crackly cookies, don't roll the cookie dough into perfect balls! Any imperfections or cracks in your cookie balls will bake into pretty cracks!
When you remove the cookies from the oven, they will be very puffy and might look like the top of bread buns. In a few minutes, the cookies will deflate and those beautiful cracks will appear!
How do I make pumpkin puree at home?
1. Peel and cut your pumpkin into cubes and steam it until soft. OR cut your whole pumpkin in half, remove the seeds and roast the pumpkin (flat side down) until it's as soft and tender. Scoop out the flesh and discard the skin.

2. Use a food processor or stick blender to puree the pumpkin. Ideally, your pumpkin puree should have a similar consistency to the canned pumpkin puree in the ingredients picture.
Dressing up these vegan pumpkin cookies
These cookies are seriously delicious as they are! However, for extra special cookies, you can mix other ingredients into the dough such as:
Chopped pecans or walnuts.
Dairy-free chocolate chips (or check out my pumpkin chocolate chip cookies. They use only brown sugar and have less pumpkin to balance out the chocolate flavor.)
Replace pumpkin spice with ground chai spices.
You can also top the cookies with:
Simple powdered sugar icing, such as from my coffee cake cookies.
Vegan cream cheese frosting, such as from my pumpkin cupcakes.
Classic American buttercream, from my vegan ginger cake. Feel free to add a dash of maple syrup or cinnamon to the buttercream for extra flavor!
Customizations and ingredient substitutions
Can I make these gluten-free?
I haven't tested it so I can't vouch for results. However, my vegan pumpkin chocolate chip cookies are similar to these cookies and work with King Arthur's measure for measure gluten-free flour.
Can I use another sweetener?
Coconut sugar is the easiest 1:1 substitution for both granulated and brown sugar. However, it will make your cookies darker in color. Liquid sweeteners will make the dough very sticky but you're welcome to do your own testing.
Can I replace the pumpkin with another fruit/vegetable?
Pumpkin bakes slightly differently from other fruits and vegetables (even sweet potato) due to different amounts of natural sugar, starch and moisture. However, these cookies are similar in texture to my vegan snickerdoodles, vegan ginger cookies and vegan strawberry cookies. Otherwise, you're welcome to do your own experimentation!
More vegan cookies
Follow Rainbow Nourishments on Instagram, Facebook, TikTok and Pinterest, and subscribe via email to receive all of our latest recipes!
Print Recipe
Vegan Pumpkin Cookies
These soft and chewy vegan pumpkin cookies have crisp edges and are packed with pumpkin puree! These cookies are made with simple ingredients and come together in one bowl.
Instructions
Reduce the pumpkin puree:
Place a few sheets of disposable paper towels on a plate or bowl. Spread the pumpkin on top and blot with extra paper towels. Alternatively, add the pumpkin puree to a large saucepan over medium heat and cook until your puree has thickened. Allow the puree to cool. Whichever method you use, you should end up with around ¾ cup (170g) of pumpkin puree (more puree will create cakier cookies whereas less puree will make chewier cookies).
Prepare the cookie dough:
Preheat the oven to 180°C (350°F). Line 2-3 baking sheets with parchment paper.

Add the two sugars and butter to a large mixing bowl (if using a hand mixer) or the bowl of a stand mixer with the paddle attachment. Beat until light and fluffy. Add the reduced pumpkin puree and vanilla extract. Beat until well combined.

Add the flour, pumpkin pie spice, baking soda and powder. Mix until just combined. The dough should be very sticky and soft. If your dough is too sticky, let it rest at room temperature 30 minutes (however, I usually just proceed with the sticky dough).
Shaping the cookies:
Add the granulated sugar to a small bowl.

Using a large cookie scoop, divide the dough into balls about 3 tablespoons (60g) each. Drop each ball in the sugar and gently toss them in sugar. You can reshape the balls before or after tossing them in sugar.

Arrange the cookie dough balls on your lined baking sheets, with about 2 inches (5cm) between each. Gently flatten each ball with your fingers.
Baking and storing the cookies:
Bake the cookies for 12-15 minutes or until the edges appear cooked and the cookies have puffed up. The centers will look soft and continue baking on the trays. The cookies will deflate when you remove them from the oven and the cracks will be clearer. Allow the cookies to cool on the baking sheets for about 15 minutes then transfer them to a wire rack to cool completely.

Enjoy the cookies warm or store them in an airtight container at room temperature for up to 5 days. Alternatively, you can keep them in the fridge for up to 2 weeks or freezer for up to 2 months. Allow the cookies to come to room temperature or warm up before enjoying again.
Notes
To spoon and level your flour, fluff up the flour in its container, use a spoon to add flour to your measuring cup, and level it off with a knife. Using your measuring cup to scoop flour out of the container will pack too much flour into your cup, which will result in a dry and cakey cookies. Alternatively, use the grams measurements for the best results.

To make your own pumpkin pie spice, combine 1 teaspoon ground cinnamon, ½ teaspoon ground nutmeg, ¼ teaspoon ground ginger and ¼ teaspoon ground cloves. If you don't have any nutmeg, ginger or cloves, add more cinnamon.
This post may contain affiliate links. As an Amazon Associate, I may earn a small commission from qualifying purchases at no additional cost to you.