Soft, fluffy and buttery vegan pumpkin dinner rolls that are easy to make and use only 6 key ingredients! These bread rolls are eggless and dairy-free and the perfect dinner side in Fall and Winter.
This recipe combines two of my popular yeast bread recipes, my vegan brioche buns and vegan pumpkin cinnamon rolls.
Simple ingredients & substitutions
The full list of ingredient quantities and instructions are in the gray recipe card at the bottom of this post.
Notes about the ingredients
All-purpose flour or bread flour. All-purpose flour results in cakier buns whereas bread flour results in slightly taller buns that are slightly chewy (like sandwich bread). You can also use whole wheat or spelt flour, though your pumpkin bread rolls will be denser.
Pumpkin puree, either canned or homemade pumpkin puree (I've tested both). I used Libby's pumpkin puree as it has the best pumpkin flavor. Homemade pumpkin puree is a bit sweeter so you may want to reduce the sugar.
Vegan block butter. Alternatively, you can use a vegan buttery spread but I recommend decreasing the amount of milk you use.
Sugar of choice, such as granulated, brown, coconut or even maple syrup! Even though these pumpkin dinner rolls are savory, we need a little sugar to feed the yeast and for depth of flavor.
Instant dry yeast (or rapid-rise yeast) is the easiest and quickest yeast to use! Alternatively, you can use regular yeast, as long as you bloom it beforehand.
Pumpkin spice is optional but provides extra Fall flavor.
Preparing the dough for the pumpkin buns
If you're using instant yeast, simply add all the ingredients to a large bowl or bowl of a stand mixer.
If you're using active dry yeast (or another type), mix it with the warm milk from the recipe and a pinch of sugar (image #1). When the mixture bubbles, add the remaining ingredients to your bowl.
If you don't have a stand mixer, you can mix the ingredients in a bowl then knead it on a lightly floured work surface.
Initially, the dough will be sticky and shaggy (image #3). When you knead the dough for longer, it'll pull away from the sides of the bowl (or your work surface). Kneading strengthens the gluten in the dough which helps it stay in one piece and rise into tall buns!
Your final dough should feel soft, stretchy and elastic. It should also be tacky but not sticky.
Expert Tip: the 'windowpane' test
For extra soft and fluffy vegan pumpkin dinner rolls, test your dough with the 'windowpane' test! This is where you grab a small piece of dough and stretch it to create a thin 'window. If it doesn't break and you can see the gluten membranes (image #5) it's passed the test! If it breaks, keep kneading the bread until you get that windowpane.
Your pumpkin bread rolls will still bake and rise well without passing the windowpane test. They'll just be slightly smaller and less fluffy.
First rise for the dough
Once you've made the dough, let it rest in a bowl in a warm spot in your home!
As this dough is enriched with butter, we need to keep it warm so it can rise. King Arthur Baking recommends that dough is left at 24°C to 26°F (75°F to 78°F) for a rise over 1-2 hours. If your home is colder, it'll take more time.
When your dough ball doubles in size (or thereabouts), you can shape your vegan pumpkin dinner rolls!
Tips for shaping your pumpkin bread rolls
Divide your risen dough into 12 equal parts and shape them into balls. It doesn't matter what your pumpkin bread rolls look like and you can be as rough or as fussy as you want!
To make extra smooth dinner rolls:
On one side of the dough, stretch and fold all the end bits to the center and pinch them together. Keep doing this until the underneath is smooth and taut.
Turn your dinner roll upside down revealing the smooth surface. Clasp your hand over the dinner roll, and gently push and roll until it's completely smooth.
For a step-by-step guide on how to shape bread rolls, check out Baking Mad's Youtube video.
Second rise
Once you've shaped the pumpkin bread rolls, we need to rest them again. After around 1 hour, the buns will become puffy again and be ready to bake!
Shortcuts for quick vegan pumpkin rolls
If you're short on time, here are a few shortcuts:
Use instant dried yeast as it rises much quicker than other types of yeast.
Skip the first rise of the dough. Once you've prepared the dough, shape the pumpkin buns. However, you'll still need to rest the dough after they've been shaped.
Make the dough the night before and let it rise in an airtight container or a bowl covered with plastic wrap in the fridge overnight. Remove the dough from the fridge and when it's soft enough, shape the dough into dinner rolls.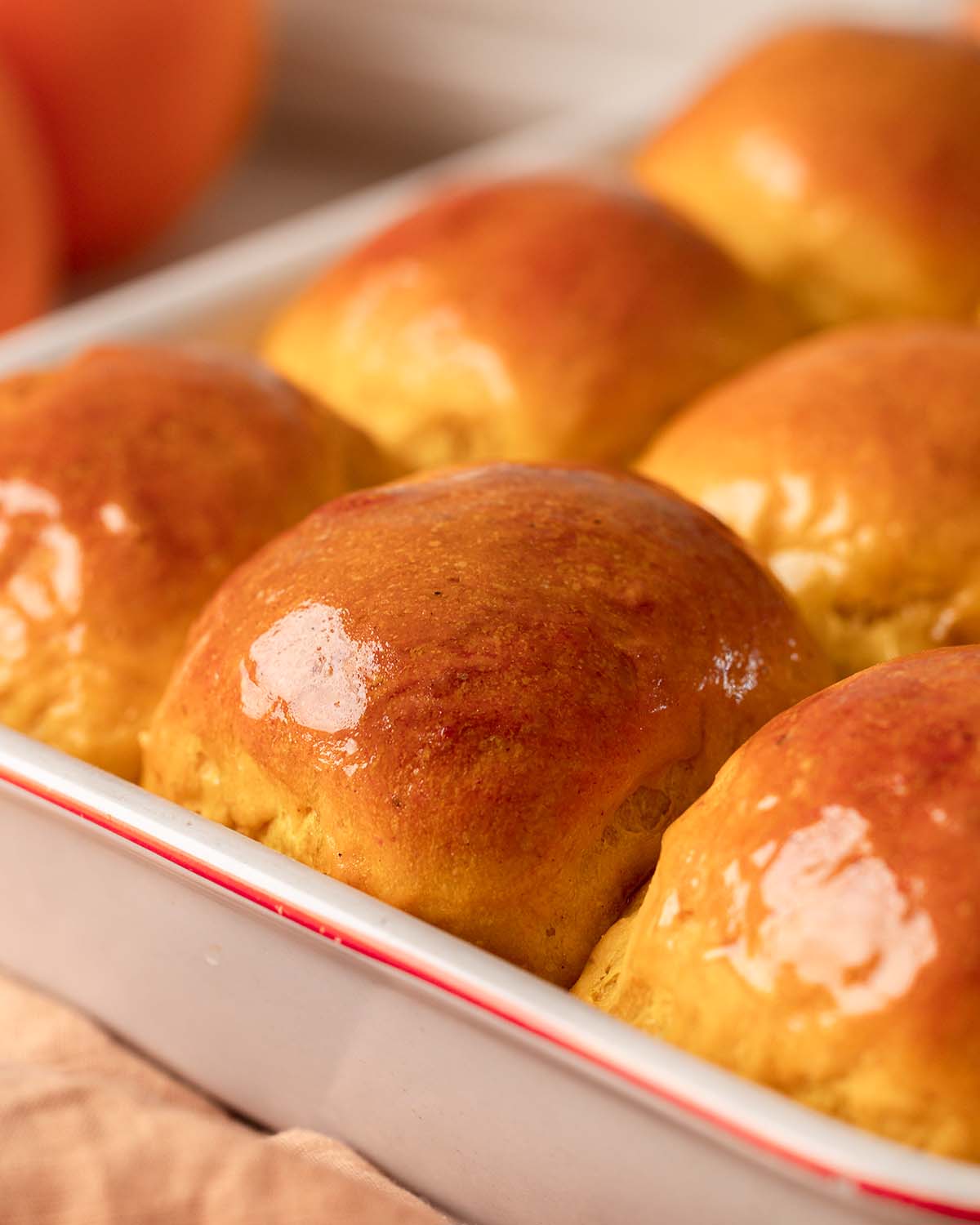 Customizing these pumpkin rolls
These buttery soft rolls are perfect as they are and are ideal for Thanksgiving dinner. However, they are very easy to customize.
To make sweet pumpkin bread rolls suitable for breakfast, use 4 tablespoons of your sweetener of choice. If desired, add chopped pecans to the dough. After baking, sprinkle the buns with coarse sugar and serve with vegan cream cheese! Alternatively, check out my vegan pumpkin cinnamon rolls or vegan brioche.
For pumpkin hamburger buns, divide the dough into only 6 parts, brush them with the maple syrup mixture and sprinkle with sesame seeds. Bake the buns spaced apart on a lined baking sheet. If you have burger bun rings, use them for taller buns!
For healthier pumpkin bread rolls, use whole wheat flour and softened coconut oil instead of vegan butter. Whole wheat flour is more absorbent than all-purpose so you may need to add extra liquid to get a soft dough. I also recommend adding extra salt to mimic that buttery flavor.
Expert Tips
Can I make these vegan pumpkin dinner rolls gluten-free?
Readers have successfully made this recipe with King Arthur's 1:1 gluten-free flour. However, I haven't tested this myself so can't vouch for results.
Can I use a baking pan larger or smaller than 11 x 6-inches?
Any baking pan of a similar size will work! For stand-alone buns, you can space them apart on a large baking sheet. Or you can use a smaller baking pan of any shape for pull-apart rolls. If your pan looks like it won't fit 12 rolls, you can make 8-10 larger rolls.
More vegan pumpkin recipes
Follow Rainbow Nourishments on Instagram, Facebook, TikTok and Pinterest, and subscribe via email to receive all of our latest recipes!
Print Recipe
Pumpkin Dinner Rolls (vegan)
Soft and fluffy vegan pumpkin dinner rolls that are easy to make and use only 6 key ingredients! These rolls are the perfect hearty side for dinner in Fall and Winter.
Servings:
12
dinner rolls
Ingredients
Vegan Pumpkin Dinner Rolls
3 ½

cups (440g)

all-purpose plain flour,

or bread flour plus extra for dusting (spooned and leveled, note 1)

1

cup (200g)

pumpkin puree,

canned or homemade (not pumpkin pie filling)

½

cup (120g)

dairy-free milk,

warm

½

cup (115g)

vegan butter,

softened (note 2)

2

tablespoons (25g)

granulated sugar,

coconut sugar or maple syrup, to taste

2 ¼

teaspoons

instant dry yeast,

or yeast of choice (note 3)

1

teaspoon

pumpkin pie spice,

optional (note 4 for homemade blend)

Pinch of

salt

,

if using unsalted vegan butter
Instructions
Make the vegan pumpkin dinner rolls:
Add all the dough ingredients including the yeast to the bowl of a stand mixer with the dough hook attachment or a large mixing bowl.

If you're using a stand mixer, knead the dough for 5-10 minutes or until the dough is soft and stretchy. If mixing by hand, use a large wooden spoon to combine the ingredients in your bowl. Then transfer the dough to a lightly floured surface and knead until the dough is soft and stretchy.

If your dough is a little sticky, add more flour and continue kneading. If the dough is a little dry, add more milk and knead. The softer your dough, the softer your dinner rolls will be!
Resting the dough:
Place the dough in a greased bowl and cover it with a kitchen towel. Place the bowl in a warm place in your home until it doubles in size. This will take at least 1 hour. (See note 4 about overnight proofing)

When the dough has doubled in size, divide it into 12 equal pieces (about 75g each). On a lightly floured surface, shape each piece into a round and smooth ball.

Grease a baking dish that is around 11 x 6 inches (28 x 15 cm) large. Or line your dish with parchment paper.

Arrange the dough balls in your baking dish. Cover the bread rolls with a kitchen towel and let them rest in a warm place for at least another hour. The rolls should increase in size by around 50%.
Baking the dinner rolls:
When the dinner rolls are puffy again, preheat your oven to 350°F (180°C).

Bake the dinner rolls for 22-28 minutes in your preheated oven. If the dinner rolls are browning too quickly but aren't fully cooked, carefully tent your baking dish with aluminum foil. The dinner rolls are ready when their tops are golden brown and the edges look baked. If you tap a dinner roll, it should sound hollow. Or if you use a toothpick to grab some dough from in between the rolls, the dough should be fully cooked.
Serving the dinner rolls:
To make the 'egg wash' (glaze), mix the ingredients in a small bowl. While the rolls are still warm, brush the top of the rolls with the glaze. If desired, sprinkle the rolls with flaked salt or pumpkin seeds.

Enjoy the pumpkin dinner rolls warm with some vegan butter. Like all homemade bread, these pumpkin rolls are best eaten the day they are baked. Alternatively, store them in an airtight container at room temperature for 3 days or in the freezer for up to 1 month. Make sure to warm up the rolls before serving.
Notes
Make sure you measure the flour accurately otherwise, your bread rolls will be dry and dense. If you're using measuring cups, use the spoon and level method where you fluff up the flour in the bag, use a spoon to add flour to a measuring cup, then level it off with a knife. Don't use the measuring cup to scoop flour out of your bag as it'll add too much flour to the dough. Alternatively, use a kitchen scale and the grams measurements.
If you're using a vegan buttery spread, reduce the milk by 1-2 tablespoons.
Instant yeast doesn't have to be activated beforehand and can be mixed in with the other ingredients. If you're using any other yeast, mix it with the warm milk from the recipe and a pinch of sugar beforehand. When the mixture bubbles, use it in your recipe.

For homemade pumpkin pie spice, use ½ teaspoon ground cinnamon, ¼ teaspoon ground nutmeg, ¼ teaspoon ground ginger and a pinch of ground cloves. If you don't have the nutmeg, ginger or cloves, use more cinnamon.

To proof the dough overnight, store the dough in an airtight container in the fridge. The next day, let the dough slightly come to room temperature then shape them into rolls.
Nutrition
Serving:
1
dinner roll
|
Calories:
190
kcal
|
Carbohydrates:
28
g
|
Protein:
4
g
|
Fat:
7
g
|
Sodium:
77
mg
|
Potassium:
74
mg
|
Fiber:
1
g
|
Sugar:
2
g
|
Vitamin A:
2960
IU
|
Vitamin C:
1
mg
|
Calcium:
23
mg
|
Iron:
2
mg
This post may contain affiliate links. As an Amazon Associate, I may earn a small commission from qualifying purchases at no additional cost to you.