The easiest vegan peach crisp using ripe peaches and common pantry staples. Gluten free, oil free, dairy free and the perfect healthy comfort food!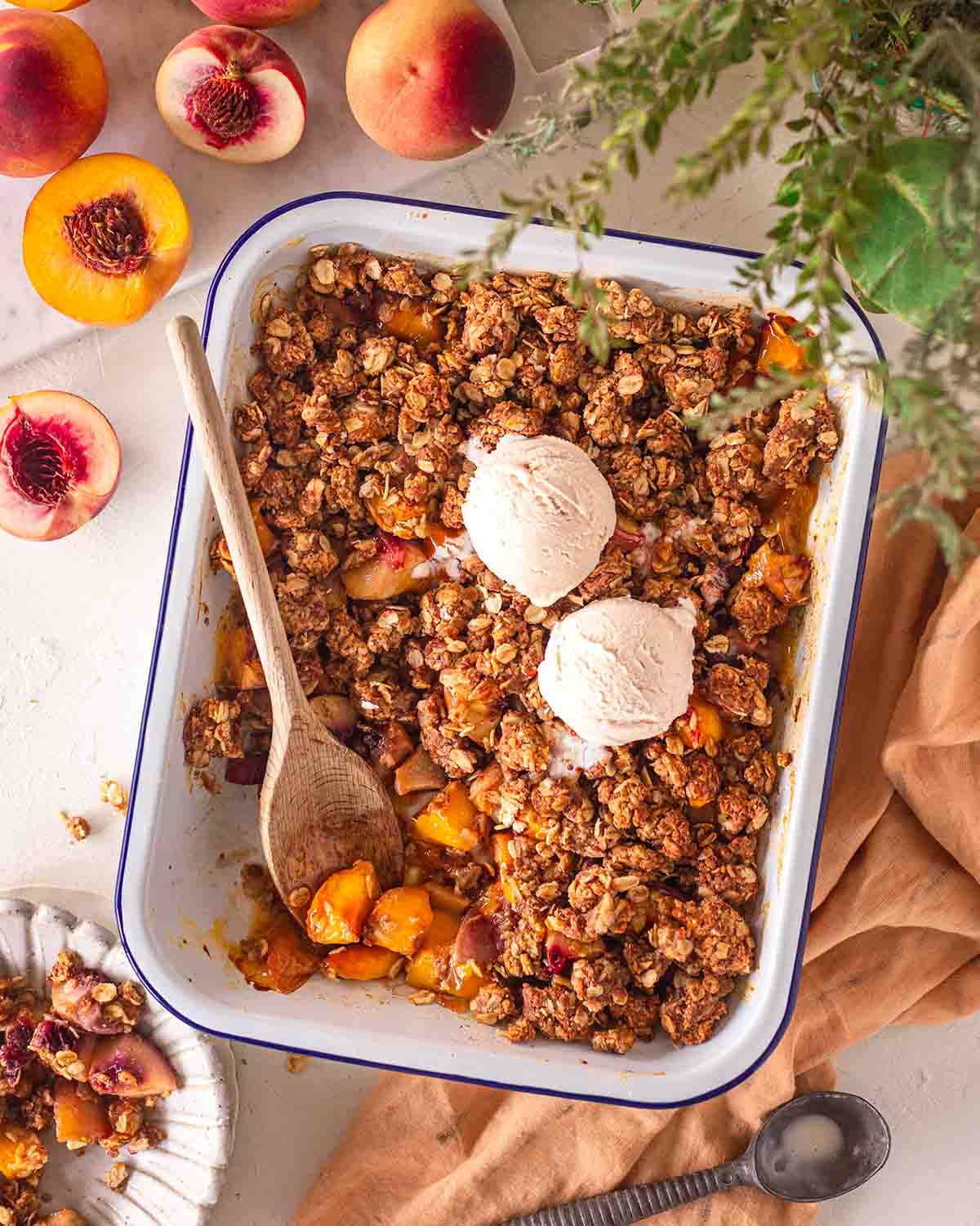 This is an easy peach dessert perfect for Summer or the beginning of Autumn when you want to use up your leftover ripe peaches. It only takes 10 minutes to prepare and up to 20 minutes to bake.
This recipe is more healthy than most crisp or crumble recipes because it has no oil or butter and is low sugar. That means we can eat more of it, right?!
However, if you really prefer a classic buttery apple crumble recipe, see my vegan apple crumble pie.
Ingredients you'll need
All the ingredients are gluten free and dairy free but are found in major supermarkets including:
Ripe fresh peaches (yellow or white peaches or a mixture). I've also used frozen and canned peaches which work well too!
Gluten free rolled oats
Corn flour/starch
Brown/coconut sugar and maple syrup to make this a low sugar peach crisp
Smooth almond butter as our oil/butter substitute
Almond meal/flour (to make this recipe gluten free) or flour of choice
And basic pantry ingredients including cinnamon, lemon juice (optional), vanilla extract (optional) and salt of course!
For the crisp topping, instead of using coconut oil or vegan butter we're using smooth almond butter. This helps the ingredients stick together without needing butter!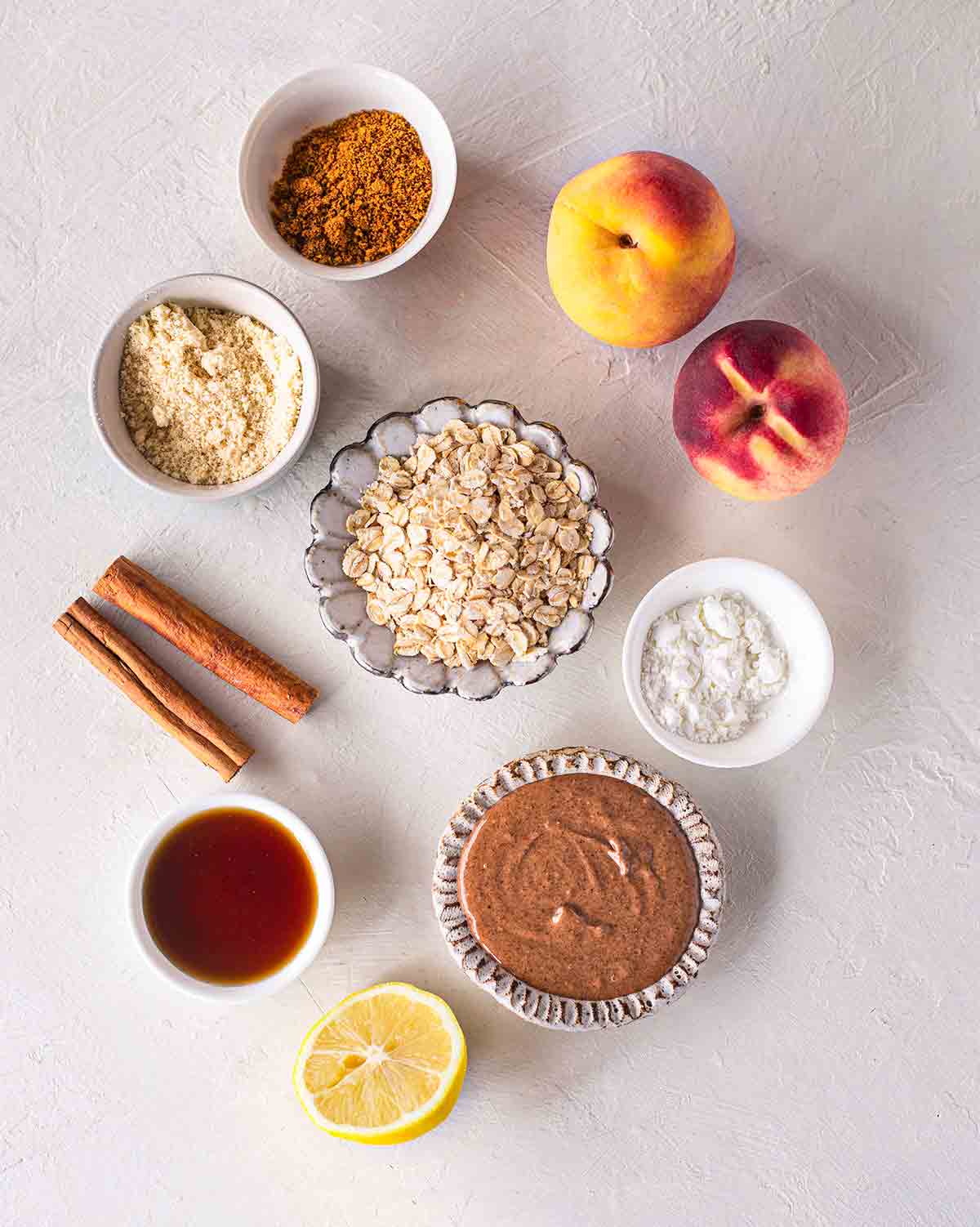 My fresh peaches were soo juicy and were from the imperfect pick range from my local Harris Farm Markets in Sydney (not sponsored)! Who can say no to minimising food waste when you have a delicious and healthy recipe ;).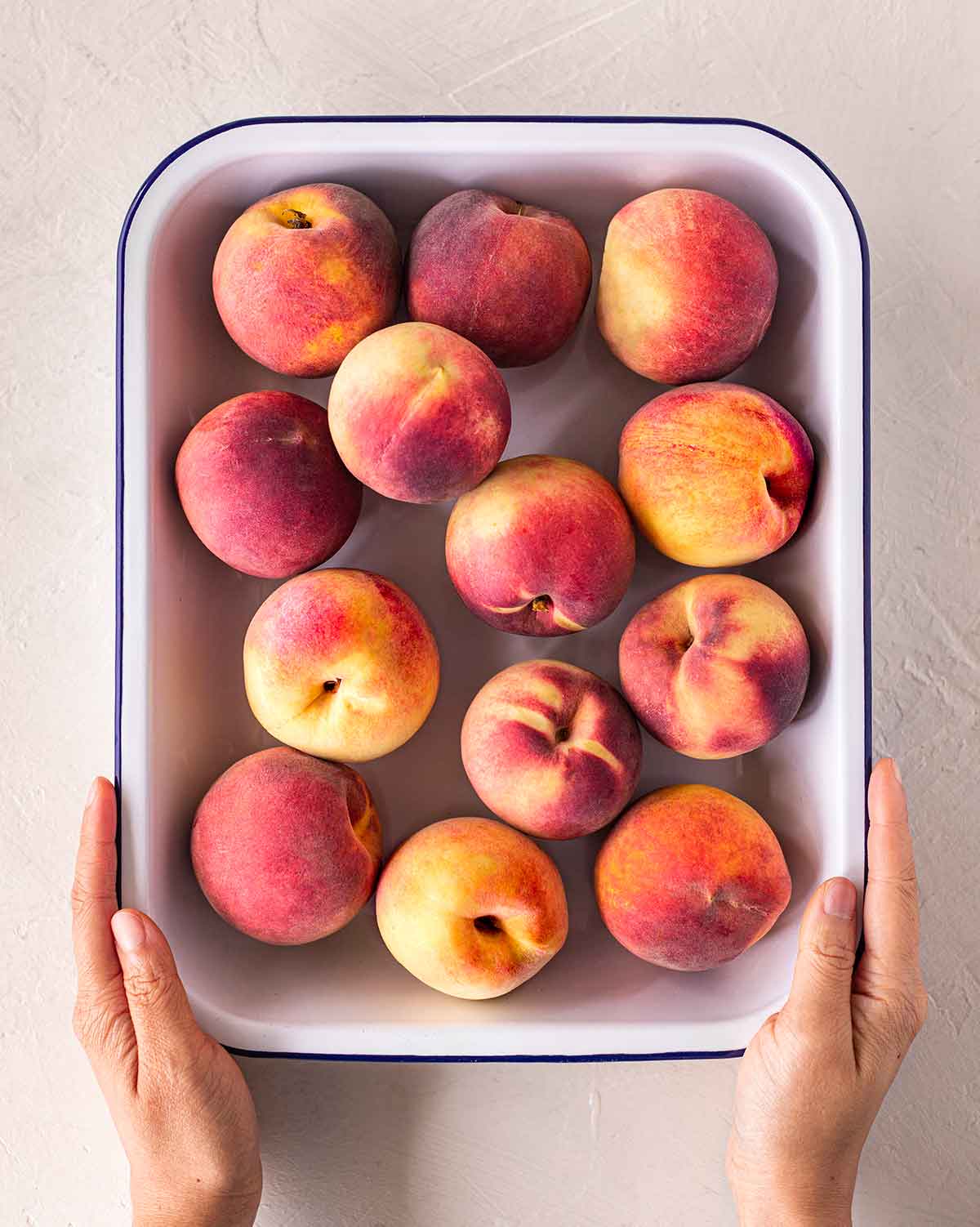 How to prepare this easy peach crisp
Super simple! Add the chopped peaches to a casserole dish or cast iron skillet and toss until combined.
Mix the topping ingredients in a bowl and sprinkle it on top of the peaches. Then BAKE! It really couldn't be easier to make this comforting but healthy vegan dessert.
Customising the recipe
Feel free to add or use other fruits instead of the peach to make this crumble! If it's Summer, you can make a delightful vegan strawberry rhubarb crumble or blueberry crumble.
Or if it's Autumn/Fall, you can't go wrong with a vegan apple crumble! Apples are more firm so you may need to par-cook them on the stovetop beforehand.
See my other easy vegan peach and nectarine recipes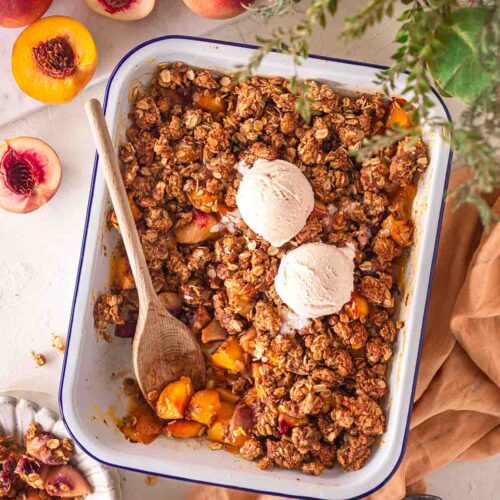 Print Recipe
Easy Vegan Peach Crisp (oil-free)
The easiest vegan peach crisp using ripe peaches and pantry staples. Gluten free, dairy free, no oil but the perfect comfort food!
Instructions
Preheat oven to 170°C (340°F). Grease your casserole tray or pie dish if needed (I used a rectangular casserole dish about 28x15 cm or 11x6 inches).
Filling:
Add all the ingredients directly to your casserole tray. Toss until combined and set aside.
Topping:
Add all the ingredients to a medium-size bowl. Use your hands or a spoon to mix until well combined. The mixture should have small chunks but break apart when crumbled.

Evenly sprinkle the topping on your peaches.

Bake the crisp/crumble in the oven for 15-20 minutes or until the topping is golden brown and the peaches in the middle of the tray are tender.

Serve hot or warm with vegan ice cream, dairy free yoghurt or event coconut whipped cream! Leftovers will keep in the fridge for up to 3 days. Enjoy!
Nutrition
Serving:
1
serve
|
Calories:
300
kcal
|
Carbohydrates:
40
g
|
Protein:
9
g
|
Fat:
14
g
|
Sodium:
8
mg
|
Potassium:
442
mg
|
Fiber:
7
g
|
Sugar:
18
g
|
Vitamin A:
370
IU
|
Vitamin C:
8
mg
|
Calcium:
107
mg
|
Iron:
2
mg
This post may contain affiliate links. As an Amazon Associate, I may earn a small commission from qualifying purchases at no additional cost to you.