Easy vegan gingerbread cookies that can be made soft or crunchy. They're packed with spices and have a hint of molasses!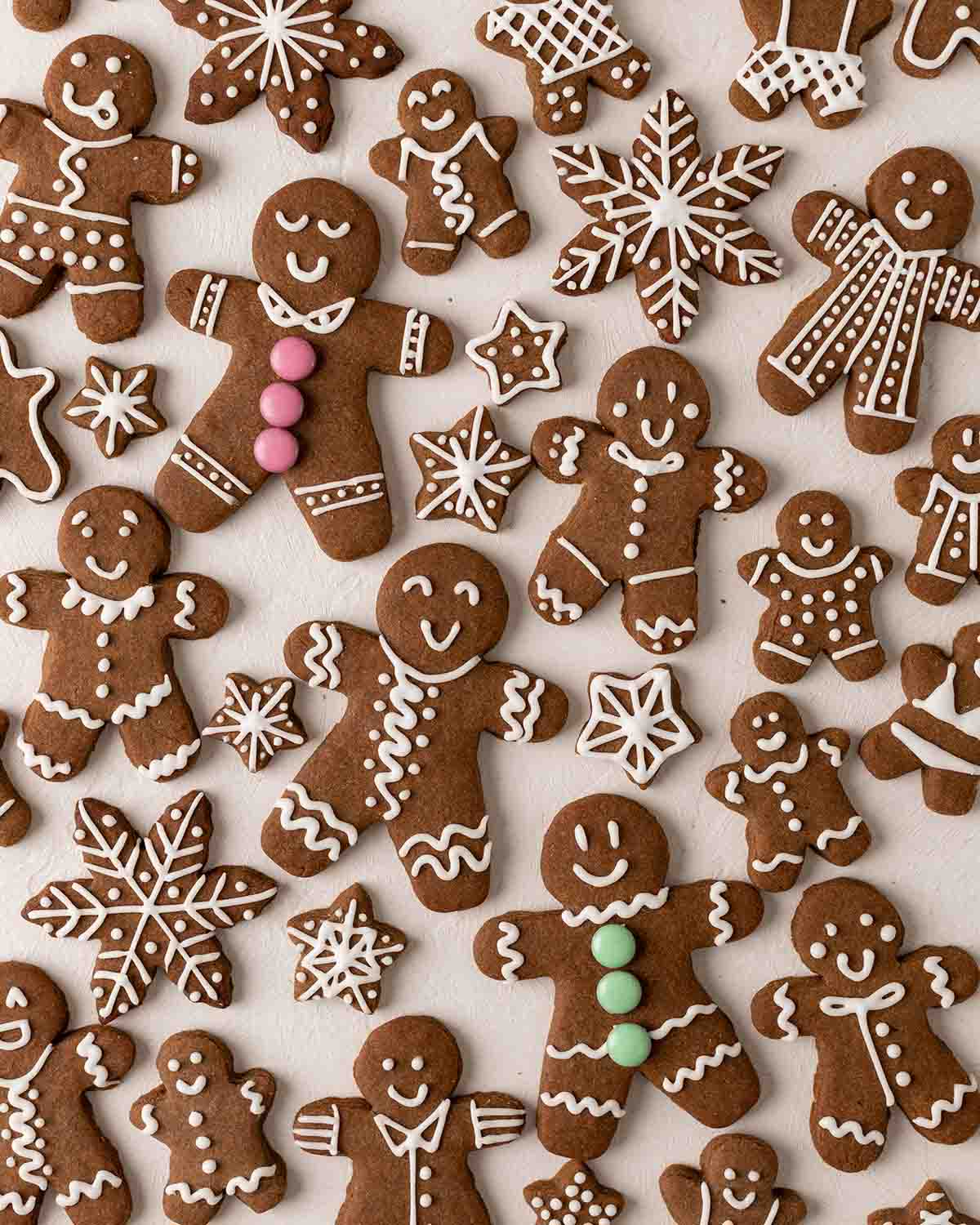 What to expect from this recipe
DIFFICULTY: Easy to make, using only 8 ingredients. The cookie dough comes together in one bowl and you don't have to chill the batter before baking.
TASTE: Packed with spices without being overpowering. The brown sugar and molasses add depth of flavor.
TEXTURE: These cookies are soft and chewy if you underbake them or crunchy if you bake them for a few minutes longer!
Ingredients you'll need
Notes about the ingredients
Molasses adds depth of flavor and acts as a binder for these cookies! I don't recommend using blackstrap molasses as its flavor is too strong for gingerbread cookies. Alternatively, you can use golden syrup. Maple syrup will work however it's much runnier so you'll need to add more flour to your dough.
Vegan block butter. You can substitute this with vegan spreadable margarine (if you add more flour) or coconut oil (if you add extra salt). Alternatively, if you prefer gingerbread cookies with less butter, check out my healthier refined sugar-free gingerbread cookies.
Ground ginger, cinnamon and cloves. We're using a whole tablespoon of ground ginger and ground cinnamon for a vibrant gingerbread flavor! It's not overpowering at all.
Even though these vegan gingerbread cookies are eggless, you don't need any special egg replacers such as flax egg!
A complete list of ingredients, quantities and instructions are in the gray recipe card at the bottom of this post.
Preparing the gingerbread dough
The dough is prepared like any classic cookie dough!
First, we need to cream the butter and sugar. This helps aerate the cookie batter and acts like a 'mechanical leavening' (which is in addition to the baking soda we're adding later)!
Then we mix in the rest of the wet ingredients including the molasses, milk and vanilla.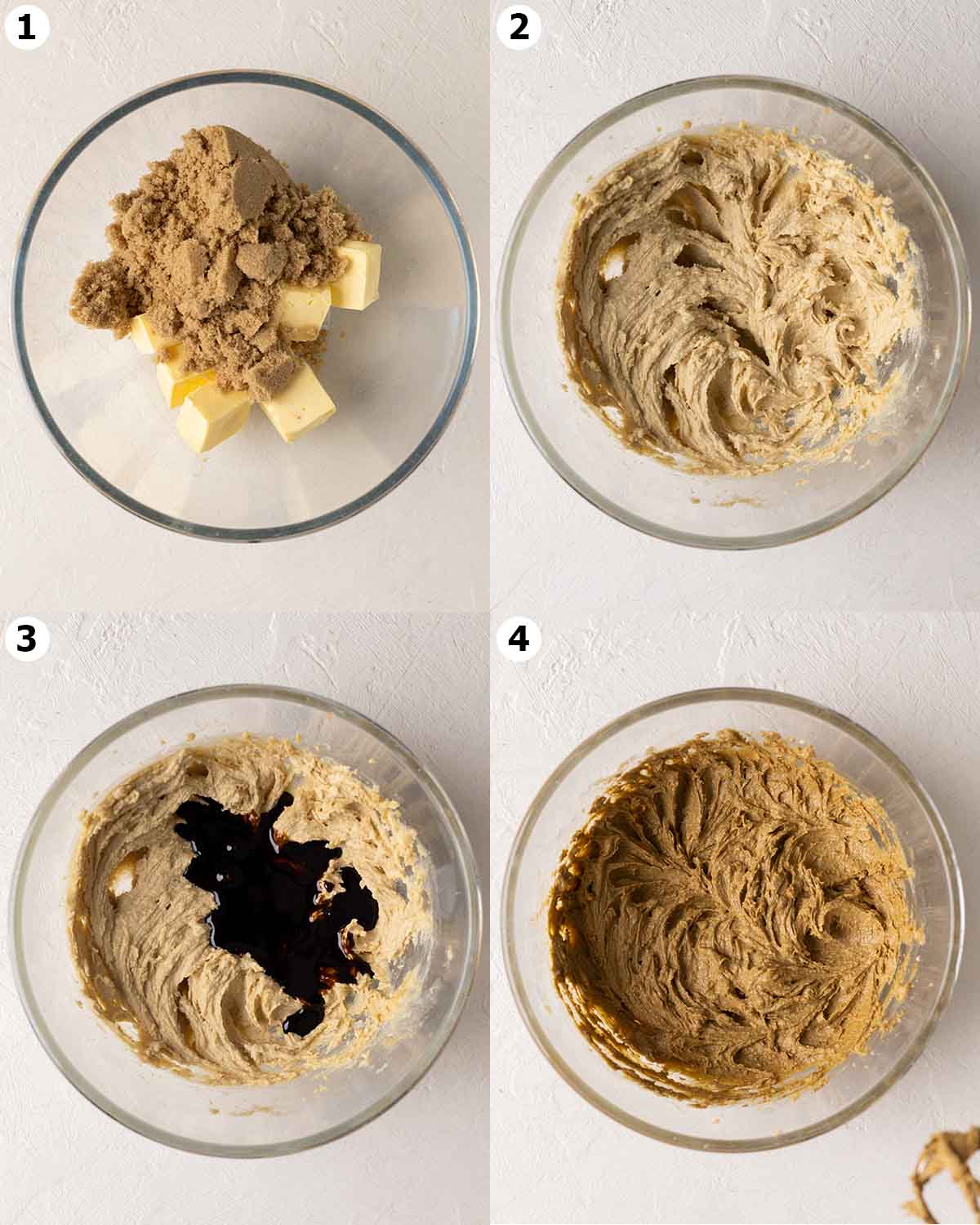 Finally, add and mix all the dry ingredients. Make sure there are no pockets of flour but try to not overmix the dough.
The final cookie dough (image #6) might look crumbly. However, if you pinch the dough between two fingers, it should stick together.
If your cookie dough is a little dry, feel free to add a little milk and mix again. Or if it's a little too sticky, add a little more flour and mix again.
Shaping the cookies
My top tips for shaping vegan gingerbread cookies are:
Add a little flour to your surface and rolling pin as the cookie dough can be a little tacky
Each time you roll out the cookie dough, try to make sure it's the same thickness as the previous batch. This will help ensure the cookies bake evenly. I place 2 dowels (or chopsticks) that are ¼-inch thick on both sides of the cookie dough which guide my rolling pin.
Baking the cookies
The time it will take to bake gingerbread cookies will depend on their size and whether you'd like soft or crunchy cookies. Also, keep in mind that they will soften over time. These are some approximate times:
4 inch cookies: For soft cookies, bake for 12 minutes. For crunchy cookies, bake for 15 minutes.
2 ½ inch cookies: For soft cookies, bake for 10 minutes. For crunchy cookies, bake for 14 minutes
2 inch cookies: For soft cookies, bake for 8 minutes. For crunchy cookies, bake for 12 minutes.
For the most consistent cookies, I recommend baking them on only one oven rack at a time. If you bake them on top of each other in different oven racks, the higher cookies will cook quicker than the others.
Decorating vegan gingerbread
These vegan gingerbread cookies are wonderful with a simple royal icing. All you need to do is mix 2 ingredients in a bowl until it forms a thick paste, similar in consistency to school glue.
I used aquafaba to make vegan royal icing. However, you can substitute it with dairy-free milk for regular sugar icing.
My top tips:
If your icing is too runny, add 2 tablespoons of powdered sugar and mix again. If your icing is too thick, add 1 teaspoon of liquid at a time and mix. Icing can be a little finicky to get to the right consistency so adding small amounts of other ingredients is the best way to get perfect icing.
Test the icing on a clean dark baking sheet or plate first. If the icing keeps most of its shape after 5 minutes, you're good to go!
I used a reusable piping bag with the smallest tip I could find to decorate the cookies. If you don't have a piping bag, you can use a ziplock bag.
Customizing your vegan gingerbread cookies
Here are a few ways you can customize your cookies:
For a stronger molasses flavor, you can use up to ½ cup (170g) of molasses. This results in a softer dough that won't need any dairy-free milk. However, the cookies will still bake beautifully!
Add ⅛ teaspoon of ground nutmeg at the same time as the other spices.
I have not tested these cookies with a gluten-free flour blend. If you try it, I recommend using a trusted brand that you've previously used to make vegan cookies.
Expert Tips
Can I make these cookies in advance?
These cookies keep well for 1-2 weeks! However, if you'd like to have fresh cookies, I recommend making the dough, placing it in an airtight container or in plastic wrap and freezing it until needed.
Can I make these cookies healthier?
I recommend following my other vegan gingerbread cookie recipe which uses spelt flour, coconut sugar and maple syrup. The recipe uses ground flax seeds which means that we can use less vegan butter and sweeteners.
Do I have to cut out the cookies?
No, you can roll the cookies into balls, flatten and bake them!

Alternatively, check out my vegan ginger cookies recipe. My other recipe contains less flour which makes richer cookies that spread in the oven.
More vegan Christmas cookies
Follow Rainbow Nourishments on Instagram, Facebook, TikTok and Pinterest, and subscribe via email to receive all of our latest recipes!
Print Recipe
Vegan Gingerbread Cookies
Easy vegan gingerbread cookies that can be made soft or crunchy. They're packed with spices and have a hint of molasses!
Servings:
15
large cookies
Ingredients
Vegan Gingerbread Cookies
Icing
2

cups (200g)

powdered sugar / icing sugar

2 - 3

tablespoons (30 - 45g)

aquafaba (brine from a can of chickpeas)

,

or dairy-free milk, as needed
Instructions
Preheat your oven to 180°C (350°F). Line 2-3 baking sheets with parchment paper.
Make the vegan gingerbread cookies:
Add the sugar and butter to a large mixing bowl. Use a hand mixer or wooden spoon to mix until there are no chunks of butter. Add the molasses, milk and vanilla extract and mix until combined.

Add the flour, spices and baking soda and mix until just combined. If you pinch the dough between two fingers, it should stay together without crumbling. If the dough is too dry, add 1-2 tablespoons more milk and mix through. If your dough is too wet, add 1-2 tablespoons more flour and mix.

On a lightly floured surface, roll out the dough so it is about 6mm (¼ inch) thick. Use cookie cutters to cut the dough into shapes. Carefully place each cookie on a lined baking tray leaving 1-inch between each of them. You may need to use a flat spatula to transfer them,

Collect the excess dough, roll it out and cut out more shapes from the dough. Repeat until you have no more dough.

Bake the cookies in the oven. For soft cookies that are 4-inches tall, bake them for 12-14 minutes. For crunchy cookies, bake them for around 14-16 minutes. Adjust the baking time for smaller cookies. The cookies are done when they have slightly puffed up and the edges look set.
To decorate the cookies:
Add the icing ingredients to a bowl and mix until it forms a thick paste. If you hold a spoon of icing above the, it should drip down in thick ribbons and keep shape for 5-10 seconds. Add a little more sugar to thicken and a little more liquid to thin the frosting.

Use a fine-tipped piping bag to decorate your gingerbread cookies as desired. Allow the icing to dry at room temperature for at least 2 hours.

Store the cookies in an airtight container at room temperature for 3 days, in the fridge for 1 week or freezer for up to 1 month. Allow the cookies to come back to room temperature before enjoying them.
Notes
This recipe makes around 15 x 4-inch gingerbread (large), 23 x 3 ½-inch gingerbread (medium) or 54 x 2-inch gingerbread (small). This will vary based on the thickness of your gingerbread and how you made your dough.
For a stronger molasses flavor, you can increase the amount up to ½ cup (170g). Your dough will be a little softer and you won't need to add any additional milk. When rolling out your dough, you may need to add more flour to your surface.
Nutrition
Serving:
1
x large cookie without icing
|
Calories:
192
kcal
|
Carbohydrates:
31
g
|
Protein:
2
g
|
Fat:
7
g
|
Sodium:
147
mg
|
Potassium:
128
mg
|
Fiber:
1
g
|
Sugar:
14
g
|
Vitamin A:
384
IU
|
Vitamin C:
0.03
mg
|
Calcium:
32
mg
|
Iron:
1
mg
This post may contain affiliate links. As an Amazon Associate, I may earn a small commission from qualifying purchases at no additional cost to you.