These vegan air fryer donuts are just like your classic jam donuts but easier! There's no need for a scary deep fryer with splashing hot oil.
This recipe is healthier than classic donuts as they use a lot less oil!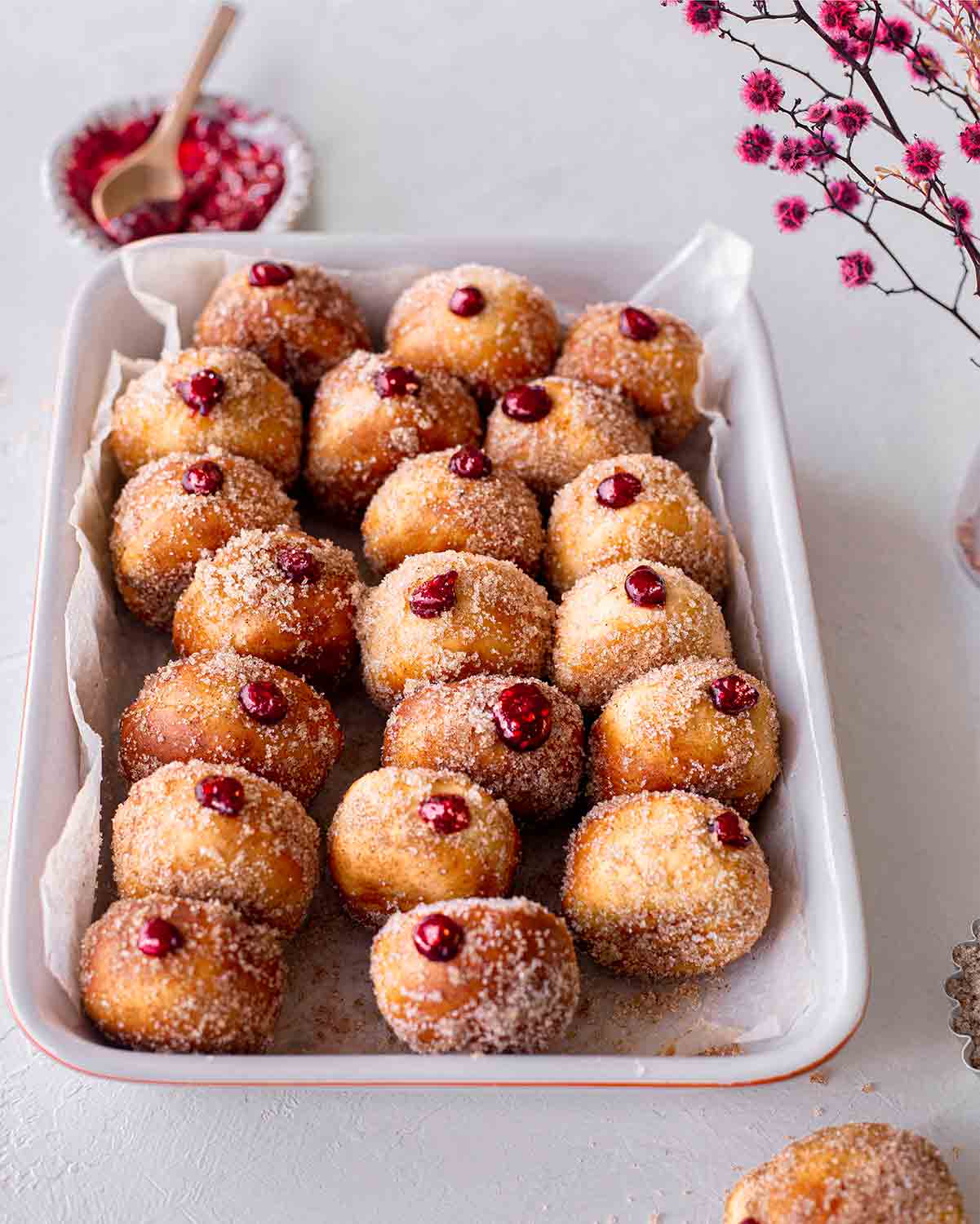 Ingredients you'll need
These vegan doughnuts are made with SIMPLE ingredients including:
Plain flour (all-purpose flour)
Soy milk (or any rich vegan milk)
Melted vegan butter
Cane sugar
Any light-tasting vegetable oil
Instant yeast
Vanilla
Nutmeg
Cinnamon + sugar for coating
You'll notice that i used butter AND oil in the donuts. This is for a few reasons:
The butter creates a light and airy classic donut and the oil adds some necessary moisture.
Baked yeast donuts can be quite dry so we're adding some oil to prevent that!
Most air fryer doughnut recipes have egg. I want to make egg free vegan doughnuts, so I replaced some of the fat from eggs with oil.
Alternatively, for an easier jam recipe, check out my mini vegan jam tarts!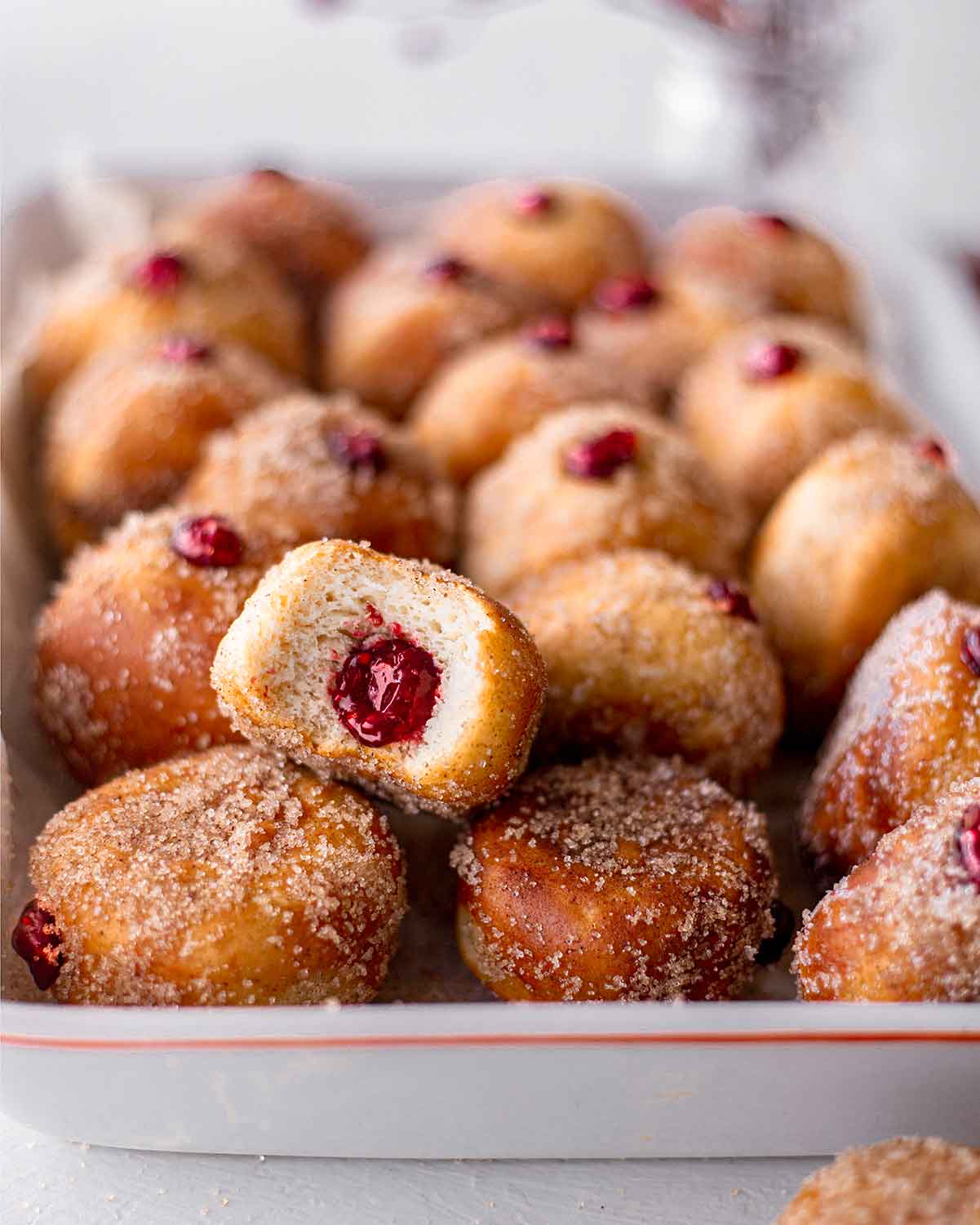 Making the dough
Simply add all ingredients to a bowl and mix until combined. I used instant yeast which doesn't need to be activated before using it in a recipe.
Your dough might be very wet at this point and that's perfect! A moist dough leads to moist vegan doughnuts!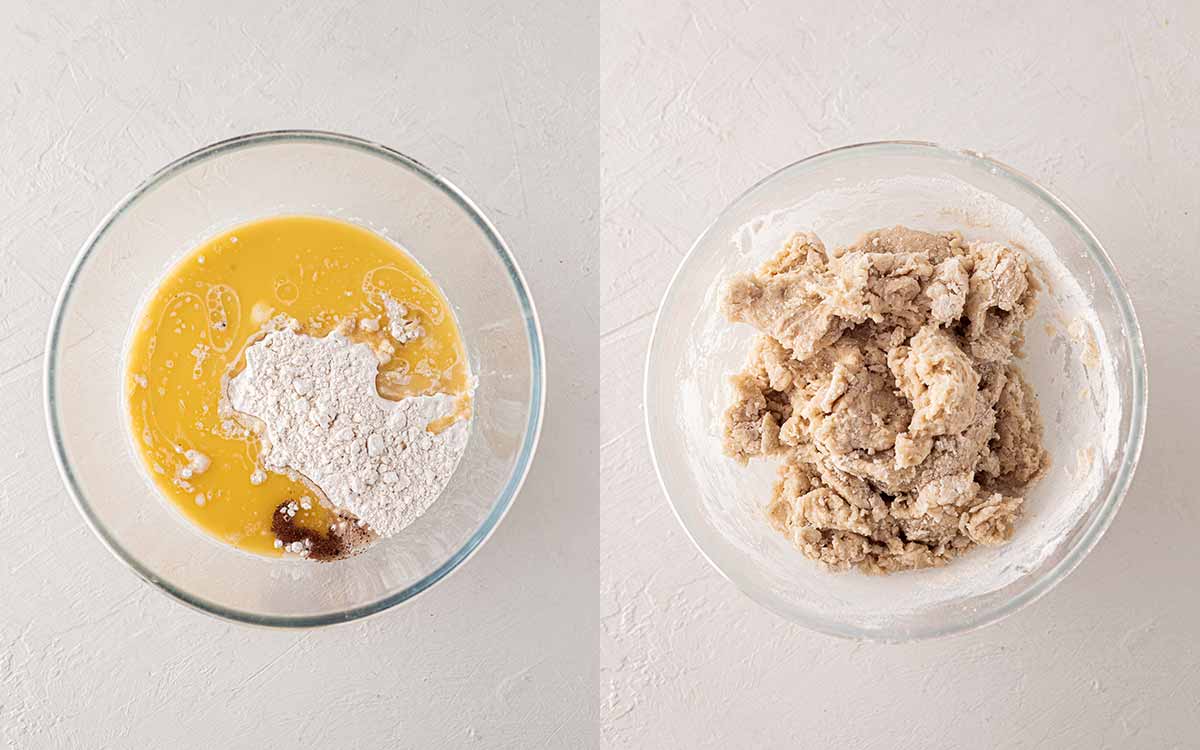 On a lightly floured surface, scoop out your dough and knead it until it's soft, elastic and forms a smooth ball. This is a very wet dough so add JUST enough flour so the dough doesn't stick to the surface.
Return the dough to a relatively clean bowl. Cover it with a damp tea towel and let it rest in a WARM place in your house. It will eventually get puffy and increase in size by 50-100%.
Tip: if your dough isn't increasing in size, reposition it to a warmer spot in your house! This is crucial!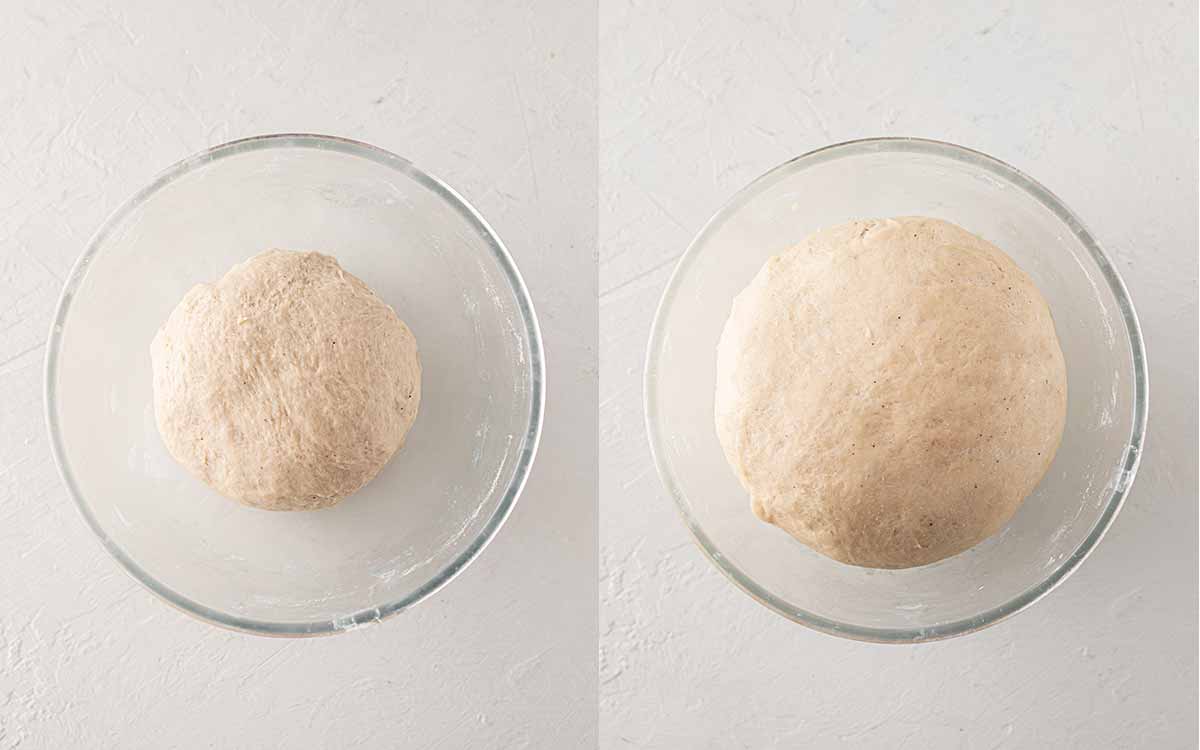 Shaping the donuts
At this stage, we want to handle the dough as little as possible. The more we handle it, the tougher the donuts will be!
Use a rolling pin (or glass jar) to flatten the dough on a lightly floured surface. Ideally the dough should be around 2-3 cm (1 inch) thick. Any thinner may mean that your donuts will be flat discs!
Use a cookie cutter around 4 cm (1.5 inches) wide to cut rounds out of your dough. Try to get as many rounds as possible from the first batch.
TIP: I'd recommend generously flouring your cookie cutter. If each donut has clean edges, they are more likely to puff up in the second rise and in the air fryer.
Collect the excess dough and gently repeat the process (or just roll them into balls by hand). This second batch of donuts will be tougher than your first but still delicous!
Once you've done this, allow your donuts to rest for another hour or until puffy!
Air-frying the donuts
Preheat your air fryer to 180C (350F). Brush inside of your air fryer basket with oil then arrange the donuts in it.
Your donuts will grow taller and maybe a little wider so keep this in mind when arranging them!
Coating the donuts
Traditionally, fresh donuts are cooked and coated in oil and that allows cinnamon sugar to stick to them. However, air fried donuts are much drier so, we need to dip them in melted vegan butter before coating them in cinnamon sugar.
I've tried brushing oil (instead of butter) on each vegan doughnut. However, the cinnamon sugar doesn't stick as effectively.
I'd recommend using a few pairs of tongs or forks and arranging some trays/bowls so you have:
Cooked donuts
Melted butter
Cinnamon sugar
Bowl for the coated donuts
Filling the donuts with jam (optional)
The donuts taste amazing without the jam so this step is optional! The jam takes it to another level and adds some delicious nostalgia to your vegan air fryer donuts.
The easiest way to fill each vegan doughnut is by inserting a (reusable) straw, chopstick or knife in one end. Wiggle it around so you create a big enough cavity for the jam.
To distribute the jam, I used a reusable piping bag with a small nozzle. I inserted the nozzle in each doughnut and slowly squeezed the jam until I felt some resistance and it 'felt full.'
Serving the donuts
Like ALL homemade donuts and yeasted breads (like my vegan brioche or cinnamon buns), these vegan doughnuts are best enjoyed on the day you bake them! However, if you do have leftovers, you can just reheat them in the air fryer before serving.
I hope you enjoy this recipe! Let me know if you're keen for other vegan air fryer recipes!
My TOP TIPS for making perfect fluffy donuts every time
For accuracy, use the grams measurement in the recipe below. This will create a very SOFT dough which is crucial to the fluffiness and moisture in your final donuts.
If for some reason your dough is dry add a little more plant-based milk and knead until it becomes a very SOFT dough.
I can't stress enough - make sure you let your donuts rise TWICE. If you skip either rise or don't wait for the donuts to grow in size, your donuts will not puff up in the air fryer. If they don't rise, reposition your dough in a warmer spot in your house.
More vegan bread recipes
Follow Rainbow Nourishments on Instagram, Facebook, and Pinterest, and subscribe via email to receive all of our latest recipes!
Print Recipe
Vegan Air Fryer Donuts with Jam
These vegan air fryer donuts are just like your classic jam donuts but easier! There's no need for a scary deep fryer with splashing hot oil!
Ingredients
Jam filling (optional)
½

cup

raspberry or strawberry jam

,

or jam of choice
Instructions
To make the donuts:
Add all the ingredients to a medium-size bowl or stand mixer. Mix until combined.

On a lightly floured surface, knead the dough for 5 minutes or until it's smooth and elastic.

Place the dough in a clean lightly-oiled bowl and cover with a damp tea towel. Set aside the dough in a WARM spot for at least 2 hours or until the dough has doubled in size and is puffy. If it doesn't double, reposition the donuts in a warmer spot in your house.

Transfer the dough to a floured surface. Roll out the dough so it's about 2-3 cm (1 inch) thick. Use a cookie cutter around 4 cm (1.5 inches) to cut as many donuts from the dough as possible and arrange the donuts on a tray. Collect the excess dough and repeat.

Cover the donuts with a tea towel and rest for at least 1-2 hours or until the dough is puffy again.
To air-fry the donuts:
Preheat your air fryer to 180C (note 2). Brush inside the basket with melted vegan butter or oil and arrange the donuts in the basket.

Bake the donuts for around 10 minutes or until they are golden brown. Flip the donuts halfway (optional). Repeat until all donuts are cooked.
To coat the donuts:
Mix the sugar and cinnamon in a bowl.

Prepare your space so you have your cooked donuts, one bowl of cinnamon sugar, one bowl of melted vegan butter and a bowl/tray for the finished donuts.

When the donuts are still warm, dip each in the melted vegan butter then the cinnamon sugar.
Filling (optional):
Insert a straw, chopstick or knife into each donut making room for the jam.

Spoon the jam into a piping bag with a small nozzle and use the bag to fill the donuts.

Enjoy! They are best eaten on the same day. Alternatively, you can reheat the donuts in your air fryer just before serving.
Notes
If you have active dry yeast, mix it with the warm soy milk and a pinch of sugar. When it bubbles, use it in the recipe (step 1).
I made these donuts in a Ninja Foodi Multicooker which has an air fryer function. To use the Ninja Foodi, turn the knob until it reaches the air fryer function and switch the temperature to 180C. Use the lid which is already attached to the base.
Nutrition
Serving:
1
mini donut
|
Calories:
166
kcal
|
Carbohydrates:
26
g
|
Protein:
2
g
|
Fat:
6
g
|
Sodium:
52
mg
|
Potassium:
44
mg
|
Fiber:
1
g
|
Sugar:
13
g
|
Vitamin A:
318
IU
|
Vitamin C:
2
mg
|
Calcium:
20
mg
|
Iron:
1
mg
This post may contain affiliate links. As an Amazon Associate, I may earn a small commission from qualifying purchases at no additional cost to you.