Classic vegan caramel slice or vegan millionaire bar, just like your corner bakery without the animal products! Just like the traditional treat, these have no dates, a buttery shortcrust base and are made with vegan condensed milk!
What you can expect from this vegan caramel slice
These caramel slice are also known as vegan millionaire bars (UK) or caramel shortbread bars (USA). They all have slight variations but these caramel slice have a:
Crumbly shortcrust cookie base,
Gooey fudge-like caramel filling
Firm chocolate topping
Most vegan caramel slice recipes using coconut condensed milk are TOO gooey and runny and cannot be kept out of the fridge for very long. However, this recipe is stable at room temperature for at least a few hours, thanks to the high amount of butter.
This isn't the most healthy caramel slice recipe but we're going for tradition here. If you're after a healthy vegan caramel slice packed with nuts and dates, check out the caramel slice recipe from my cookbook.
Making the shortcrust base
This is the easy part! Add all ingredients to a food processor and blitz until combined. Depending on your ingredients, you may need to add a little more flour or water to get that ideal cookie texture. Alternatively, you can use a bowl and a pastry cutter (or your hands).
Press the mixture into a square baking tin and press it down. Prick it with a fork (to allow air to escape when baking).
Then bake the crust until slightly golden brown. It's normal for the base to shrink a little.
Making VEGAN caramel using condensed milk
I won't lie - making caramel (vegan or not) is an art as temperatures and consistencies are particular. I've tried making caramel over 20 times, half of the time without using a thermometer or the 'soft / hard ball' method.
Condensed milk is traditionally used to make caramel slice. However, vegan or coconut condensed milk is also a lot more runny than non-vegan condensed milk. That means vegan caramel slice needs a lot more butter to set.
Traditionally, caramel slice is made by pouring the caramel mixture on a shortbread base and baking it in the oven. However, vegan condensed milk can seperate when it stays at high-ish temperatures in the oven or stove-top. Unless you want to cook your caramel for 2 hours, I would not recommend it.
How to tell when your caramel is ready
Traditional candy tests are the best way to tell whether your caramel is ready or not. I really endeavour to make things easy but we can't take shortcuts with this recipe!
To make the caramel, add all ingredients to a heavy-based saucepan and boil over high heat. If you have a candy thermometer, your caramel needs reach around 120°C (250°F).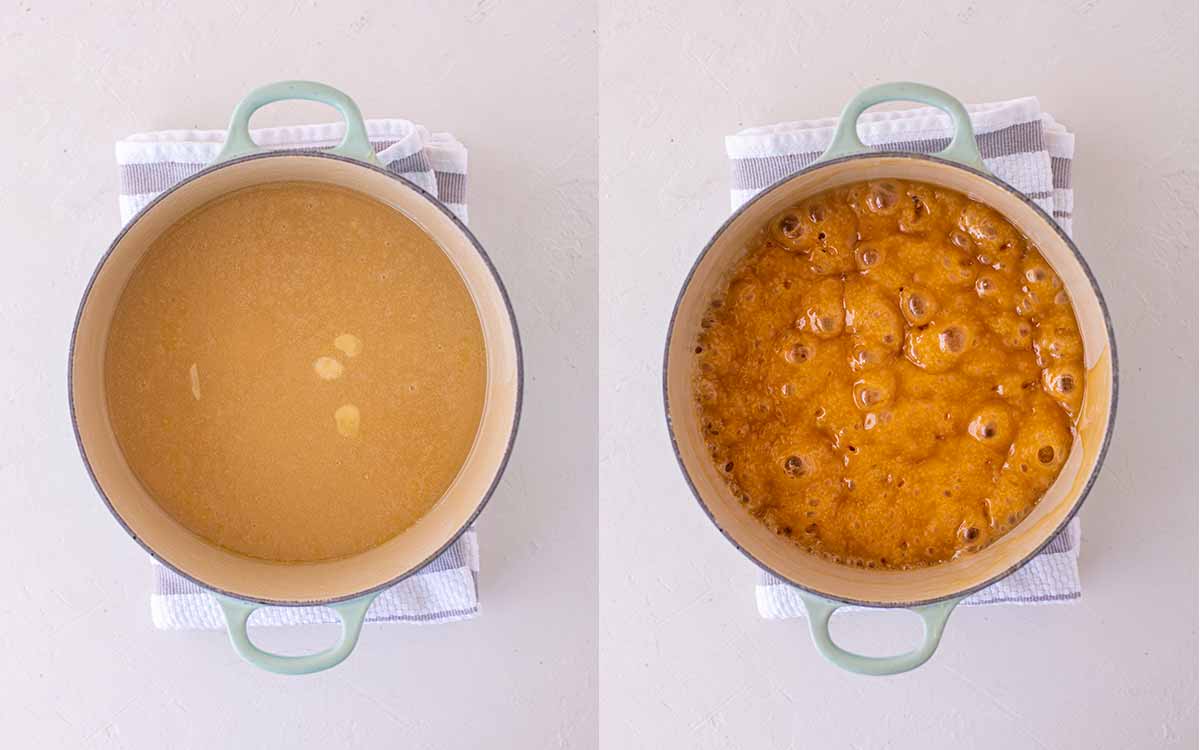 If you don't have a candy thermometer, you can try the soft ball / hard ball stage typical in candy making. This is when some of the hot caramel is dropped into a bowl/glass of ice cold water and is allowed to solidify.
Initially the caramel won't form a ball at all in the ice water. Eventually it'll form a soft ball when it can be collected but doesn't maintain its shape.
When you boil the caramel for a little longer, the caramel solidfies and reaches the hard ball stage. This is where a ball is formed, the exterior is firm but the ball collapses when pressed. When it reaches this stage, your caramel is ready!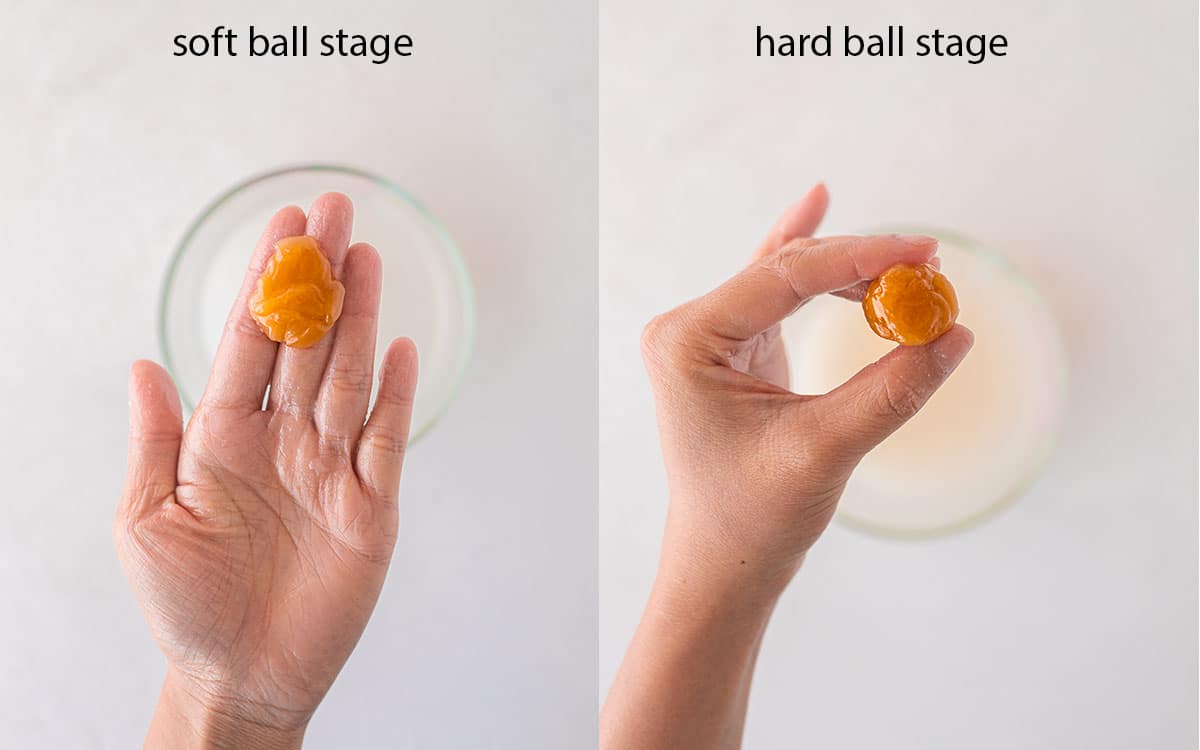 This caramel sets quickly so immediately pour it on top of your baked base. Then pop it in the fridge to chill!
If you were able to make your caramel, making your chocolate layer will be a breeze in the park :).
Ingredient substitutions
BASE: To make a gluten free vegan caramel slice, substitute the flour for 50% almond meal and 50% gluten free flour blend (with xantham gum) by weight.
CARAMEL: Using vegan margarine instead of vegan block butter is possible but it creates a slightly softer caramel. Margarine has a higher water content than block butter so there's not as much fat to help keep it stable at room temperature.
If you prefer a refined sugar free vegan millionaire bar, I'd recommend using coconut sugar in the base and caramel. However, this recipe is inevitably sweet (just like the traditional version) so if you prefer something A LOT less sweet, I'd recommend my healthier caramel slice from my cookbook.
Unfortunately the vegan condensed milk (coconut, soy or oat) cannot be substituted in this recipe. It's a core ingredient so replacing it will change the whole structure of the caramel.
You may also like:
Print Recipe
Vegan Caramel Slice (no dates)
Classic vegan caramel slice made the traditional way with NO DATES! Buttery shortcrust base, sticky caramel filling and crackly layer of chocolate.
Ingredients
Chocolate topping
1 ¼

cups (210g)

roughly chopped vegan chocolate

3

tbsp (45g)

coconut oil,

or liquid vegetable oil
Instructions
Preheat the oven to 180°C (350°F). Line a 20 cm (8 inch) square cake tin with baking paper.
Base:
Add all the ingredients to a bowl or food processor and mix until combined. The mixture should stick together when it is pinched between two fingers. Add a little more water if the mixture is too crumbly or a tablespoon of flour if the mixture is too soft.

Firmly press the base mixture into the tin. Bake in the oven for 10 minutes.
Caramel filling:
Add all ingredients to a saucepan over medium-high heat. Simmer for 15 minutes while constantly stirring or until the caramel is a deep golden brown colour and has reached the 'hard ball' stage (120°C or 250°F)**. Pour the caramel into the tin and set aside in the fridge for at least 2 hours.
Chocolate layer:
When the caramel is firm to the touch, start making your chocolate layer.

Add all ingredients to a small saucepan or double boiler over low heat. Mix until melted. Pour the melted chocolate on top of your caramel layer and return the slice to the fridge to set.
To serve:
Remove the caramel slice from the fridge and pull the baking paper to remove it from the tin. Use a sharp knife to cut the slice into squares or rectangles.

Store the caramel slice in an airtight container in the fridge for up to 2 weeks or in the freezer for up to 1 month.
Notes
* Do not omit the liquid sweetener as it helps prevent the caramel from crystallising. Apparently maple syrup does not work as it as a too high water content.
** The 'hard ball' stage is when you drop a little caramel into a glass of iced water and it forms a hard ball. The exterior is firm but it softens when pressed. If the caramel is too soft, cook it for a little longer.
Please leave a comment below if you made this recipe, have any questions or thoughts! Your comment will help other readers and Rainbow Nourishments.