This vegan Christmas trifle has layers of vanilla cake, macerated strawberries, egg-free custard and whipped dairy-free cream. It's the perfect centerpiece for your holiday table!
Without the Santa strawberries, this trifle can be served all year round, just like my black forest trifle and lamington trifle!
TIPS for making this vegan trifle
PLANNING: I recommend making a few components of the trifle ahead of time, such as the cake and custard. I've written a cooking timeline so you don't have to spend Christmas Eve or Day making the whole trifle!
SHORTCUTS: If you're short on time, you don't have to make everything from scratch! See the last section of this post for shortcuts.
Ingredients you'll need
Although the trifle has many components, a lot of the ingredients are used repeatedly which means your shopping list won't be too long!
The full list of ingredient quantities and instructions are in the gray recipe card at the bottom of this post.
Notes about the ingredients
Fresh and/or frozen strawberries. For the trifle layers, you can use frozen strawberries, fresh/frozen raspberries or blueberries, canned cherries or canned peaches. For the Santa on top, fresh strawberries are best (or top your trifle with snowmen truffles).
Dairy-free whipping cream of choice. You may use dairy-free whipping cream or canned coconut cream.
Jam or preserves. I recommend using a bright red-colored jam to complement the strawberries. I used lingonberry jam but strawberry or raspberry will also work.
Juice for the strawberry compote. Alternatively, you can use your choice of vegan alcohol or sherry.
Dairy-free chocolate chips for the Santa eyes. Alternatively, you can use a store-bought black icing pen.
Making the vegan sponge cake
The cake comes together in one large bowl! All you have to do is mix the dry ingredients, add the wet ingredients and mix until combined. It's a forgiving recipe and we're chopping it up for the trifle anyway.
If you can, I recommend baking the cake at least one day in advance. You can even make the cake a few weeks in advance and freeze it until needed.
I baked my cake in a large sheet pan however, 2 round cake pans will also work. The cake is quite delicate when it's warm so I recommend allowing it to cool in the sheet pan rather than on a wire rack.
I cut my cake into cubes but they can be crumbled into large pieces for the trifle.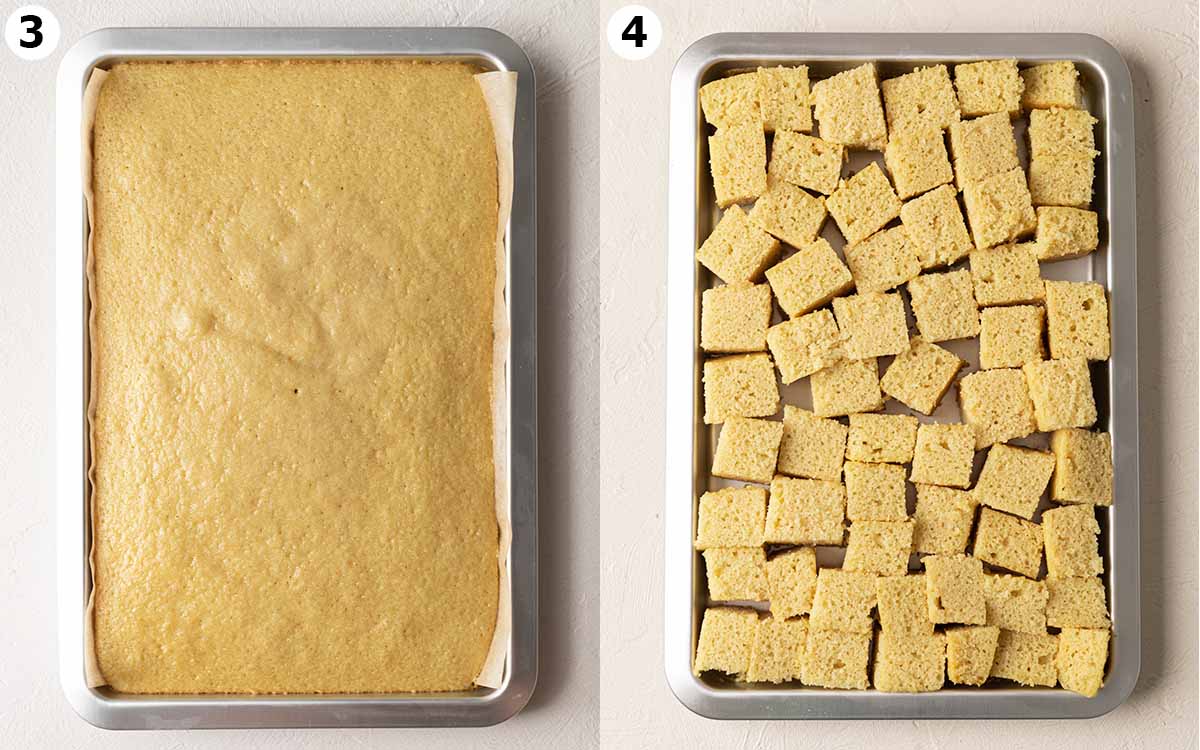 How to make vegan custard
The vegan custard comes together in one large pot. My top tips are:
Whisk all the ingredients together before placing the pot over heat. We don't want to add the cornstarch to the hot liquid as it will clump up.
The custard is ready when it coats the back of your spoon or spatula. If you draw a line through the custard, the line should remain.
When you chill the custard, it will thicken up significantly. To fix it, I recommend:
Blending it with an immersion blender OR
Mixing it VERY vigorously with a hand-held whisk.
Making the macerated strawberries
Vegan jelly is not easy to find so we're making a jammy strawberry compote!
First, mix the jam and juice together to form a sauce. Toss in the strawberries and set aside to allow the flavors to meld together. Feel free to add more juice or jam for a thinner or thicker compote.
The compote keeps well in the fridge for 3 days and the strawberries will soften over time.
Assembling the strawberry Santas
The strawberry Santas are completely optional however, they add a really cute touch to your vegan Christmas trifle!
I used a piping bag with a round tip to pipe the cream but you can use a small teaspoon to dollop the cream as needed.
Assembling the vegan Christmas trifle
There are no rules to assembling the trifle and you can layer it whatever order you like!
The strawberry trifle can be assembled anywhere from 24 hours to 1 hour in advance. If you're putting together the trifle 24 hours ahead of time, I recommend layering all the elements except the top whipped cream layer and the strawberry Santas. Sometimes whipped cream cracks in the fridge and the Santas look best on the day you make them.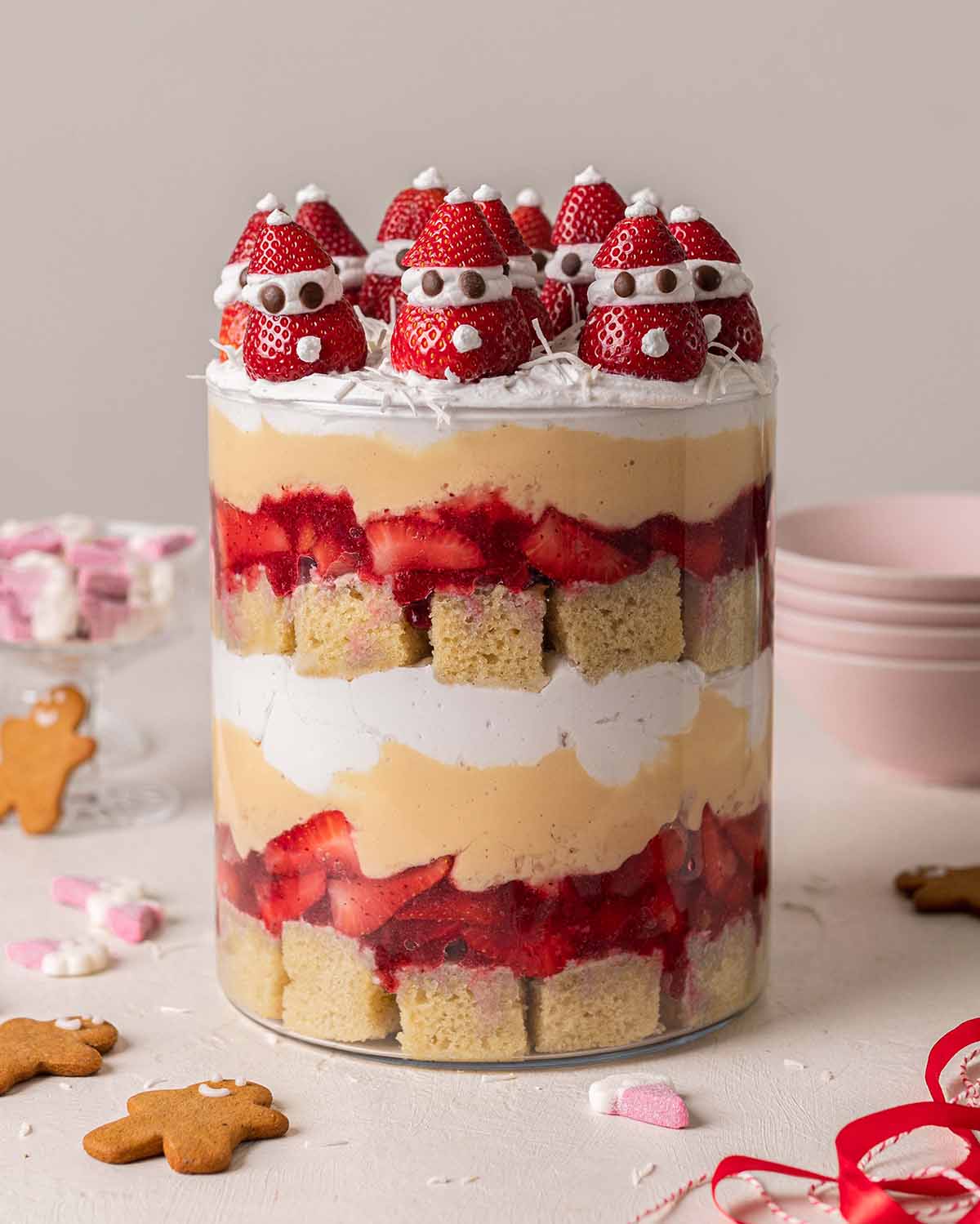 Timeline for making the vegan Christmas trifle
To minimize kitchen prep on Christmas Day, here's a timeline for preparing the trifle recipe.
1-3 days in advance: Prepare the cake and custard, let them cool and store them in an airtight container in the fridge. You can also do this a few weeks in advance and freeze the cake and custard until needed.
A day in advance: Prepare the strawberry compote. Store in an airtight container in the fridge overnight. You can also assemble all of the trifle today except the top layer of whipped cream and strawberry Santas. Reserve 1 ¾ cups of whipped cream for later.
On the day of serving: If you haven't assembled your trifle, do this today. Top the trifle with whipped cream and strawberry Santas a few hours before serving.
How to serve trifle
First, I recommend removing any strawberry Santas where you intend on scooping.
To serve the trifle, it's best to use a spoon that's large enough to scoop some of each layer. The first scoop will always messy, but just do the best that you can!
Finally, slide the trifle mixture from your spoon to a serving bowl.
Shortcuts for making this vegan Christmas trifle
Use store-bought vegan sponge cake, pound cake or even chocolate brownies. Or make a vegan cake from a box mix.
Use store-bought dairy-free custard. Or make custard using custard powder or instant vanilla pudding mix.
Use dairy-free yogurt, coco whip or an aerosol whipped topping instead of whipped cream. Keep in mind that a whipped topping will deflate more quickly.
Customizing the trifle
Can I add anything else to the trifle?
Cranberries, bananas, berries or other fruit can be added to the strawberry compote.

To the custard, you can add other flavors such as cinnamon and orange zest.

You can also decorate the trifle with white chocolate or festive sprinkles. If strawberries aren't in season, top the trifle with coconut snowmen or cranberries!
More vegan Christmas desserts
Follow Rainbow Nourishments on Instagram, Facebook, TikTok and Pinterest, and subscribe via email to receive all of our latest recipes!
Print Recipe
Vegan Christmas Trifle
This vegan Christmas trifle has layers of vanilla cake, macerated strawberries, egg-free custard and whipped dairy-free cream. It's the perfect centerpiece for your holiday table!
Ingredients
Dairy Free Vanilla Custard
Macerated Strawberries
1

heaped cup (14 oz or 400g)

raspberry jam

,

strawberry jam or lingonberry jam

¼ - ½

cup (60-120g)

fruity carbonated drink of choice

,

with or without alcohol

4-6

cups (28 oz or 800g)

quartered strawberries

,

fresh or frozen (note 1)
Strawberry Santas & Assembly
3

cups (24 oz or 720g)

dairy-free whipping cream

,

(for example coconut cream), as needed

10

fresh strawberries

,

stems cut off

mini vegan chocolate chips

,

or black decorating gel
Instructions
Make the cake (preferably, 1-2 days before serving):
Preheat your oven to 160°C (320°F). Line a 26x38 cm (10x15 inch) sheet pan or two round cake pans with parchment paper.

Add all the dry ingredients to a large mixing bowl and mix until combined. Add all the wet ingredients and mix until there are no lumps.

Pour the batter into your sheet pan. Bake for 20-25 minutes or until you can insert a toothpick or skewer in the middle and it comes out clean. Allow the cake to cool in the pan.

Cover the cakes and chill in the fridge until needed. Chilled cakes are easier to handle!
Prepare the vanilla custard (preferably, 1-2 days before serving):
Add all ingredients and a small pinch of turmeric to a large saucepan. Whisk until there are no more lumps of corn starch.

Place the saucepan over high heat. Bring the mixture to a boil for 5 minutes while whisking occasionally. Add more turmeric to color (note 2). Reduce to medium heat for 10-15 minutes or until the custard thickens to your ideal consistency. The custard should coat the back of a spatula.

Remove the custard from the heat. Set aside to cool. Chill in an airtight container until needed (note 3).
Make the macerated strawberries (1 day or few hours before serving):
Add the jam and ¼ cup of the sparkling drink to a large mixing bowl. Whisk until combined.

Add the strawberries and toss until well combined. If desired, add more of the sparkling drink to create a runnier compote.
Make the strawberry Santas (few hours before serving):
Whip the cream according to packet instructions or until stiff peaks form. Chill until needed.

Use a sharp knife to slice the top third of each strawberry. Reserve the tips to use as Santa hats.

Use a piping bag or a spoon to top each strawberry base with whipped cream. Place the strawberry hat on top.

Pipe a small ball of cream on top of the hat and on the side of the strawberry to make a button.

Press two chocolate chips in the cream to make eyes for each Santa.
Assemble the vegan trifle (few hours before serving):
Cut your cake into 2 cm / 1-inch cubes or crumble it into small pieces.

Place half of the cake cubes in the bottom of a trifle dish or large clear trifle bowl. Feel free to crumble any remaining cake to fill any gaps. Top with half of the strawberries, half of the custard and half of the whipped cream. Repeat layers until you have used up all ingredients.

Top your vegan trifle with the strawberry Santas. Chill until ready to serve. Leftovers can be stored covered in the trifle dish for up to 3-5 days.
Notes
If your strawberries are small, you can just halve them.
The turmeric will intensify in color as the custard heats. I recommend adding a small amount then gradually adding extra if needed.

If you make your custard a day in advance, it will set when it cools down. Use an immersion blender to return the custard to its liquid state. Alternatively, you can use a hand whisk and mix it vigorously until there are no lumps.
Nutrition
Serving:
1
serve
|
Calories:
577
kcal
|
Carbohydrates:
80
g
|
Protein:
6
g
|
Fat:
28
g
|
Sodium:
190
mg
|
Potassium:
317
mg
|
Fiber:
4
g
|
Sugar:
34
g
|
Vitamin A:
901
IU
|
Vitamin C:
8
mg
|
Calcium:
131
mg
|
Iron:
3
mg
This post may contain affiliate links. As an Amazon Associate, I may earn a small commission from qualifying purchases at no additional cost to you.