This single-serve vegan chocolate chip cookie is perfect for when you don't want to make a big batch of cookies! It has chewy edges and a soft gooey center and is loaded with chocolate chips. And you don't even need a mixer to make it!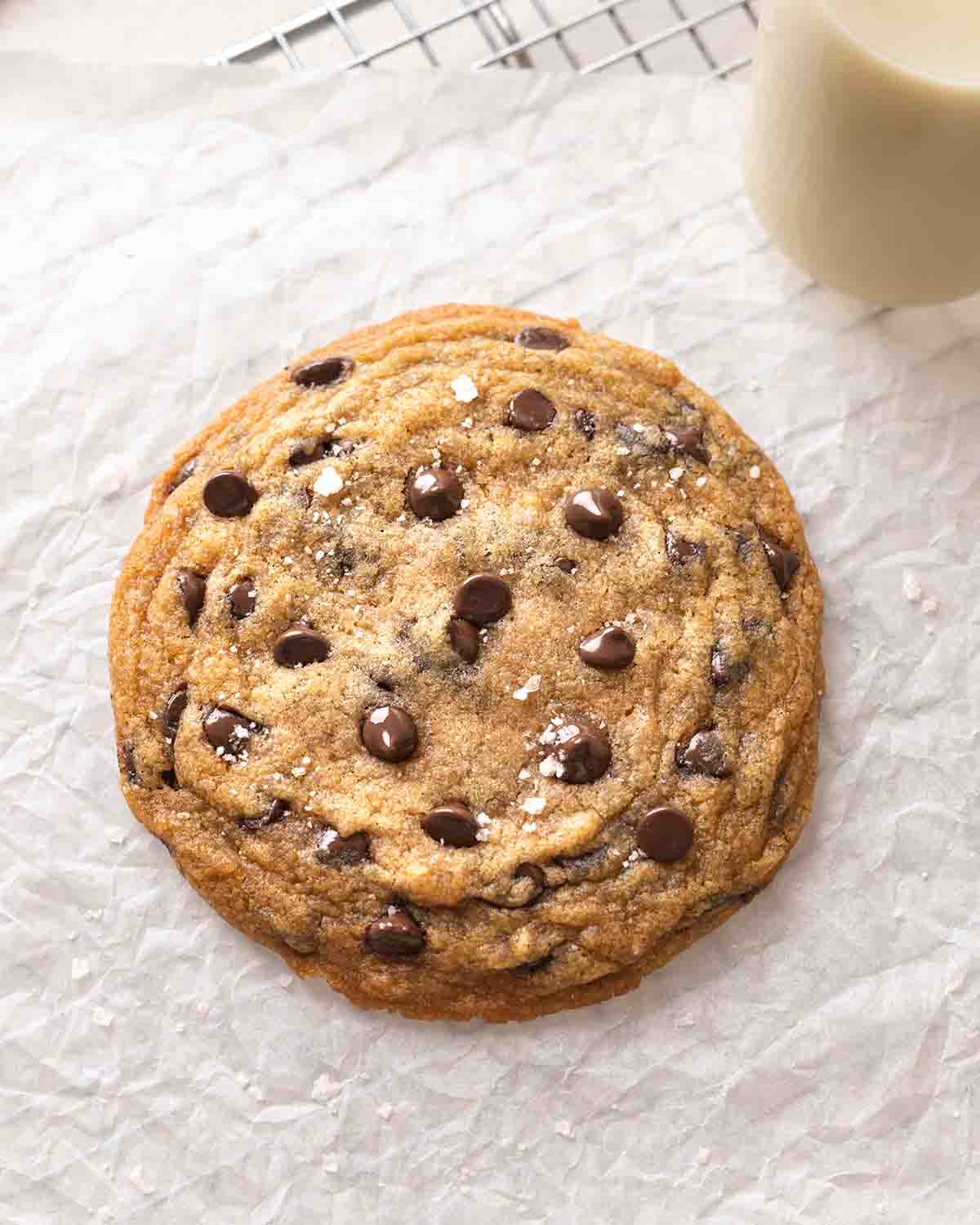 Ingredients you'll need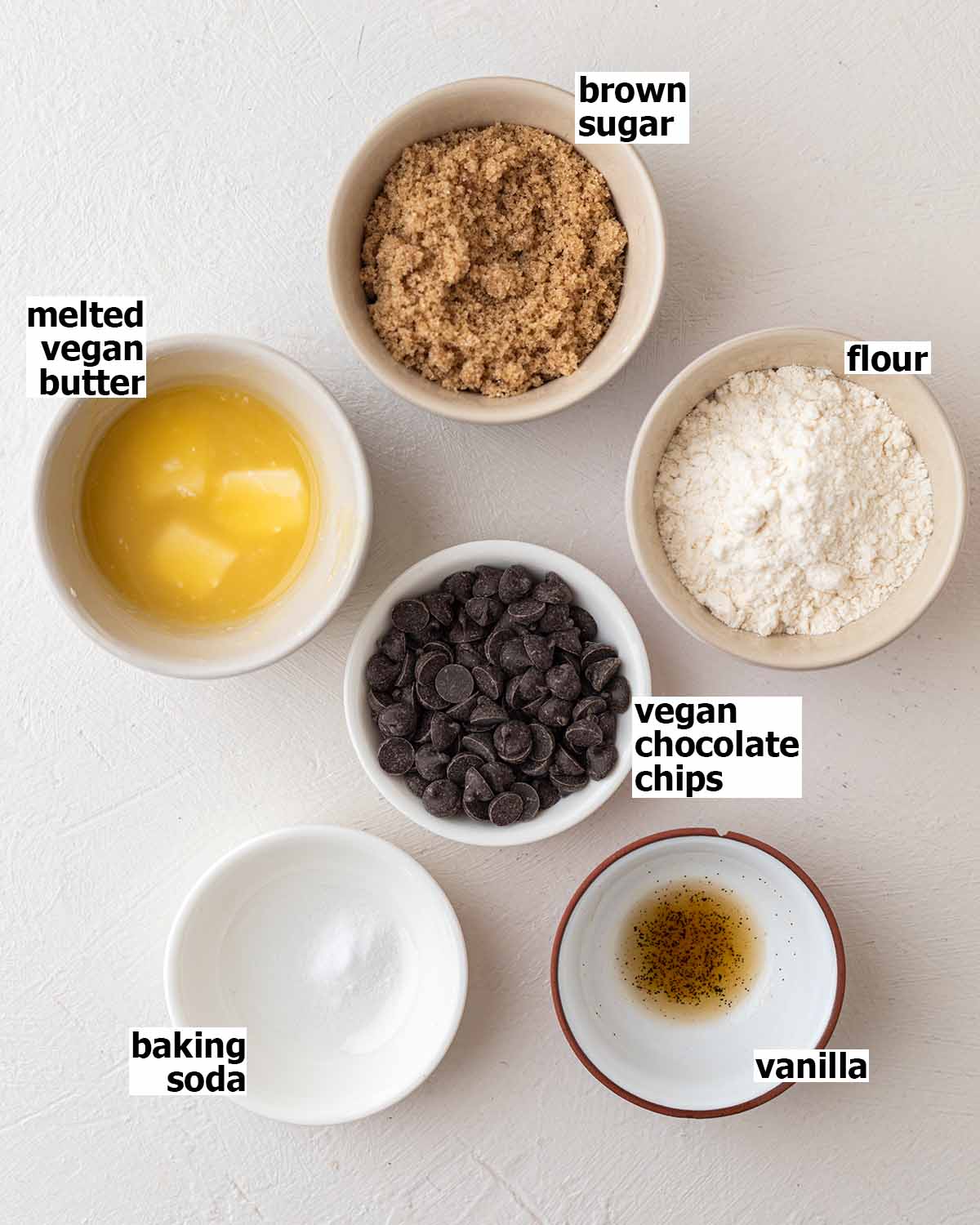 Ingredient notes
Melted butter for a chewier cookie and because it's easier to mix (no hand mixer is needed)! I recommend melting your butter only partially (leave some solid bits), so you don't have to wait as long for the butter to cool. If your butter is too hot, it'll melt your chocolate chips before baking.
Brown sugar for depth of flavor. Alternatively, you can use granulated sugar (for a lighter-colored cookie) or coconut sugar (for refined sugar-free caramelly cookie).
Chocolate chips or chocolate chunks or whatever you have in your pantry.
A complete list of ingredients, quantities and instructions are in the gray recipe card at the bottom of this post.
Making the cookie dough
I've made this single-serve vegan cookie recipe as easy as possible so you can satisfy your craving ASAP!
Since the butter is melted, we can just use a spatula or spoon to mix the wet ingredients. No hand mixer = less washing of dishes!
Then add your flour and baking soda and mix until combined. Mix in your chocolate chips and you're done! Your cookie dough should be slightly tacky but not overly sticky, just like regular cookie dough.
You don't need to chill the dough (unless you really want to)!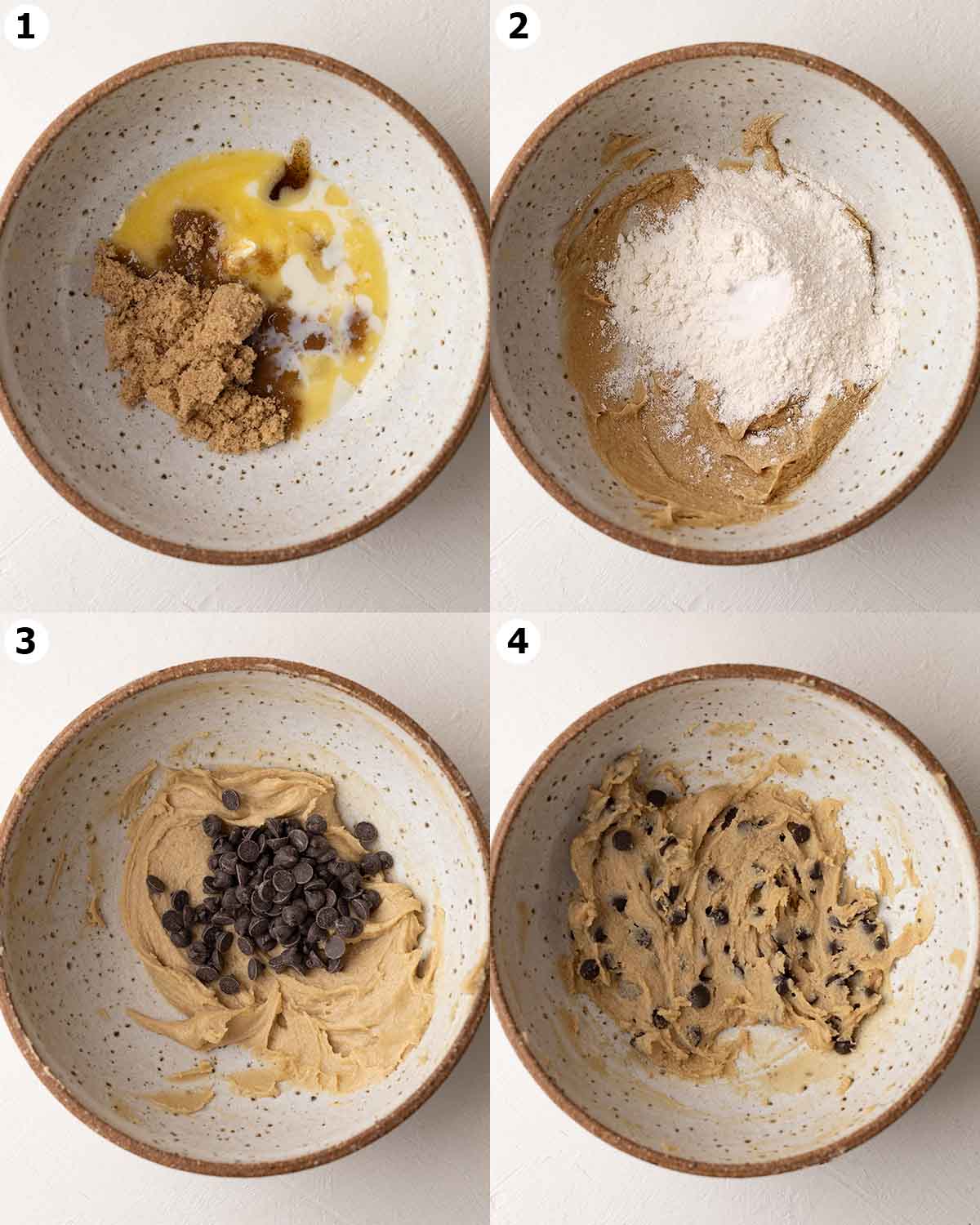 Baking your single-serve vegan cookie
This recipe makes one giant vegan cookie or two medium-large cookies. They'll need slightly different baking times, as follows:
Bake one giant vegan cookie for 14-16 minutes
Bake two medium-sized cookies for around 11 minutes
As always, ovens vary a lot, so follow your gut when baking your cookie. Your cookie/cookies are ready when the edges look cooked and your cookie is evenly golden, even though the middle may look a bit soft. When you remove your cookie from the oven, it'll continue baking on the hot baking sheet.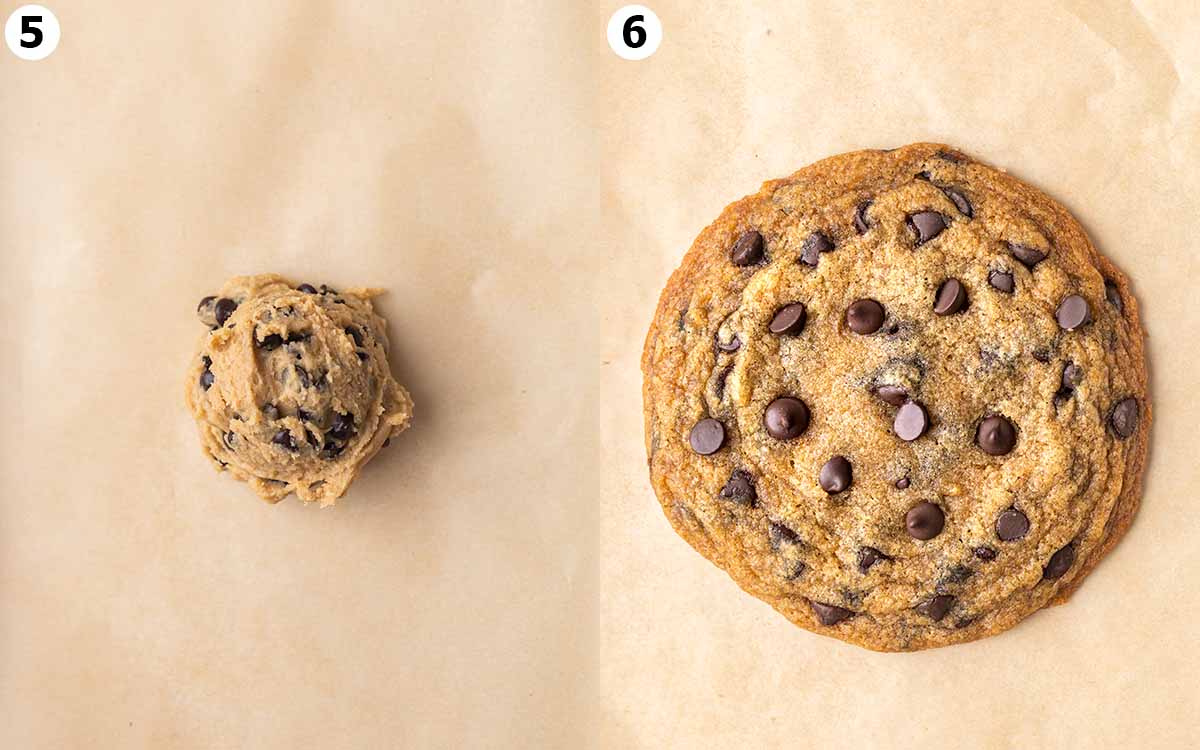 Tips for the best cookies
For the best results, measure your ingredients carefully. This is a small recipe so 2 teaspoons or even 10 grams can throw off the ratios.
I recommend using a kitchen scale and the grams measurements. Alternatively, use the spoon and level method, especially when measuring the sugar and flour.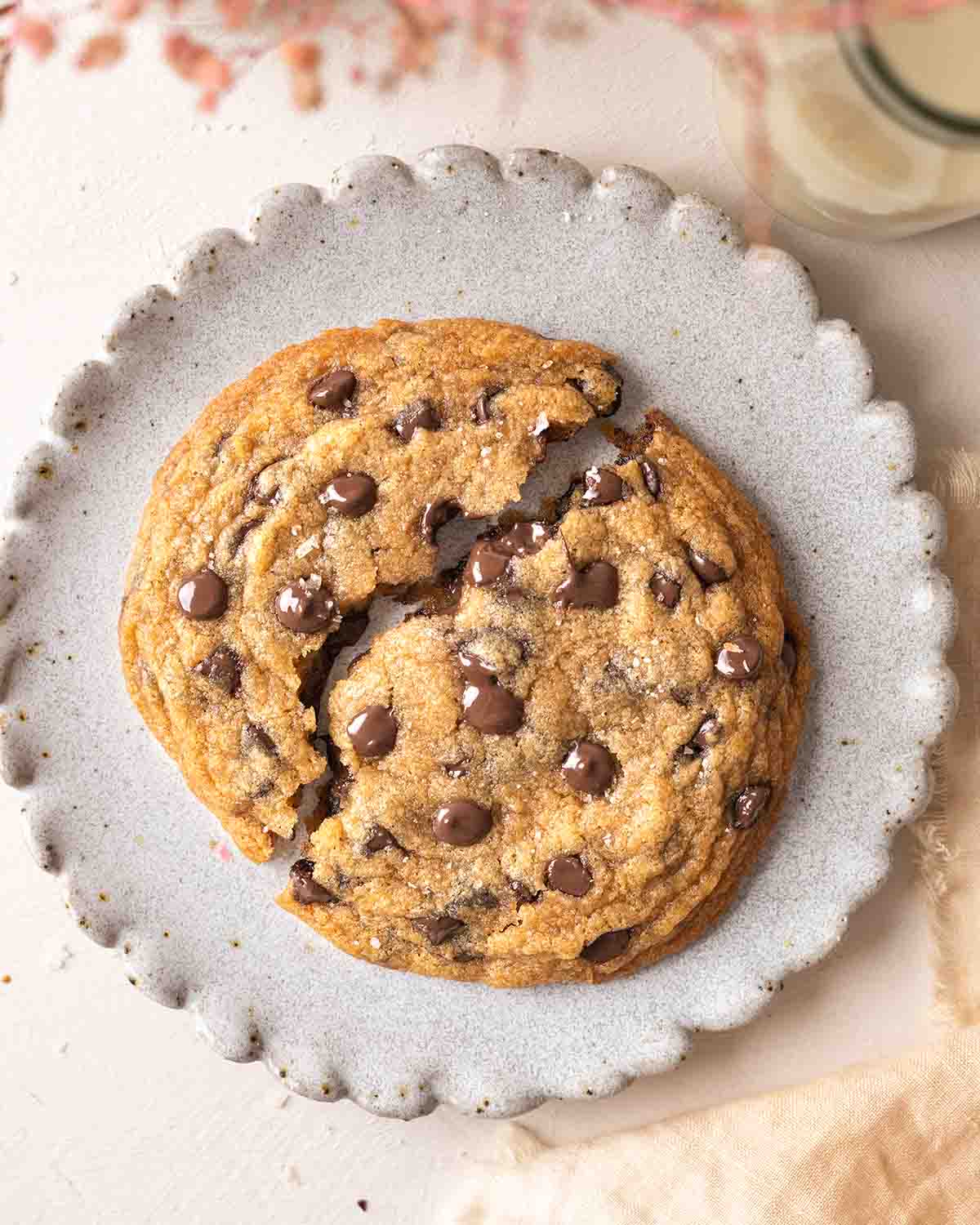 Customizing this cookie recipe
Can I reduce the sugar?
Sure. Just keep in mind that reducing the sugar causes a cookie to spread less (so you may want to flatten your cookie dough ball before baking). Reducing the sugar can also make the cookie less moist.
Can I make the cookie gluten-free?
Yes. However, not all brands of gluten-free flour are the same. Check the notes of the recipe card for details. Otherwise, if you've successfully used a brand of gluten-free flour in another vegan cookie recipe, it'll work for this recipe.
Can I add something else or in addition to dark chocolate chips?
Yes, some other delicious add-ins include:
- pretzels
- nuts
- white chocolate chips
- dried fruit
More easy vegan cookie recipes
Follow Rainbow Nourishments on Instagram, Facebook, TikTok and Pinterest, and subscribe via email to receive all of our latest recipes!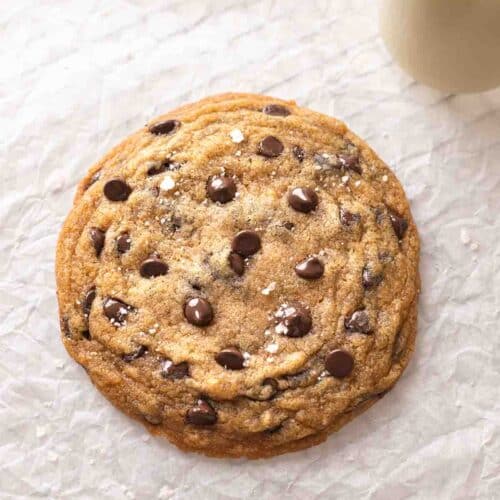 Print Recipe
Single Serve Vegan Chocolate Chip Cookie
One-bowl vegan chocolate chip cookie recipe for when you don't want to make a big batch of cookies! You don't need a mixer to make this giant cookie with chewy edges and a soft gooey center.
Servings:
2
people (½ giant cookie)
Instructions
Note: As this is a small batch recipe, make sure you measure your ingredients carefully. For the best results, use the grams measurements (where provided). Or use the spoon and level method where you fluff up the flour in your container with a fork, use a spoon to add it to your measuring cup and level it off with a knife. One teaspoon of ingredients goes a long way in a small recipe.

Preheat the oven to 180°C (350°F). Line a small baking tray with parchment paper.

Add the sugar, butter, milk and vanilla to a small bowl. Mix with a spatula or spoon until smooth.

Add the flour and baking soda and mix until there are no pockets of dry ingredients. Add the chocolate mix until just combined. The cookie dough should be soft and tacky but not overly sticky, just like regular cookie dough.

If making one giant cookie, shape the dough into a large ball and place it in the middle of your cookie shoot. Alternatively, divide the dough into 2 balls and arrange on your baking sheet, with space between each. The cookies will spread a lot in the oven.

For one giant vegan cookie, bake it for around 14-16 minutes. For 2 cookies, bake them for around 11 minutes. The cookie(s) are ready when they're evenly golden brown, the edges look cooked and the center is still soft. When you take the cookie(s) out of the oven, it will continue baking.

Enjoy your cookie(s) warm or at room temperature! If you have any leftovers, it will keep in an airtight container at room temperature for up to 3 days.
Notes
I recommend mostly melted butter because fully melted butter is often too hot, can take a while to cool down and will melt the chocolate chips. The butter should be part liquid with some soft bits. This recipe will also work with a spreadable vegan buttery spread but I recommend omitting the milk.
This recipe will work with many 1:1 gluten-free flours, such as Bob Red Mills (blue packet) and King Arthur Flour. It will not work with White Wings gluten-free flour. I recommend using the grams measurements and omitting the milk in the recipe. Your batter will be stickier (almost like muffin batter) so dollop it on your baking tray and it'll bake like the cookie in the pictures above.
Nutrition
Serving:
1
serve (½ giant cookie)
|
Calories:
323
kcal
|
Carbohydrates:
43
g
|
Protein:
3
g
|
Fat:
17
g
|
Sodium:
171
mg
|
Potassium:
50
mg
|
Fiber:
2
g
|
Sugar:
25
g
|
Calcium:
43
mg
|
Iron:
2
mg
This post may contain affiliate links. As an Amazon Associate, I may earn a small commission from qualifying purchases at no additional cost to you.