Vegan egg tarts with a buttery Hong Kong style shortcrust pastry and silky vegan custard. You can make this popular traditional Chinese dessert at home!
Or you may like my vegan boba cake or vegan strawberry mochi ice cream!
What do Chinese egg tarts taste like?
Compared to conventional (Western or British) custard tarts, Chinese egg tarts are:
Light, delicate and not as sweet
Very silky
Not as wobbly and definitely not gelatinous
Chinese egg tarts are one of the most popular traditional Chinese desserts. They are enjoyed all year round but especially on Chinese New Year. Egg tarts often accompany other treats at yum cha and in Chinese bakeries.
Traditionally, egg tarts are made with lard and a ton of eggs so are definitely not vegan.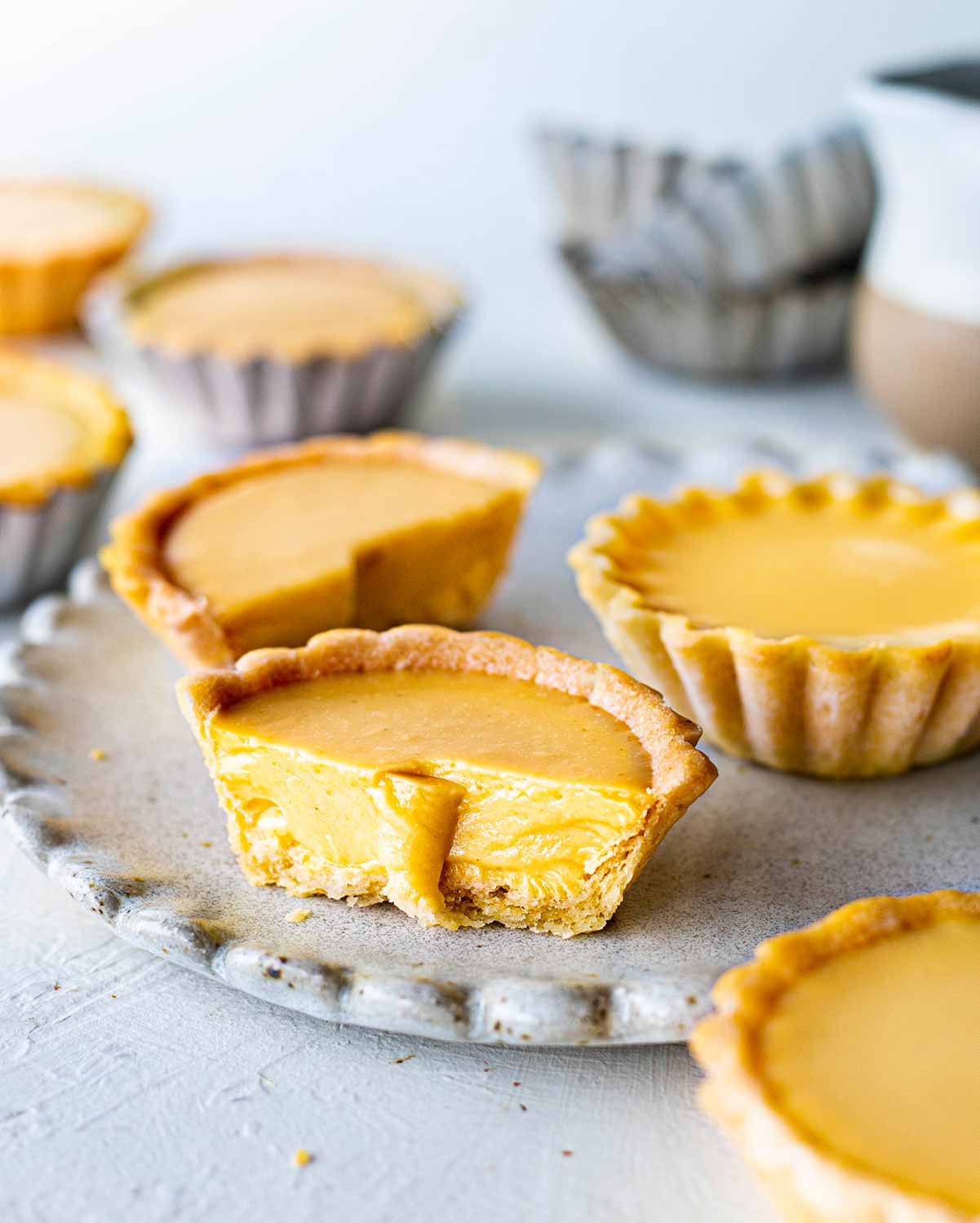 This recipe is authentic... but just vegan
I wanted to make vegan egg custard tarts which were as authentic as possible so I adapted a recipe which was passed down to my mother.
The original recipe is MUCH better than the ones you get from Chinese bakery, such as Maxim's. The home-made tarts are more buttery, full of flavour and aromatic. My mum and all her Chinese mother friends thought so too (the ultimate test)!
To keep the authenticity of this popular Chinese dessert, I used proper substitutions of the original ingredients.
I replaced conventional butter with vegan block butter, milk powder with coconut milk powder etc. To make up for the lack of egg, I changed the ratios in the recipe and added a few ingredients!
Ingredients for the Hong Kong style shortcrust pastry
Some Hong Kong style egg custard tarts have a shortcrust pastry similar to British custard tarts. Other egg tarts use a Chinese laminated pastry which is more time-consuming (and I personally never liked).
Traditionally the pastry for egg tarts is made with lard so aren't even vegetarian-friendly! These days, bakeries use lard, shortening or butter (probably lard or shortening to due affordability).
When you make egg tarts at home using butter, they will always be more rich than the ones you get in your bakery.
To make the buttery shortcrust, you will need:
Plain flour
Vegan butter. I'd strongly recommend BLOCK butter instead of the spreadable type. Block butter makes a crisper pastry! However, if you really can't get vegan block butter, spreadable will work.
Powdered sugar as it dissolves more easily than granulated sugar.
Optional: coconut milk powder. Adding milk powder gives these pastries a 'Chinese bakery smell' and depth of flavour.
Optional: vanilla extract for flavour.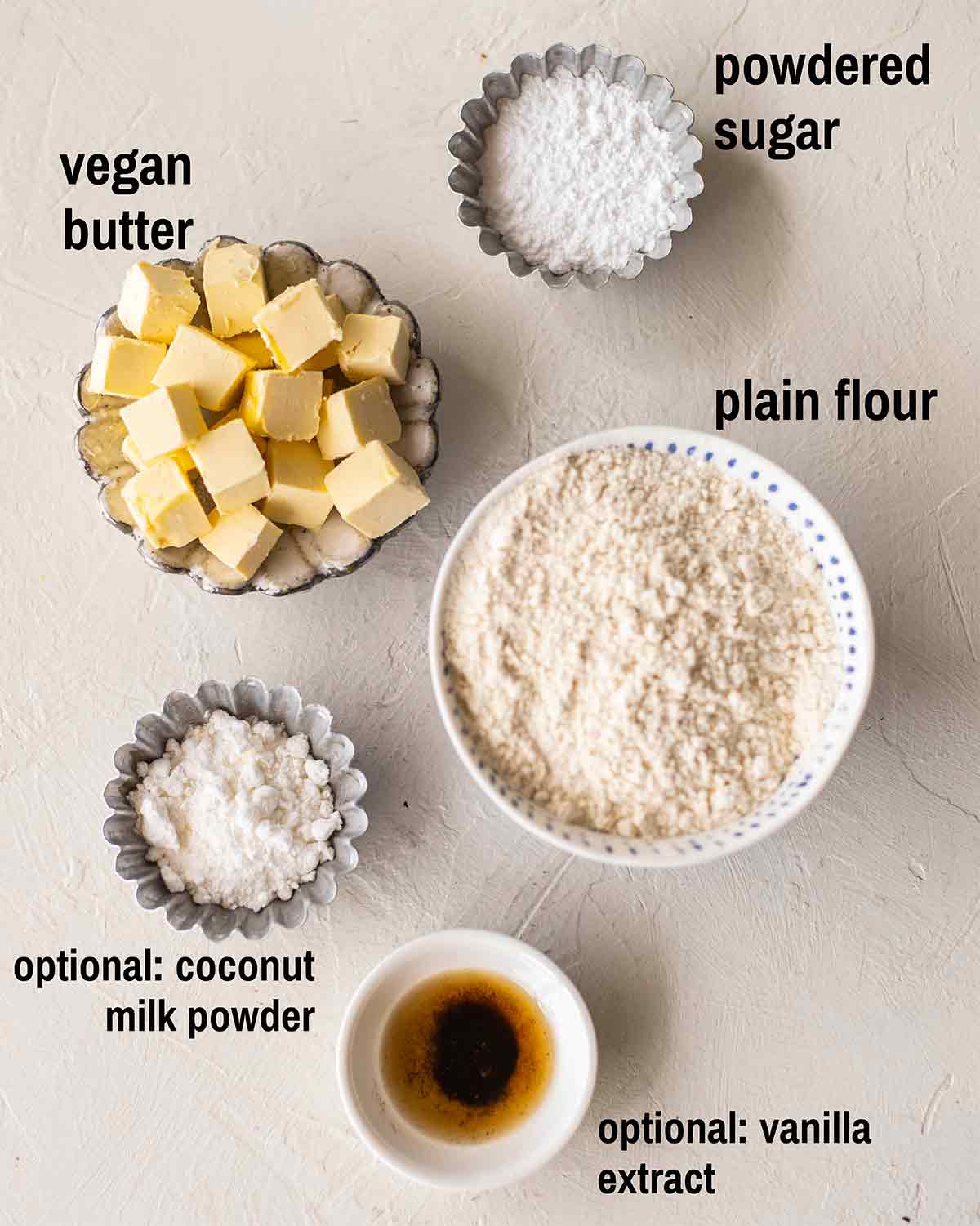 How to make shortcrust pastry
Making the Chinese-style shortcrust pastry is the same as making conventional pastry!
Simply pop all the ingredients in a food processor. Add a teaspoon of water, soy milk or evaporated milk (which you'll also need for the custard) and pulse until combined.
Do NOT skip the teaspoon of water/milk. It is needed to hydrate the flour and sugar and to bind them together. Once, I skipped it and my pastry was very crumbly!
If your pastry is very soft, chill it until it firms up.
On a floured surface, roll out your pastry to a little less than 5 mm (¼ inch) thick. I found that made a good pastry to custard ratio :). Use a cookie cutter slightly larger than your egg tart tins and cut out some rounds of pastry!
Transfer each pastry round to a greased tart tin and press it against the bottom and sides. I won't lie - shaping each vegan egg tart is the most tedious step in this recipe. However, it will be worth it!
Should I blind bake the pastry shells?
With traditional Chinese egg tarts, a raw pastry shell is filled with raw custard then baked in the oven. However, vegan custard doesn't bake as easily so we need to bake the tart shells beforehand!
It's not 100% necessary to blind bake your vegan egg tart shells. However, I strongly recommend it. I always take shortcuts with baking but this is something I wouldn't skip!
As you can see below, when the pastry is not blind baked the pastry puffs up. The pastry can expand to double its size and overpower the custard filling.
When the pastry is blind baked, it stays compact, firm and maintains its shape.
Tricks to blind bake these vegan egg tart shells
Larger pastry shells for tarts/pies can be blind-baked by topping it with baking paper and pie weights. However, these egg tarts are small and fiddly so I wanted to figure an easier way!
Here a few tricks for blind baking these small pastry shells:
Place a smaller or similar-sized mini egg tart tin on top. If it's the right size, it'll give your pastry shells a beautiful crimp pattern! (left picture)
Place a small cupcake tin on top of your egg tart shells. The indent from the cupcake tin will prevent your pastry from puffing up. (right picture)
I've also heard that you can scrunch baking paper or aluminium foil into a ball and place it in your pastry shells. But that could be wasteful!
Ingredients for the vegan egg custard
This Chinese dessert has a SILKY smooth custard which melts in your mouth. To make the custard, we need a few ingredients:
Soy milk. I prefer soy as it's creamy and rich. However, any dairy-free milk will work.
Evaporated coconut milk to create a silky custard texture (traditionally, dairy evaporated milk is used). I used Nature's Charm evaporated milk but if you have soy (or other) evaporated milk, it'll also work. Note this is NOT the same as sweetened condensed milk.
Sugar because it's a dessert.
Custard powder to add colour, flavor and to thicken. Also helps as an egg replacer.
Agar powder to further set the vegan egg custard. Egg tarts tend to have a silky and less wobbly texture compared to Western custard tarts and agar helps with exactly that.
Optional: turmeric powder for extra colour (not pictured).
Optional: black salt for that unique egg-like flavour (not pictured).
Making vegan egg custard
First, I'd recommend mixing your custard powder with a few tablespoons of soy milk. Custard powder can clump up easily but this can be prevented by mixing it beforehand! Then simply add all the custard ingredients to a medium saucepan and place over medium-high heat.
Bring the custard to a gentle boil for about 5 minutes. It should thicken ever so slightly! This means the custard powder and agar is activated and will help everything set :).
If your custard is perfectly smooth, good on you! Or you can sieve your custard to:
remove lumps of custard powder
remove the little bubbles!
Either way, pour your hot custard into a jug with a pouring spout. Pour your custard in your baked tart shells then chill the vegan egg tarts for a 2-3 hours or until set.
Removing the tarts from the shells and serving
If you greased your egg tart tins properly, your vegan egg tarts will pop right out. If not, you may need to stick a knife or skewer in the sides to coax it out.
These egg tarts can be kept at room temperature for a few hours. The pastry and custard may become a little softer but will still be pleasant to eat!
More vegan tarts
Follow Rainbow Nourishments on Instagram, Facebook, TikTok and Pinterest, and subscribe via email to receive all of our latest recipes!
Print Recipe
Vegan Egg Tarts (Hong-Kong style)
Vegan egg tarts with a buttery Hong Kong style shortcrust pastry and silky vegan custard. You can make this popular traditional Chinese dessert at home!
Ingredients
Chinese-style shortcrust pastry
Instructions
I'd strongly recommend using grams (and teaspoons for the smaller amounts) for the best results. Like all my recipes, I tested this recipe using grams!
Make the pastry:
Add all the pastry ingredients to a food processor and pulse until just combined. If your pastry is too soft to be rolled out, place it in an airtight container and chill it in the fridge for about 1 hour.

On a lightly floured surface, roll out your pastry to about 5mm thick (a little less than ¼ inch). Using a circular cookie cutter slightly larger than your tart tins (my cutter was 9cm or 3.5 inches wide), cut circles out from the pastry.

Transfer the pastry circles to your tart tins and press the pastry against the bottom and sides. If there are any holes, patch them up with more pastry.

To prepare for blind baking, place similar or smaller-sized tart or cupcake tins on top. See the blog post for a visual guide! Chill the pastry shells in the fridge for at least 30 minutes.
Bake the pastry:
Preheat your oven to 180°C (350°F). When your oven is ready, bake the pastry for around 15 minutes or until the edges are slightly golden brown.

Set aside to cool. Remove the blind baking tins when the tarts are completely cool. Store in an airtight container at room temperature or in the fridge until needed.
Make the vegan egg custard:
In a medium-sized saucepan, mix the custard powder with a few tablespoons of milk until there are no lumps.

Add the rest of the custard ingredients to the saucepan and place over medium-high heat. Whisk the custard consistently while the custard heats up. Gently boil the custard for about 3-5 minutes then remove from the heat. The heat activates the agar so it's important that the custard reaches boiling point.

If your custard has little lumps throughout, place a sieve over a wide pouring jug and carefully pour the hot custard into the sieve. The leftover custard should be smooth.

Place your baked tart shells (while they're still in their tins) on a large tray or in a container. Carefully pour the custard into each tart shell. Allow them to sit at room temperature for 5 minutes then transfer them to the fridge for 1-2 hours or until set. The custard will set at room temperature but the fridge speeds up the process.

The tarts are set if you can insert a toothpick in the middle of the custard and the toothpick doesn't fall down. Serve the tarts at room temperature. Store the egg tarts in an airtight container at room temperature for a few hours or in the fridge for up to 5 days.
Notes
Lard and shortening are used in traditional egg tarts so I'd highly recommend vegan block butter. If you don't have access to vegan block butter, vegan spreadable butter (margarine) will also work. Just add a few more tablespoons of flour to make your dough firmer.
I used 'Foster Clarks' custard powder which is a mainstream supermarket brand and accidentally vegan. It has the same ingredients as other mainstream brands around the world such as Bird's Custard Powder and I think they work exactly the same.

Evaporated milk makes the egg tarts silkier!

If you add your turmeric at the beginning, the color will intensify when it's heated up! I'd recommend only a very small pinch of turmeric to start and add more if desired.
Nutrition
Serving:
1
tart
|
Calories:
188
kcal
|
Carbohydrates:
24
g
|
Protein:
4
g
|
Fat:
9
g
|
Cholesterol:
9
mg
|
Sodium:
100
mg
|
Potassium:
119
mg
|
Fiber:
1
g
|
Sugar:
10
g
|
Vitamin A:
128
IU
|
Vitamin C:
1
mg
|
Calcium:
89
mg
|
Iron:
1
mg
This post may contain affiliate links. As an Amazon Associate, I may earn a small commission from qualifying purchases at no additional cost to you.