Fluffy and decadent vegan zebra bundt cake with swirls of chocolate and vanilla cake topped with an easy chocolate ganache! This is an impressive but easy vegan marble cake recipe!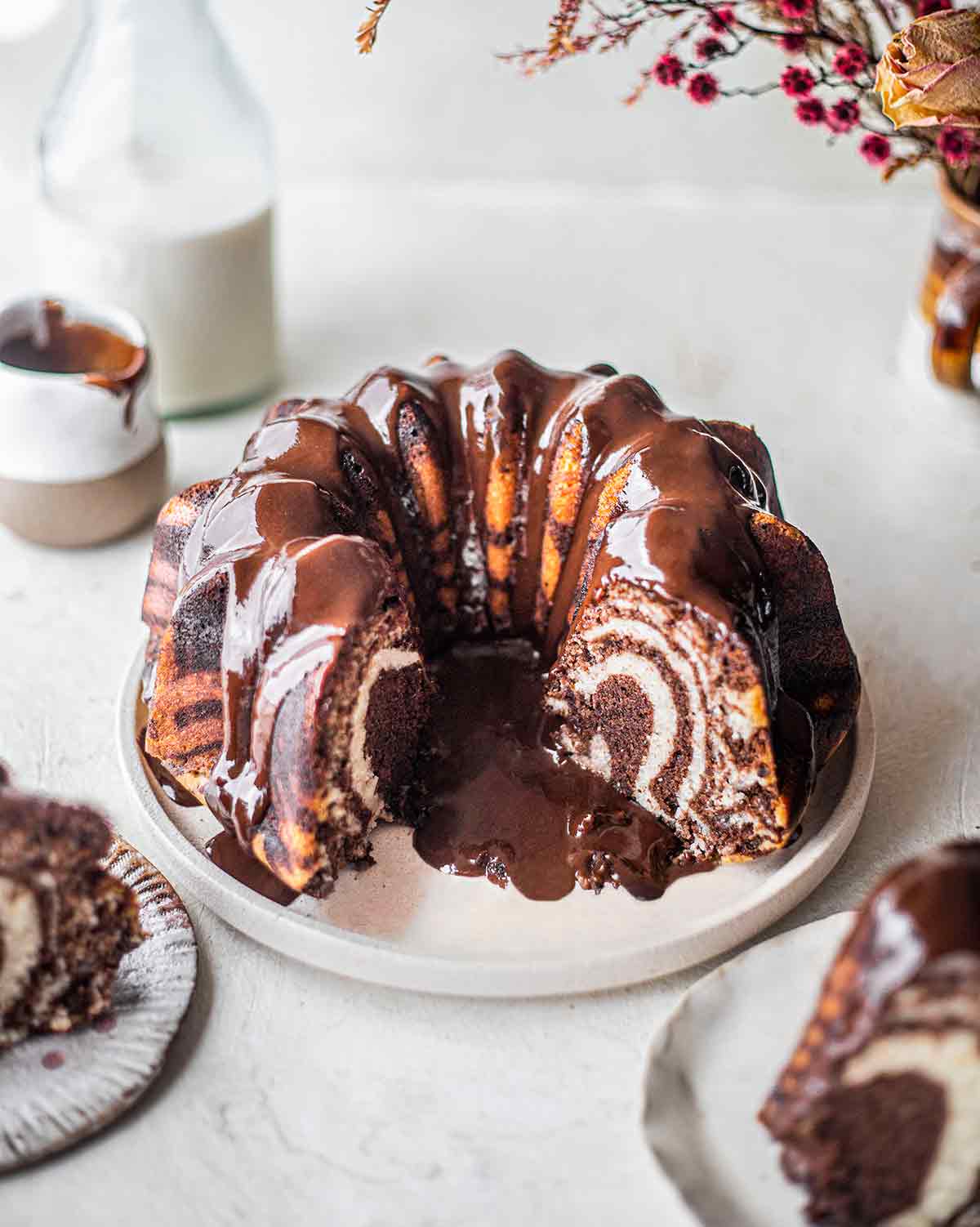 If you like chocolate but don't want something too rich, this vegan cake recipe is perfect for you! The alternating layers of vegan chocolate cake and vanilla cake create a well balanced dessert.
It tastes like a milder (and less sweet) chocolate cake whilst being decadent enough for a special celebration.
The shape of bundt cakes makes them beautiful enough that you won't need to decorate them any further. They act as great celebration centrepieces!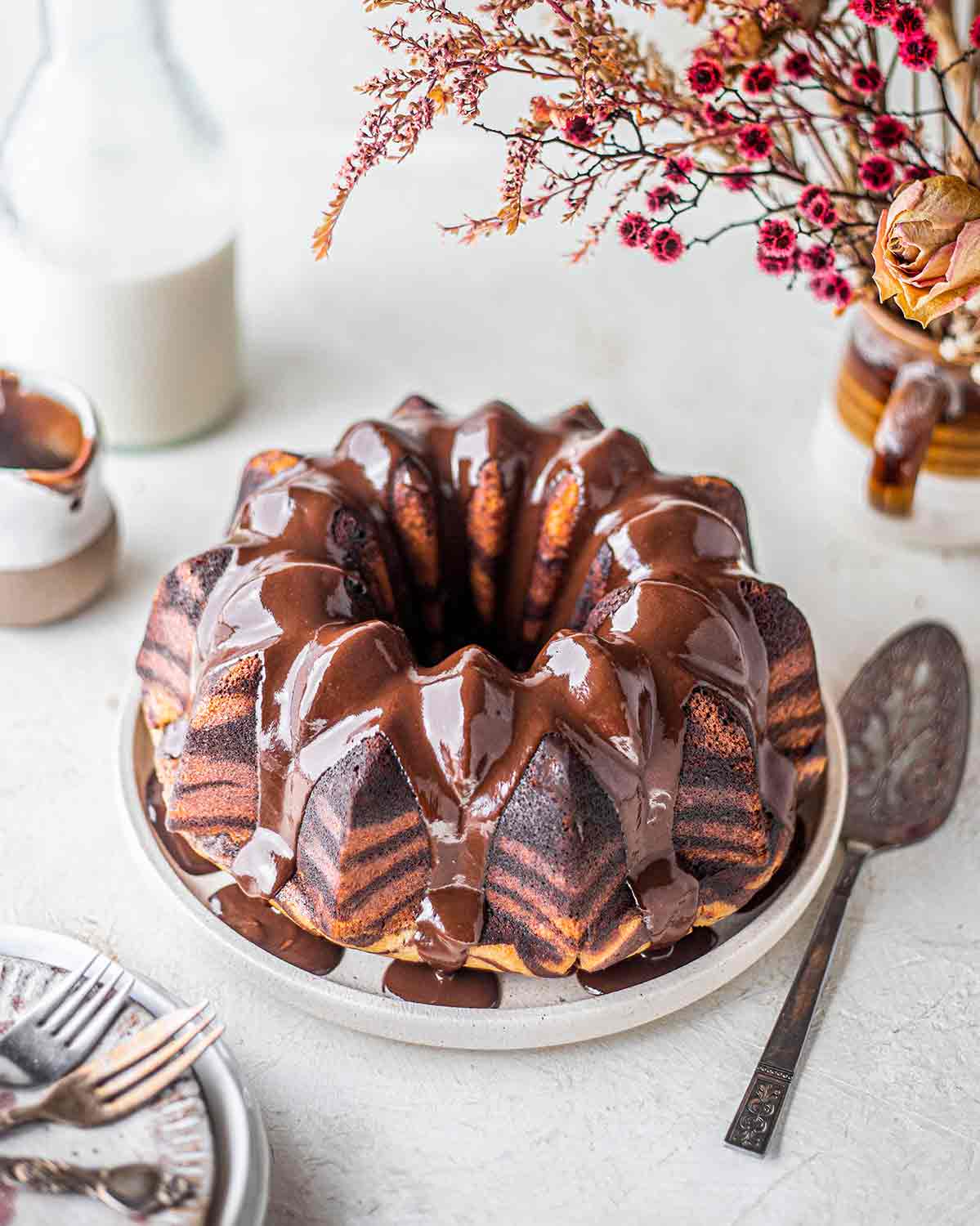 Preparing the cake batter
I made a simple vegan vanilla cake then divided the mixture into 2 bowls.
In one bowl, I added vanilla extract and mixed it in. Of course, you can use vanilla bean powder, paste or any other high-quality vanilla product.
In the second bowl, I added cocoa powder and some plant-based milk then mixed it in.
For this vegan marble cake, both cake batters need to be the same consistency in order for the marble pattern to work. The cocoa powder makes the chocolate batter slightly thicker so I mixed in extra plant-based milk allowing it to be the same consistency as the vanilla batter.
Preparing the bundt cake tin (to prevent sticking)
I used a 10-cup Nordicware bundt pan which is high quality so don't tend to stick with adequate prep. To prepare any bundt pan for this cake, I'd STRONGLY recommend:
Brushing the inside of the pan with melted vegan butter making sure you get into all the nooks and crannies. I prefer using vegan butter than oil as the latter sometimes leave 'puddles'.
Then lightly dusting some cocoa (or cacao) powder on top.
Assembling the cake
Once you've prepared your cake tin, you can assemble your vegan bundt cake! It's much easier than it looks. All you have to do is:
Spoon ½ cup chocolate cake batter in one spot in your cake tin. I started with the chocolate batter as we dusted the tin with cocoa powder.
Then spoon ½ cup vanilla cake batter right on top of the chocolate batter. The weight of the vanilla batter will force the chocolate batter underneath to spread out and so on.
Repeat until you have used up all the cake batter!
The two toned appearance of zebra cakes or marble cakes is automatically created when you layer and alternate the two batters.
The batters will not mix together IF the batters are the same consistency/thickness (see my tips above on preparing the cake batters).
How can I make cakes without eggs, butter or milk?
This vegan bundt cake is based on a vegan vanilla cake recipe. In vegan cakes, eggs are conventionally used in cakes to add richness, bind ingredients and to make the cake rise.
Vegan cakes can still be fluffy and delicious with certain ingredients! To make up for the fat missing from eggs, I added a little extra oil so the cake is still rich.
To bind the ingredients in eggless cakes, sometimes flax or chia 'eggs' are used. This is where you combine ground flax of chia seeds with water and add it to the batter. However, I've tested this recipe with and without egg substitutes and it doesn't make a difference.
To make the vegan cake rise, I used a little extra baking powder and soda. Also, the apple cider vinegar reacts with the plant-based milk to make buttermilk which creates a tender crumb and helps the cake to rise further.
I served this cake to non-vegans at parties and everyone loved it! You need to try it!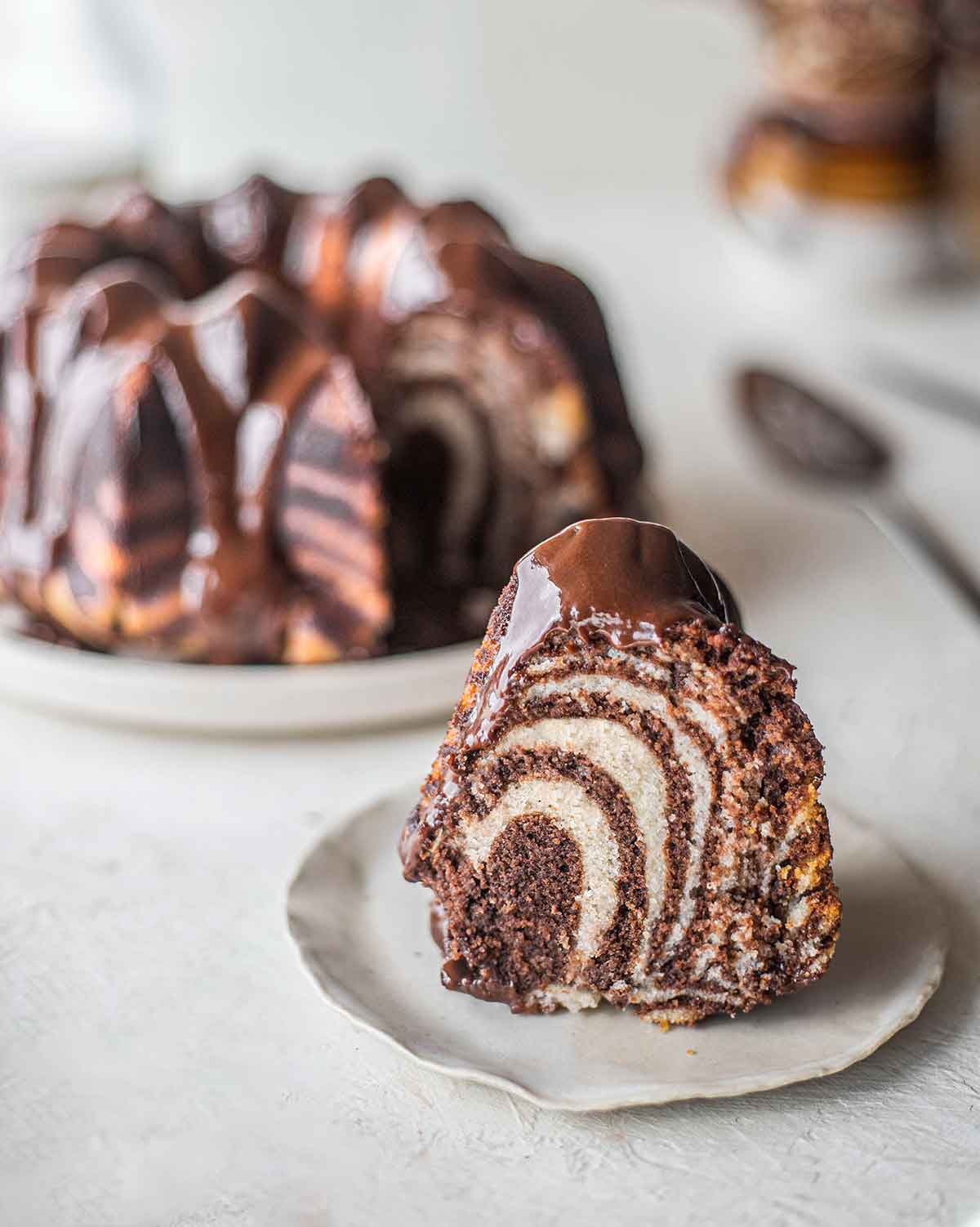 How can I customise this cake?
Decorating the vegan marble cake with Easter eggs (like below) will make it a perfect centrepiece for Easter celebrations! Or add sparklers and it makes a stunning vegan birthday cake!
I do not recommend using coconut sugar as it will make the vanilla layer brown. If you really want to use coconut sugar, it will work for only the chocolate layer. If you use less regular sugar, it'll result in a denser cake.
I haven't tried substituting the oil for apple sauce or a similar ingredient. If you try it, let me know!
I also haven't tried making this vegan cake recipe gluten free. If it works (or doesn't) for you, leave a comment below :).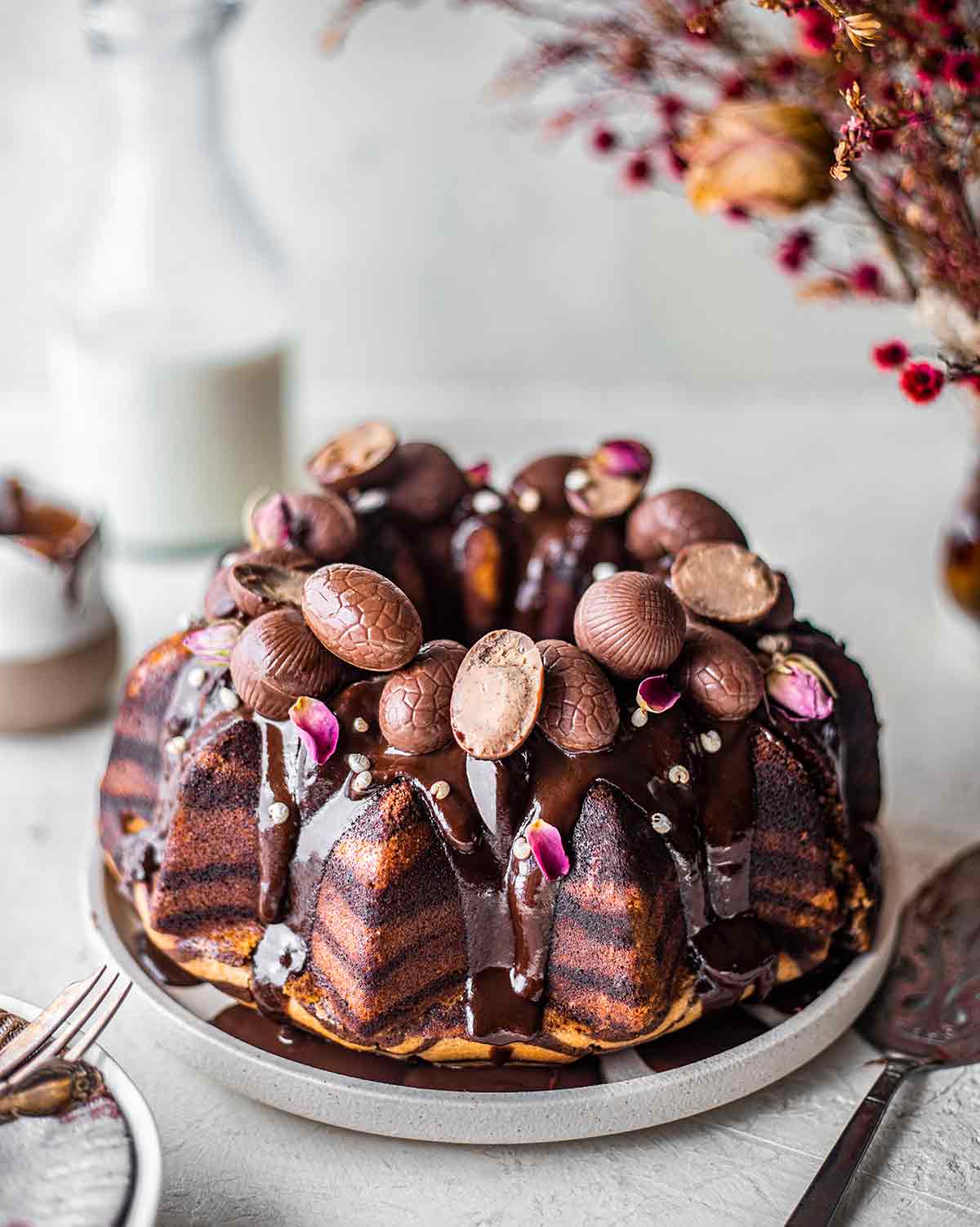 My other easy vegan dessert recipes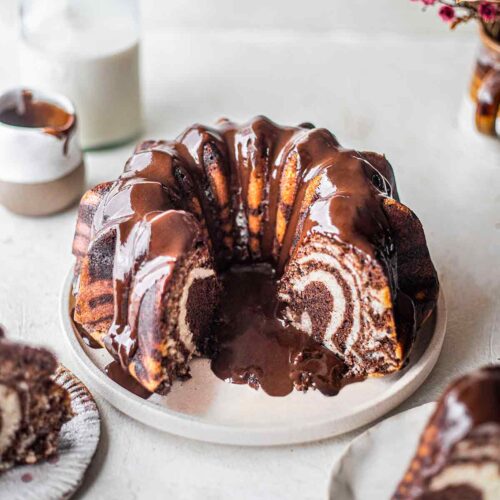 Print Recipe
Vegan Zebra Bundt Cake
Fluffy vegan zebra bundt cake with swirls of chocolate and vanilla cake. The cake is amazing served with an easy chocolate ganache!
Ingredients
Chocolate Ganache
¾

cup (130g)

roughly chopped vegan chocolate or chocolate chips

½

cup (120g)

thick scoopable canned coconut cream
Instructions
Preheat the oven to 180°C (350°F). Brush a bundt tin with melted vegan butter or oil then lightly dust it with cocoa powder.
To make the cake:
Add the flour, sugar, baking powder, baking soda and salt to a large bowl. Mix until combined. Add the milk, oil and apple cider vinegar and mix until just combined. Do not overmix the batter as you'll need to mix it again.

Pour half of the mixture (around 750g) into another bowl. Add the cocoa powder and milk to one bowl and the vanilla extract to the other bowl. Fold the batters in each bowl until combined. Both cake batters should have the same consistency/thickness (the zebra pattern will not work if they aren't the same consistency). Add more flour or milk to ensure this.

Use 2 x ½ cup measures for this step (or 2 ladles of the same size). Pour ½ cup of the chocolate batter in one spot in the bundt tin. Pour ½ cup of the vanilla batter directly on top. Both cake batters will naturally spread. Keep alternating until there is no more cake batter.

Bake the cake in the oven for 50-60 minutes or until a skewer can be inserted into the cake and it comes out clean. Allow the cake to cool in the bundt tin for 10 minutes then turn it upside down on and leave it on the wire rack for another 10 minutes. Gently tap the tin on to encourage it to come out.
To make the ganache:
Add all ingredients to a small saucepan over low heat. Mix while allowing the chocolate to melt then turn off the heat. Mix until smooth and fully emulsified. Set aside to slightly cool.

Drizzle the chocolate ganache over the bundt cake and serve immediately. The cake can be stored in an airtight container at room temperature for 1 day, in the fridge for 5 days or in the freezer for up to 1 month.
Nutrition
Serving:
1
slice without ganache
|
Calories:
324
kcal
|
Carbohydrates:
45
g
|
Protein:
4
g
|
Fat:
15
g
|
Sodium:
180
mg
|
Potassium:
128
mg
|
Fiber:
2
g
|
Sugar:
17
g
|
Calcium:
132
mg
|
Iron:
2
mg
This post was first published in July 2019 and updated in September 2020.
Please leave a comment below if you made this recipe, have any questions or thoughts! Your comment will help other readers and Rainbow Nourishments.