Layered vegan Oreo cookies and cream cake, just like how you remember it! Layers of vanilla sponge packed with Oreo or chocolate cookies, decorated with an American-style buttercream and chocolate ganache.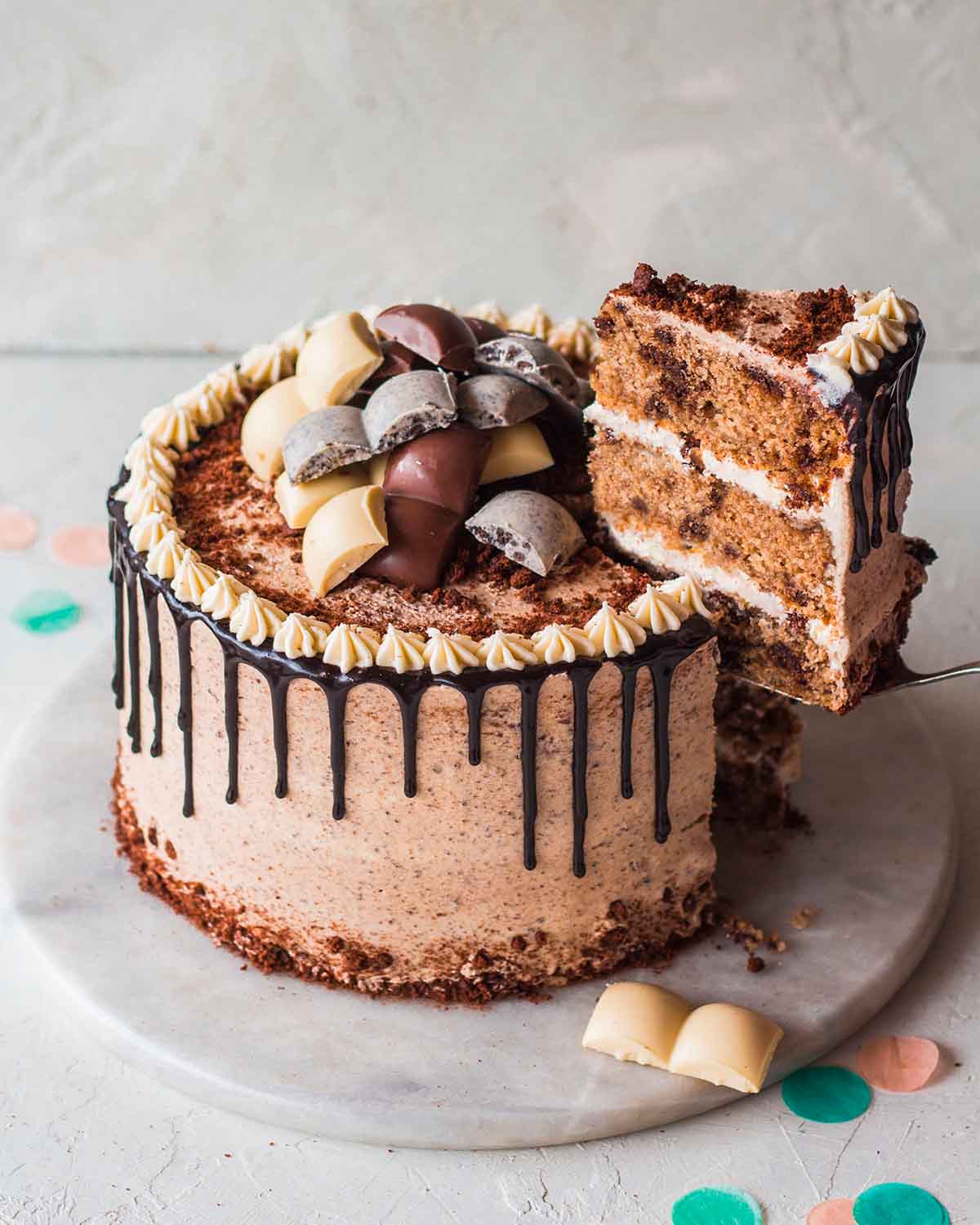 This cake is incredibly fluffy and is deceptively easy to make. It's perfect for birthdays, celebrations or when you just want something extra special.
Ingredients for the vegan Oreo cake
This recipe is basically a regular vanilla cake with Oreo cookies! You will need:
All-purpose plain flour which is the lightest and fluffiest out of common flours. This is a nostalgic cake, so let's do it properly!
Granulated sugar a light colored sugar which doesn't blend in with the dark color of the Oreos/chocolate cookies.
Vegan butter and a liquid oil. The butter provides a classic flavor but oil helps keep the cake moist!
Plant-based milk and apple cider vinegar. Combining these ingredients makes buttermilk. This helps tenderize the flour which creates a more delicate cake crumb. Yum!
Baking powder and soda. I used double baking agents in this sponge cakes because I want it to be extra fluffy (and approved by non-vegans). Since it's an eggless Oreo cake, you need to add extra raising agents.
Vanilla because it adds the extra fragrant and homely factor in any cake recipe.
A complete list of ingredients, quantities and instructions are in the gray recipe card at the bottom of this post.
How to prepare the Oreo cake batter
What I love about this recipe is that the cake batter comes together in ONE BOWL.
First, add all your dry ingredients (except the Oreo cookies) to a large mixing bowl and mix until combined. Add your wet ingredients and mix until just combined. Add your crushed Oreo cookies and fold through!
Evenly divide the cake batter into 3 cake tins then bake!
Tips for baking the cake
I bake my cake layers at 160°C (320°F) because a lower temperature helps create flatter cake layers which is essential for layer cakes!
To make your cake layers extra flat, I'd recommend wrapping the cake tins with cake strips. Alternatively, you can make your own using Youtube tutorials.
Making Oreo buttercream frosting
The Oreo buttercream frosting is absolutely divine! Just imagine cookies and cream ice cream but in a sweet creamy frosting!
First, you'll need to make your vanilla buttercream the classic way. This involves whipping the room temperature butter until it's pale and fluffy. Adding the powdered sugar and whipping it for another few minutes.
Crush up your Oreo cookies finely. The key is to make sure your cookies aren't too fine that they are only crumbs. But not too rough that it's impossible to pipe with! Add the cookies to your frosting and fold the mixture until combined.
Decorating the vegan Oreo cake
I decorated my cake with extra vanilla frosting, a ganache drip and crushed cookies. However, you can also decorate your cake with:
Whole Oreo cookies
Chocolate shards
Chocolate fudge sauce
More epic vegan cakes
Follow Rainbow Nourishments on Instagram, Facebook, and Pinterest, and subscribe via email to receive all of our latest recipes!
Print Recipe
Vegan Oreo Cookies and Cream Cake
Vegan oreo cookies and cream cake! Layers of vanilla sponge packed with oreos or chocolate cookies, covered in buttercream and chocolate ganache.
Ingredients
Instructions
To make the cake:
Preheat the oven to 160°C (320°F). Line 3x20 cm (8 inch) cake pans with with baking paper or brush with oil.

Break the chocolate cookies into large crumbs with your hands and set aside.

Add all the dry ingredients to a large mixing bowl or stand mixer. Mix until there are no lumps. Add all the wet ingredients to the bowl and mix until combined. Add the cookie crumbs to the cake batter and gently mix until combined.

Evenly divide the cake batter into the 3 cake tins. Bake for 35-40 minutes or until a skewer can be inserted into each cake and it comes out clean. Allow the cakes to cool in the tins for 20 minutes then place them on a wire rack.
To make the frosting:
Add the cookies to a food processor. Process until the cookies form fine crumbs.

Add the vegan butter to a stand mixer with the whisk attachment. Alternatively, add the butter to a large bowl and use an electric hand mixer. Beat on high speed for 3 to 5 minutes until the butter has increased in size and turned pale yellow or white.

Add the powdered sugar and vanilla to the mixer or bowl. Beat on low speed for 30 seconds or until the sugar is fully incorporated. Increase the speed to high and beat for another 5 to 10 minutes or until the buttercream is light and fluffy.

Add the cookie crumbs to the buttercream and mix gently.
To make the ganache:
Add both ingredients to a small saucepan over low heat. Heat for 5-10 minutes until the chocolate has melted and combined with the coconut cream. Stir until combined and set aside to cool.
To assemble:
Using a serrated knife, slice the domes off the cakes, ensuring each is as flat as possible

Place one cake layer on a serving plate and generously spread a layer of frosting on the top. Gently place the next cake layer on the frosting making sure it is level. Repeat until all layers of the cake have been used up.

Spread a thin layer of icing on the sides and top of the cake and use a cake scraper to level it out.

If desired: Fill a piping bag with a small round nozzle with the chocolate ganache. Create a drip on the edges of the cake with the ganache. Use the remaining frosting to decorate the top of the cake. Top the cake with cookie crumbs and vegan chocolate.

Serve immediately or set aside in the fridge in a large airtight container until ready to serve! Store the cake in the fridge for up to 5 days or in the freezer for up to 1 month.
Nutrition
Serving:
1
slice with only frosting
|
Calories:
507
kcal
|
Carbohydrates:
67
g
|
Protein:
4
g
|
Fat:
25
g
|
Cholesterol:
1
mg
|
Sodium:
486
mg
|
Potassium:
115
mg
|
Fiber:
1
g
|
Sugar:
38
g
|
Vitamin A:
1074
IU
|
Calcium:
101
mg
|
Iron:
2
mg
This post may contain affiliate links. As an Amazon Associate, I may earn a small commission from qualifying purchases at no additional cost to you.