This vegan oreo cake is so decadent and nostalgic! Layers of cookies and cream cakes packed with oreo cookies decorated with an oreo buttercream frosting and an optional chocolate ganache.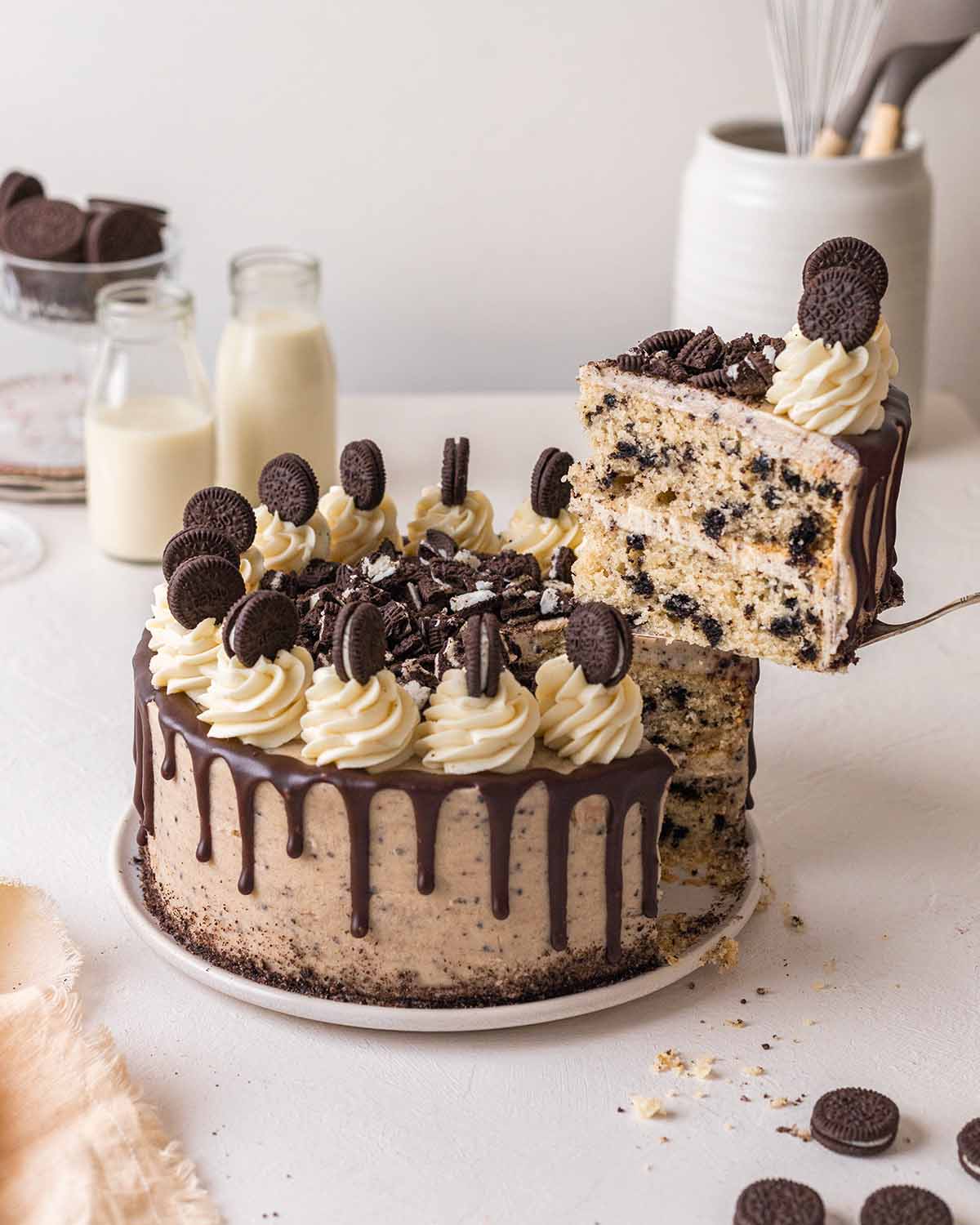 Why you'll love this cake
OCCASION: Perfect for birthdays, any special occasion or the holidays.
TASTE/TEXTURE: Fluffy, moist and soft vanilla cake with pieces of rich oreo cookies.
Ingredients you'll need
Ingredient notes
Oreo cookies or chocolate cream cookies. The cake recipe also works well with plain chocolate cookies (the last photo in this post shows the cake made with plain cookies).
Vegan butter and neutral oil. Vegan butter adds depth of flavor and a touch of nostalgia whereas oil keeps the cake extra moist! You may be able to use only oil but I haven't tested it.
Dairy-free milk. I used soy milk but any variety will work (e.g. oat milk, almond milk).
Apple cider vinegar. When combined with dairy-free milk, it makes vegan buttermilk which makes a cake more tender. You don't need to mix the milk and vinegar separately - it does its magic in the cake batter!
Baking powder and soda. We're using two leavening agents to make sure the cake is extra fluffy. Even though this is an eggless cake, it's undetectably vegan!
A complete list of ingredients, quantities and instructions are in the gray recipe card at the bottom of this post.
Making the cake batter
This oreo cake batter comes together in one bowl and is no-fuss!
Mix together your dry ingredients, add the wet ingredients and mix until combined. Add your crushed oreos and fold through.
Adding the oreos at the end makes sure that the batter doesn't turn an unplesant brown/grey color (I've been there and done that).
Tips for baking the cake
This is a straightforward cake to bake! However, here are some expert tips:
When you insert a toothpick in a cake, it's okay if there are a few crumbs on it! Just make sure there's no wet batter on your toothpick. Overbaking this cake will make the cake dry.
For extra flat cake layers, I recommend using cake strips. If you don't have any, you can just cut the domes off the layers before stacking them.
Preparing the frosting
The oreo buttercream is a cookies and cream dream!
I recommend crushing the oreos into a fine crumb. You can use a food processor or place them in a bag and crush them with a rolling pin. If the cookies are coarser, it can be a little difficult to spread or pipe the frosting.
Biggest frosting tip: Once you add the cookie crumbs to the frosting, mix until it's just combined (don't overmix it). If you mix the frosting for too long, the crumbs will completely disappear and the frosting will turn into an unpleasant gray color.
Tips for decorating the vegan oreo cake
In addition to oreo and vanilla frosting, I topped my cake with chocolate ganache, whole and crushed oreo cookies. You can also decorate your cake with:
Dark c

hocolate chips

Fancy chocolate bars or

shards of chocolate

Chocolate fudge sauce
Customizing the cake
For a 3-layer cake with 12 serves, divide the cake into 3 x 6 inch (15 cm) cake pans and bake the layers for about 25-30 minutes. The cake will be as tall as my pink champagne cake.
Alternatively, you can make a 3-layer cake with 18 serves (pictured below). Multiply the recipe by 150% and bake it in 3 x 8 inch (20 cm) cake pans.
For a large oreo sheet cake, bake the cake in a 9 x 13 inch (23 x 33 cm) baking pan for about 35-40 minutes.
To make a vegan chocolate oreo cake, replace ½ cup flour with ½ cup cocoa powder.
This recipe will make about 22-24 vegan oreo cupcakes. I recommend baking them for around 20-25 minutes.
More vegan chocolate cakes
Follow Rainbow Nourishments on Instagram, Facebook, and Pinterest, and subscribe via email to receive all of our latest recipes!
Print Recipe
Vegan Oreo Cake (cookies and cream cake)
This vegan oreo cake is so decadent and nostalgic! Layers of cookies and cream cakes packed with oreo cookies and decorated with an oreo buttercream frosting and an optional chocolate ganache.
Ingredients
Oreo buttercream frosting
To decorate (optional)
oreo cookies

,

or vegan-friendly chocolate cookies, crumbled
Instructions
Make the vegan oreo cake:
Preheat the oven to 180°C (320°F). Line 2 x 8-inch (20 cm) cake pans with parchment paper.

Add all the dry ingredients to a large mixing bowl or stand mixer. Mix until there are no lumps. Add all the wet ingredients (except the oreo cookies) to the bowl and mix until combined. Add the chopped oreos and fold until just combined.

Evenly divide the cake batter into your 2 pans. Bake for 30-35 minutes or until you can insert a toothpick in the center of each cake and it comes out with no wet batter on it (a few moist crumbs are fine). Allow the cakes to cool in the pans for 20 minutes then transfer them to a cooling rack.
Make the oreo buttercream frosting:
Add the vegan butter to a large bowl (if using a hand mixer) or the bowl of a stand mixer with the whisk attachment. Beat on high speed for 3 to 5 minutes until light and fluffy.

Add the powdered sugar and vanilla to the bowl. Beat until the buttercream frosting is light and fluffy. Add more sugar for a firmer frosting or add some milk for a thinner frosting. If desired, set aside some vanilla buttercream for piping later.

Add the cookie crumbs to the frosting and mix until just combined. Try to not overmix.
Make the ganache (optional):
Heat the cream in a small saucepan over medium heat or in the microwave. When the cream is hot, stir through the chocolate and remove from the heat. Stir the mixture occasionally to encourage the chocolate to melt. Once you have a smooth ganache, set aside to cool.
To assemble:
When the cakes have completely cooled, slice any domes off your cakes.

Place one cake layer on a serving plate. Spread or pipe around 1 cup of frosting on the cake. Place the remaining cake on top. Spread or pipe the frosting on the top and sides of the cake.

Optional: Use a spoon or a piping bag with a small round nozzle to drizzle the chocolate ganache down the sides of the cake. Pipe the remaining vanilla frosting on top of the cake. Decorate the top and sides of the cake with oreo cookies and cookie crumbs.

Slice the cake and serve. Store leftovers in an airtight container or loosely covered in plastic wrap for 2 days at room temperature, 3 days in the fridge or up to 1 month in the freezer.
Notes
If you only have a spreadable vegan butter, use it chilled in the frosting. Room temperature spreadable vegan butter is too soft for frosting.
Nutrition
Serving:
1
slice with frosting
|
Calories:
736
kcal
|
Carbohydrates:
102
g
|
Protein:
5
g
|
Fat:
35
g
|
Sodium:
505
mg
|
Potassium:
119
mg
|
Fiber:
2
g
|
Sugar:
67
g
|
Vitamin A:
367
IU
|
Calcium:
109
mg
|
Iron:
6
mg
This post may contain affiliate links. As an Amazon Associate, I may earn a small commission from qualifying purchases at no additional cost to you.