Light and fluffy vegan lemon cupcakes that use fresh lemon juice for the best flavor! They come together in one bowl and are lovely with a simple lemon buttercream.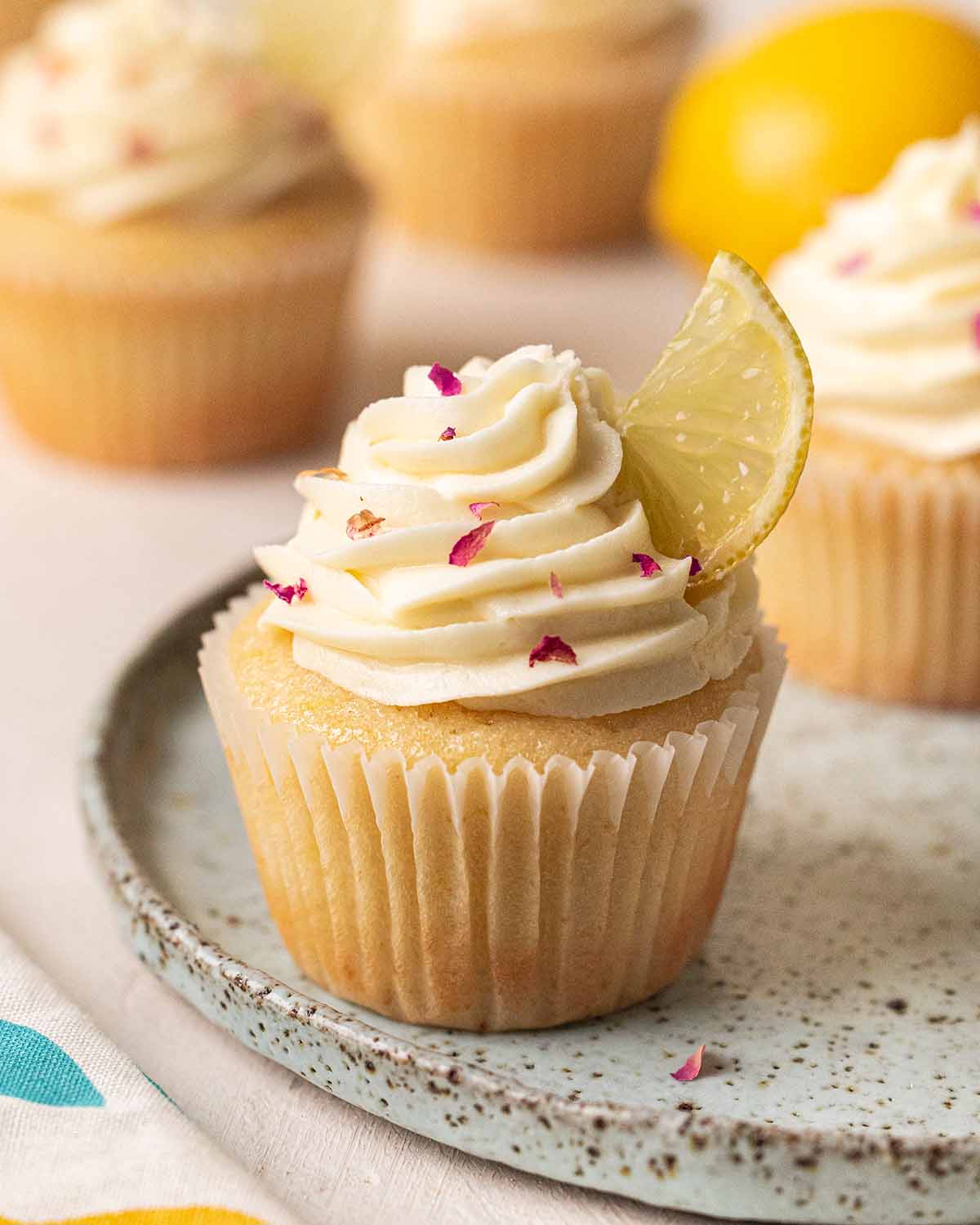 Ingredients you'll need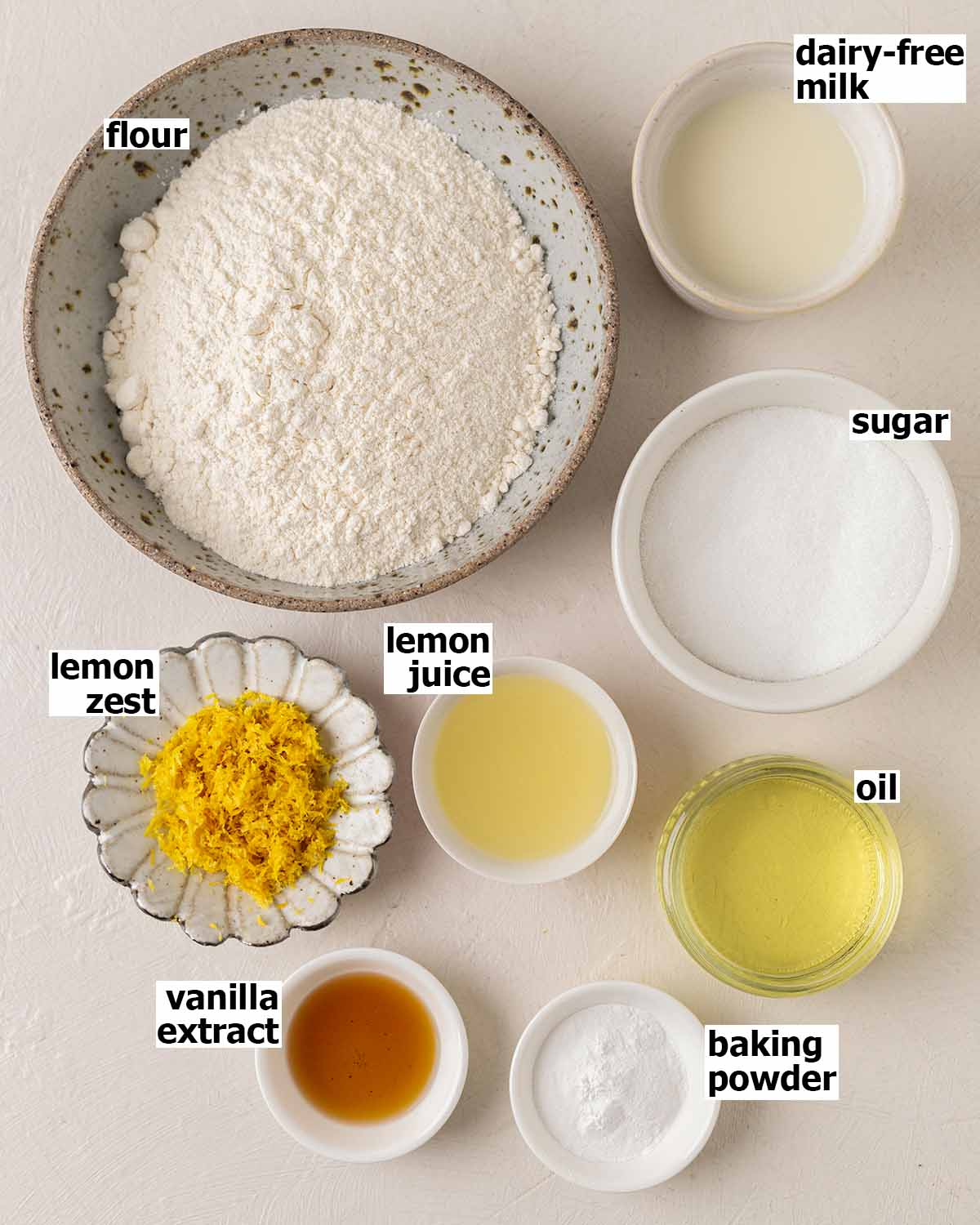 Notes about the ingredients
Lemon zest and juice. Lemon juice or acidic ingredients gives cupcakes a tender crumb. However, too much lemon juice can make cupcakes flat or even deflate. I tested this recipe many times to include as much lemon juice as possible and ensure the cupcakes still dome in the oven. For extra lemon flavor, I used LOTS of lemon zest. You don't need any lemon extract for this recipe :).
Dairy-free milk. I love soy milk or oat milk in baking as they tend to be flavorful and their slightly higher fat content helps make tender cupcakes. However, any milk will work (or even water).
Sugar. I used light-colored granulated sugar for the fluffiest lemon cupcakes. You may use coconut sugar however, it will make your cupcakes brown in color and they will taste like lemon caramel.
Oil. Any neutral oil will work. If you don't mind the flavor of olive oil, feel free to use it. Olive oil makes the cupcakes more yellow in color (pretty!) just like my vegan lemon olive oil cake.
A complete list of ingredients, quantities and instructions are in the gray recipe card at the bottom of this post.
Tips for making the batter
This is an easy batter to make where you simply mix the dry ingredients, add the wet ingredients, and mix until combined.
My biggest tips are:
At the start, use your fingertips to rub the sugar with the lemon zest. This helps release the natural oils in the zest and enhances the lemon flavor throughout the cupcakes.
Avoid overmixing the batter as this will make the cupcakes denser. Some lumps in your batter are fine, as long as the lumps aren't floury.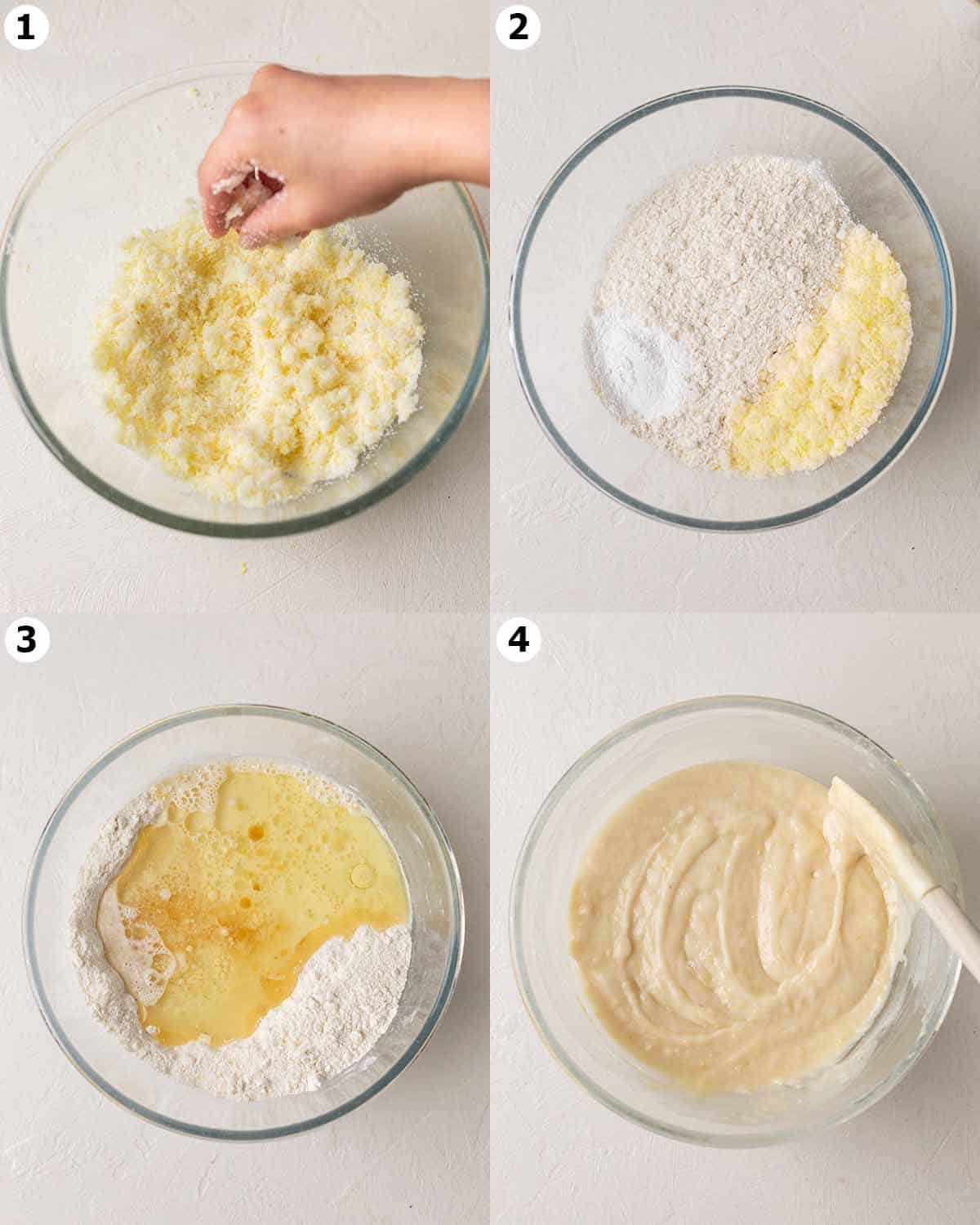 Baking the cupcakes
I love using an ice cream scoop to divide my cupcake batter - it divides the batter evenly and is easier than using a spoon!
I used a standard USA Pan Muffin Pan and filled each cup about three-quarters full for a nice dome. For different muffin pans, this will vary a little.
To get even taller cupcakes, my little trick is to fill every other cup in your muffin pan (pictured below). This allows more oven heat to circulate each cupcake so they rise taller. With a 12-cup muffin tin, you'll need to bake 6 cupcakes at a time, in 2 lots.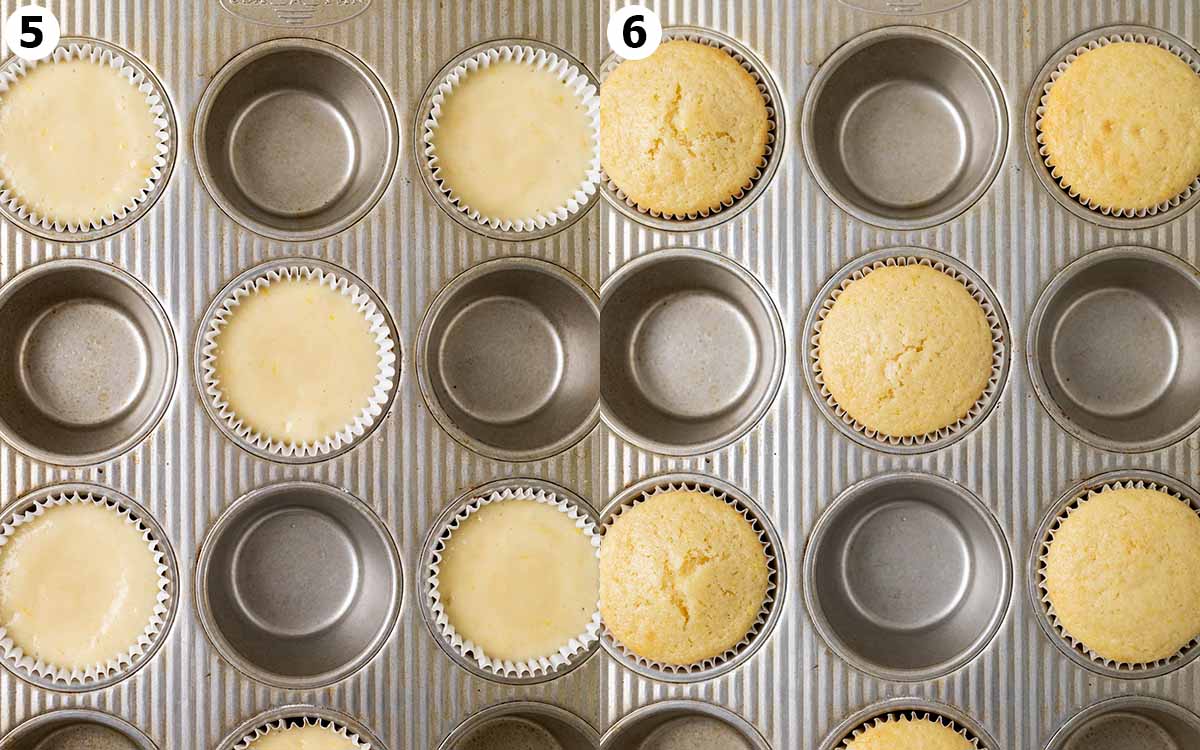 Decoration suggestions
I topped my vegan lemon cupcakes with a vegan lemon frosting. Alternatively, you can decorate your cupcakes with: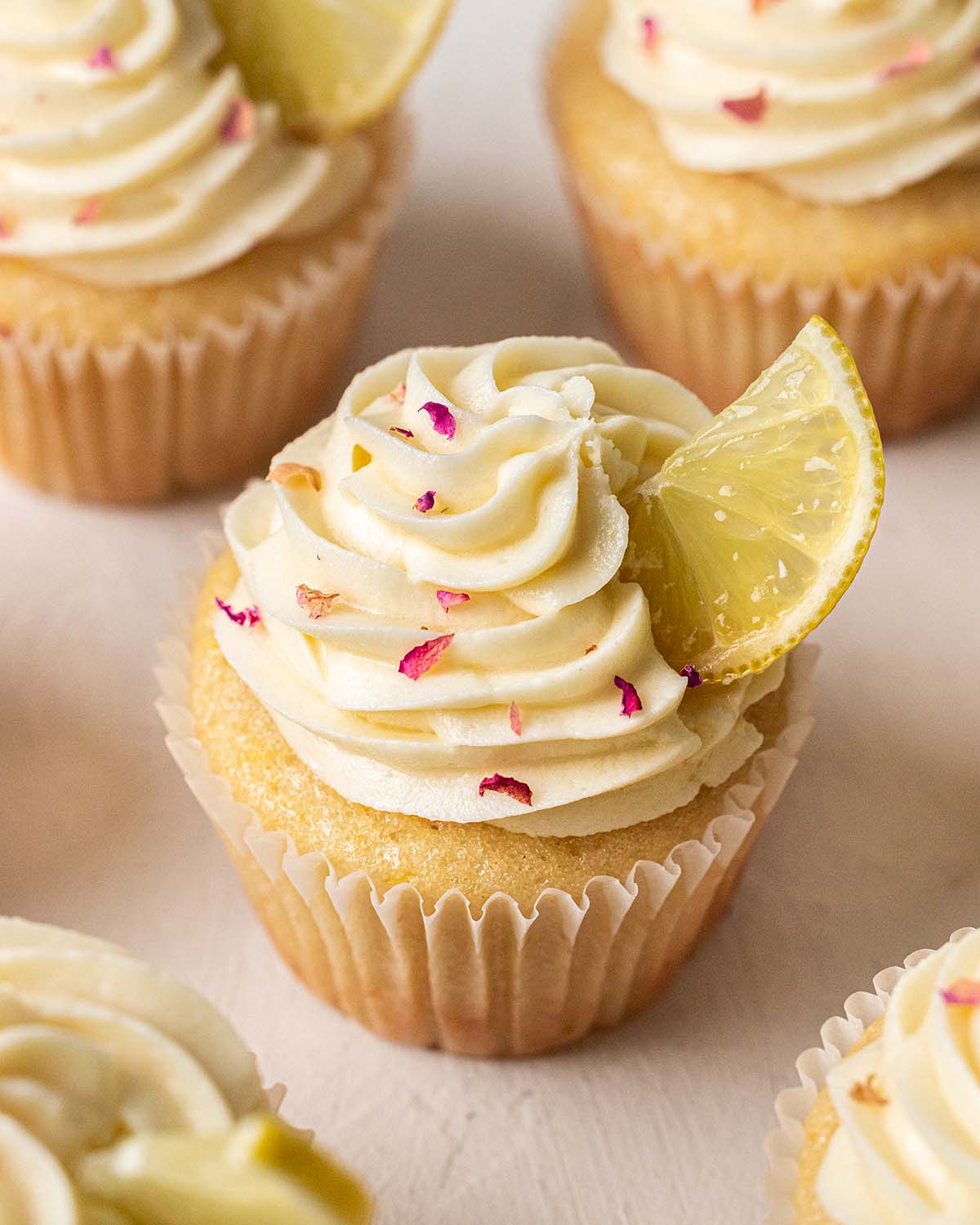 Customizing these vegan cupcakes
Make lemon drizzle cupcakes for even more flavor and moisture. You can make a simple lemon syrup with granulated sugar and lemon juice and drizzle it on the cupcakes. See my vegan lemon drizzle cake for a guide.
Add vegan lemon curd to the center of the cupcakes (remove the core first). I recommend using the curd from my lemon cheesecake recipe but increasing the cornstarch to 2 tablespoons.
Add blueberries or raspberries to the cupcakes. Make sure you coat them in all-purpose flour before adding them, otherwise they may sink.
For something special, add chopped white chocolate to the lemon cupcake batter.
For other vegan cupcake recipes, see my strawberry cupcakes or red velvet cupcakes.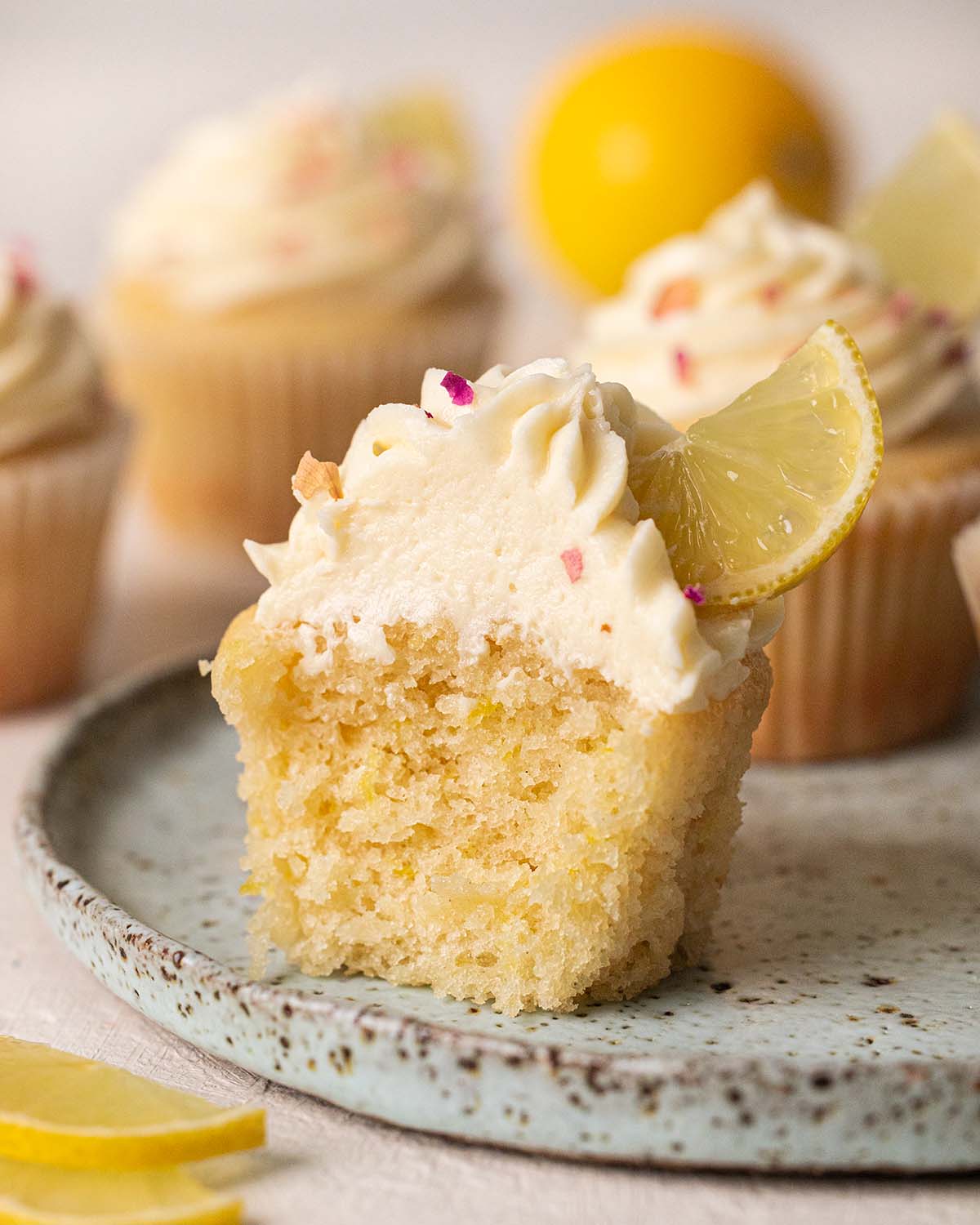 More vegan lemon desserts
Follow Rainbow Nourishments on Instagram, Facebook, and Pinterest, and subscribe via email to receive all of our latest recipes!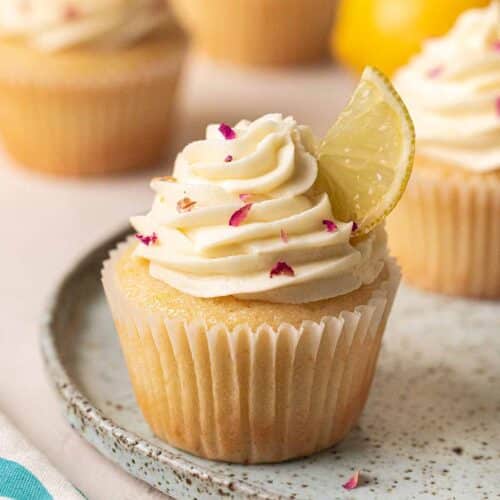 Print Recipe
Vegan Lemon Cupcakes
Light and fluffy vegan lemon cupcakes that use fresh lemon juice for the best flavor! They come together in one bowl and are lovely with a simple lemon buttercream.
Ingredients
Vegan Lemon Buttercream Frosting (note 3 for alternatives)
Instructions
Preheat the oven to 180°C (350°F). Line a 12-cup muffin pan with paper liners.
Make the cupcakes:
Optional: Add the sugar and lemon zest to a large mixing bowl. Use your fingertips to rub them together until fragrant.

Add all the dry ingredients to a large mixing bowl and whisk until there are no lumps. Add all the wet ingredients and mix until just combined.

Use an ice cream scoop or a large spoon to divide the batter between your cupcake liners. Each cupcake cavity should be three-quarters full.

Bake the cupcakes for 20-25 minutes. They are ready when you insert a toothpick in the center of a cupcake and it comes out with no wet batter on it (a few crumbs are fine).

Cool the cupcakes in the tray for 5 minutes then transfer them to a cooling rack.
Make the frosting:
Add the butter to a large bowl (if using a hand mixer) or bowl of a stand mixer with the whisk attachment. Beat until light and fluffy. Add the powdered sugar, lemon juice and vanilla and beat until just combined. Taste the frosting and adjust if needed. If the frosting is too thin, add more sugar and beat or add more lemon juice or dairy-free milk if it's too thick.

When the cupcakes have fully cooled, use a spatula or piping bag to frost the cupcakes. Decorate as desired.

Serve the cupcakes immediately. Store the unfrosted cupcakes in an airtight container at room temperature for up to 3 days. If your cupcakes are frosting, keep them at room temperature for 1 day or in the fridge for up to 3 days. Allow the cupcakes to come to room temperature before serving. The cupcakes freeze well but I recommend storing them separately from the frosting.
Notes
You'll need 3-4 medium lemons for the amount of zest and juice in the recipe. When you zest the lemons, try to avoid getting any of the white lemon rind otherwise your cupcakes may be slightly bitter.
All brands of food coloring and beetroot powder vary in color and intensity so you may need to adjust accordingly. If you use liquid food coloring (not gel), you'll need around 1-2 tablespoons. If you use beetroot powder, add it with the dry ingredients rather than the wet ingredients.
If you don't have vegan cream cheese, I recommend making a classic buttercream. Simply omit the cream cheese and add some lemon juice to taste. The lemon flavor mimics the tanginess of the cream cheese.
Nutrition
Serving:
1
cupcake without frosting
|
Calories:
205
kcal
|
Carbohydrates:
33
g
|
Protein:
2
g
|
Fat:
7
g
|
Sodium:
134
mg
|
Potassium:
29
mg
|
Fiber:
1
g
|
Sugar:
17
g
|
Vitamin A:
1
IU
|
Vitamin C:
3
mg
|
Calcium:
89
mg
|
Iron:
1
mg
This post may contain affiliate links. As an Amazon Associate, I may earn a small commission from qualifying purchases at no additional cost to you.