Vegan banana bread muffins with raspberries and chunks of white chocolate! Wholesome, refined sugar free and with a gluten free option. These homemade banana muffins are better than your corner bakery!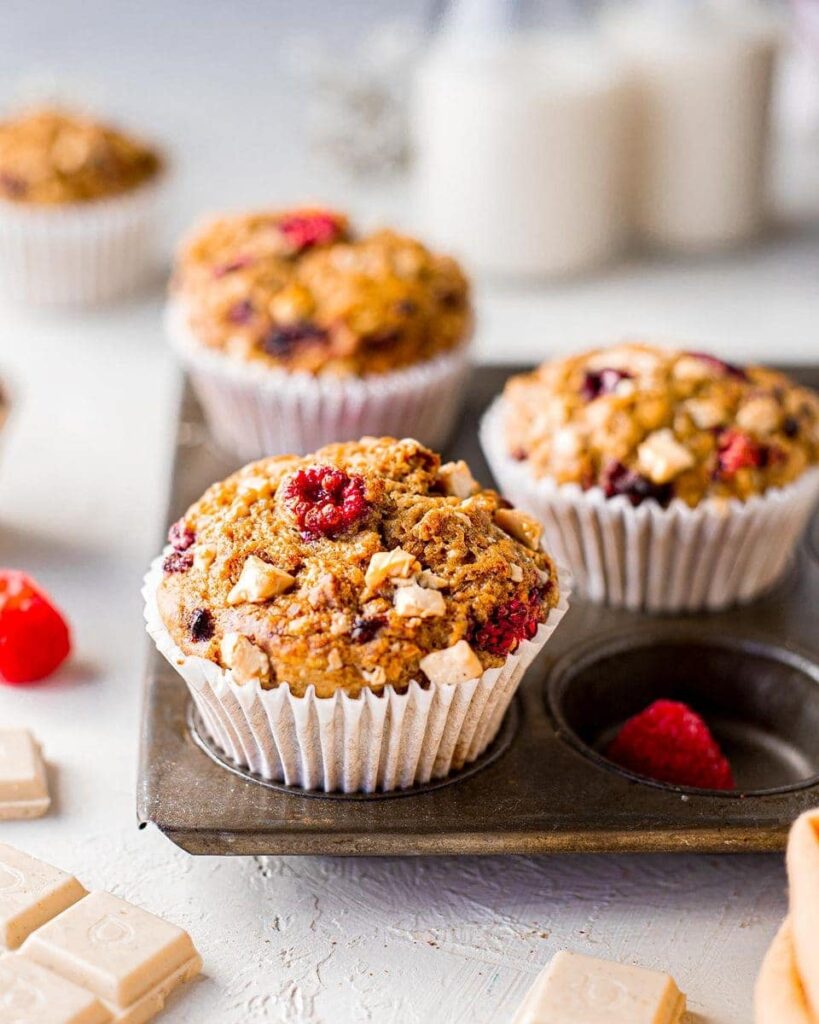 These healthy vegan banana muffins have the best of alll worlds; wholesome banana bread, juicy sweet raspberries and a touch of white chocolate.
Since the ingredients are pretty healthy, you can enjoy these as vegan breakfast muffins or as quick snack. Or for a decadent vegan dessert, serve it warm with ice cream! I also made sure the muffins are kid-friendly and super easy to make!
Better than traditional vegan banana bread!
I love classic vegan banana bread. However, these muffins are an adultified and more fun version of the classic.
The raspberries add extra fruitness and complexity of flavour while the white chocolate chips adds decadence and sweetness! These are basically DECADENT vegan banana muffins with no extra work.
Ingredients you'll need
These vegan banana muffins are dairy free, have no egg and use common pantry ingredients including:
Plain, whole wheat or spelt flour or substitute with a gluten-free flour blend and almond meal if you're gluten free (check out the recipe card at the bottom of this post for exact amounts)
Super ripe bananas which are naturally sweet and give banana bread their classic flavour (surprise!)
Plant-based milk as the main liquid for the muffin
Coconut, brown or regular sugar
Vegetable oil which can be substituted with applesauce
Baking powder to help make the muffins FLUFFY as these muffins are eggless.
Cinnamon and nutmeg, because they add depth to the muffins
These muffins don't need a special egg replacer as the texture of mashed bananas helps bind all the ingredients together.
How do I make these vegan banana muffins?
Easy! Add all dry ingredients and mix. Add the wet ingredients and mix! Fold in the raspberries and you've just made your muffin batter!
If you want banana muffins with applesauce, treat the applesauce like a liquid and mix it in with the other wet ingredients.
Similar to banana bread batter, the muffin batter is quick thick. After all, these are meant to be healthy and wholesome muffins.
Baking the muffins
It only takes about 20-25 minutes to bake these vegan banana muffins. If your muffins are browning a little on top - that's absolutely fine! If your muffins are browning too quickly, turn down the heat a little
The muffins are soo moist when they are fresh from the oven. If you make a big batch like I did, they will still be moist after a few days in the fridge or a few weeks in the freezer.
Customising the muffins
If you want healthy vegan banana muffins, you can:
Substitute plain flour with whole wheat or spelt flour
Substitute oil with applesauce
If you prefer a simple banana muffin recipe, simply omit the raspberries and white chocolate.
For vegan choc chip banana muffins, simply swap the white chocolate with vegan milk or dark chocolate chips and omit the raspberries. For vegan banana blueberry muffins, simply swap the raspberries with blueberries and omit the chocolate!
If you want banana and oat muffins, I'd recommend topping these muffins with an oat crumble from this recipe.
Check out my other vegan muffins recipes:
Print Recipe
Vegan banana bread, raspberry and white chocolate muffins
Vegan banana bread muffins with raspberries and chunks of white chocolate! Wholesome, refined sugar free and with a gluten free option!
Ingredients
Wet ingredients
1 ¼

cup (315mL)

dairy free milk, such as almond, soy or coconut

3

(~360g)

medium-size bananas

,

peeled and roughly mashed

½

cup (65g)

raspberries

,

fresh or frozen
Topping
½

cup (65g)

raspberries

,

fresh or frozen

½

cup (50g)

vegan white chocolate

,

chopped
Instructions
Preheat the oven to 180°C (350°F). Line a muffin tray with liners.

To make the muffins: Add all the dry ingredients into a large bowl and mix until combined and there are no lumps. Add the milk, bananas and oil and mix until just combined. Add the raspberries and fold into the batter, making sure you don't overmix it.

Scoop the batter into a lined muffin tray. Liberally sprinkle the remaining raspberries and white chocolate on top.

Bake the muffins inthe oven for 20-25 minutes or until a skewer can be inserted into a muffin andthere is no batter on it. The muffins will still be moist from the fruit.

Cool the muffins in the tray for 5 minutes then turn out onto a wire rack.

Store the muffins in an airtight container at room temperature for 1-2 days, in the fridge for 3 days or in the freezer for up to 1 month.
Notes
* To make the muffins gluten-free, substitute the flour with 2 cups (320g) of any gluten-free flour blend and 1 cup (100g) of almond meal
This post was originally published in April 2018 and updated in June 2020.
If you have any questions, please leave a comment and I will respond as soon as possible. Rainbow Nourishments receives a high number of questions through social media and email and is unable to respond to each individual query. Comments on this post are more likely to receive a response!
If you try this recipe, please leave a comment and rating! This will help me, other readers and allow this blog to be seen by more people. If you post your creation on social media, please tag @rainbownourishments and #rainbownourishments.