To welcome the first week of Spring in Australia, I made this fruity tart which combines zesty lemon with sweet delicate strawberries. The filling is a light and slightly nutty cream which just melts in your mouth. It really complements the juicy strawberries and a crumbly short-style crust. My first bite of the tart reminded me of strawberry and cream lollies I had as a kid! However, this tart is much more sophisticated and not a sugar hit thanks to the tangy lemon and no refined sugars.
Making the crust for the vegan strawberry tart

I am honestly stoked for the warmer weather! I hate hate hate Winter especially as I live in one of the coldest cities in Australia (Canberra). I grew up in Sydney which has a very moderate climate so maybe that's why?! My ancestors are from Hong Kong and Southern China which is quite warm; this shows in my family today as none of enjoy Winter.
Easy creamy cashew-based filling for the vegan strawberry tart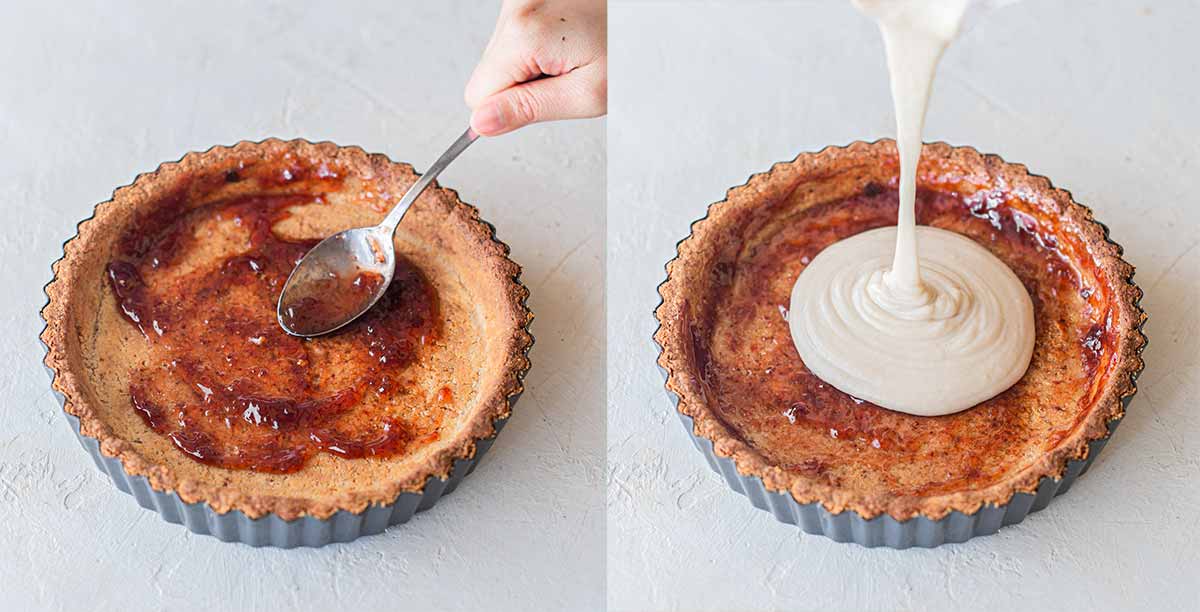 Serving the vegan strawberry and cream tart
I'm looking forward to testing recipes with all of those summer fruits like nectarines, peaches and mangoes. I can't wait to return to having smoothie bowls for breakfast and big nourishing salads for lunch. I just can't wait for being able to enjoy the outdoors without a million layers! Are you a fan of the warmer or colder weathers and why? I'm just curious what makes a person prefer one or the other!

Anyway, I hope you enjoy this recipe! These pictures show that the filling is quite runny. I assure you that it sets more over time. I just couldn't wait to cut into the tart!
Print Recipe
Vegan strawberry and cream tart
Ingredients
Crust
2

cups (200g)

almond meal

,

or plain flour

1/3

cup (80g)

solid coconut oil

,

or vegan butter

1

tbsp

ground chia or flax seeds,

if using almond meal (if using plain flour, omit)

1

tbsp

any light-coloured sweetener, such as rice malt syrup or maple syrup
Filling
1/4

cup (80mL)

strawberry jam

,

optional

2

cups (260g)

raw cashews,

soaked for 4 hours then drained

1/2

cup (120mL)

canned coconut cream,

thick part only

1/4

cup (100mL)

any light-coloured sweetener, such as rice malt syrup or maple syrup

,

to taste

1/4

cup (60g)

coconut oil,

or 1/2 cup (120g) for a more solid filling

1

lemon

,

zest and juice
To decorate
1/2-1

cup (60-120g)

strawberries
Instructions
Preheat oven to 160°C (320°F). Line the bottom of a 20 cm (8 inch) loose bottom tart tin
To make the crust:
Add all the crust ingredients and a dash of water to a food processor or large bowl. Mix until combined and there are no more chunks of coconut oil. Press the mixture into the tart tin to form a crust.

Bake the crust in the oven for 10 minutes or until the edges are slightly golden. Almond meal burns quickly so keep an eye on it!

Allow the crust to cool in the tart tin.
To make the filling:
Optional: When the crust has cooled, spread the jam on the inside base and sides of the crust.

Add the remaining filling ingredients to a blender and blend until as smooth as possible. Pour the filling mixture into the tart.

Place the tart in an airtight container and set it aside in the fridge to set for at least 4 hours.
To serve:
Slice the strawberries as desired and use them to decorate the tart. Serve the tart immediately.

Store leftovers in an airtight container the fridge for up to 3 days. The tart without the strawberries can be frozen for up to 1 month.
Please leave a comment below if you made this recipe, have any questions or thoughts! Your comment will help other readers and Rainbow Nourishments.