Papaya coconut cake with an addictive coconut crumble topping. It is fluffy, has a beautiful crumb and tastes like a tropical island.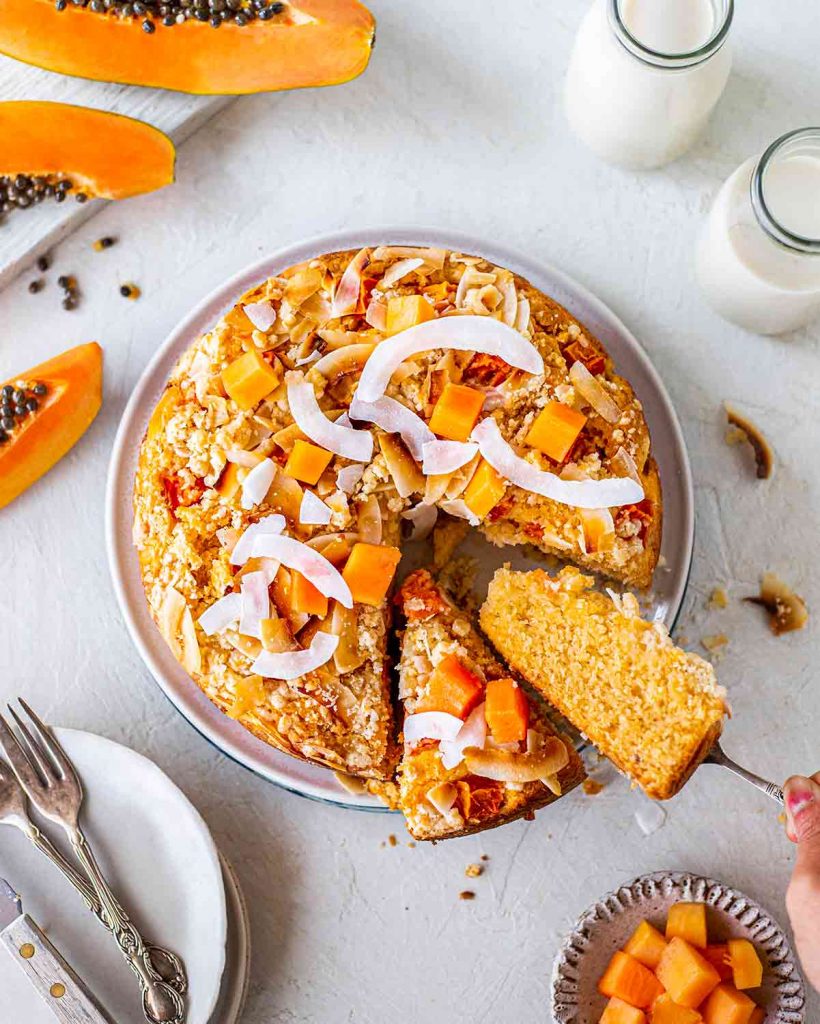 Unlike pawpaw, payaya is wonderfully sweet, has a gentle tropical flavour. My favourite is my local Ruby Rise Papaya which has a beautiful pink-orange hue.
In this recipe, I included papaya in the sponge cake and for the topping!
Incorporating blended papaya into a cake will give it moisture, a gentle sweetness and tropical flavour. I paired it with coconut to give you even more tropical vibes!
The roasted papaya on top turns into a beautiful chewy and lolly-like treat!
Even though the papaya is very subtle in this cake, if you insist on disliking papaya, you can make this apple crumble tea cake instead.
Ingredients to make this papaya cake
You'll need some pretty basic pantry staples to make the cake and crumble including:
Plain or all-purpose flour
Regular sugar
Dessicated and flaked coconut
Plant-based milk
Sunflower oil
Coconut oil or vegan butter
Apple cider vinegar or any other type of vinegar
Baking powder
Salt
And of course, fresh papaya!
Simple steps for making this papaya cake
Simply, add all your dry cake ingredients into a bowl (flour, sugar, dessicated coconut, baking powder and salt) and whisk until combined.
Blend the papaya with the liquid ingredients (oil, milk and vinegar) until there are no big chunks. Then add this liquid to your dry ingredients. Mix until combined.
The batter should be relatively thick like a loose paste, like so!
Simply spread your batter into your cake tin then make the crumble!
To make the crumble, combine all the ingredients including the solid coconut oil with your fingers. It should resemble coarse and lumpy crumbs. You can use vegan butter instead of coconut oil for a milder coconut taste.
Top your cake with the crumble and chopped papaya then bake away! There's no art to doing this but I like to have little bits of papaya poking through the crumble.
Now, baking the cake is going to make your home smell sooooooo good! Imagine a warm, fruity coconut smell... and you can eat it afterwards too!
The dessicated coconut helps make the cake fluffy and the papaya gives the cake a gorgeous orange hue.
I hope you enjoy this recipe :).
See my other simple vegan cake recipes:
Or check out my other vegan papaya recipes:
Print Recipe
Papaya Coconut Crumble Cake
Papaya coconut cake with an addictive coconut crumble topping. It is fluffy, has a beautiful crumb and tastes like a tropical island.
Ingredients
Wet ingredients
¾

cup (190mL)

dairy free milk, such as almond, soy or coconut

,

¾

cup (105g)

papaya

,

roughly chopped

1

tablespoon

apple cider vinegar
Topping
½

cup (30g)

flaked coconut

¼

cup (30g)

plain or all-purpose flour,

if gluten free use rice flour or a gluten free flour blend

3

tablespoons (45g)

solid coconut oil

2

tablespoons (25g)

cane sugar

~⅓

cup (50g)

papaya

,

cubed
Instructions
Preheat the oven to 180°C (350°F). Line a 20 cm (8 inch) round cake tray with baking paper.

To make the cake: Add all the dry ingredients to a large mixing bowl. Mix until there are no lumps. Add all the wet ingredients to a blender and blend until mostly smooth. Pour the mixture into the bowl and mix until combined. Pour the cake batter into the cake tin. Flatten the top with a spatula.

To prepare the crumble topping: In a medium bowl, combine all the ingredients (except the papaya) and mix until combined and crumbly.

Scatter the papaya on top of the cake and gently press them into the batter. Scatter the crumble on the cake.

Bake the cake in the oven for around 50 minutes or until a skewer can be inserted into the middle and there is no wet batter on it. The cake is quite moist and dense so there might be some crumbs on the skewer which is fine. If the cake is browning too quickly at any point, cover it with an oven-safe plate or aluminium foil.

Allow the cake to rest in the cake tin for at least 5 minutes. Remove the cake from the tin and allow to cool. Serve and enjoy!

The cake can be kept at room temperature for 1 day or in an airtight container in the fridge for 3 days.
Notes
*For a gluten free papaya cake, substitute the plain flour for

1 ½ cups (150g)

almond meal and ¾ cup (120g) fine white rice flour.
Please leave a comment below if you made this recipe, have any questions or thoughts! Your comment will help other readers and Rainbow Nourishments.