Fluffy vegan whole wheat pancakes that are easy to make and come together in one bowl. You'll need only a few pantry ingredients to prepare this quick breakfast!
Why you'll love these pancakes
DIFFICULTY: You don't need to prepare any special egg replacers or whisk the dry/wet ingredients separately. Everything is really made in one bowl!
TEXTURE: Very soft and fluffy even though the pancakes are made with whole wheat flour and are eggless.
Ingredients you'll need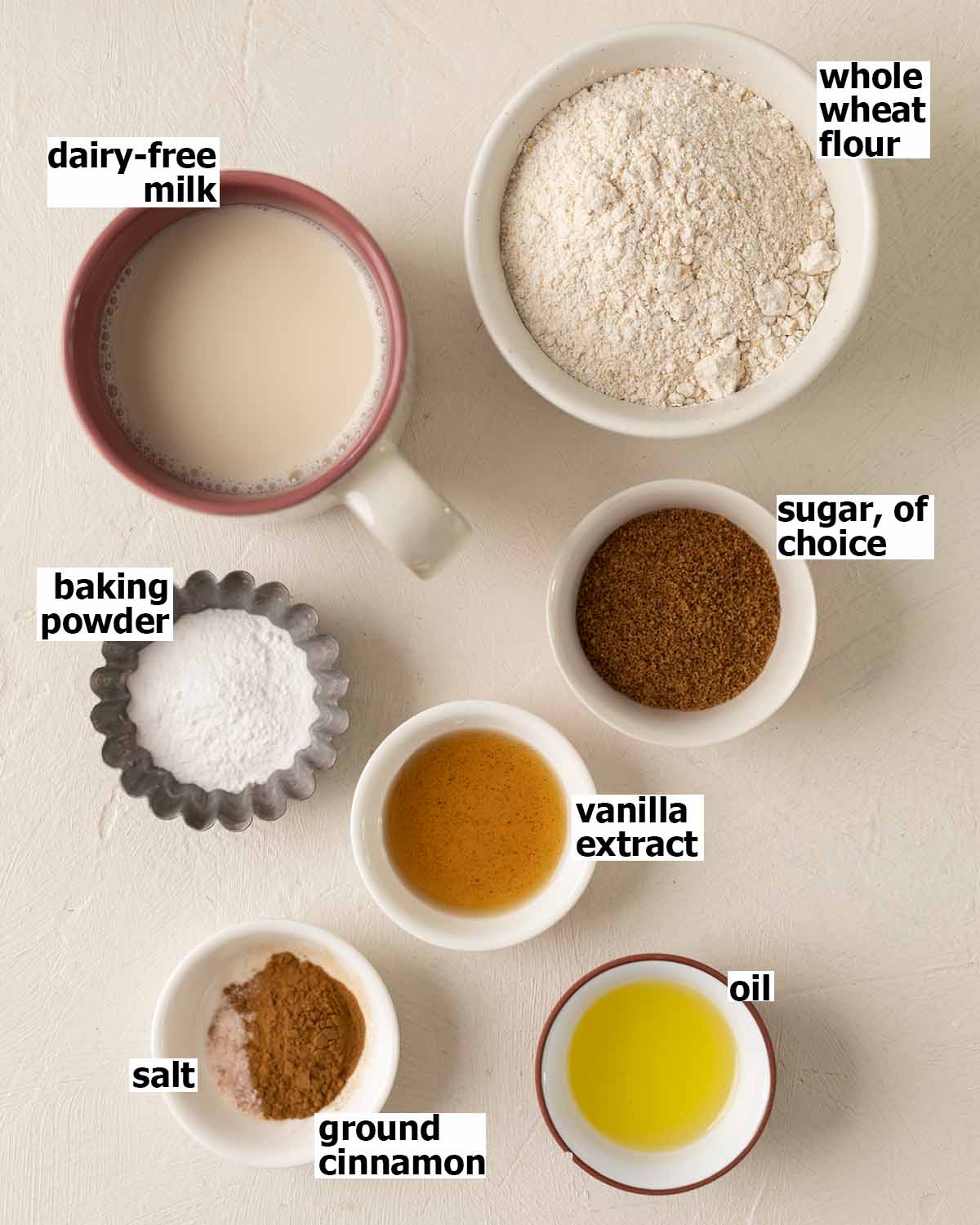 Ingredient notes
Regular whole wheat flour, known as wholemeal flour in Australia and the UK. For heartier pancakes, you may use spelt flour. For a milder flavor, white whole-wheat flour or all-purpose flour are great.
Coconut sugar, maple syrup or any sweetener of choice.
Dairy-free milk. These pancakes will work with any milk or even water! My favorites are unsweetened soy milk, oat milk or almond milk.
Oil (optional). We're adding a small amount of oil to the pancake batter as it makes the pancakes crispier and lends a more tender crumb. I used a light-tasting olive oil but you can use any oil you prefer. If you can skip the oil, your pancakes will still be soft, fluffy and delicious!
Ground cinnamon, vanilla extract and salt (optional) for flavor.
Apple cider vinegar (optional, not pictured). The acid reacts with the proteins in the milk and the baking powder to produce more bubbles, therefore fluffier pancakes.
The full list of ingredient quantities and instructions are in the gray recipe card at the bottom of this post.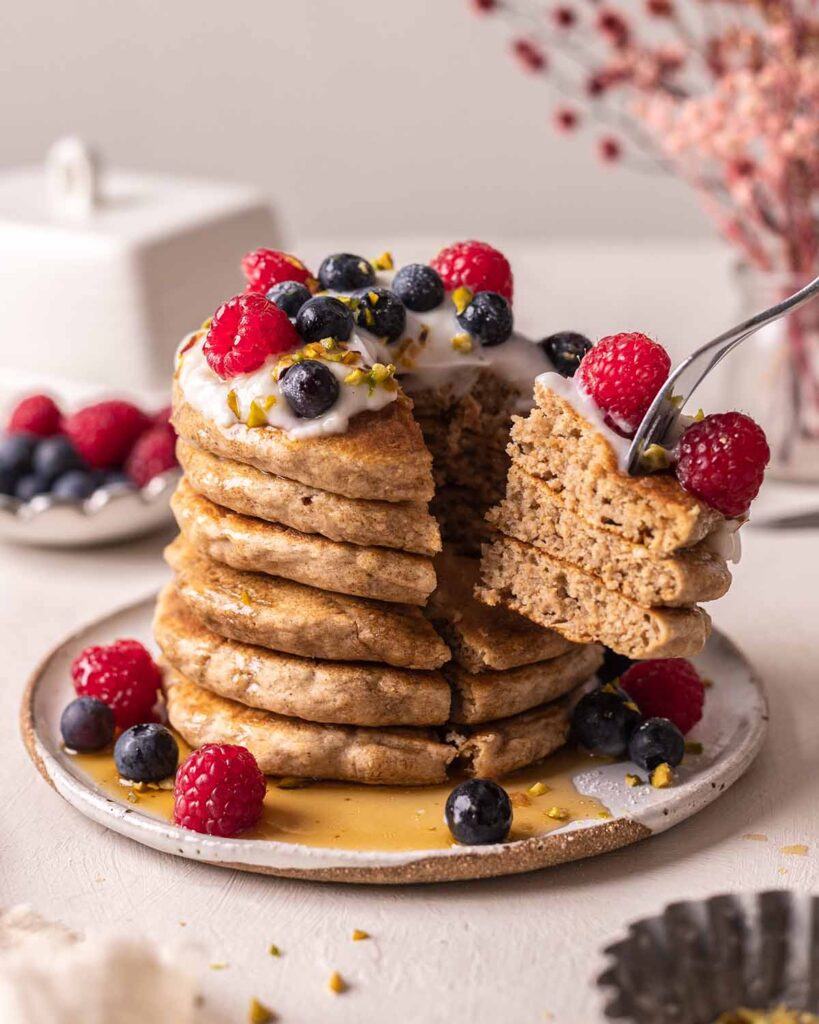 Tips for making the pancake batter
Don't overmix the batter. Overmixing any cake or pancake batter results in tougher pancakes that aren't as fluffy!
Lumps in your batter are FINE! As long as there aren't lumps of flour, a lumpy batter is more likely to produce tall fluffy pancakes. You can see the difference between pancakes made with a lumpy batter versus a smooth batter in this post by Cook's Illustrated or this post by King Arthur Baking.
Don't worry about the consistency of your batter. My pancake batter was a thick, pourable and didn't really 'keep shape' after mixing. If your batter is a little thinner or thicker, don't worry! Different brands of flour have different levels of absorbency. Also, the way you measure your flour will impact the batter (I test all my recipes using grams).
For extra thick vegan whole wheat pancakes, feel free to add an extra 2 tablespoons of flour. For thinner pancakes, add an extra 2 tablespoons of milk. If you add them at the end, carefully fold them into the pancake batter to avoid overmixing.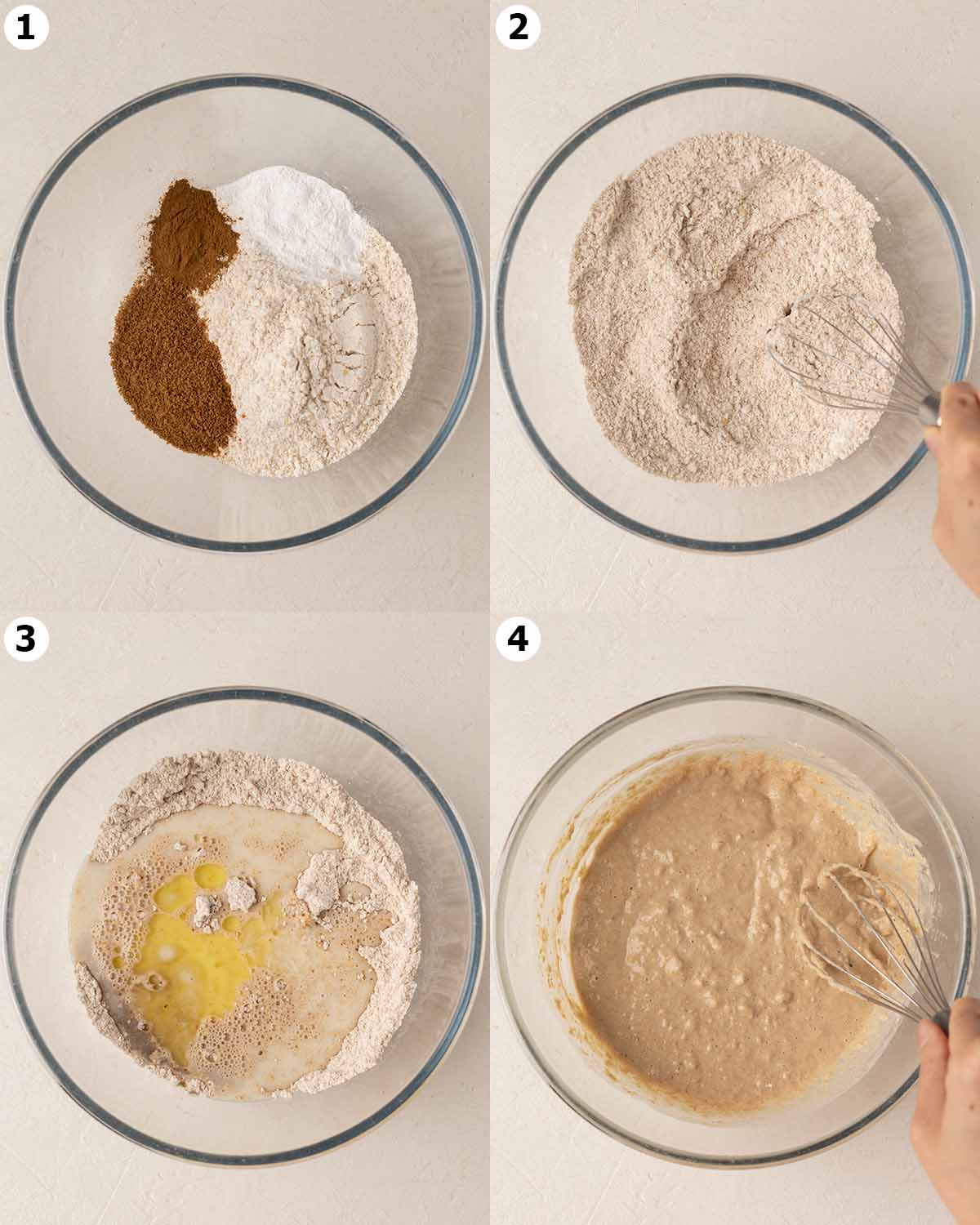 Tips for cooking the pancakes
Use a reliable non-stick skillet or griddle (fry pan in Australia / UK). I've tested these pancakes with a Neoflam skillet, stainless steel skillet, non-stick griddle and cast-iron pan. The Neoflam skillet and the griddle were the best for no sticking!
Make sure your skillet or griddle isn't too hot or cold. Your appliance shouldn't be smoking hot but there should be some heat to it. If you flick a little water on the pan, the droplets should sizzle and evaporate. If you're unsure, test a mini pancake first. You can always adjust the temperature as you go!
When do you flip pancakes?!
Pancake are ready to flip when their edges start to brown, bubbles have popped on the surface and the middle of the pancake doesn't look runny.
You can always use your spatula to check the color of your pancake underneath. If your pancake is browning too quickly, reduce the heat!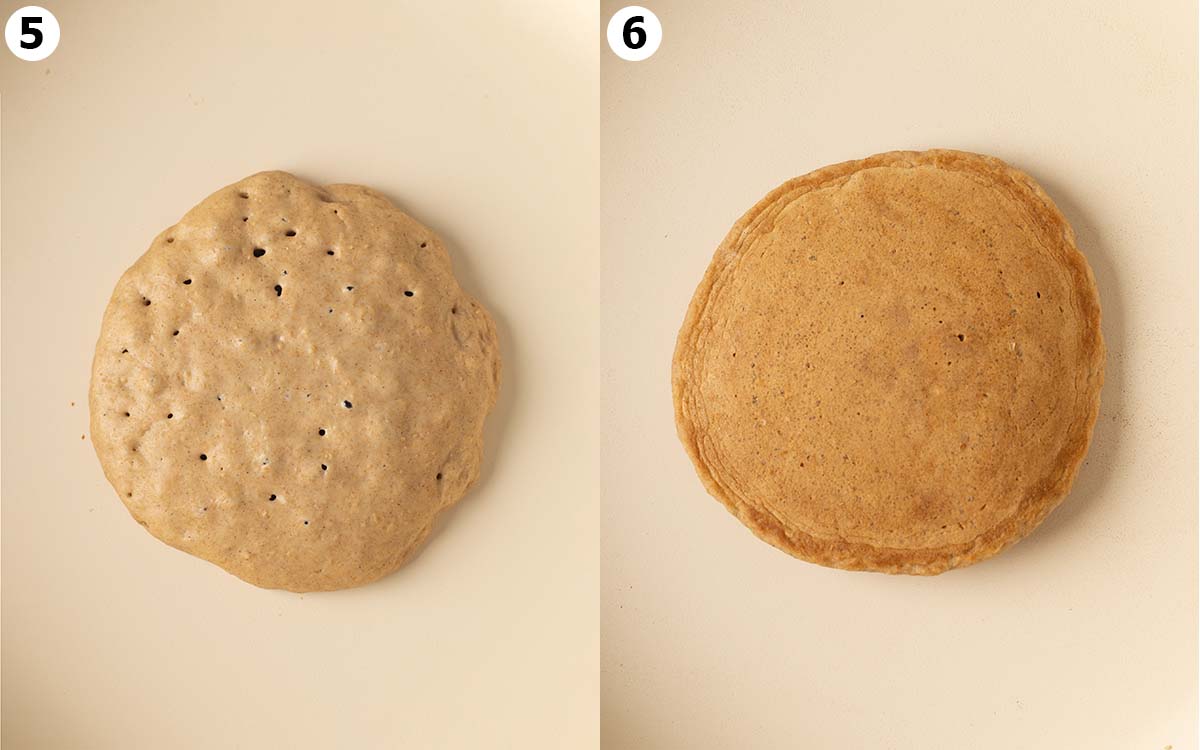 Pancake topping suggestions
The options are endless! However, some topping ideas are:
Maple syrup or your liquid sweetener of choice
Dairy-free yogurt, dairy free ice cream or whipped cream
Fresh fruit or defrosted frozen fruit. I love blueberries, raspberries or strawberries. In the cooler seasons, try caramelized apples!
Jam or preserves
Nut butter, such as peanut butter or almond butter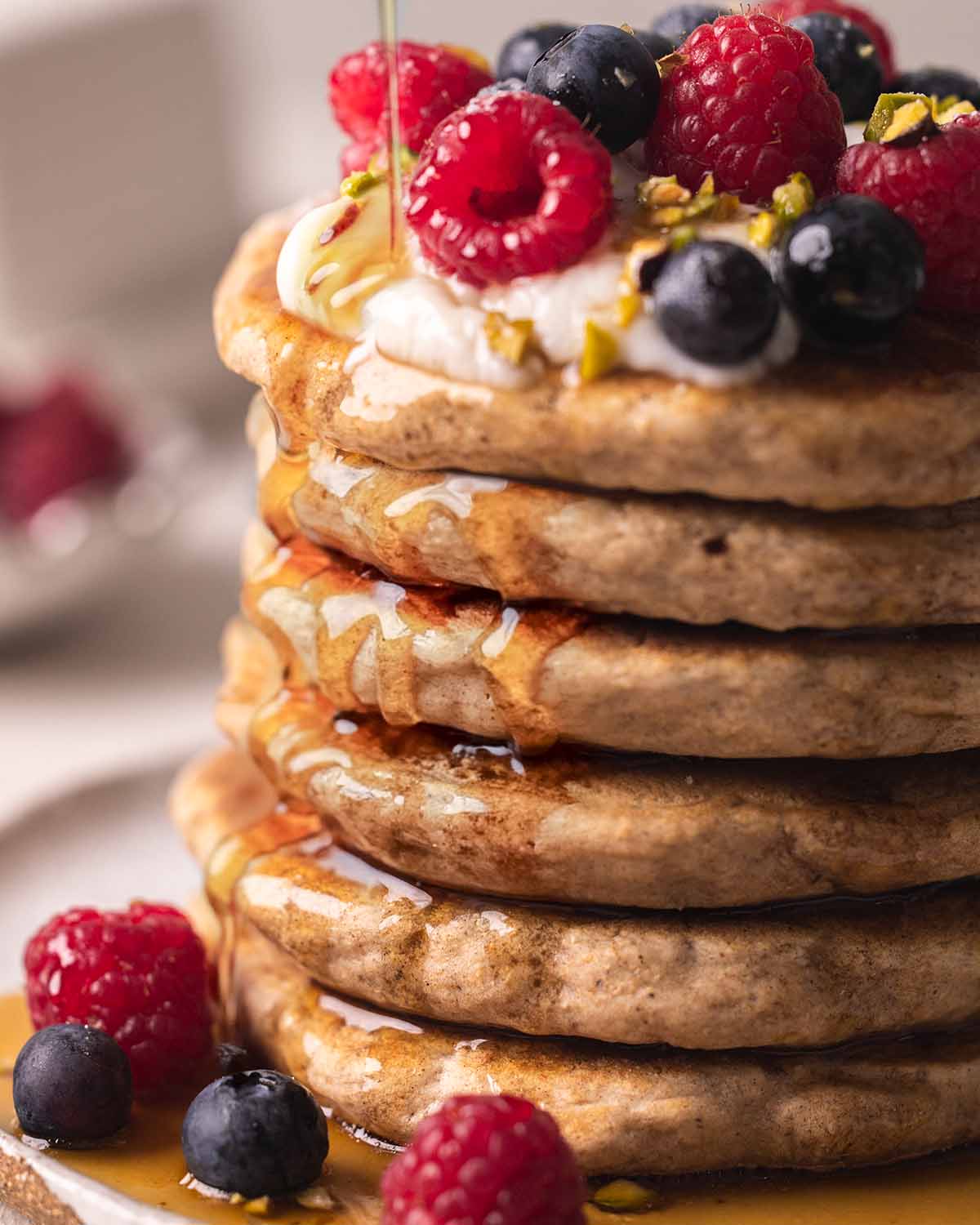 Expert Tips
What else can I add to the pancakes?
- Chocolate chips
- Blueberries, fresh or frozen
- Mashed banana or other fruit

Prepare the batter to the recipe, add optional ingredients and gently fold them in.
Can I make these vegan pancakes healthier?
These pancakes are great with half whole wheat and half spelt flour!

You can also add:
- 2 tablespoons of ground oats and an extra tablespoon of milk
- 1 tablespoon whole/ground chia or flax seeds and an extra tablespoon of milk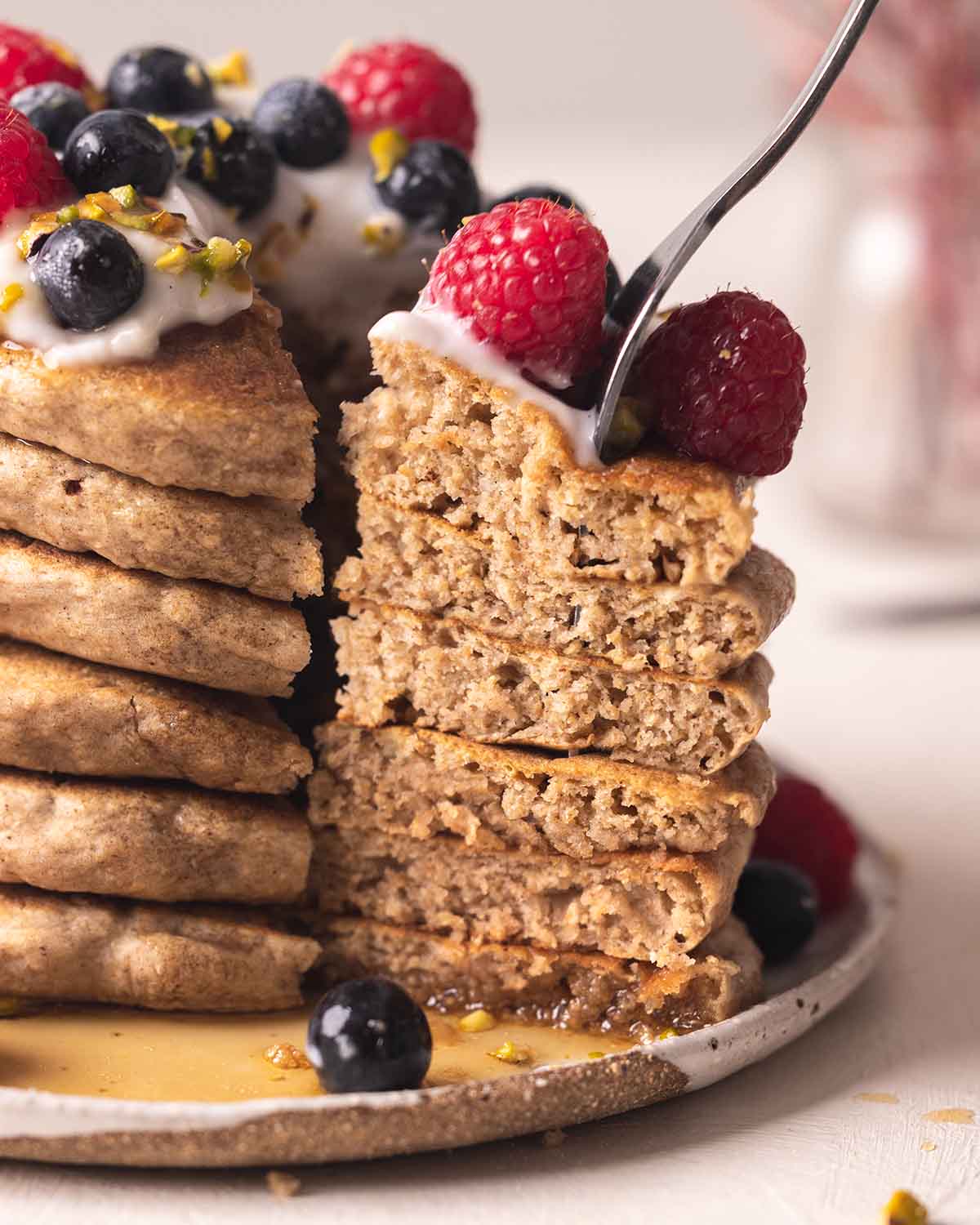 More vegan breakfast recipes
Follow Rainbow Nourishments on Instagram, Facebook, TikTok and Pinterest, and subscribe via email to receive all of our latest recipes!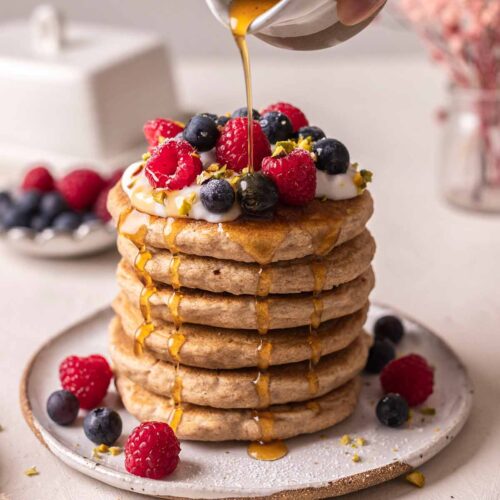 Print Recipe
Vegan Whole Wheat Pancakes
Fluffy vegan whole wheat pancakes that are easy to make and come together in one bowl. You'll need only a few pantry ingredients to prepare this quick breakfast!
Ingredients
Vegan Whole Wheat Pancakes
Instructions
Make the pancake batter:
Add all the dry ingredients to a mixing bowl and whisk until there are no lumps.

Add all the wet ingredients and whisk until combined. Some lumps are fine, as long as they aren't lumps of dry flour or sugar. The batter should be thick but pourable. (note 4)
Cook the pancakes:
Preheat a non-stick skillet (fry pan) or griddle to medium heat.

If needed, lightly grease your skillet with oil, vegan butter or cooking spray.

Pour about ¼ cup of batter onto your skillet. Use a spoon or swivel the skillet to make a round pancake. Depending on the size of your skillet, you may be able to fit another 1-2 pancakes.

The pancakes are ready to flip when their edges start to brown and bubbles pop and leave holes on the surface. The bottom of the pancake should be golden-brown (3-5 minutes).

Continue the cook the pancakes until their underneath is golden brown and the pancake has puffed up (around 2 minutes). Repeat with the remaining batter.
Serving and storing the pancakes:
Serve the pancakes with maple syrup, vegan butter, fruit or as desired.

Leftover pancakes can be stored in an airtight container in the refrigerator for up to 5 days or in a single layer in the freezer for up to 1 month. Reheat the pancakes on your skillet, in your microwave or toaster, until very warm.
Notes
For the best results, weigh your flour using a scale. Alternatively, use the spoon and level method. Avoid using the measuring cup to scoop the flour as it'll give you more flour than you need.

Instead of coconut sugar, you can any granulated sweetener, 2 tablespoons (40g) maple syrup or any liquid sweetener of choice.

Coconut oil will work but just make sure it's melted but not too hot.
The consistency of your batter will depend on your brand of whole wheat flour and how you measured your ingredients. Don't stress if your batter looks different from the above pictures!
Nutrition
Serving:
1
pancake
|
Calories:
136
kcal
|
Carbohydrates:
24
g
|
Protein:
4
g
|
Fat:
4
g
|
Sodium:
420
mg
|
Potassium:
103
mg
|
Fiber:
3
g
|
Sugar:
2
g
|
Vitamin A:
3
IU
|
Vitamin C:
0.01
mg
|
Calcium:
208
mg
|
Iron:
1
mg
This post may contain affiliate links. As an Amazon Associate, I may earn a small commission from qualifying purchases at no additional cost to you.