Easy vegan strawberry cake packed with fresh strawberries and lots of flavor! This eggless cake uses just 7 key ingredients (plus the frosting) and can be prepared in 1 bowl.
This cake is the perfect Valentine's Day dessert just like my vegan strawberry cupcakes! It has been adapted from my very tried and tested vegan mango cake.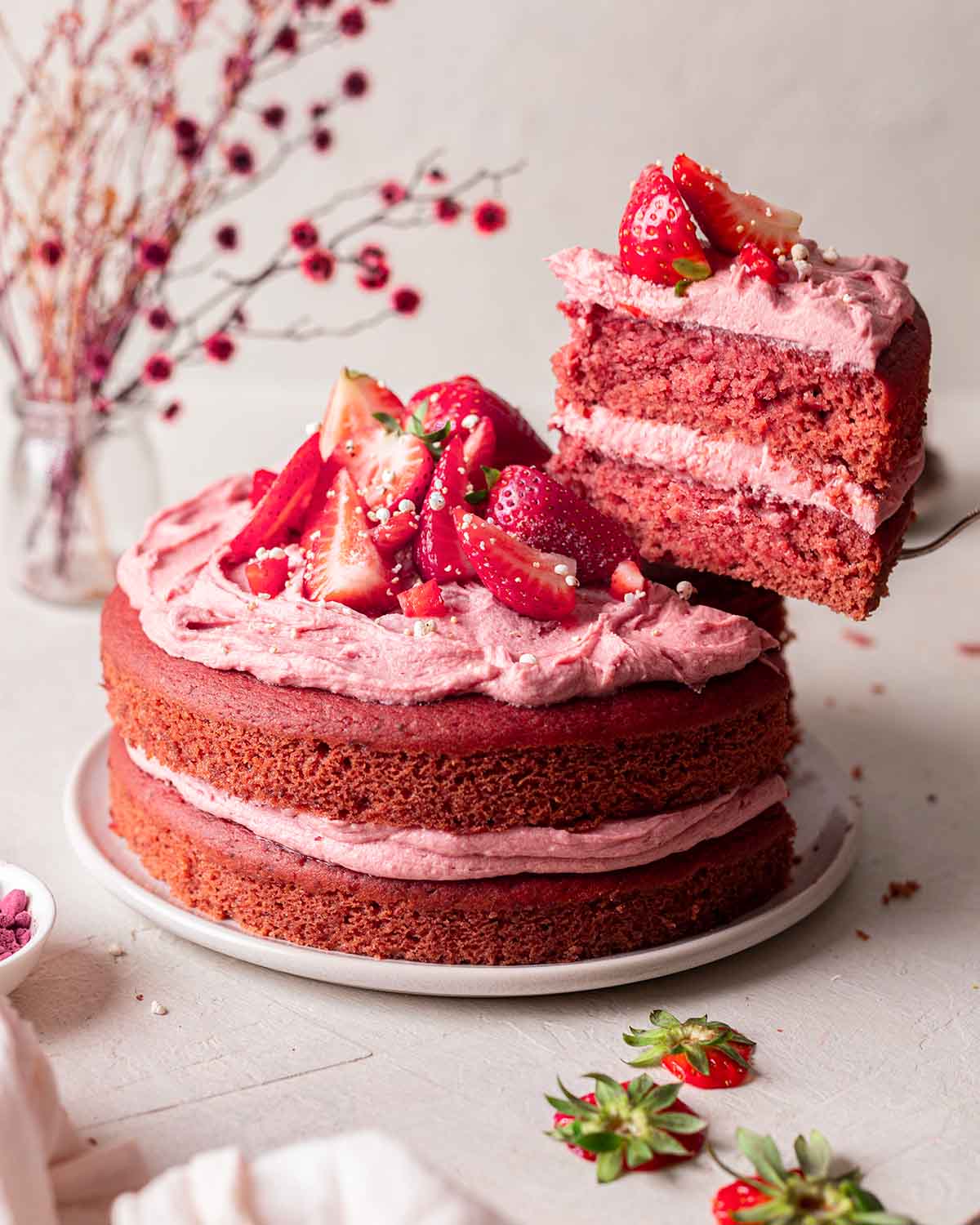 Why you'll love this cake
DIFFICULTY RATING: This from-scratch strawberry cake is easy to make! All you need to do is blend the strawberries, mix the dry and wet ingredients in one bowl then bake.
FLAVOR: Incredible strawberry flavor using 4 cups of REAL strawberries! You don't have to use strawberry extract or flavoring!
TEXTURE: Fluffy and not dense! Some strawberry cakes are stodgy due to too much liquid and structural factors. However, I added extra baking agents and minimized the amount of liquid so you get a light and fluffy cake. This cake stays moist for days!
Simple ingredients to make this cake
Even though this cake is eggless and dairy-free, you'll only need a few basic pantry ingredients to make this cake!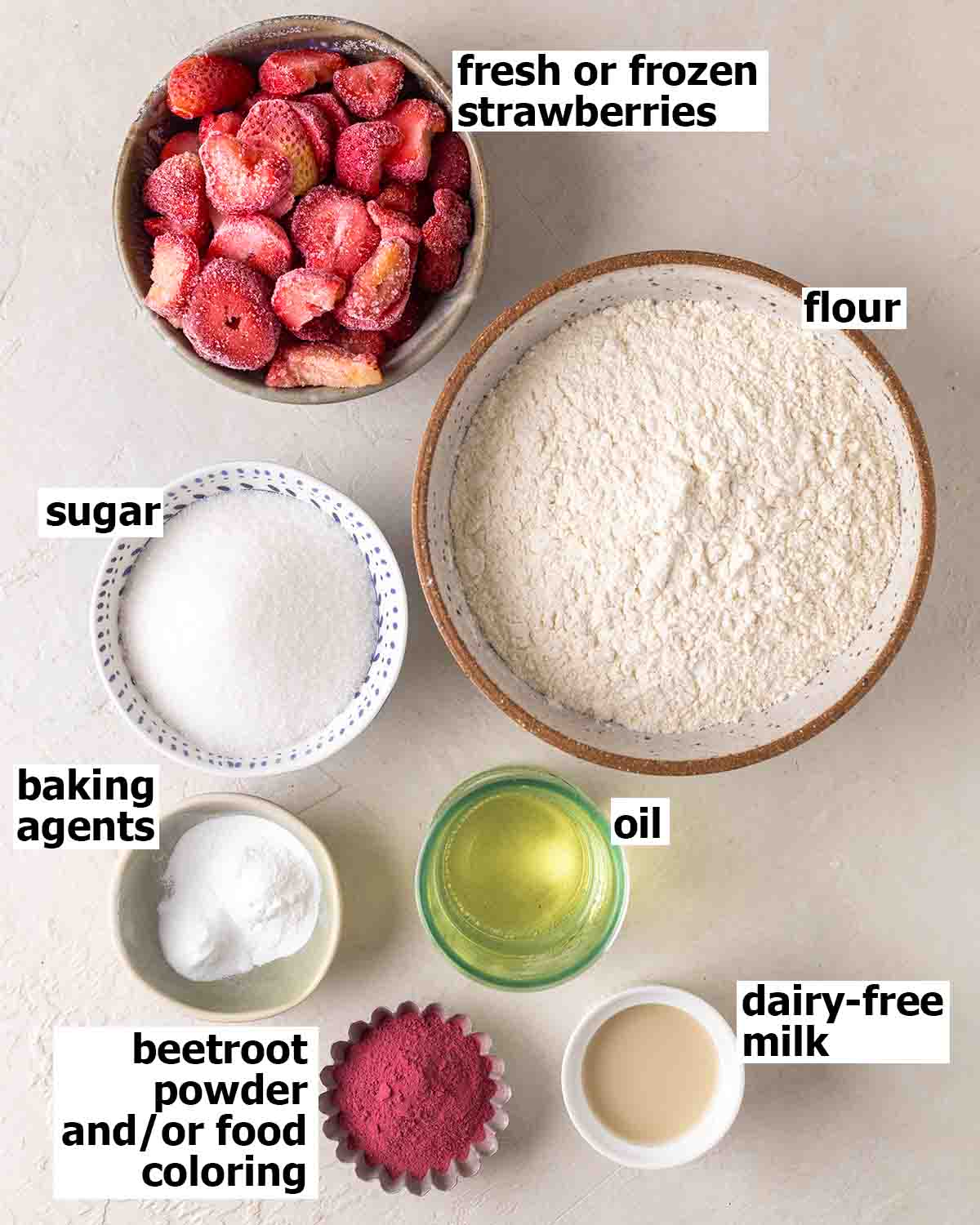 Ingredient notes
Strawberries, either fresh or frozen. I tested both types of strawberries and the final cakes were similar. If possible, choose strawberries that are already sweet and vibrant as this will improve the final cake. Interestingly, the strawberry puree acts similarly to applesauce and is a wonderful egg replacer!
Dairy-free milk. This recipe uses less milk than other vegan cakes because we have so much moisture from the strawberry puree! That means we don't have to fuss around making a strawberry reduction.
Oil helps the cake stay moist and fluffy, compared to butter which can make a cake feel dry if it's not at room temperature.
Baking powder and soda. We're using double baking agents to counteract the high amount of fruit, which tends to weigh down a cake!
Beetroot powder or pink/red food coloring (optional). Without the powder or food coloring, the cake is a dull and pale pink color.
Brands of beetroot powder vary a lot. When baking with beetroot powder, your cake batter might be a lovely pink color and your baked cakes could be anywhere from vibrant pink to orange/brown. Alternatively, pink/red food coloring provides more consistent results where the batter is almost the same color as the baked cakes.
A complete list of ingredients, quantities and instructions are in the gray recipe card at the bottom of this post.
Making the strawberry puree
If you're using frozen strawberries, allow them to fully defrost.
Then simply add all the strawberries to a food processor or blender and blend until it forms a puree and there aren't any more chunks!
Preparing the strawberry cake batter
First, I'd recommend making the cake batter in a large bowl rather than using a stand mixer. This reduces the chance of over-mixing the batter!
In a large mixing bowl, add all your dry ingredients and mix until combined. If you're using beetroot powder, mix it in as well.
Then add all your wet ingredients (including food coloring, if using) to the flour mixture. Mix the batter until just combined! Some lumps in the batter are fine but make sure your mixture has no pockets of flour.
The final mixture should be quite thick. This helps create a fluffier vegan strawberry cake without dense spots! A runnier batter results in a stodgy cake.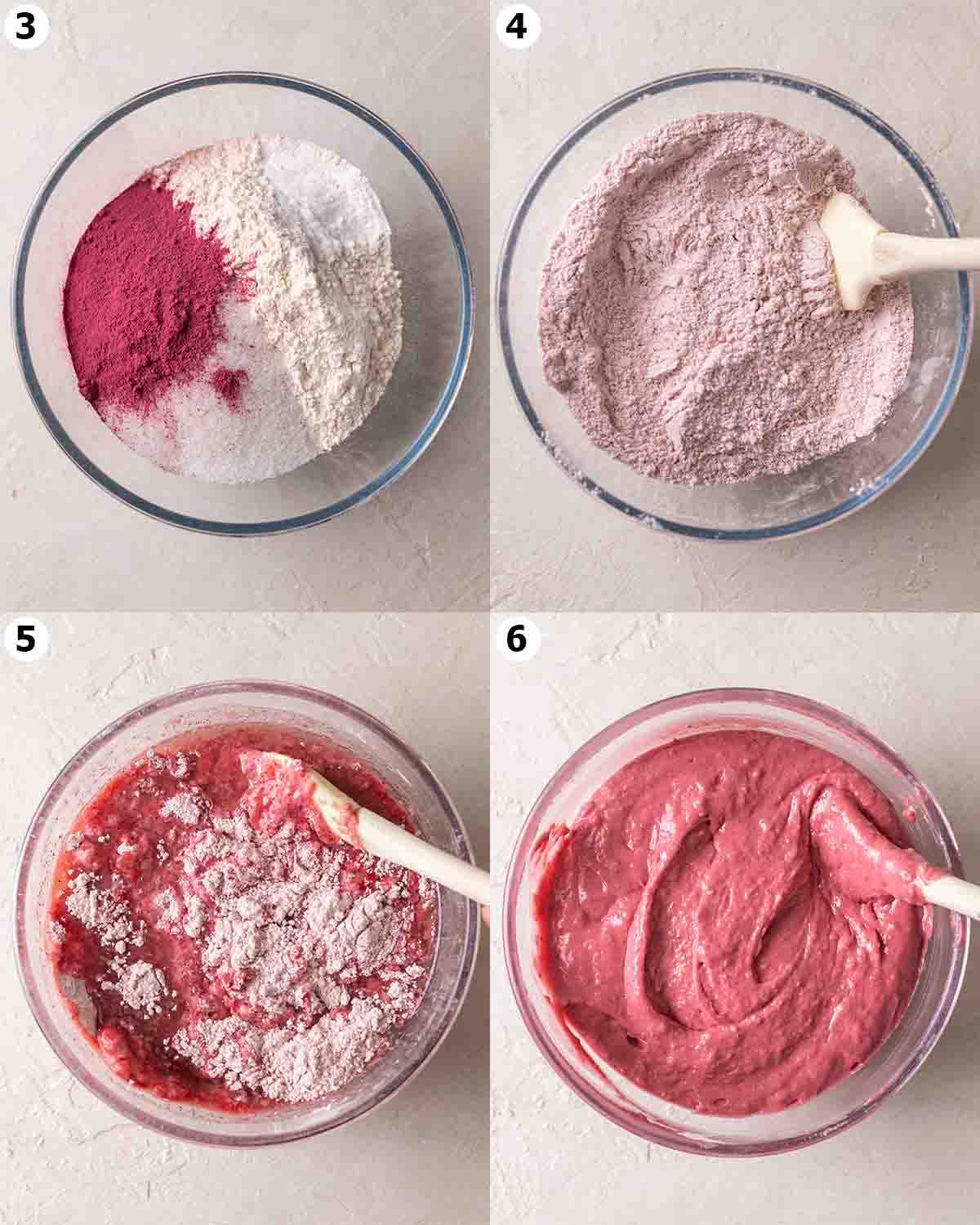 Baking the cake
This vegan strawberry cake bakes in around 30 minutes, give or take 5-10 minutes.
The cake layers are ready when you insert a skewer in the middle and it completely comes out clean. The cakes are very moist so we need to make sure they are completely baked through!
If you used beetroot powder, the cakes may darken after baking - this is normal! The surface of the cake is normally darker so don't stress. The middle of the cake is lighter in color!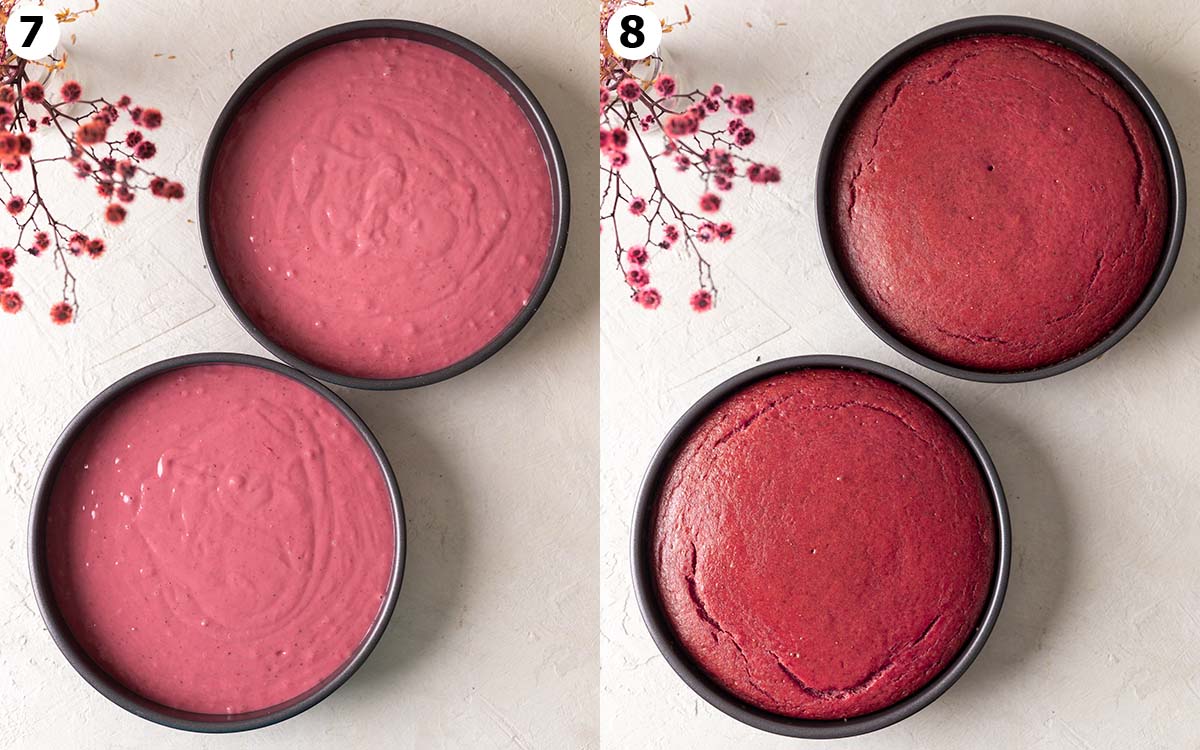 Decoration tips
This vegan strawberry cake is wonderful when topped with:
Possible decorations for the strawberry cake include:
Fresh strawberries or freeze-dried strawberries. Or any complementary fruit!
Strawberry jam
Chocolate shavings or shards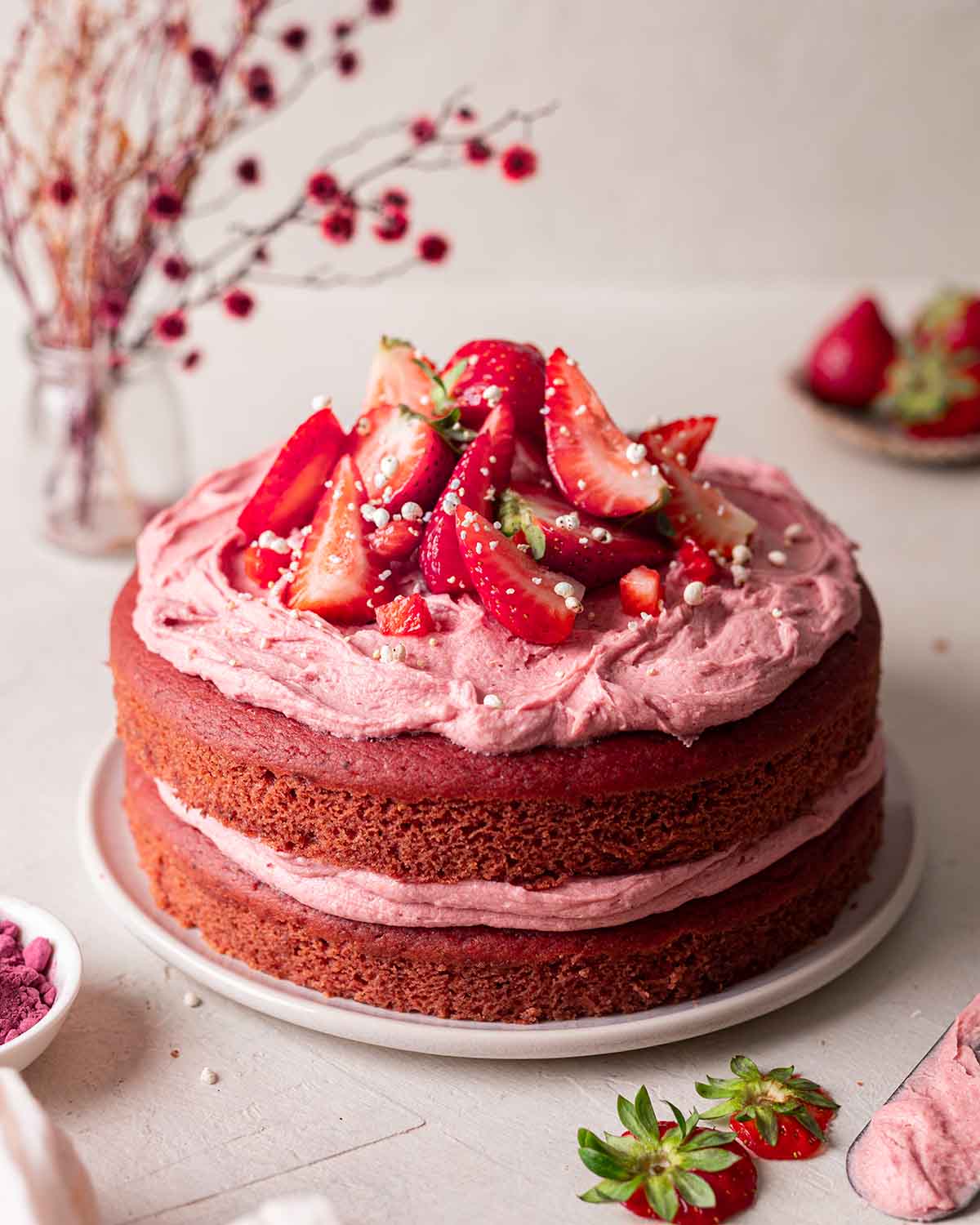 Customizing the cake recipe
Can I make this strawberry cake recipe gluten-free?
I recommend checking out my vegan gluten-free strawberry cake which uses only 6 ingredients! It's easy to make and stays moist for days.

I tried baking the below recipe with 1:1 gluten-free all-purpose flour and a combination of different gluten-free flours. However, I had to completely change the ingredient quantities to make it work. Even still, the gluten-free cake was often too dry or dense or could only be eaten on the day it was baked.
Can I use coconut sugar in this cake?
Coconut sugar is darker than granulated sugar so will turn the cake brown! It also has more moisture than regular sugar so I recommend using a scale to weigh the ingredients so your cake doesn't have too much moisture.
Can I use beetroot juice instead of powder? Or can I use another pink-colored powder?
I don't recommend beetroot juice as it's much less intense than the powder. The amount of juice/liquid you'll need to add to color the cake is enough to completely change the cake's texture (it'll be dense and might not bake through).

Whilst pink pitaya powder is a lovely color, I haven't had great success baking with it. For me, the color completely faded and it gave the cake a slightly rancid taste and smell.

Other vegan strawberry desserts
Follow Rainbow Nourishments on Instagram, Facebook, TikTok and Pinterest, and subscribe via email to receive all of our latest recipes!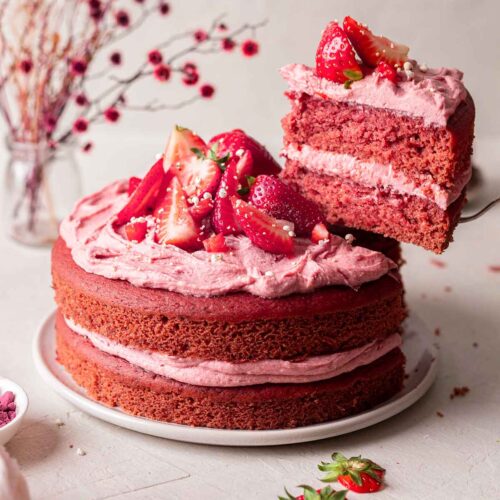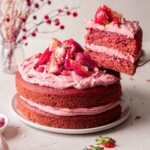 Print Recipe
Vegan Strawberry Cake
Easy vegan strawberry cake packed with flavor and fresh strawberries! This eggless cake uses just 7 key ingredients (plus the frosting) and can be prepared in 1 bowl. It's perfect for Valentine's Day.
Ingredients
Instructions
Note: For the best results, I recommend using grams to measure the ingredients, especially the flour and strawberries. Alternatively, use the spoon and level method to measure the flour. Use a spoon to add flour to a measuring cup and level it off with a knife. Do not use the measuring cup to scoop flour out of your container as too much flour will result in a dense cake.
Prepare the fresh strawberry puree:
Add the strawberries to a food processor or blender. Blend until there are no more chunks. Set aside.
Make the strawberry cake:
Preheat the oven to 180°C (350°F). Grease or line 2 x 8 inch (20 cm) round cake pans with parchment paper.

Add all the dry cake ingredients to a large mixing bowl and mix until there are no lumps. Add the strawberry puree and wet cake ingredients (with food coloring if using) to the bowl and fold until just combined. Be careful to not overmix the batter. Lumps in the cake batter are fine, as long as there aren't pockets of flour.

Divide and pour the cake batter between your 2 cake pans.

Bake the cakes for around 25-30 minutes. They're ready when you can insert a toothpick in the middle and it comes out clean. Let the cakes cool in their pans for around 10 minutes then remove them to cool on a wire rack.
To assemble the cake:
When the cakes have completely cooled, slice off the dome of one cake. Place that cake on a serving plate.

If you chilled your frosting, stir it a few times to make sure it's smooth and soft. Spread or pipe around 1 cup of frosting on the cake and place the remaining cake on top.

Spread or pipe the remaining frosting on top. Garnish with fresh strawberries or as desired.

Store the cake in an airtight container in the fridge until serving. Allow the cake to come to room temperature 30 minutes - 1 hour before serving. Leftovers will keep in the fridge for 5 days or in the freezer (without fresh strawberries) for 1 month.
Notes
I haven't had much success substituting the all-purpose flour with 1:1 gluten free flour blends or a combination of gluten free flours without completely changing the recipe. Instead, I'd recommend my 6 ingredient gluten free strawberry cake which is super easy to make!
For the most consistent and reliable results, I'd recommend pink/red food coloring. When using food dye, the color of your cake batter will be similar to the color of the baked cake. Alternatively, beetroot powder doesn't always bake well (this depends on the brand and how old is the powder). Cake batter that is colored with beetroot powder may be a lovely pink but the baked cake could be anywhere from vibrant pink to orange/brown in color.
Nutrition
Serving:
1
slice without frosting
|
Calories:
222
kcal
|
Carbohydrates:
35
g
|
Protein:
3
g
|
Fat:
8
g
|
Sodium:
155
mg
|
Potassium:
72
mg
|
Fiber:
1
g
|
Sugar:
16
g
|
Vitamin A:
4
IU
|
Vitamin C:
18
mg
|
Calcium:
59
mg
|
Iron:
1
mg
This post may contain affiliate links. As an Amazon Associate, I may earn a small commission from qualifying purchases at no additional cost to you.