Healthy vegan pastitsio (or pastichio), with layers of pasta, a lentil tomato sauce and creamy bechamel sauce. This Greek pasta bake or lasagna is high protein and an incredible vegan comfort food meal!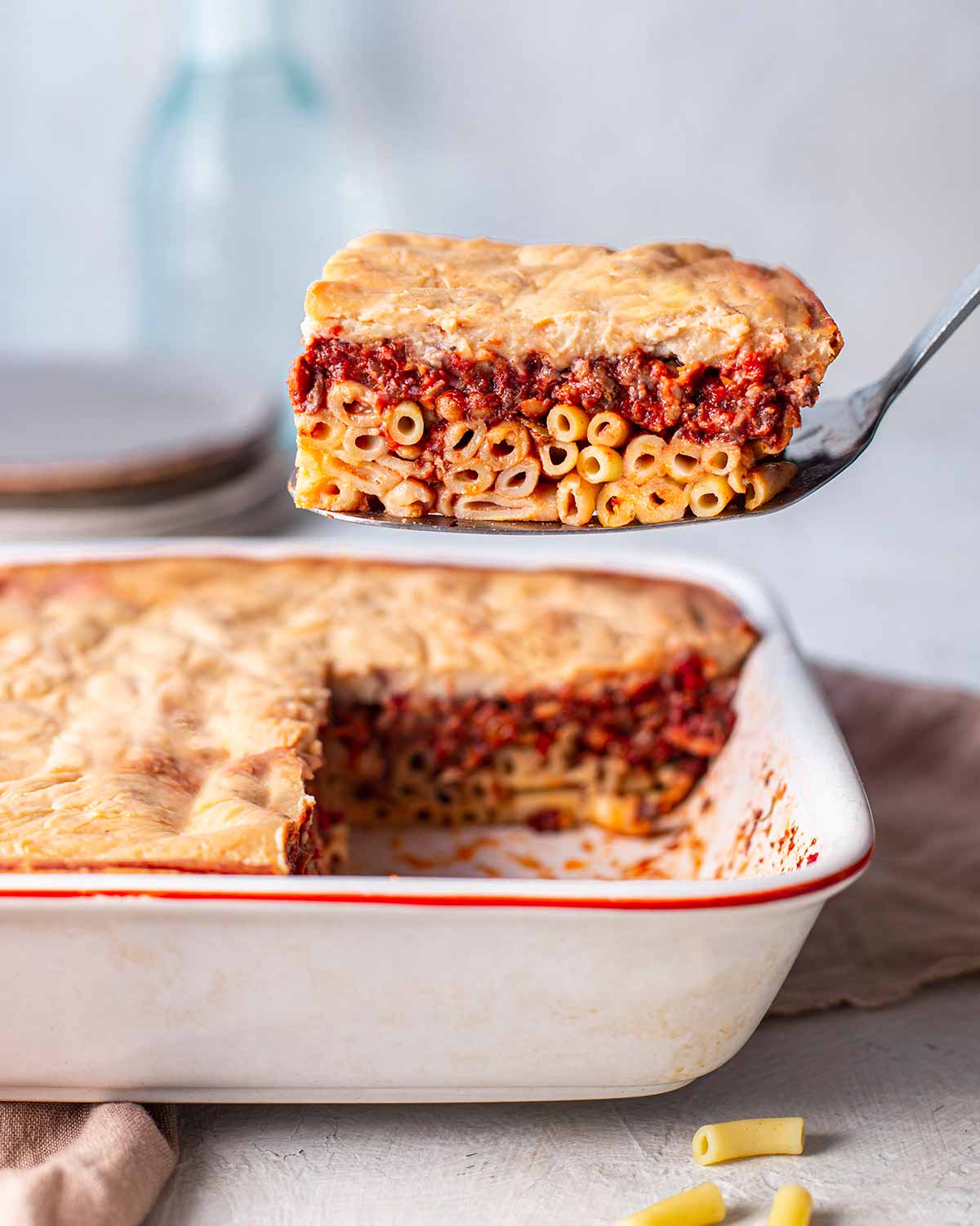 What is pastitisio? Is pastitisio vegan?
Pastitsio is a Greek version of the classic lasagna (see my vegetable-packed lasagna recipe) or a more gourmet version of baked ziti or baked spaghetti. Traditional pastitsio is definitely not vegan or vegetarian as it's packed with mince meat, cheese and eggs.
My pastitsio recipe is healthy, vegan, vegetarian and also high protein. It's a wonderful plant-based comfort food meal for lunch or dinner. It can be served warm in Winter or cold in Summer!
Normally, pastitsio uses speciality Greek spaghetti which can be found in continental grocers (even in Australia). They are long tubes of pasta that are usually eggless and vegan-friendly. However, for ease, I used dry macaroni and they worked well!
Fun fact: even though I'm not Greek, my name Anthea comes from the Greek goddess Athena!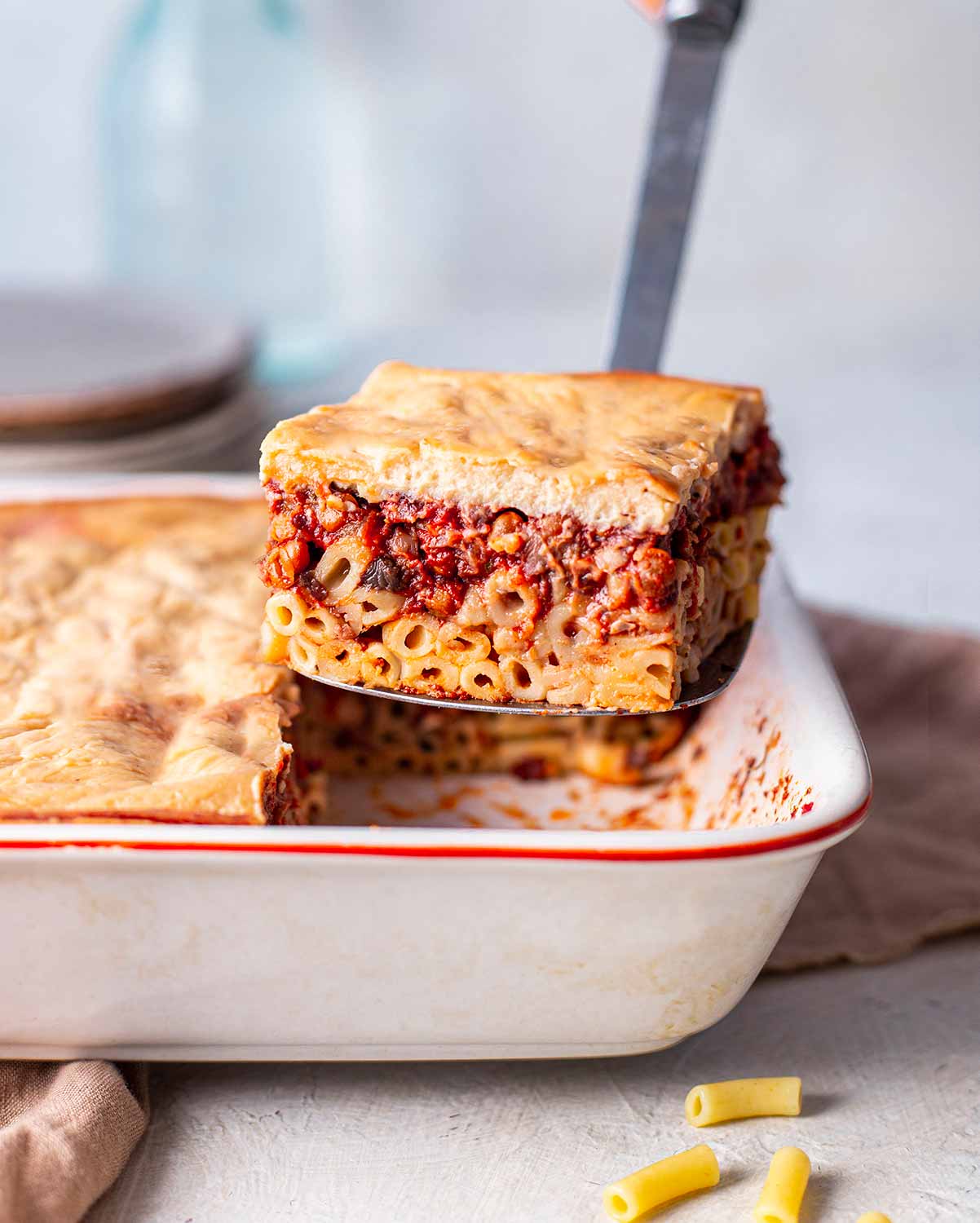 What to expect from THIS pastitsio
Like all lasagnas, this vegan Greek recipe takes time to prepare and bake. It's definitely not a quick 30-minute meal but rather a weekend comfort food or a gourmet vegetarian or vegan dinner to impress family and friends.
However, you can maximise your efforts as this pastitsio is GREAT for freezing! Simply pop a frozen portion of the pastitsio in the oven and you're 15 minutes away from the perfect vegan comfort food meal.
If you're into meal planning, you can have this healthy pasta bake for dinner on repeat!
Ingredients for the vegan 'meat' layer
In order to imitate meat, my vegan pastitsio uses brown lentils (for protein), mushrooms (for flavour and texture) and walnuts or pecans (for texture).
Hint: this 'meat' sauce also doubles as a vegan bolognese and is great on top of pasta or gnocchi!
The full list of ingredient quantities and instructions are in the gray recipe card at the bottom of this post.
If you need to substitute ingredients, here are a few options:
Swap brown lentils with red lentils. Add 1-2 cups of vegetable stock to allow the lentils to cook
Swap mushrooms with eggplant in the same amount
Swap walnuts or pecans with sunflower seeds for a nut-free vegan ragu or simply add more lentils or vegetables
Tip for preparing the ingredients
The onion, garlic, mushrooms and walnuts need to be chopped finely. Of course, you can do this with a chopping board and knife. However, to save time in the kitchen, I'd recommend pulsing these ingredients in a food processor!
If you use a food processor, make sure you pulse the onion, garlic and mushrooms until they are chopped finely, NOT pureed. They will shrink a bit when they are cooked and we want to maintain some texture!
Cooking the vegan 'meat' layer
Saute the onion, garlic, herbs and olive oil in a large saucepan until fragrant. If you're oil-free, I'd recommend cooking them in vegetable stock or water.
Next, add your coarsely chopped mushrooms and nuts. Initially, all the water will leak from the mushrooms. Eventually, it'll evaporate leaving you with a mince-like mixture. It's not pretty (just like regular mince haha) but it'll get better!
Finally, add the canned lentils, crushed tomato, tomato paste and seasonings. The mixture is pretty bland without the seasonings so definitely don't skimp on them!
See, vegans and vegetarians don't EVER have to miss out!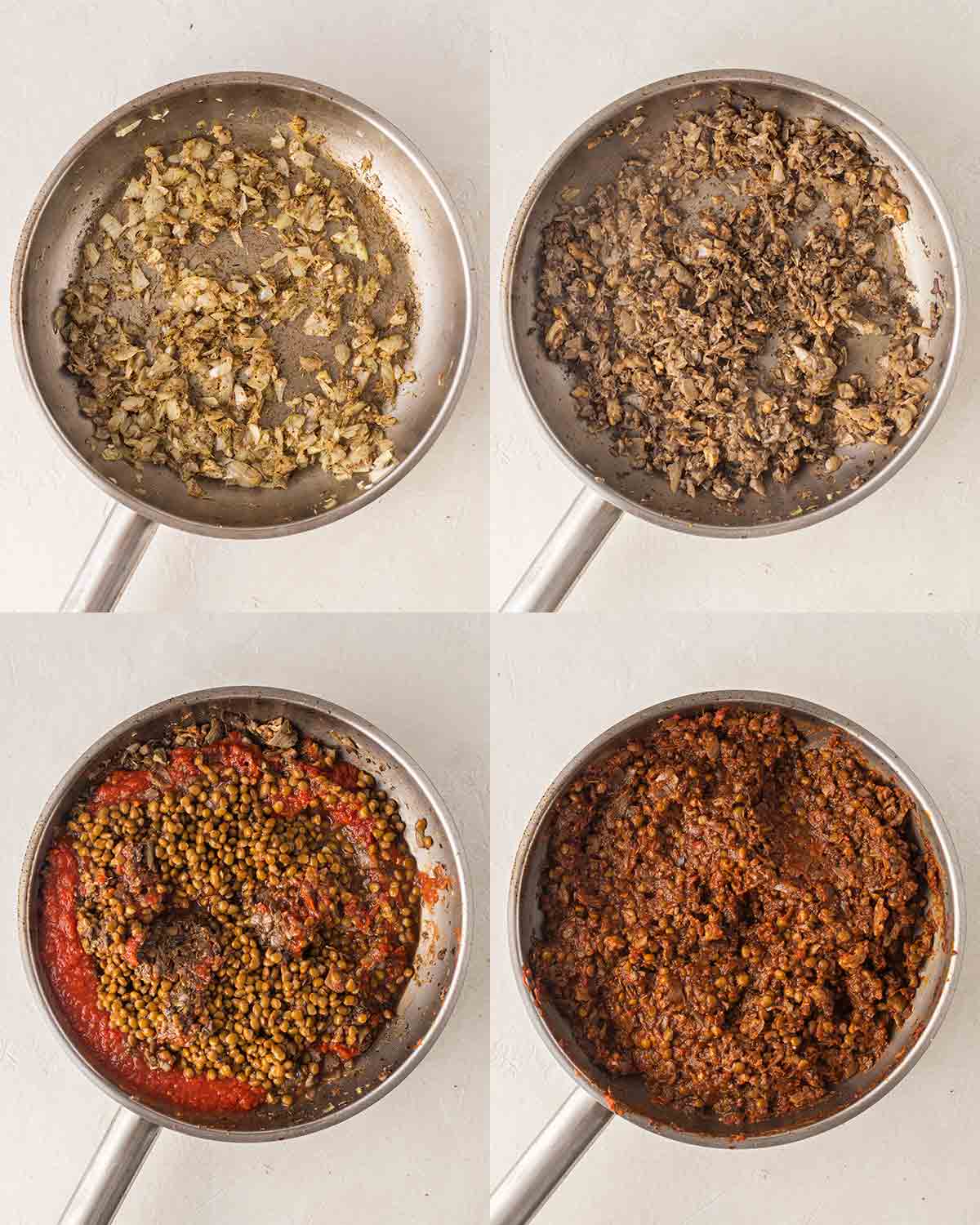 How to make vegan bechamel sauce
Most vegan bechamel sauces are made with just dairy-free milk, some type of thickener (flour) and oil. However, I blended in some creamy butter beans (lima beans). This makes the vegan white sauce:
healthier
high protein
thick and creamy whilst being oil-free (if needed)
If you're not oil-free, I'd still recommend adding the butter beans for texture. However, you can also add a dash of olive oil, vegan butter and even grated vegan cheese for extra richness.
The best way to make a vegan white sauce is to start with making a 'roux' (a thick mixture of flour and dairy-free milk). Once you have a roux, add the remaining milk. The seasonings can be added to the roux or the final mixture (it doesn't matter).
The two-step process ensures the flour doesn't turn clumpy and ensures it cooks through!
The vegan bechamel is ready when it thickens a little. Remember that it'll further thicken when baked and when it cools down.
Unlike other vegan white sauces or vegan pastitsios, this sauce includes BUTTER BEANS (lima beans). The beans add flavour, structure and a healthy plant-based protein.
Assembling the vegan pastitsio
Many pastitsio recipes or vegan pastitsio recipes add cheese or ask you to make and add another sauce to the pasta layer as it helps the pasta stick together. For ease, I just mixed in some of the bechamel sauce. Same function but easier!
Once you've done that, just flatten the pasta into an even layer in the bottom of your baking tray.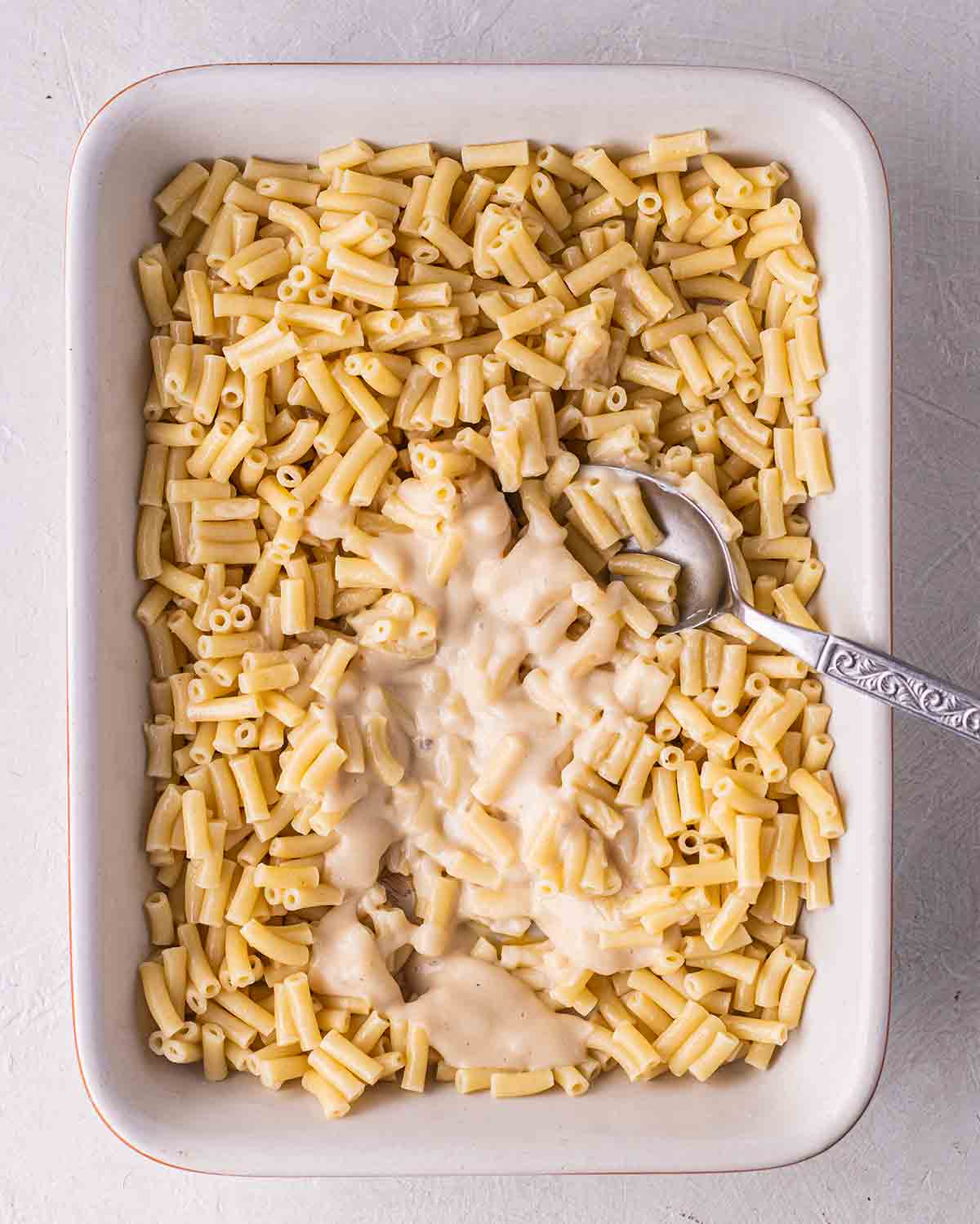 Next, add your thick lentil tomato mixture on top. Spread the mixture with the back of a spoon or spatula until it's flat.
Finally, pour your vegan bechamel sauce on top! You can bake your vegan pastitsio immediately OR store it in the fridge until you're ready to bake and serve.
Perfect for vegan meal planning!
This vegan pasta bake keeps very well in the fridge or freezer. If you freeze it, I'd recommend cutting it into individual portions and placing them in individual containers.
To serve the Greek lasagna, remove a portion from the freezer and reheat it in the oven (or microwave). It doesn't need to be defrosted :). You'll have gourmet vegan comfort food prepared for days!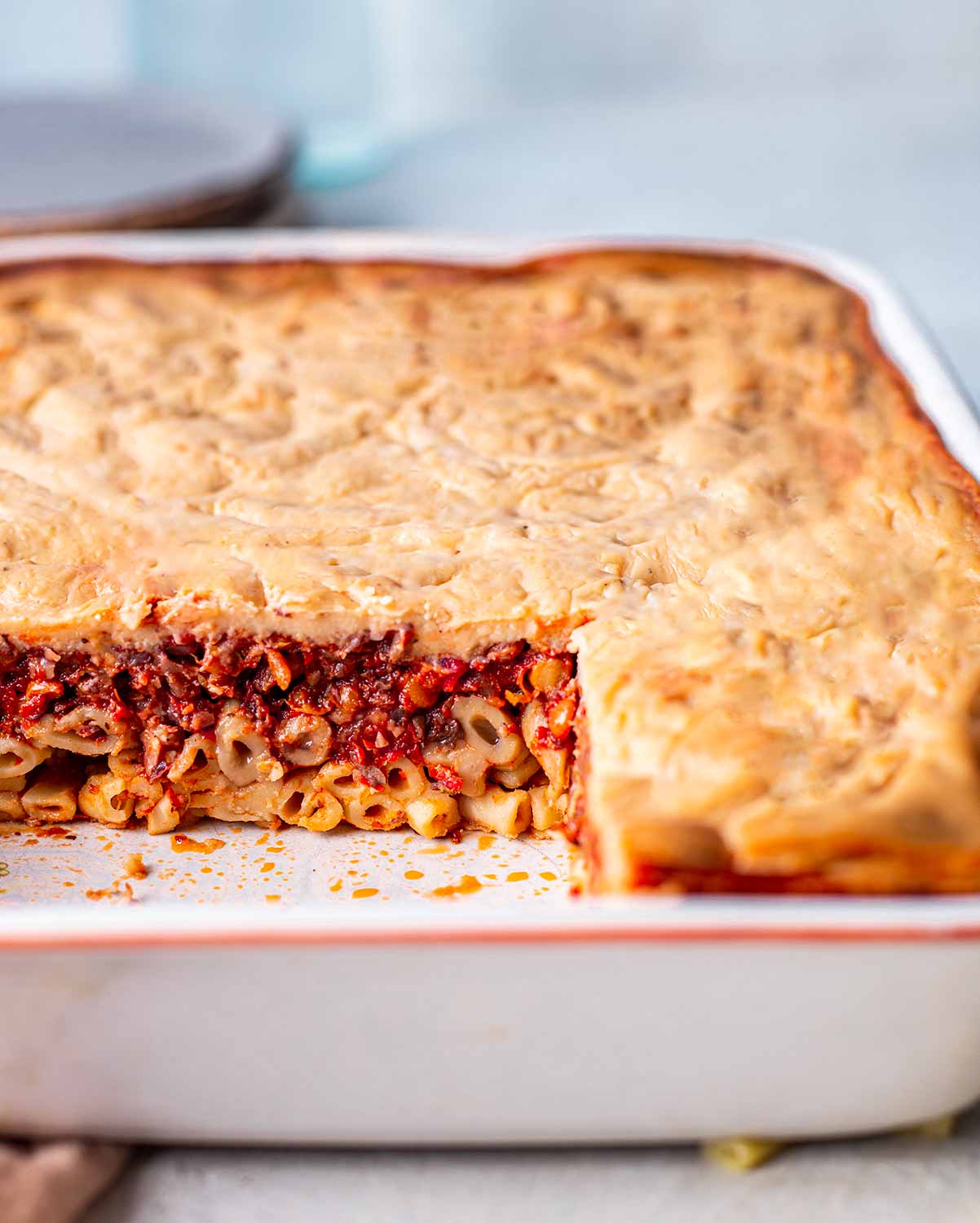 See my other vegan comfort food recipes:
Follow Rainbow Nourishments on Instagram, Facebook, TikTok and Pinterest, and subscribe via email to receive all of our latest recipes!
Print Recipe
Vegan Pastitsio (Greek Pasta Bake)
Healthy vegan pastitsio (or pastichio), with layers of pasta, a lentil tomato sauce and creamy bechamel sauce. This Greek pasta bake or lasagna is high protein and an incredible vegan comfort food meal!
Ingredients
Pasta layer
200g

dried pastitsio noodles or macaroni

,

(note 1)
Vegan 'meat' layer
1

medium-size brown onion

,

finely chopped

3

cloves

garlic,

finely chopped

2

teaspoons

dried oregano

2

teaspoons

dried thyme

1

teaspoons

ground cinnamon
extra virgin olive oil,

as needed

2

cups

large mushrooms

,

finely chopped

400

g

canned brown lentils

,

drained

400

g

canned crushed tomatoes

¼

cup

tomato paste

¼

cup

walnuts,

(or pecans, sunflower seeds or sub with more lentils or mushrooms), finely chopped

1

tablespoon

soy sauce

1

teaspoon

balsamic vinegar

,

sugar or coconut sugar, to taste (optional)

Salt and pepper

,

to taste
Instructions
If you're serving this on the same day, preheat the oven to 180°C (350°F).
To prepare the pasta:
Bring a large pot of water to the boil. Cook the pasta for a few minutes before its recommended cooking time. My packet recommended 8 minutes but I cooked mine for 5 minutes.

Drain the pasta and rinse it until cold water immediately.
To prepare the vegan 'meat' sauce:
Add the onion, garlic, herbs and spices (and oil if desired) to a large saucepan over high heat. Saute for 5 minutes or until everything is fragrant

Add the mushrooms and saute for 5-10 minutes or until most of the liquid from the mushrooms has evaporated.

Add the rest of the ingredients (lentils, tomato, nuts and seasonings) to the saucepan and cook for 10 minutes or until the mixture is thick.

Season the mixture with salt and pepper to taste. Set aside.
To prepare the vegan bechamel (note 2):
Add the corn flour or corn starch and 1 cup of milk to a large saucepan over medium heat. Whisk until smooth and allow the mixture to thicken. This will happen quickly so keep your eye on it! See the blog post above for reference pictures.

Add the rest of the ingredients and use an immersion blender to puree the beans and mixture. Cook the mixture over medium heat for 10 minutes or until thickened. It should thickly coat the back of a spoon.
To assemble the vegan pastitsio:
Scoop the pasta into a large casserole dish (mine was 28 x 15cm or 11 inches x 6 inches but any deep dish will work). Pour about ½ cup of the bechamel sauce on top and thoroughly mix it through. Flatten the top of the pasta layer.

Scoop out all the vegan 'meat' sauce onto the pasta and flatten with the back of a spoon. Pour the remaining bechamel sauce on top and smooth the top.

Bake the pastitsio for 50 minutes or until the top is golden brown. Serve hot or at room temperature.

Store leftovers in an airtight container in the fridge for 3 days. Alternatively, cut up individual portions of the pastitsio and freeze them for up to 1 month.
Notes
Most dried pasta is eggless and vegan. However, double check the ingredients just to make sure!
To save time, start making your bechamel while you're waiting for your vegan meat sauce.
Nutrition
Calories:
293
kcal
|
Carbohydrates:
43
g
|
Protein:
14
g
|
Fat:
7
g
|
Potassium:
507
mg
|
Sugar:
6
g
|
Vitamin A:
112
IU
|
Vitamin C:
8
mg
|
Calcium:
138
mg
|
Iron:
3
mg
This post may contain affiliate links. As an Amazon Associate, I may earn a small commission from qualifying purchases at no additional cost to you.