This Thai-style red curry potato lentil soup is the ultimate comforting dinner on a cold day. It combines the flavors and textures of Thai red curry and red lentil dhal and comes together in just one pot!
This soup is one of our favourite easy weeknight dinners alongside my One-Pot Vegan Miso Ramen recipe. Even non-vegans will love this healthy vegan dinner!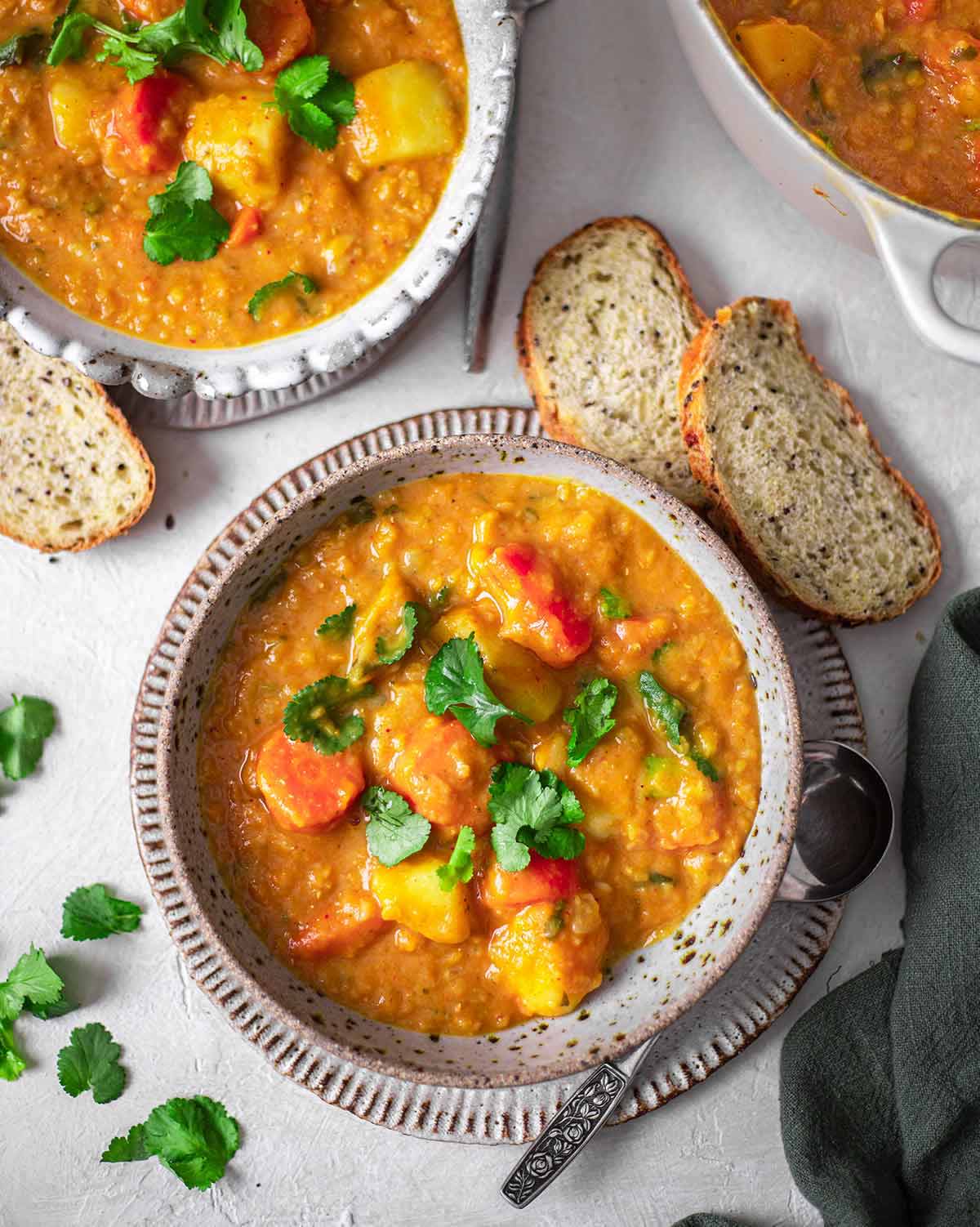 Soup ingredients
This healthy soup is vegan, vegetarian and gluten free. You'll need common ingredients including:
Potatoes and carrots. I used regular potatoes but you can sub it for sweet potato or even pumpkin!
Thai red curry paste. If you're vegan or vegetarian, make sure you get a Thai red curry paste with NO fish sauce!
Aromatics including onion and garlic.
Red lentils, rinsed well!
Vegetable stock, either homemade or store-bought. I make my own vegetable stock using vegetable scraps similar to the method outlined in The Kitchn.
Fresh coriander. I know coriander is very divisive and we aren't normally fans of coriander either. However, the coriander adds a great depth of flavour to this vegetarian soup!
The soup can be cooked with or without oil. And you can season the soup with salt, pepper, red pepper flakes and/or lime juice to taste!
If you blend some of the soup at the end, it becomes very thick and creamy so you don't need any coconut or coconut milk :).
As always, all amounts of ingredients are at the bottom of this post.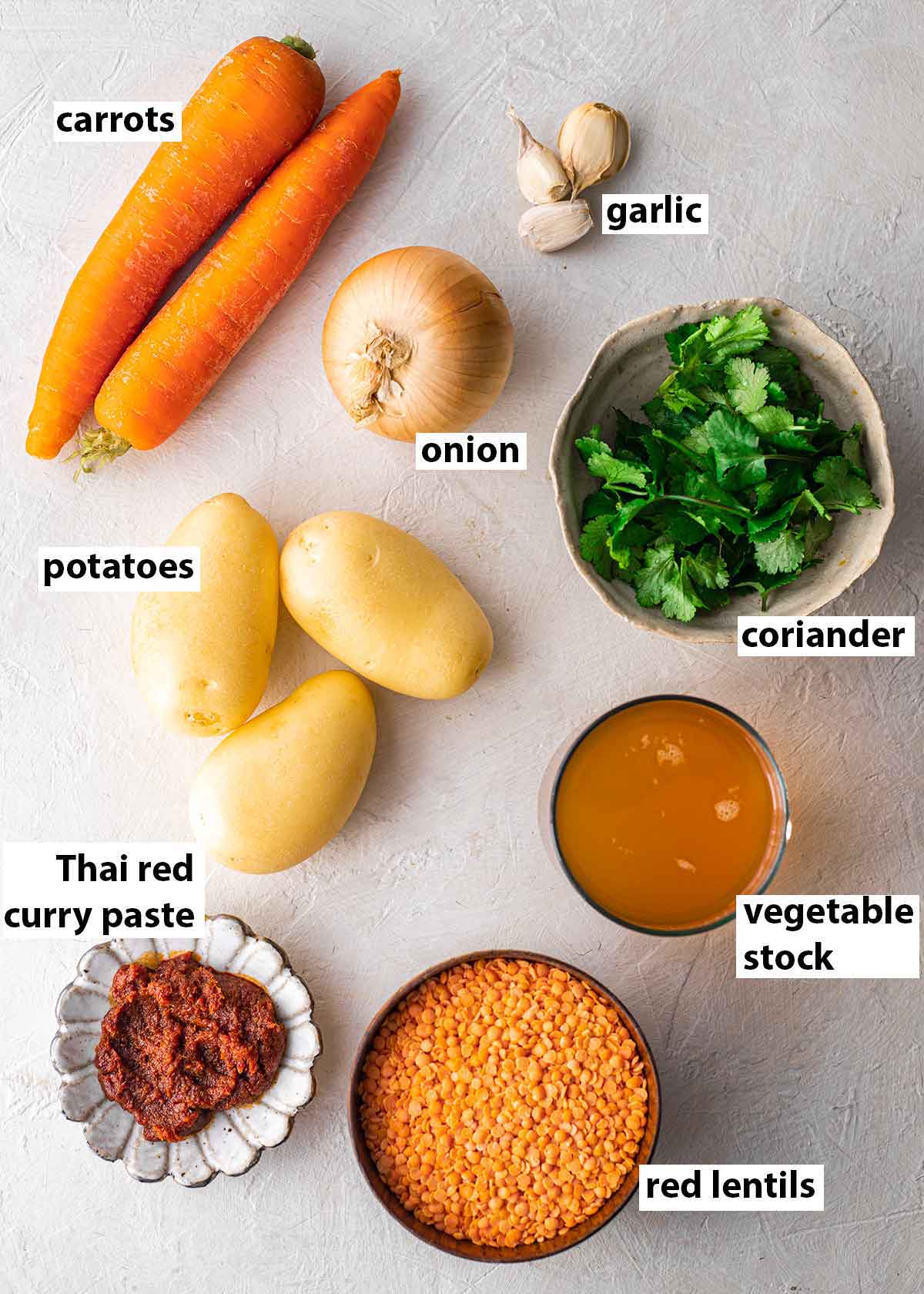 You can make this soup in ONE POT!
This red curry lentil soup is easy to make and requires only one pot. That means less washing for us, yay!
I've made the soup in regular saucepans, Dutch ovens, slow cookers and pressure cookers! Whatever you decide to use, the first few steps are the same :).
First, saute your onion in a little oil over high heat until fragrant. This usually takes 1-3 minutes.
Then add your garlic and Thai red curry paste and saute until fragrant. Sauteeing the curry paste FIRST brings out its flavour a lot! Curry pastes are sooo much more bland when you add them to a soup without sauteeing it.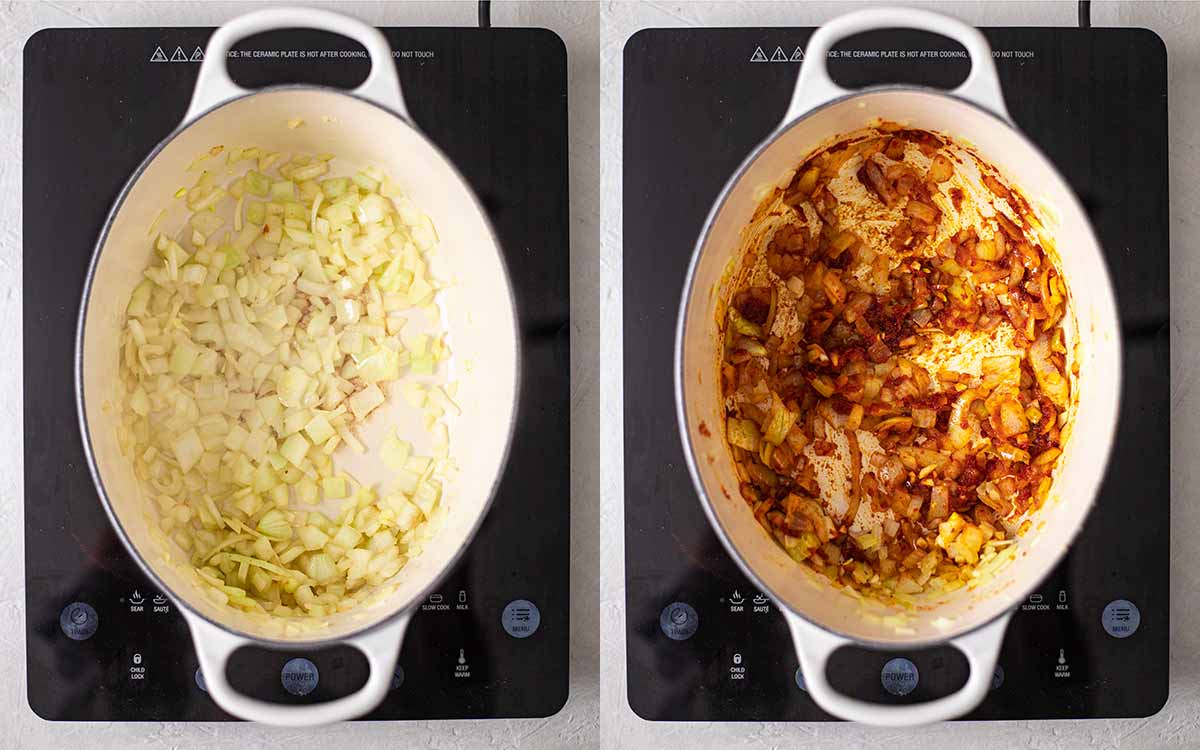 Next, add your potatoes and carrots and saute them a little. This will sear the vegetables and bring out their flavour!
Then add your lentils, vegetable stock and half of your coriander leaves. Reduce the heat to low, cover the pot and let it simmer away! Every now and then, you may need to stir the thai lentil curry soup so the delicious ingredients don't stick to the bottom.
If you're in a rush, reduce the stove to medium heat instead and stir frequently.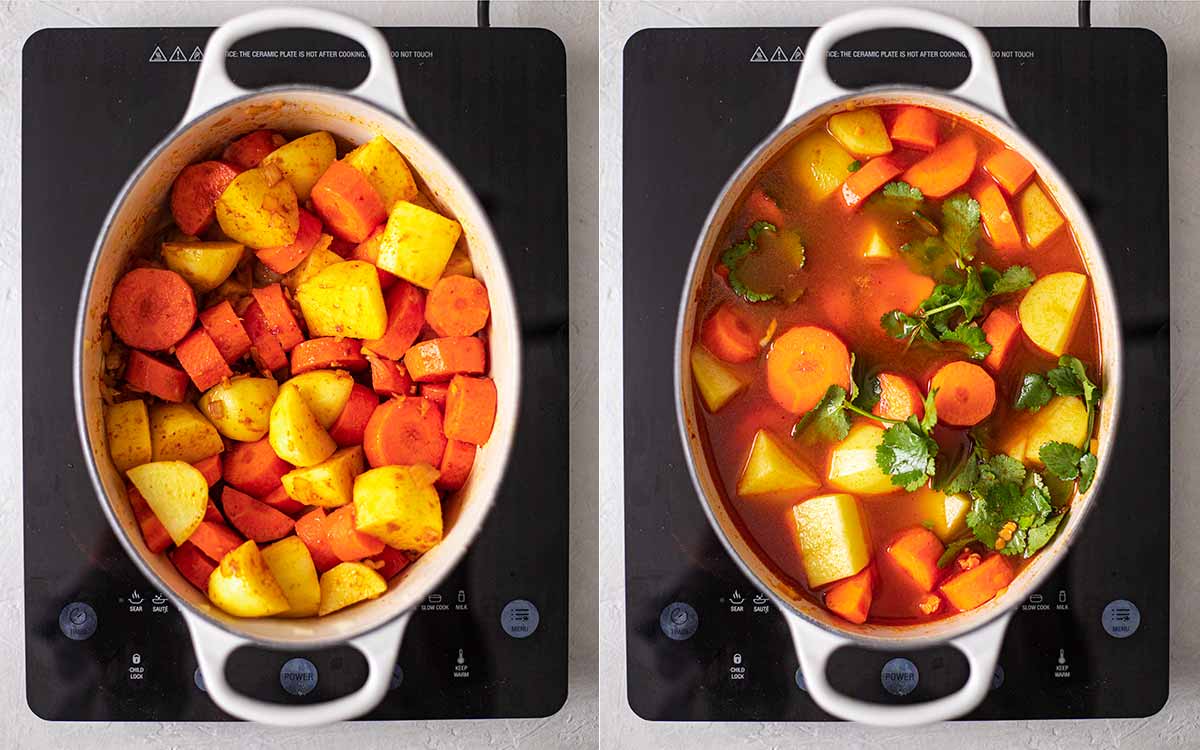 If using an Instant Pot, slow cooker or pressure cooker
Once you've sauteed the onion, garlic, red curry paste and vegetables, add the lentils, coriander and only 500-750 mL of vegetable stock (which is ½ - ¾ of the full amount). Cover with the lid, set your machine to the right settings and let it cook!
When there's a heavy or pressurised lid on the soup, a lot of the vegetable stock doesn't evaporate so we'll need less than normal.
Thin or thick soup?
The red curry lentil soup is ready when your veggies are tender. To test this, poke 1-2 of your potato and carrot pieces to make sure they're soft.
With soups generally, people are often either team THIN soup or team THICK soup.
If you prefer thinner broth-like soups, when your soup is ready, you can serve it as is.
If you prefer thicker soups (like me), you can blend half of your soup using a stick blender or stand blender. Just be careful as the soup is very hot at this stage!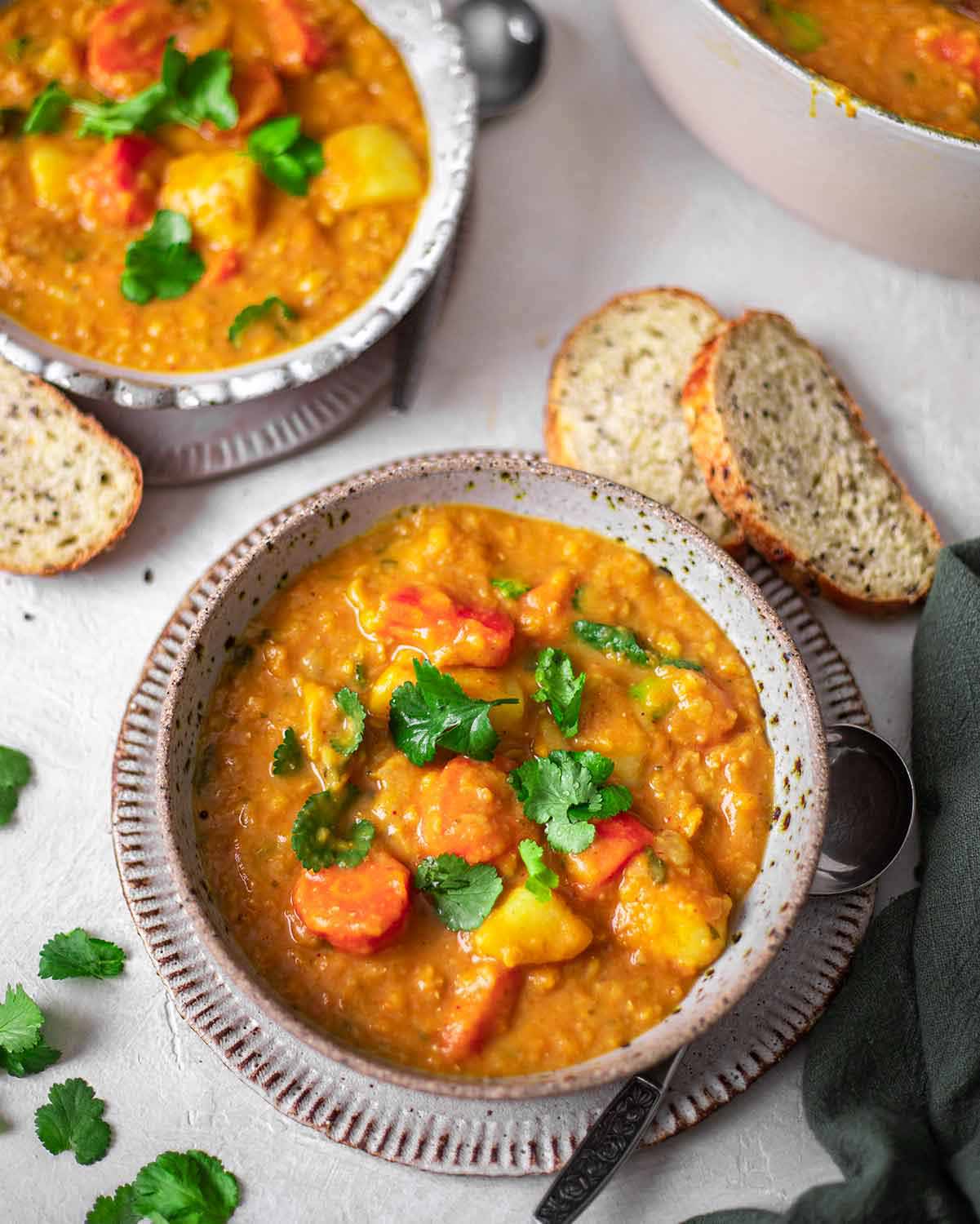 How to serve the red curry lentil soup
The soup is wonderful as by itself. However, you can also serve the soup with:
Crusty bread (my partner's preference)
Loads of greens (my preference)
Freezing the soup
This recipe makes 4-6 very decent portions and we usually eat it all within a few days. However, the soup can be frozen. Just portion the soup into containers and freeze as is.
To reheat, you can cook the soup on the stovetop from frozen. You may just need to add a little water!
The texture of the carrots and potatoes changes a little once you freeze them but it's not dramatically different.
I hope you enjoy this 'family' favourite of ours!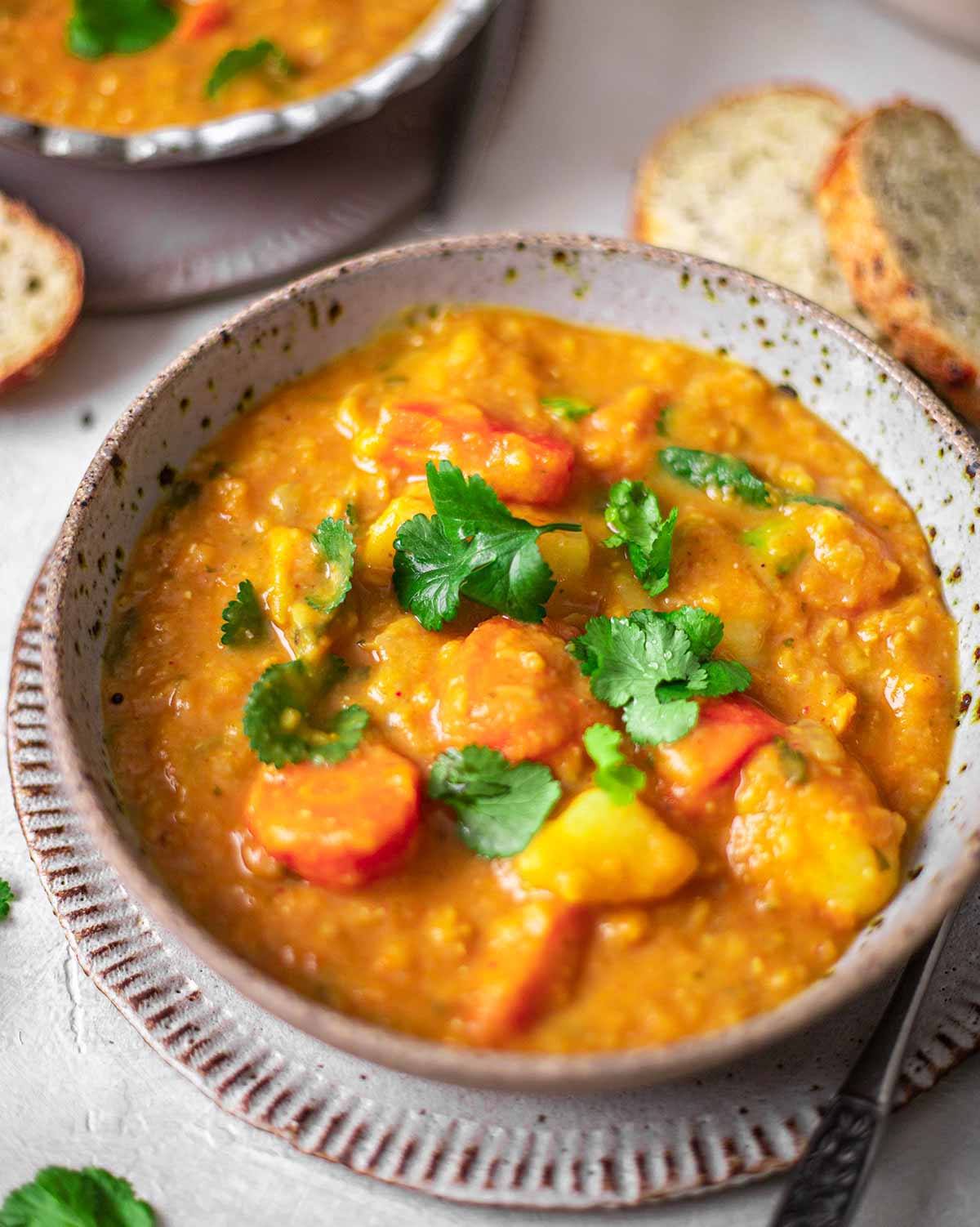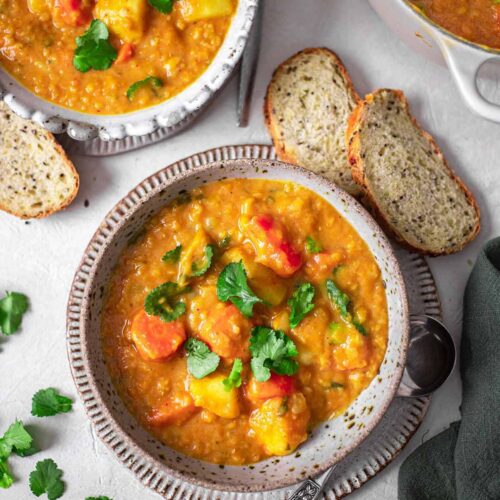 Print Recipe
Thai Red Curry Potato Lentil Soup
This Thai red curry potato lentil soup is the ultimate vegan healthy comfort food. It's a mix between Thai red curry and red lentil dhal!
Ingredients
1

x (~150g)

medium-sized onion

,

finely chopped

extra virgin olive oil,

or water as needed

3

garlic cloves,

finely chopped

3

tbsp

Thai Red Curry Paste

5

x (~750g)

medium-sized potatoes

,

peeled and chopped

5

x (~350g)

medium-sized carrots

,

peeled and chopped

1

cup (190g)

red lentils

,

washed and rinsed

4

cups (1 L)

vegetable broth (stock)

,

or vegan-friendly broth of choice

1

cup

coriander leaves,

loosely packed

Salt and pepper

,

to taste

Red pepper flakes and lime juice

,

to taste
Instructions
Add the onion and oil to a large saucepan over high heat and saute for 2 minutes until fragrant.

Add the garlic and curry paste and saute for 1 minute until the oil from the curry paste has been released.

Add the carrots and potatoes and saute for 5 minutes or until slightly browned.

Add the lentils, vegetable stock and half the coriander. Boil for a few minutes then reduce the heat to low. Cover the pot with a lid and simmer for 20 minutes or until the potatoes and carrots are tender.*

If desired, blend half of the soup with a stick blender or stand blender. The soup will be very hot so be sure not to burn yourself! Season with salt and pepper to taste.

Divide the soup into serving bowls. Top with additional coriander and season with red pepper flakes and lime juice if desired. Serve with or without crusty bread.
Notes
* To test whether your soup is ready, poke 1-2 of your pieces of potato and carrot with a knife. If they are soft and tender, your soup is ready!
Nutrition
Calories:
222
kcal
|
Carbohydrates:
39
g
|
Protein:
11
g
|
Fat:
3
g
|
Sodium:
710
mg
|
Potassium:
711
mg
|
Fiber:
6
g
|
Sugar:
5
g
|
Vitamin A:
2779
IU
|
Vitamin C:
25
mg
|
Calcium:
49
mg
|
Iron:
3
mg
This post may contain affiliate links. As an Amazon Associate, I may earn a small commission from qualifying purchases at no additional cost to you.