Vegan Pina Colada Cake with layers of coconut sponge cake, pineapple and vanilla buttercream. Tastes like a carefree tropical island!
I took the flavours of typical pina colada and transformed them in this cake:
The sponge cake is infused with coconut cream and pineapple puree. There is an optional addition of rum too!
Most layers are topped with pineapple puree (or crushed pineapple).
Dried coconut and pineapple are beautiful yet simple decorations for the cake.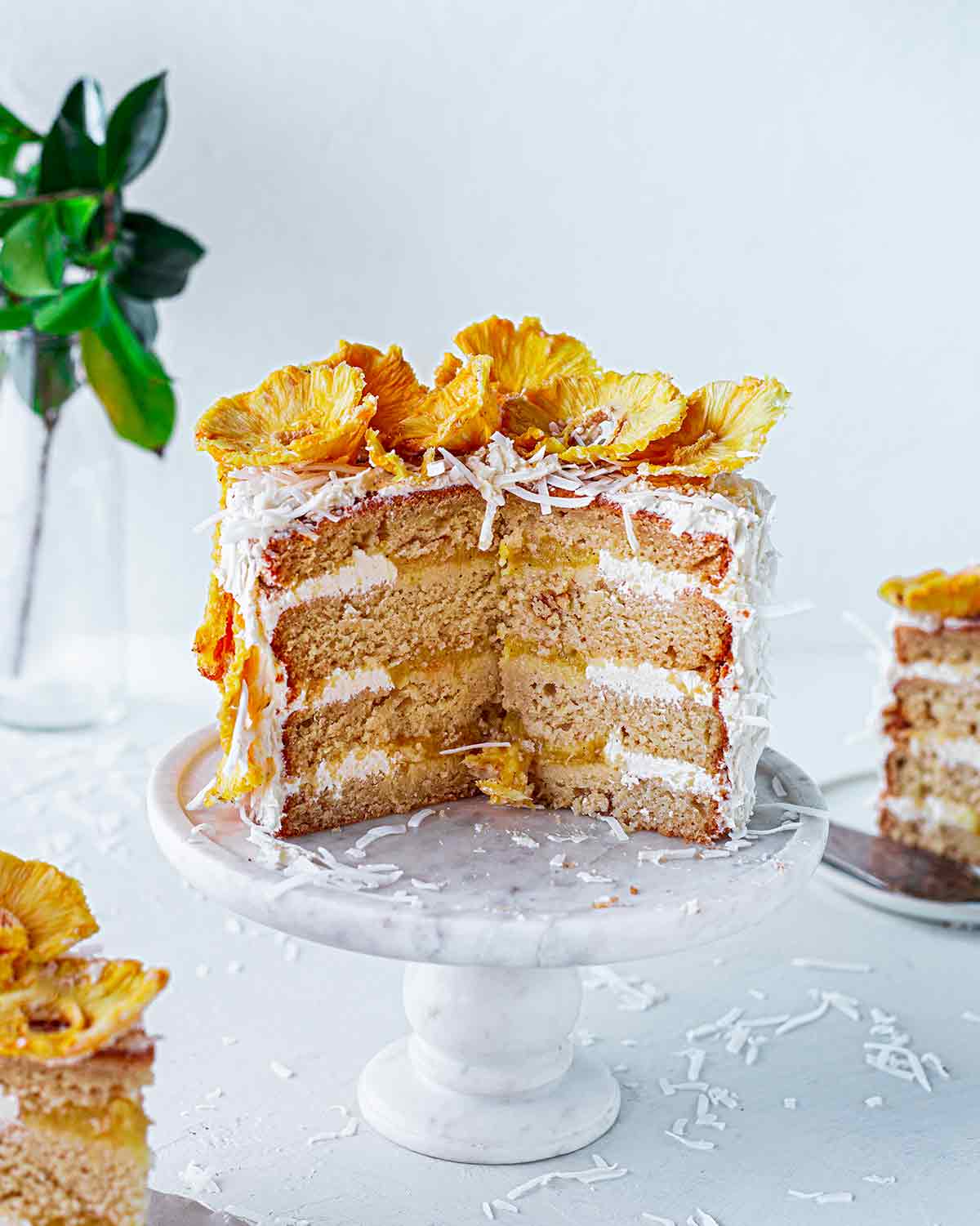 Making the vegan pineapple and coconut cake layers
If you know me, you'll know I love simple one-bowl cake mixes!
To make the cake component, simply whisk all the dry ingredients in a bowl until combined then add the wet ingredients.
The recipe calls for pineapple puree. The pineapple adds moisture and a subtle pineapple flavour to the sponge cake. However, you can replace it with more butter if desired.
If you don't have pineapple puree readily available (like me), simply blend together the pineapple with all the other wet cake ingredients. I used a small smoothie jug to blend the wet ingredients and just poured it on top of my dry ingredients.
The recipe lists 'canned coconut cream' and 'water'. This is essentially canned coconut milk or a stronger version of drinkable coconut milk!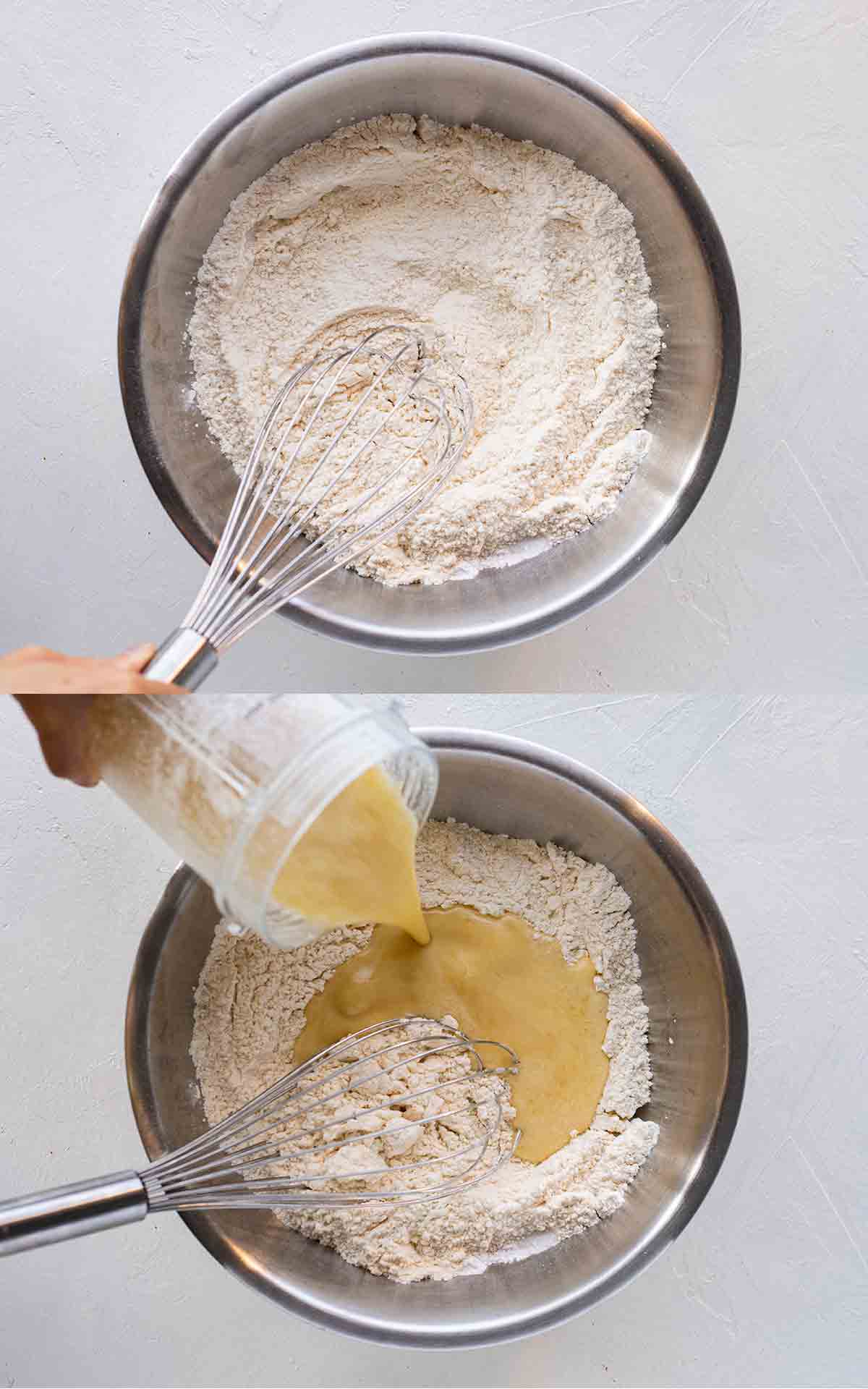 Then simply whisk all the ingredients until it's relatively smooth. You may still have some chunks of pineapple (depending on how good your blender is) but that's fine!
Your batter should be relatively thick, just like a pancake batter.
I divided my batter into 2 x 15 cm (6 inch) cake tins then baked them for about 50 minutes.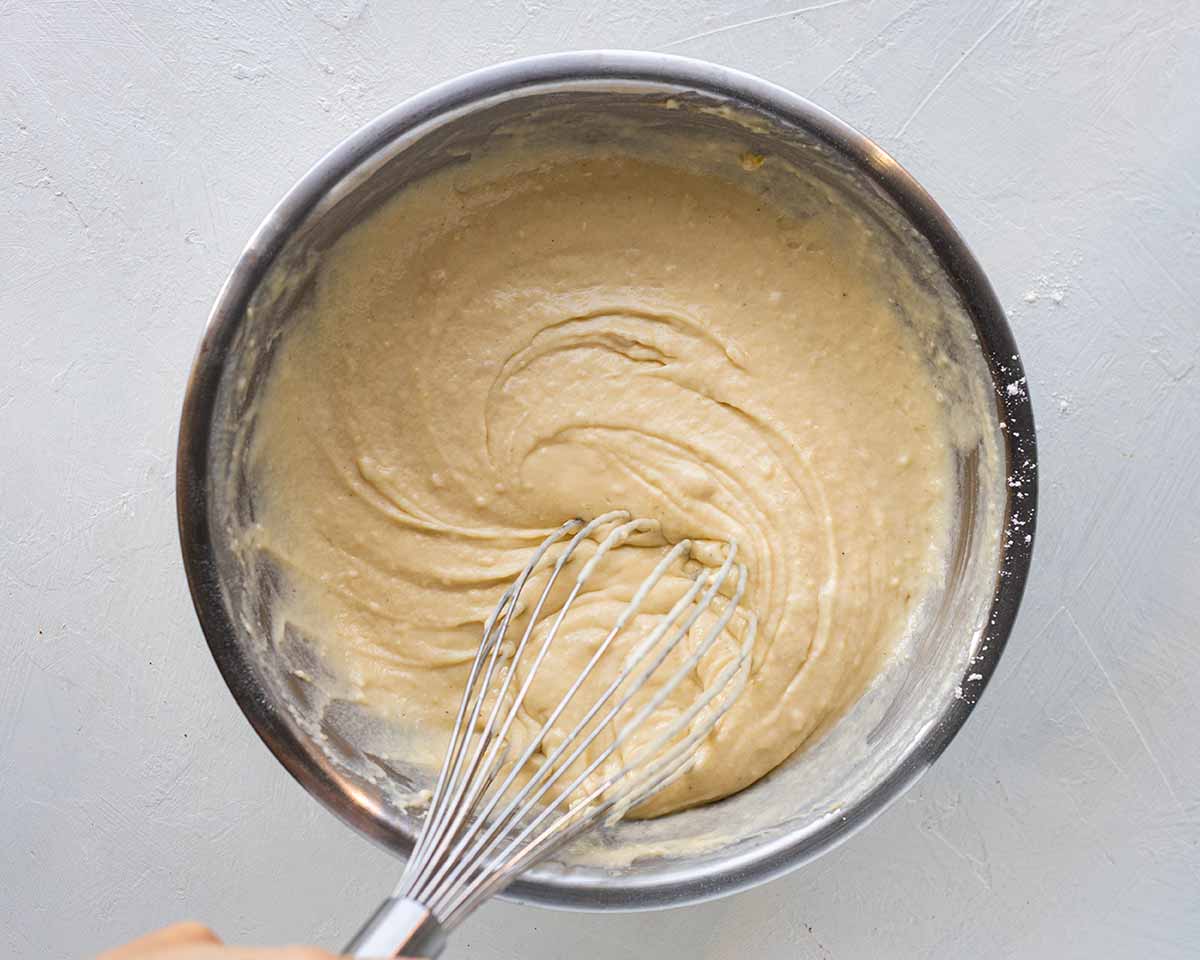 "I don't have 2 x 15cm cake tins. Can I use another one for this vegan pina colada cake?"
Yes, I'd recommend that you use any tin between 15 - 20cm (6 - 8 inches) if you want a 'layered' cake. However, if you use a 20 cm (8 inch) tin, you'll probably only get 2 layers from the cake.
The larger your cake tin, the thinner your layers will be. This will mean you won't necessarily be able to slice your layers in half and get 4 layers.
Alternatively, you can bake the whole cake in 1 cake tin for 1 thick layer of cake. If so, skip the pineapple puree and just add buttercream to the top.
Decorating your vegan pina colada cake
Like many layered cakes, it's important to 'crumb coat' the cake in a thin layer of frosting. This traps in all the crumbs and ensures no crumbs are visible in the final cake. Then chill the cake so the crumb coat stays put!
BUT since we're covering the whole cake with dried coconut and pineapple, crumb coating the cake isn't 100% necessary. I just did it for reassurance :).
When you're ready to decorate the cake, cover it in another layer of frosting (as thin or thick as you like). However, keep in mind that some amount of frosting is needed to help the dried coconut and pineapple stick to the cake.
There are no rules to decorating the cake so do as you please!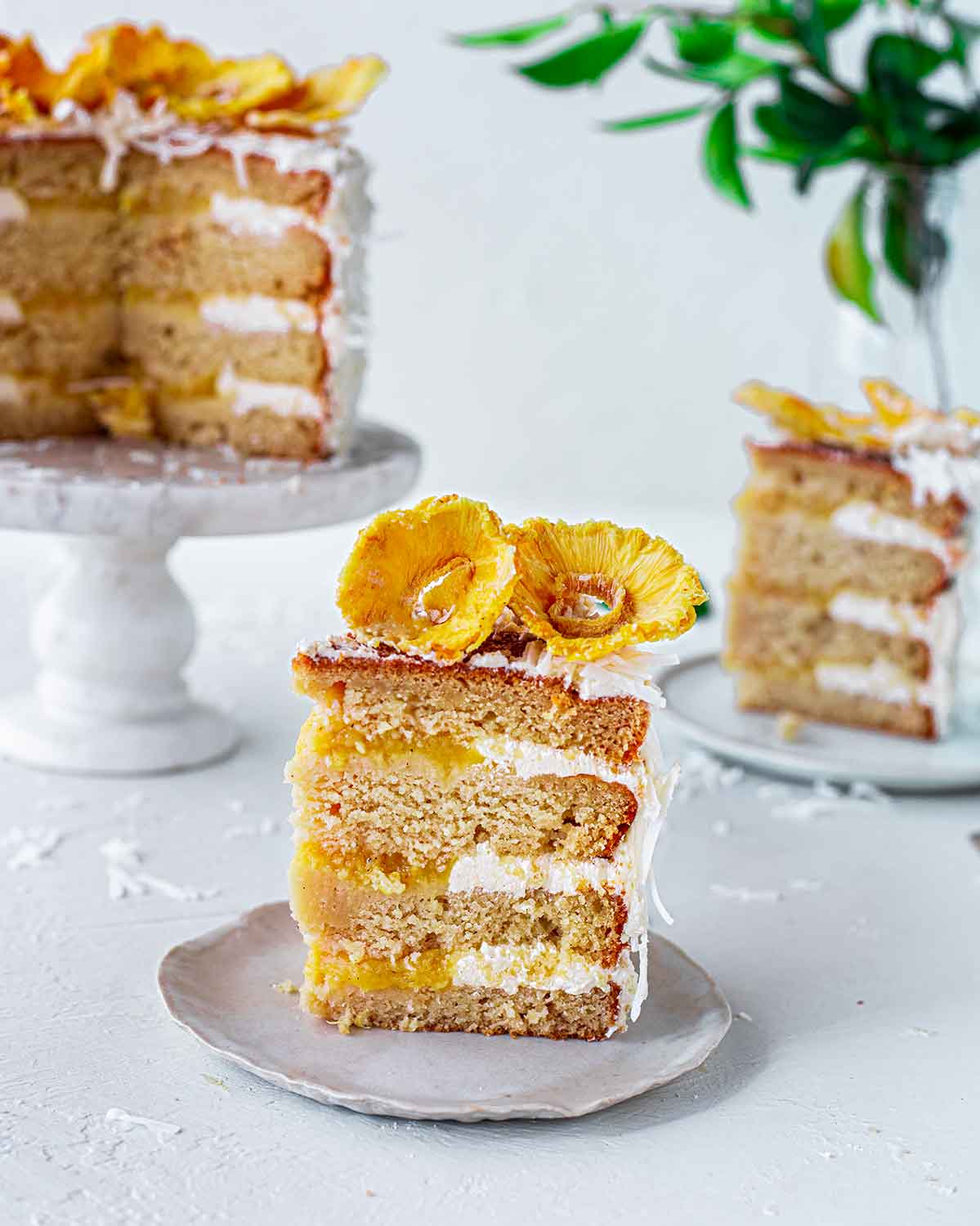 See my other tropical vegan desserts
Follow Rainbow Nourishments on Instagram, Facebook, TikTok and Pinterest, and subscribe via email to receive all of our latest recipes!
Print Recipe
Vegan Pina Colada Cake
Vegan Pina Colada Cake with layers of coconut sponge cake, pineapple and vanilla buttercream. Tastes like a carefree tropical island!
Ingredients
Instructions
To make the cake:
Preheat the oven to 160°C (320°F). Line or grease 2 x 6 inch (15 cm) cake tins (note 3).

Add all the dry ingredients to a large mixing bowl and mix until there are no lumps. Add all the wet ingredients to the bowl and mix until combined.

Evenly divide the cake batter into the 2 cake tins. Bake for 45-50 minutes or until a skewer can be inserted into each cake and it comes out clean. Allow the cakes to cool in the tins for 20 minutes then cool them on a wire rack.

Chill the cakes in an airtight container in the fridge for at least 4 hours. The chilling makes the cakes less crumbly and easier to slice. Slice the domes off the cakes and slice them again width-ways, creating 4 layers of cake.
To make the filling:
Add the pineapple and cornflour to a small saucepan and mix until combined. If your pineapple has large chunks, use a hand blender to blend the pineapple until it's your desired consistency.

Heat the pineapple mixture over medium heat. Constantly mix until the pineapple has thickened. Allow to cool fully (otherwise it'll melt your buttercream).
To make the frosting:
Add the vegan butter to a stand mixer with the whisk attachment. Alternatively, add the butter to a large bowl and use an electric hand mixer. Beat on high speed for 3 to 5 minutes until the butter has increased in size and turned pale yellow or white.

Add the icing sugar and vanilla to the mixer or bowl. Beat on low speed for 30 seconds or until the sugar is fully incorporated. Increase the speed to high and beat for another 5 to 10 minutes or until the buttercream is light and fluffy.
To assemble and decorate the cake:
Place one cake layer on a serving plate and pipe the frosting around the circumference of the cake. Spoon some of the pineapple mixture in the middle. Place another layer of cake on top making sure it's level. Repeat until all layers of the cake have been used up.

Spread a thin layer of icing on the sides and top of the cake and use a cake scraper to level it out. Chill the cake if it's not firm (this helps to stabilise the cake)

Spread the remaining frosting on the cake. Pat or sprinkle the shredded coconut and pineapple on the cake as desired. Chill the cake until you need it.

Store leftovers in the fridge for up to 5 days or in the freezer for up to 1 month.
Notes
Or you can replace the water AND coconut cream with 1 ½

cups (375g) coconut milk (the drinkable variety, not canned)

If you don't have pineapple puree, simply add your pineapple to a blender with all the other wet ingredients (milk, butter etc). Blend until as smooth as possible then use as needed in the recipe.
If you don't have 2 x 6 inch cake tins, you can use a slightly larger tin. However, this will mean your cake will only be two layers rather than four layers (as the layers will be too thin to cut). Alternatively, you can also bake a one layered cake in a 8-10 inch cake tin.
Nutrition
Serving:
1
serve without frosting
|
Calories:
265
kcal
|
Carbohydrates:
40
g
|
Protein:
4
g
|
Fat:
10
g
|
Cholesterol:
2
mg
|
Sodium:
215
mg
|
Potassium:
93
mg
|
Fiber:
1
g
|
Sugar:
14
g
|
Vitamin A:
358
IU
|
Vitamin C:
7
mg
|
Calcium:
68
mg
|
Iron:
2
mg
This post may contain affiliate links. As an Amazon Associate, I may earn a small commission from qualifying purchases at no additional cost to you.