Decadent vegan chocolate zucchini bread that comes together in one bowl! This eggless quick bread is packed with zucchini for the perfect level of moistness.
Why you'll love this recipe
TASTE/TEXTURE: Soft, rich and decadent. The extra zucchini makes this bread more moist than actual chocolate cake! Don't worry, you cannot taste the zucchini at all.
DIFFICULTY: Easy to make using just a few common ingredients.
Simple ingredients you'll need
A complete list of ingredients, quantities and instructions are in the gray recipe card at the bottom of this post.
Shredded zucchini. You don't need to blot or squeeze the zucchini to make this! There's a smaller amount of dairy-free milk in the recipe so you don't end up with overly moist bread. I used a food processor to shred my zucchini but a box grater will also work.
Brown sugar for moisture and depth of flavor. Alternatively, you can use coconut sugar or granulated sugar.
Dairy-free milk. I used soy milk but any variety will work!
Dairy-free yogurt (optional) binds the ingredients which helps replace some of the functions of eggs. Shredded zucchini makes the bread a little crumbly but the yogurt ties everything together. We don't notice the crumbliness in chocolate zucchini muffins because they're smaller and don't need to be sliced! Alternatively, you can use unsweetened applesauce, mashed banana, ground flax seeds or just omit it.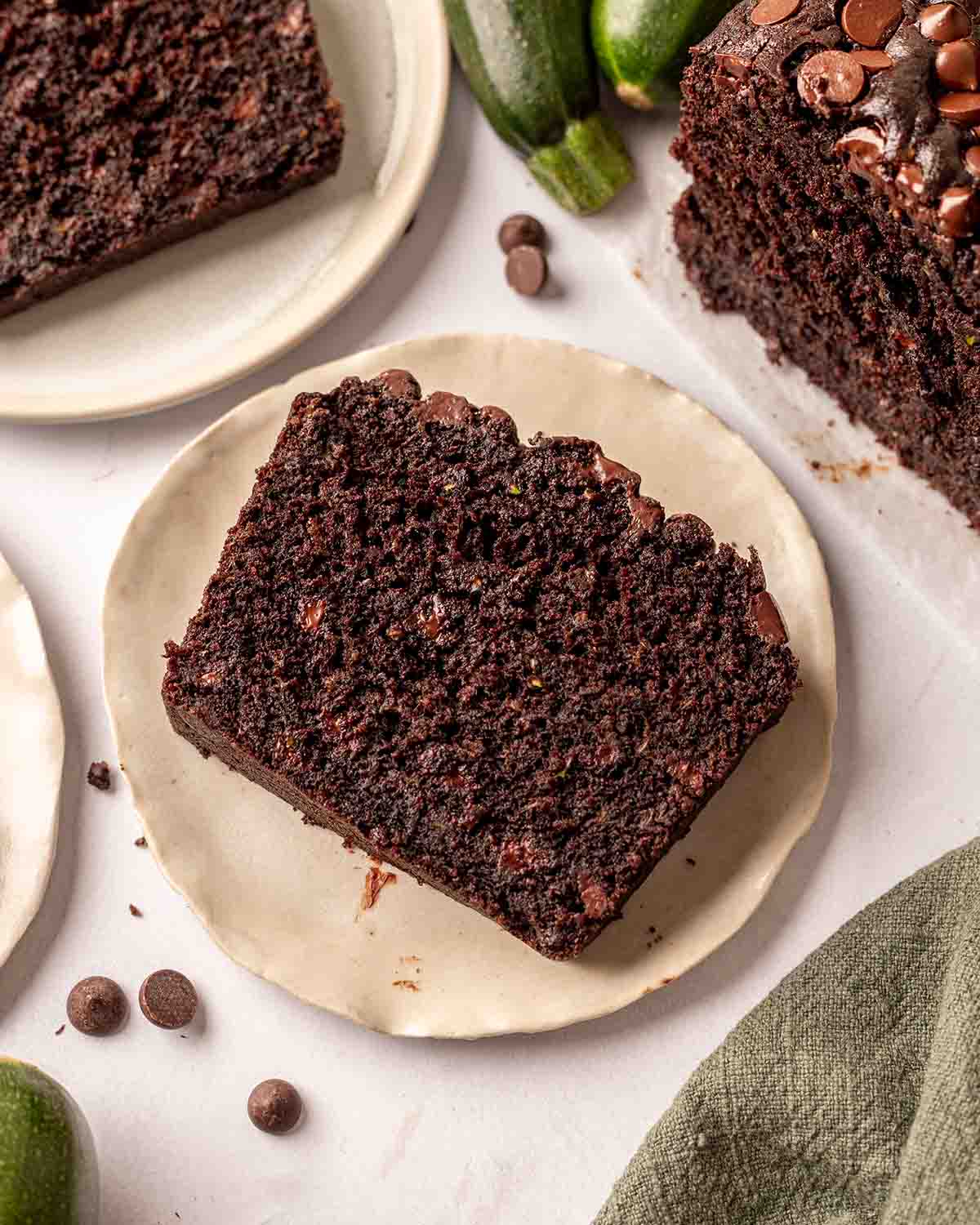 How to make chocolate zucchini bread
One of the best things about this dessert is that it comes together in one large bowl!
First, mix all the wet ingredients including the sugar. Stir in the cocoa powder, then the rest of the dry ingredients and finally the chocolate chips. We're mixing the cocoa powder before the flour to make sure it's thoroughly combined. Since cocoa powder doesn't have gluten, you don't have to worry about overmixing it!
Here are some top tips for the best zucchini bread:
Use a kitchen scale and grams to measure your ingredients. It's difficult to accurately measure zucchini and flour by their volume and too much of either will give the bread a dense texture.
Try to avoid overmixing the batter. If you're using chocolate chips, mix the batter until just before it's combined then fold in the chocolate chips.
Tips for baking the zucchini bread
This bread is straightforward to bake!
However, I understand that all kitchens and ovens are different so here are some tips:
Make sure you're using a big enough loaf tin. My tin was 3-inches (7cm) tall and the zucchini bread quickly grew taller than that. If you have a shorter loaf pan, I recommend using larger loaf pan (for example, a 9-inch loaf pan) or bake the excess batter in a muffin tin.
If your oven has a strong top heating element, the top of your loaf may burn. Keep an eye on the loaf and, if needed, tent the loaf with aluminum foil during baking.
Customizing this recipe
Can I add other ingredients to this chocolate zucchini bread?
Yes! Some possible add-ins include:
- white vegan chocolate chips
- chopped walnuts or pecans
- 1 teaspoon ground cinnamon or ½ teaspoon nutmeg for depth of flavor

Or, you may like my vegan chocolate banana bread!
Can I make this recipe gluten-free?
I haven't tested it. However, a combination of almond flour and gluten-free all-purpose flour usually works for me, just like my vegan apple bread. Alternatively, if you've successfully used a brand of 1:1 gluten-free flour for another similar vegan recipe, it should work for this.
More vegan zucchini recipes
Follow Rainbow Nourishments on Instagram, Facebook, TikTok and Pinterest, and subscribe via email to receive all of our latest recipes!
Print Recipe
Vegan Chocolate Zucchini Bread
Decadent vegan chocolate zucchini bread that comes together in one bowl! This quick bread is decadent and packed with zucchini for the perfect level of moisture.
Ingredients
Wet ingredients
2

cups (250g)

coarsely shredded zucchini

,

(around 1 medium large zucchini)

1

cup (190g)

packed brown sugar,

granulated sugar or coconut sugar

½

cup (125g)

dairy-free milk

½

cup (125g)

neutral flavored oil

⅓

cup (75g)

dairy-free yogurt

,

(optional, note 2 for alternatives)

1

teaspoon

vanilla extract,

optional
Instructions
Preheat the oven to 180°C (350°F). Line or grease an 8-inch (20 cm) loaf pan with parchment paper.
Make the vegan chocolate zucchini bread:
Add the zucchini and all the wet ingredients to a large mixing bowl and whisk until combined and there are no strands of zucchini sticking together. Add the cocoa powder and mix until combined.

Add the flour, baking powder, baking soda and salt and mix until just before it's combined. Add the chocolate chips and fold through the batter until just combined.

Pour the batter into your prepared loaf pan. Smooth the top of the batter with a spoon. If desired, sprinkle more chocolate chips on top.
Baking and storing the bread:
Bake the bread for 60 to 65 minutes or until you can insert a toothpick in the center and it comes out clean. This is a moist bread so a few crumbs on your toothpick are fine.

Allow the bread to cool in the pan for 20 minutes then place it on a wire rack.

Enjoy the bread warm or at room temperature.

Store any leftover bread in an airtight container at room temperature for up to 3 days or in the fridge for up to 5 days. Or store individual slices in the freezer for up to 1 month.
Notes
For the best results, I recommend using a kitchen scale to measure the ingredients. It's difficult to accurately measure flour and zucchini with measuring cups. If you only have cups, make sure you don't pack the flour into the cup but use the 'spoon and level' method. This is where you fluff up the flour with a fork, use a spoon to fill the measuring cup and level it with the flat side of a knife.
This recipe will work without yogurt or any egg replacers, but your bread will be a little crumbly. Instead of yogurt, you can use the same amount of applesauce, mashed banana or two tablespoons of ground flax seeds (you don't need to add water to the flax seeds to make flax eggs as there's enough liquid in the recipe).
If you'd like to use whole wheat flour or spelt flour, I suggest adding an extra dash of milk as those flours are more absorbent.
This post may contain affiliate links. As an Amazon Associate, I may earn a small commission from qualifying purchases at no additional cost to you.