Fluffy vegan chocolate zucchini muffins that are so moist and rich! These muffins have large bakery-style tops and come together in one bowl. They're perfect for using up your extra zucchini, just like my vegan zucchini muffins and chocolate zucchini bread!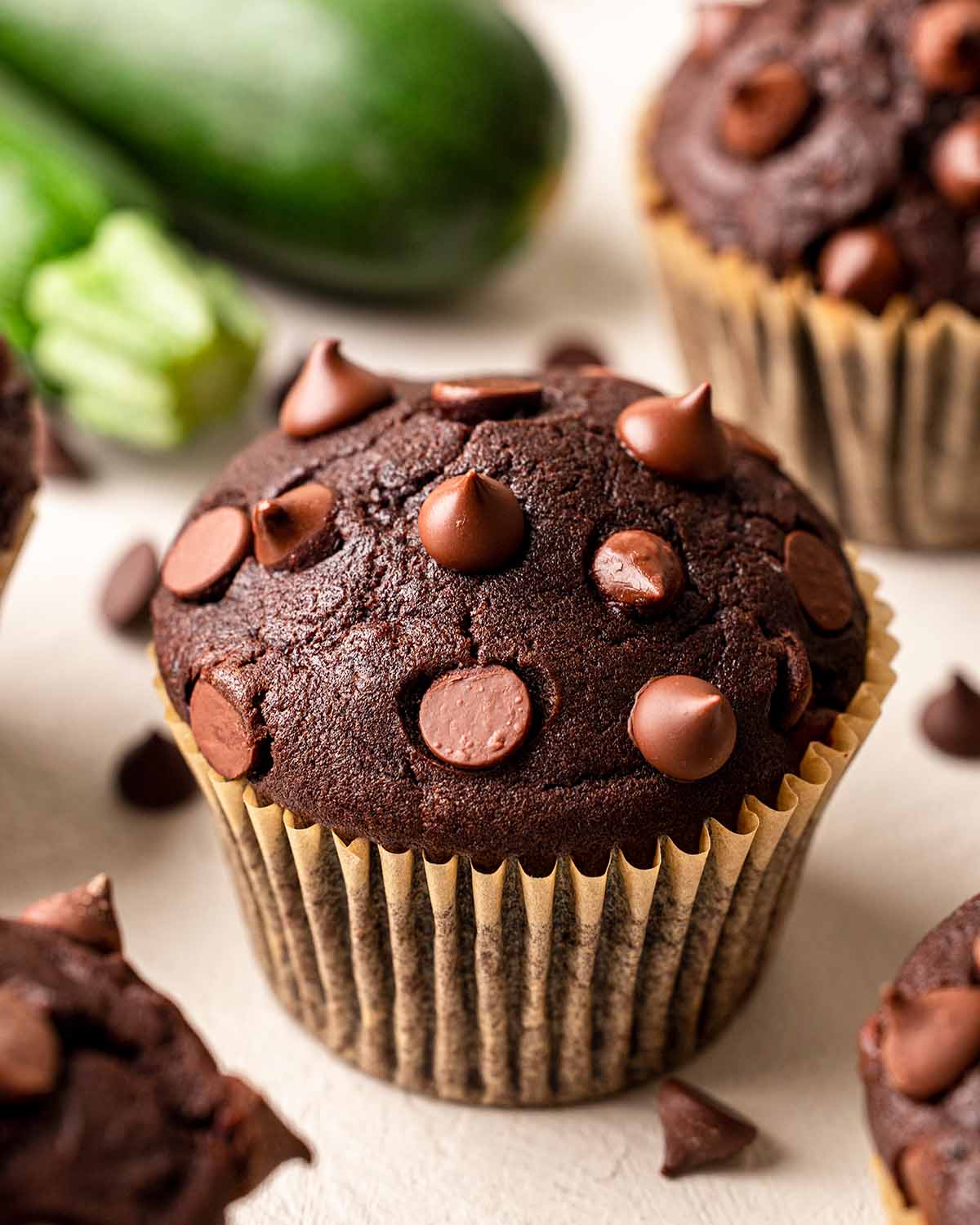 Ingredients you'll need
Notes about the ingredients
Grated zucchini and there's no need to squeeze it! The excess moisture from the zucchini is balanced out with a lower ratio of dairy-free milk so your muffins aren't too moist. I used a food processor for shredding my zucchini, but a box grater will be fine.
However, if your zucchini is extra wet, I recommend removing some of the moisture with a clean kitchen towel.
Brown sugar for depth of flavor and moisture. Granulated sugar or coconut sugar will also work!
Dairy-free milk. I used soy milk but any milk will work for example, almond milk or oat milk.
Unsweetened cocoa powder. If your cocoa powder is lumpy, sift it before using it in the recipe.
Even though these muffins are eggless, we don't need any special egg replacers to make these muffins light and fluffy.
A complete list of ingredients, quantities and instructions are in the gray recipe card at the bottom of this post.
How to make vegan chocolate zucchini muffins
Like most of my recipes, you'll only need one large mixing bowl to prepare these muffins!
All you have to do is mix the wet ingredients, add the dry ingredients and stir until combined. We're adding the sugar with the wet ingredients so it dissolves quicker.
The consistency of your batter will depend on how you measured your flour/sugar and how you shredded your zucchini. If you used measuring cups and packed your cup with too much flour, your muffins will be dry. I recommend using the spoon and level method or the grams method.
Also, please avoid overmixing your batter. Overmixing leads to tough and dense muffins that can have gluey streaks.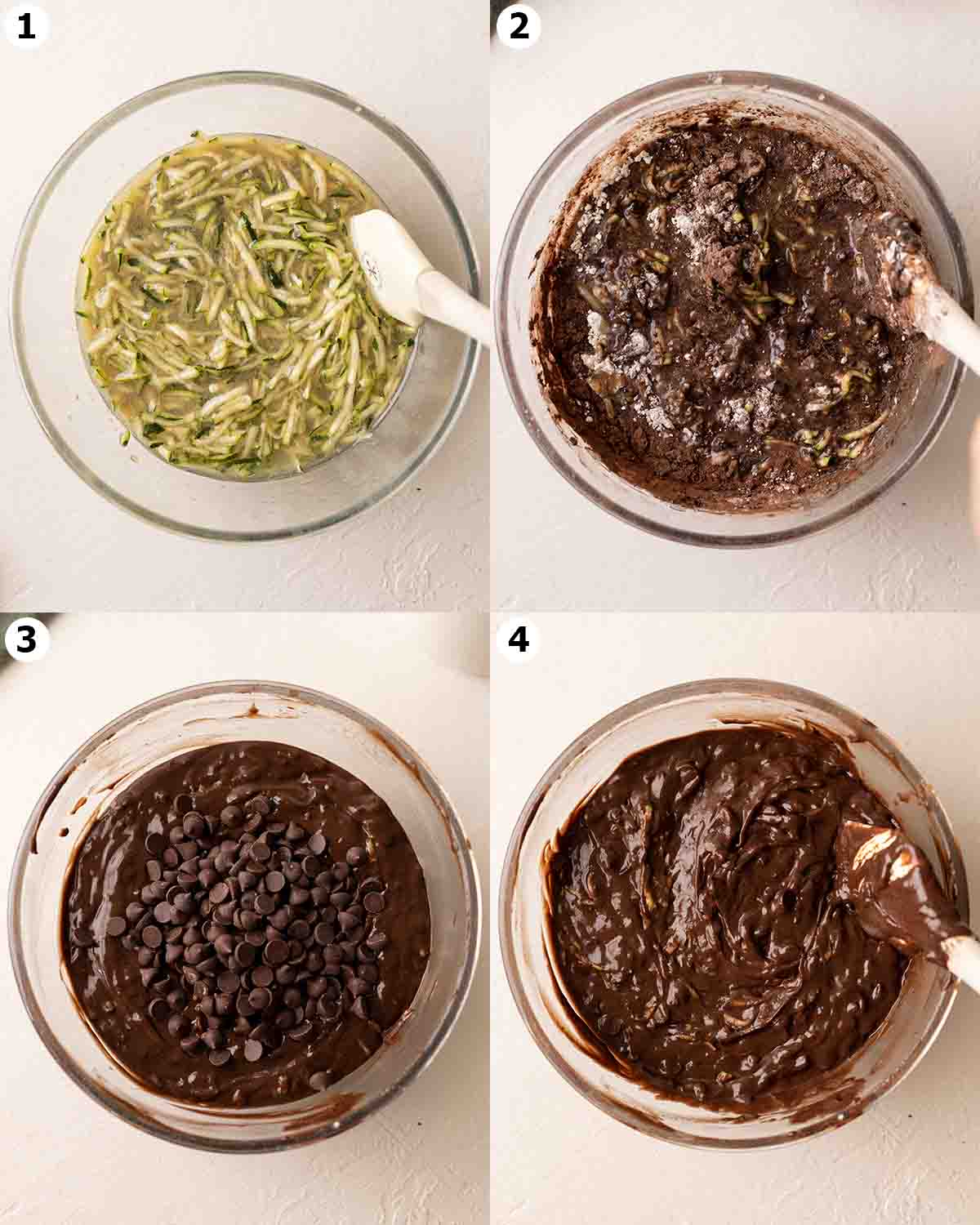 Extra tips for bakery-style muffin tops
These vegan double chocolate zucchini muffins will bake beautifully as they are, without any modifications!
For extra tall muffin tops, my biggest tip is to space the muffins apart in your muffin tin (pictured below). This encourages more oven heat to circulate each muffin which encourages them to grow more. If you have only 1 muffin tin, you'll need to bake 6 muffins at a time.
You can also:
Initially bake the muffins at a higher oven heat. Preheat your oven to 220°C (425°F), bake them for 5 minutes then reduce the oven to 180°C (350°F) for around 20 minutes. The initial burst of heat encourages the muffins to grow taller. But we reduce the temperature otherwise the muffins be dry!
Rest your muffin batter in the fridge for 2 hours (if you have extra time). This allows the flour to absorb the wet ingredients which creates a thicker batter that domes more. However, I prefer the other tips as they're much quicker :).
I only used the first tip for the pictured muffins :).
Customizing the muffins
Can I add other ingredients to the muffins?
Yes, some other delicious add-ins include:
- chopped pecans, walnuts or almonds
- chocolate chunks (instead of chocolate chips)
- vegan white chocolate chips
- 1 teaspoon espresso powder for a deeper chocolate flavor

Or check out my other vegan muffin recipes!
Can I make them gluten-free?
I haven't tested it. However, if you've successfully used a brand of gluten-free flour in a vegan muffin recipe, they should work for these muffins.
Can I use less sugar or replace it with something else?
You can be able to reduce the sugar to ¾ cup (145g) without any drastic changes (the muffins will be less moist and smaller). Or use coconut sugar for less sweet muffins.

I don't recommend using other sweeteners, like maple syrup or mashed banana, in the same amount. You'll need to do your own testing to find a ratio that works for you.
Can I bake them in a loaf pan?
I recommend checking out my recipes for chocolate zucchini bread and regular zucchini bread instead. Different to muffins, quick breads benefit from an egg replacer as they need to be sliced.
More vegan muffin recipes
Follow Rainbow Nourishments on Instagram, Facebook, TikTok and Pinterest, and subscribe via email to receive all of our latest recipes!
Print Recipe
Vegan Chocolate Zucchini Muffins
Fluffy vegan chocolate zucchini muffins that are so moist and rich! These muffins have large bakery-style tops and come together in one bowl.
Ingredients
Wet ingredients
2

cups (250g)

coarsely shredded zucchini

,

(around 1 medium large zucchini)

1

cup (190g)

packed brown sugar,

granulated sugar or coconut sugar

¾

cup (190g)

dairy-free milk

½

cup (125g)

neutral flavored oil

,

such as a light olive oil

1

teaspoon

vanilla extract,

optional
Instructions
Preheat the oven to 180°C (350°F). Line a 12-cup muffin pan with muffin liners.
Make the vegan chocolate zucchini muffins
Add all the wet ingredients to a large bowl and mix until combined and there are no bits of zucchini sticking together. Add the dry ingredients except the chocolate chips and mix until just combined. If you're using chocolate chips, add them to the batter and gently fold them through.

Use an ice cream scoop or a spoon to divide the batter into your muffin pan. The muffin batter should fill each cup by three-quarters (check the step-by-step images above, note 3). If desired, sprinkle extra chocolate chips on top.
Baking and storing the muffins:
Bake the muffins for 23-27 minutes or until you can insert a toothpick in a muffin and it comes out clean. These muffins are moist so a few crumbs on your toothpick are fine. Try to avoid overbaking the muffins otherwise they'll be dry.

Allow the muffins to cool in the pan for 10 minutes (or until they aren't too hot) then place them on a wire rack.

Enjoy the muffins warm or at room temperature.

Store any leftover muffins in an airtight container at room temperature for up to 3 days, in the fridge for up to 5 days or in the freezer for up to 1 month.
Notes
For the best results, I recommend using a kitchen scale to measure the ingredients. It's difficult to measure flour and zucchini accurately with measuring cups. If you only have cups, make sure you don't pack the flour into the cup. Instead, use a spoon to fill up the measuring cup and level it with the flat side of a knife.
For healthier vegan zucchini chocolate muffins, you can use whole wheat flour or spelt flour. I suggest adding an extra dash of milk as those flours are more absorbent.
To get higher muffin tops, I recommend baking 6 muffins at a time in a 12-cup muffin tray. Spacing apart the muffins allows the hot oven air to bake them faster, resulting in higher tops. This means you'll need to bake the muffins in 2 lots.
Nutrition
Serving:
1
muffin
|
Calories:
245
kcal
|
Carbohydrates:
35
g
|
Protein:
3
g
|
Fat:
11
g
|
Sodium:
134
mg
|
Potassium:
162
mg
|
Fiber:
2
g
|
Sugar:
16
g
|
Vitamin A:
42
IU
|
Vitamin C:
4
mg
|
Calcium:
103
mg
|
Iron:
2
mg
This post may contain affiliate links. As an Amazon Associate, I may earn a small commission from qualifying purchases at no additional cost to you.