The creamiest vegan blueberry lemon bars with a classic shortcrust base, a custard-like lemon filling and plenty of fresh berries!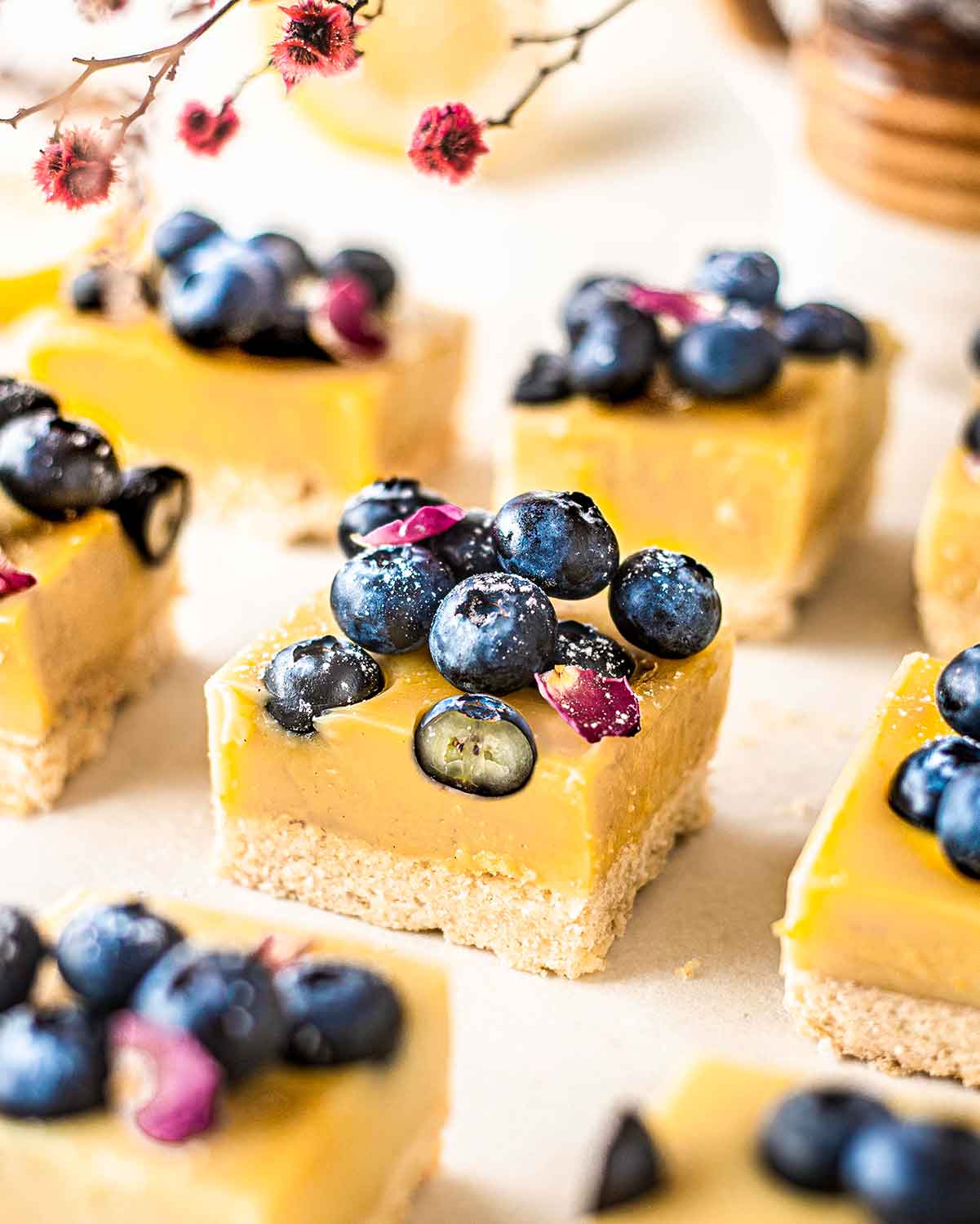 Spring is in the air which means plenty of light and zesty desserts. These vegan blueberry lemon bars (or vegan blueberry lemon slice) has the texture of a classic custard vanilla slice. Melts in your mouth but with an easy shortbread base!
They can be kept at room temperature and can be served to vegans and non-vegans alike. They are just like lemon slice from your corner bakery! Or if you prefer lemon in TART form, see my recipe for vegan lemon tart.
Making the easy base for the blueberry lemon bars
We need a firm base for these to hold up the custard. I used 3 simple ingredients: flour, melted butter (or coconut oil) and sugar.
I simply mixed them all in a bowl until combined. You can do this in a food processor for ease!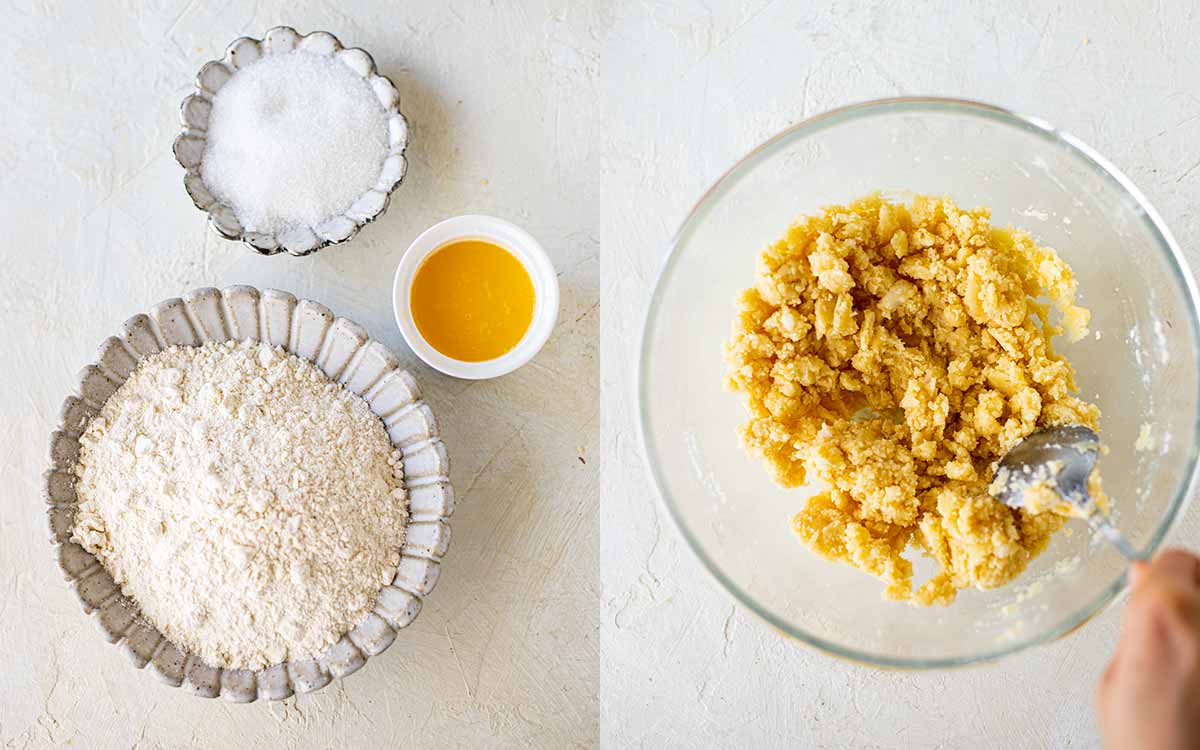 Then press the mixture into a lined baking tin. I found it easiest to use my fingers first then to flatten and smooth it with a cake scraper. Try to make sure the base is as firm as possible because any gaps will cause your slice to crumble.
I baked the base in the oven for around 10 minutes until it was golden brown. This firms up the base!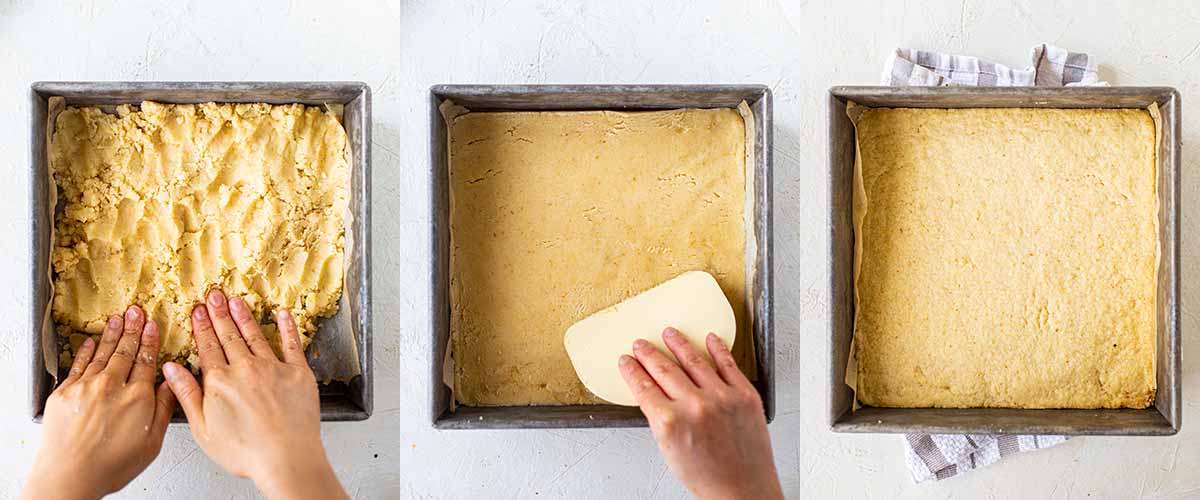 How to make the filling for the blueberry lemon bars
For the filling, we need:
Thick canned coconut cream (if you're in Australia, Woolworth's branded cream works well)
Corn starch aka corn flour
Sweetener such as rice malt or maple syrup or sugar
Lemon
Blueberries (I used local Australian blueberries)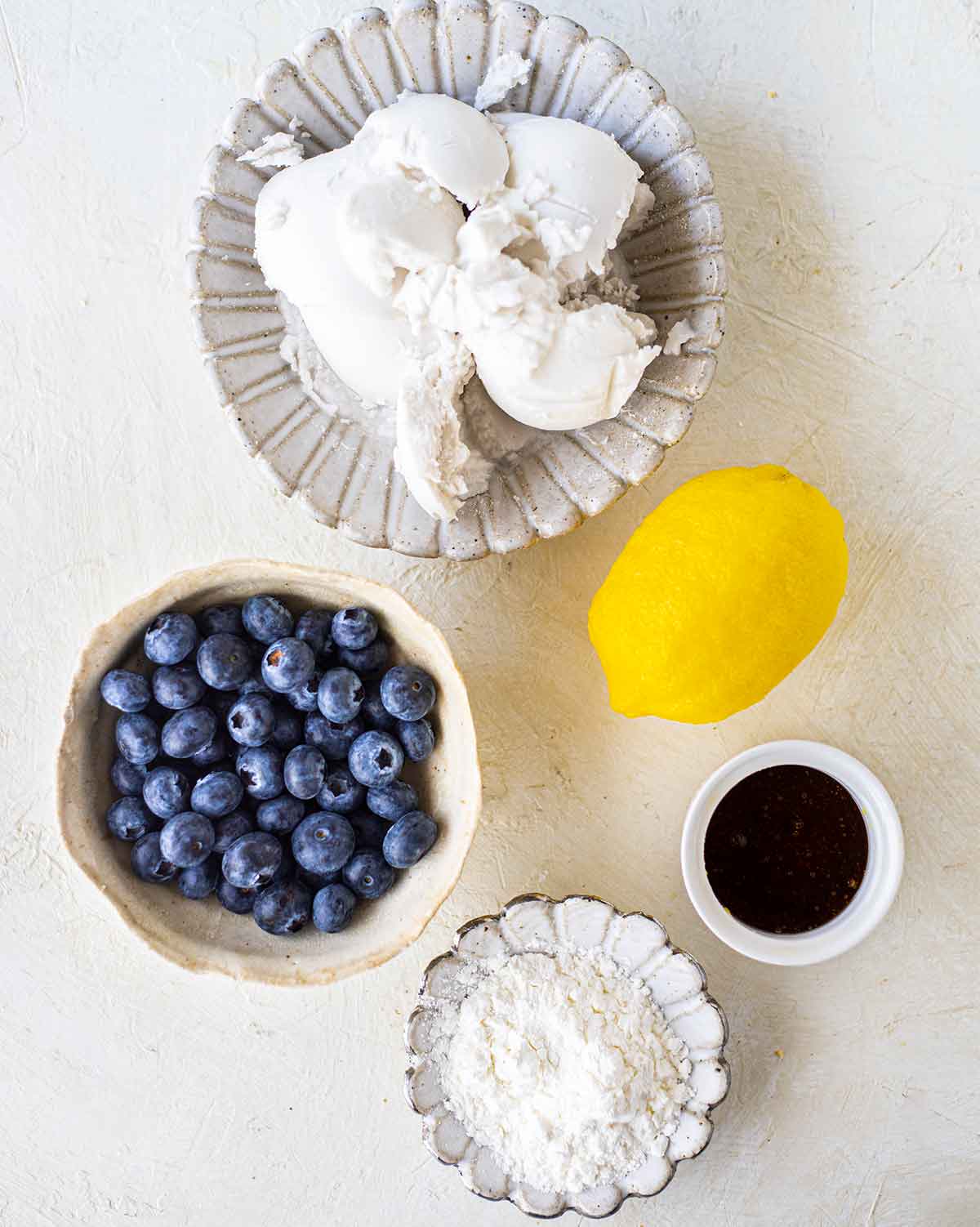 The natural fats in the coconut cream and the thickening ability of corn starch helps the filling to set.
It's *very* important that you use only the thick part of the cream otherwise your lemon bars will be a puddly mess.
If you prefer less of a 'pudding-like' texture and more of a firm slice, I'd recommend adding another setting agent such as coconut oil or vegan butter (this is in the recipe card below)
Simply add all the ingredients to a heavy-based saucepan (except the blueberries) overheat and stir until it thickens. The custard is ready when:
The mixture *thickly* coats the back of a spoon
It is a pourable custard consistency
You can drizzle the custard on the surface and the drizzle marks stay there for around 10 seconds (as pictured)
When I make vegan custard that needs to set, my 'motto' is to make sure it's a little thicker than necessary (so cook it for a little longer)!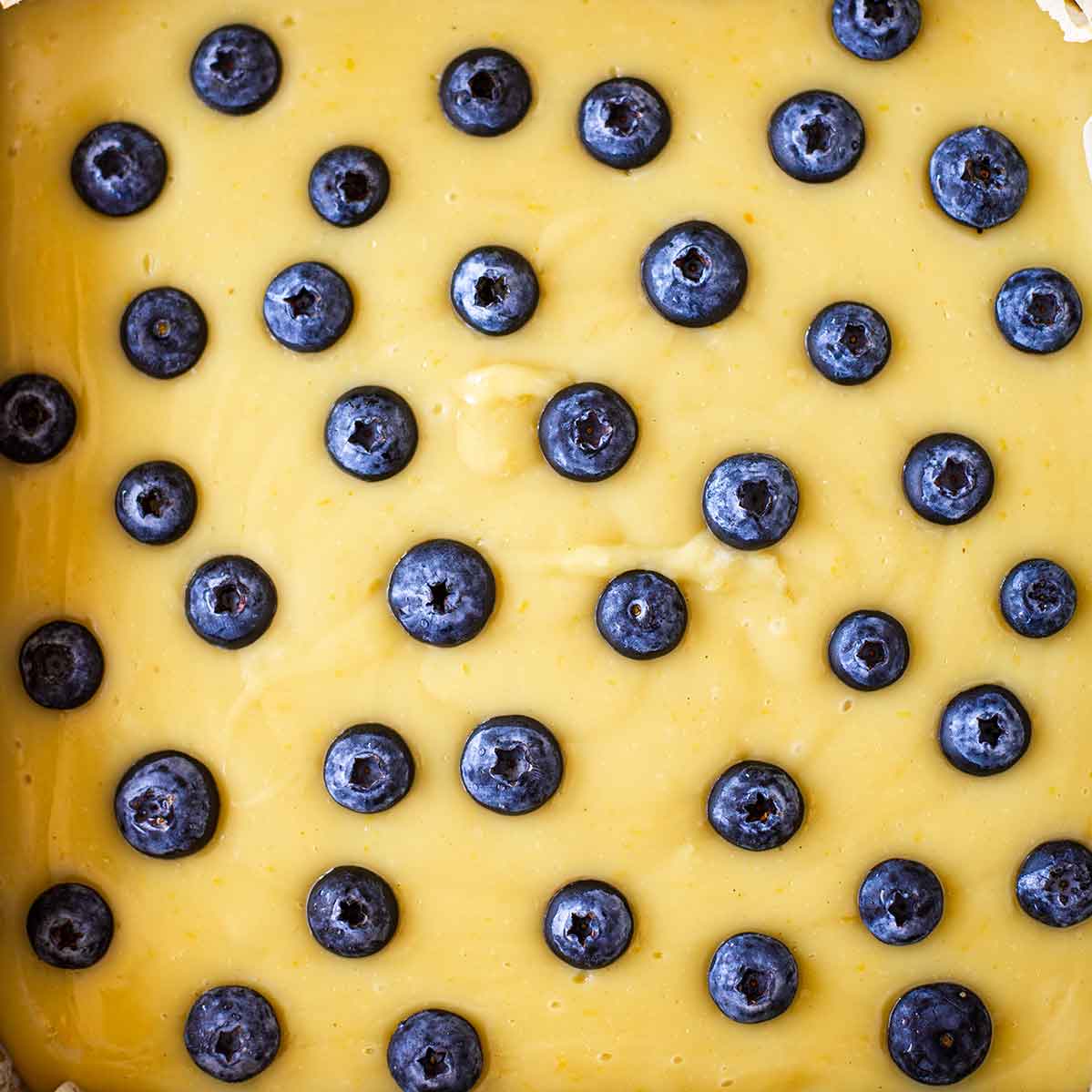 Tips for cutting the blueberry lemon bars
The bars are easy to cut with a sharp knife! However, here are my top tips:
Sharpen your knife before you cut the bars
If the custard of your bars are 'sticky', run your knife under warm water and cut them while the knife is wet and warm
Clean your knife between each cut to ensure the edges are clean and smooth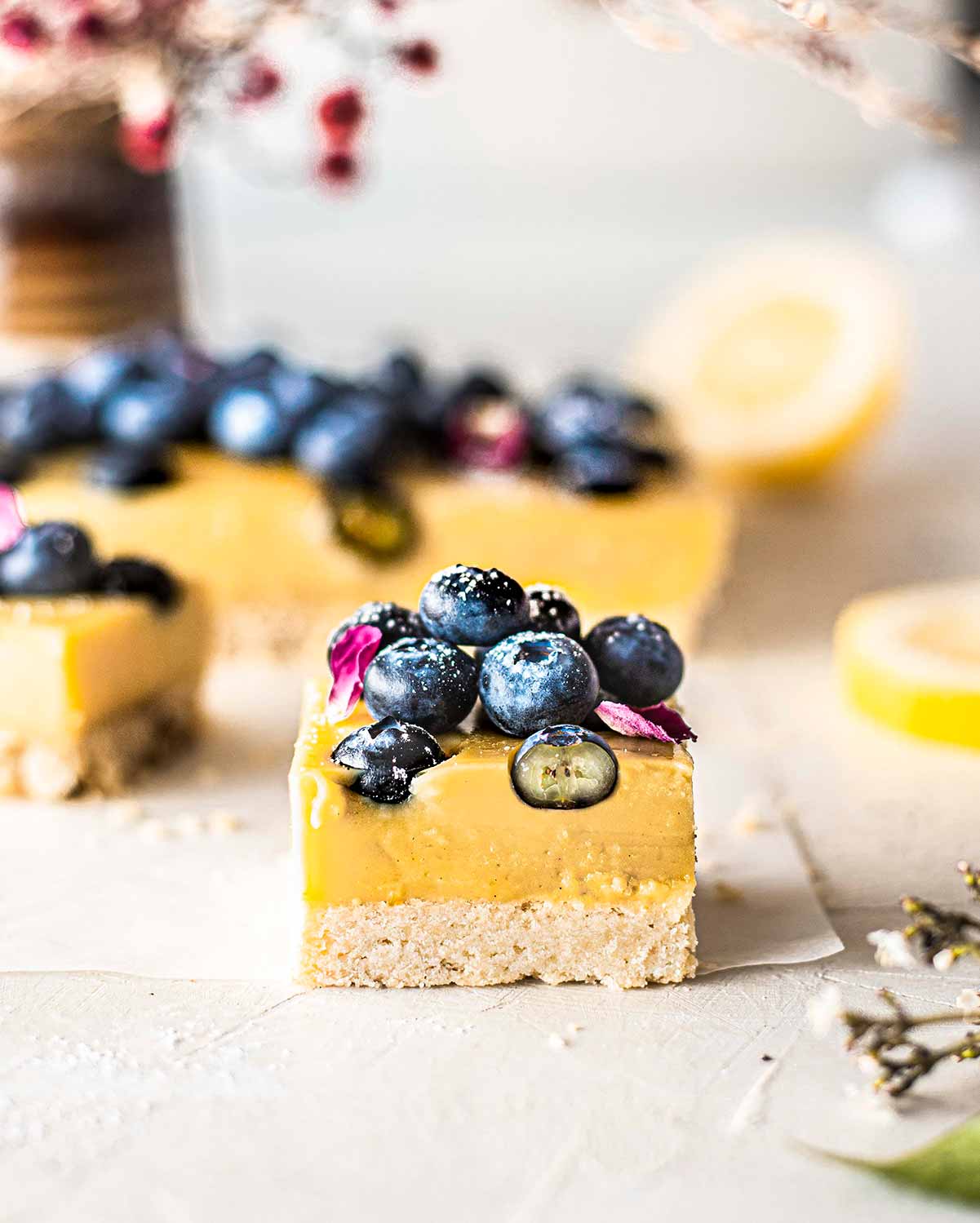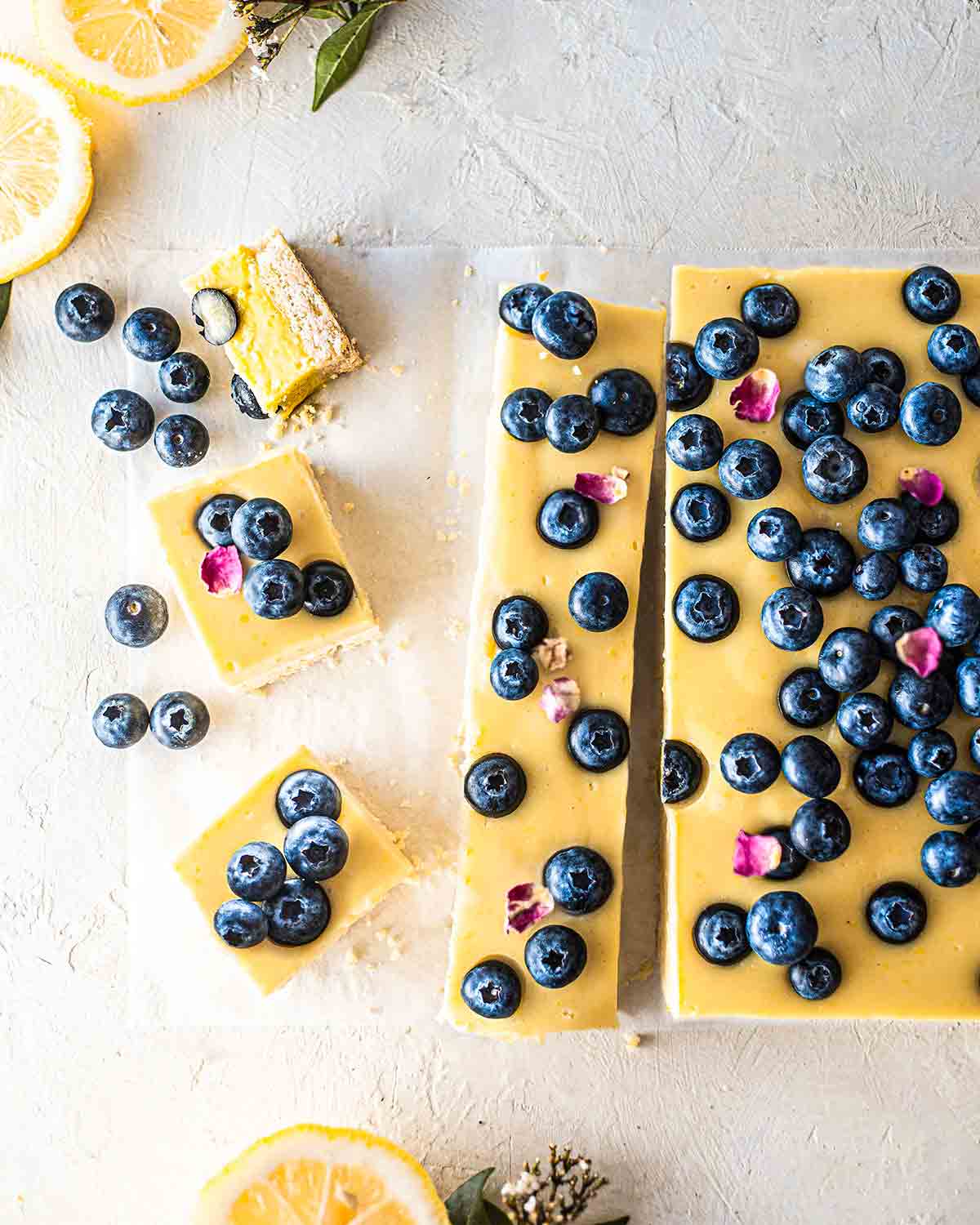 More vegan lemon desserts
Follow Rainbow Nourishments on Instagram, Facebook, TikTok and Pinterest, and subscribe via email to receive all of our latest recipes!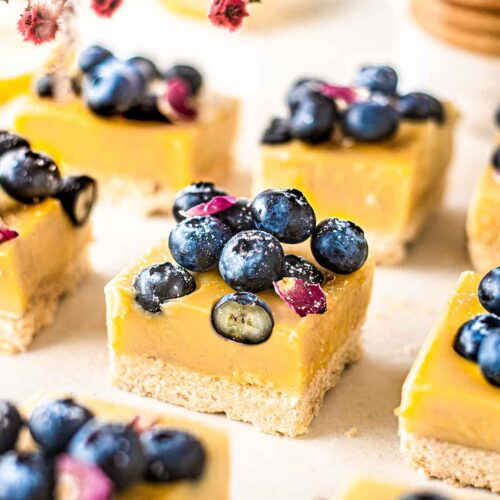 Print Recipe
Blueberry Lemon Bars
The creamiest vegan blueberry lemon bars with a classic shortcrust base, a custard-like lemon filling and plenty of fresh berries!
Instructions
To make the base:
Preheat the oven to 180°C (350°F). Line a 20 cm or 23 cm (8 inch or 9 inch) baking tin with baking paper.

Add all the base ingredients to abowl or food processor. Mix until combined. Press very firmly into the base of your baking tin. Bake for 15 minutes or until the base is slightly brown and is firm to the touch. Set aside
To make the filling:
Add all ingredients except the blueberries to a heavy-based saucepan over high heat. Whisk to combine the ingredients and allow the mixture to boil for 5 minutes. Reduce the heat to medium and continue stirring for another 5 minutes to thicken the mixture. The filling is ready when it thickly coats the back of a spoon or is the consistency of pourable custard.
To assemble:
Pour the mixture into your baking tin and smooth the top. Quickly sprinkle half of the blueberries on top. Allow the slice to set in the fridge for at least 2 hours.

When the slice is firm, top with the extra blueberries. Use a sharp knife to cut servings. Tip: A slightly wet or warm knife makes this easier. Enjoy!
Notes
This is about 2 to 3 x 400mL cans, depending on the brand and how much thick coconut cream is in each. Make sure you chill the coconut cream in the fridge overnight and use only use the thick part of the cream which has floated to the top of the can!
Nutrition
Serving:
1
bar
|
Calories:
305
kcal
|
Carbohydrates:
29
g
|
Protein:
3
g
|
Fat:
20
g
|
Sodium:
62
mg
|
Potassium:
197
mg
|
Fiber:
2
g
|
Sugar:
10
g
|
Vitamin A:
355
IU
|
Vitamin C:
3
mg
|
Calcium:
22
mg
|
Iron:
2
mg
This post may contain affiliate links. As an Amazon Associate, I may earn a small commission from qualifying purchases at no additional cost to you.