This easy vegan banana cake is moist, light and fluffy. It comes together in one bowl and uses only common pantry ingredients! You don't even need any special egg replacers for this eggless banana cake.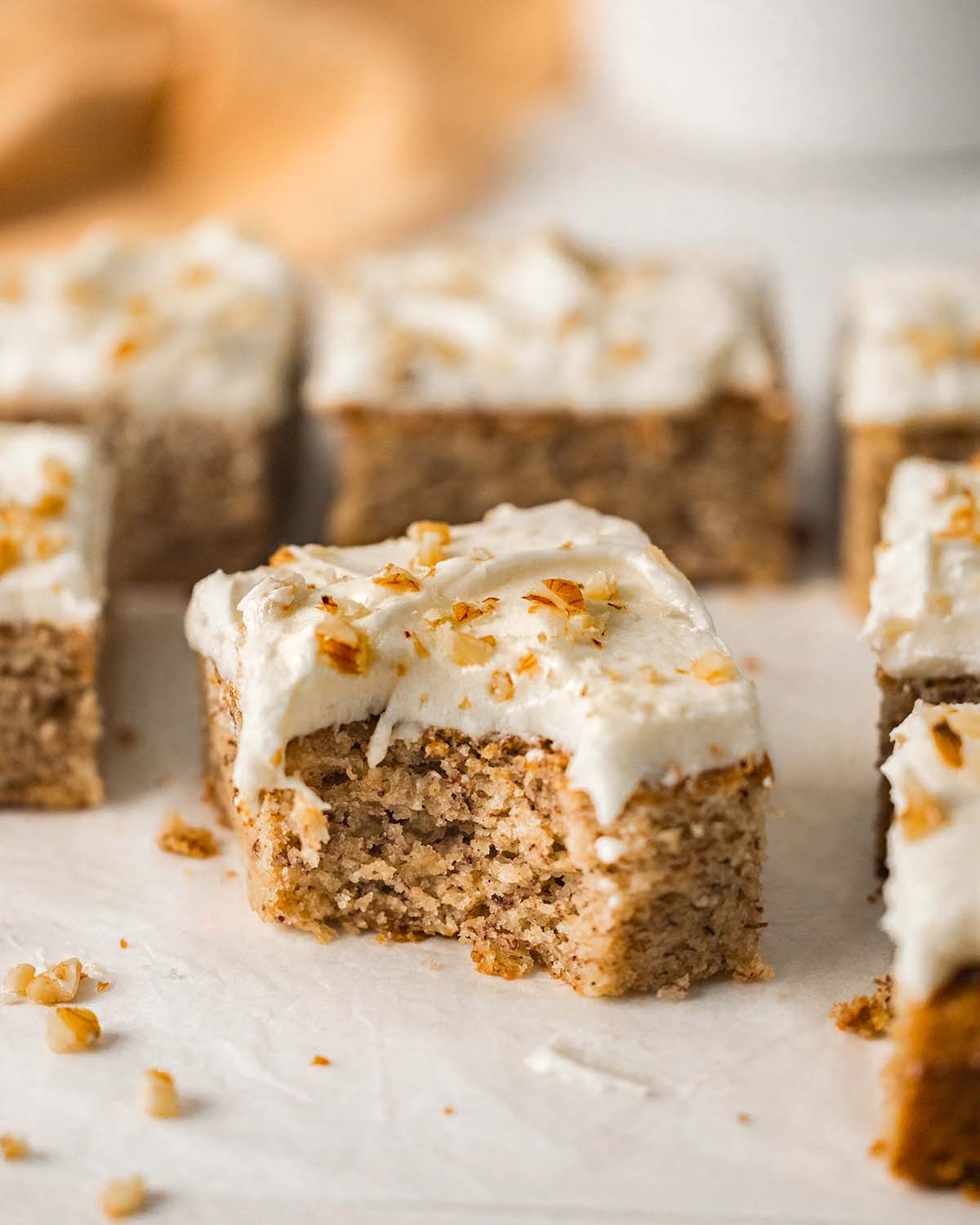 Why you'll love this banana cake
TASTE/TEXTURE: Fluffier and softer than vegan banana bread and banana muffins but denser than a regular vanilla cake. And you'll need 3 ripe bananas for the best banana flavor and texture.
DIFFICULTY: The cake batter comes together in one bowl and it bakes in less time than banana bread.
This cake is a crowd-pleaser and will impress vegans, non-vegans and people with food allergies!
Ingredients you'll need
Notes about the ingredients
Over-ripe bananas. Similar to banana bread and muffins, the riper the bananas, the more flavor and moisture your cake will have! Frozen ripe bananas work wonderfully but just thaw them before using (you don't need to drain them). The extra banana in this recipe also acts like an egg replacer. So, even though this is an eggless banana cake, you don't need any special egg replacers such as flax eggs!
Neutral oil for a moister banana cake. Melted coconut oil will work but I recommend serving your banana cake at room temperature (or warmed up), as coconut oil solidifies when cold and can make your cake feel dry.
Granulated and brown sugar. Granulated sugar makes the cake light and fluffy whereas brown sugar lends flavor. For a refined sugar-free cake, you can use all coconut sugar.
Non-dairy milk. I prefer using higher protein milk such as soy milk as it makes cakes more tender. However, any variety of milk or even water will work!
Baking powder and soda. Double baking agents help ensure the vegan banana cake is light and fluffy!
The full list of ingredient quantities and instructions are in the gray recipe card at the bottom of this post.
Tips for preparing the batter
To make the banana cake batter, you can use a large bowl, hand mixer or stand mixer.
First, mash the bananas until they form a thick lumpy paste. A fork or potato masher will work but I like using an electric mixer.
Then add all the wet ingredients including the sugar to the mashed bananas. Mixing the sugar with the wet ingredients encourages it to dissolve quickly.
Finally, add all the dry ingredients and mix until combined. If your all-purpose flour has lumps, make sure you sift it first.
It's okay for your final batter to have some lumps are fine, as long as they aren't lumps of dry flour.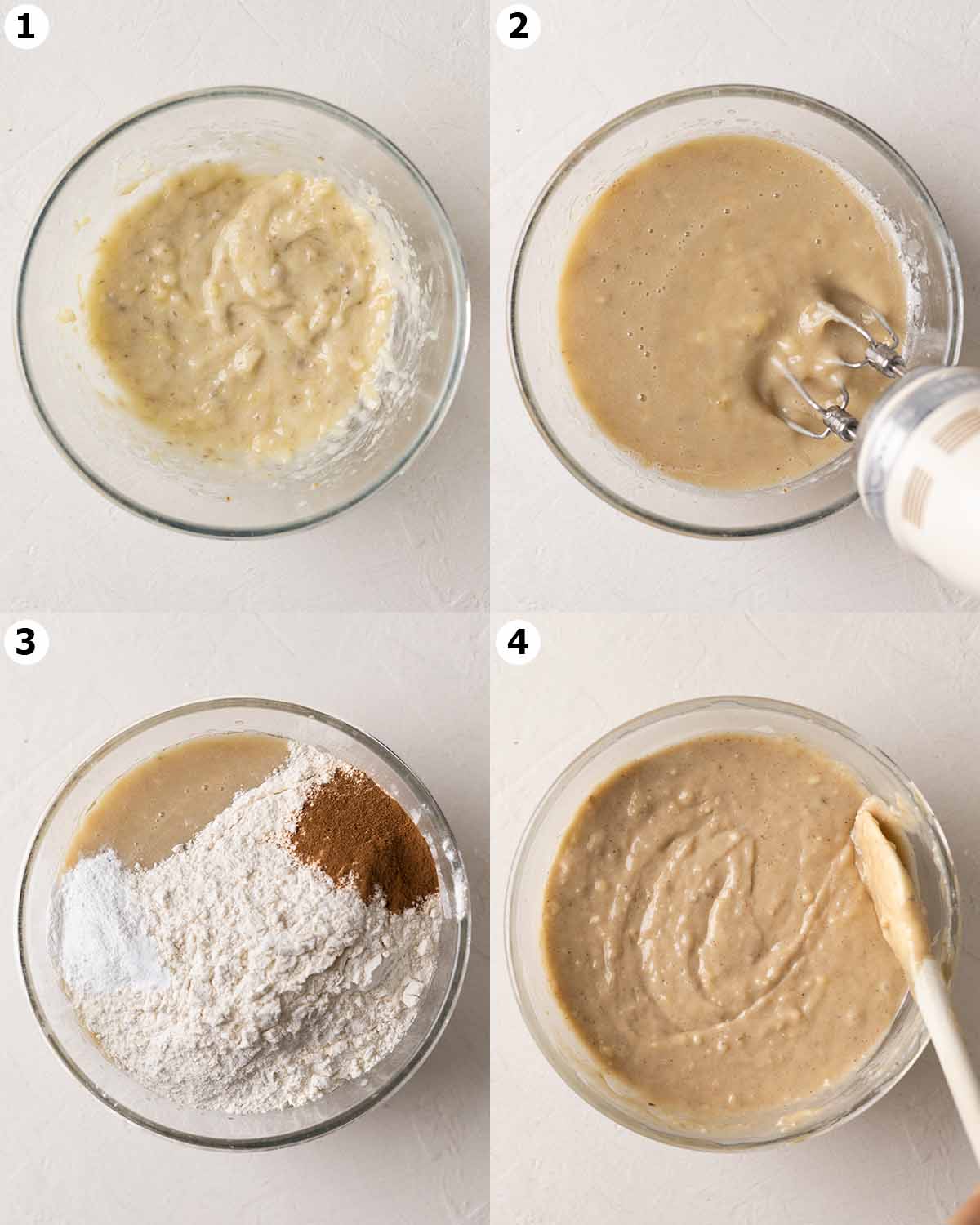 Baking the eggless banana cake
While baking, the top of the cake will go from light brown to dark brown. At the 20 or 25-minute mark, if the cake is browning too quickly, carefully cover the baking pan with aluminum foil or a baking sheet.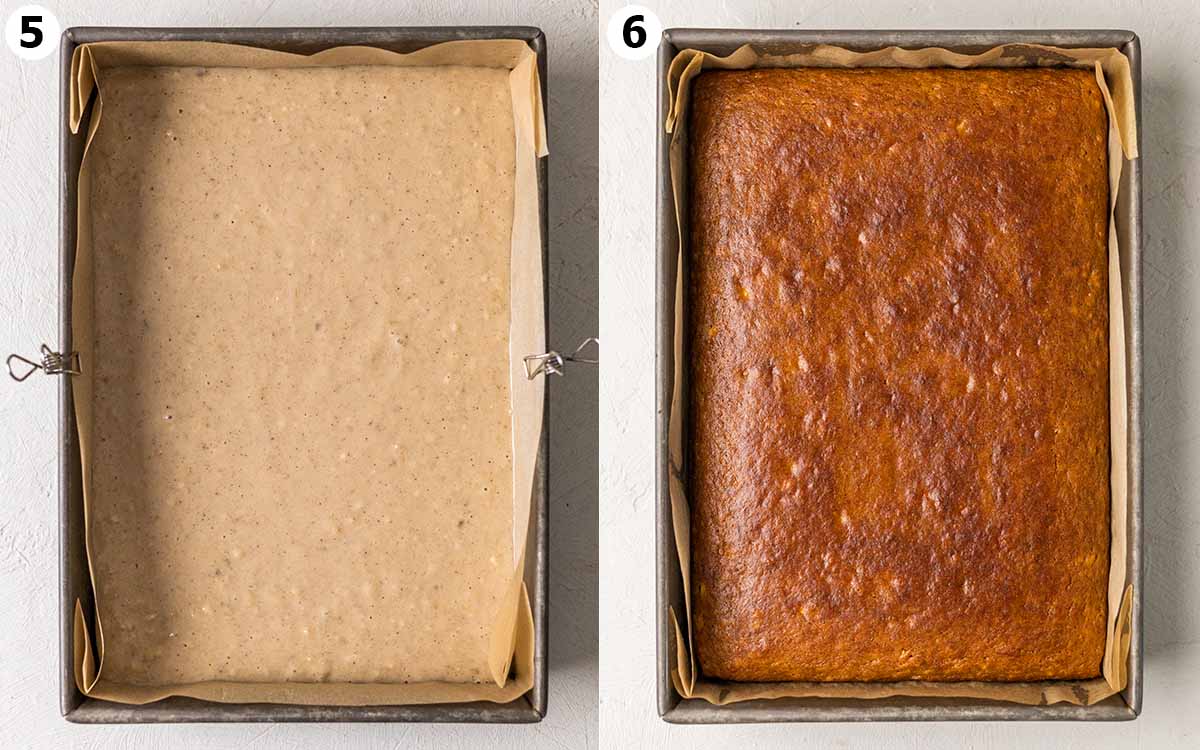 Decoration suggestions
I topped my vegan banana cake with a soft vegan cream cheese frosting. Alternatively, you can top your cake with:
Lemon buttercream, such as from my lemon cake recipe. The tartness from the lemon in the buttercream is similar to the flavor of cream cheese.
Chocolate ganache
Chocolate buttercream
Whipped cream or dairy-free yogurt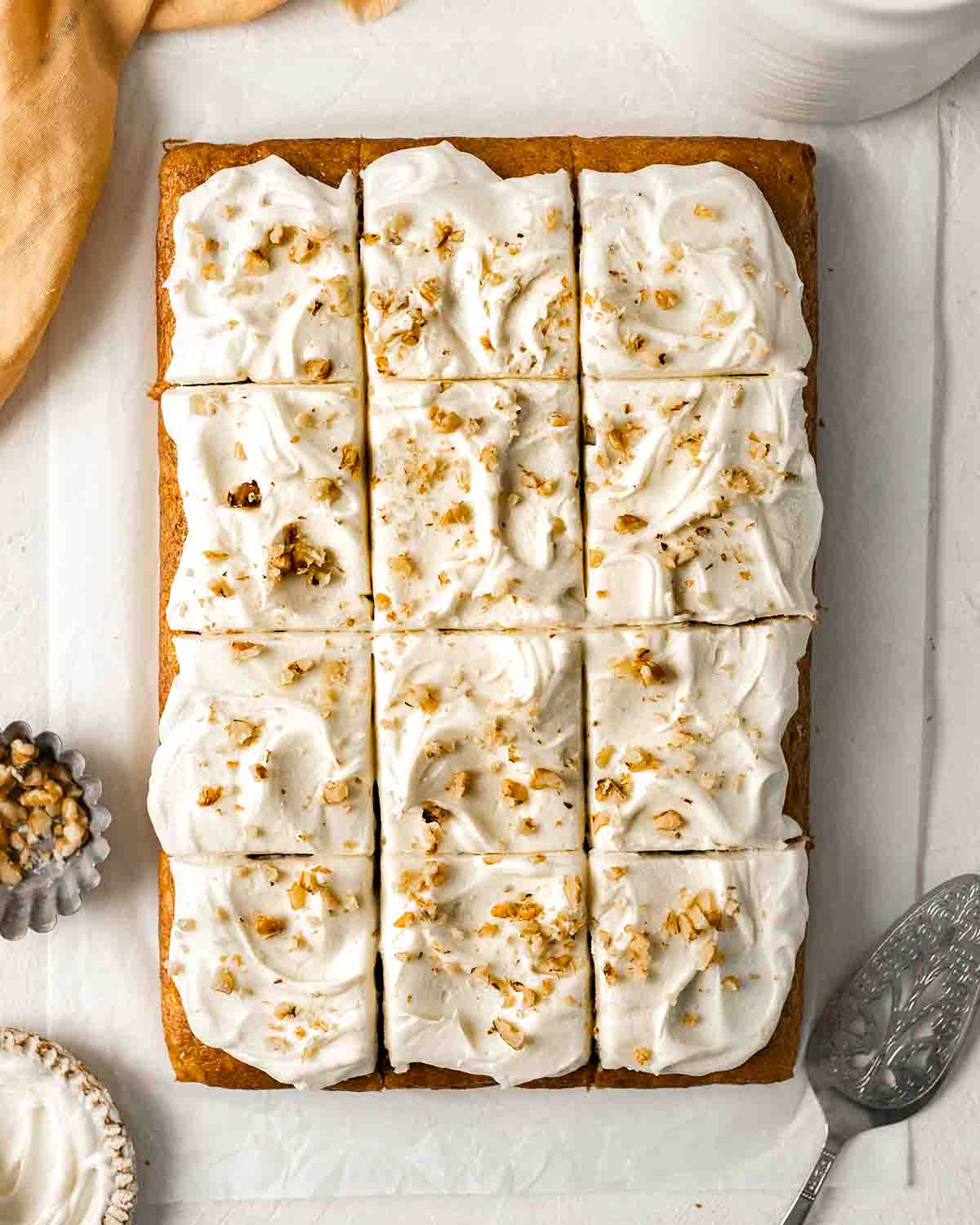 Optional add-ins
This vegan banana cake is a seriously delicious dessert by itself. However, you can also add:
Chopped nuts, such as walnuts or pecans
Mini chocolate chips
Dollops of peanut butter throughout the batter
Shredded coconut
Other fruit such as raspberries or blueberries
Other spices such as ground nutmeg and cardamom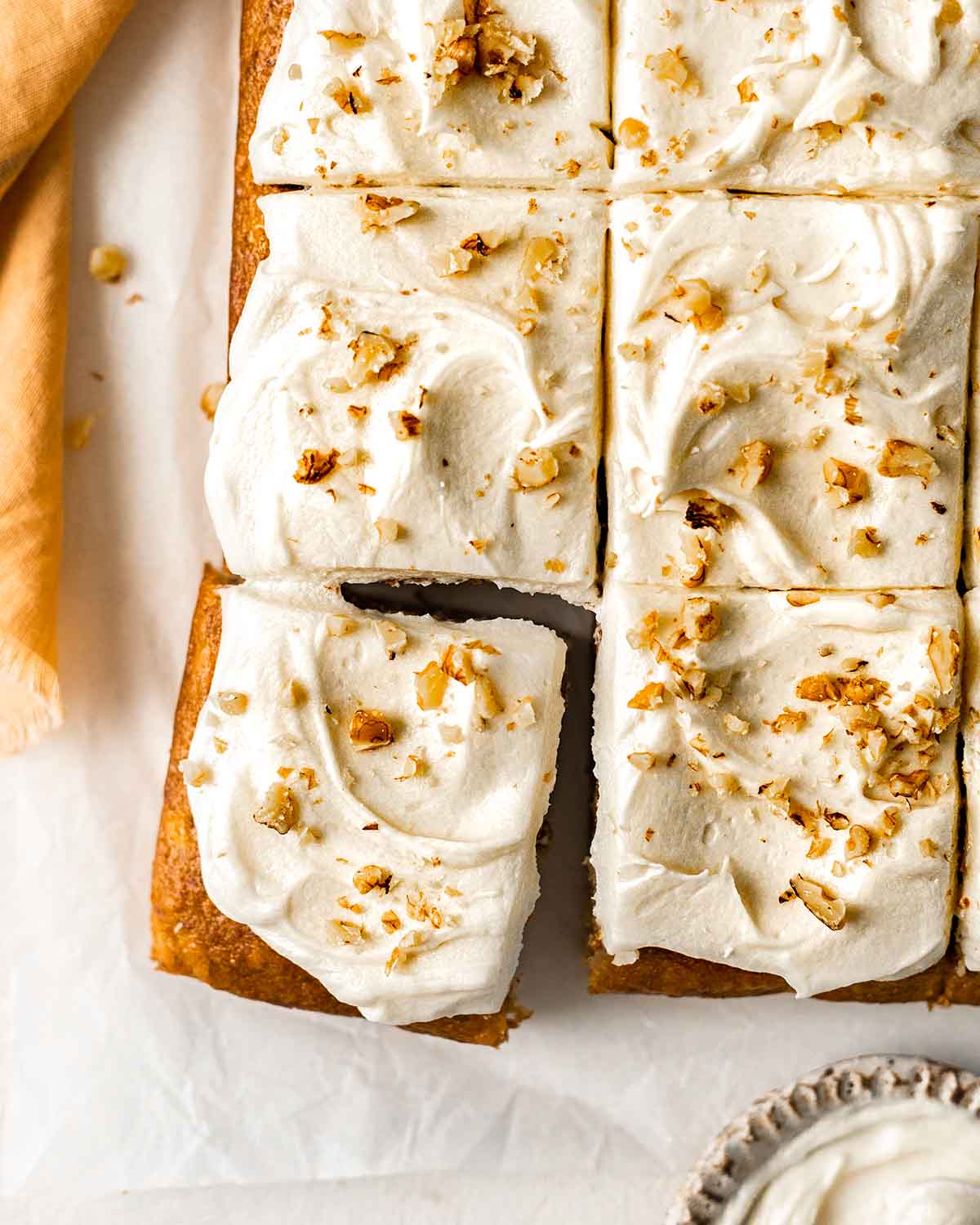 Expert Tips
Can I bake this cake in a different pan?
Yes, the cake will also bake well in:
- 2 x 8-inch cake tins. Bake for around 35-40 minutes. This will make a 2 layer cake similar to my vegan carrot cake.
- 10-cup bundt pan. Bake for around 50-60 minutes.

I also have other vegan banana recipes in different pans. If you only have a loaf tin, I recommend my banana bread, and banana chocolate bread. If you want to make muffins, check out my cafe-style banana muffins.
What's the best way to serve and store this cake?
The easiest way is to frost and serve the sheet cake while it's still in the cake pan (make sure it's cool first). To store the cake, cover the pan with plastic wrap or transfer the cake to an airtight container and keep it in the fridge.

If the cake is unfrosted, you can store it at room temperature for up to 3 days or in the fridge.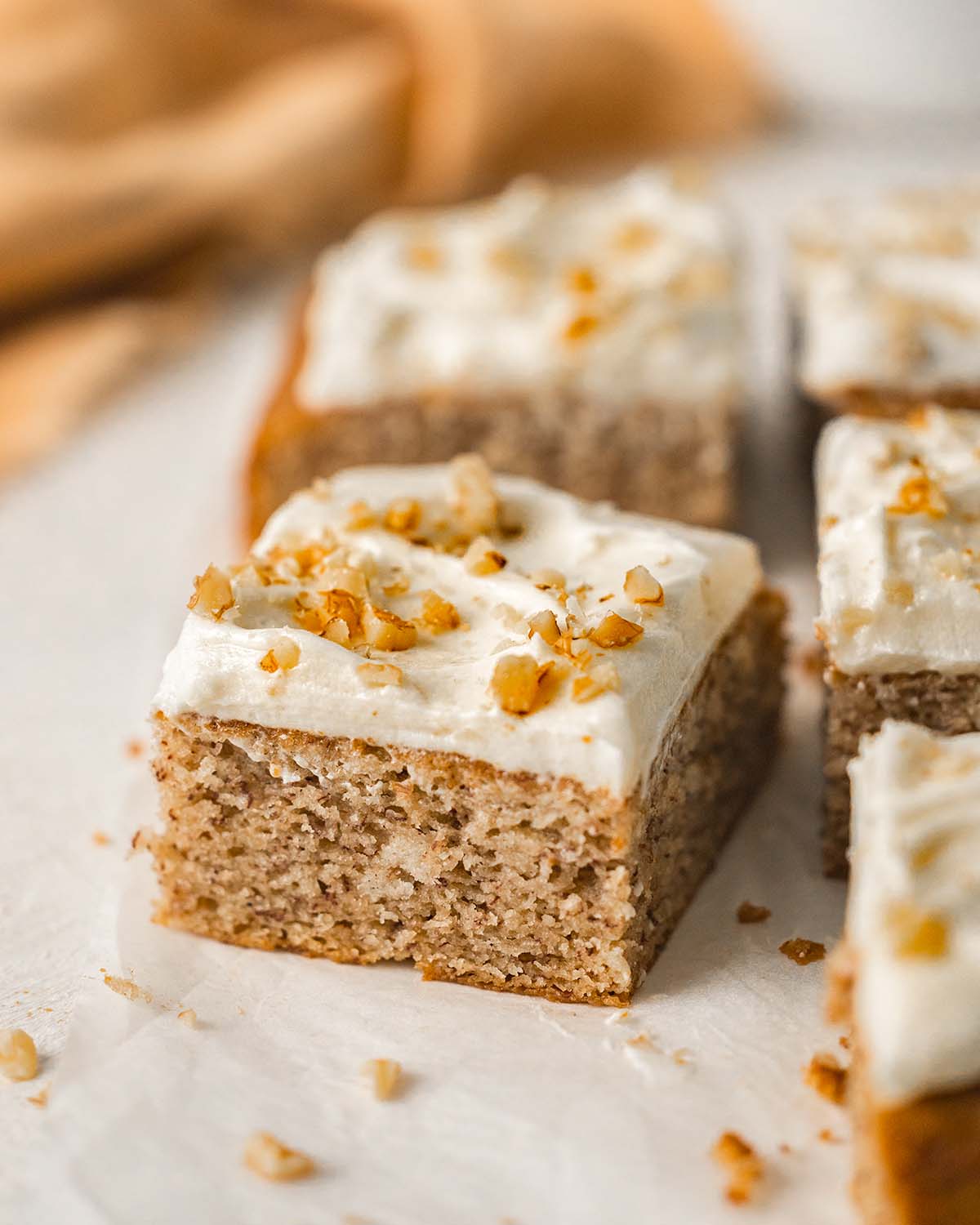 More vegan cake recipes
Follow Rainbow Nourishments on Instagram, Facebook, TikTok and Pinterest, and subscribe via email to receive all of our latest recipes!
Print Recipe
Vegan Banana Cake
This easy vegan banana cake is moist, light and fluffy. It comes together in one bowl and uses only common pantry ingredients!
Ingredients
Vegan cream cheese frosting (optional, see note 4 for alternatives)
Instructions
To make the vegan banana cake:
Add the bananas to a large mixing bowl and mash until it forms a thick lumpy paste. Add the sugar and the rest of the wet ingredients and mix until thoroughly combined.

Add all of the dry ingredients (and optional add-ins) and whisk until just combined. Some lumps are fine, as long as there aren't lumps of flour.

Pour the batter into your baking tray and smooth the top with a spoon, if needed.

Bake the banana cake in your preheated oven for 35-40 minutes or until you can insert a toothpick in the middle and it comes out clean. This is a moist cake so a few cake crumbs on your toothpick are fine.

Place the cake pan on a wire rack and let the cake cool completely.
Make the cream cheese frosting:
Add the vegan butter to a large bowl or bowl of a stand mixer with the paddle attachment. Beat until light and fluffy. Add the vegan cream cheese and beat until there are no lumps.

Add the sugar and vanilla extract and beat until just combined. If your frosting is too runny, add more powdered sugar.
Decorating the banana cake:
When the cake is completely cool, spread the frosting on the cake. If desired, decorate with extra nuts. Cut into square slices as desired.

Store leftover cake in an airtight container at room temperature for up to 1 day in the fridge for up to 5 days or in the freezer for up to 1 month.
Notes
For the best results, I recommend using a kitchen scale to weigh your ingredients, especially the bananas and flour.
Vinegar or lemon juice reacts with dairy-free milk to make vegan buttermilk and makes a cake more tender. You don't need to mix the vinegar and milk separately.
Make sure you measure the flour accurately otherwise, your cake will be dry and dense. If you're using measuring cups, use the spoon and level method where you fluff up the flour in the bag, use a spoon to add flour to a measuring cup, then level it off with a knife. I don't recommend using the measuring cup to scoop flour out of your container as too much flour will result in a dense cake. Alternatively, use digital kitchen scale and the grams measurements.
If you don't have vegan cream cheese, I recommend making lemon buttercream frosting from my vegan lemon cake recipe. Alternatively, you can serve the cake with a side of yoghurt, ice cream or by itself.
Nutrition
Serving:
1
slice without nuts and frosting
|
Calories:
332
kcal
|
Carbohydrates:
56
g
|
Protein:
4
g
|
Fat:
11
g
|
Sodium:
279
mg
|
Potassium:
153
mg
|
Fiber:
2
g
|
Sugar:
28
g
|
Vitamin A:
20
IU
|
Vitamin C:
3
mg
|
Calcium:
99
mg
|
Iron:
2
mg
This post may contain affiliate links. As an Amazon Associate, I may earn a small commission from qualifying purchases at no additional cost to you.