Thick and soft vegan peanut butter cookies that melt in your mouth! These buttery cookies are easy to make with simple ingredients, just like my peanut butter jelly cookies.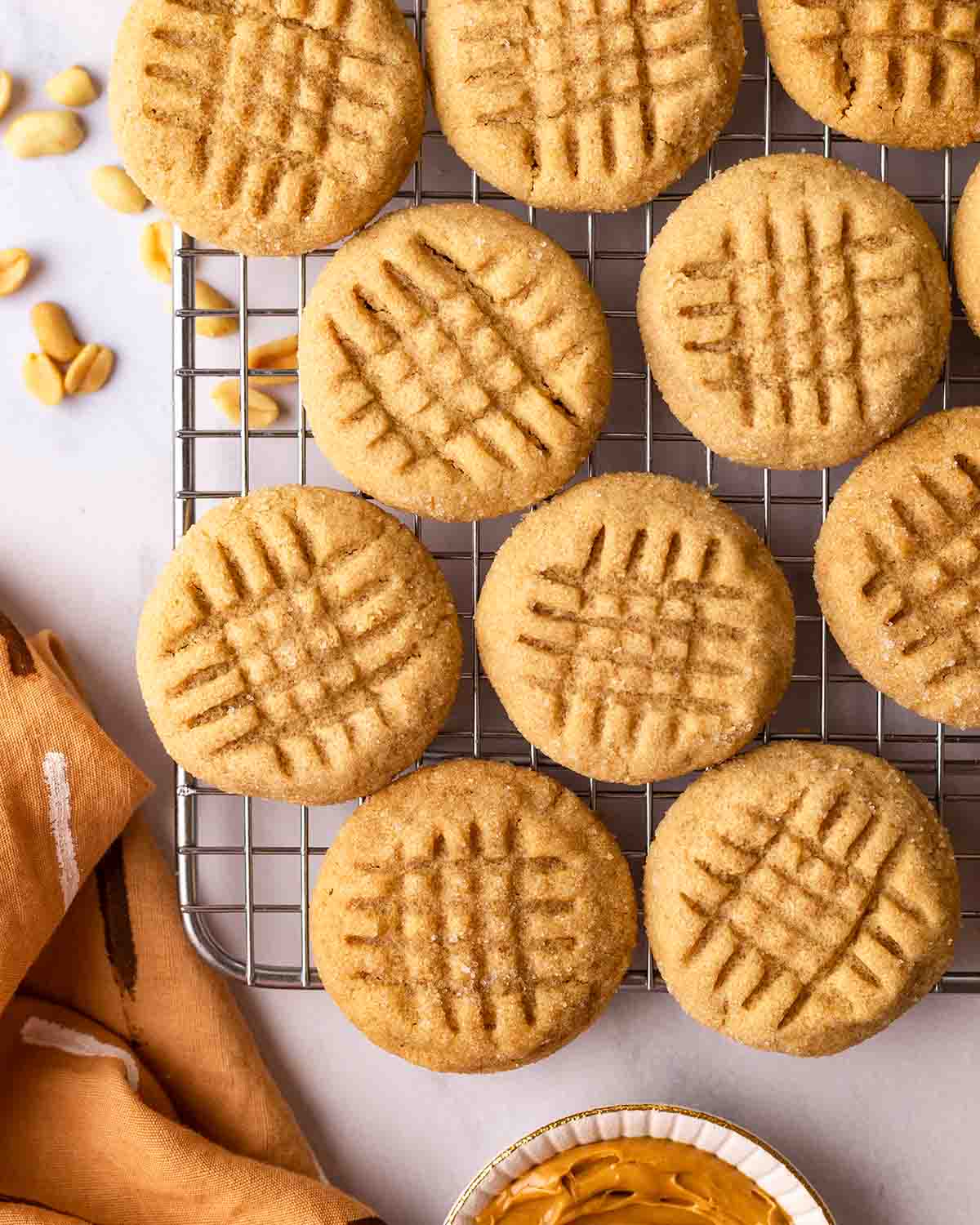 Ingredients you'll need
The full list of ingredient quantities and instructions are in the gray recipe card at the bottom of this post.
Notes about the ingredients
Creamy peanut butter, either natural or processed (with added oils, sugar and salt). Cookies made with natural peanut butter are slightly more crumbly (pictured below). You can use crunchy peanut butter but may need to add an extra dash of milk to your dough.
Sugar. Granulated sugar for the flavor of classic peanut butter cookies and brown sugar for moisture and extra depth of flavor. Alternatively, you can use all granulated sugar (your cookies will spread more), all brown sugar or even coconut sugar.
Baking soda. We're using slightly less baking soda than other recipes to make these cookies thick, but enough so the cookies bake through.
If you're a peanut butter lover but want cookies made with maple syrup and no butter, check out my 3-ingredient peanut butter cookies.
How to make these cookies
These easy vegan peanut butter cookies come together in one large mixing bowl! All you need to do is beat the wet ingredients, then mix in the dry ingredients.
Here are some tips for preparing the cookie dough:
Use room-temperature vegan butter as it mixes more easily with the wet ingredients. Cold butter won't easily mix into the dough, whereas warm butter will make the cookies spread more.
Make sure you beat the butter, sugar and wet ingredients well. This helps dissolve the sugar, which will encourage the ingredients to bind and the cookies to spread. In some way, this simple technique minimizes the need for eggs or an egg replacer! Peanut butter cookies tend to be more delicate than average cookies, but undermixed cookies are even more delicate.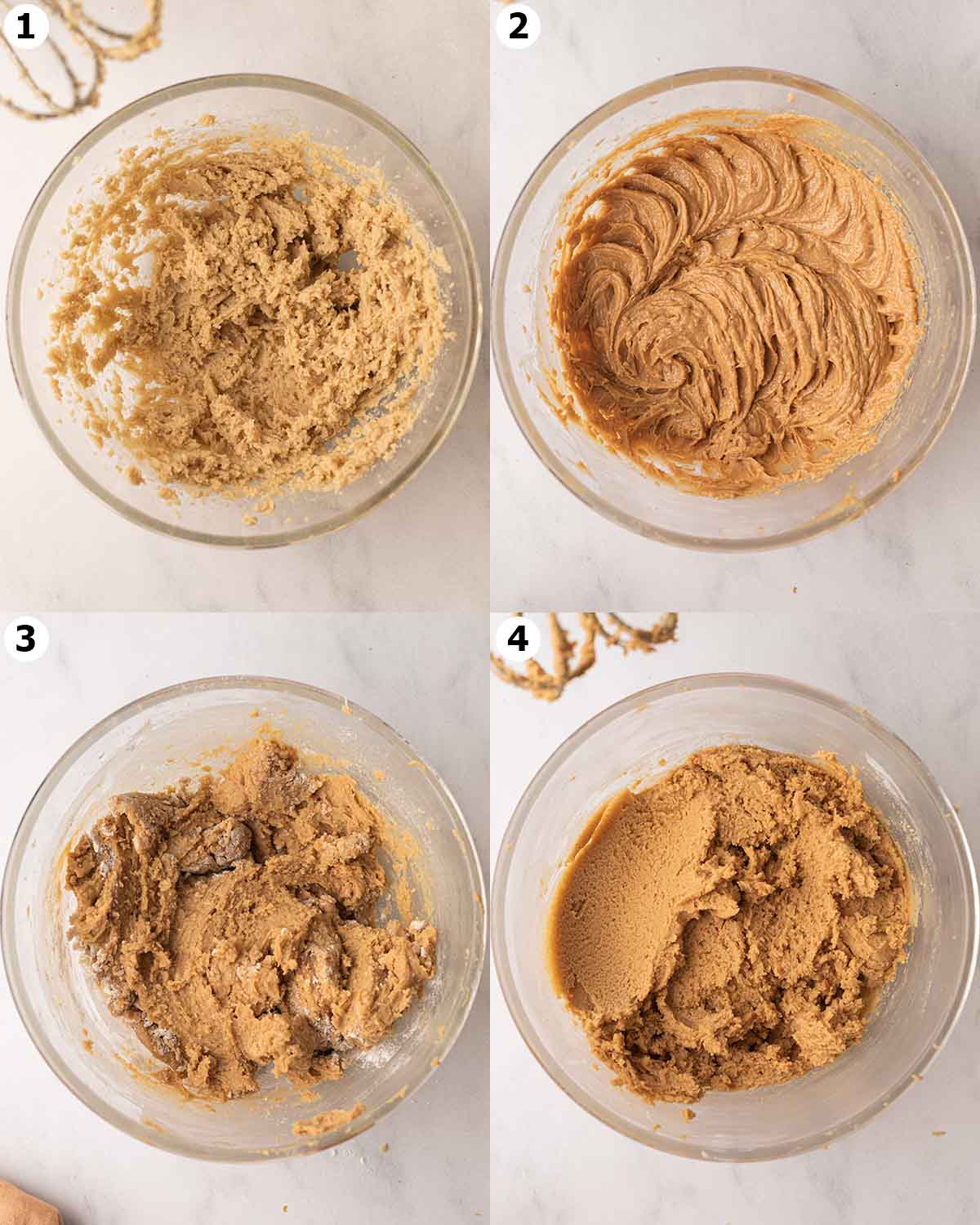 Dividing and shaping the cookies
This recipe makes a soft cookie dough that's tacky but doesn't stick too much to your hands. If your dough is extra sticky that you cannot roll it, mix in more flour OR chill the dough in the fridge for one hour.
To divide the cookie dough, I recommend using a cookie scoop or simply pinching the dough into balls. The cookies spread in the oven, so make sure you space them apart on your lined baking sheet.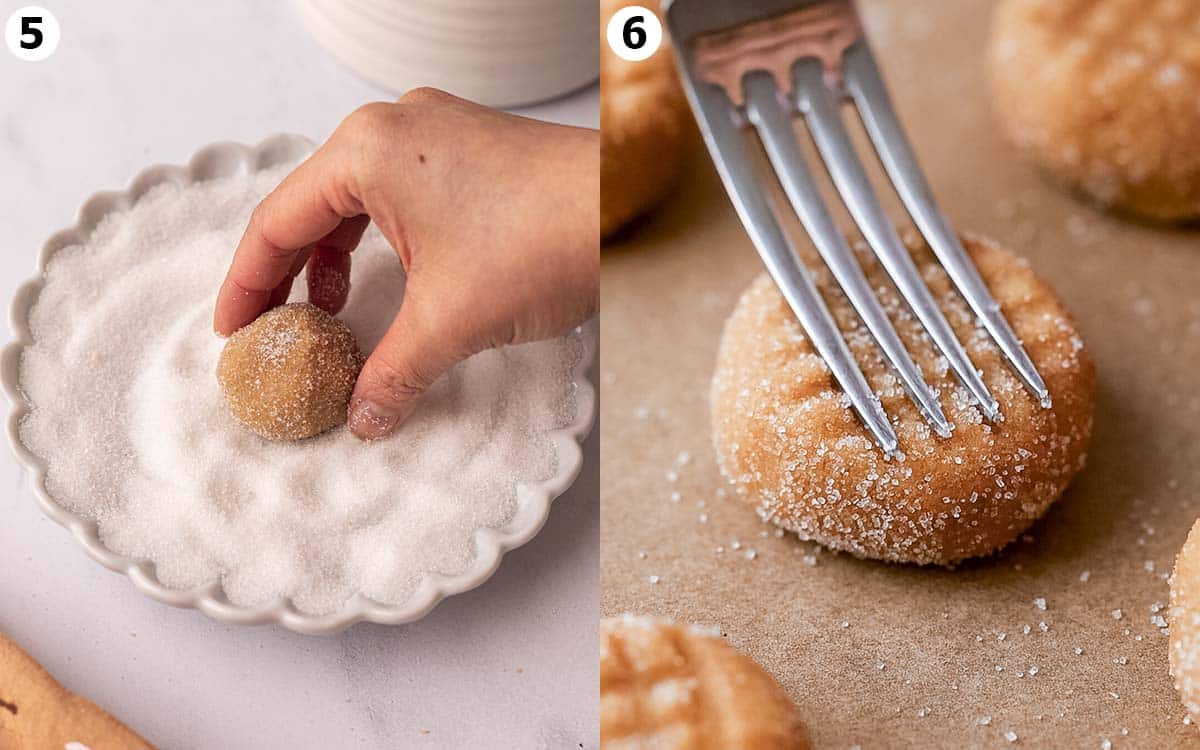 Baking your perfect cookie
For cookies with chewy edges and a soft center, bake them for around 11 minutes. This is my favorite texture!
To make cookies with crisp edges and a soft chewy center, bake them for around 13 minutes.
If you prefer cookies that are crisp throughout, bake them for 15 or more minutes and let them fully cool on the baking sheets.
Customizing the cookies
Can I add any other ingredients to the dough?
Yes! You can take your peanut butter cookies to the next level and add:
- dark chocolate chips or chunks
- chopped peanuts
- dried cranberries, for a festive touch

Or check out my peanut butter jelly thumbprint cookies!
Can I use another nut butter?
Yes! However, nut butters like almond butter and cashew butter are naturally lower in fat than peanut butter, so your cookies will have a different texture.
Can I use another flour?
Whole wheat flour and spelt flour will work in the same amount as all-purpose flour. However, you may need to add an extra splash of milk to your dough as these flours are more absorbent.

This recipe works well with gluten-free flour. Depending on the ingredients of your flour, you may need to add an extra tablespoon (8g) of flour so the dough isn't too sticky. Your final cookies will also be crunchier! Alternatively, check out my 3-ingredient peanut butter cookie that uses almond flour.
More easy vegan cookies
Follow Rainbow Nourishments on Instagram, Facebook, TikTok and Pinterest, and subscribe via email to receive all of our latest recipes!
Print Recipe
Vegan Peanut Butter Cookies
Thick and soft vegan peanut butter cookies that melt in your mouth! These buttery cookies are easy to make and use simple ingredients.
Ingredients
Vegan Peanut Butter Cookies
Instructions
Preheat your oven to 180°C (350°F). Line 2-3 baking trays with parchment paper.
Make the vegan peanut butter cookies:
Add the vegan butter, sugars, dairy-free milk and vanilla to a large bowl. Use a hand mixer to beat until light and fluffy and some of the sugar has dissolved. Add the peanut butter and beat until well combined.

Add the all-purpose flour and baking soda and mix until just combined. The cookie dough should be very soft and tacky, but not too sticky. The consistency of your dough will hugely depend on the consistency of your peanut butter and vegan butter. If your dough is crumbly, add a ½ tablespoon (8g) of milk at a time and mix again. If your dough is very sticky, add 1 tablespoon (8g) of flour and mix again (or chill your dough).
Shape the cookies:
Place the granulated sugar in a flat bowl.

Divide and roll the cookie dough into around 24 balls. Toss each ball in the granulated sugar.

Arrange the cookie dough balls on your lined baking trays spaced about 5 cm (2 inches) apart. Use the back of a fork to make a criss-cross pattern on each ball and slightly flatten each cookie.
Bake the cookies:
Bake the cookies in your preheated oven for around 11-15 minutes or until the edges are slightly golden brown. For soft cookies, bake them for around 11 minutes. For crunchier cookies, bake them for around 15 minutes.

Allow the cookies to cool on the baking trays for at least 20 minutes. They'll be very soft when they're hot but will firm up. Transfer the cookies to a wire rack to cool completely.

Store the baked cookies in an airtight container at room temperature for up to 1 week, in the fridge for up to 2 weeks or in the freezer for up to 2 months. If you would like soft peanut butter cookies, add a slice of bread to the container with the cookies.
Notes
These cookies will work with chilled spreadable vegan butter. If using spreadable butter, I recommend omitting the milk and adding more flour if necessary. Your dough may be a little softer and will spread more. You can also use softened coconut oil (and include the milk). Your cookies will be more crisp as coconut oil is higher in fat than vegan butter.
Don't skip the milk as it helps dissolve the sugar which binds the cookies. The exception is if you use spreadable vegan butter as it contains more liquid.
You may use chunky peanut butter but may need to add an extra splash of milk to your dough.
Unlike regular flour, different brands of gluten-free flour have different densities, so 1 cup of one brand can weigh 125g, whereas another brand can weigh 160g. I used the grams measurements using a flour blend made from maize, tapioca, rice flour and vegetable gums. Depending on your brand of flour, you may need to add an extra dash of flour or milk.
Nutrition
Serving:
1
cookie
|
Calories:
149
kcal
|
Carbohydrates:
16
g
|
Protein:
3
g
|
Fat:
9
g
|
Sodium:
69
mg
|
Potassium:
74
mg
|
Fiber:
1
g
|
Sugar:
9
g
|
Vitamin A:
183
IU
|
Calcium:
10
mg
|
Iron:
1
mg
This post may contain affiliate links. As an Amazon Associate, I may earn a small commission from qualifying purchases at no additional cost to you.