Hot cross cinnamon rolls, a combination of aromatic hot cross buns and pillowy cinnamon rolls! An easy and comforting vegan Easter bread recipe!
These hot cross cinnamon rolls are a million times better than other vegan Easter bread or traditional hot cross buns because:
they are fluffy and melt in your mouth
you can enjoy the hot cross bun spices layer by layer so they're more FUN!
they have a delicious cross made with vegan cream cheese
Alternatively, see my recipe for vegan brioche hot cross buns. If you prefer chocolate Easter recipes, you may like my double chocolate chip hot cross buns recipe or my zebra bundt cake.
How to make the enriched dough
If you've made cinnamon rolls before, these are a breeze to make. If this is your first time, don't fear - I'll talk you through every step!
To make your dough, add all ingredients to a stand mixer and knead the dough for a few minutes. This activates the gluten and allows it to be soft and stretchy. The dough should come away from the side of the bowl. If it doesn't, add more flour and knead until it does!
If you don't have a stand mixer, just mix all ingredients in a bowl. When it has come together, knead the dough on a clean floured surface. The dough is ready when it doesn't stick to the surface. If it does, add more flour and keep kneading!
Allow the dough to rest for around 1 hour or until it increases in size by 50% to 100%. You can also leave the dough to rest in the fridge overnight. Rolling chilled dough is actually easier ;).
Assembling the cinnamon rolls
The main difference between cinnamon rolls and this recipe is the filling. These contain:
Cinnamon and nutmeg
Soaked sultanas!
Simply roll your dough onto a floured surface then spread your filling on top. Just make sure your sultanas are distributed evenly.... no one wants TOO many sultanas!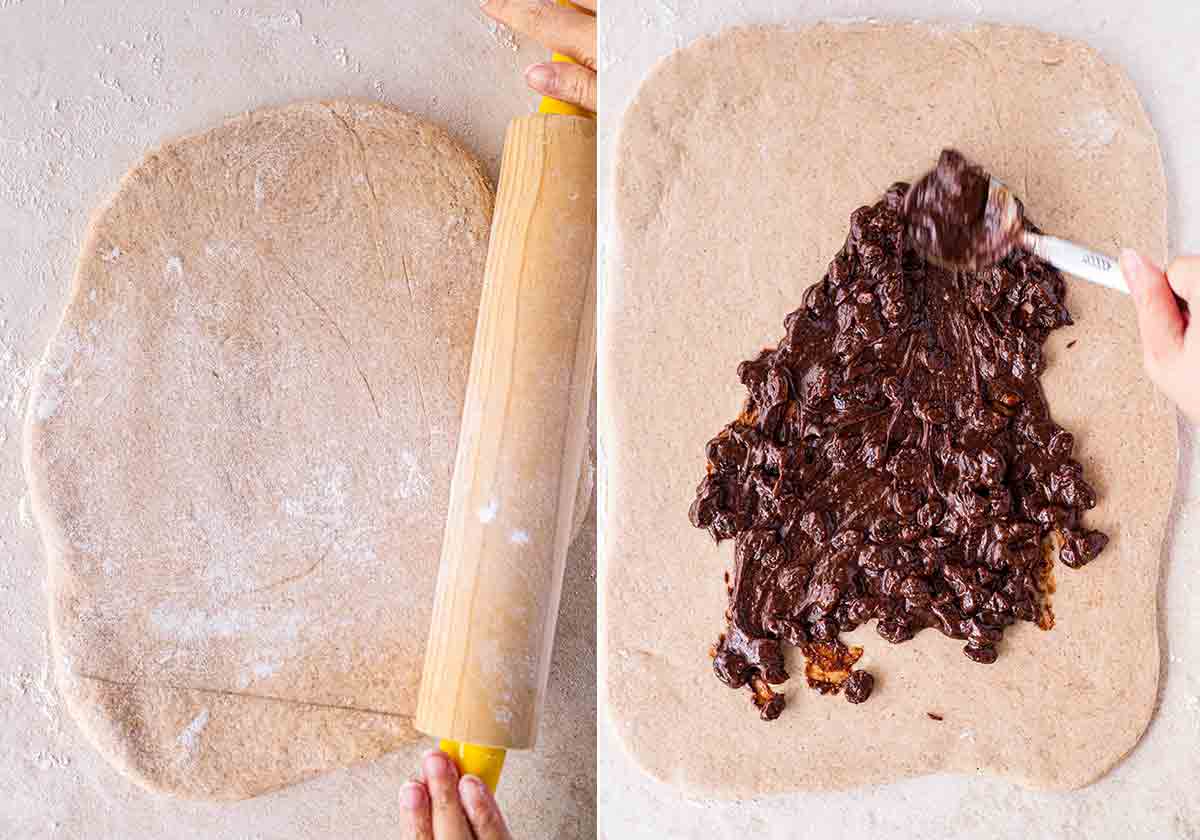 Rolling the rolls because yo...
To roll the dough, imagine it is like a jam scroll but FIRMER. Try to make sure there are no gaps when you roll the dough. I like using both hands so both ends of the dough are rolled evenly.
I like cutting the dough with a very sharp knife or unflavoured dental floss. If some of the rolls go out of shape, simply reshape them with your hands.
Place the rolls in a baking tray and allow them to rest for 1 hour or until they are puffy again. If you didn't let the dough rest in the fridge, you can do this step overnight (in the fridge)
Baking the hot cross cinnamon rolls
If your rolls are at room temperature, you can bake them once they're puffy. If your rolls were chilled overnight, allow them to come to room temperature and bake away!
They are ready when the middle scroll has no wet dough in it. They should also be golden and smell AMAZING!
I hope you enjoy this recipe!
Check out my other vegan Easter recipes:
For a step by step guide on cinnamon rolls, see here:
Print Recipe
Hot Cross Buns Cinnamon Rolls
Hot cross cinnamon rolls, a combination of aromatic hot cross buns and pillowy cinnamon rolls! An easy and comforting vegan Easter bread recipe!
Instructions
To make the rolls and filling:
Combine all the dough ingredients in a large bowl and mix until it comes together. If you have a stand mixer, you can do this using your dough hook. Knead the mixture until it forms a stretchy and smooth dough. If it's a little dry, add a little more milk and knead again. If the dough is still sticking on the bowl, add a little flour and knead again.

Leave the dough in the bowl or stand mixer, cover with a tea towel and leave it in a warm place for at least 1 hour or until the dough doubles in size.

For the filling, add all ingredients to a bowl and mix until combined.

Lightly dust a clean surface with flour. Roll out the dough into a large rectangular shape. Spread the filling on the surface making sure the sultanas are evenly distributed.

Starting from the long side of the pastry, roll the pastry into a log. Use a sharp knife or unflavoured dental floss to cut rolls out of the dough. Arrange the scrolls on a greased baking tray. Place a tea towel over the rolls and set aside to rest.
Baking the scrolls:
The rolls are ready when they've increased in size by around 30%-50% or have become puffy again. When they have, preheat the oven to 180°C (350°F).

Bake the rolls in the oven for 15-20 minutes or until they are golden brown or when you insert a skewer in one of the middle rolls and it comes out clean. Brush the maple syrup or jam on the warm rolls and set aside.
To make the frosting:
Mix the cream cheese and sugar in a medium bowl until it forms a thick paste. Add more sugar to thicken or more water to thin. Scoop the mixture into a piping bag with a small round nozzle.

When the rolls have cooled, pipe the cross mixture onto the scrolls as desired.

The rolls are best eaten the day they are baked. Alternatively, store them in an airtight container at room temperature or the fridge for 1-2 days. If the rolls feel dry, you can revive them by reheating them up in the oven or microwave.
Notes
* Instant yeast doesn't need to be 'activated' or 'bloomed' beforehand. However, if you use active dry yeast, you'll need to use 1 ⅓ tbsp and combine it with warm milk and a pinch of sugar beforehand. Wait until it bubbles then use it in the recipe. If you use another type of yeast, you may need a different quantity.
** Substitute for the thick canned coconut cream if desired.
This post was originally published in April 2019 and updated in March 2021.
Please leave a comment below if you made this recipe, have any questions or thoughts! Your comment will help other readers and Rainbow Nourishments.